Ikea Farmhouse Sink Review
Ikea Farmhouse Sink Review | An honest review of the Ikea Farmhouse Sink (DOMSJÖ) with cleaning tips, installation questions answered, and whether or not it's holding up after a few years. Learn our pros and cons about this beautiful and affordable farmhouse sink!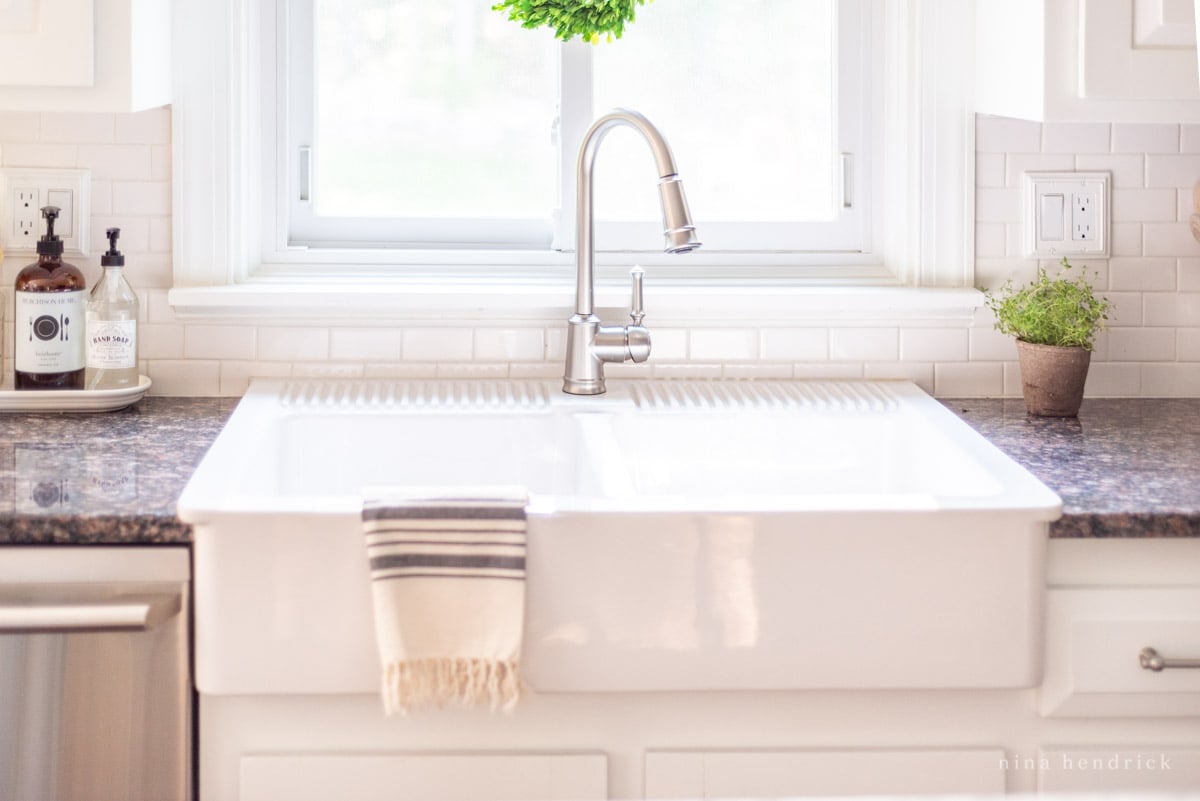 Today I'm sharing my thoughts on our white Ikea farmhouse sink- the DOMSJÖ double bowl. First off, I'll mention that this is NOT a sponsored post, I am just obsessed with this sink. This is the second one I've owned. I loved it so much in our first home that we chopped our granite countertop to make one fit in this kitchen (more on that in a few, I promise!).
What I love about it: the capacity- I can LOAD it with dishes. The style- if you've followed this blog for any length of time, you probably know that I love farmhouse style with a traditional twist. The price- at around $350 with tax, it can't be beat for a sink of this style, size, and quality.
The cons- it only has one faucet hole, and we were too scared to try to drill more. I wanted a gooseneck faucet with a bridge.
First off- the maintenance aspect, since I probably get those questions the most.
How does your Ikea farmhouse sink hold up to time? Does it scratch/stain?
I have had this sink about 2 and a half years, and we had ours in our previous home about a year before we moved- so I can't speak past that. However- we don't treat it very gently. I use it fearlessly and have even left spaghetti sauce sitting on its pristine surface for longer than I should. No permanent scratches, and it doesn't stain permanently, although things like spaghetti sauce and red wine will temporarily discolor it.
Very recently we did begin to experience the dreaded "gray marks" we had been warned about in the comments of this post (which was part of what reminded me to update it!). True to the discussion in the comments, Barkeeper's Friend works great to get the scratches out and made the sink look like new. I also loved the suggestion to use a Magic Eraser!
We have occasionally had rust rings left behind from some of my soaking pots and pans, and my trick is using Iron Out spray. I simply spray it on and let it sit a few minutes and then scrub with a utility brush. Then I rinse the sink out really well and scrub with dish soap to eliminate the chance of the chemical getting on my clean dishes. Obviously, this is something I would use sparingly and only as needed.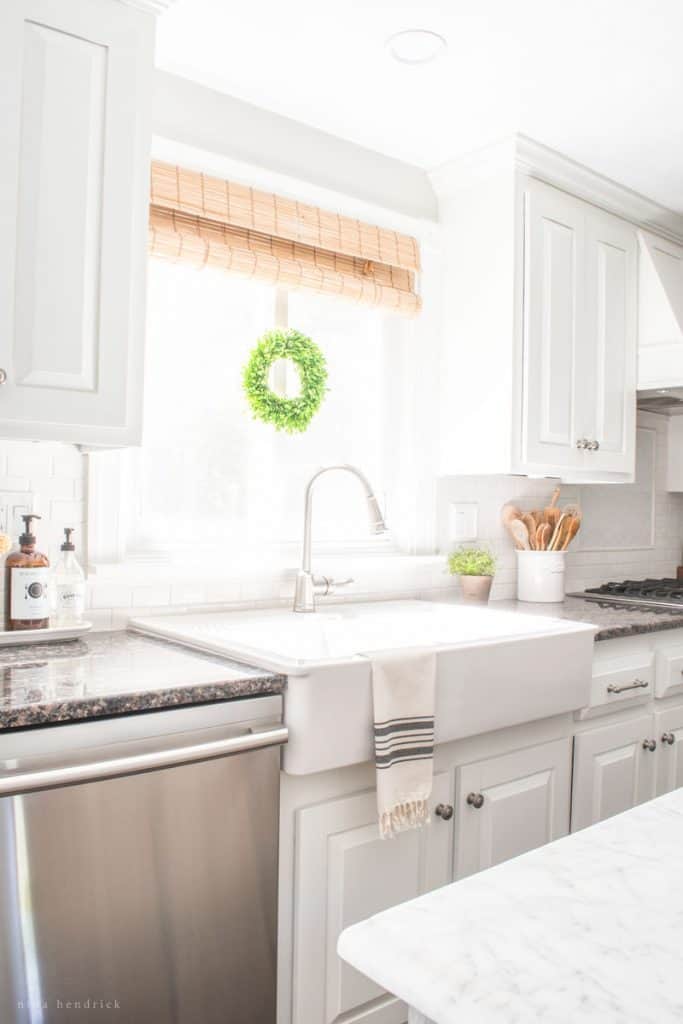 Is the white porcelain hard to keep clean?
No more than any other sink. I puzzled over this question about the white cabinets too- I've received quite a few social media comments along the lines of "Have fun keeping THAT clean…". The truth about white: It doesn't get dirtier than other finishes, it simply shows the dirt sooner- which allows me to see it and clean it up. That's a bonus in my mind!
You would not believe how disgusting our oak cabinets were when I cleaned them to prep for painting. They definitely hid the dirt, and I don't consider that a good thing. I scrub the sink out with a dish brush and soap daily after emptying it, and I "deep clean", including the grooves, weekly.
The one thing I will say is that the grooves at the back of the sink are not as easy to keep clean. I use a sponge or scrub brush to get the junk out, but the grooves pose a slight challenge. With that being said, the grooves are useful for draining wet sponges and etc.
Which Faucet do you have and do you like it?
We decided on this one. It had the general feeling of the antique-style faucets I liked but met the requirement of being an all-in-one unit, since the Domsjo only has one hole. It works nicely and was a fairly good value for faucets of that style.

Do you miss your under-mount sink?
Nope. I'm probably going to offend under mount sink lovers (because if there's one thing I've learned while blogging, it's that someone is going to "like the before better"…) but it was my least favorite sink out of the 8 we've had in various dwellings. In this particular under mount sink, you couldn't lay down a normal-sized dinner plate, and you certainly couldn't put a pot in it to soak.
Maybe it was improperly installed because it also grew slime under the rim. It was scratched and stained after only being installed by the previous homeowners a year before. I know the bonus is supposed to be that you can just brush the crumbs into it. Maybe I don't clean my counters enough (ha- I really don't), because I don't feel like I'm missing out on that at all!
Did you have to reinforce your cabinets?
Yes. We added a thick piece of wood to the back wall and attached it to the studs to provide extra support for the substantial weight of the sink. We attached the metal support bar that came with the sink to the front of the cabinet. Despite our modifications, we completed the installation of the sink in one evening. This tutorial is a great resource for adding an Ikea Sink to an existing kitchen cabinet.

Do you have a garbage disposal? Which garbage disposal is compatible with the IKEA Domsjo?
I know it's somewhat frowned upon, but we do have a garbage disposal. I don't know much about garbage disposals at all- but this is the one we have, and it was a very straightforward installation. We haven't had any issues!
How did you cut your granite counters to install the Ikea Domsjo?
Okay.I always cringe at this question, because I want to help- but I really really want you to realize you can wreck your counters by DIYing this. So we consciously decided not to make that a tutorial back when we did it. Here's why:
I called around to about a dozen local stone fabricators. I was scoffed at, ignored, warned, given outrageous estimates to make me go away, and warned some more. The message was pretty clear: once a countertop is installed, you can't cut it in place. Your countertop WILL chip, and it WILL crack.
Well, YouTube said it could be done. I will give you the link to the video we used in a moment, but I want to say first: Our countertop DID chip. It DID crack. But it chipped and cracked in a way so that the lip of the Domsjo still covered it up. This project would have resulted in needing to purchase new counters if we were trying to install a different style of farmhouse sink. The resulting edge was jagged and by no means clean.
This sink style happens to be forgiving because of the lip and ability to caulk. I was also willing to take the risk because I half-hoped the granite would be wrecked (because I'm not a big fan of it). So I can't recommend this method, because I can't be responsible if thousands of dollars in counters get wrecked. So here is the video we watched, but my recommendation is to try to find a fabricator who will do it for you.
All About Our Ikea Farmhouse Sink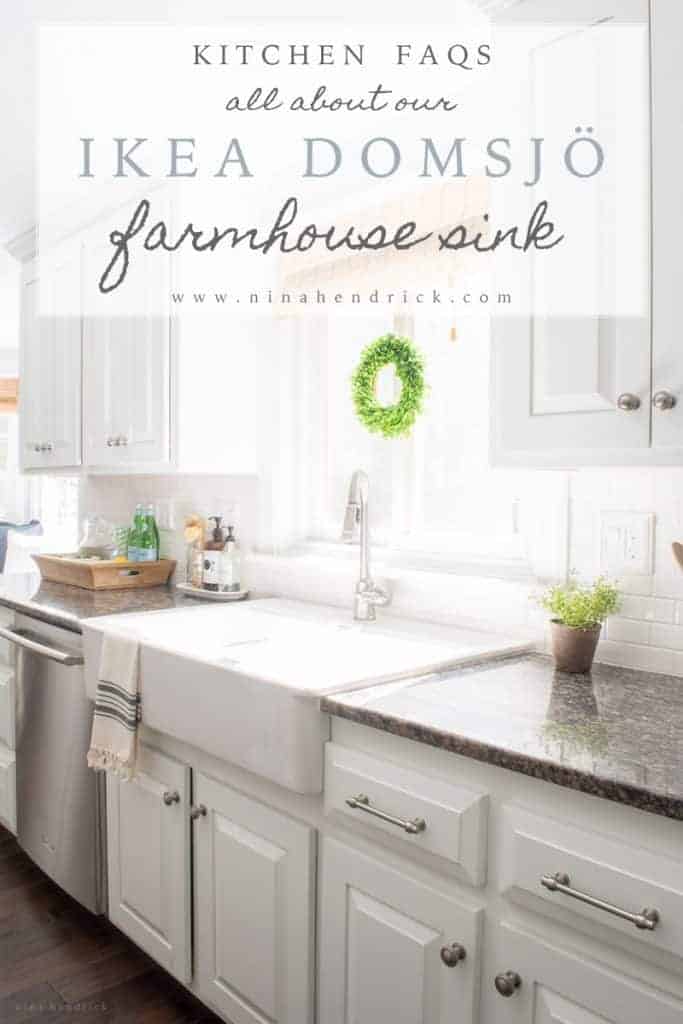 Shop this post: [ubergrid id=14344]
Updated 11/10/16:

Comments have been turned off for this post.

Please do not email me with customer service issues or questions about the dimensions, I am not affiliated with IKEA in any way.
For info on measurements and other specs, please see the sink on Ikea here. Please note that I'm not affiliated with IKEA in any way, so I cannot help with customer service issues.