Planning a rustic and cozy theme this holiday season? Here are the 15 best warm and cozy Christmas decorating ideas to get you started.
As the weather turns cooler, the days shorter, and we begin to inch toward a new year the instinct to make our homes as cozy as possible kicks in. Since so many of us already decorate for the holidays, a warm and cozy Christmas theme always feels like a natural choice! I've rounded up my 15 best warm and cozy Christmas decorating ideas for you below. If you're short on time and are looking for my easiest Christmas decorating ideas, you can also check out this post!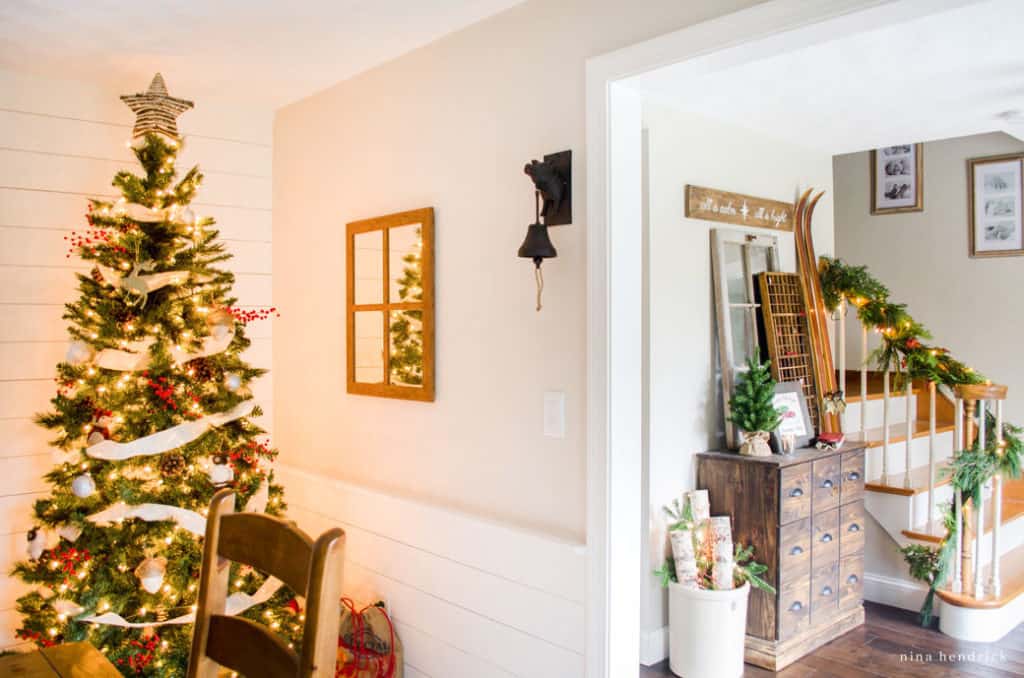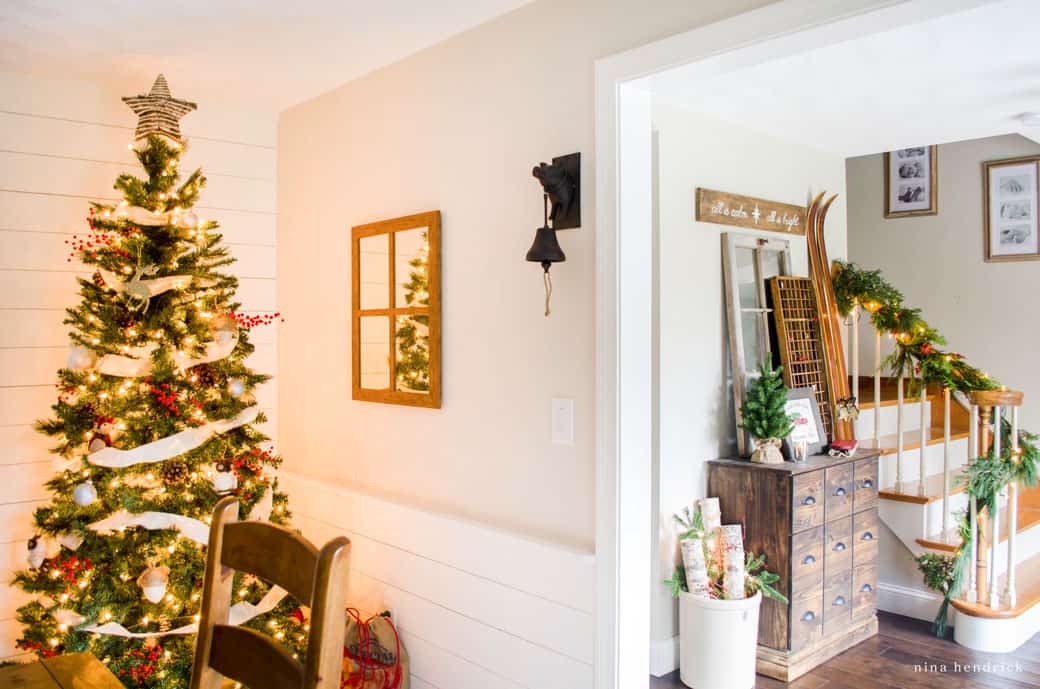 The 10 Best Warm & Cozy Christmas Decorating Ideas
Let's set the scene: it's early December, and snow has blanketed the view outside your window in pristine white from the first storm of the season. More flakes are gently and lazily falling. A fire blazes in the fireplace. You have a lazy day ahead of you. How could we make this fantasy even better? Let's do some Christmas decorating!
There's nothing more nostalgic than a cozy and warm holiday theme. I've decorated with many themes over the years, from a traditional Christmas, to a neutral and rustic woodland theme, to a classic red and green, to less traditional colors like French blue. However, the warm and cozy Christmas decor theme is always a favorite!
This post contains affiliate links, which means I may get a small commission (at no extra cost to you) if you shop my link. Please see my disclosure if you'd like more info!
How do you decorate with a cozy Christmas decor theme?
Include wooden decor accents like crates and vintage sleds and skis.
Use natural elements like birch logs, evergreens, and natural Christmas trees.
Make sure there are plenty of soft blankets and throw pillows around.
Light candles and turn on twinkle lights any time of the day.
Tips for Creating a Cozy Christmas Aesthetic
When it comes to achieving a cozy Christmas aesthetic, the key is making sure your decorations evoke a feeling of warmth and comfort. Start by choosing a color palette that is warm and inviting, such as red, cream, and gold. Soften up your space with plenty of warm throws and blankets, including a cozy area rug. To add a festive touch, hang up a wreath and garland, and bring in the aromas of the season with scented candles and simmering potpourri. Then, don't forget about the Christmas tree! Decorate it with twinkling lights and ornaments made from natural materials, like wood and felt.
Read on to see these ideas in action!
1. Create vignettes that help you tell a holiday story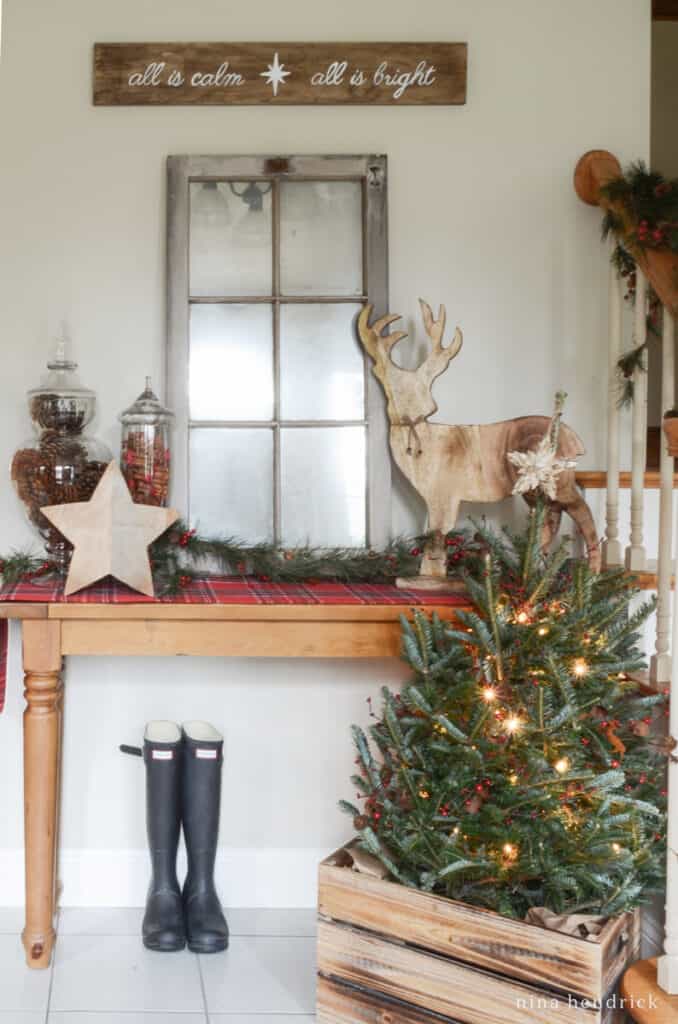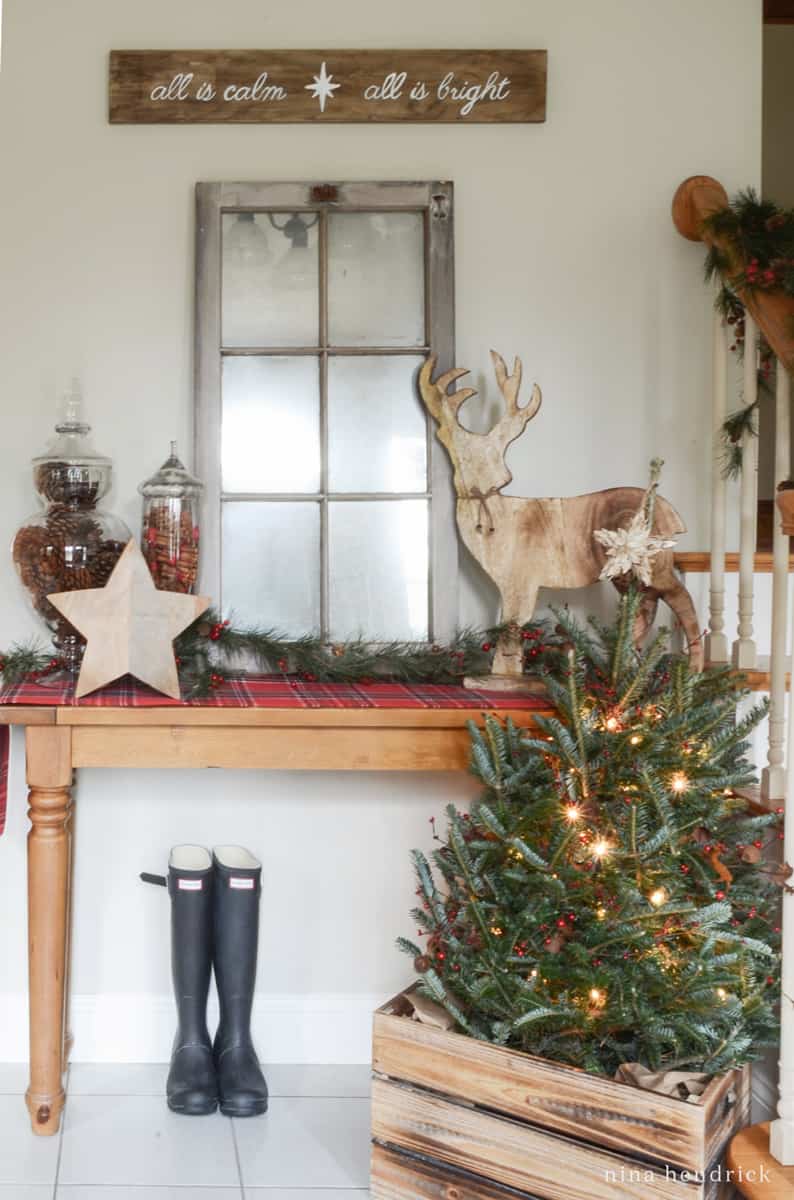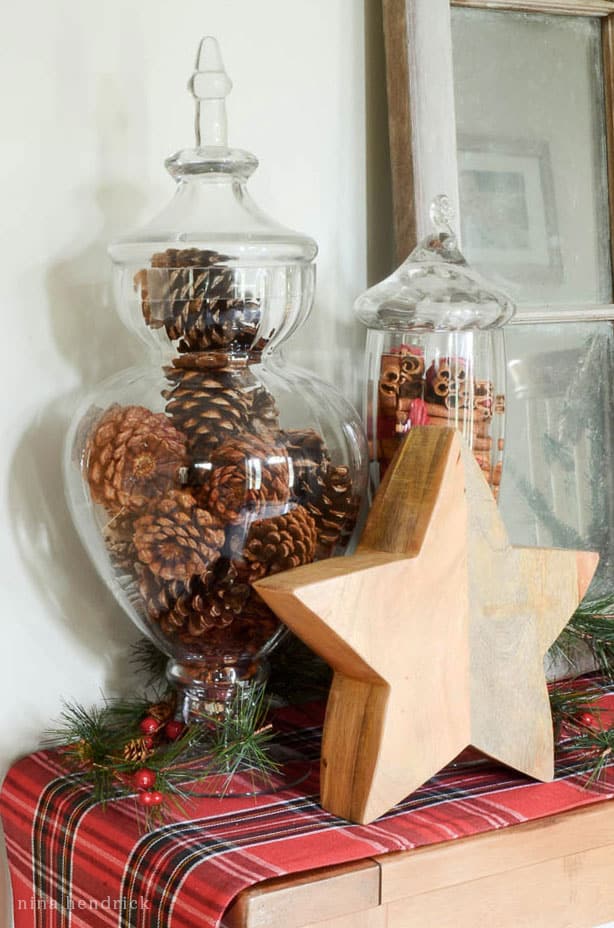 Styling vignettes is such a fun cozy Christmas decorating idea for telling a story and create a conversation with your decor. For this rustic vignette, (from my first ever home tour in 2014!) I filled the glass apothecary jars with rustic but natural Christmas elements — pinecones and cinnamon sticks. I incorporated wood decor like the wooden star and deer — two favorites that still appear in my decor each year! Quick tip: the mini live tree is sitting in a wooden crate and I filled in the gaps around the bottom with crumpled brown paper!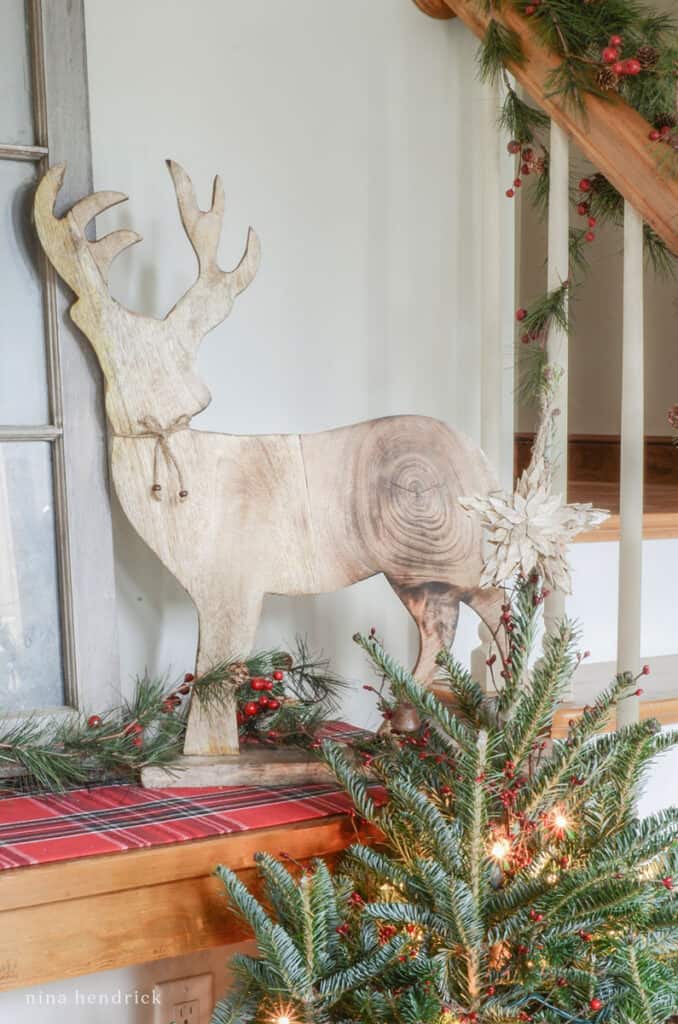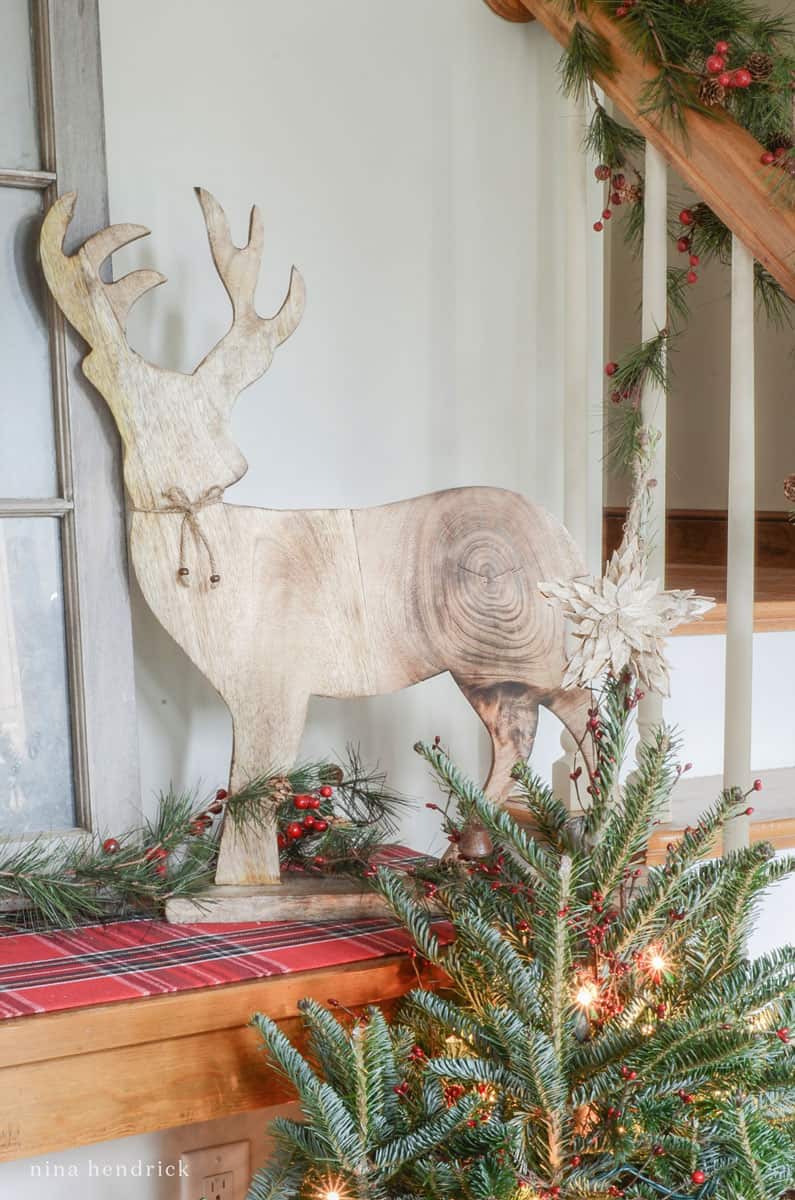 Cozy Christmas decorating ideas from this vignette:
Fill glass apothecary jars with natural elements like pine cones and cinnamon sticks.
Use wooden decor like the deer and crate holding the mini tree.
To make the sign I simply wrote "all is calm, all is bright" on a piece of wood with a white Sharpie and traced a star.
2. Decorate with artwork that evokes your favorite traditions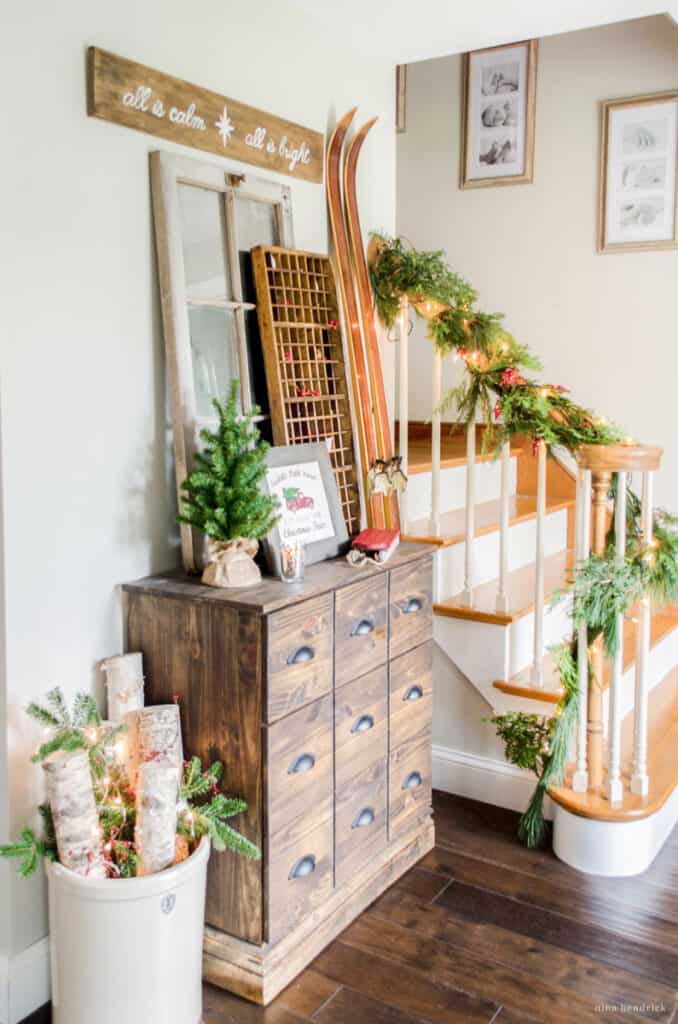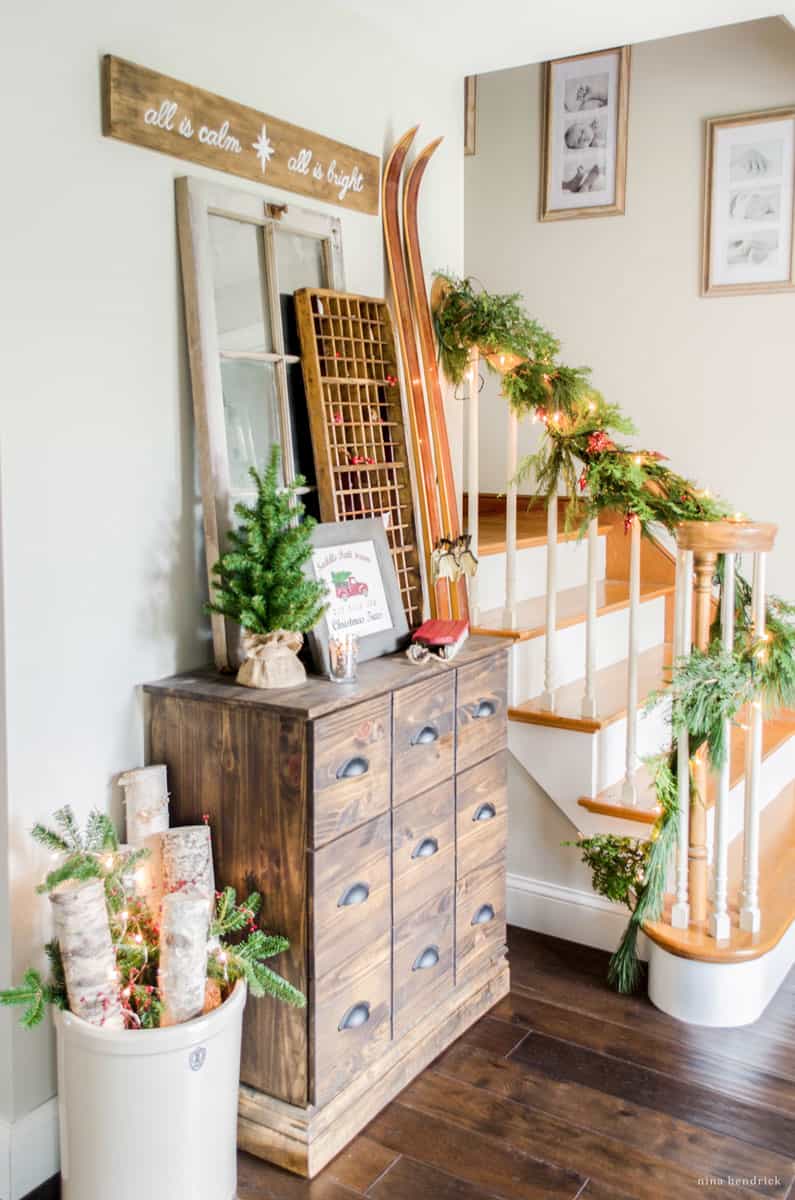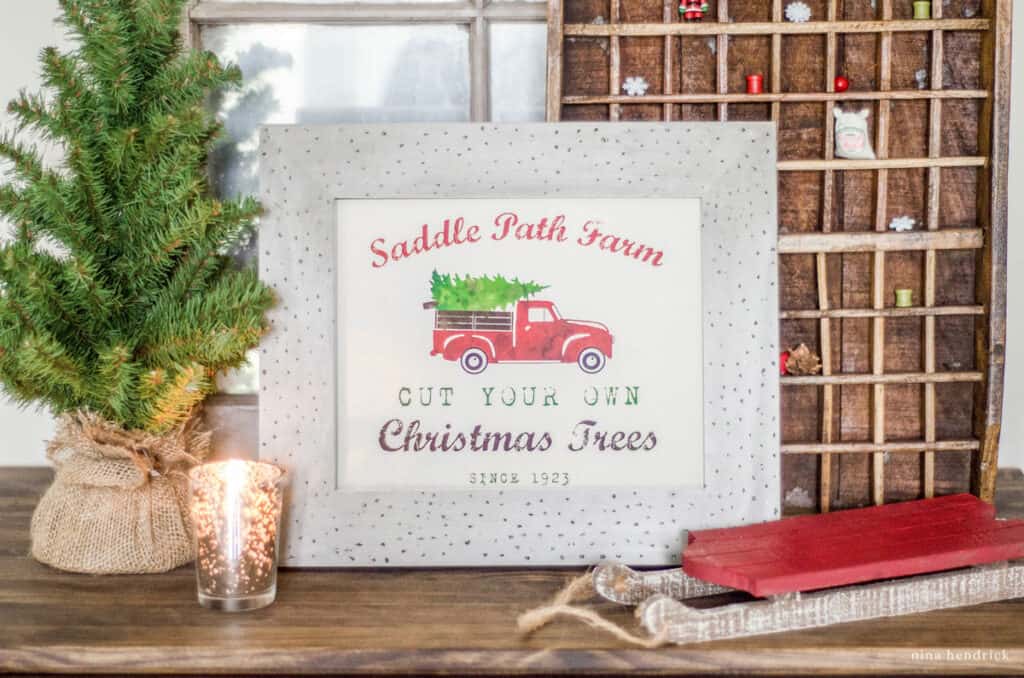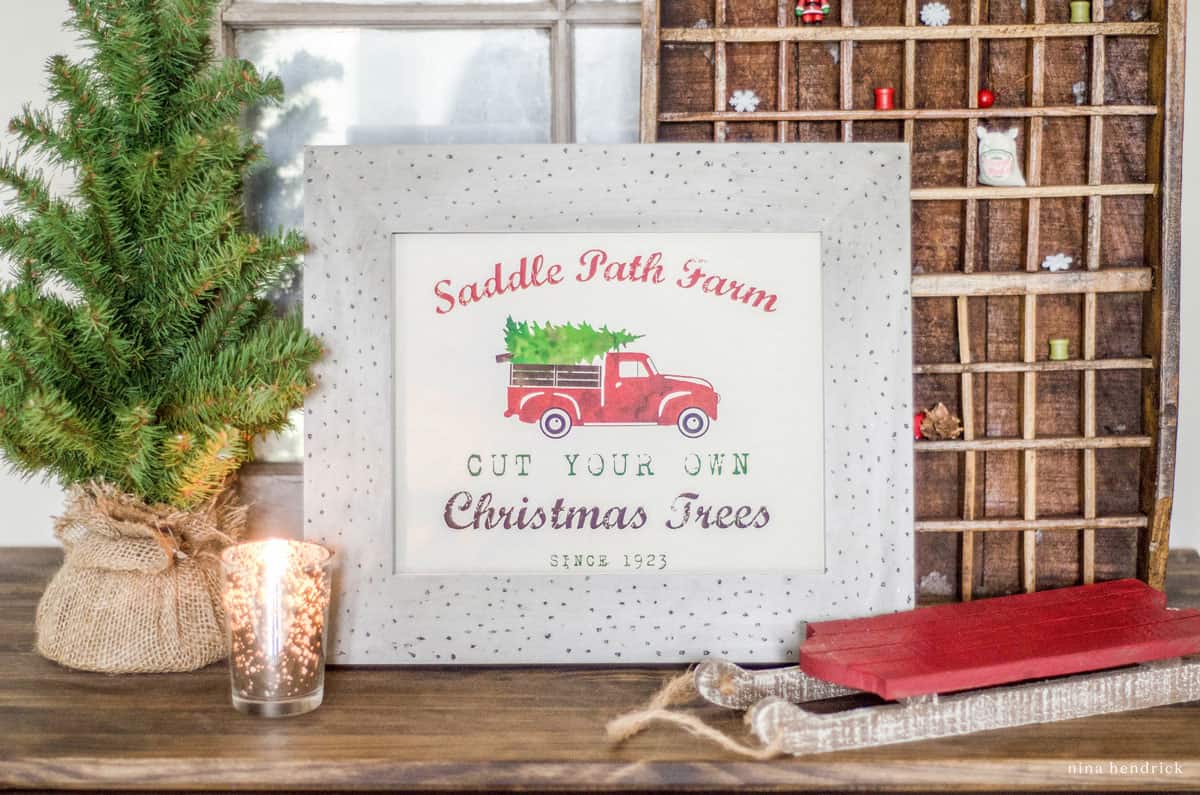 Whether it's on the wall or leaning in a vignette, decorating with seasonal artwork (maybe even a free printable!) that represents a favorite family memory will bring a smile to your face every time you see it.
Back in 2015, I styled a vignette that builds off of idea number one. I packed this nostalgic vignette with cozy Christmas decorating ideas, but it's all centered on the printable tree farm sign that was inspired by the popular tradition of visiting a tree farm and cutting your own Christmas tree. We typically dragged our tree to the car on a sled, so I found the little wooden sled at the dollar store to represent that memory.
3. Use a printer's tray to decorate with miniatures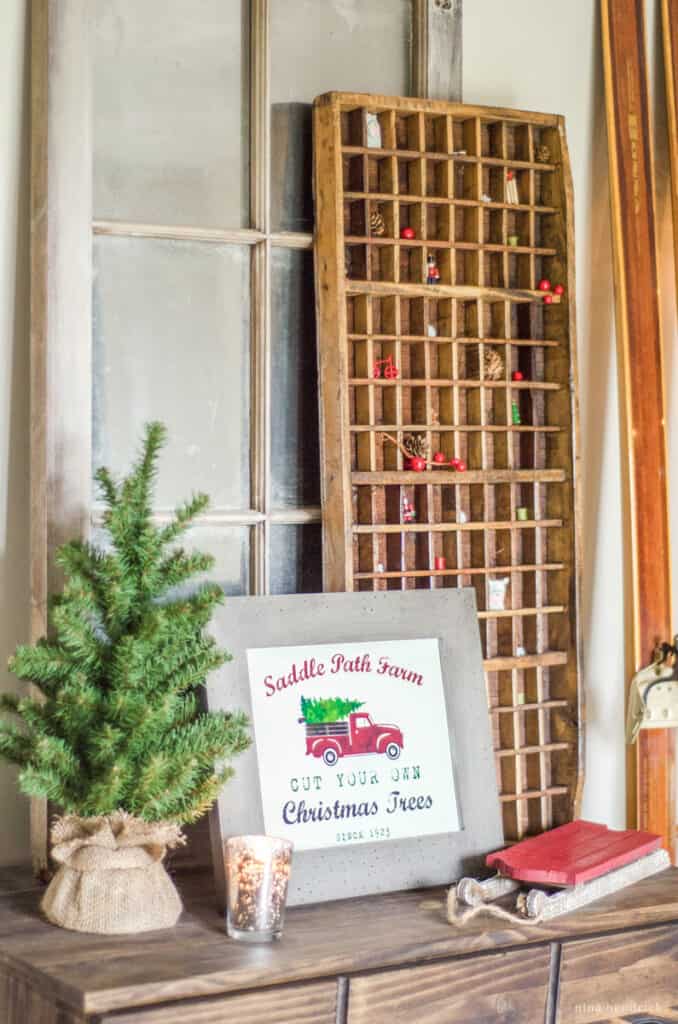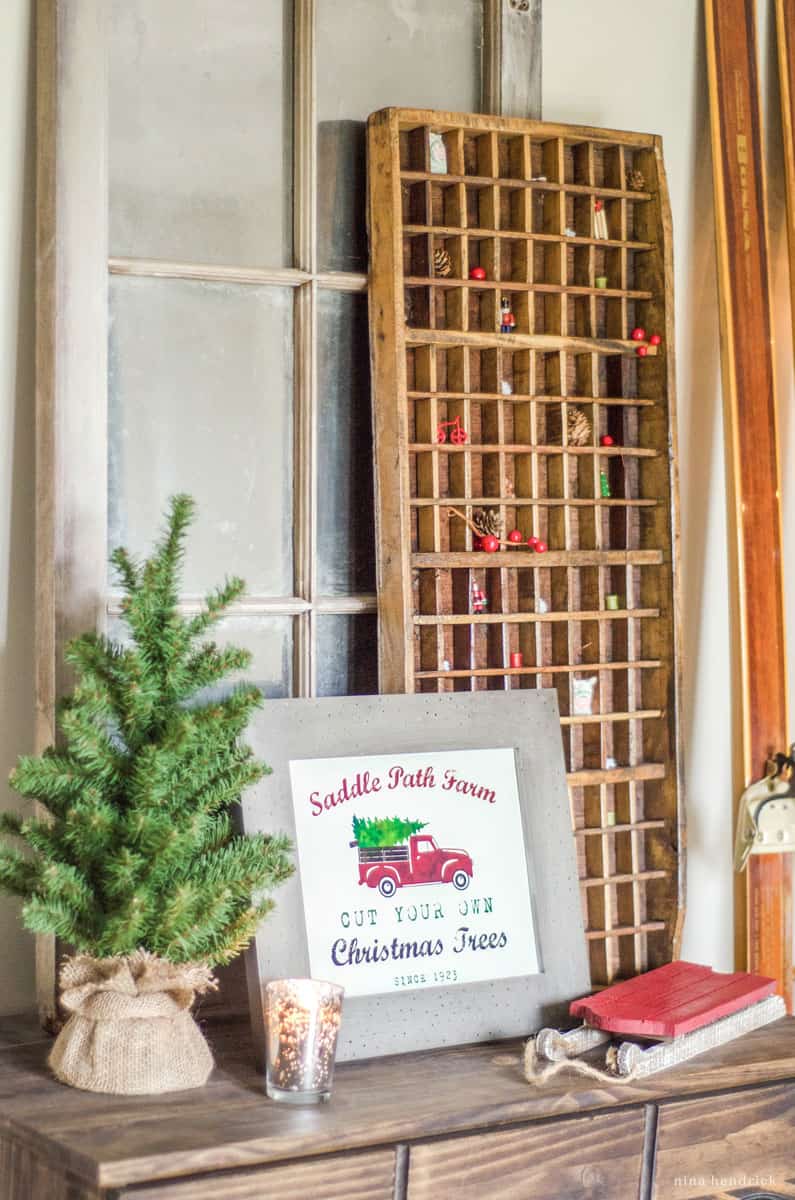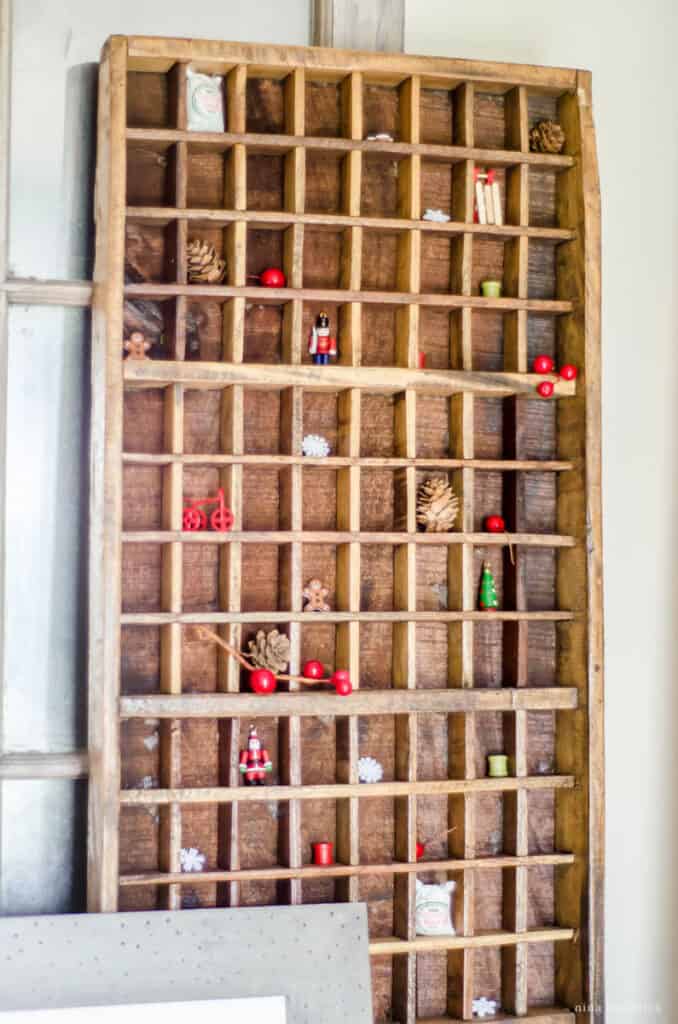 Printer's trays have many uses, but I have to say that housing Christmas miniatures is one of my favorite ideas! Some of these tiny ornaments were from the apartment sized Christmas tree that Mack and I had before we got married. I found others at the craft store. I also included some berries and mini pinecones!
4. Wrap a fresh evergreen garland around the bannister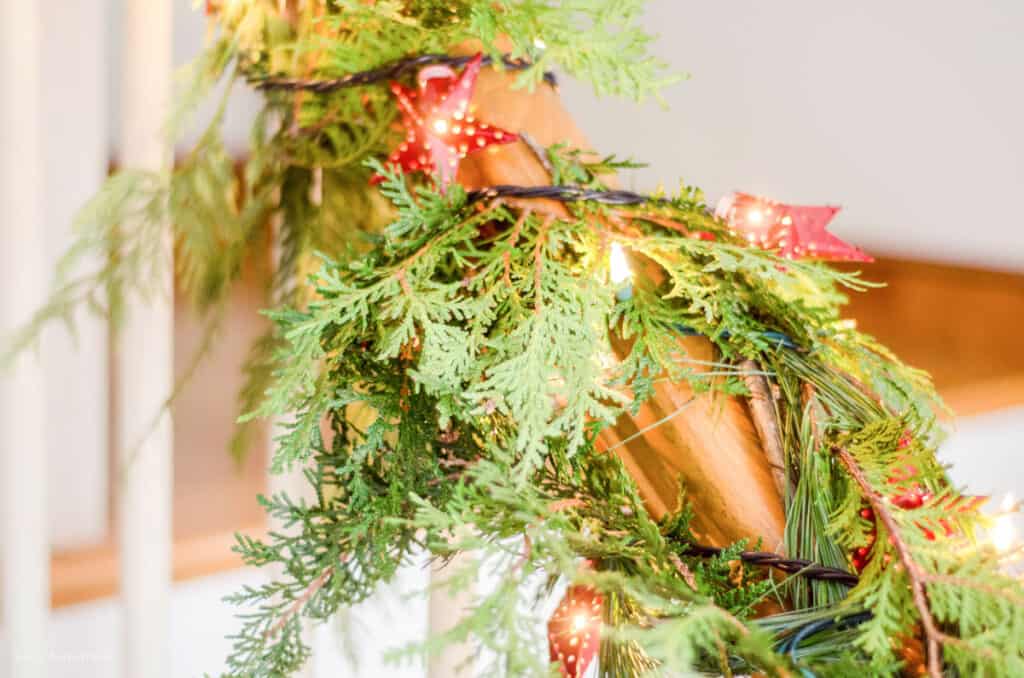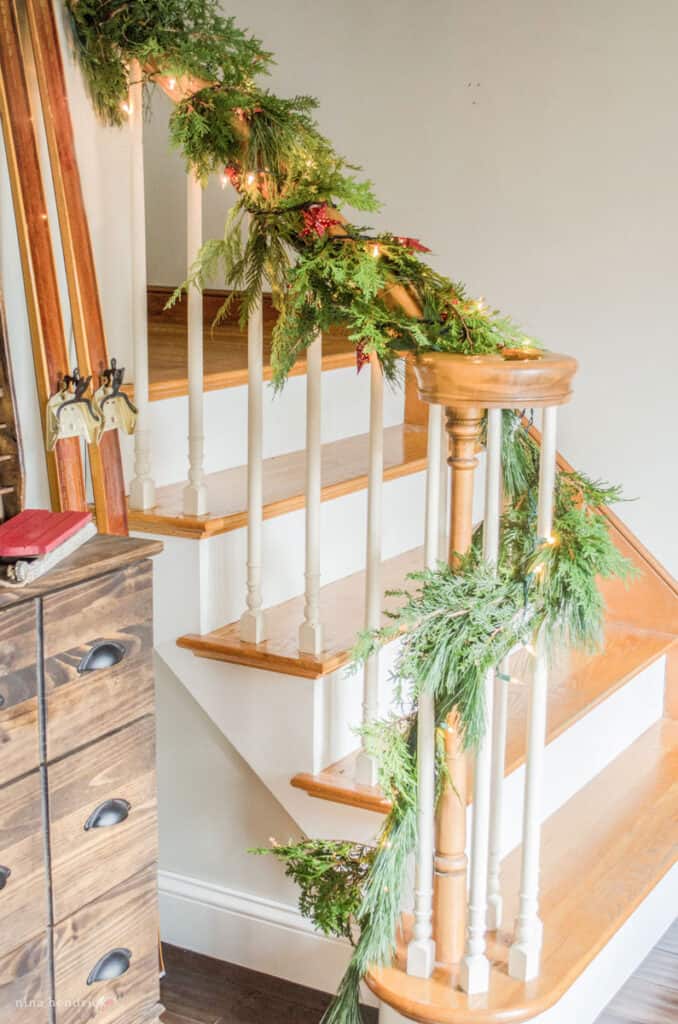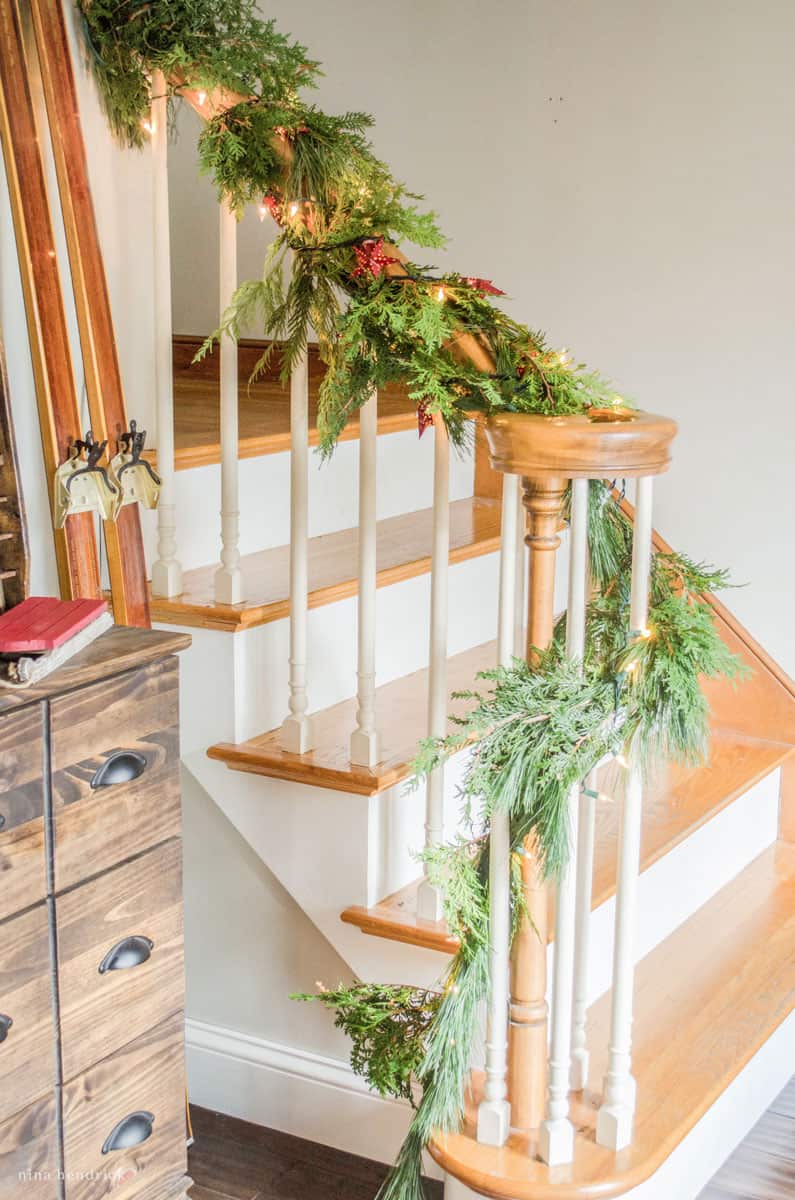 Having fresh garland on your stair bannister is a classic cozy Christmas decorating idea that I couldn't leave off the list. Perhaps the best aspect of this decor idea is that the twinkle lights glow so warmly at night! A trick to fill out a mixed garland is to add in some extra evergreens from the yard if you have them.
5. Create a Birch Log Christmas Crock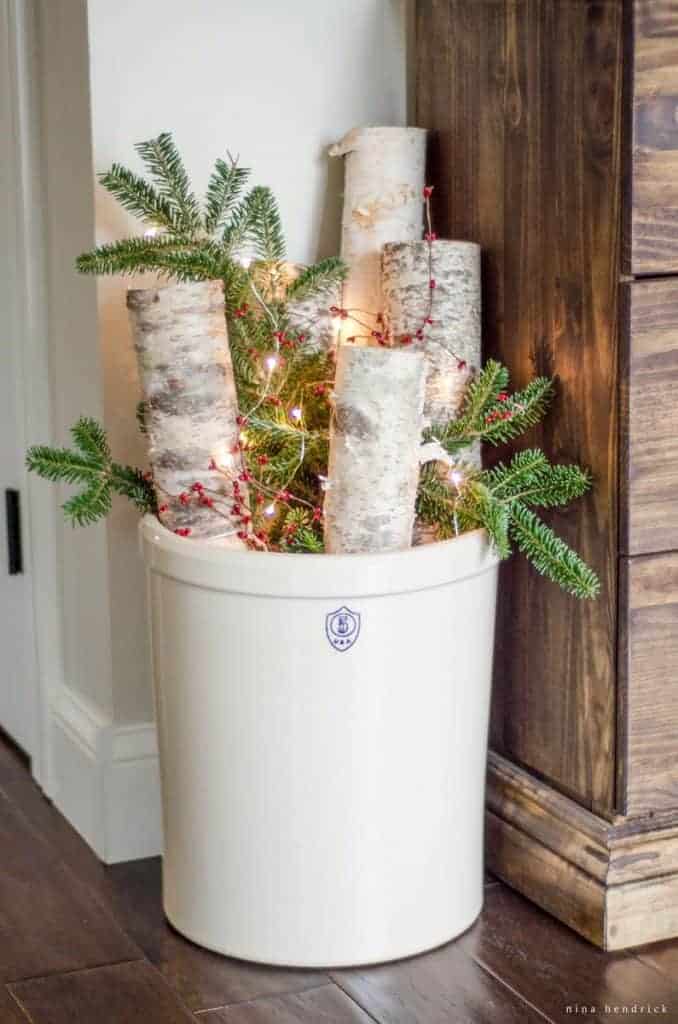 When I set out to do something with the extra clipping off of our Christmas tree, I had no idea that it would take off and go viral and even land me on HGTV to share the project with Martha Stewart!
This cozy Christmas decorating idea had humble beginnings as a pure accident when I filled a five gallon crock with some extra birch logs and tree clippings. I thought it looked pretty, so I decided to also add the berry twigs and a battery pack with string lights.
Now thousands of readers have made this project their very own! It's simple and adds a big impact. If you decide to recreate it this holiday season, tag me on Instagram @ninahendrickhome so I can see!
6. Welcome Guests with a Cozy Christmas Mudroom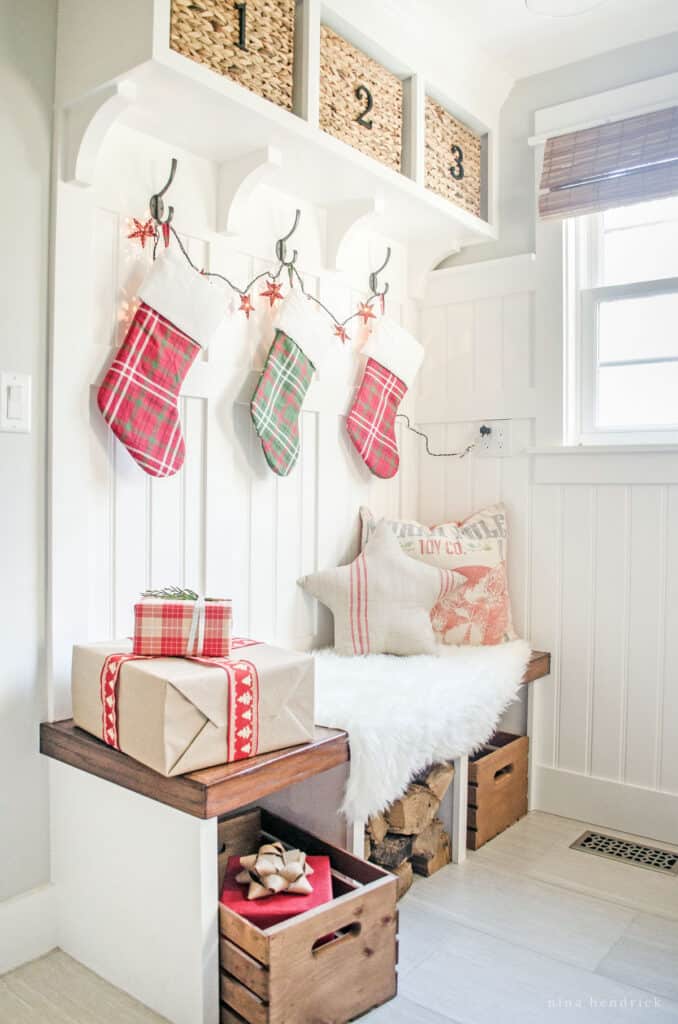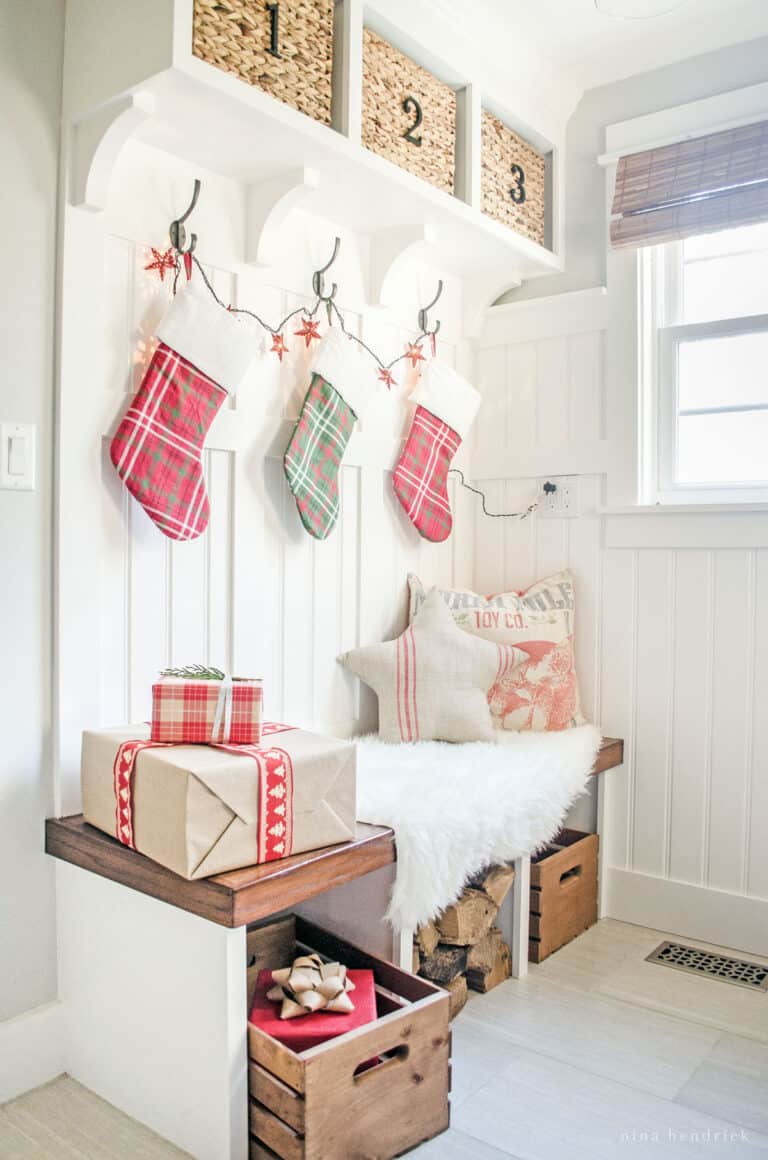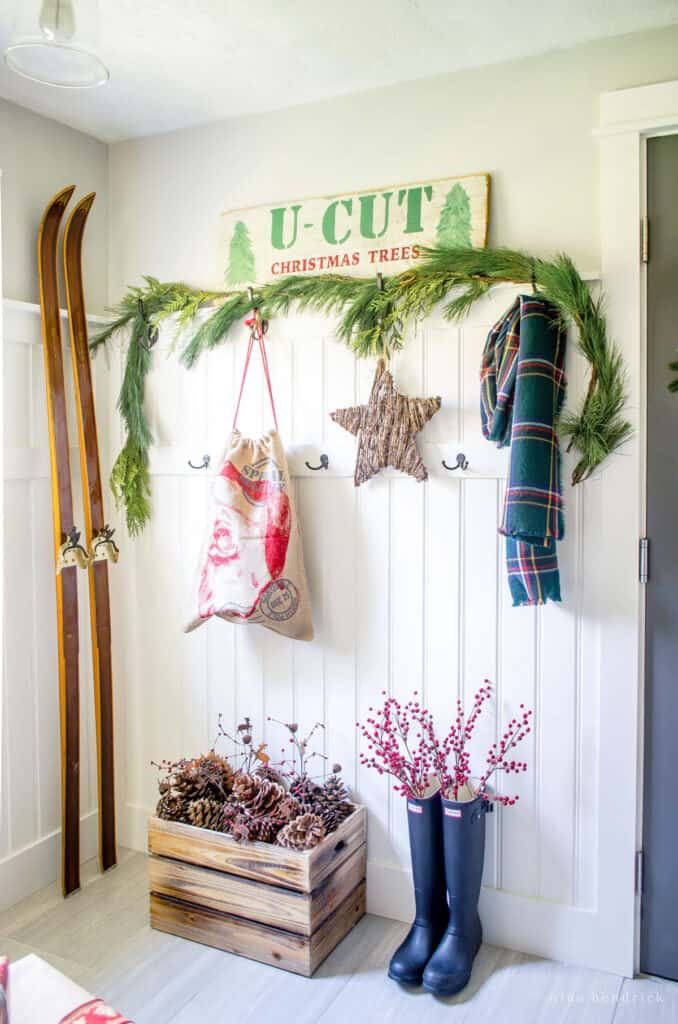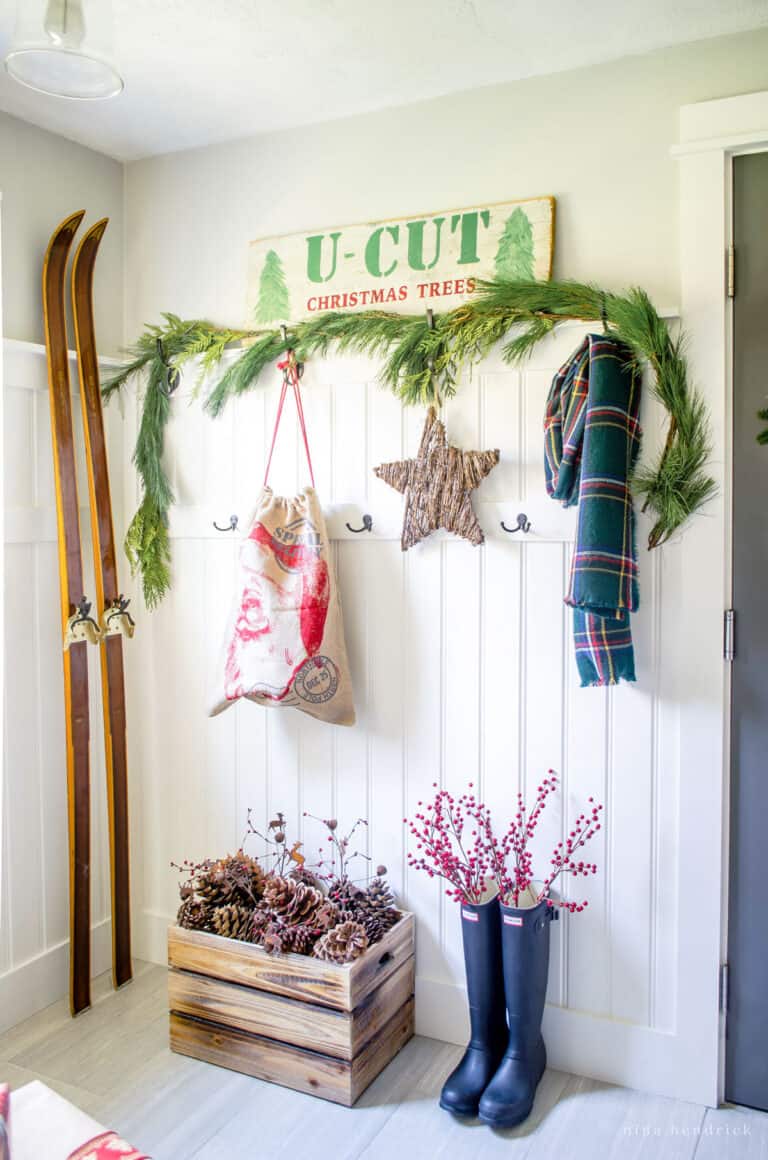 The foyer gets a lot of Christmas attention, but during the colder weather you may enter the house through the mudroom more often. To make your mudroom look and feel extra cozy and inviting, add a festive wreath, a welcoming sign, and some festive touches such as pine cones, festive garlands, and some Christmas ornaments.
You can also add some warm and fuzzy blankets, firewood, and some festive lighting to make the space extra cozy. Then, set out a basket of warm mittens, hats, and scarves for guests to use if they want to head out to take a walk in the winter wonderland. This is sure to create a cozy and inviting atmosphere for your holiday guests!
7. Create Birch Log Candle Holders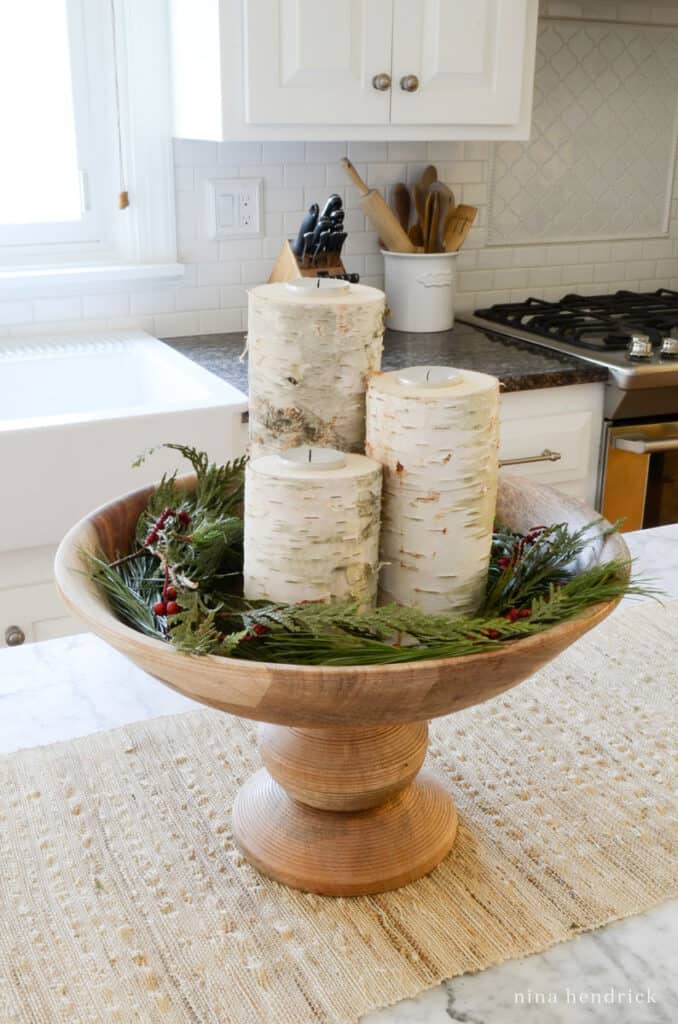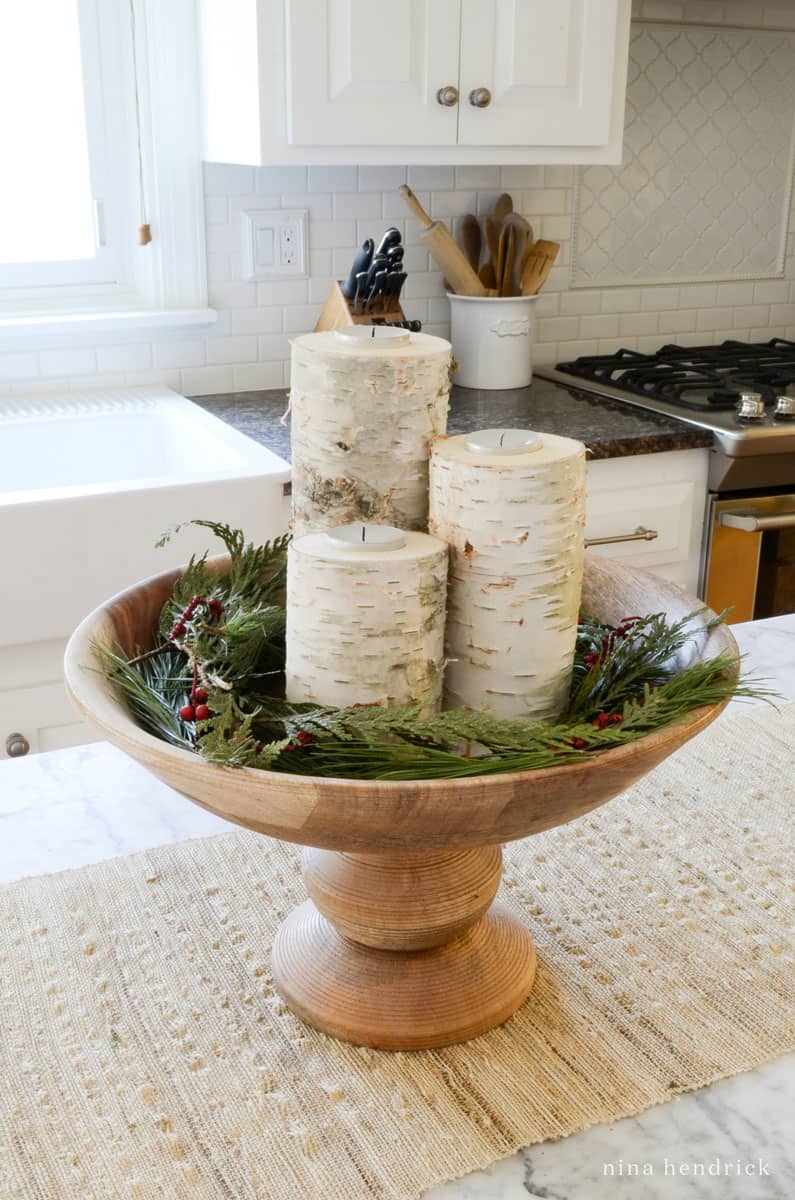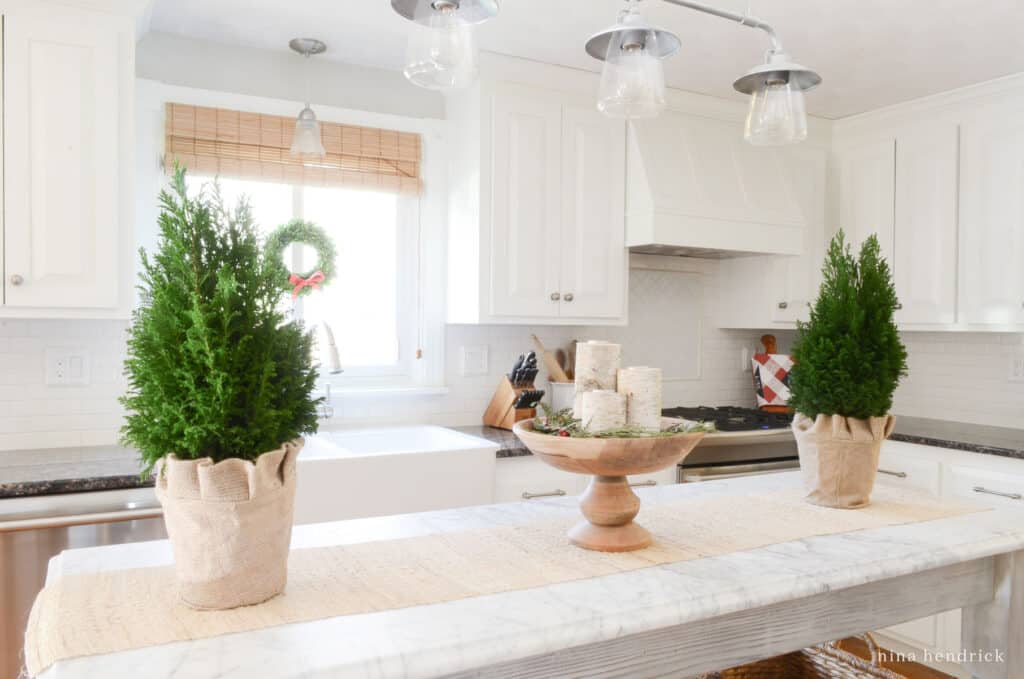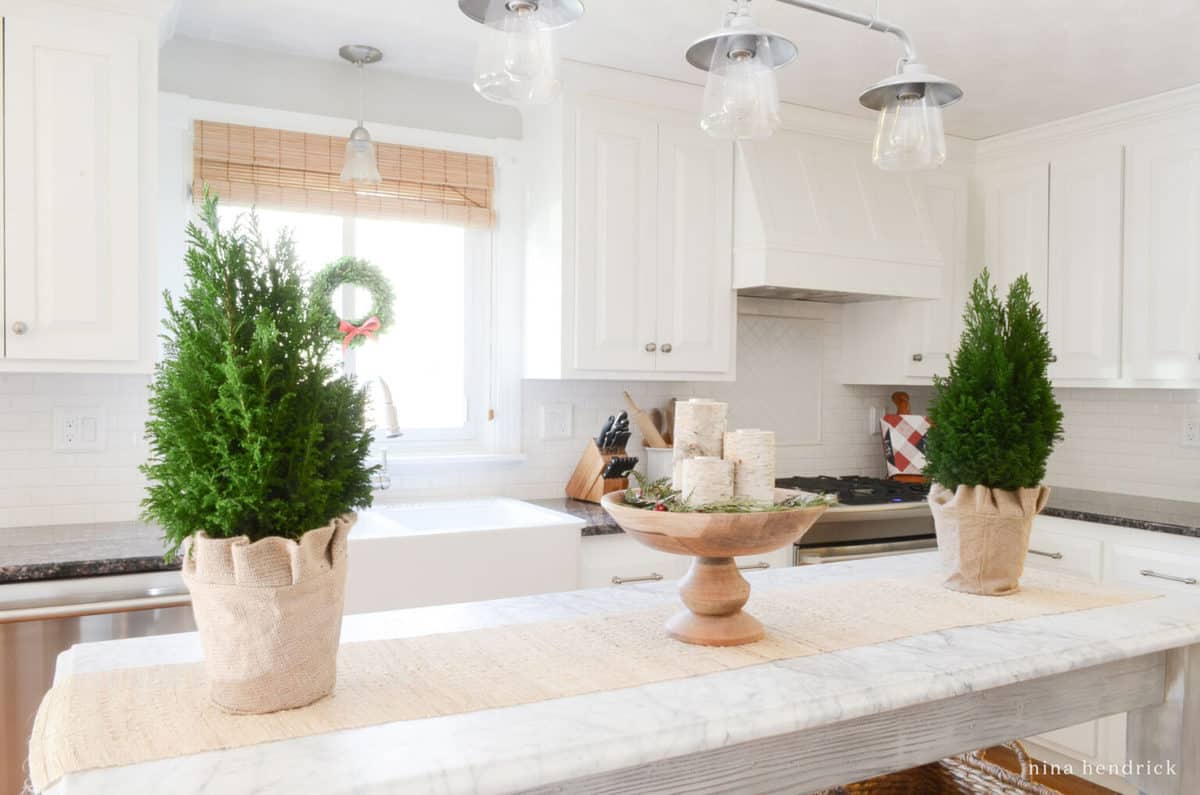 Another favorite warm and cozy Christmas decorating idea is these DIY birch candle holders. My dad is an arborist, and he gave me a bunch of birch logs. I really loved the birch candles that were being sold in many places, so I created my own!
Side note: if you aren't much of a DIYer, you can get the look with these! A bonus is that they're flameless for extra safety.
I took the logs and cut them into shorter pieces, then sanded down the edges. I then drilled holes in the middle and inserted some white tea lights. To make them look extra cozy, I added some small evergreen and berry sprigs around the logs. The result was a beautiful, rustic and warm candle holders that I can use every year! This also makes a great gift idea.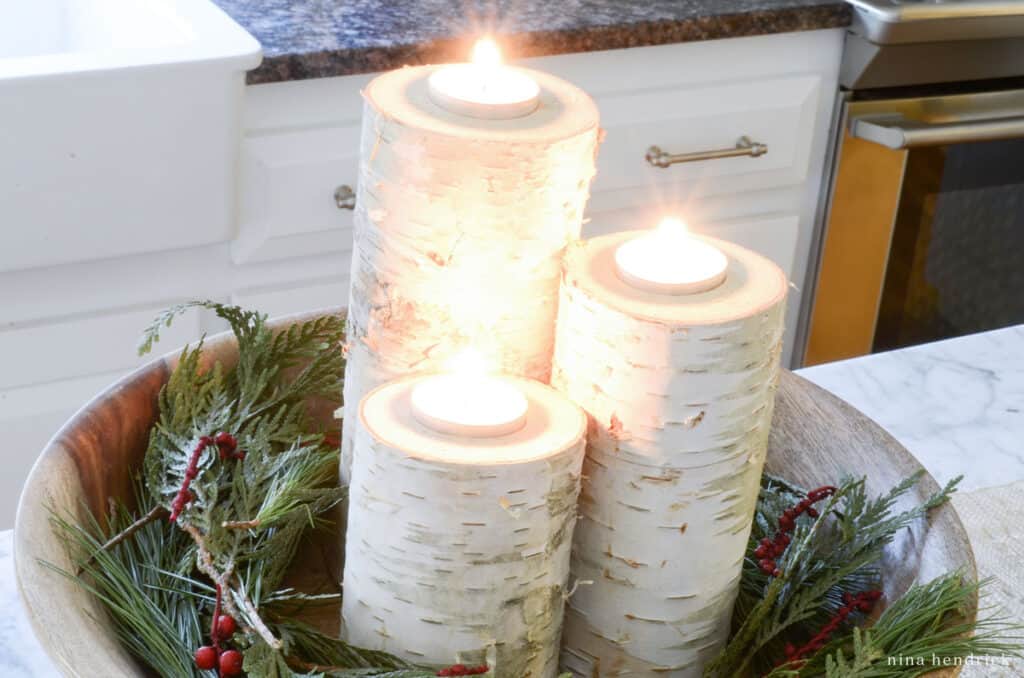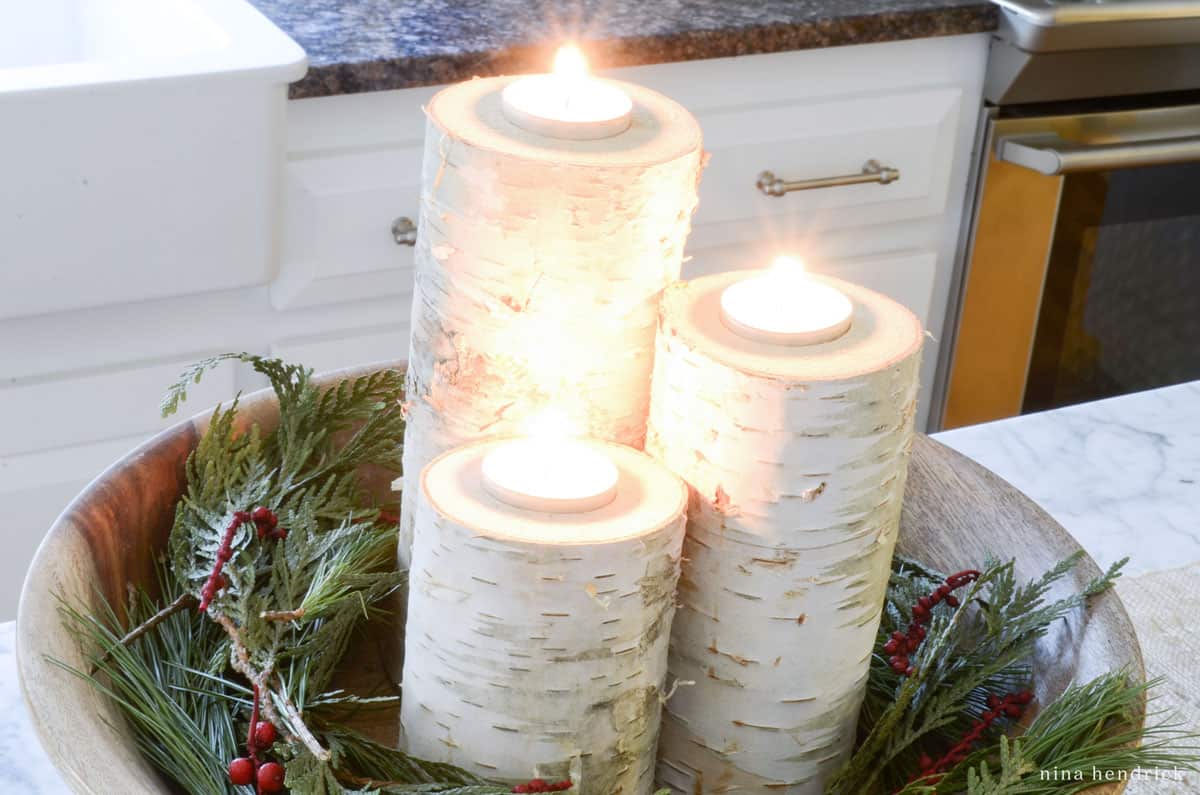 I've had a few questions about the safety of these candles — I recommend using a tea light with a metal tin and monitoring the candle as you're burning it. I haven't had a problem! Oh, and if you're looking for birch logs if they aren't local to you, here's a source for you (the best value I found!).
8. Host a Cookie Decorating Party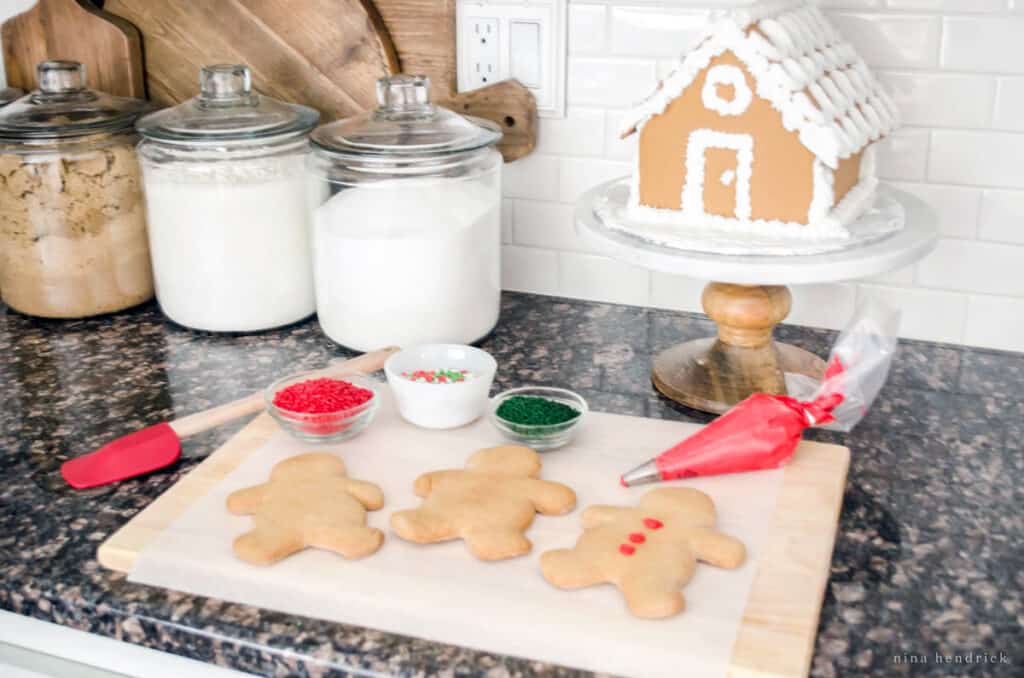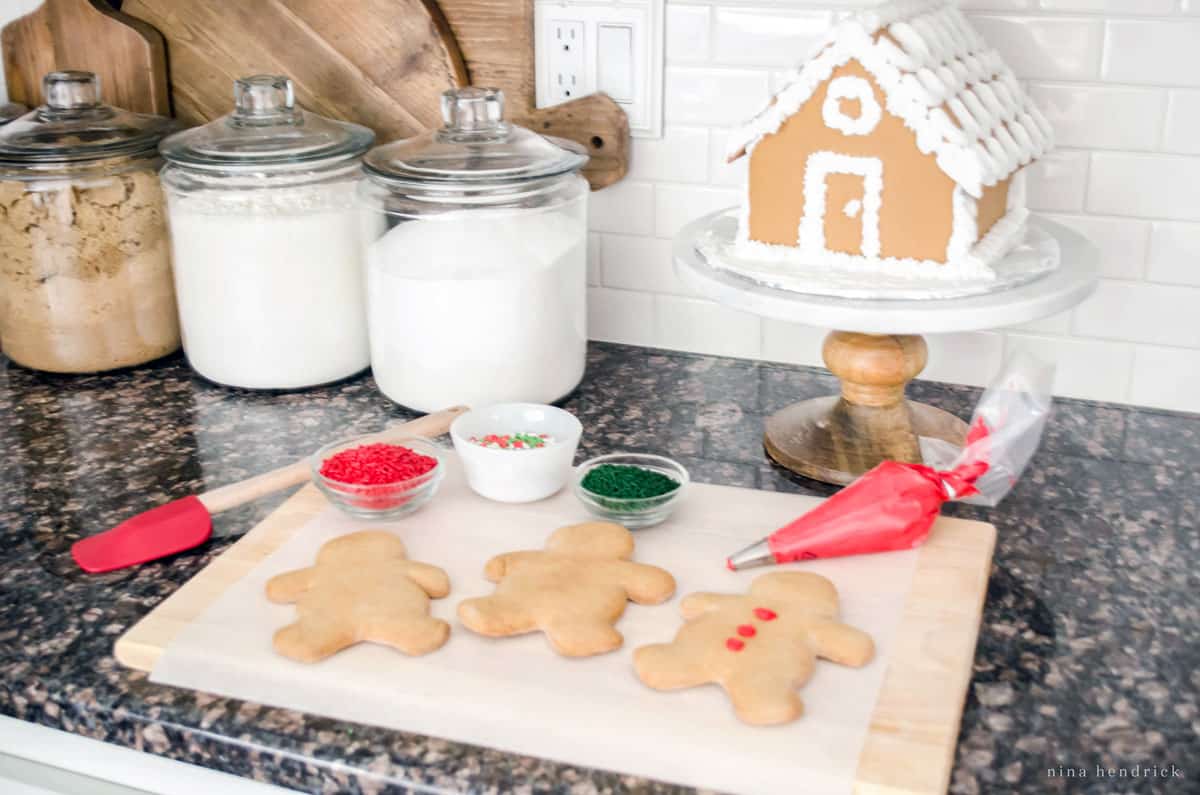 Hosting a cookie decorating party is a great way to get into the Christmas spirit. Invite your friends and family and provide them with a selection of pre-baked cookies to decorate. You can even provide each guest with a personal cookie decorating kit with necessary supplies like icing, sprinkles, and candies for them to decorate with.
Set up a table with a festive table cloth, and turn on some cozy Christmas music to create an inviting and cheerful atmosphere. After the cookie decorating is complete, everyone can enjoy the delicious treats they have created. See my favorite ideas for hosting a cookie decorating party here!
9. Set Up a Warm Beverage Bar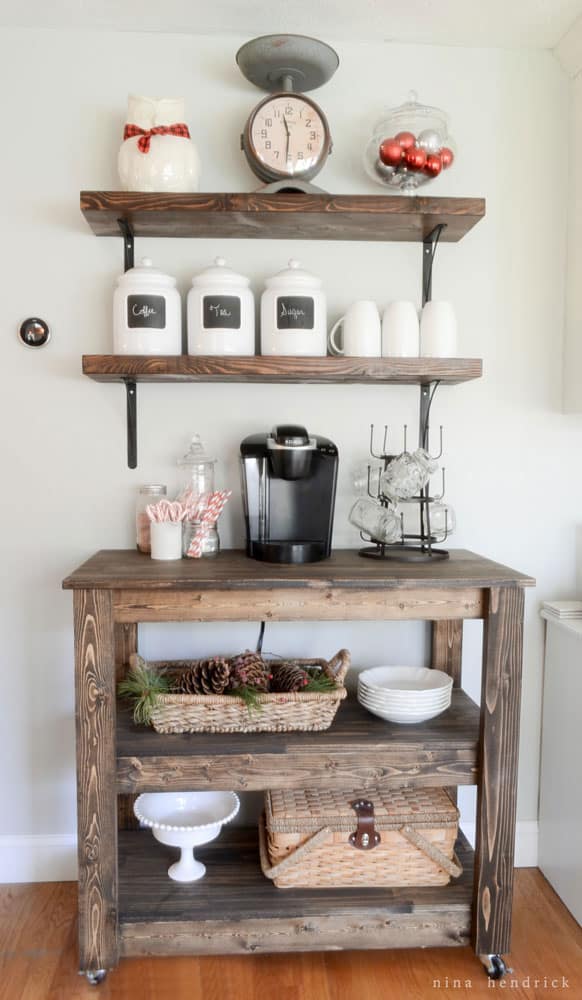 Is there a cozier holiday pastime than drinking a warm beverage? If there is, I haven't found it yet. A hot chocolate bar is a no-brainer for warm and cozy Christmas decorating ideas. I've done a few variations of the warm beverage/hot cocoa bar over the years, including later on in this exact spot once we removed the built-in desk.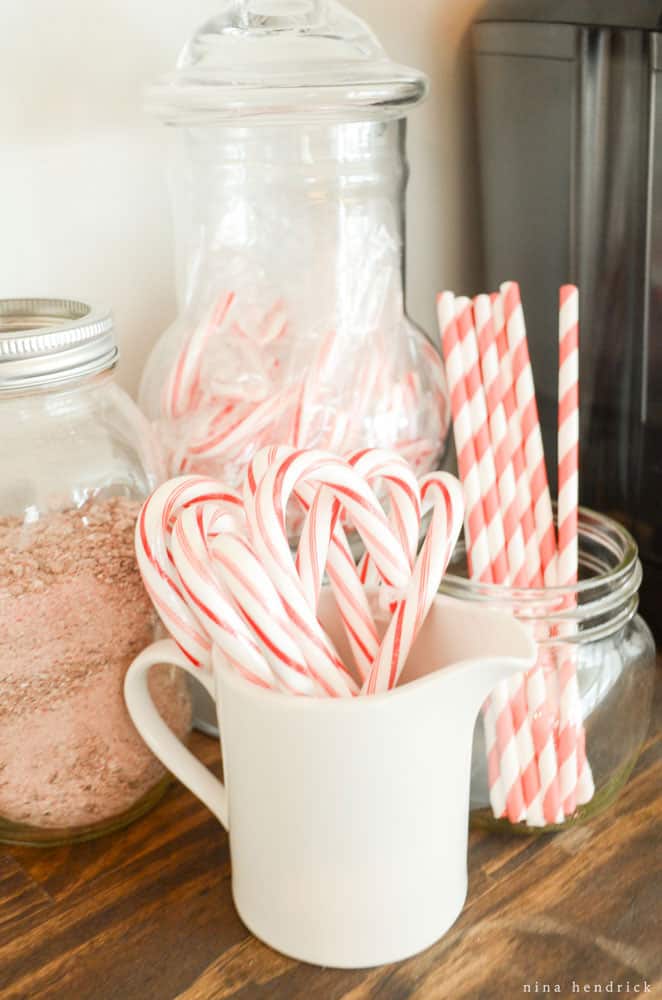 Set up a tray with mugs, a pot of hot chocolate, a jar of marshmallows, and a few peppermint sticks. Place it on an accent table in the living room, or set it up in the kitchen to encourage family members to get together and enjoy a warm cup of cocoa. Add a little extra sparkle to your beverage bar by adding Christmas-themed sugar cookies and candy canes!
I love that this idea invites your guest or family member to settle in and enjoy a nice treat — and bonus that it looks so pretty and festive for decor. Looking for some cookie recipes to go with the warm drinks? Try these!
10. Treat Your Guests to a Cozy Christmas Brunch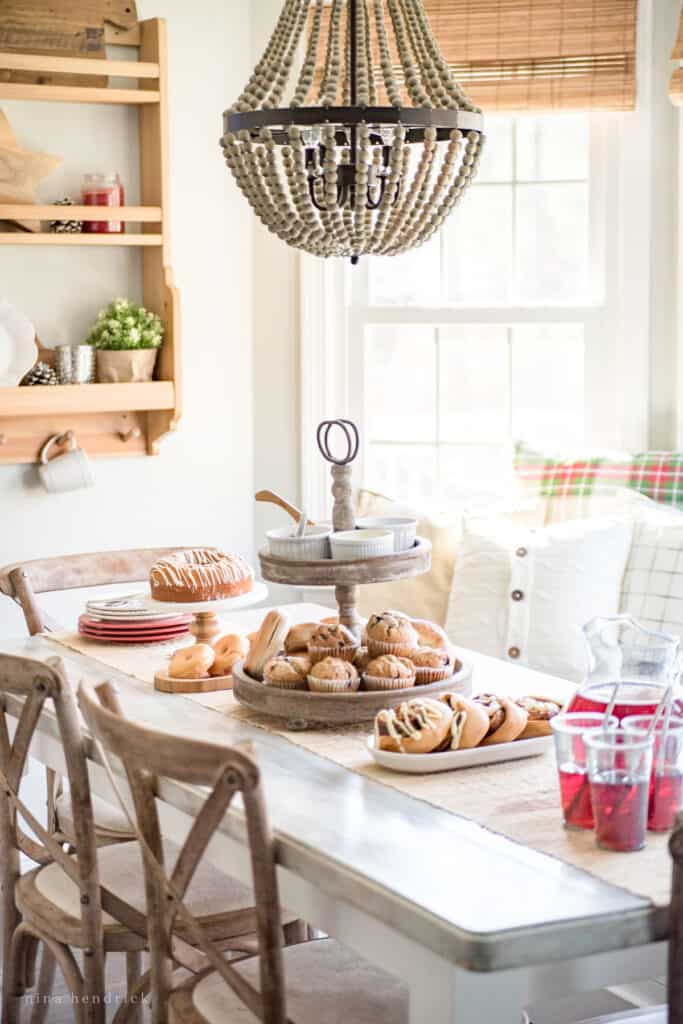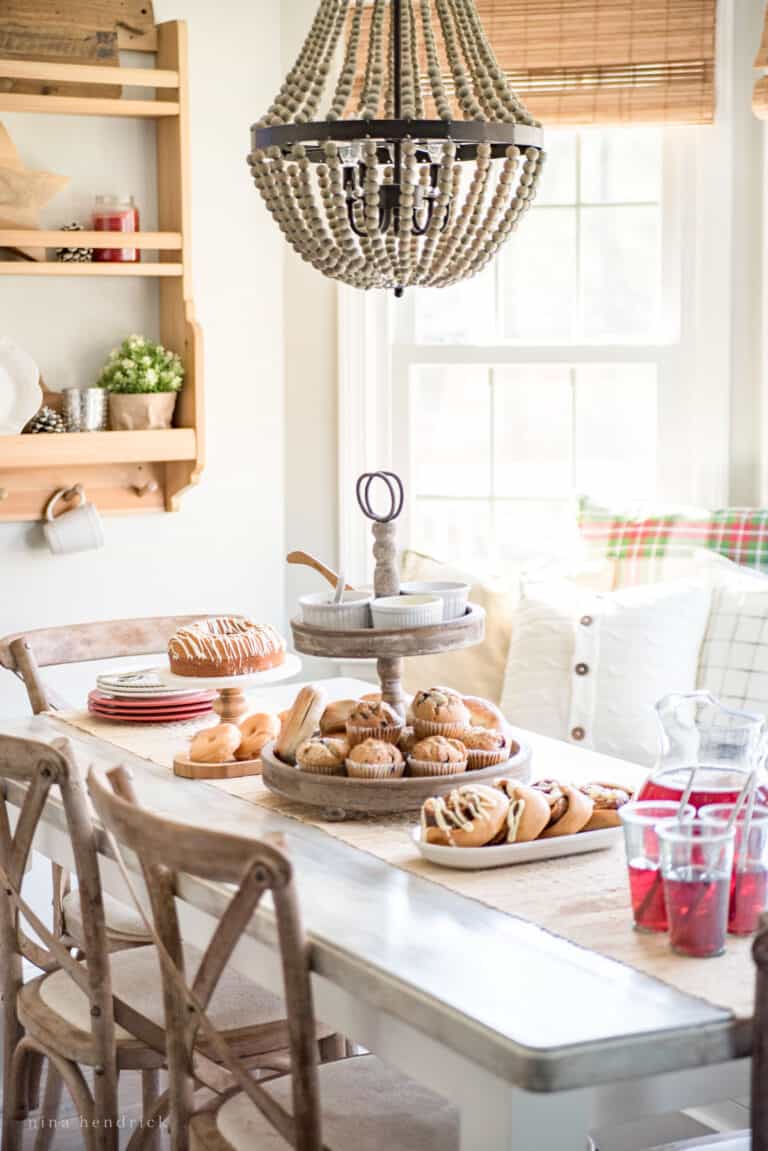 Get creative with your Christmas decorating ideas by hosting a cozy Christmas brunch for your friends and family. Start off by setting the table with festive tablecloths and centerpieces. Adorn the walls with fun decorations like garlands of greenery or string lights. Make sure to have plenty of festive-colored dishes and flatware to really get into the Christmas spirit.
Serve up homemade dishes like pancakes, waffles, omelettes, or French toast. Or, stop by your favorite bakery for pastries or bagels with all of the fixings. Add in some holiday-inspired treats like gingerbread cookies, candy canes, and eggnog. Finish off the brunch with a hot cup of coffee or tea from your hot chocolate bar! With a little bit of extra effort, your cozy Christmas brunch will be a memorable and enjoyable event for your loved ones.
11. Create a Simple Berry Centerpiece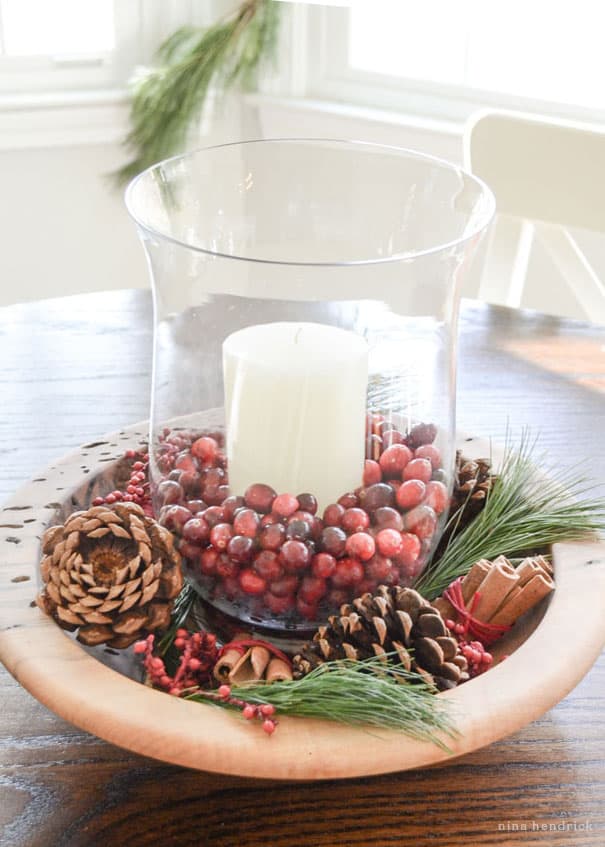 To create this simple arrangement, I used a white candle and cranberries inside of one of the glass hurricanes that were our wedding centerpieces.
The vase sits in a wooden bowl that was a Christmas gift from a sweet family friend named Bernie. He's an incredible craftsman and makes these bowls as a hobby in his retirement. I fell in love with the bowl while I was visiting his workshop, and it magically appeared under my tree one Christmas. It must have been Santa!
I finished the arrangement off by surrounding the hurricane with some extra pine needles, pinecones, cinnamon sticks, and berries. It has an almost nordic vibe, especially when you light the candle!
12. Consider a natural tree (at least a small one)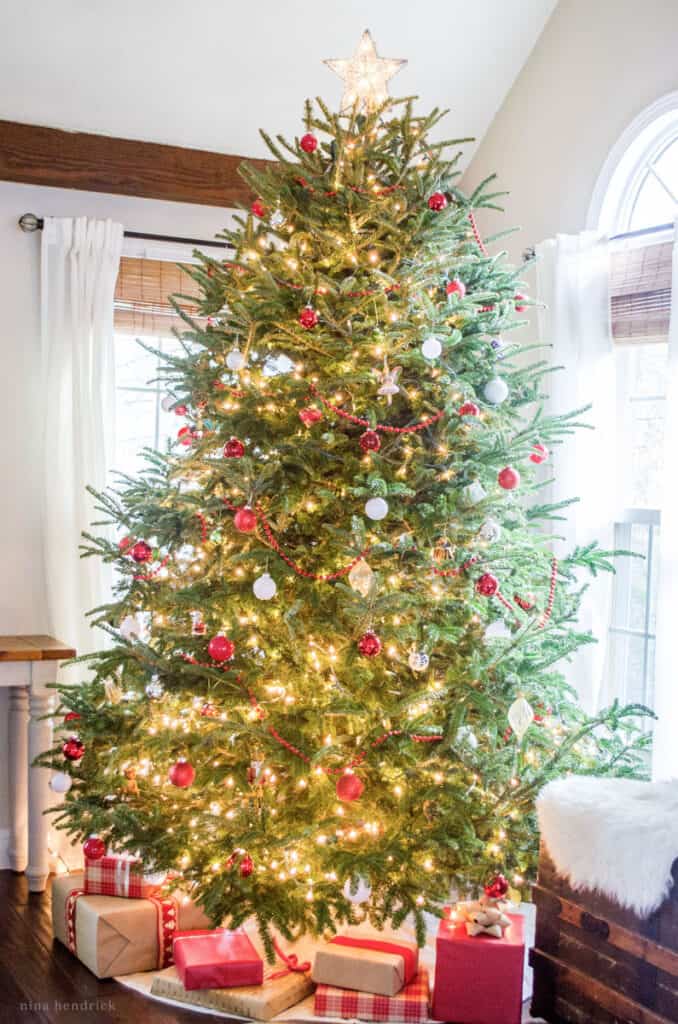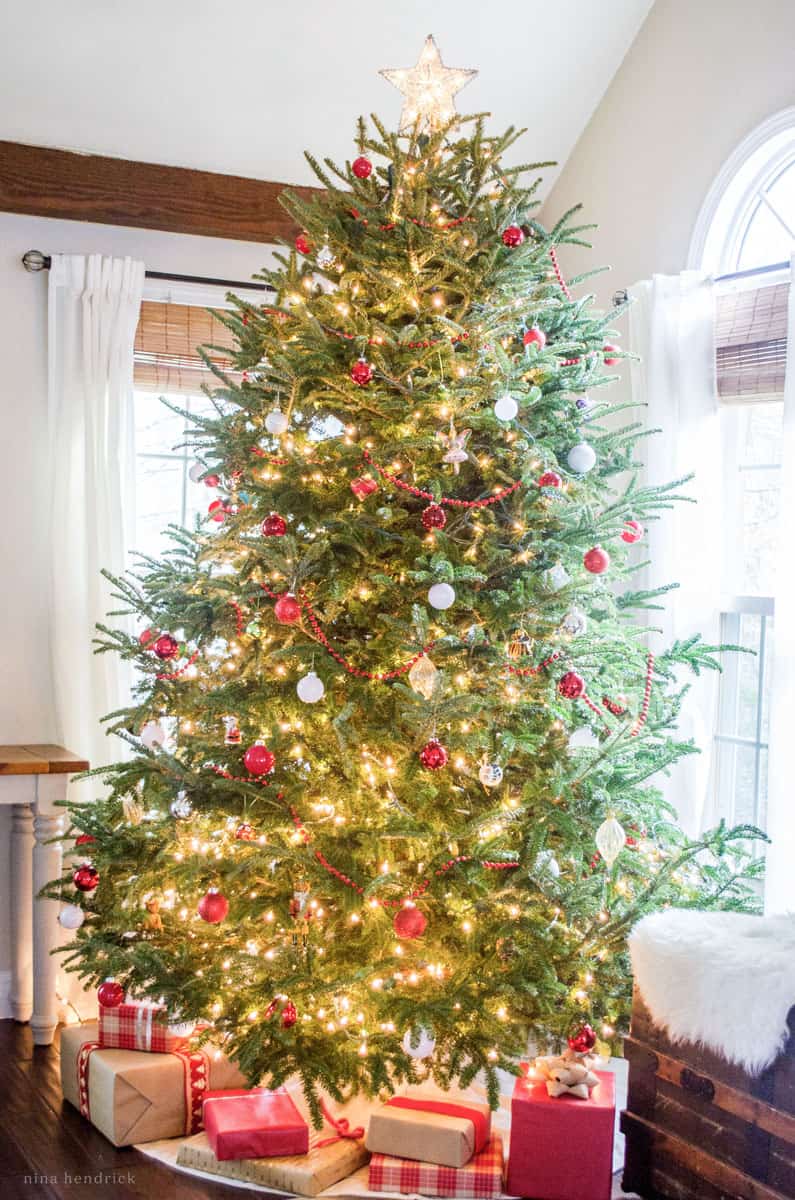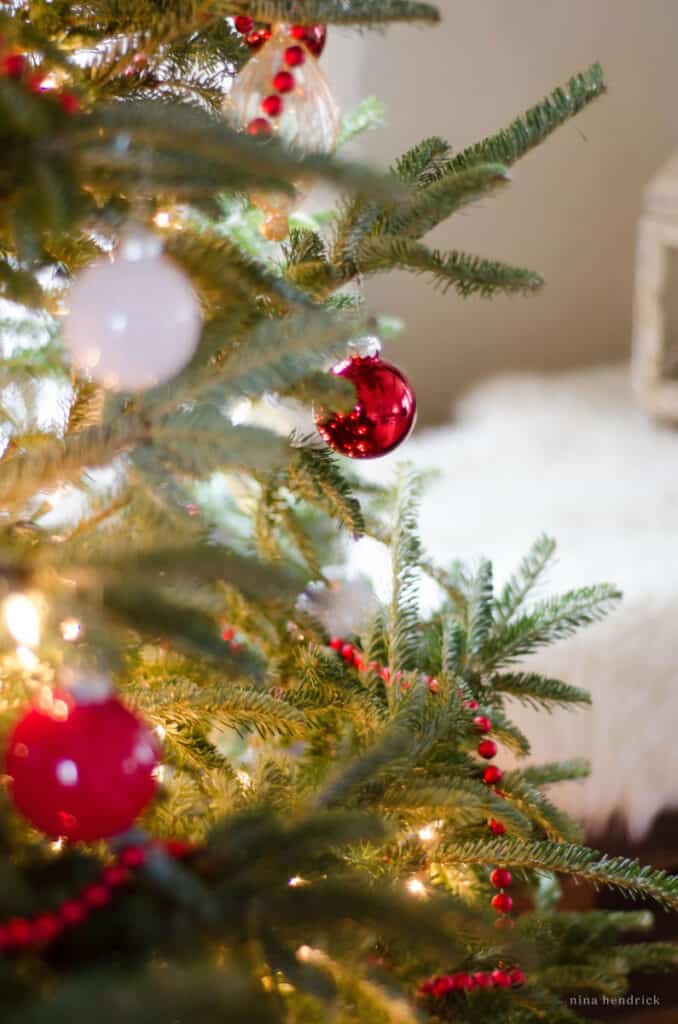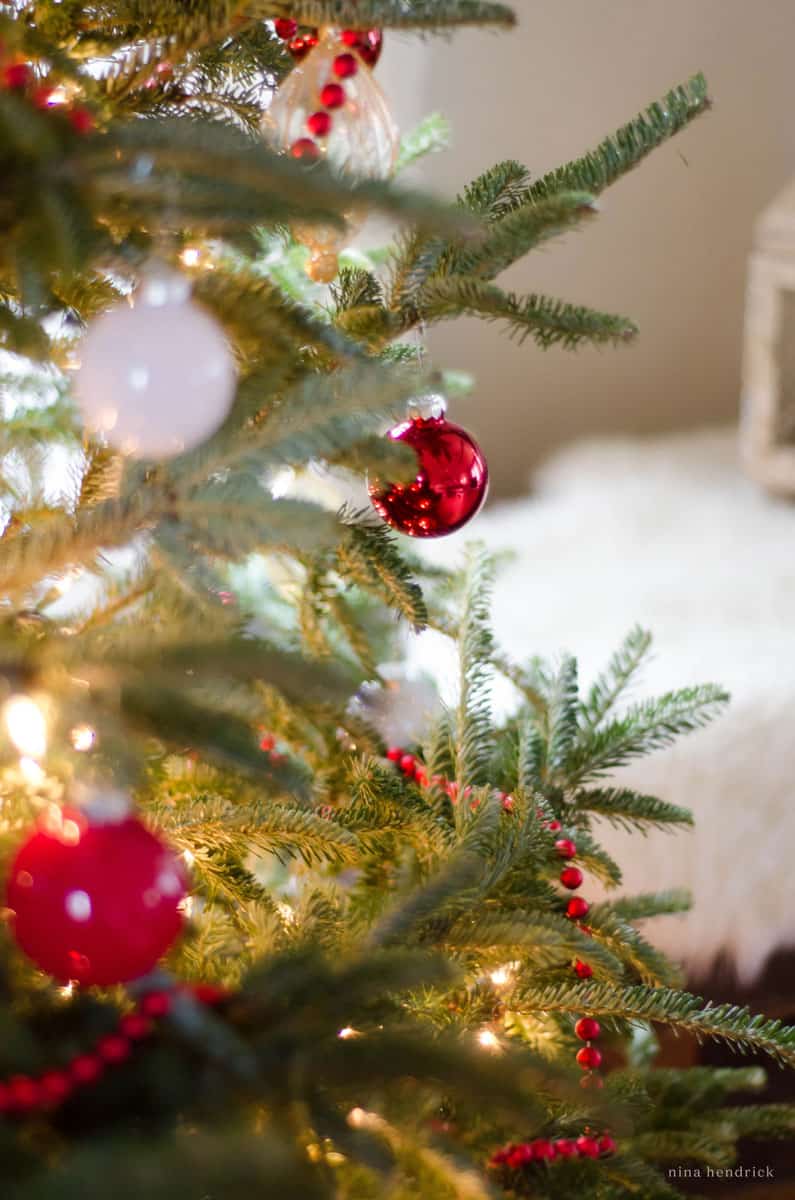 Another warm and cozy Christmas idea is to use a natural tree. If you're worried about the environmental impact, consider a tree that you can plan in the spring or just having one small natural tree. I love my giant faux tree, but nothing beats the smell of a real Christmas tree!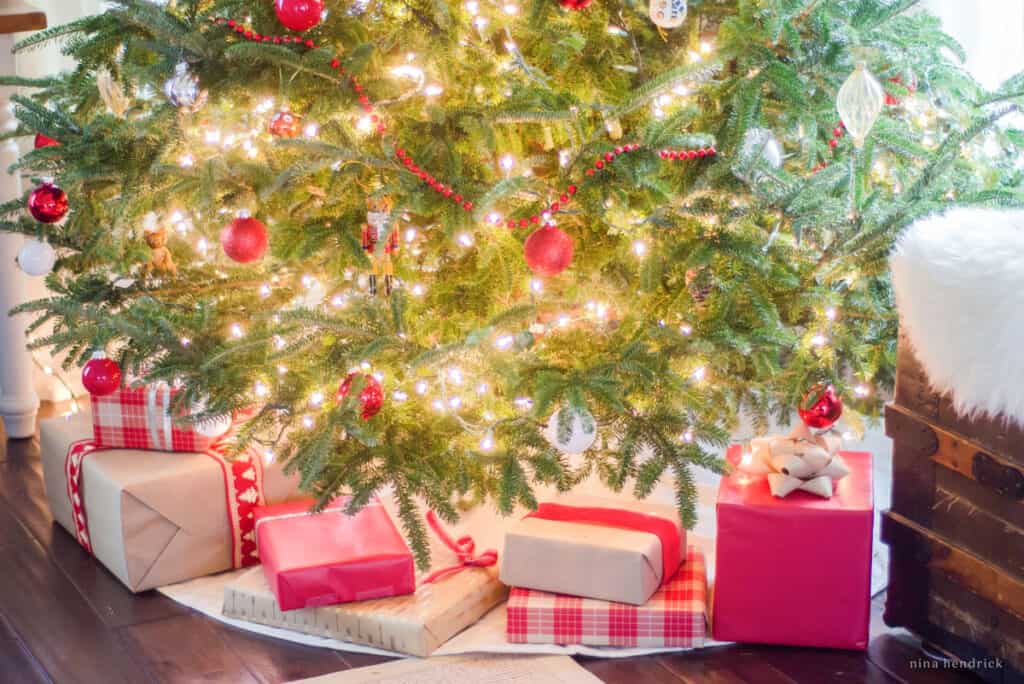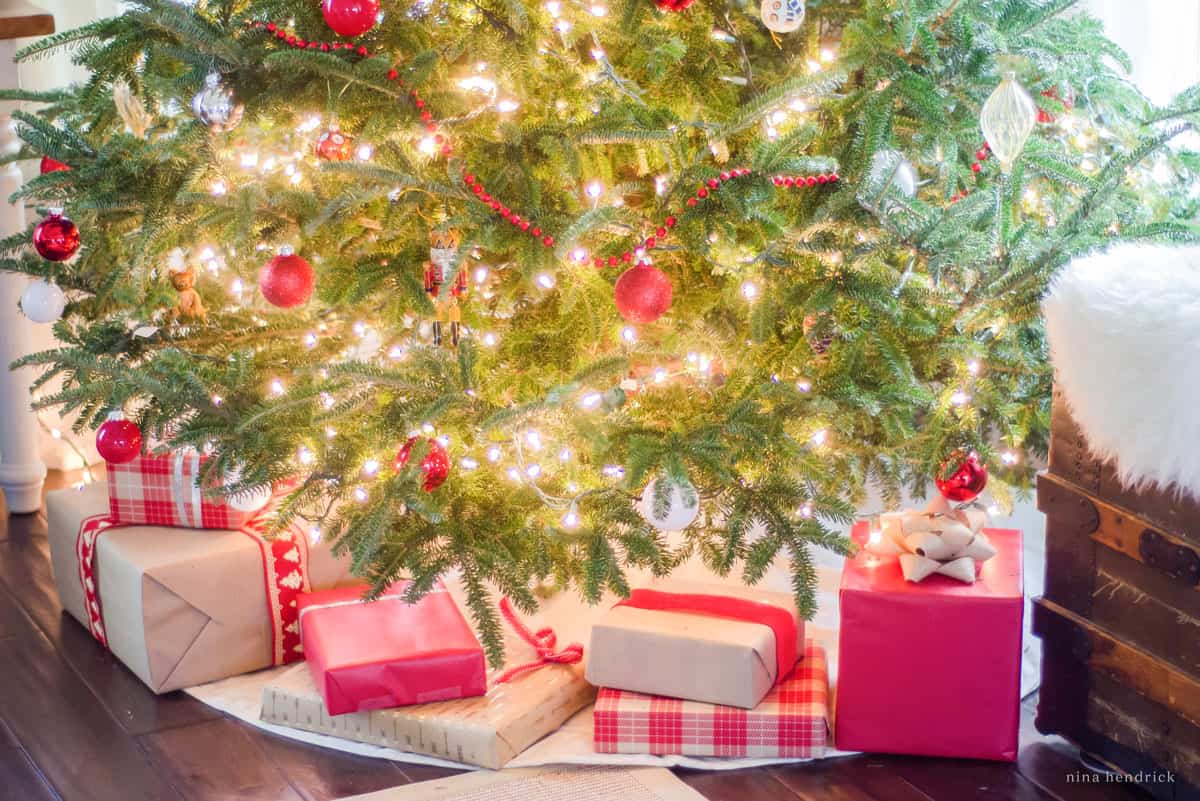 Another tip is to keep it simple, with minimal ornaments. I know over-the-top trees are more Pinterest-worthy, but they've never been my thing. We only put the very special ornaments on the tree, like first Christmases along with the regular glass balls. If you scrutinize it closely, I'm sure you would find that many of the ornaments are on the same branch, and colors are clumped together. I have my little crew of elf helpers, and it looks beautiful to them. That makes it even more special!
13. Elevate the Cookies & Milk For Santa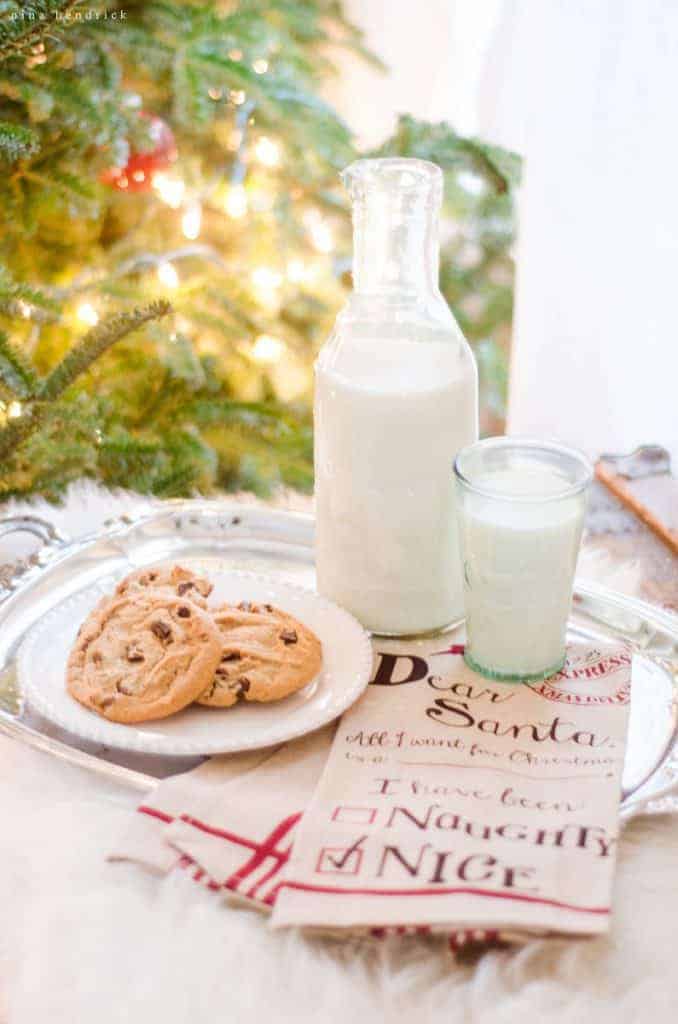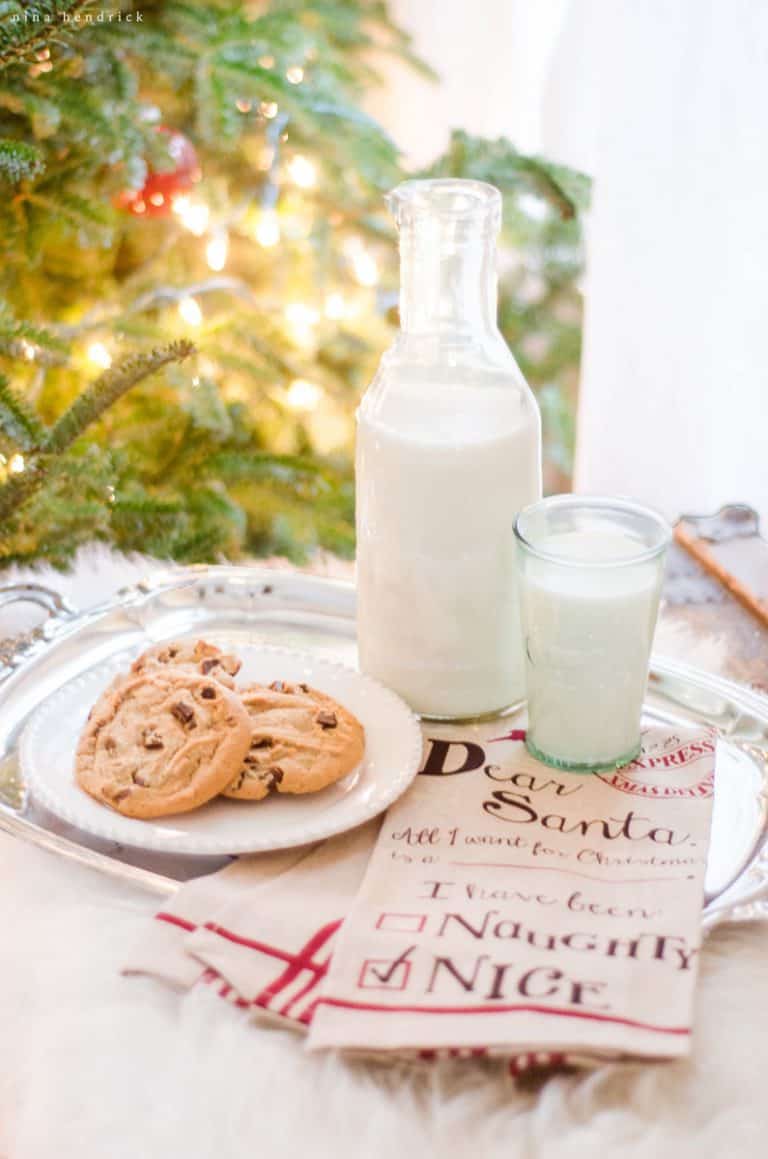 A glass milk bottle and cookies and milk on a pretty plate with a tea towels makes for such a cozy and cute scene on Christmas Eve. When I took this photo my boys were very concerned that I forgot the carrots and celery for the reindeer. I promised this was just a trial run, and I will remember for the actual event!
14. Decorate a Tree with Soft and Cozy Ornaments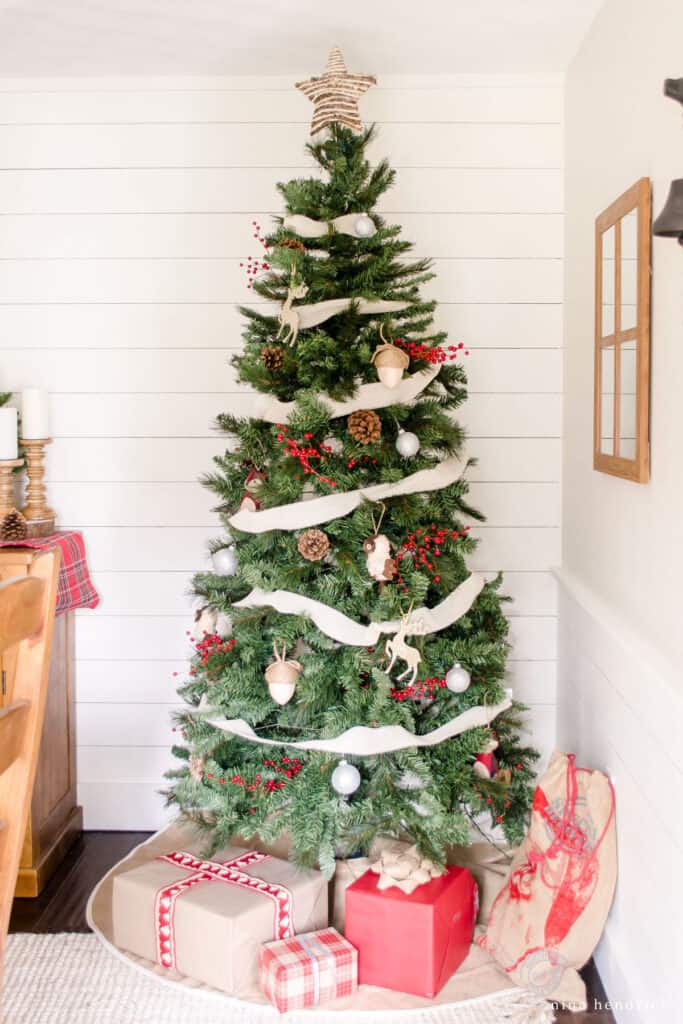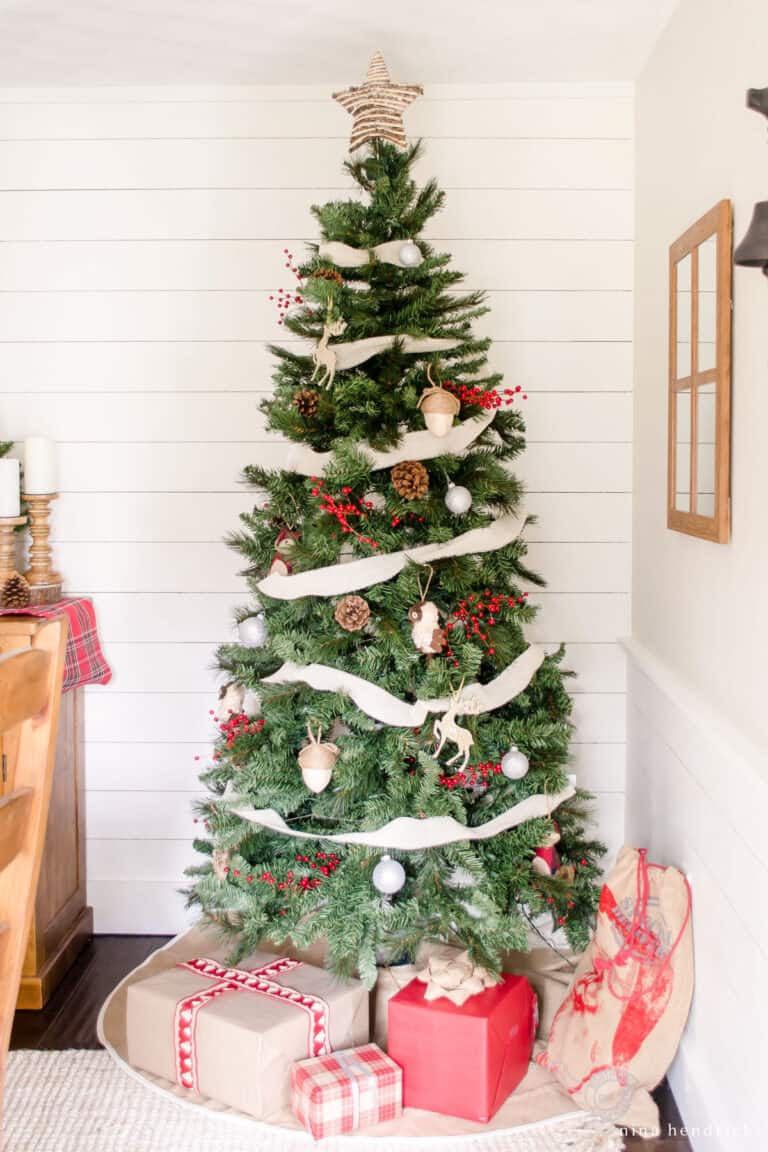 Christmas trees are a staple of the holiday season, and there are so many ways to make it extra cozy. Start by decorating the tree with soft and cozy ornaments such as felted acorns, woodland critter stuffed ornaments, felt garlands, and soft ribbon. You can also add some extra warmth with a faux fur tree skirt and twinkling string lights. Finish off the look with a heirloom quilt or a holiday-inspired throw blanket draped at the base of the tree.
Especially if you have little ones toddling around, decorating a tree with soft ornaments can be an especially good idea! All of these cozy decorating ideas will bring a touch of warmth and comfort to your Christmas decorations.
15. Create an Advent Calendar Full of Family Fun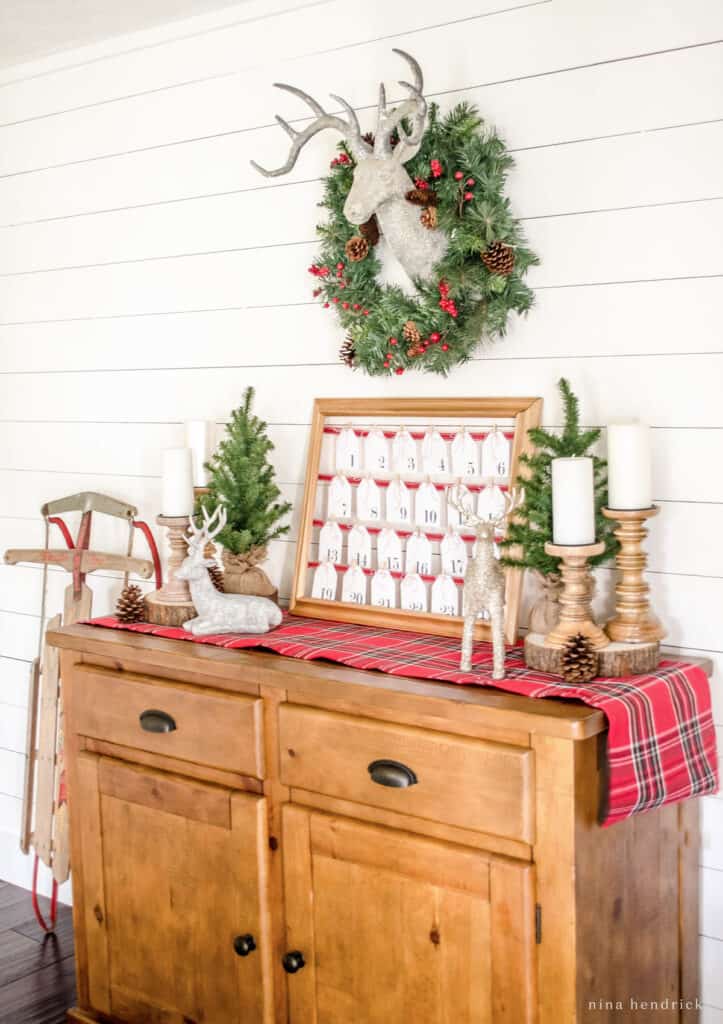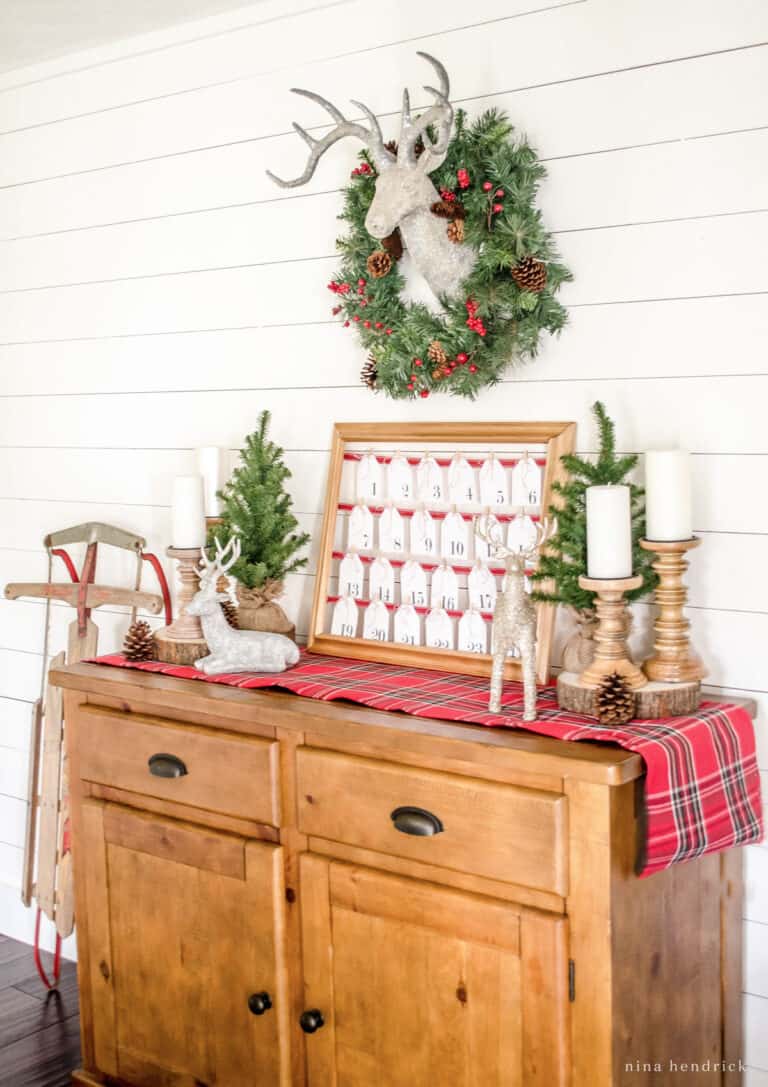 An Advent calendar is a great way to get your family into the holiday spirit. For this one, I took a simple frame from the craft store, attached four ribbons, and tied six ribbons to each tag with activities on the back! Subscribers can grab a free printable of our tags in the file library by signing up below.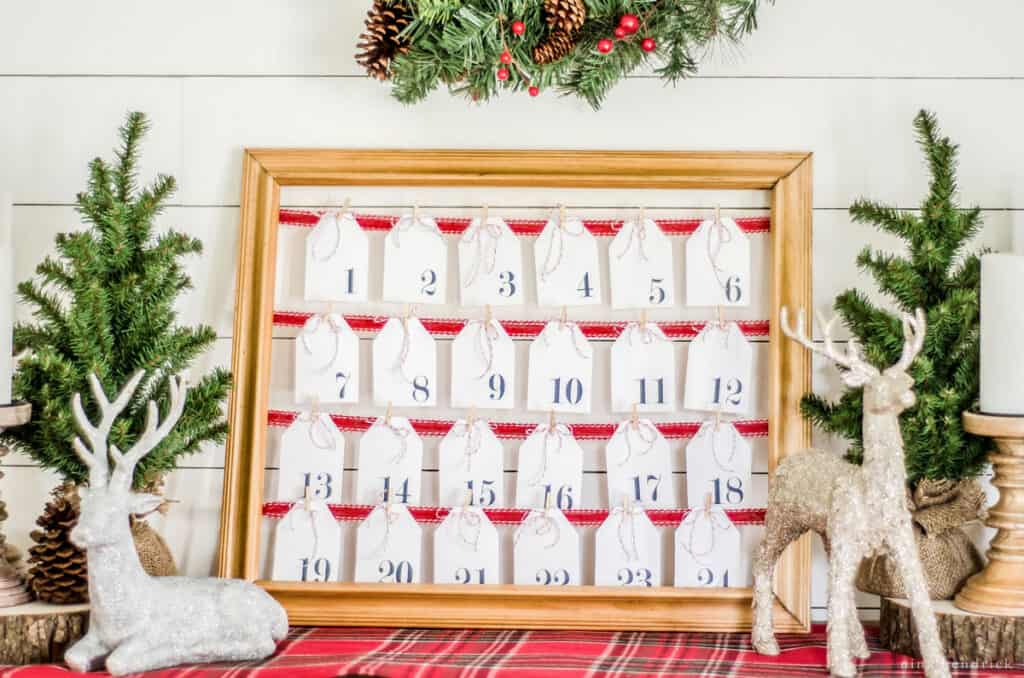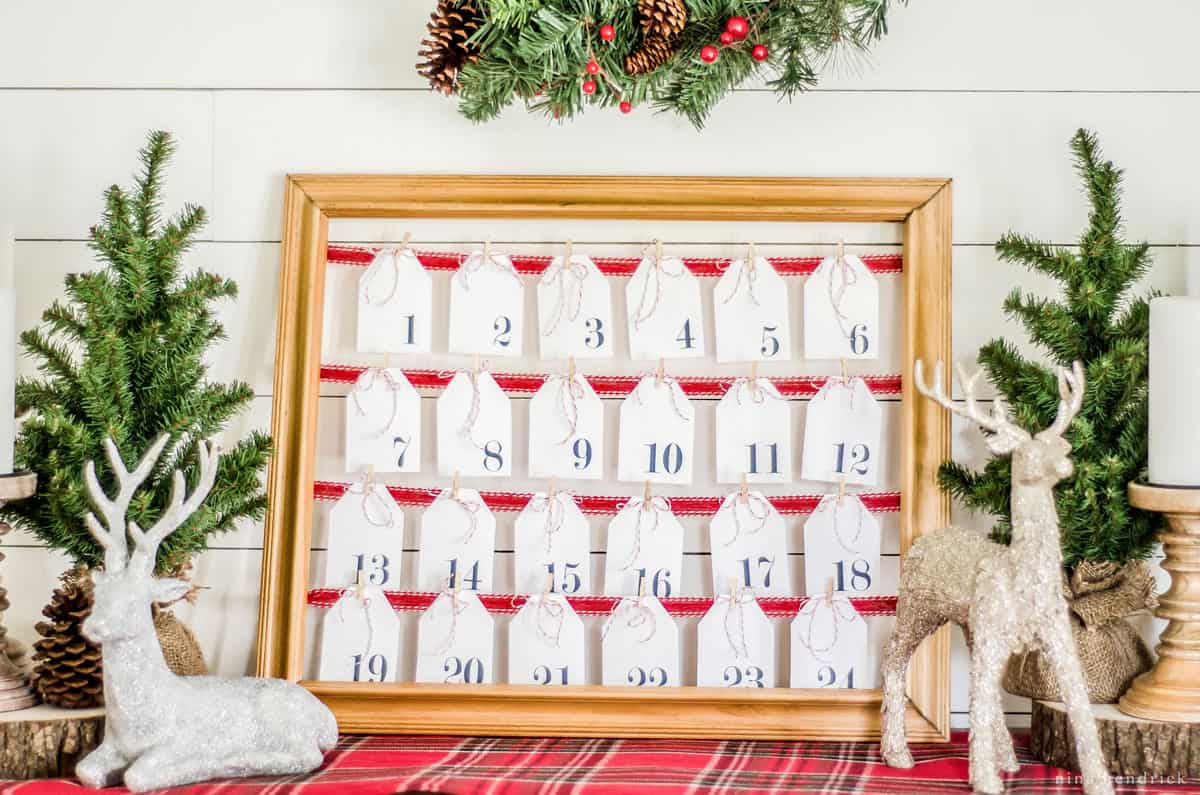 Fill out your tags with holiday activities such as baking cookies, singing carols, making ornaments, or taking a drive to look at Christmas lights. Having something to look forward to every day of December is a great way to add some extra fun and joy to your holiday season.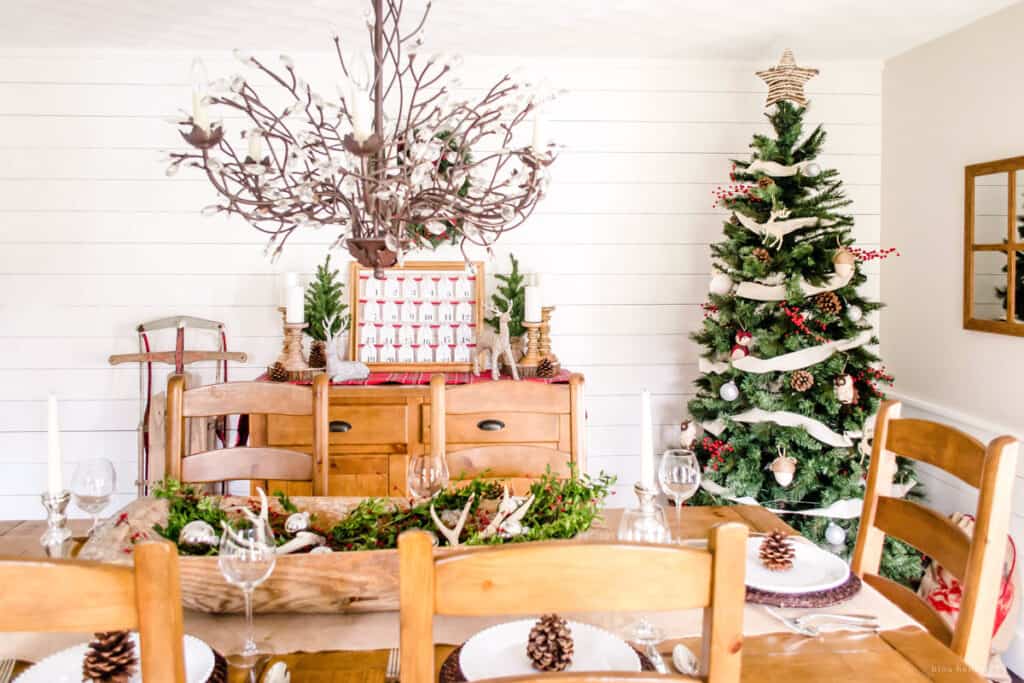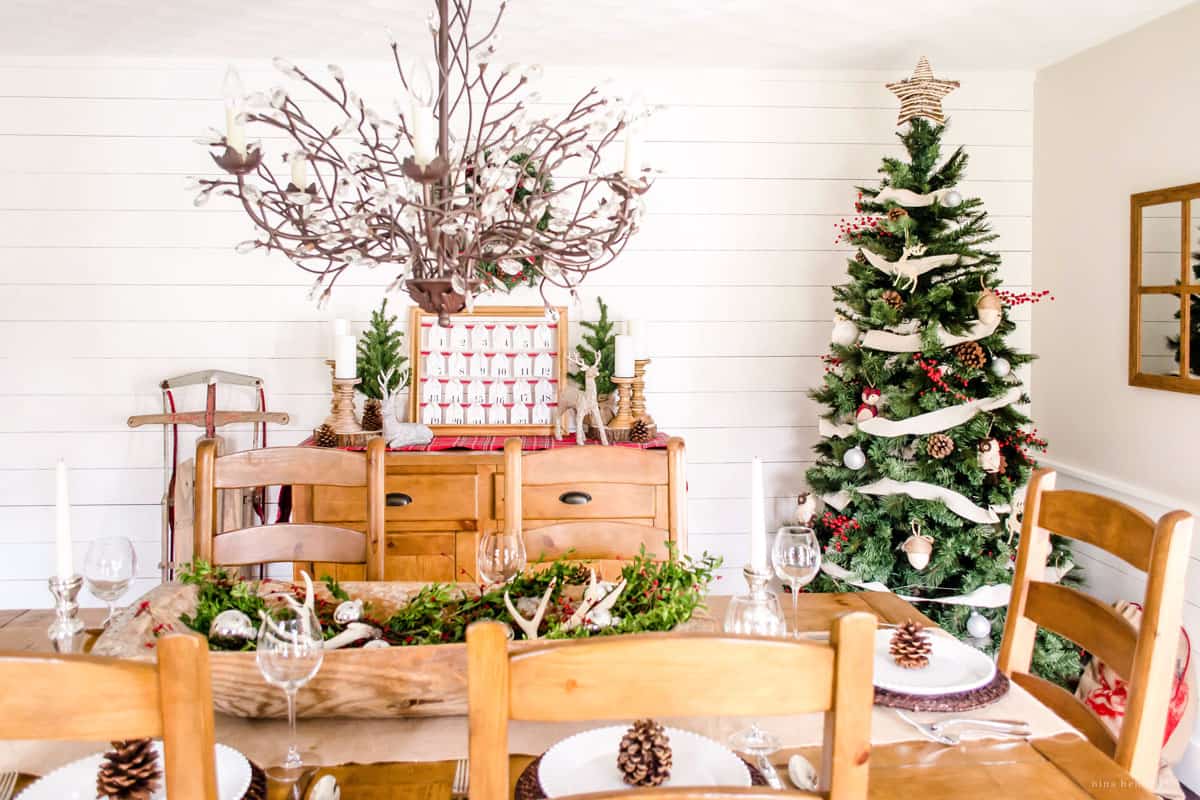 Warm & Cozy Christmas Decorating Ideas
I hope that this post has inspired you to get your comfiest flannel pjs on, grab a warm beverage, and begin putting some of these ideas into action! If you recreate any of these ideas tag me on Instagram @ninahendrickhome!