Kitchen Coffee Bar | Create a functional storage area for coffee and supplies by creating a kitchen coffee bar from a formerly tricky space.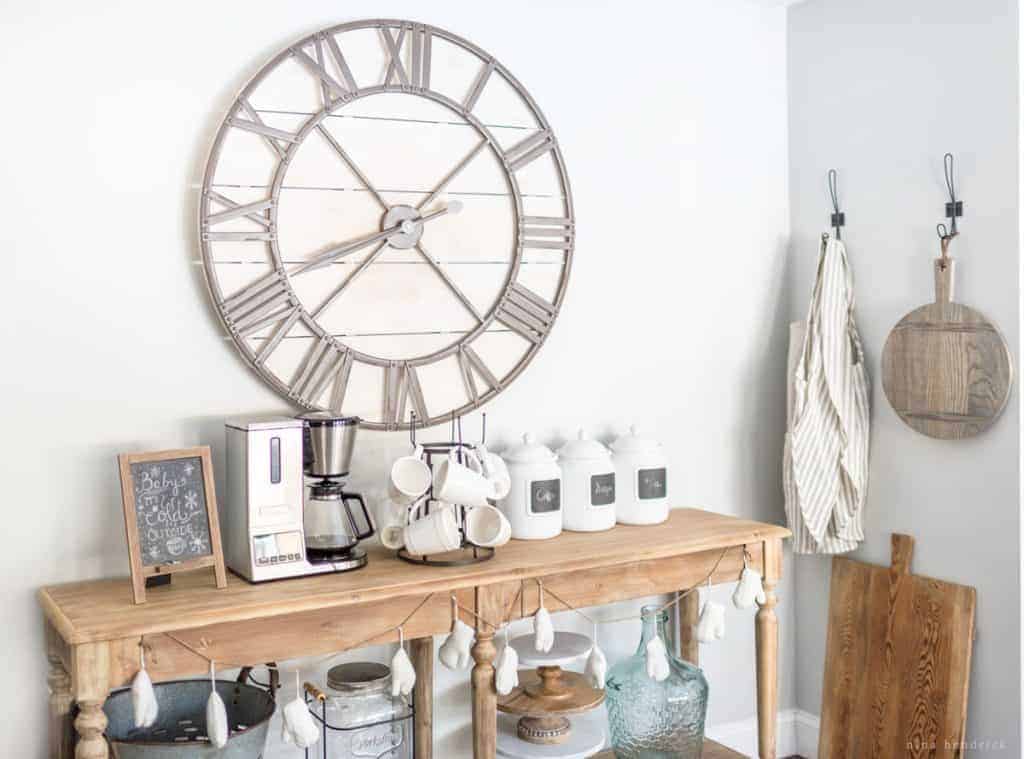 Thank you to World Market for providing the Everett Foyer Table for this kitchen coffee bar project. All opinions on this gorgeous piece are my own, you can see my disclosures here!
Anyone who has followed this blog for any length of time has probably deduced that between the original cabinet painting project and the breakfast nook, my kitchen is by far my most well-known project.
The Problem Wall
One thing that many may not have noticed is that there is a wall next to the pantry that I almost never show. I've long called it "the problem wall", it used to be the home of a random kitchen desk and a doorway to the dining room that we deemed extraneous.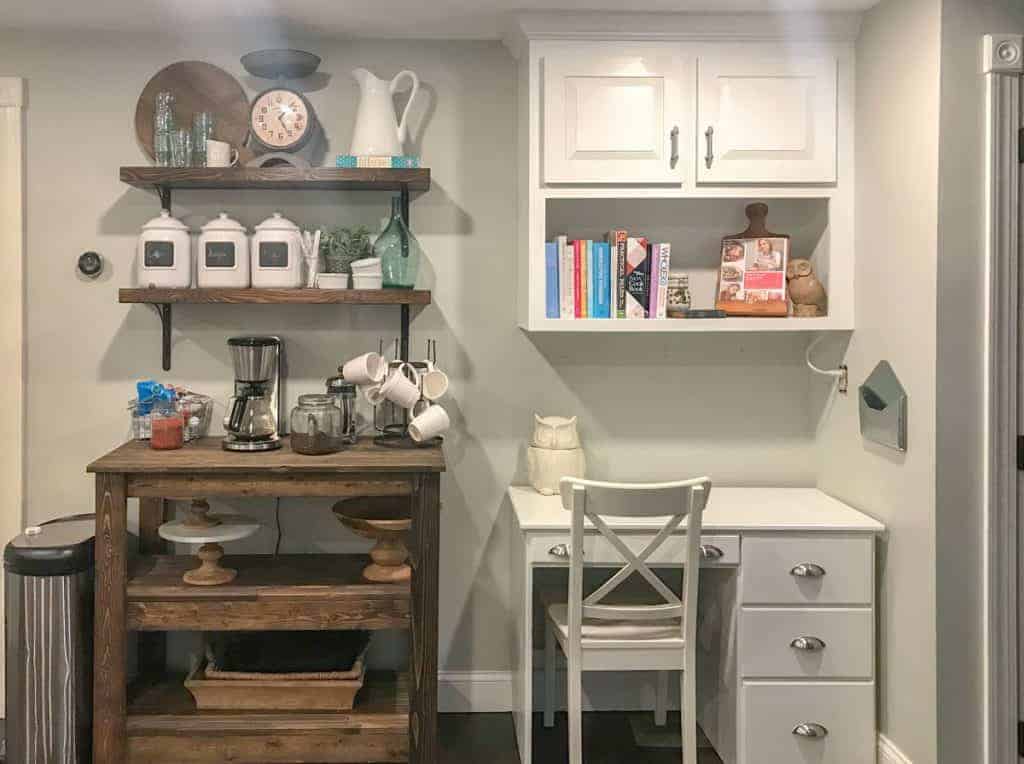 We covered over the dining room doorway soon after we moved in and added a coffee bar cart and a nicer desk to the area. While I loved the concept of a coffee area, the desk quickly became a catch-all for kitchen piles, where paperwork went to stagnate.
It was an eyesore. It remained an eyesore for way longer than it really needed to. However, when I agreed to participate in the local housewalk this past Christmas, I knew enough was enough.
We ripped out the upper cabinet and repurposed the desk, bar cart, and shelves. I patched up the wall and painted it with a fresh coat of Gray Owl.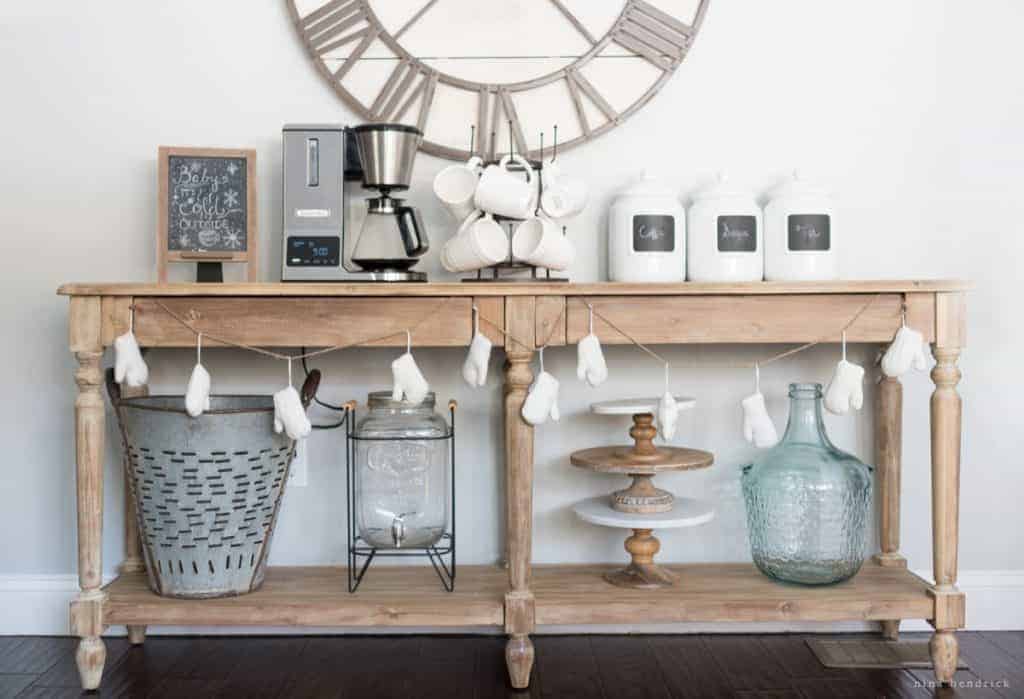 The Solution : Kitchen Coffee Bar
To fill up this space, I found this perfect long foyer table from World Market. It's gorgeous, and plays off of the other weathered wood finishes in the room perfectly. I accented it with some of my taller decor that is always floating around looking for a home.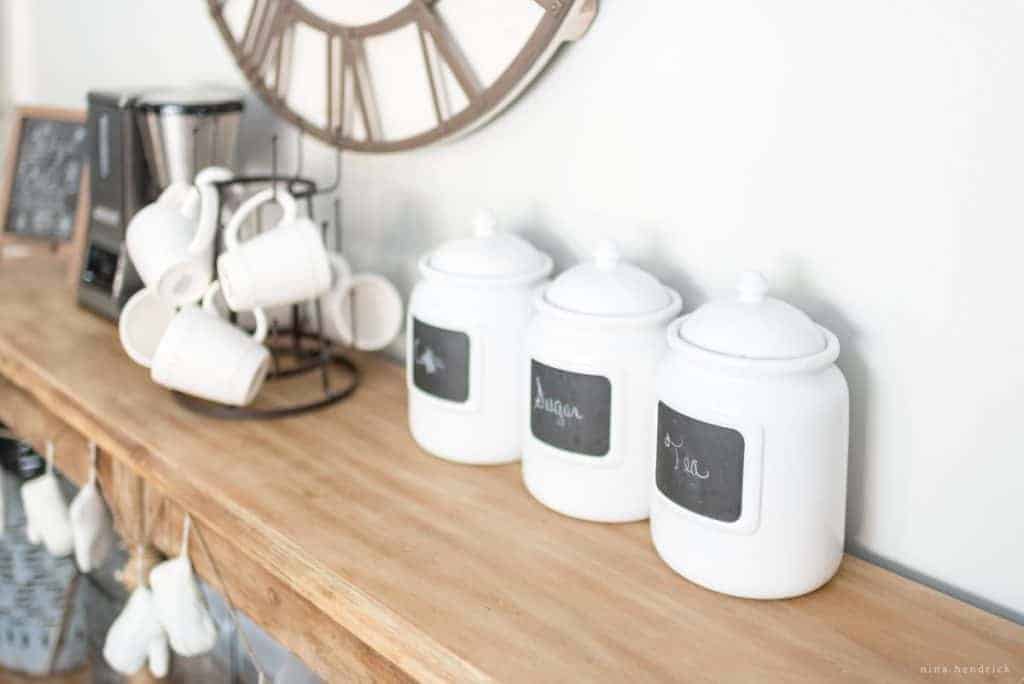 I love how functional this space has become! No more clutter, and it's much more restful visually. The coffee filters and other odds and ends have a place in the semi-hidden drawers.
I struggled with artwork, but I eventually decided to go with a giant clock. It was actually a bit tongue-in-cheek, Mack had complained about not having a clock in the kitchen. I feel as though I solved the problem in spades.

The Future of the Kitchen
Now, to be fully candid- this project is still a temporary solution for this wall. We are in year four since painting the cabinets. We (okay, mostly "I") are thinking about our next steps for the kitchen.
One mistake that I made (and I went over it in length in the cabinet painting tutorial) was forgetting to caulk before our final coat of paint. The caulk has yellowed on the cabinet doors over the years, and we are trying to figure out what to do next. That may mean just replacing the doors, or possibly replacing the entire cabinets.
We have also experienced some molding problems in the cabinet under the sink, which was in rough shape when we started. We had tried to patch it and replace damaged parts, but the previous water damage has still bled through.
The cabinet painting project was done to buy us between 3-5 years before a more serious kitchen remodel. We are quickly approaching the end of that range.
If you have completed that project and are curious about how the paint itself has held up on the other cabinets, the answer is that it is still in excellent shape! Without the caulking snafu and water damage I think we could have gotten another 5 years out of the project. That's why it's difficult to decide what the next steps are!
For the "problem wall" I envision shallow cabinets. Because it's right across from the breakfast nook, it would be a companion to breakfast and kid life.
If and when we get to that project, the lovely table will move to either our upstairs long hallway or our basement long hallway. Both areas are wide and long and can use a little interest. It would also work behind our floating sofa in the family room.
Kitchen Coffee Bar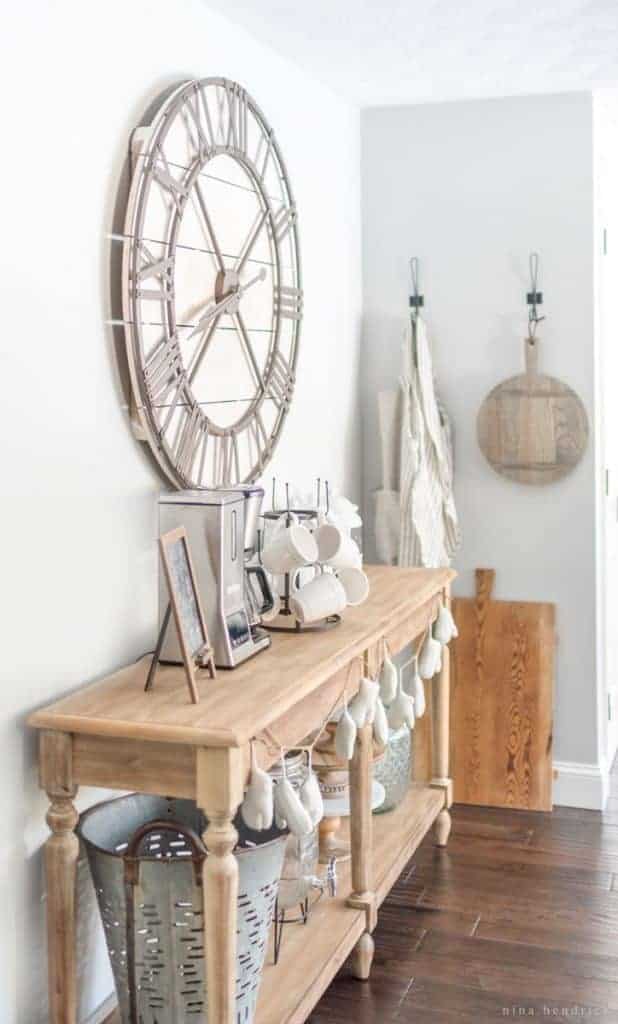 Even if the kitchen project is a long time from now, overall I am much happier with the room in its entirety after tackling this little project.