Bring the charm of your favorite café into your home with these creative coffee bar ideas for your kitchen. From a rustic coffee bar cart to a chic marble built-in, these inspiring tips will make it easy to create a cozy, inviting space for your morning cup of joe.
As you sit in your breakfast nook sipping your morning coffee, let's pretend for a moment…
…that you're sitting outside in a small rustic wrought-iron chair. It's pulled up to a round table with ornate wrought-iron legs and a lacquered marble top. This beautiful antique table has just enough chips, dents, and scratches to give away that it's been sitting in this spot for the better part of a century. To your left, water gently trickles out of a weathered fountain, and to your right are quaint buildings with ivy crawling up their sides.
A small smile spreads across your face as the sun beams down and warms your skin. Your oversized sunglasses and sun hat are making you feel deliciously mysterious. You gracefully stretch out your hand and hook your fingers around a petite espresso cup. Like a seasoned coffee bean connoisseur, you first take a whiff, and then a neat sip, without the slightest smear to your fabulous lipstick. You allow the chocolatey fullness of the medium Italian roast to linger just a moment before swallowing it down. Divine.
You watch with pure contentment as a yellow butterfly flutters past a charming row of manicured boxwoods, down an age-old stone path, and into the neighboring open vineyard, where it gets lost in a ray of sunshine. A waving woman calls out, "Ciao!", as she rides past on her bicycle, and two happy kids run by with cones of dripping gelato.
*Sigh*
If this lovely scene has you saying "Take me there, pronto!" then we're in the same (gondola-style) boat! However, if you're like me, a trip to an authentic European café may not be in the cards at the moment.
But you know what they say….if you can't go to the café of your dreams, you bring the café of your dreams to you! That's exactly what I've done when I've created home kitchen coffee bar areas I love, and I'm going to show you how.
With a few simple decor items and a slice of creativity, you can bring the charm of your favorite café right into the comfort of your own home.
So hold on to your sunhat and chug the rest of your espresso, because these charming coffee bar ideas are about to re-energize your space!
This post contains affiliate links, which means I may get a small commission (at no extra cost to you) if you shop my link. Please see my disclosure if you'd like more info!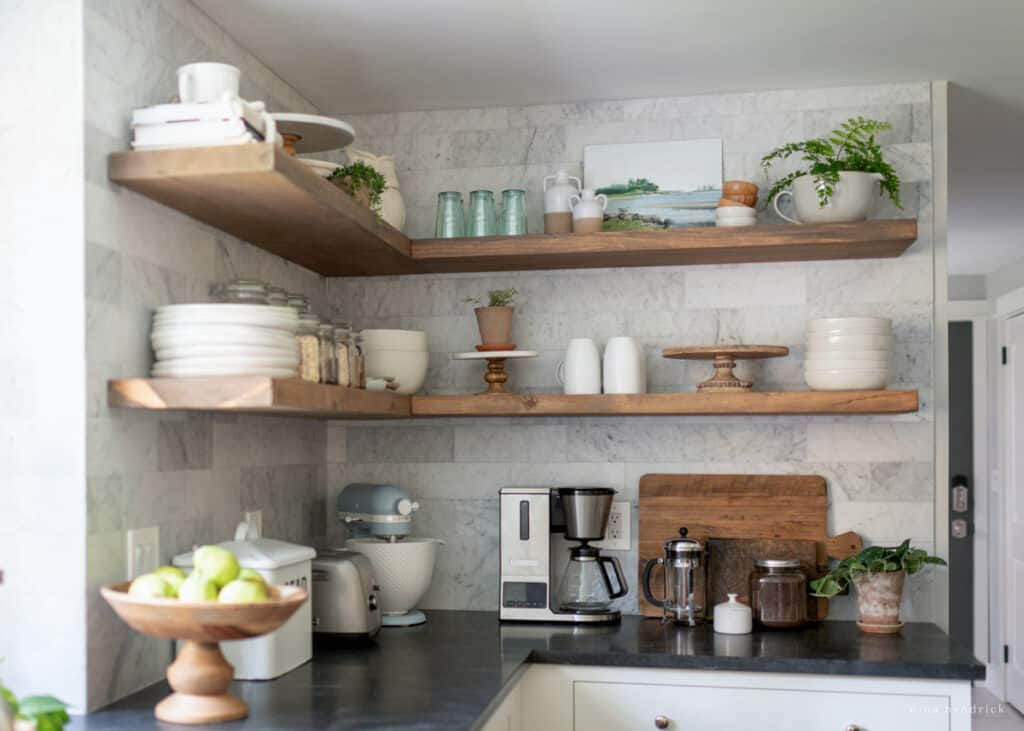 Where should I put my coffee bar at home?
The nice thing about creating a coffee bar in your home is that you can make it as big, small, extensive, or minimal as you want. From a small little corner of counter space, to a free-standing piece of furniture, like a hutch or buffet, you can literally turn any space you want into your coffee bar that has an electrical outlet.
So far, I've got four different coffee bar creations under my belt. We had three iterations of a coffee bar at our old house, and then the current one we've designed in our new home. As our spatial needs changed, renovations took place, and a big move to a new house happened, our coffee bar area evolved each time. And each iteration has aspects that I love!
Read on as I show you each one of my coffee bar creations, to spark ideas for what could work in your home.
Kitchen Coffee Bar Ideas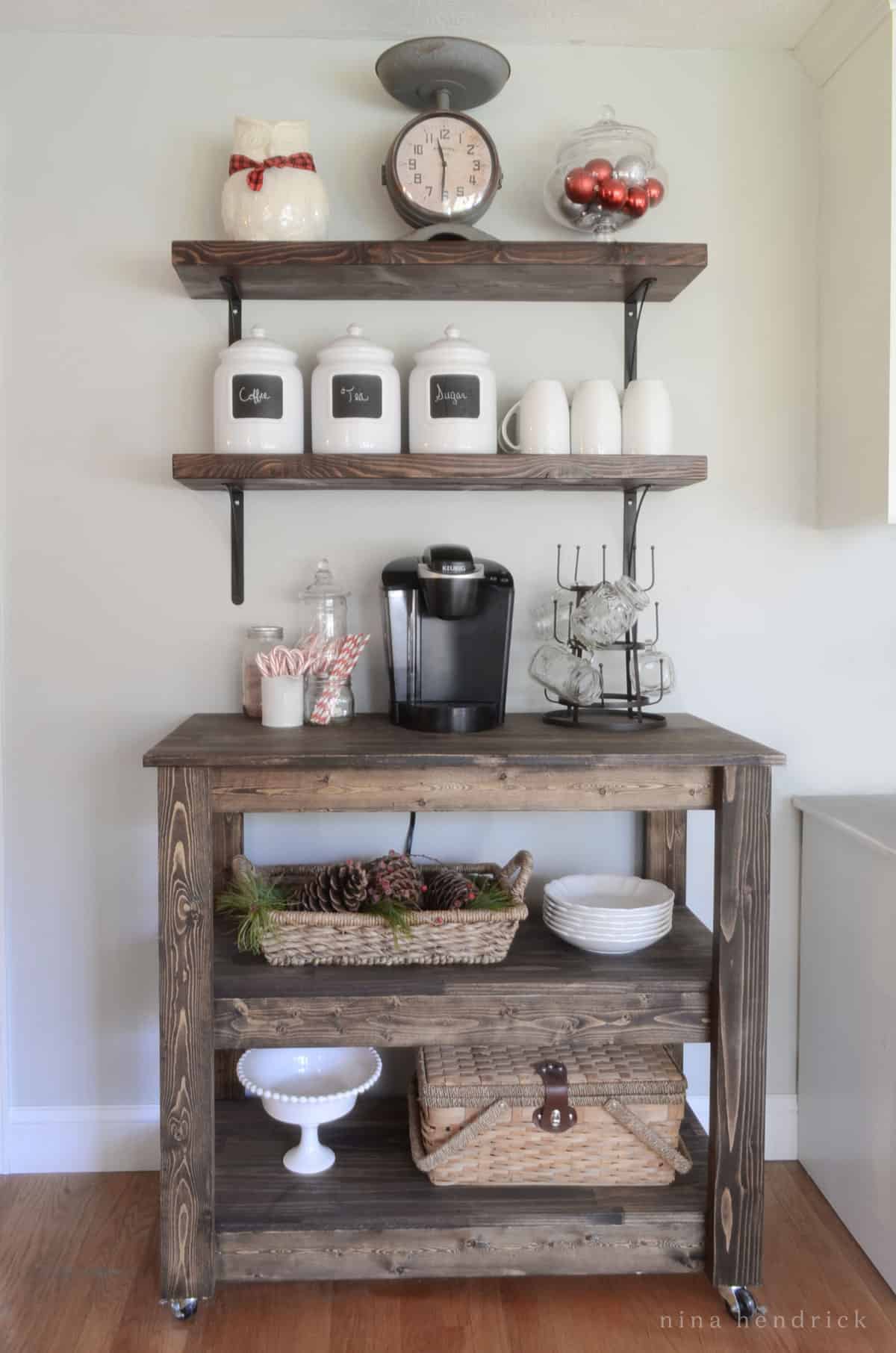 1. DIY Coffee Bar Idea: Coffee Bar Cart + Shelves
The location of my very first DIY coffee station was a wall between our pantry and dining room doorway.
It had an upper cabinet touching the right side of the wall, which we put a desk underneath. This made a nice little work station.
To the left of the desk, we built a coffee cart and installed matching shelves above. And just like that, my very first coffee bar area was born!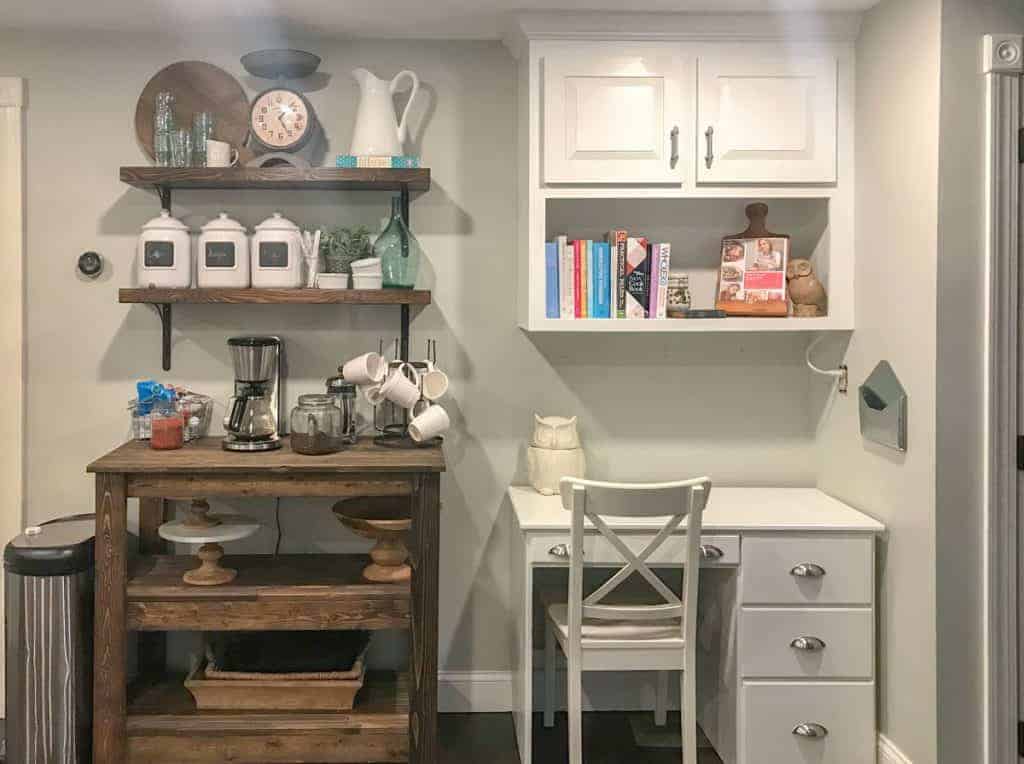 I was in love with having a designated coffee area and the rolling cart worked great for a while. But eventually the desk morphed into a catch-all for kitchen piles; the place where paperwork went to stagnate.
My beloved coffee cart area was caught up in an eyesore!
I started itching for a refresh. It was time for coffee bar area #2!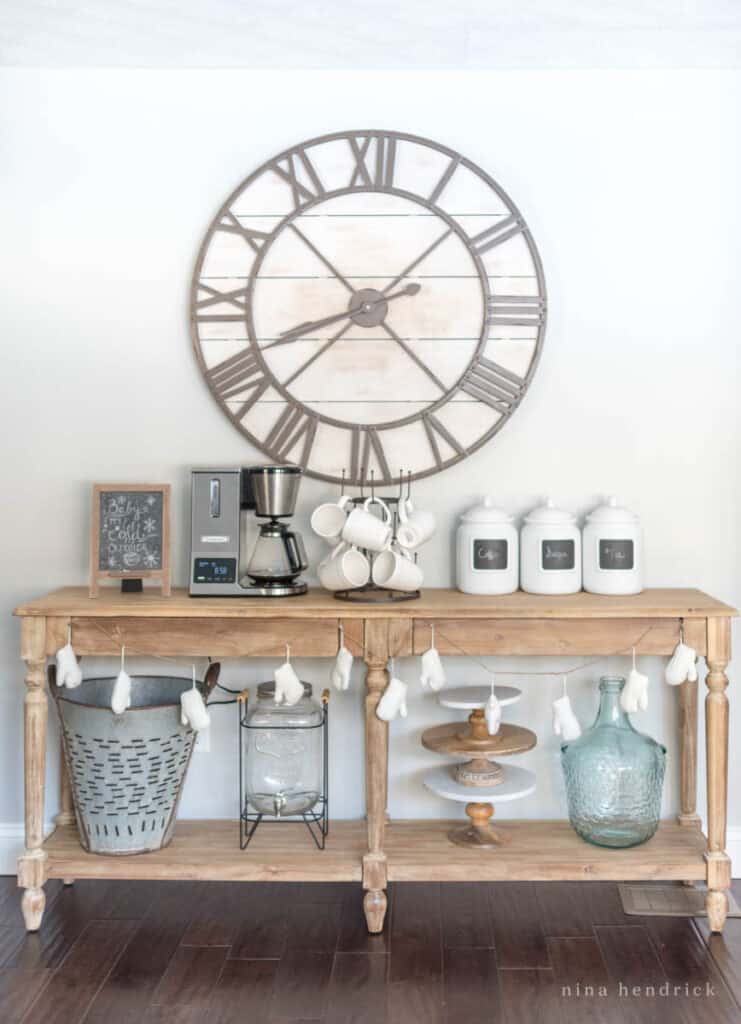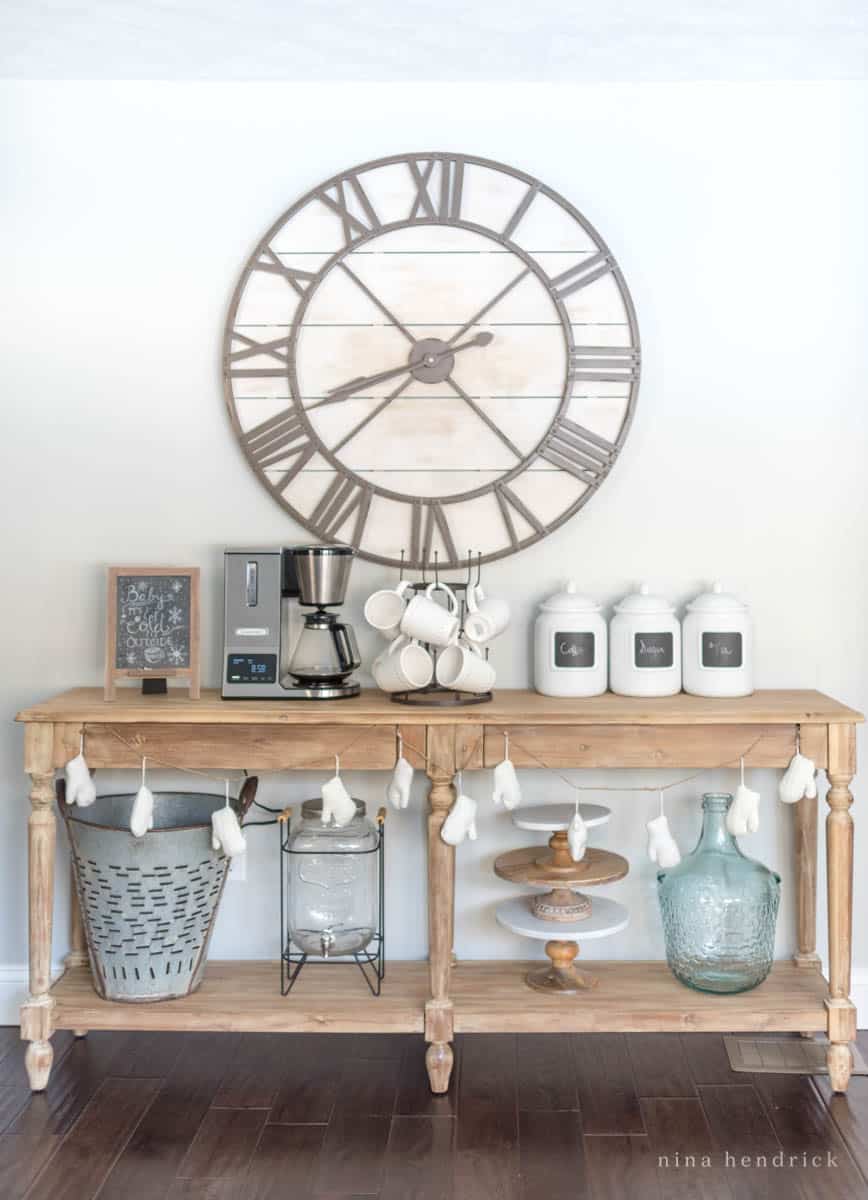 2. Long Foyer Table Coffee Bar
For "operation coffee bar area refresh", my husband and I rolled up our sleeves and got to work!
First, we ripped out the upper cabinet above the desk. Then we repurposed the desk, bar cart, and shelves. I patched up the wall and painted it with a fresh coat of my favorite gray paint color – Benjamin Moore Gray Owl.
We now had adequate space and a fresh, blank slate to work with.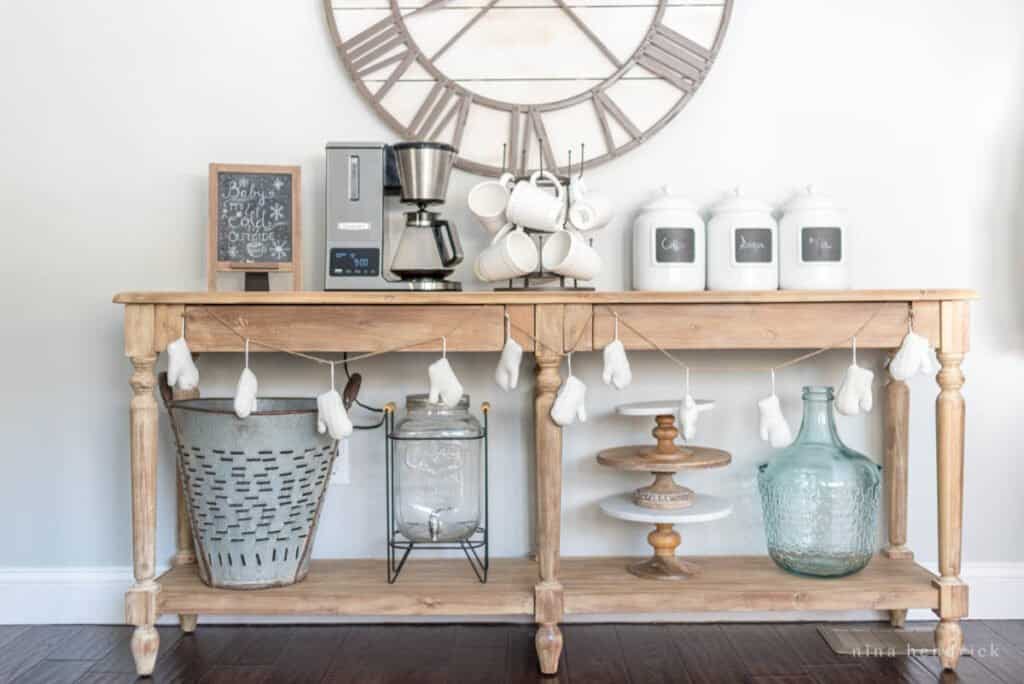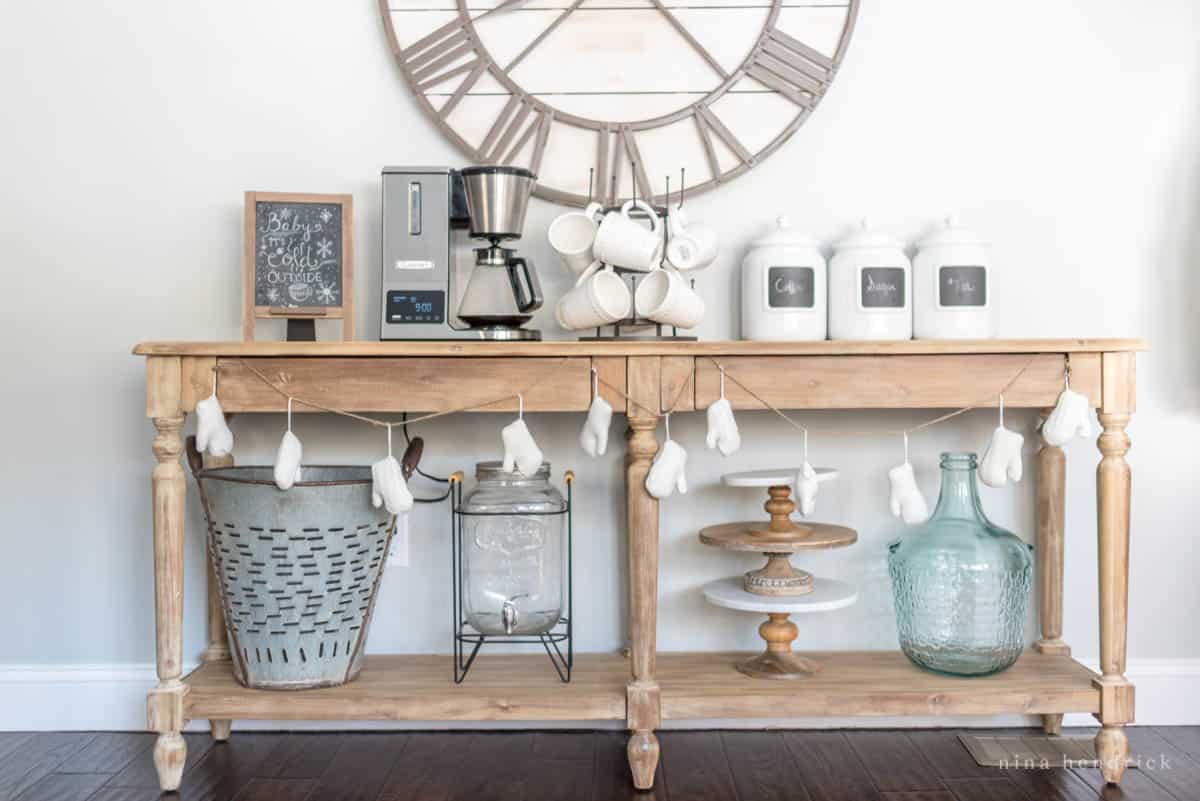 I found a gorgeous long foyer table that was perfectly proportionate to the space. I love the way it played off the other weathered wood finishes of the room. This farmhouse coffee bar solved the style, function, and beauty that I was needing for my coffee bar area. 
Now this space was free from clutter! I was able to store coffee filters, coffee cups, and other odds and ends inside the table's hidden drawers. And its bottom shelf provided the perfect storage for some of my taller kitchen pieces that tend to float around looking for a home.
At first, I struggled with coffee bar decor ideas. I wasn't sure what artwork to hang above the table. I kept hearing my husband's voice in my head complaining about not having a clock in the kitchen… and then it clicked.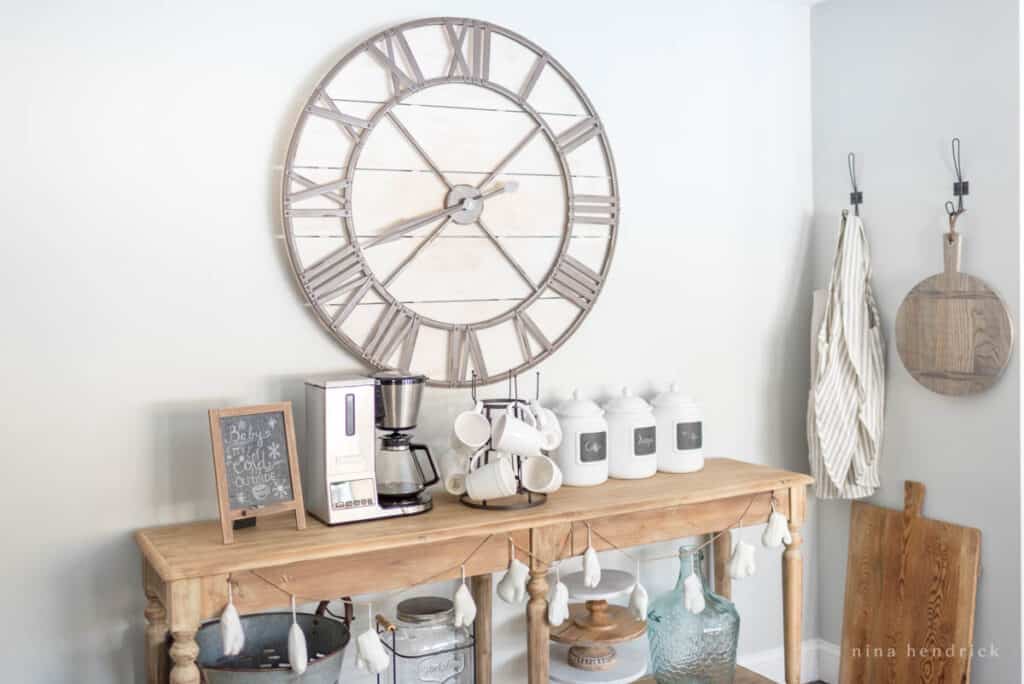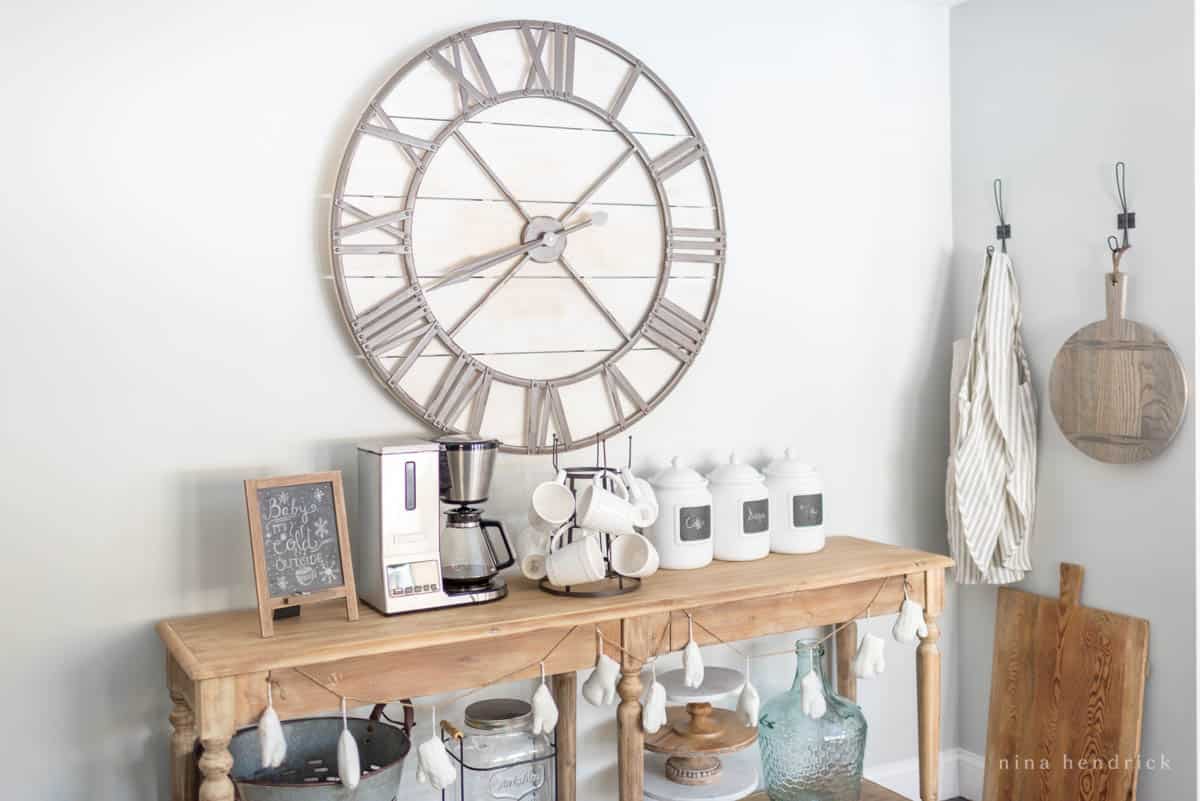 I bought a clock so giant that it gave, "What was that you were complaining about…?" vibes.
And I got a little chuckle every time I'd walk past it.
I absolutely love cozy winter decorating, and for this table I used a little chalkboard art and the cutest mitten garland!
A long foyer table like this one is the perfect coffee bar idea for a large empty wall in your kitchen or dining room.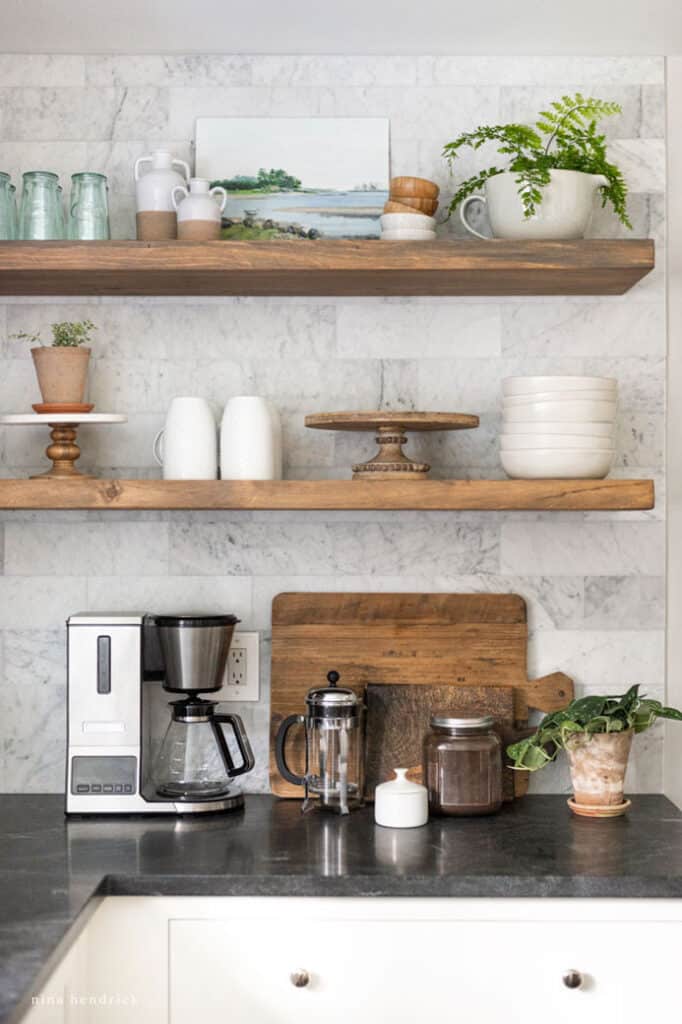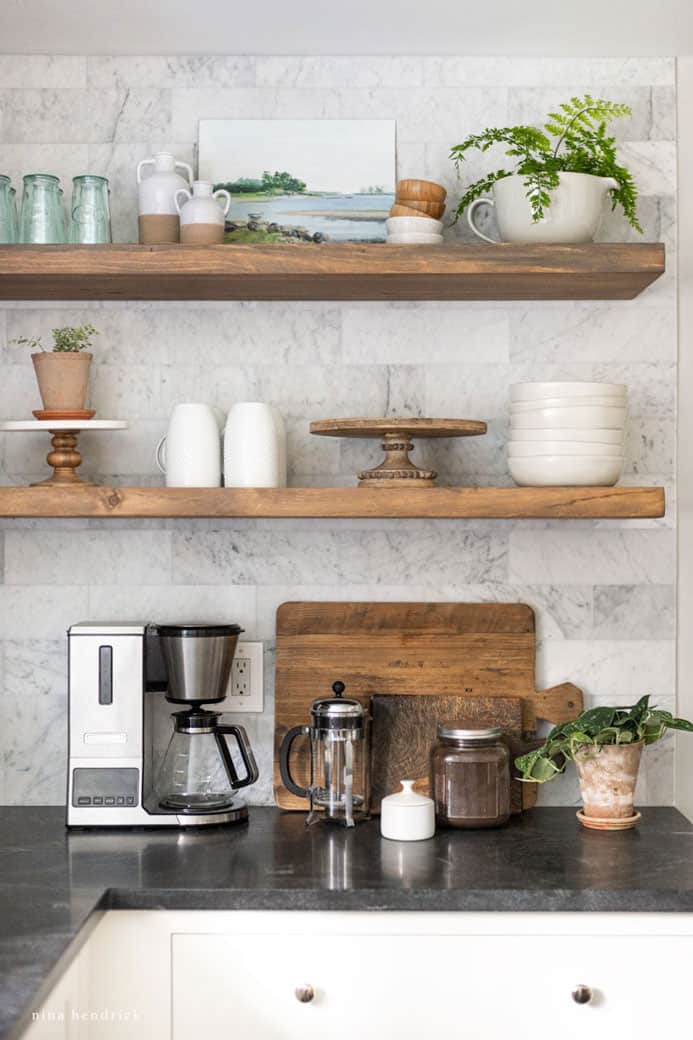 3. Cozy Countertop Nook Coffee Station
In 2019, we underwent a full kitchen renovation. So this sparked coffee bar iteration #3!
I ended up creating a coffee bar station using a cozy little nook on the kitchen counter. This coffee station was more simplified. It was a back-to-basic rendition!
Our kitchen reno included floating shelves, and since my coffee station was right below them, it was the perfect place for my favorite mugs.
My minimalist coffee station consisted of:
I added a couple of bread boards as a backdrop, and a friendly potted plant, and my simple coffee station was good to go! I wanted to stop here with items I displayed on the countertop, so I stored coffee filters in a separate drawer.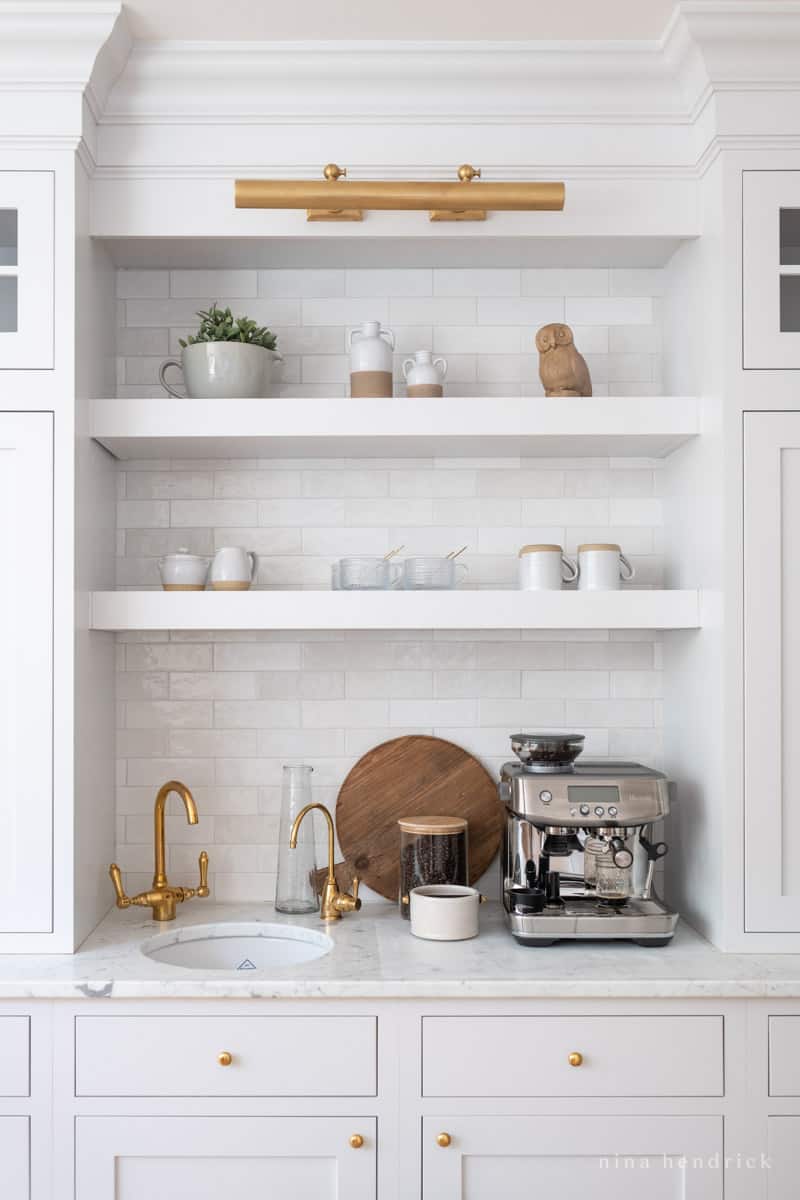 4. Built-in Espresso Station
When we had our big move back to New Hampshire in 2021, I knew I wanted a coffee bar area in our new home. Time for coffee bar creation #4!
This time it would be a custom job, because we were remodeling our kitchen, and a coffee bar and a home bar were both at the top of our list.
As coffee lovers through and through, a designated coffee area was important to Mack and me, so we were excited to have the opportunity to prioritize it in our kitchen design.
My fave coffee beverage on the planet is an Americano served black, and I wanted a setup that allowed me to make one just the way I like it. 
So we decided to create a coffee bar area that included its own sink, faucet, and hot water dispenser. Our espresso machine sits on the countertop to the right of the sink. This setup makes it so easy to make the perfect Americano!
I chose to have open shelving above the coffee bar, and this is where I store my coffee mugs and other coffee serveware and accessories. It's the perfect setup for my morning (and mid-afternoon) dose of caffeine.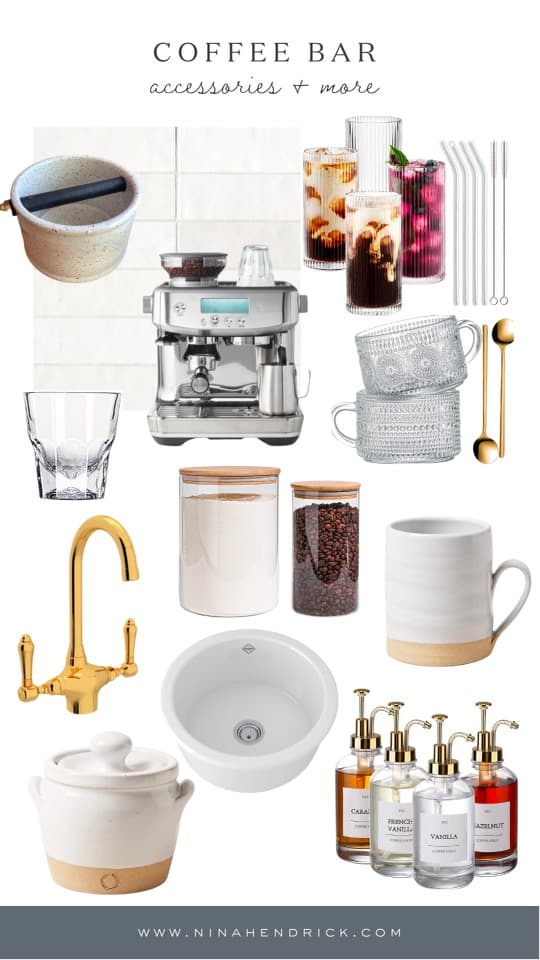 Knock Box | Tile | Fluted Glasses & Straws | Espresso Machine | Glass Mugs
Espresso Cup | Brass Faucet | Cannister | Pottery Mug
Sugar Jar | Sink | Syrup Dispensers
Kitchen Coffee Bar FAQs
What should a coffee bar include?
When deciding what items to include in your coffee bar, the key is making it your own. Your coffee bar will center around your coffee machine, and you'll want to stock everything you need for brewing your favorite drinks. Have your ground coffee, coffee beans, k-cups, filters, or sweeteners handy, as well as any coffee utensils you regularly use when preparing your drink. And don't forget to find a place for coffee mugs close by!
Here's a list of some coffee essentials:
your favorite loose coffee or beans and mason jars or canisters to store them in
tea
hot chocolate
hot chocolate toppings in jars
coffee syrups and other fixings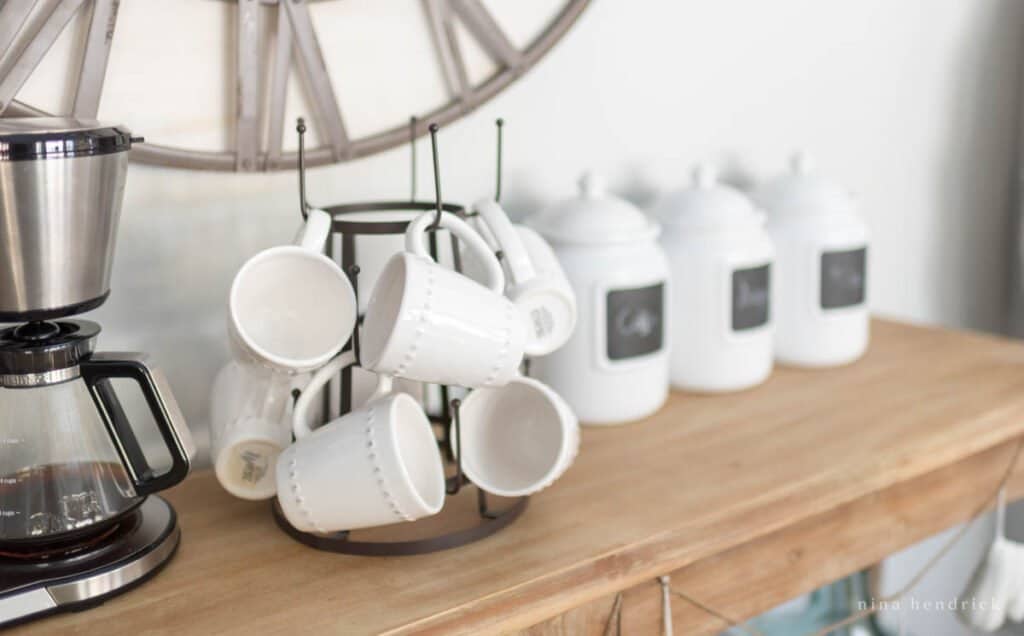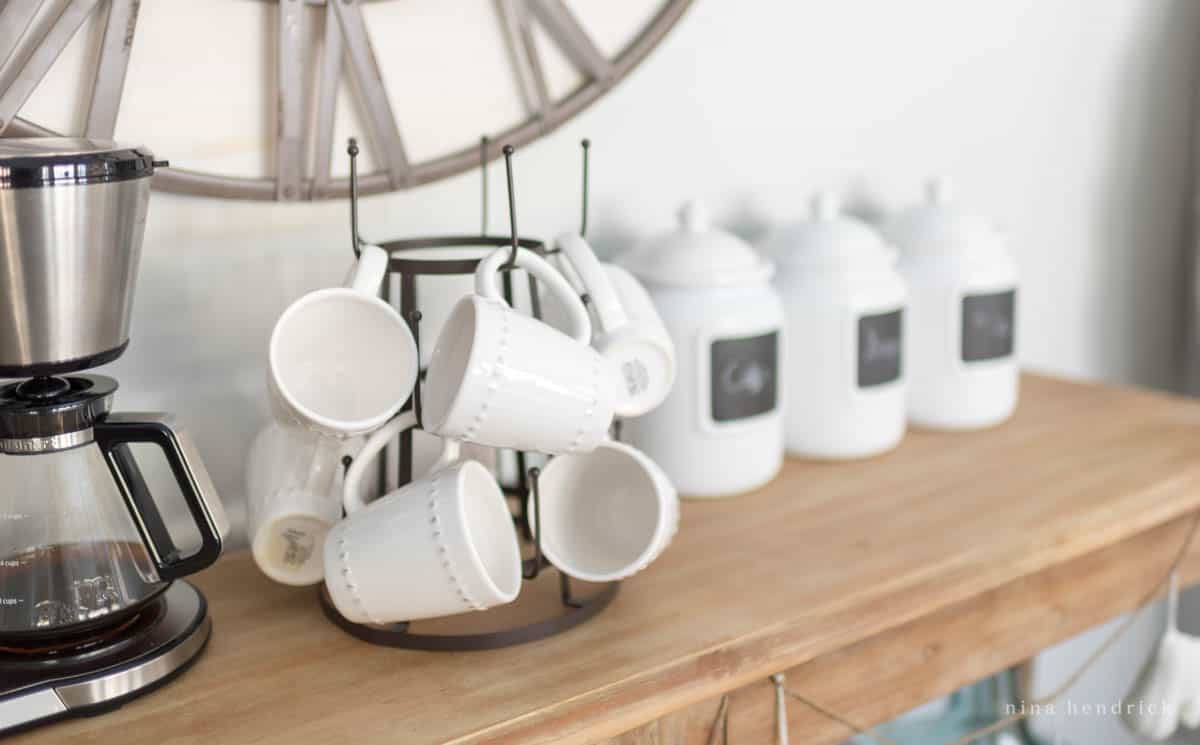 How do you make a coffee bar on a budget?
There are plenty of ways to still have a coffee bar you love, while sticking to a budget. You just have to adopt a minimalist mindset, and stick with the basics. I've seen some very cute coffee stations using just a coffee maker, and a lined wire basket containing the filters, stir spoons, and sweeteners. Keep coffee mugs in a cabinet nearby, and boom – there's your coffee station!
Here are some ideas for minimal coffee stations that won't break the bank. For each of these, you'll also need a coffee maker (of course), plus:
How do you make a coffee bar in a small space?
It really doesn't take a huge amount of space to make a really beautiful coffee bar! There are so many great coffee bar ideas that only require a small little nook on your counter. But if you're short on counter space, consider utilizing a coffee bar cart. There's truly a cart for every design style out there, whether it's vintage, rustic, or modern, that you're after. Pick a cart that fits your style, and find a cozy spot for it.
A cart allows you more options in tight spaces, because you're not just limited to having it in the kitchen. I've seen coffee bar carts in the dining room, living room, and pushed up against connecting hallway walls. A great place is an unused corner! You may have to do a little rearranging, but with a little thinking outside the box, you can find a spot that perfectly suits your home.
Should a kitchen coffee bar have a sink?
If you have the opportunity to design a built-in coffee bar area, then YES, definitely incorporate a sink! It may not seem like a big deal, but little conveniences like not having to walk back and forth from the main kitchen sink to the coffee maker add up to make a difference in the ease of your day.
As I've previously mentioned, Mack and I recently renovated the kitchen of our new home, and we decided to install a sink in the designated coffee area. My favorite coffee drink is an Americano, so I need access to water for my espresso machine, as well as hot water to make my drink. I am thrilled to be able to have a sink in our coffee bar that includes a hot water dispenser. It's customized to our needs, and that makes it feel especially nice.
That being said, a sink is not absolutely necessary! There are plenty of coffee bar ideas that don't include a sink. As long as you're in close proximity to one, you'll be good to go.
Bring Your Favorite Café Home
I hope this blog of coffee bar ideas inspires you to create a kitchen coffee bar you love, or to reinvigorate the coffee station you already have. Coffee bars can really add a lift to your home, especially if you design one that's tailor-made to fit your needs.
So grab a cup of coffee and get going with your new coffee bar inspiration!
You can find me on Instagram @ninahendrickhome. I always love hearing from you! Stop by, say hello, and tag me in your coffee bar reels!