Considering adding a farmer's porch? This New England Colonial farmer's porch added so much character and charm to the front of a builder-grade center entry colonial home.
From the first time we drove up to the pretty but basic facade of this colonial over nine years ago, I knew it needed a front porch, also known as a farmer's porch. For years I pinned inspiration photos of classic farmer's porches and dreamed about what ours would look like. In 2019, we underwent an exterior remodel after we had to replace allll of our exterior siding and trim (long story for another day, but you can read a little about our exterior remodel here!). As we began that project, we knew it was finally time to bring my front porch dream to life!
Today, I'm sharing the porch all prettied up for summer! Although, honestly, the decor is pretty seasonless and could be used during any time of the year.
New England Colonial Farmer's Porch Decorated for Summer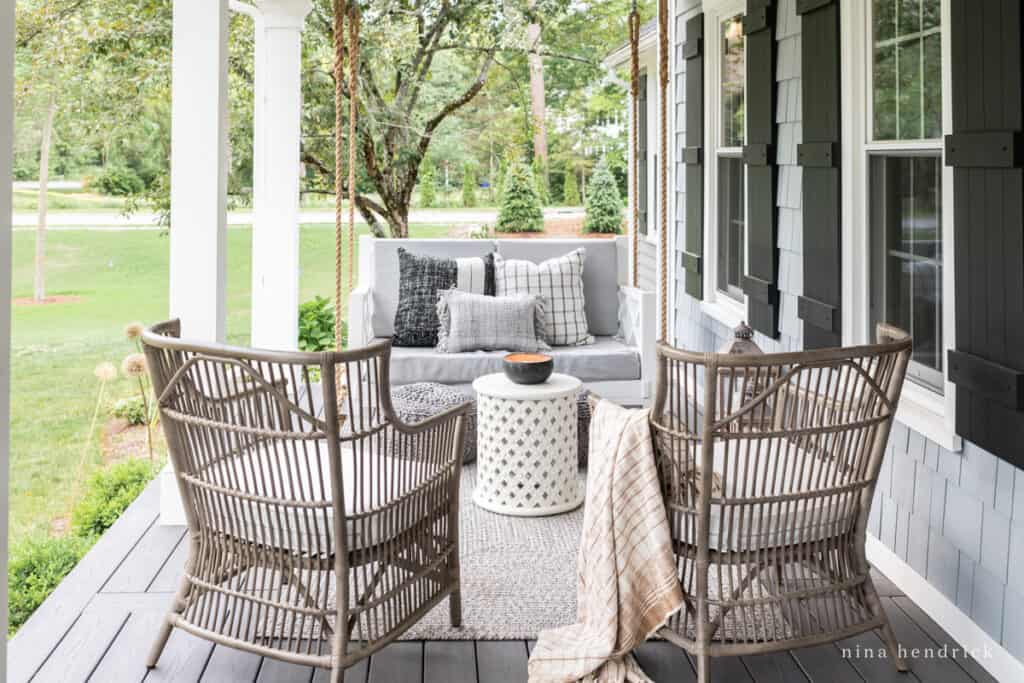 This post contains affiliate links, which means I may get a small commission (at no extra cost to you) if you shop my link. Please see my disclosure if you'd like more info!
Naturally, the main thing I always dreamed of when it came to the farmer's porch was a porch swing. I love this one so much! It took a while to arrive, but it was certainly worth the wait.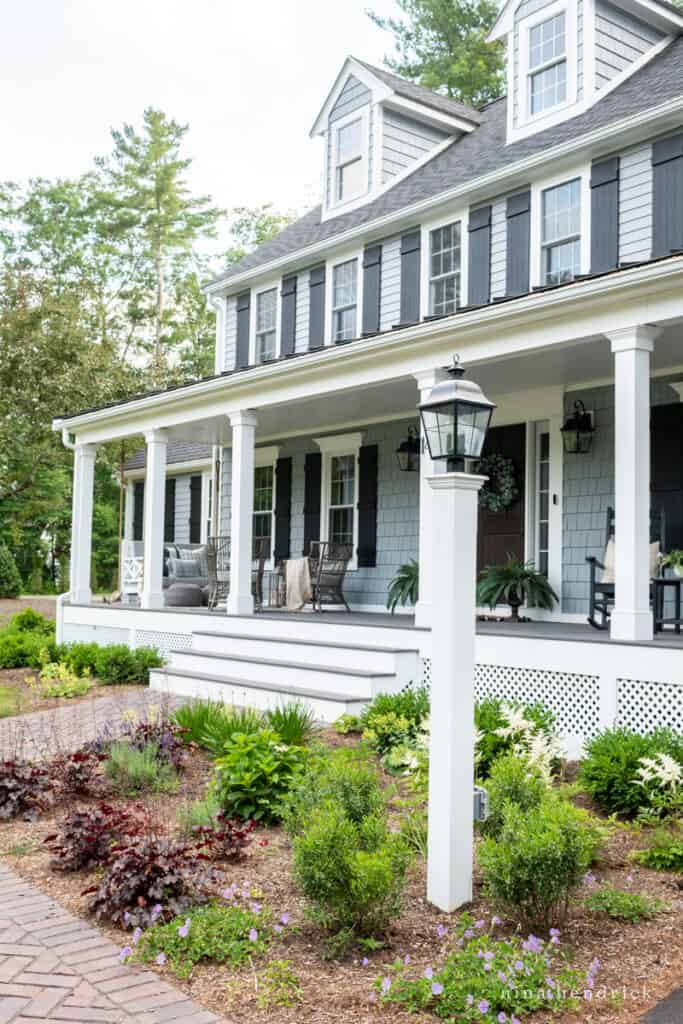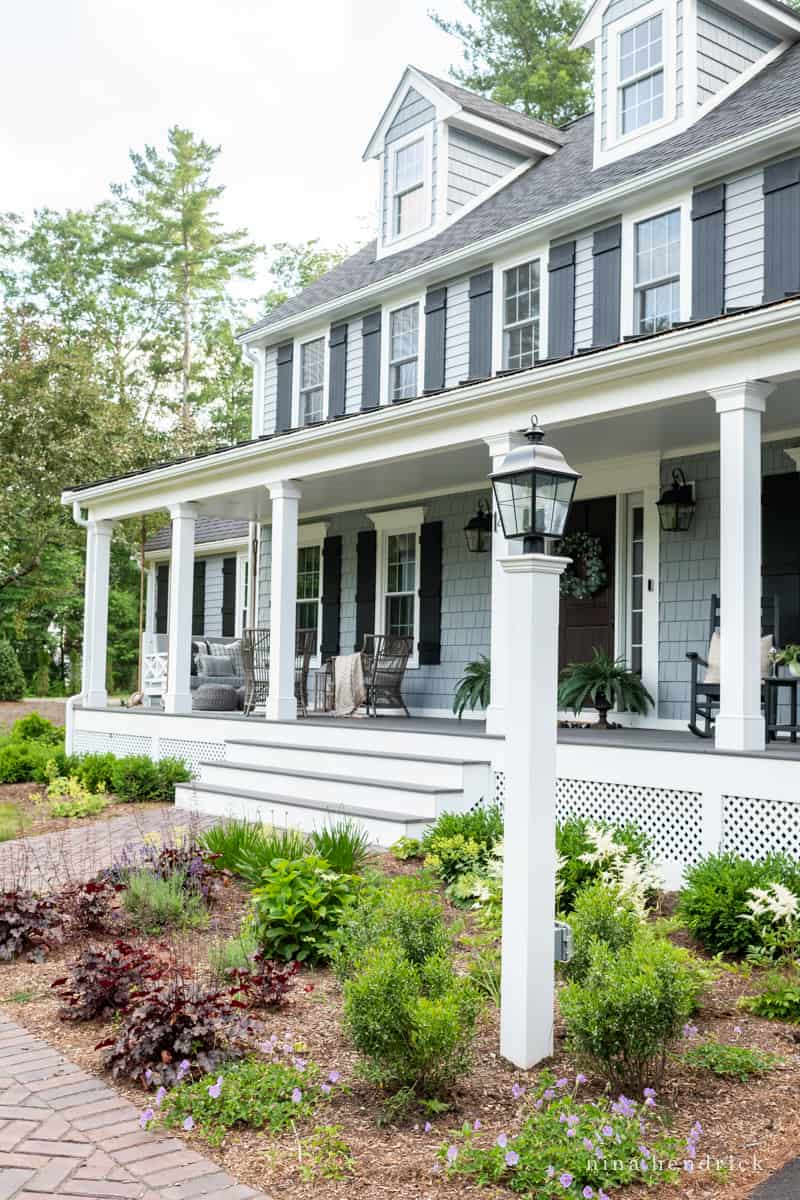 Our garden, which was planted last summer, is definitely filling in. I have a newfound passion for gardening and growing things! I don't love weeding though. Luckily I have two boys who were more than happy (ha!) to weed for me before I took these photos.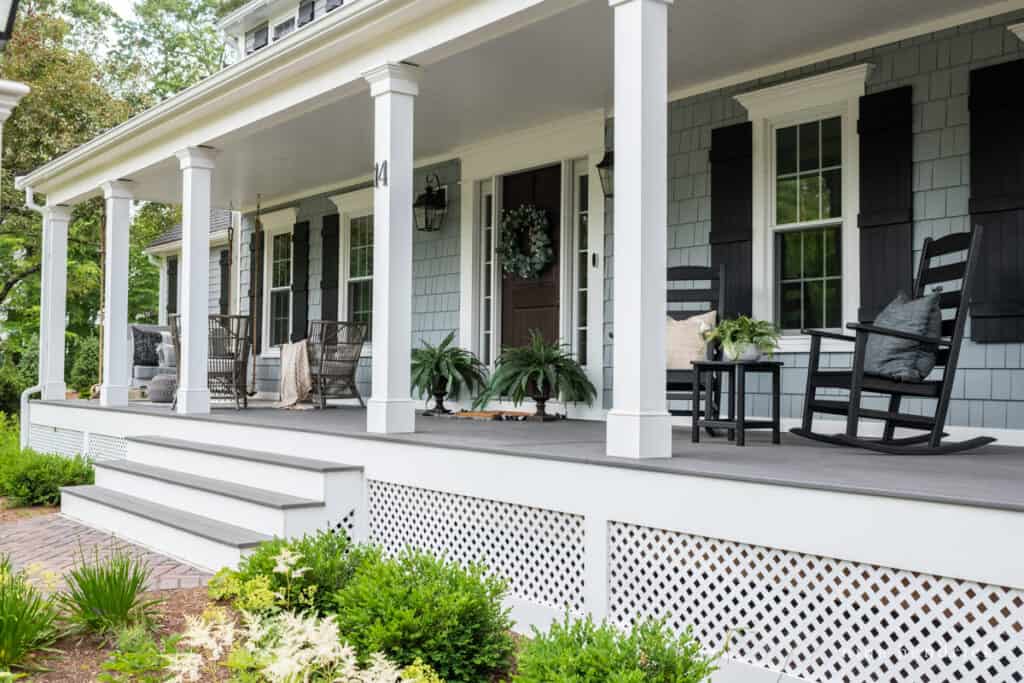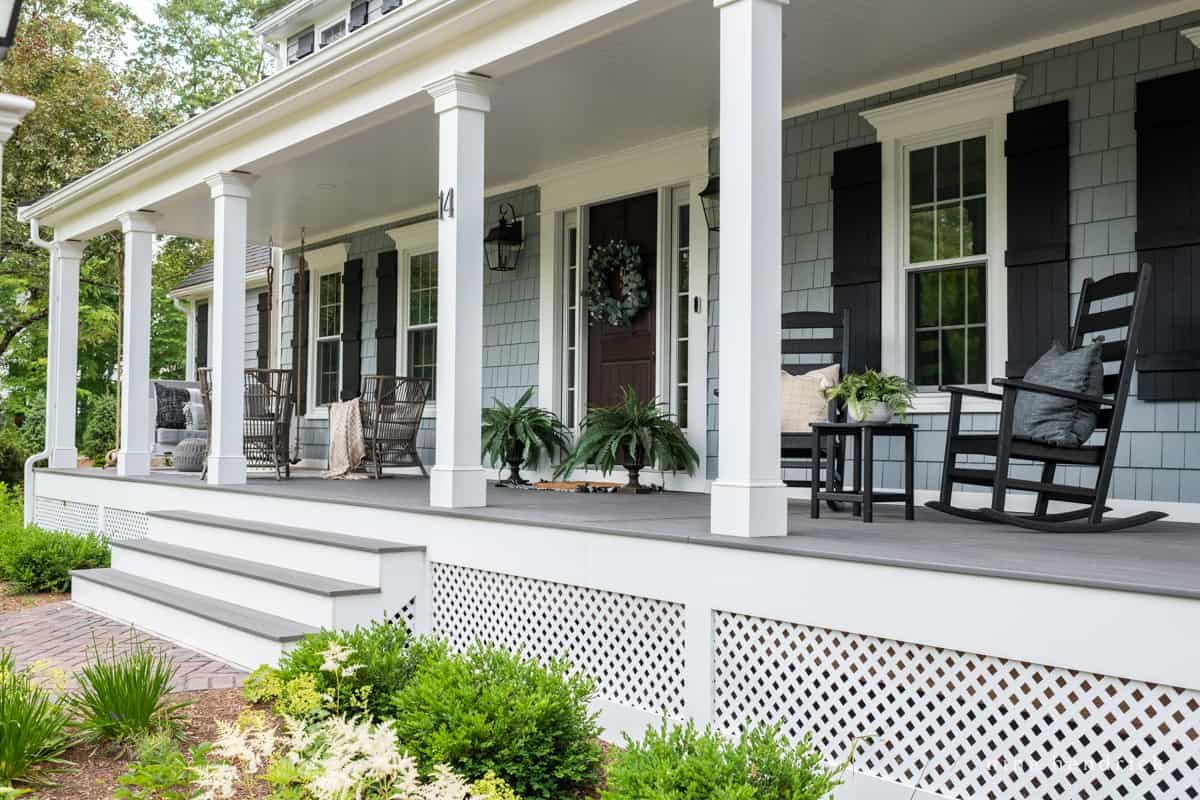 We made our entire exterior into Azek with vinyl siding. So there are no paint colors! But I'll make sure to add the source list to the bottom of this post in case you're curious about the brand colors.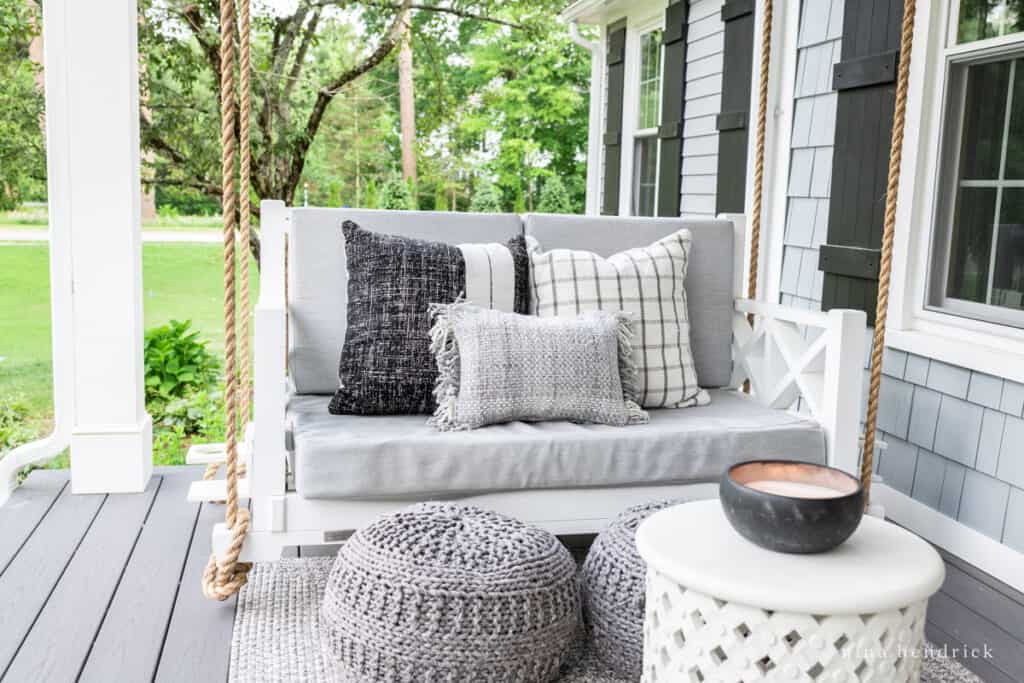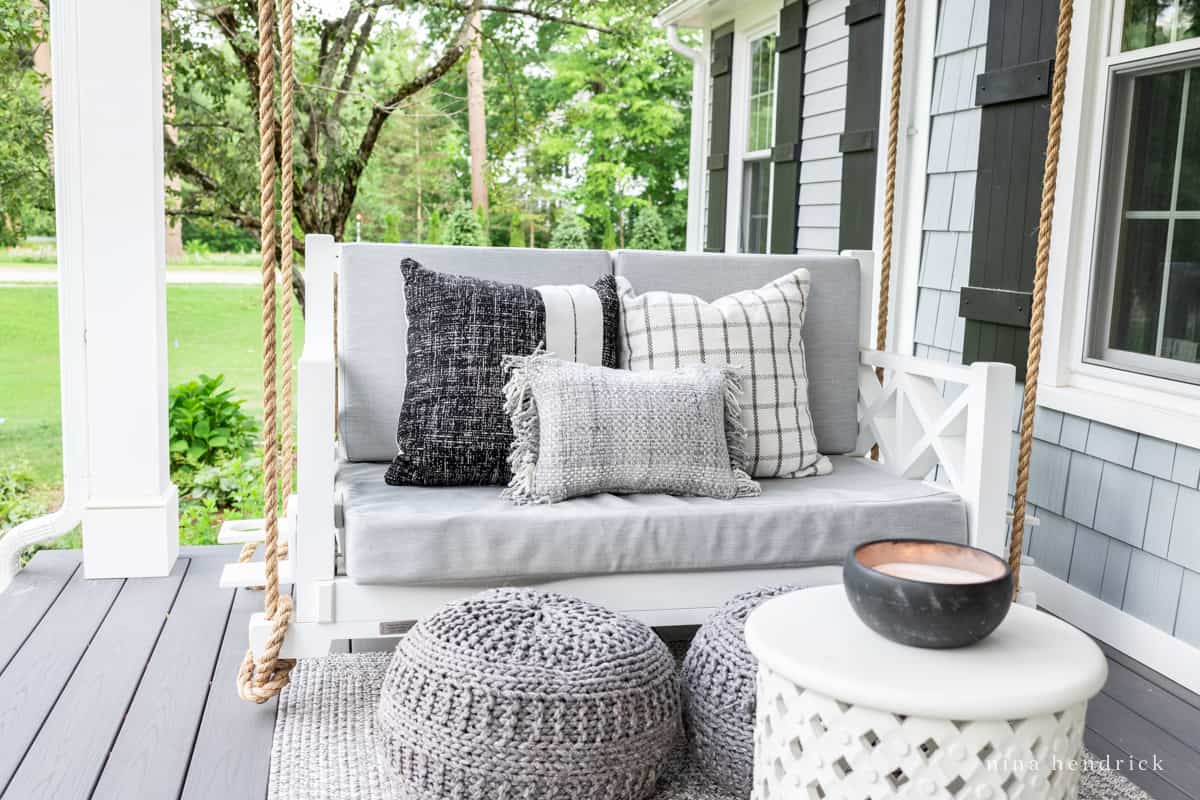 There's my happy spot! I've spent many happy hours right here on the farmer's porch swing writing my book and sipping coffee (or a glass of wine in the evenings with Mack!).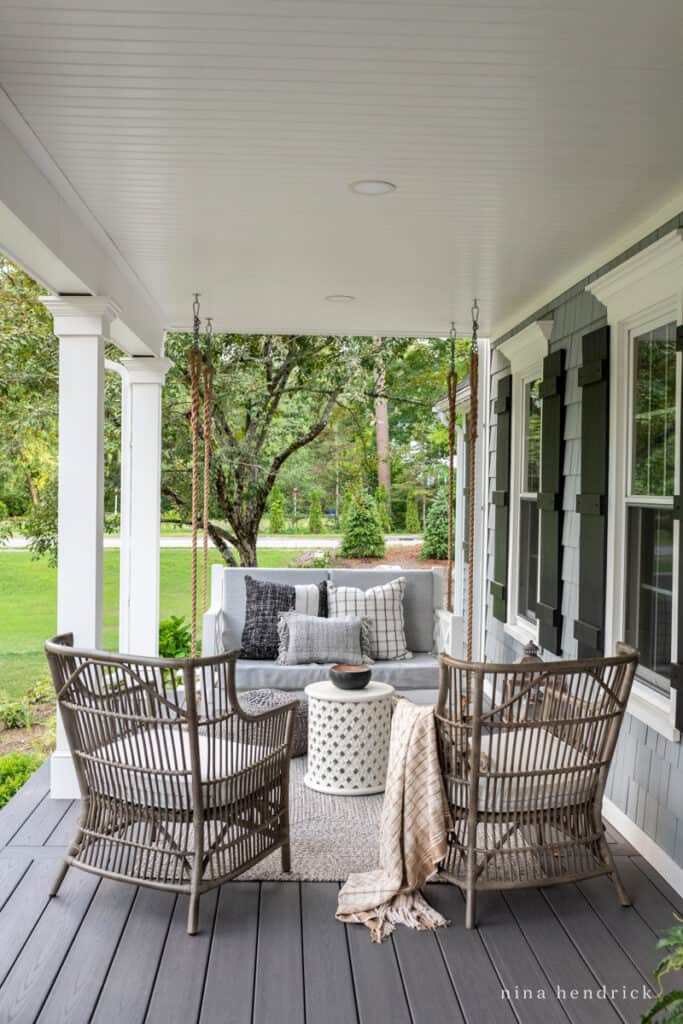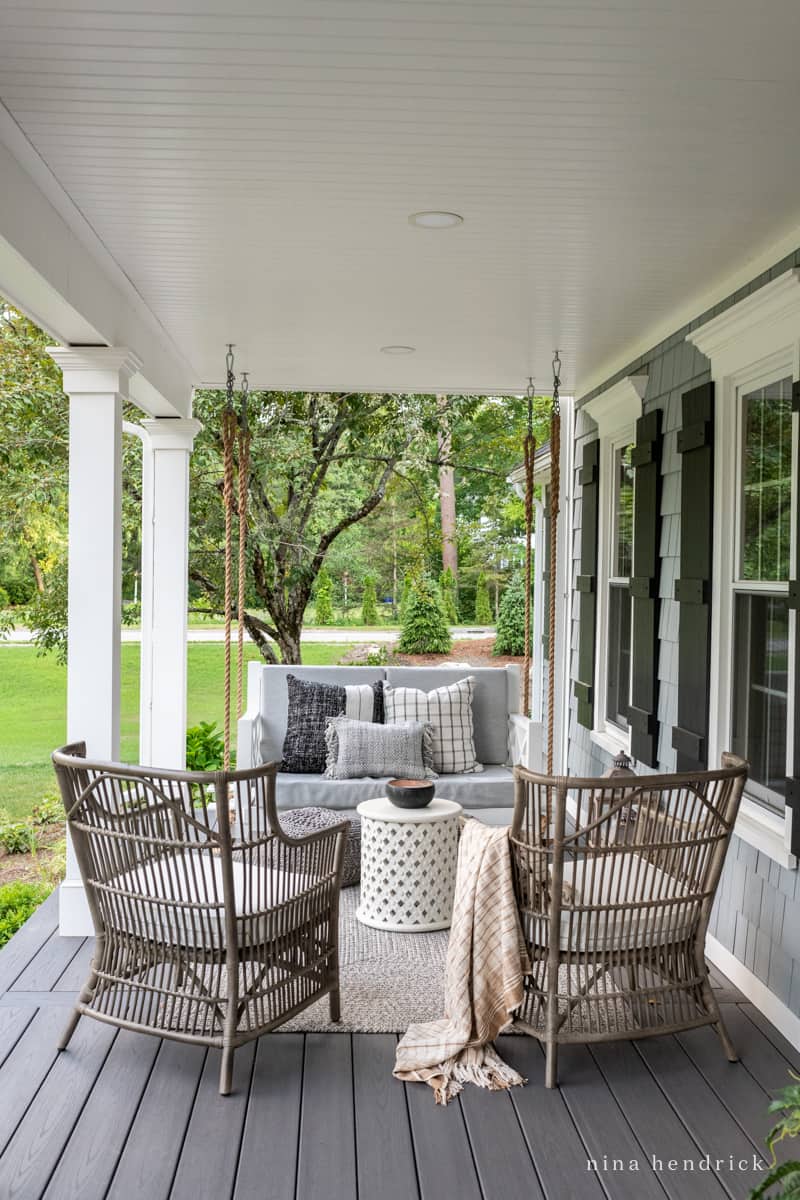 I kept things relatively simple. Simple is the name of the game around here! We have some big news to share soon (but no, it's not another baby! haha). There are some big changes ahead!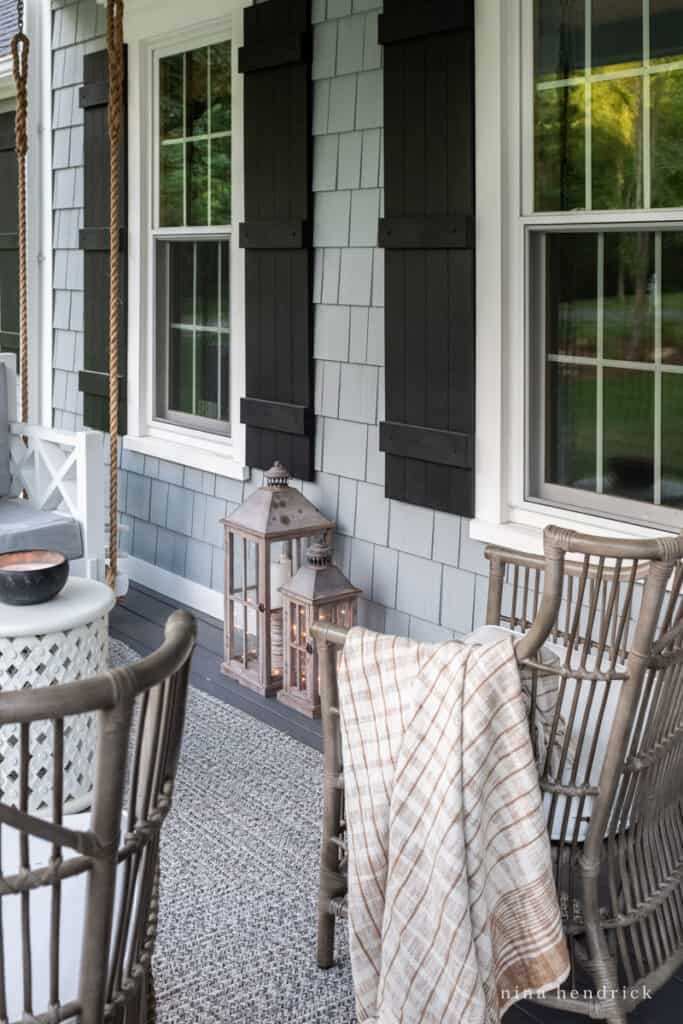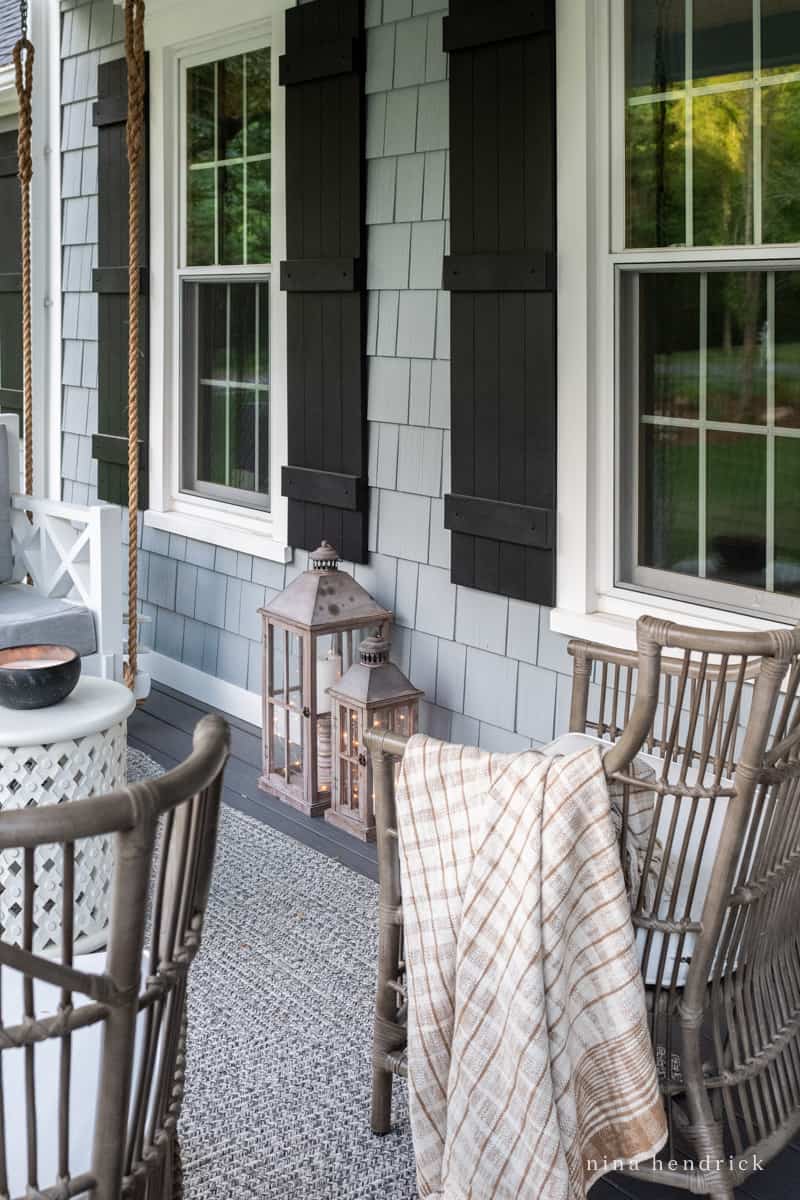 These specific wicker chairs aren't available any longer, but I found a slightly narrower version here! The blanket is avaiable here.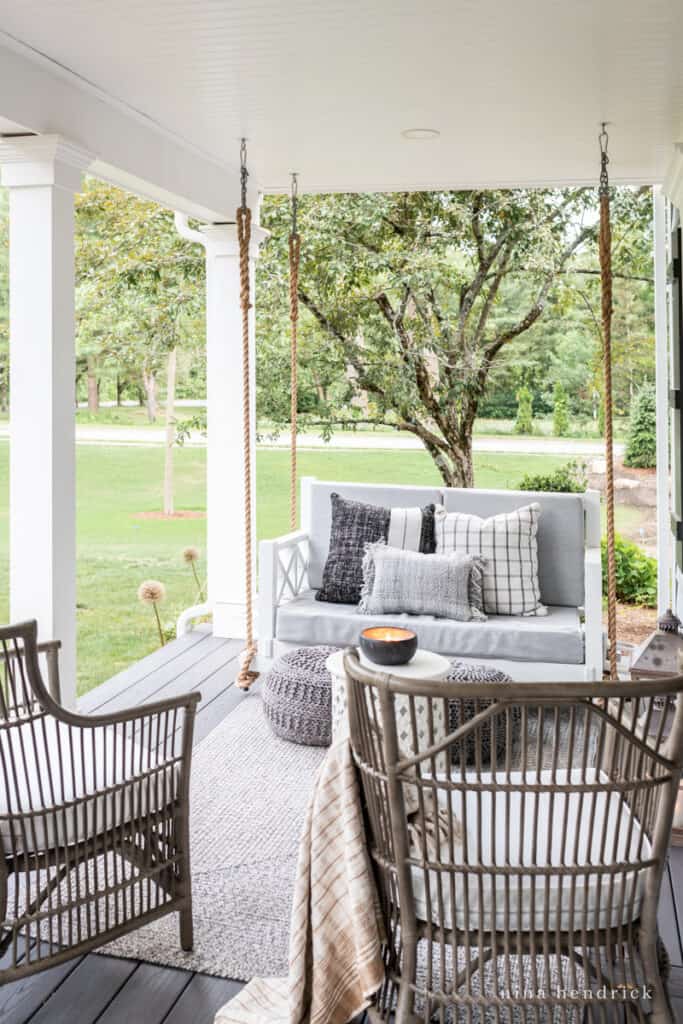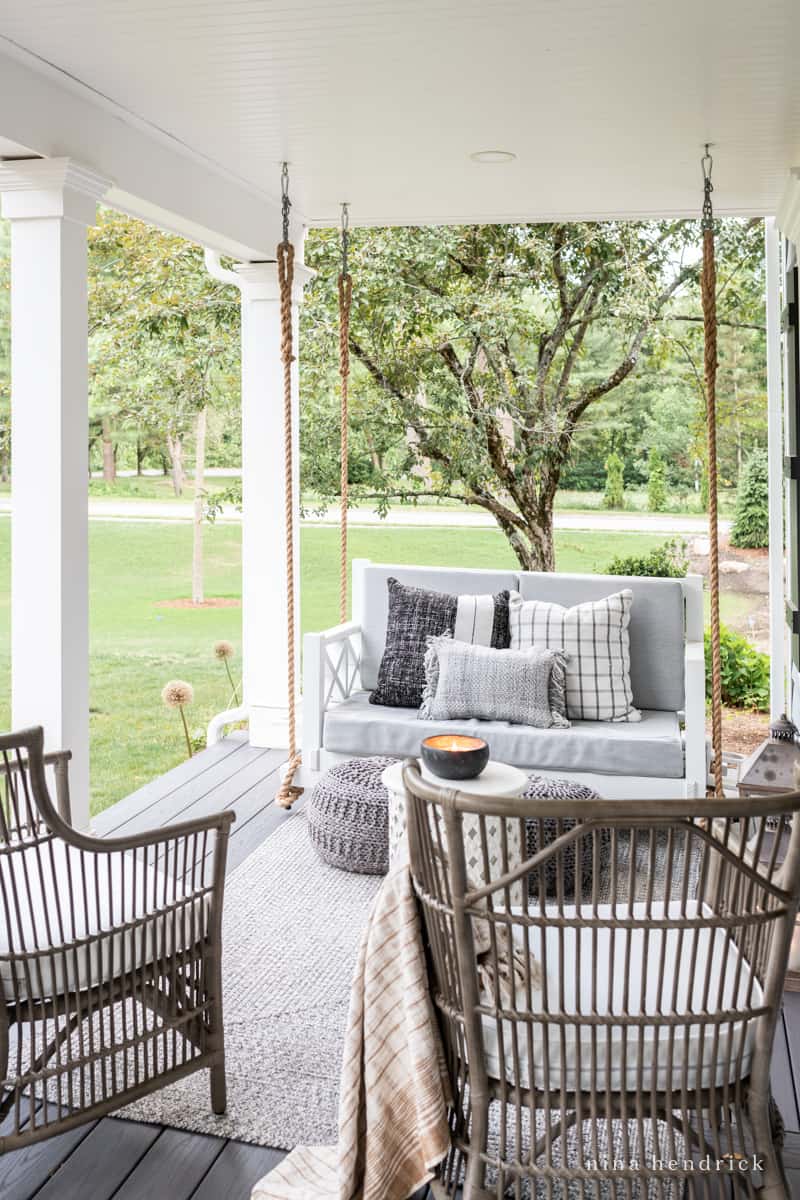 The woven outdoor rug has held up very well, especially considering the price. You can grab that here.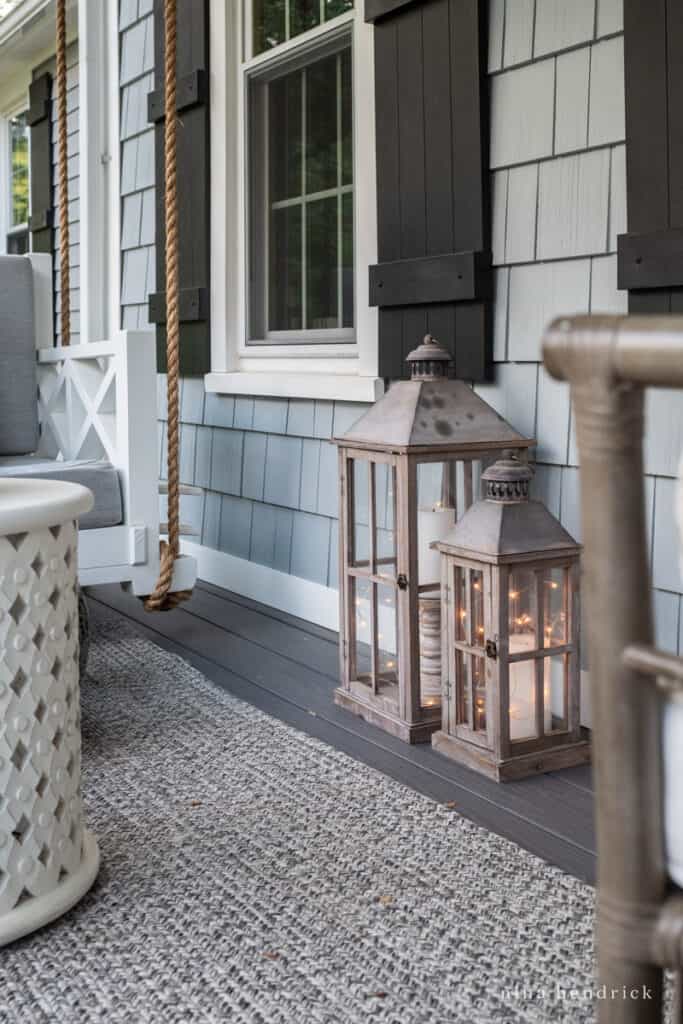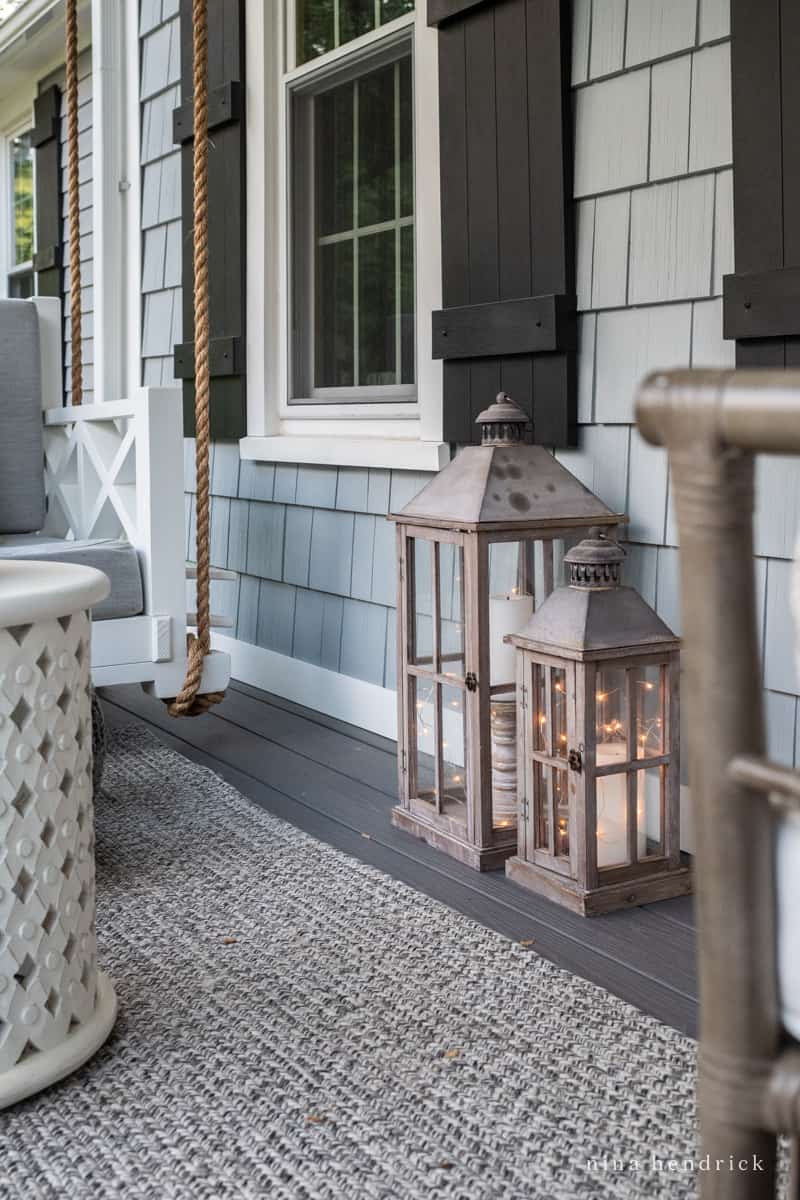 The lanterns are also from very long ago (possibly from Homegoods) but these have a similar feel!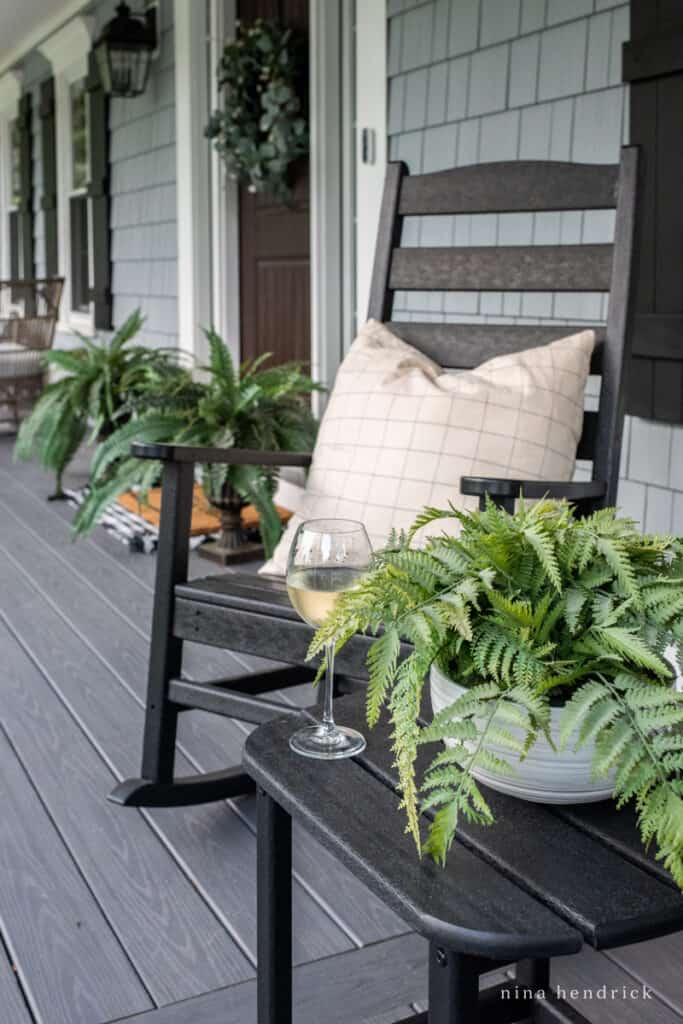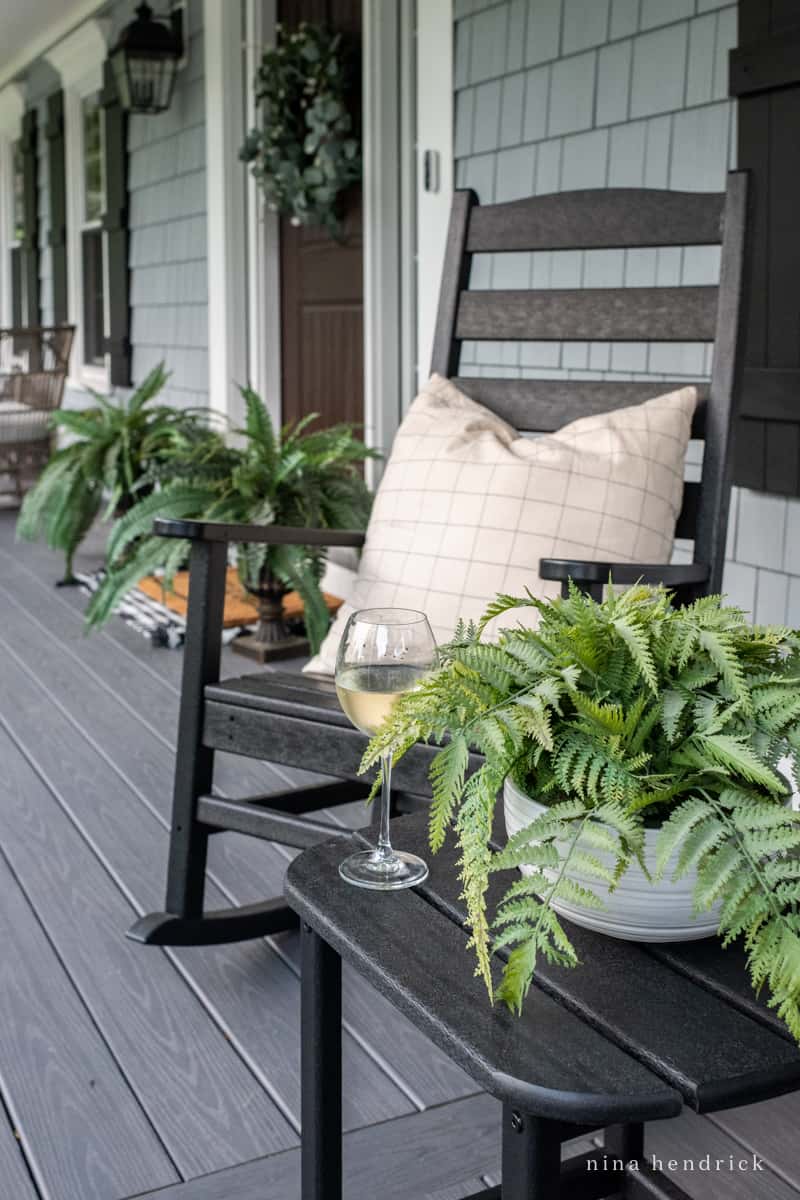 On the other side of the porch we have this rocking chair set. I grabbed some of the pillows from inside from my recent Summer Home Tour. Honestly, we typically keep this side very pared down!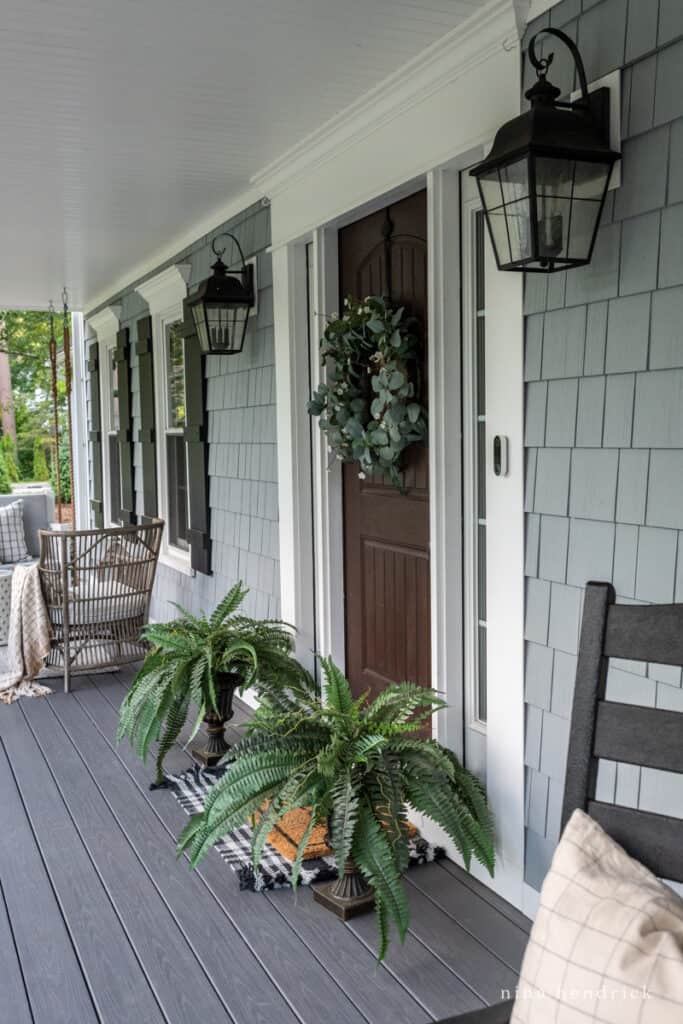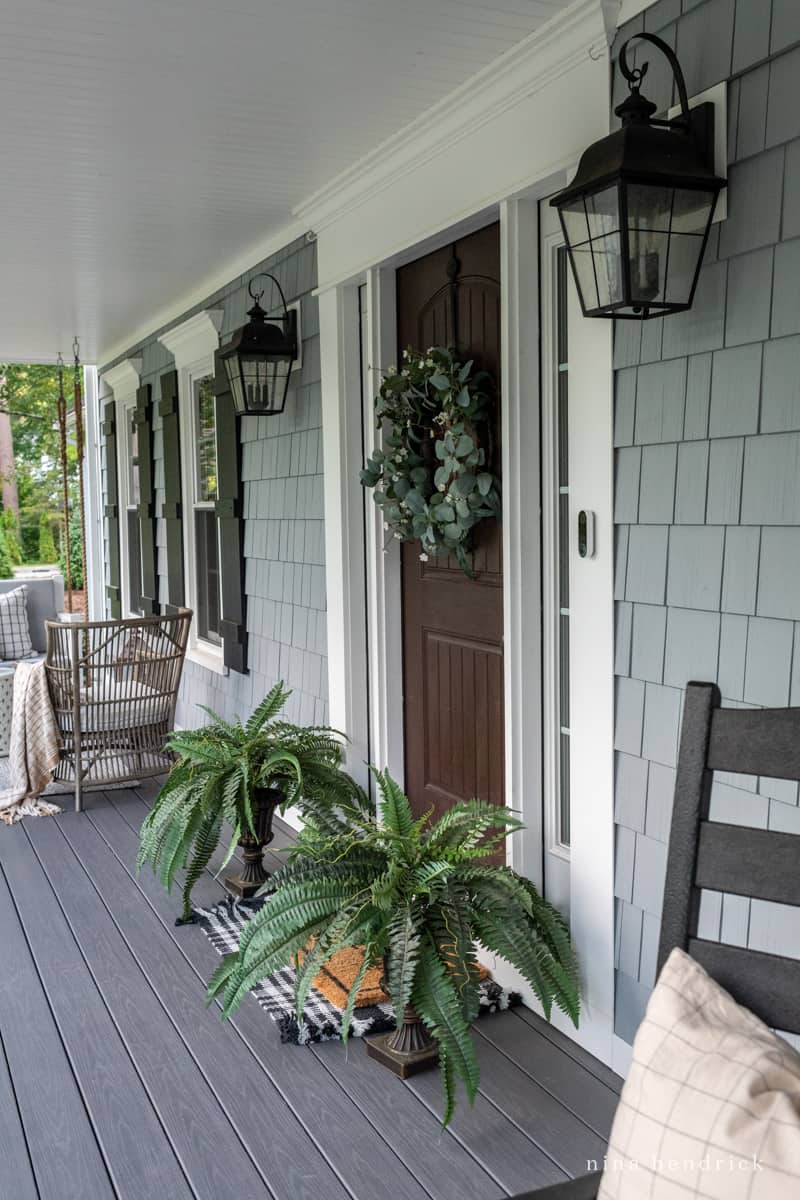 I didn't change up much with the front door. I use these (pretty convincing, honestly) faux ferns for spring and summer. These urns are a fairly close match!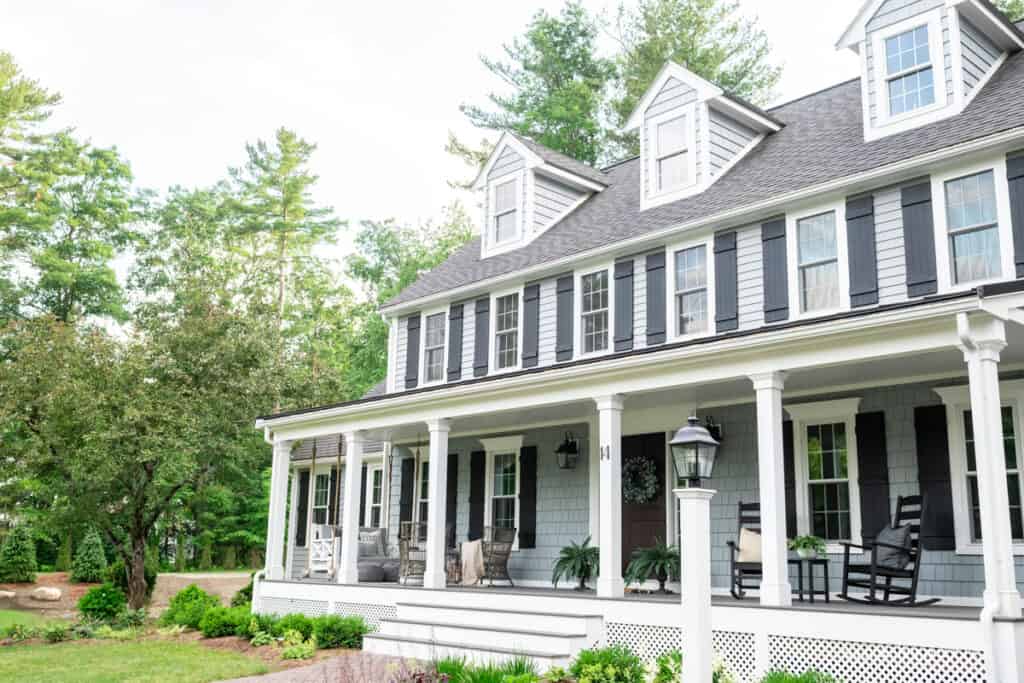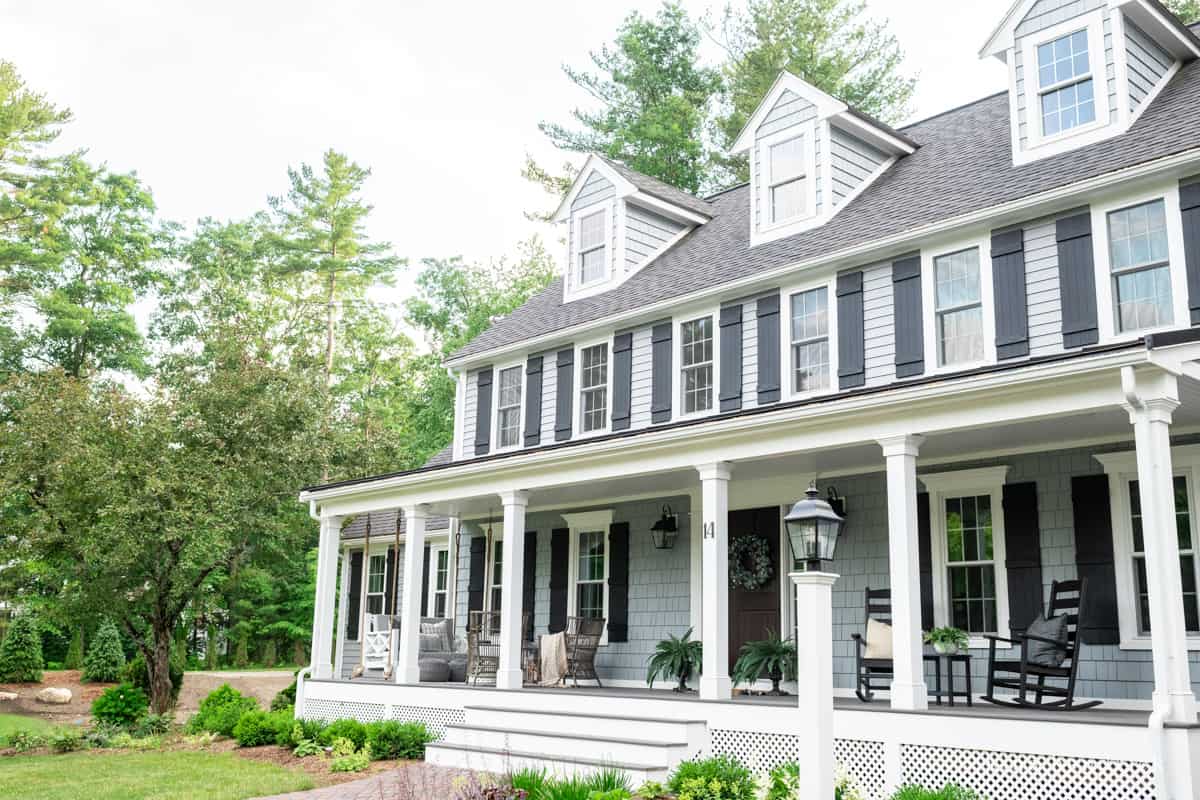 Overall, this new farmer's porch has been such a positive addition to the curb appeal to our New England Colonial! The yard isn't completely finished yet, but it's coming together so nicely. Everything to the left used to be a thicket of invasive vines.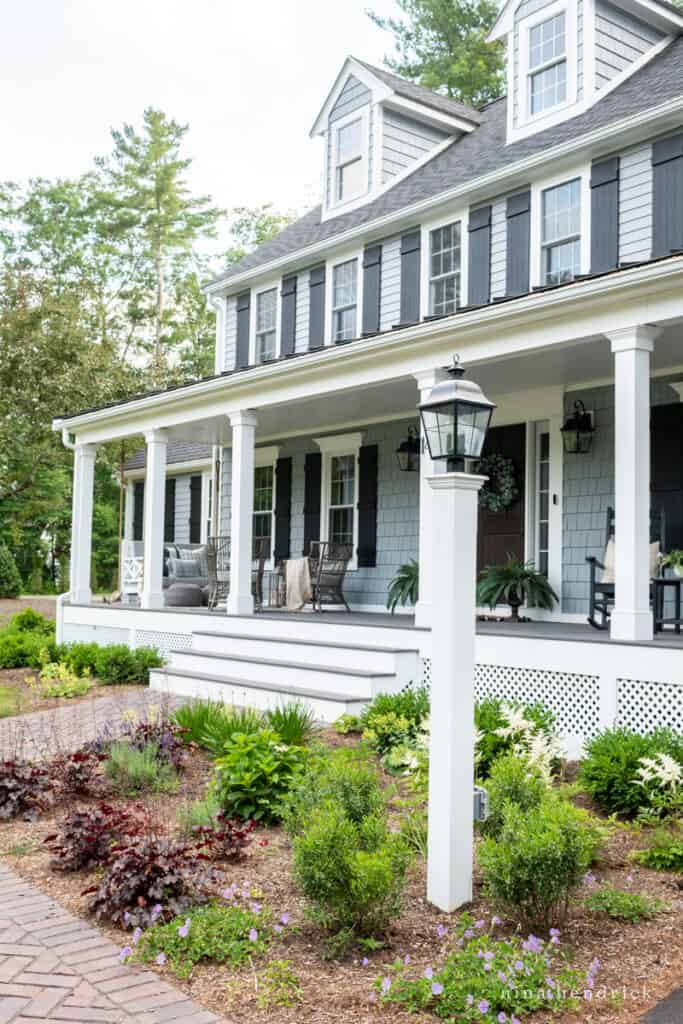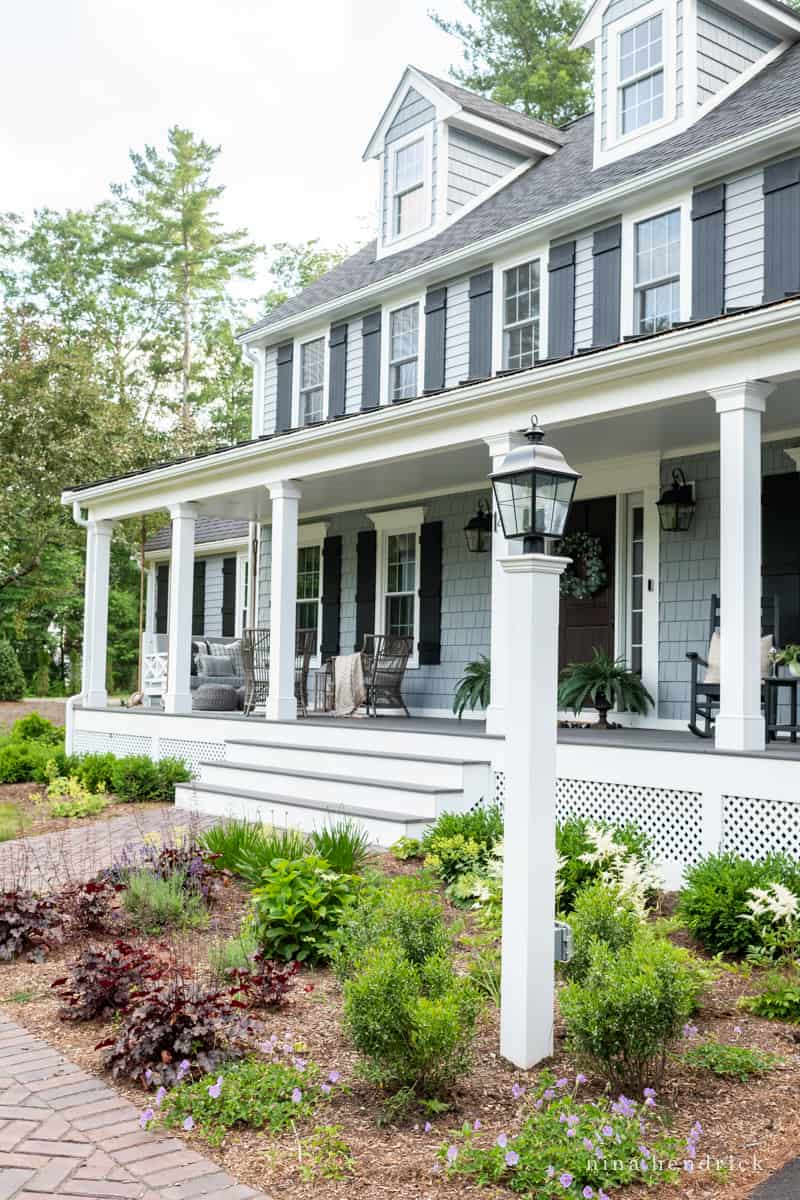 Farmer's Porch Sources
"Cedar" Vinyl Planks: Everlast Advanced Composite Siding in Seaside Gray
"Cedar" Shake Vinyl Shingles: Mastic Cedar Discovery in Everest
All Exterior White Trim, Lattice, Etc.: Azek Trim, not painted
Front Door: Thermatru wood-look door in Mohagany
Shutters: exact source unknown, Similar Here, black
Decking: exact source unknown, composite, we chose the dark gray option
Metal Roof: exact source unknown, Standing Seam Metal Roof in Black
Roof Shingle Color: exact source unknown, Black, it was already here.
Lantern Posts: Walpole Outdoors
Replacement Windows: Pella 350 Series
Bed Swing: Four Oaks
Gray Wicker Chairs: Similar here
Side Table: Here
Outdoor Rug: Here
Ottomans: Here
Wood Lanterns: Similar Here
Porch Lanterns: Here
Rocking Chair Set: Here