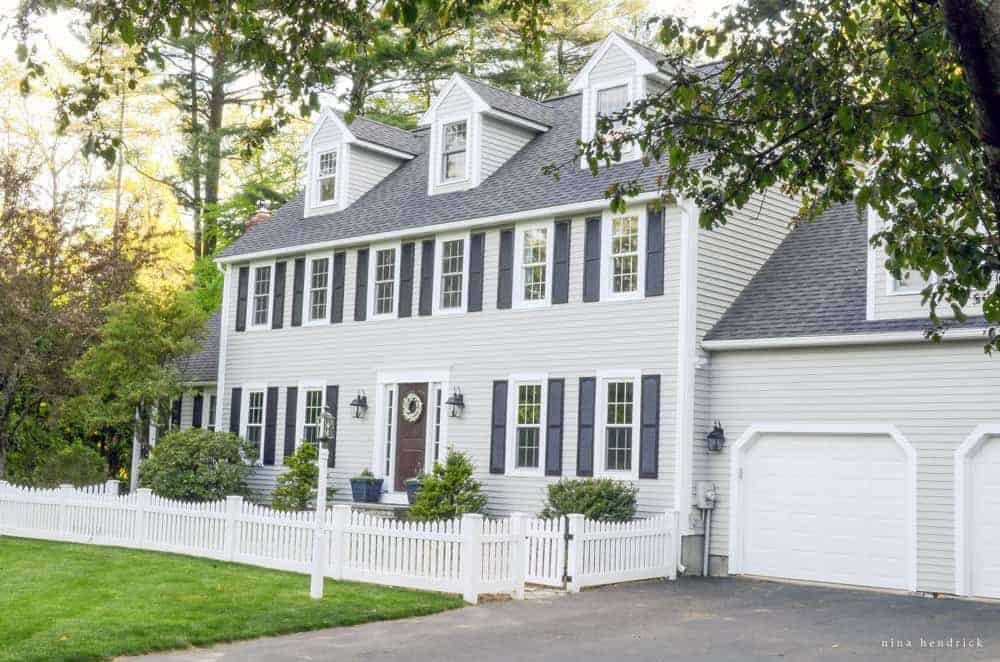 It's a day nearly four years in the making- we are now the proud owners of a freshly-painted gray house! Gray Huskie by Benjamin Moore (1473), specifically.
All of my years of agonizing, Pinterest searches, paint sample comparisons, creepily taking photos of houses I drove by and checking my paint finder app… it's all over! It's very gratifying when a big and permanent (i.e. too expensive to ever change again) decor choice turns out to be the right one. There were points in the process when I had my doubts, but my fears were soothed when I saw the final result. Gray Huskie has the blue undertones that I love, without any lavender. It's not too dark, nor is it too light. It's the perfect continuation of the neutral colors of our interior.
Here's a reminder of what we started with.
BEFORE: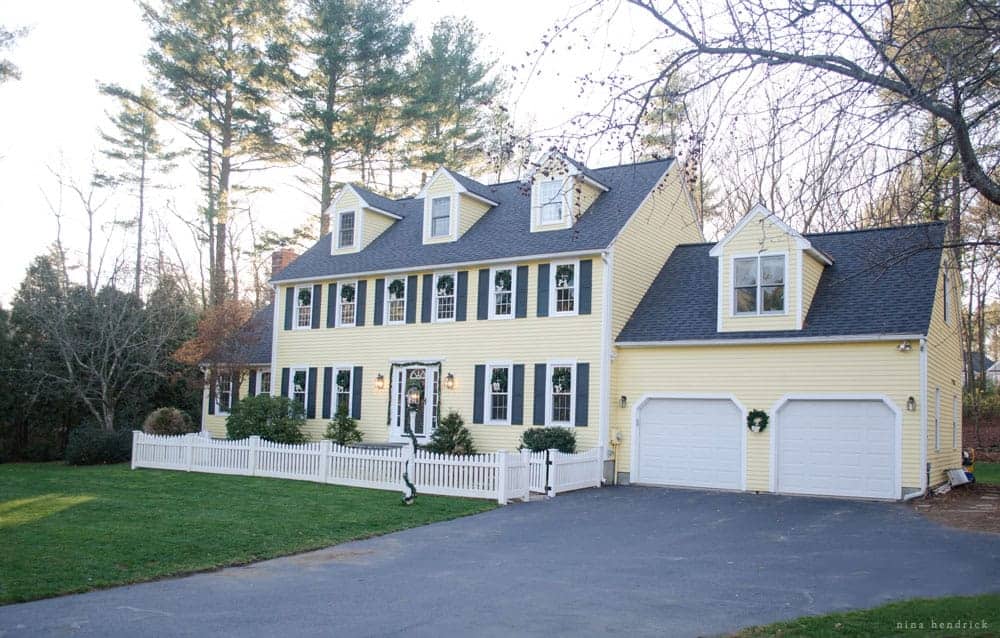 A lot of people really loved the yellow. I think it's an exterior color that elicits strong reactions… and mine happens to be the opposite of love. So when it began peeling off in huge sheets, I jumped on the opportunity to choose our own color.
(For the record, I don't hate the color yellow itself, it's just not a color I'd personally choose to paint an entire house. Or an entire room. Or nearly every room in a house. Okay, honestly, after living in a yellow house inside and out, I'm pretty sick of yellow.)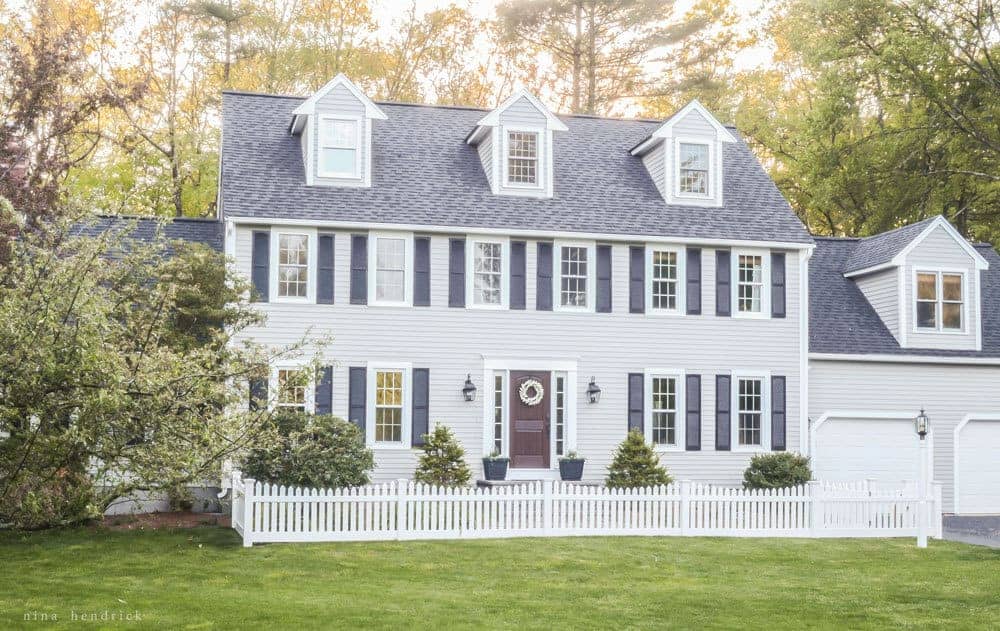 Now that I've gotten that out of the way, let's talk more about gray- a color that I obviously do love. One important thing that I discovered while choosing an exterior gray paint color is to go with a darker shade than you would choose for an interior. For example- Gray Owl is a color that I love for my interior and have used often. It has that soft blue undertone that I'm drawn to. I thought it may be a perfect exterior color as well. However, when I created my samples, I found that Gray Owl- along with every other light gray I tested- was very nearly white on an exterior. Gray Huskie is a color that I would never think to paint my interior, as it's a dark and somewhat bold color indoors. I never in a million years thought it would be the color we chose, it was a shot in the dark based on a dubiously-labeled search result. However, on our exterior, it's a soft and medium/light color. It completely went against everything I knew about paint colors up until that point, so I held my breath… but it turned out perfectly.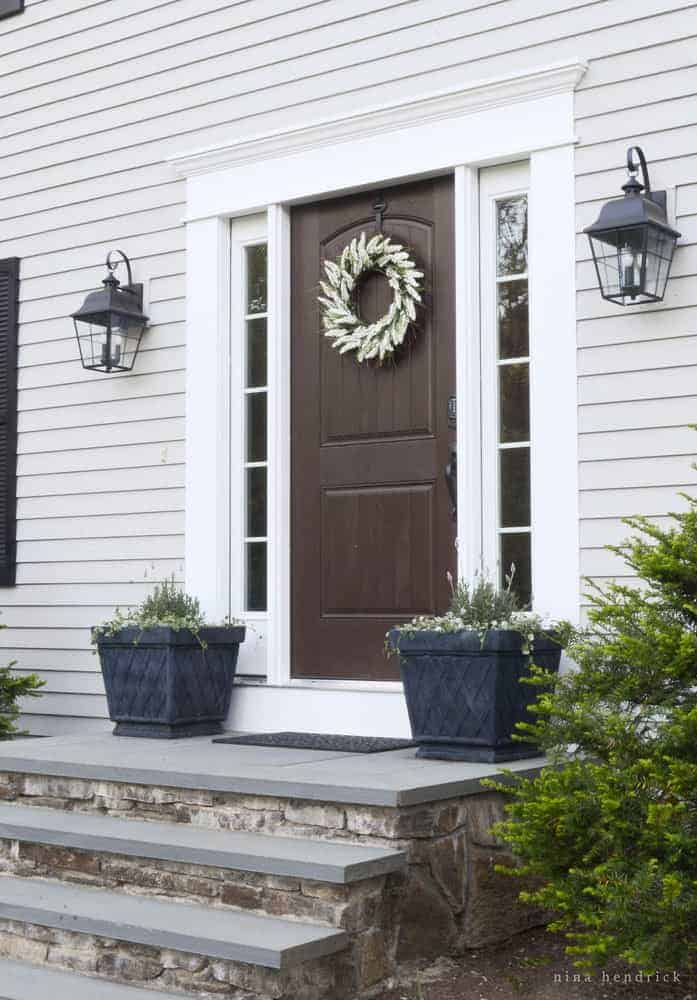 I was originally planning to call this post our "exterior reveal", but then I paused and realized the scope of this project. The new door was one step, the accessories (which we are still slowly adding) are another, and the paint was another. That was a ton of progress. However, we will eventually be adding a farmer's porch and expanding our back deck into an outdoor entertaining space and patio- along with gardening, landscaping, and just continuing our overall quest of making this property ours.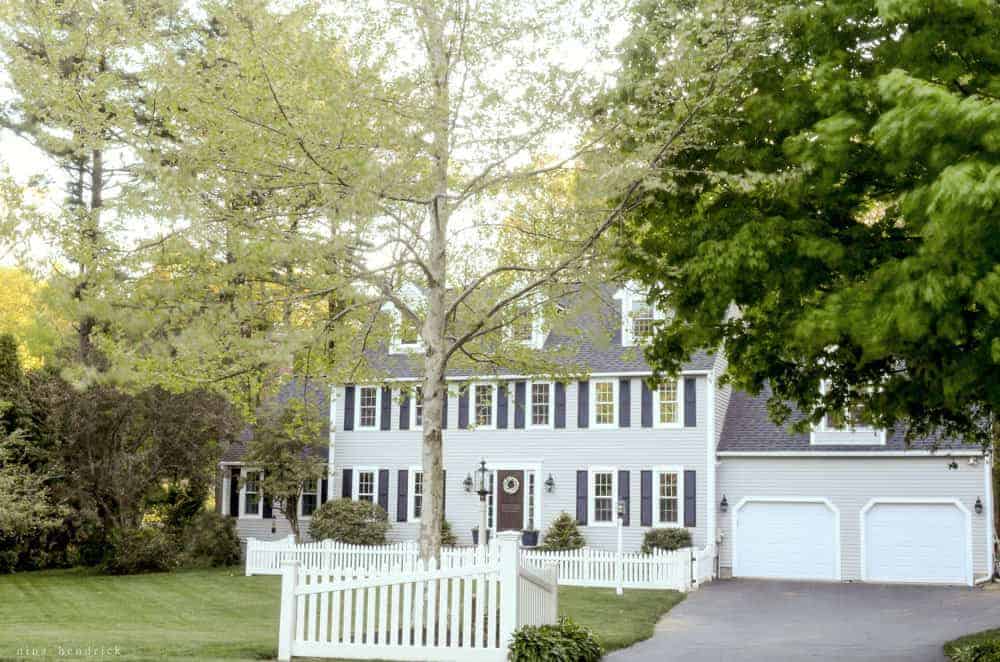 It's such a journey creating the home you want, and ours is far from over. We certainly aren't in any rush, as we plan to stay here in this house until Mack retires… which is at least thirty years from now. With this project, I'm reminding myself to stop and enjoy that journey. The paint is such a big and positive step in the right direction. However, we are a long way off from marking the exterior as complete. I can't wait to share more of our projects with you along the way!
Sources:
Exterior Paint Color: Benjamin Moore Gray Huskie
Shutters: Benjamin Moore Onyx in Satin
Trim Color: Benjamin Moore Simply White
Front Door: custom Pella planked fiberglass door with sidelight grids and faux mahogany finish (Designed at Lowes)
Planters: Lowes
Wreath: Pier One (sold out, similar spotted at Homegoods)