This cottage-inspired Breakfast Nook Makeover maximized a space with a lot of storage potential transforming it to the heart of the home.
Grab a cup of coffee and meet me in the breakfast nook! I'm thrilled to share this completed makeover. It's truly the heart and gathering place of our home!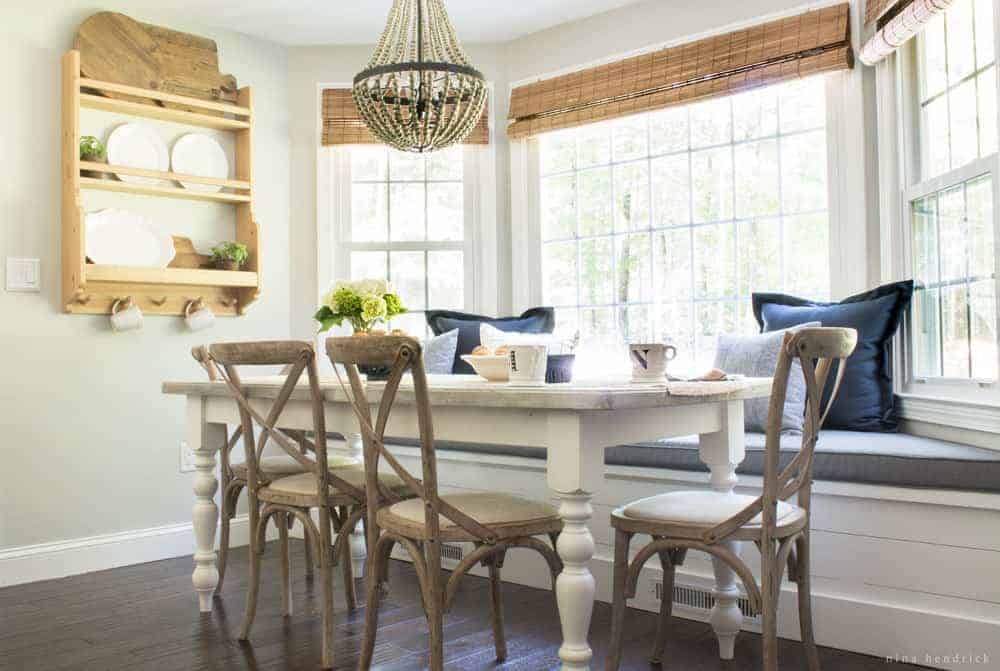 Since the breakfast nook is right in the kitchen, we eat the vast majority of our meals here, complete homework, and do arts and crafts.
Having this space be both beautiful and functional has been a priority. I love the way the sunlight filters into this room (even though it makes it a challenge to photograph), and it's the perfect spot to sit and watch as the boys and Mack play baseball in the backyard.
Before we began this Breakfast Nook Makeover project, this area felt very closed in and too dark for my tastes. I wanted something fresh, lively, and something that would capture all of that sunlight as it peered in through those big beautiful windows!
A reminder of the before: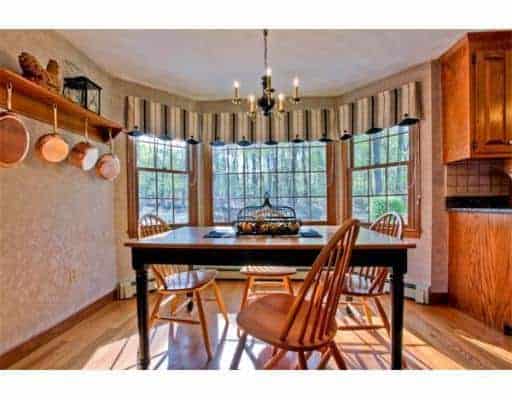 In fact, those windows were a huge inspiration for the breakfast nook refresh. If you take a close comparison of the before and after photos, they almost don't look like the same window.
The dark, wooden framing in the before shot makes the windows look much smaller than the bright, white framing in the after photos.
If you are a fan of before and afters, make sure you follow along on our home tour. We are chipping away at our 1980's colonial renovation bit by bit, so make sure you stay up-to-date with the latest. Also, if you see something here that catches your eye, you can shop our home right from your computer.
About this Cottage Style Breakfast Nook Makeover
We began this project shortly before Christmas, which was a brave endeavor with the decorating following right behind the demo.
I sketched out a design of what I wanted the space to look like, and Mack built the planked storage bench into the bay window. We took advantage of the large storage space for our small appliances. Now, our blender, bread maker, popcorn popper, and various other specialty gadgets have a neatly hidden home.
How we completed our Breakfast Nook Makeover
I saw great potential for this room from the moment we moved in. Since we've settled, the room has evolved a bit over the years with various projects we did in phases:
I almost immediately painted over the sponge paint treatment in the kitchen.
We replaced all of the first-floor windows in 2012 shortly after we moved in.
We overhauled the heating system to air ducts.
After: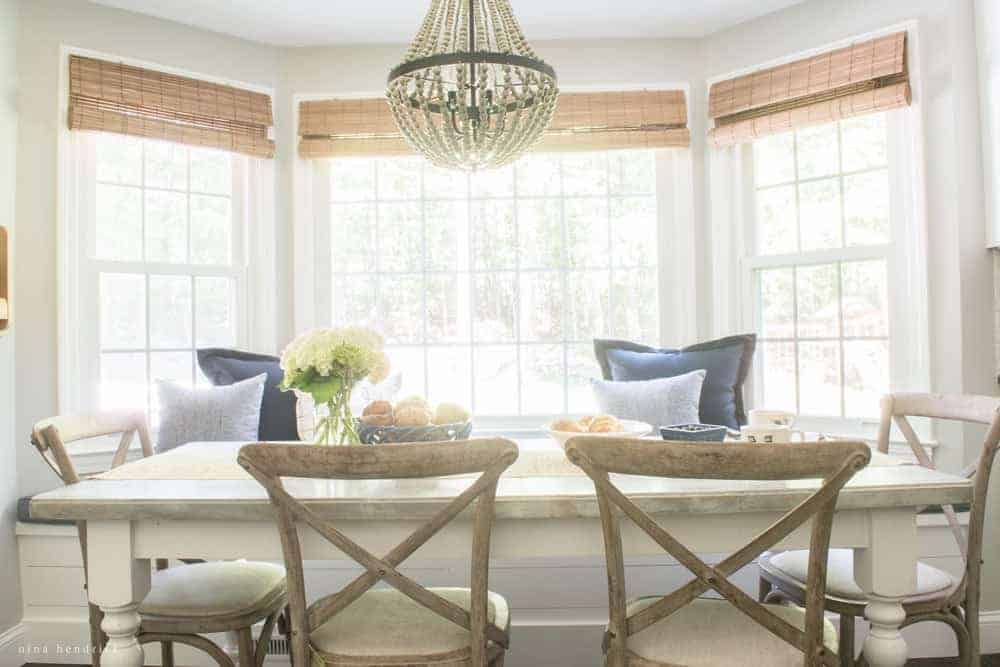 But, it really took a complete renovation in this room before I was truly happy with the result.
Here are the big steps we took to bring this project to fruition:
We built the bay window bench with hidden storage.
We built the cottage dining table.
We added the French x-back chairs.
Now, this light and bright space is a perfect representation of our relaxed cottage style. It's the ideal spot to gather as a family, read a book, or host a party with family and friends.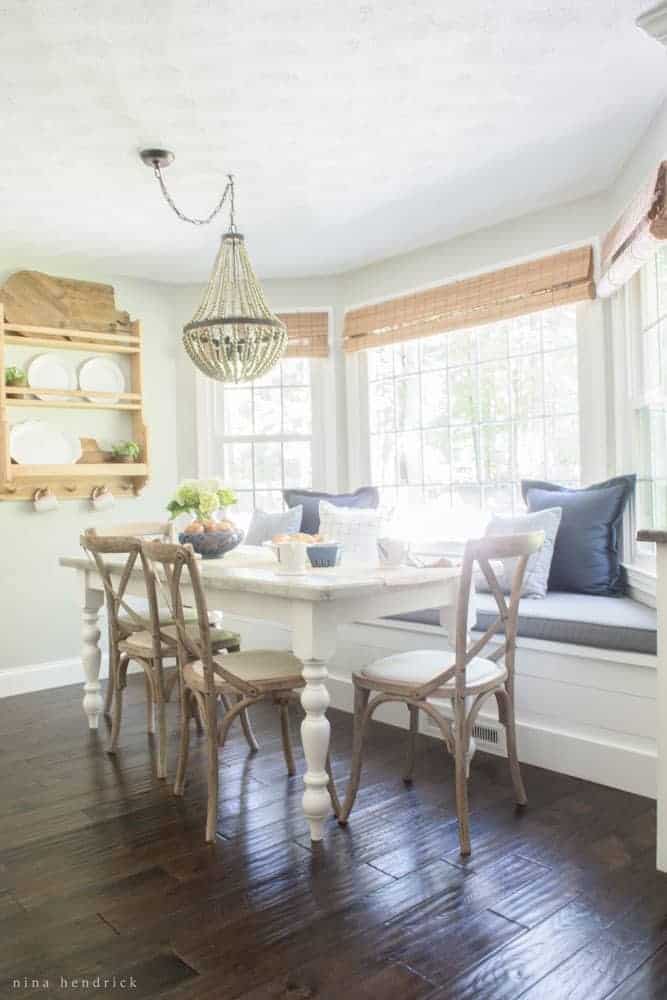 Cottage-style items purchased for the breakfast nook
Early this year I was visiting our local Restoration Hardware outlet and I potted two beautiful wooden x-back chairs I had already been looking at online. They were marked down 60%. Replacing the old chairs (inexpensive fiberboard IKEA chairs that were in rather rough shape after four years) wasn't necessarily part of the original plan, but seeing the price on the set at the outlet convinced me.
The tag said they had "excessive grain", but I liked the interest it added. Unfortunately, after three months of waiting, visiting, and probably annoying the nice people working at the outlet- two more of the chairs never appeared.
Finally, I decided to order the chairs from the actual RH website. I paid a little more, but was able to piggyback a coupon onto a sale, so it wasn't too bad!
They are slightly different from the ones I bought at the outlet: the finish is softer and there's a little less grain showing, as predicted. But, you would never notice it unless you knew what to look for. They are the Burnt Oak finish for those who may be looking at them.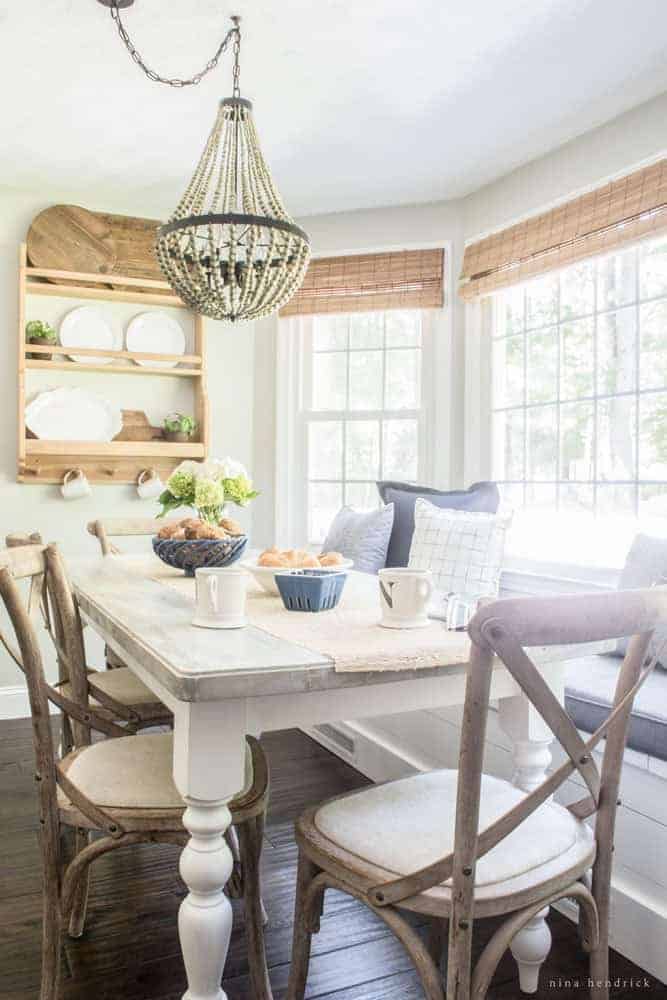 The chairs are a different gray finish than the cottage-style dining table we built last year, but they do perfectly match my chandelier from World Market. I love the way those two things tie together, and then match the cutting boards.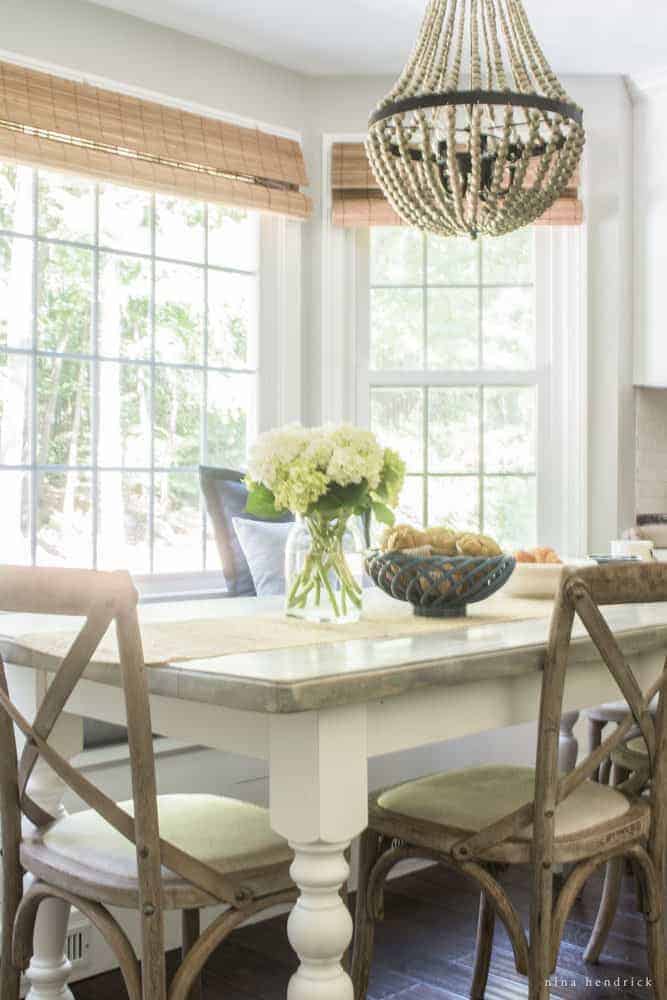 For the cushion on the window bench, I had a local upholsterer named Constance create a full length piped bench cushion out of outdoor fabric.
Mack wanted me to attempt the project myself, but I cut my losses regarding sewing long ago! Constance did a wonderful job (ridiculously far better than I could do) it looks absolutely perfect, and has held up to two rowdy boys and a toddler climbing and spilling things all over it.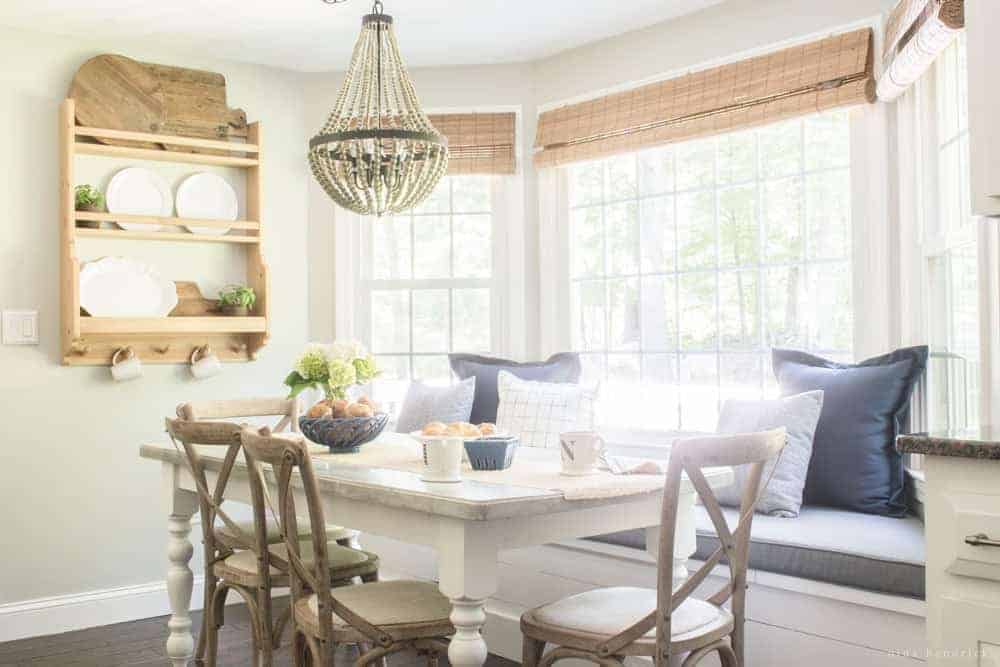 I also use outdoor pillows from Target on the bench- they are so much easier to keep clean!
I debated whether or not to paint the plate shelf from IKEA. Ultimately, I decided I love the warmth of the raw wood, and that it ties in nicely with the blinds. Also, now I can say, "See, I don't paint everything white!". Ha!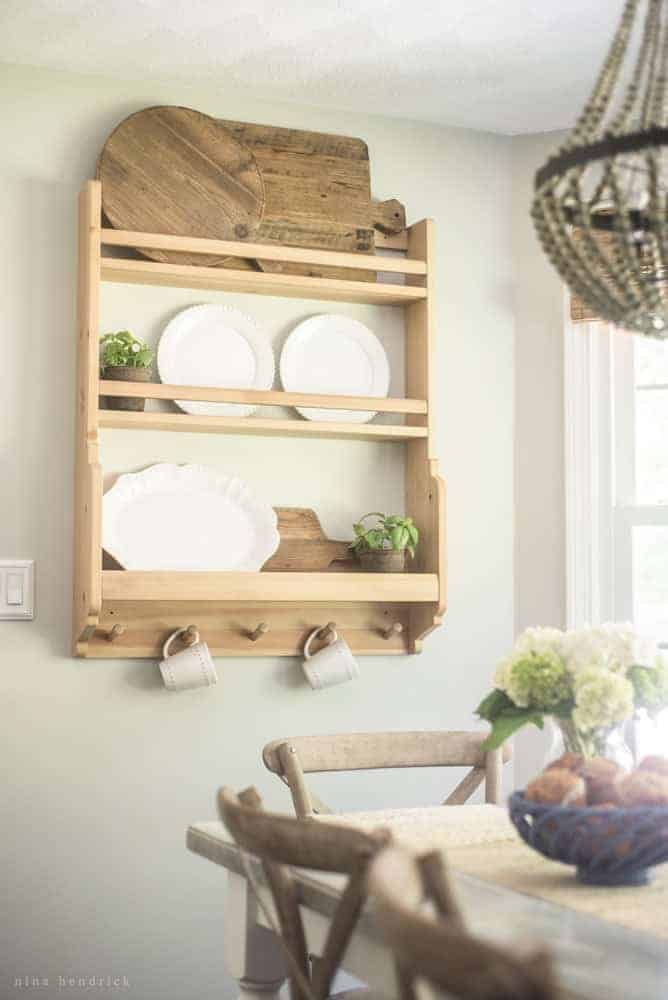 So that's it, our sweet little breakfast nook! Thank you so much for stopping by today to check out this space!