Wondering how to decorate for summer? Summer is the season where we keep things simple and fresh, "undecorate", and turn our attention to the outdoors.
Welcome to our summer home! Today I want to walk you through some of our indoor spaces and tell you my best tips for how to decorate for summer — hint: it involves a lot of "undecorating". I have much more to come over the summer months, including sharing the entire completed exterior and landscape of our home! If you're looking for more summer decorating ideas, you can see my favorite summer home tour from back in 2016, my garden-inspired summer mudroom, plus my favorite summer decorating ideas.
If you're new here, I've spent the last nine years infusing a builder-grade colonial with New England style and modern finishes. We're finally at the finish line in our renovation!
How to Decorate for Summer | Best Tips and Tricks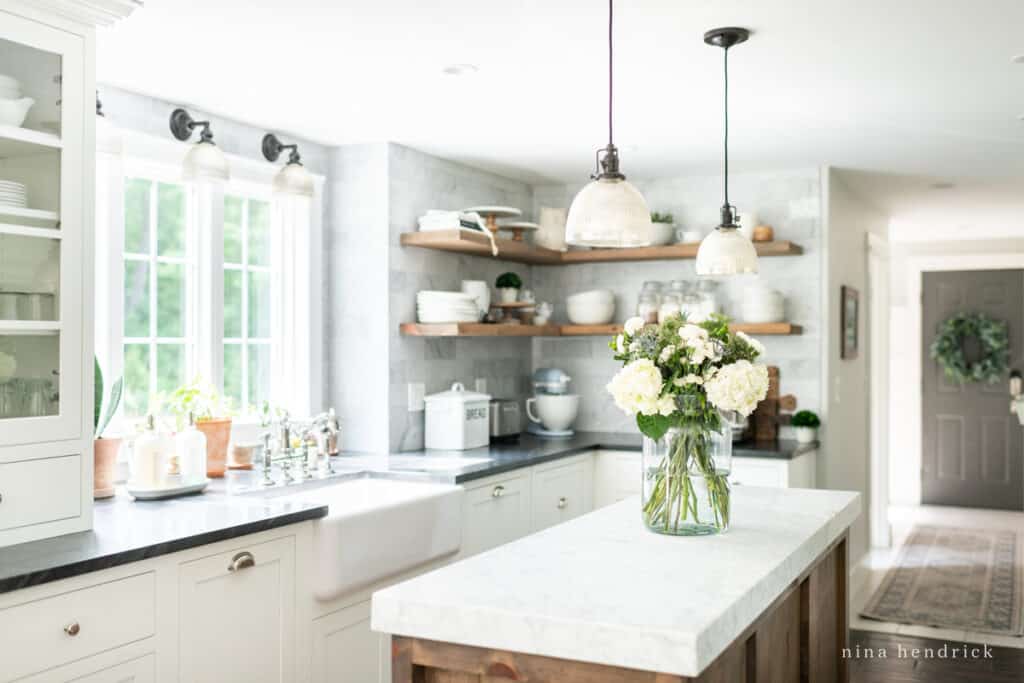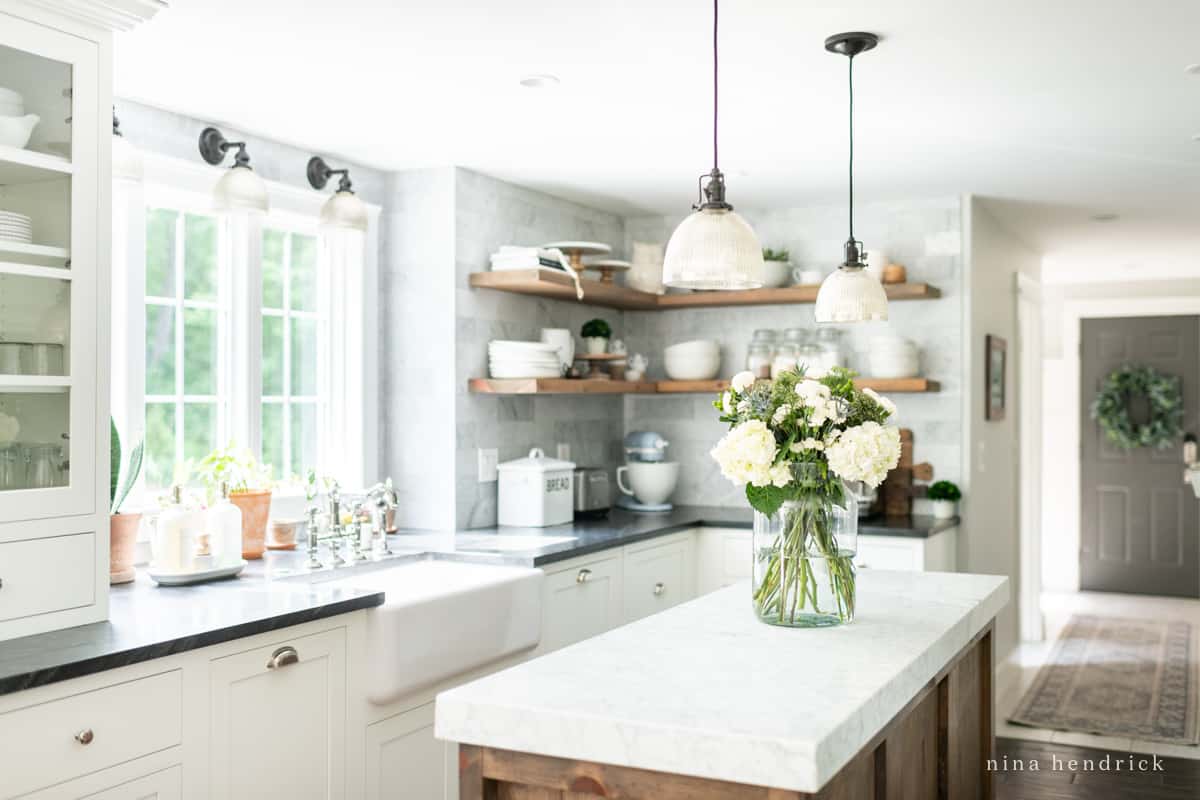 Summer is the time when I typically let the house breathe. It feels fantastic after the winter months to keep things simple. As much as I love seasonal decor, there's definitely something to be said for neutral and seasonless decor. Our summers are so short here in New England that we pretty much turn our attention outside to the garden as soon as the weather turns nice enough!
How to Decorate the Kitchen for Summer : Simplify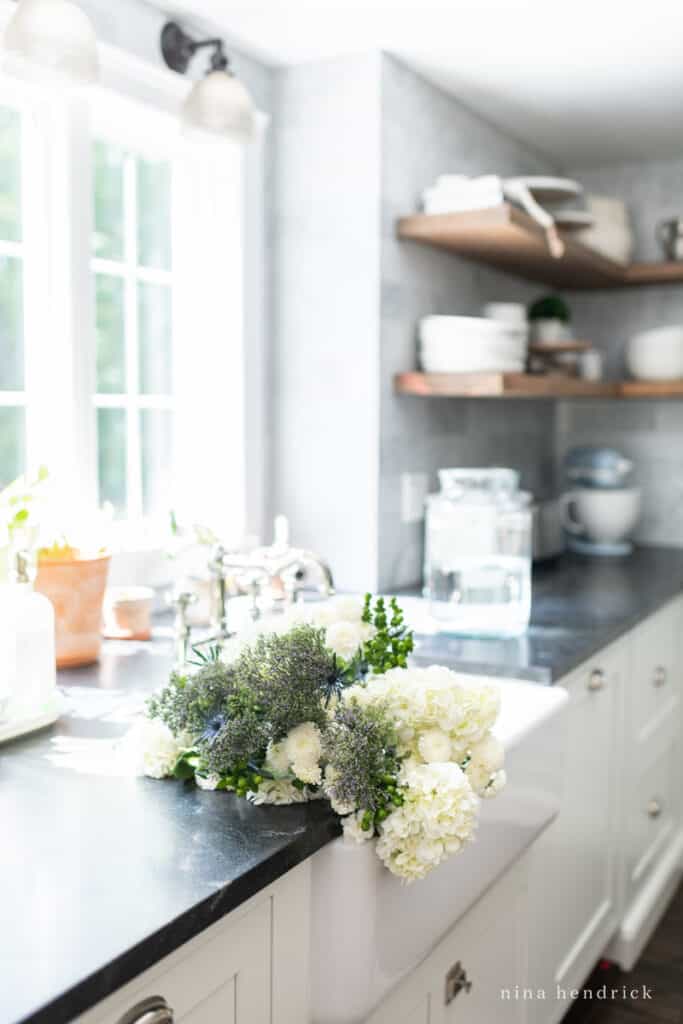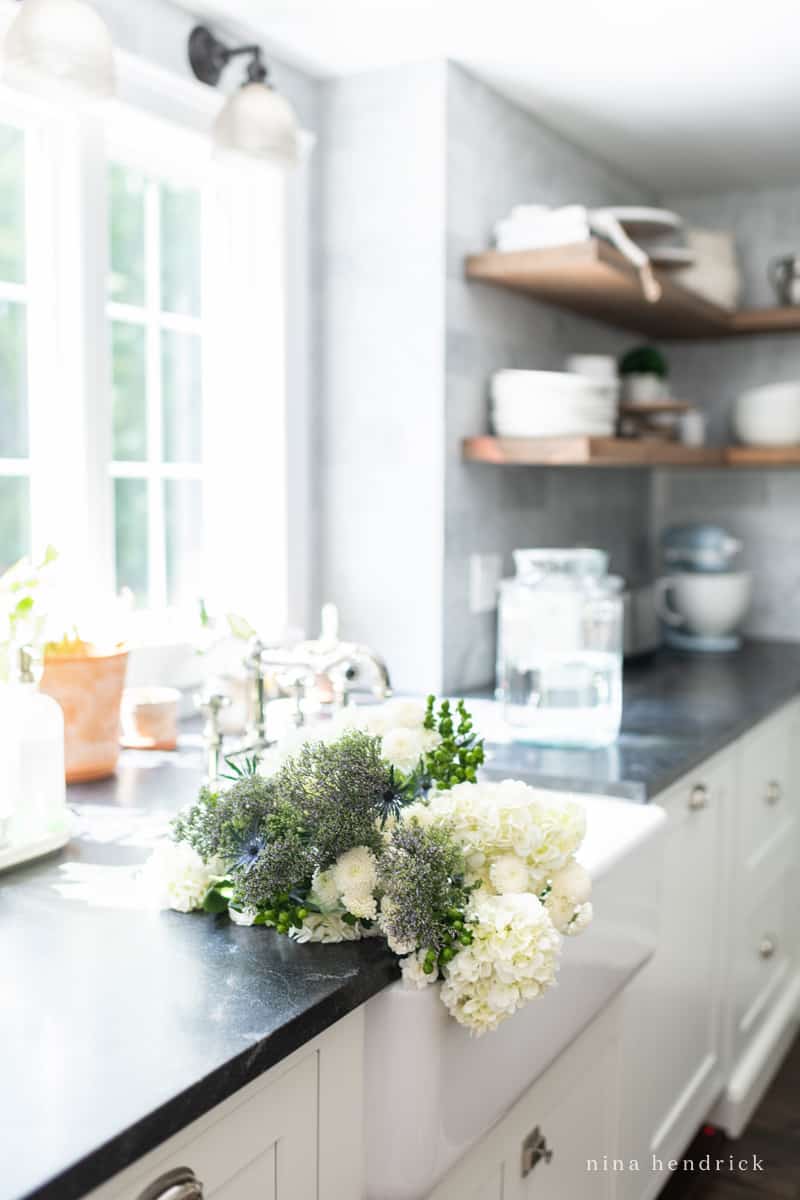 Let's begin our tour in the kitchen. In summer, less is definitely more in the kitchen! I need those surfaces clear for prepping fresh produce. But I never pass up fresh flowers, no matter the season.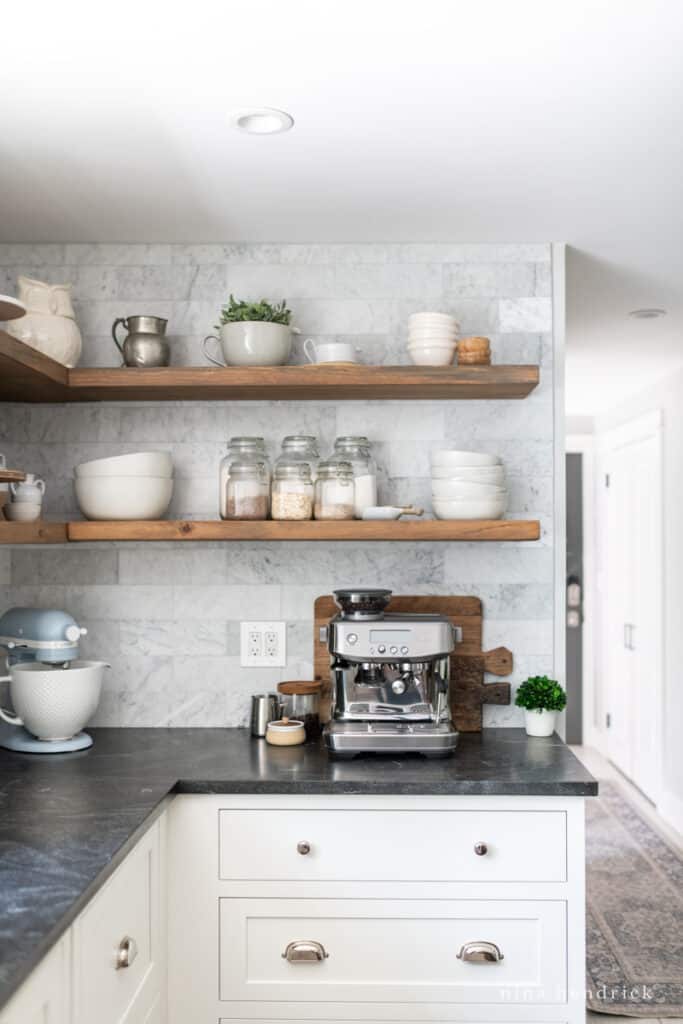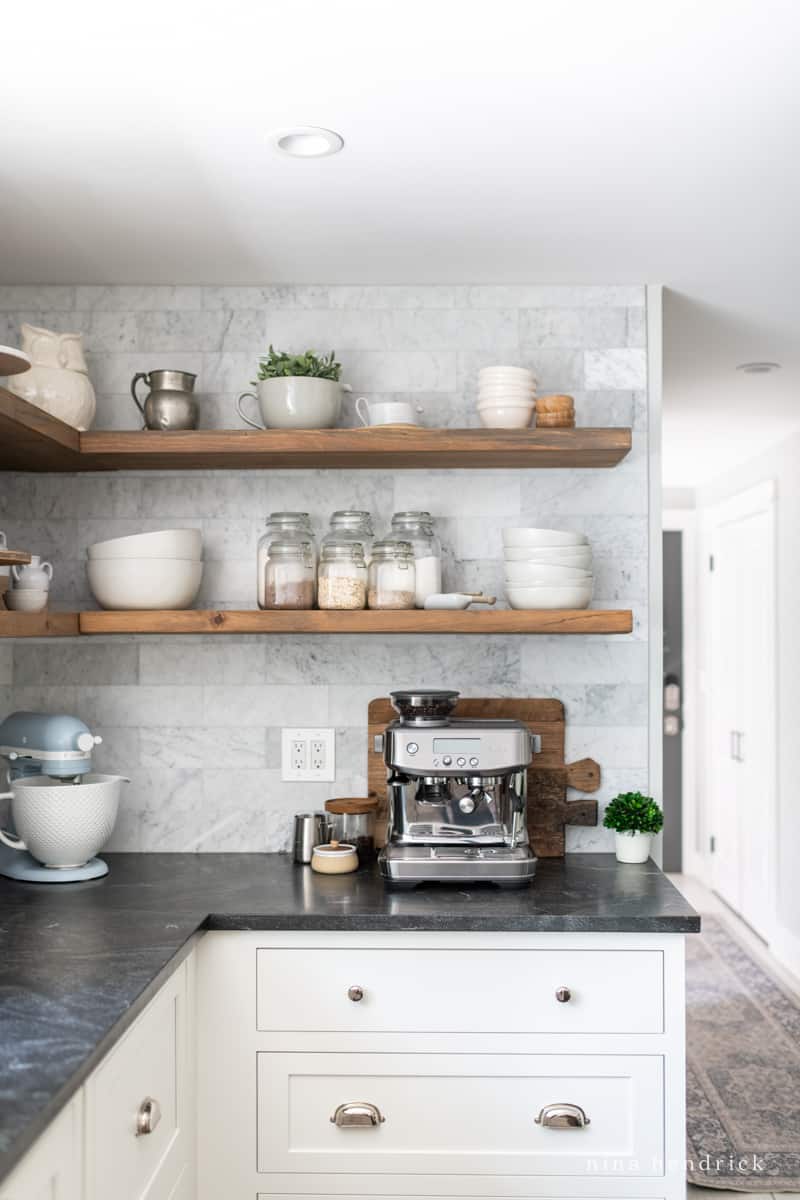 This post contains affiliate links, which means I may get a small commission (at no extra cost to you) if you shop my link. Please see my disclosure if you'd like more info!
This is the busiest corner of the house (and a particular favorite). Espresso is another seasonless staple! I recently pared down on what coffee supplies I keep out on the counter to just the essentials. And my espresso maker is definitely essential!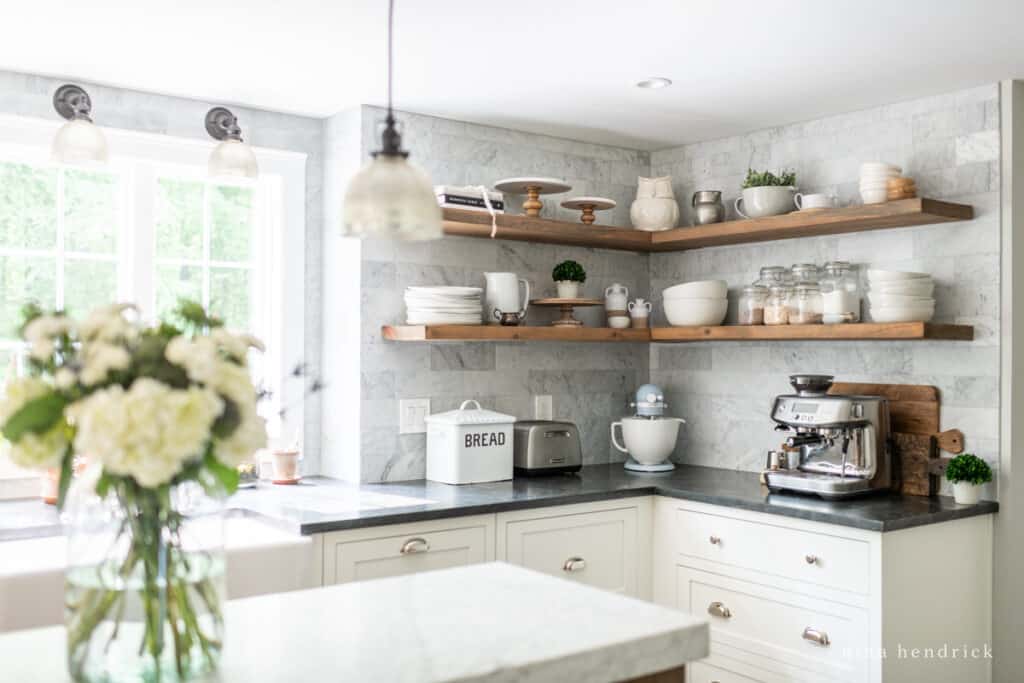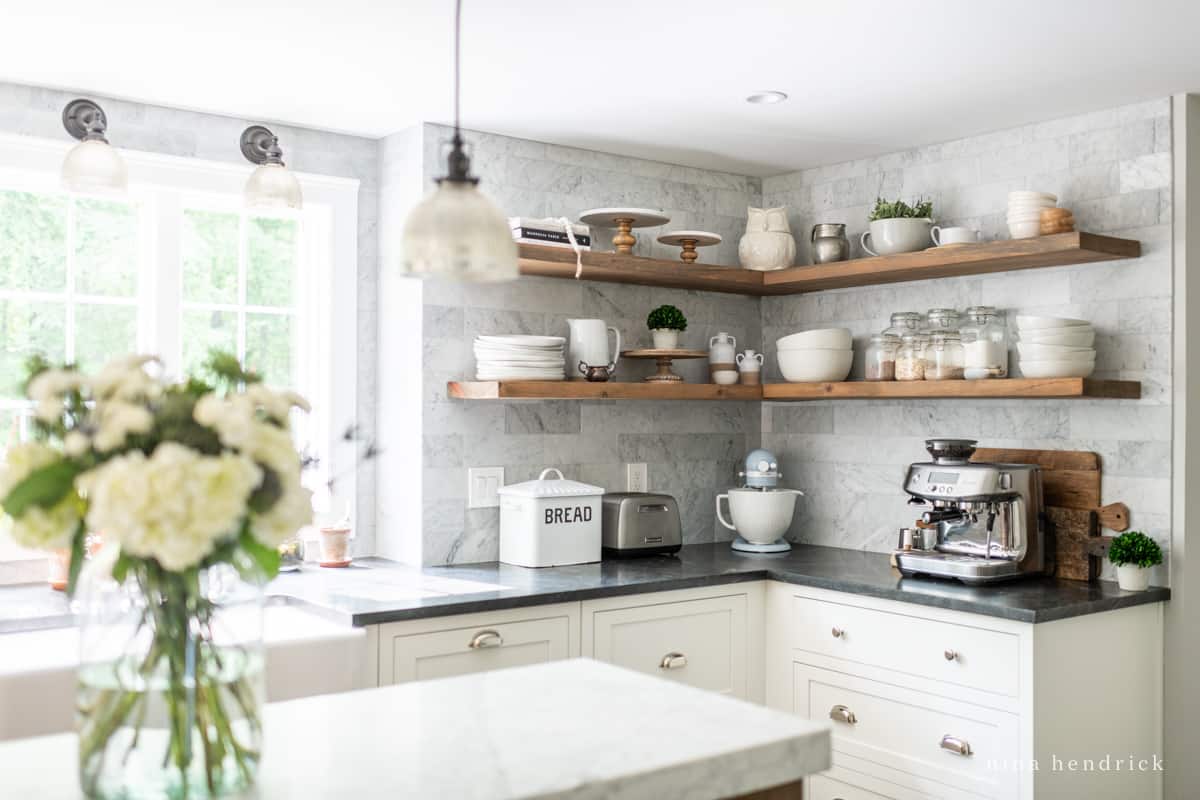 I also recently put away most of our small appliances. I used to have all of our smoothie supplies and Vitamix out on the counter, but it feels so much better with them stowed away at the bottom of the pantry!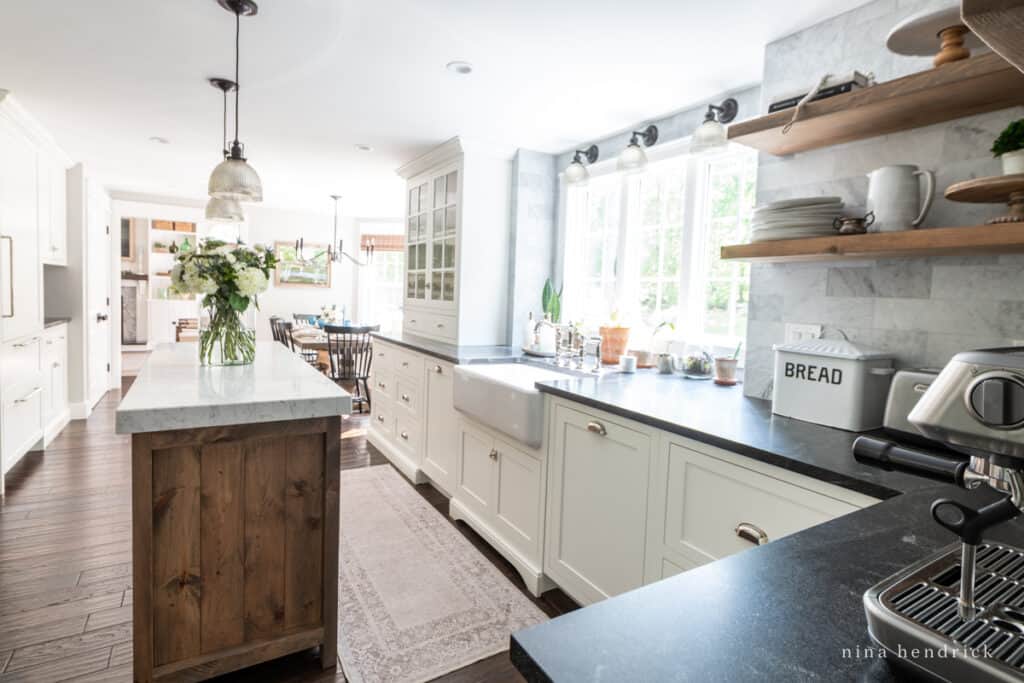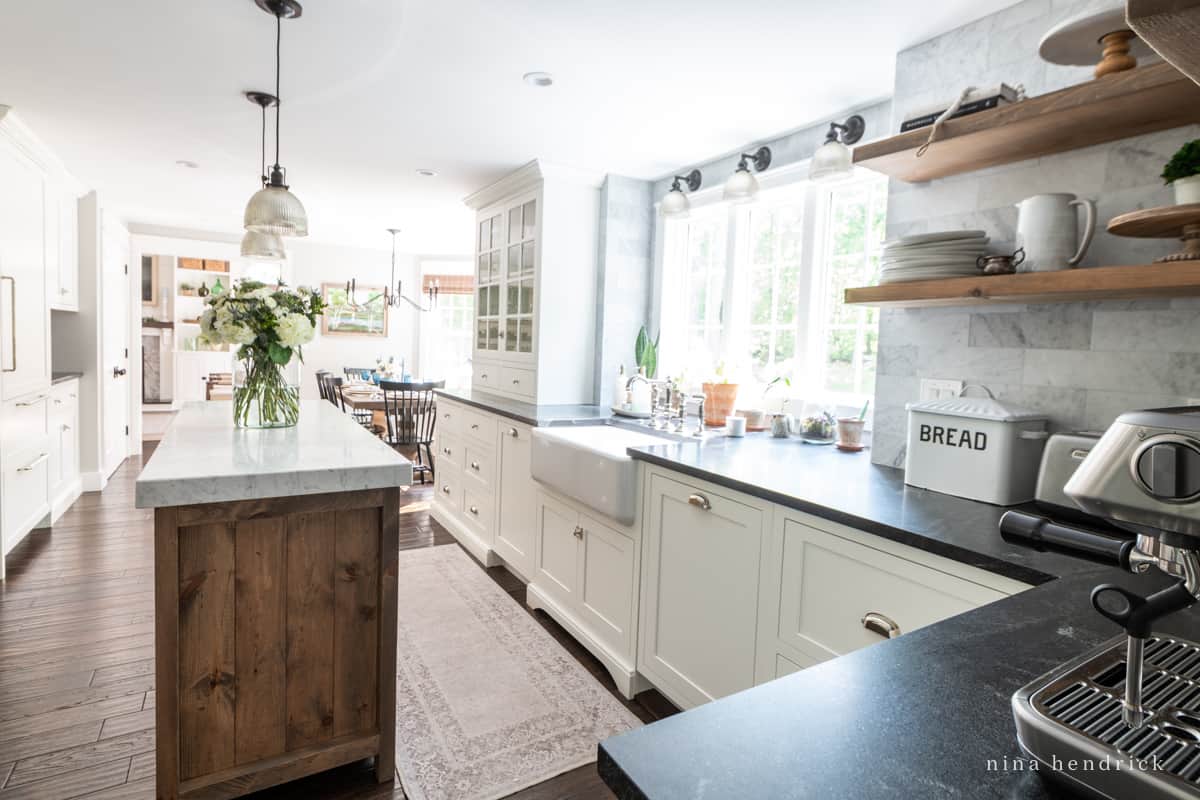 The runner in the kitchen is another recent addition. It really breaks up the space so nicely, plus gives me a comfier place to stand while I'm doing dishes. In a normal summer I'd say that my kids create more dishes than usual, but they've been at home for the past year, so it's pretty much status quo now! One bonus to home learning was that they've all learned to take on more chores.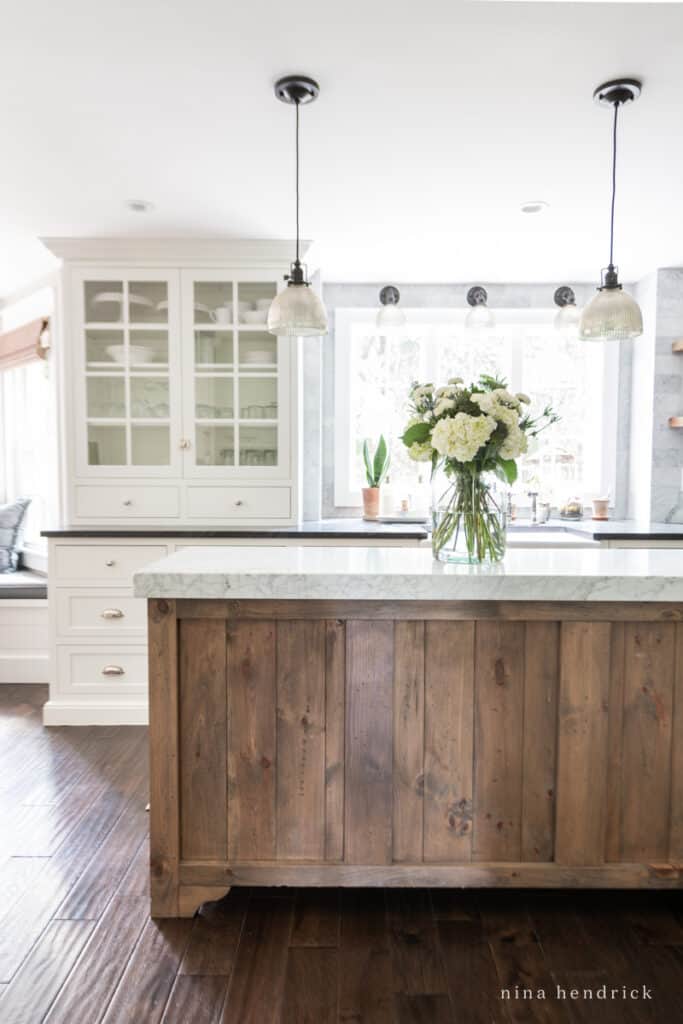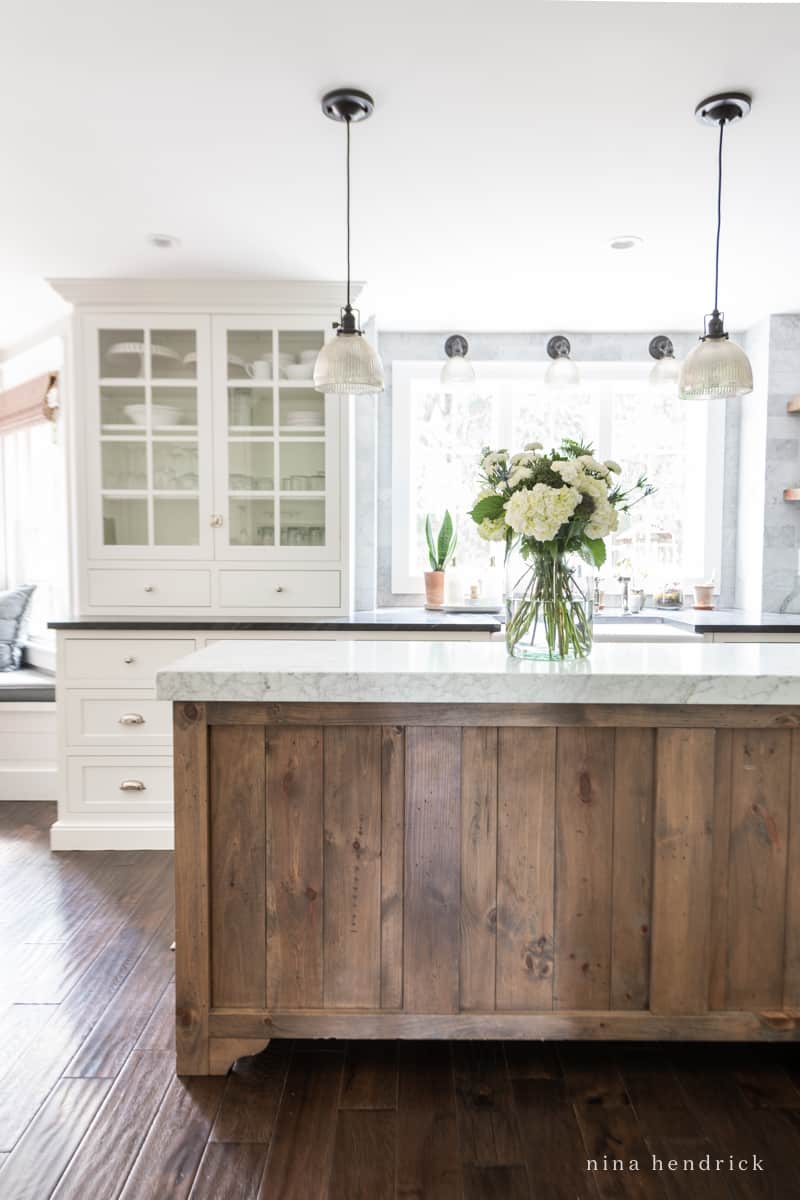 This post contains affiliate links, which means I may get a small commission (at no extra cost to you) if you shop my link. Please see my disclosure if you'd like more info!
The only real kitchen decoration is the flower arrangement, which is made up of all grocery store flowers in a large glass pickle jar. I recently came across these faux hydrangea stems that are a great price and look perfect in the jar when I can't have fresh flowers!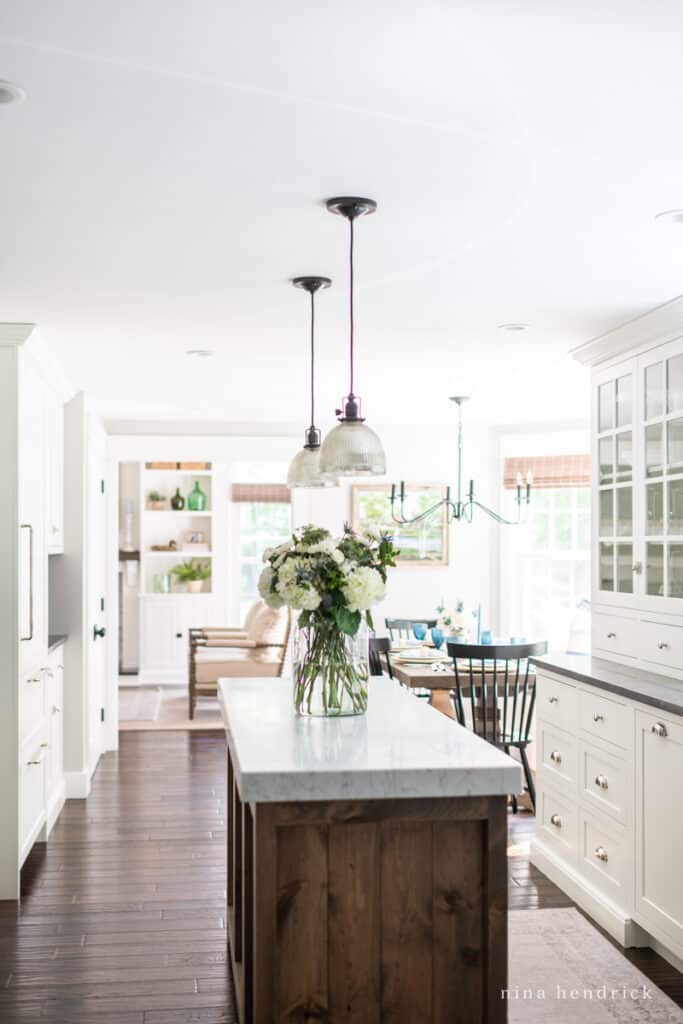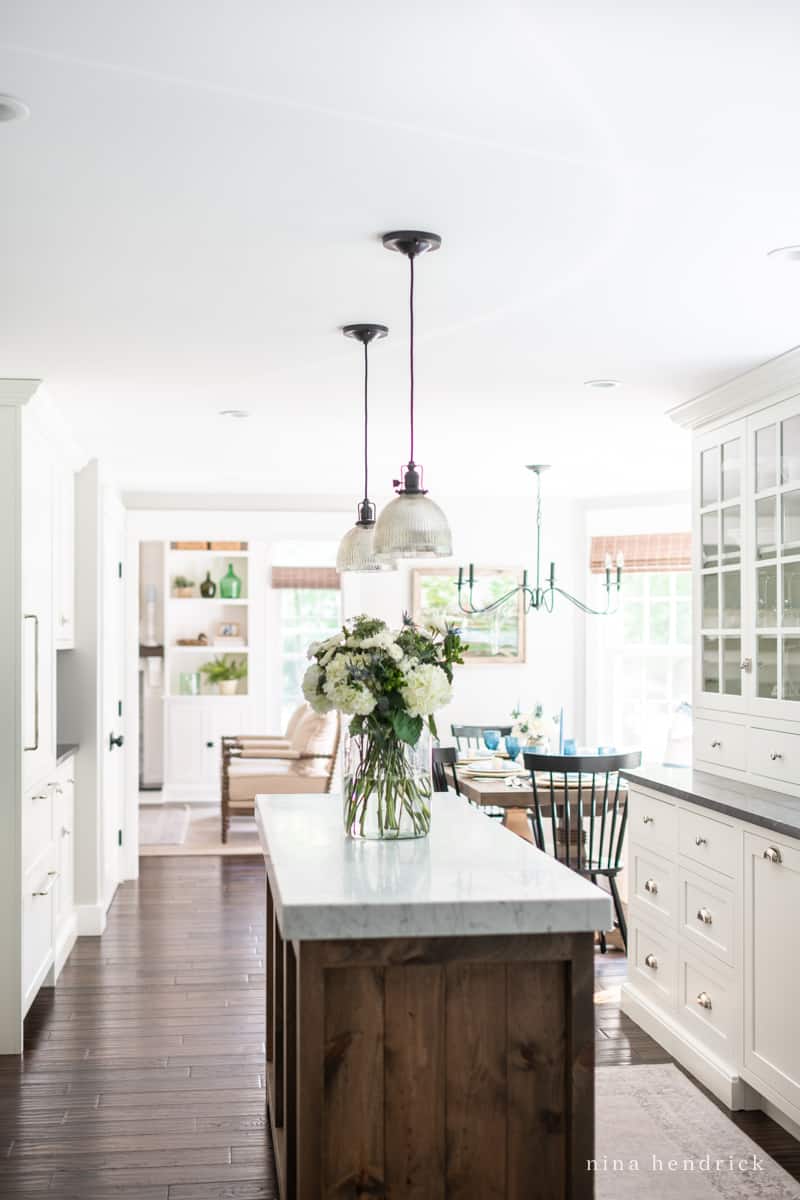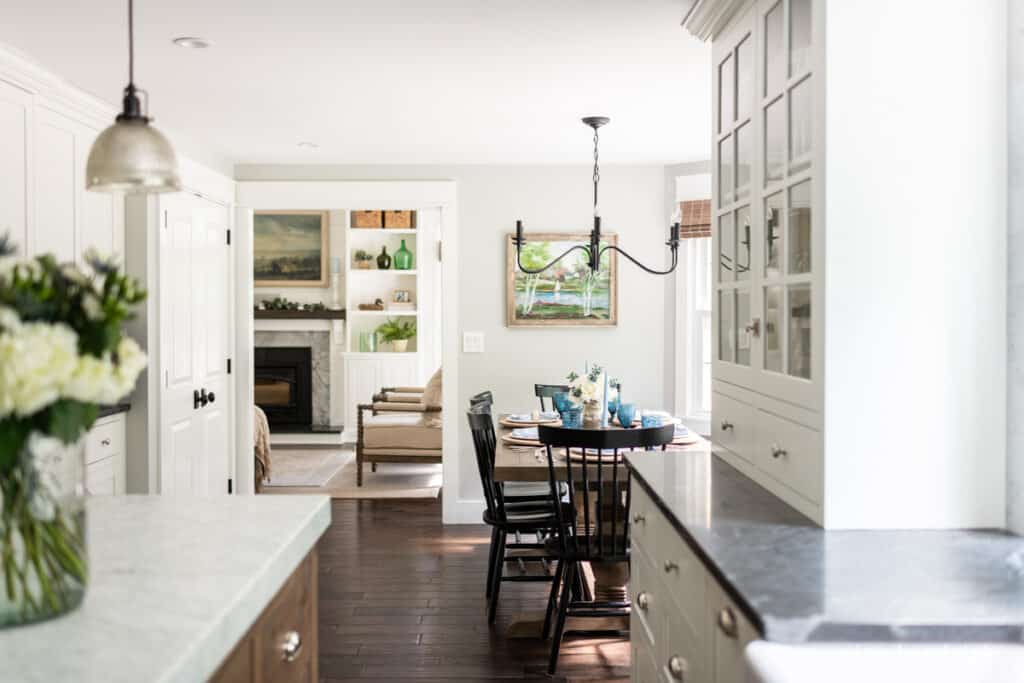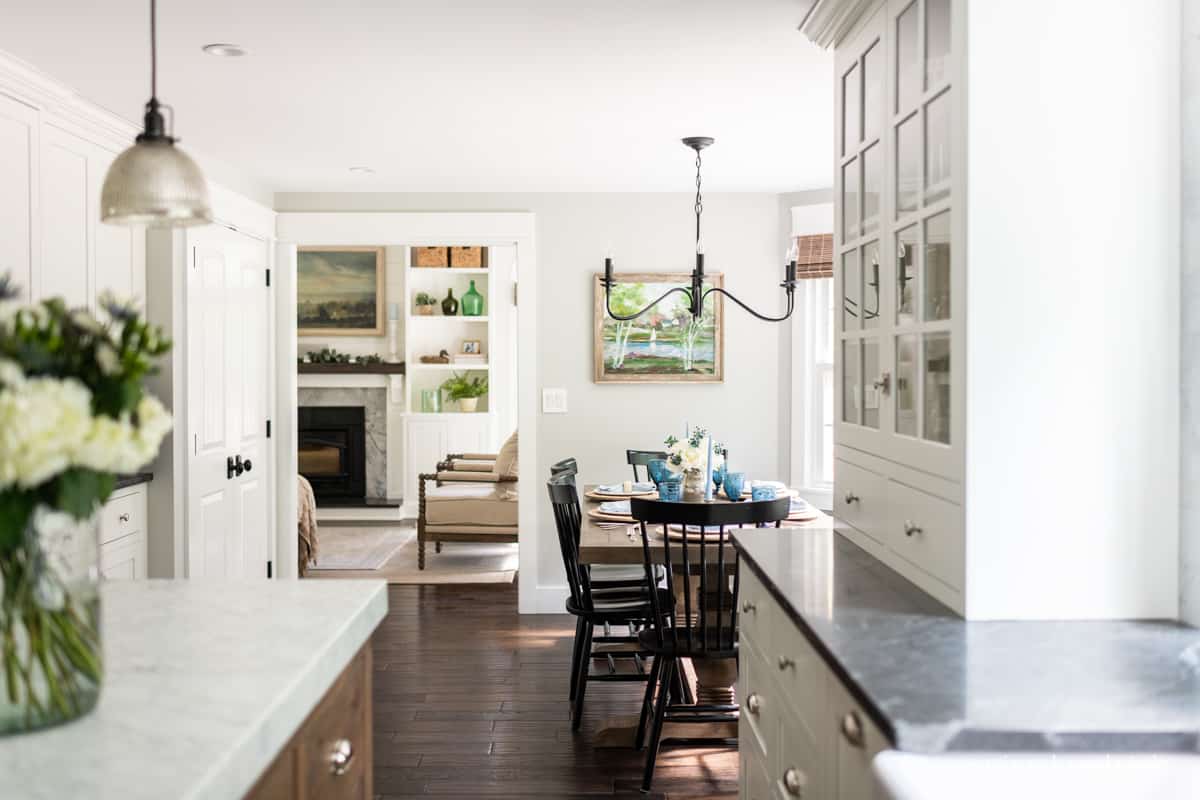 This post contains affiliate links, which means I may get a small commission (at no extra cost to you) if you shop my link. Please see my disclosure if you'd like more info!
Kitchen Source List
Wall Color — Benjamin Moore Gray Owl
Ceiling Color — Benjamin Moore Simply White in Eggshell
Trim Color — Benjamin Moore Simply White in Semi-Gloss
Cabinets — Shiloh Inset Shaker in Polar White
Hutch — Shiloh Inset Shaker in Polar White
Flooring — Read my dark hardwood floors post here, Similar Hickory Hardwood Sourced Here
Island — Custom from this Woodworker, White Pine
Range — Wolf 36″ Dual-Fuel Range
Refrigerator — Subzero 30″ Panel Ready
Range Vent Hood — Best 36″ Vent Hood
Dishwasher — Bosch Panel Ready
Microwave — Wolf Convection Microwave
Floating Shelves — DIY with a tutorial to come. Stained 3/4 Special Walnut + 1/4 Classic Gray
Backsplash Tile — 4×12″ Honed Carrara
Backsplash Medallion — Honed Carrara Herringbone
Backsplash Medallion Border — Honed Carrara
Grout Color — Mapei Silver Unsanded
Grout Spacing — 1/8″
Island Countertop — Bianco Cararra Super Honed with Mitered Edge
Perimeter Countertop — Jet Mist Honed with Pencil Edge
Drawer Knobs — 1 1/4″ Polished Nickel
Cup Pulls — 3″ Polished Nickel Cup Pulls
Cabinet Latches — 2″ Polished Nickel Matchbox Latch
Fridge & Freezer Pulls — 18″ Polished Nickel
Pot Filler — Kingston Brass Restoration in Polished Nickel (similar)
Bridge Faucet — Rohl Country Kitchen Polished Nickel Bridge Faucet
Farmhouse Sink — Rohl Lancaster 33″ in White
Sconces — Restoration Wall Sconce in Oil Rubbed Bronze
Pendants — Restoration Pendant in Oil Rubbed Bronze

Entertaining Inside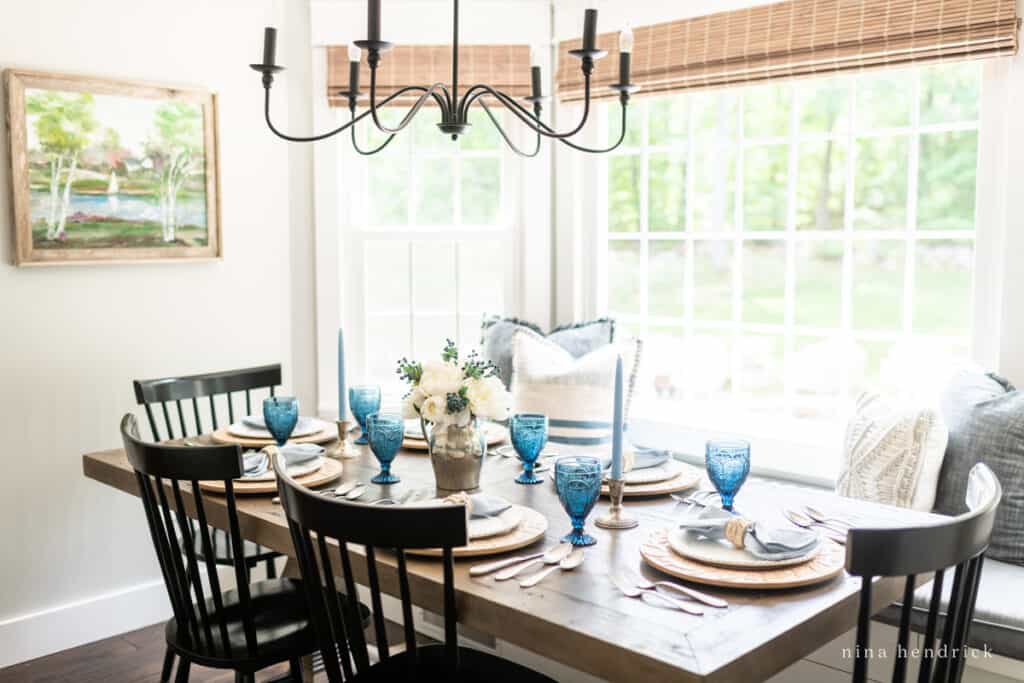 Although entertaining outdoors is preferable in the summer, sometimes it just isn't possible. Our entire backyard is ripped apart right now to prepare for our new patio. So in the meantime, we'll entertain in here.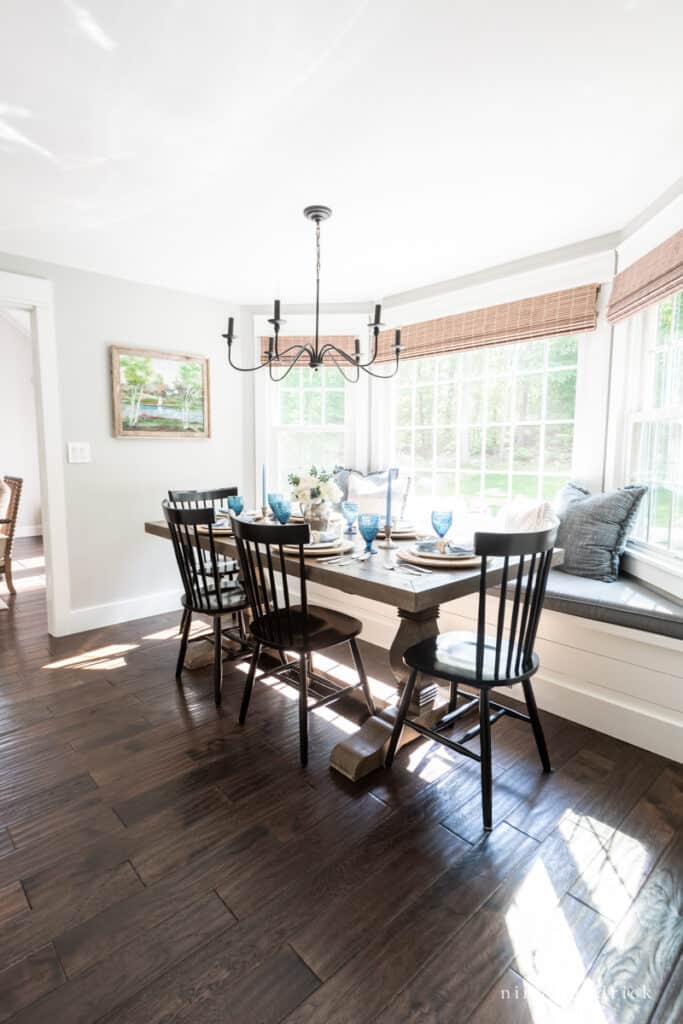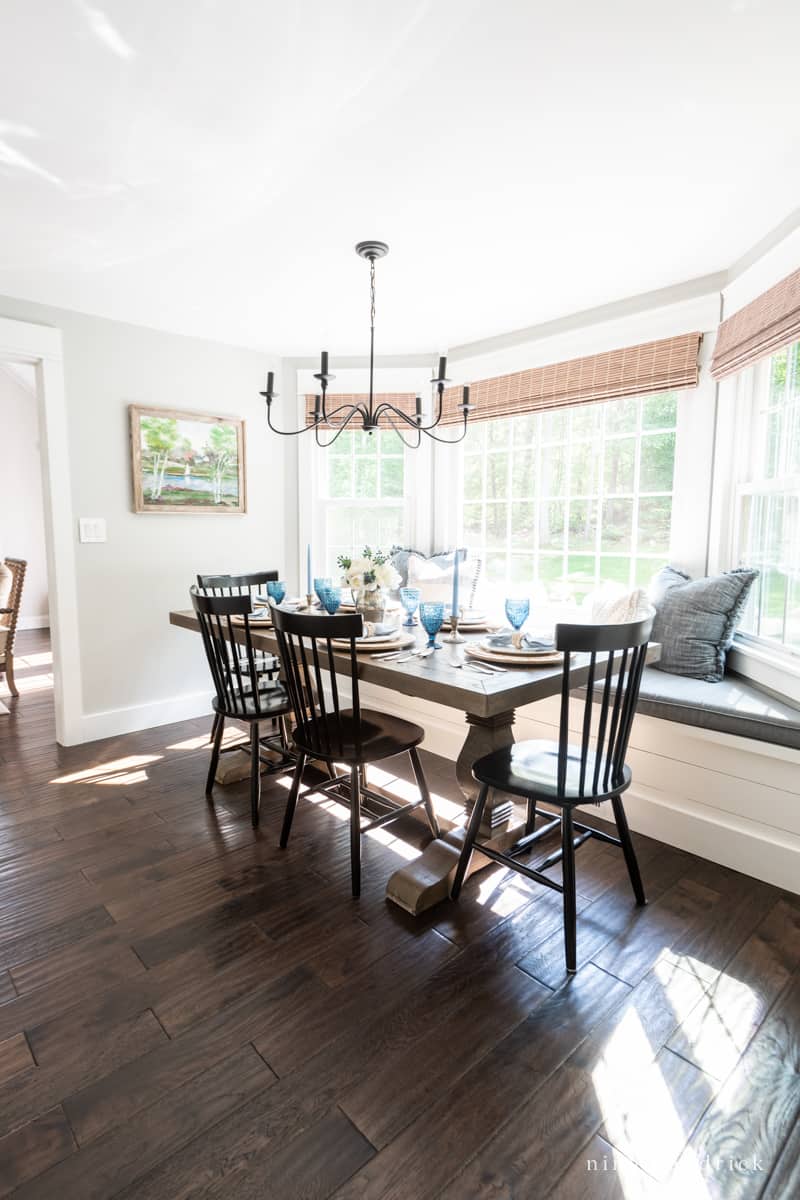 I probably sound like a broken record, but simplicity is again the name of the game. I thought that this tablescape is almost like a "greatest hits" of my favorite staples. The only "new" additions are the pewter candlesticks and pitcher, which I snagged when my parents were cleaning out their attic.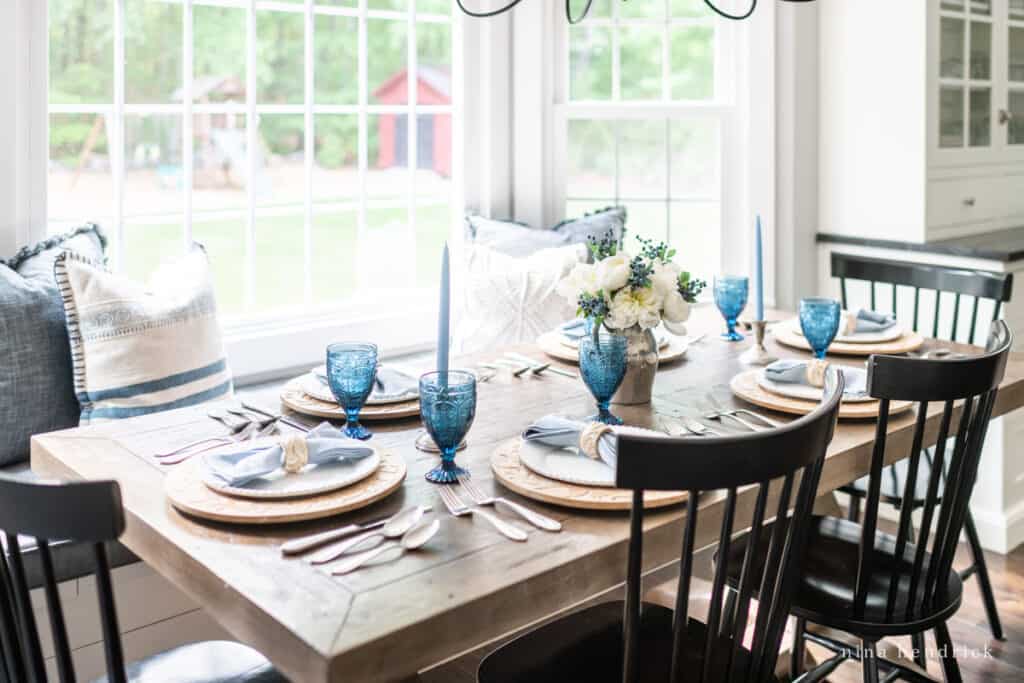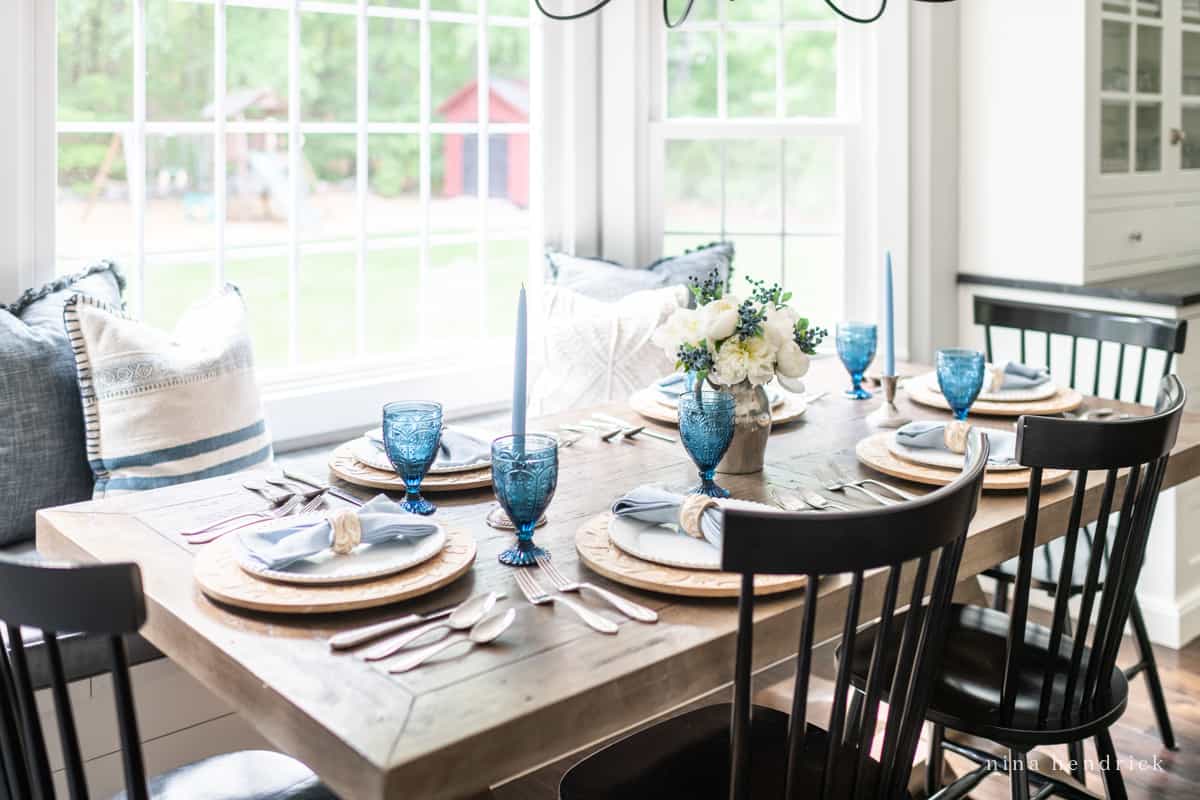 The fresh peonies on the table came from the flower shop, since not all of mine bloomed this year. I'm hoping for better luck next year! They smelled so good while they lasted.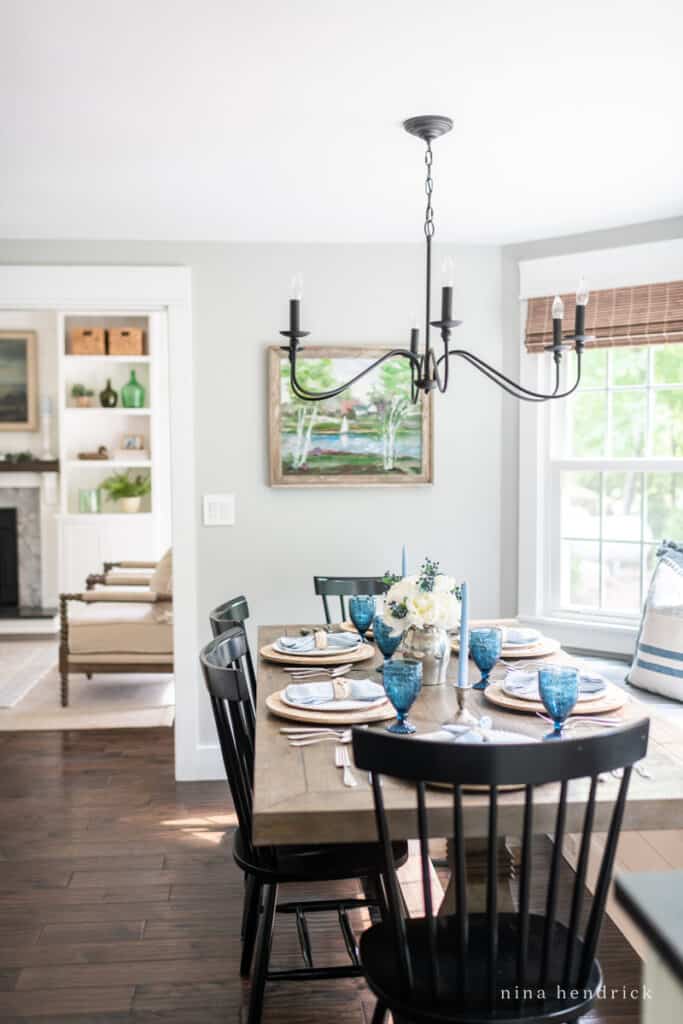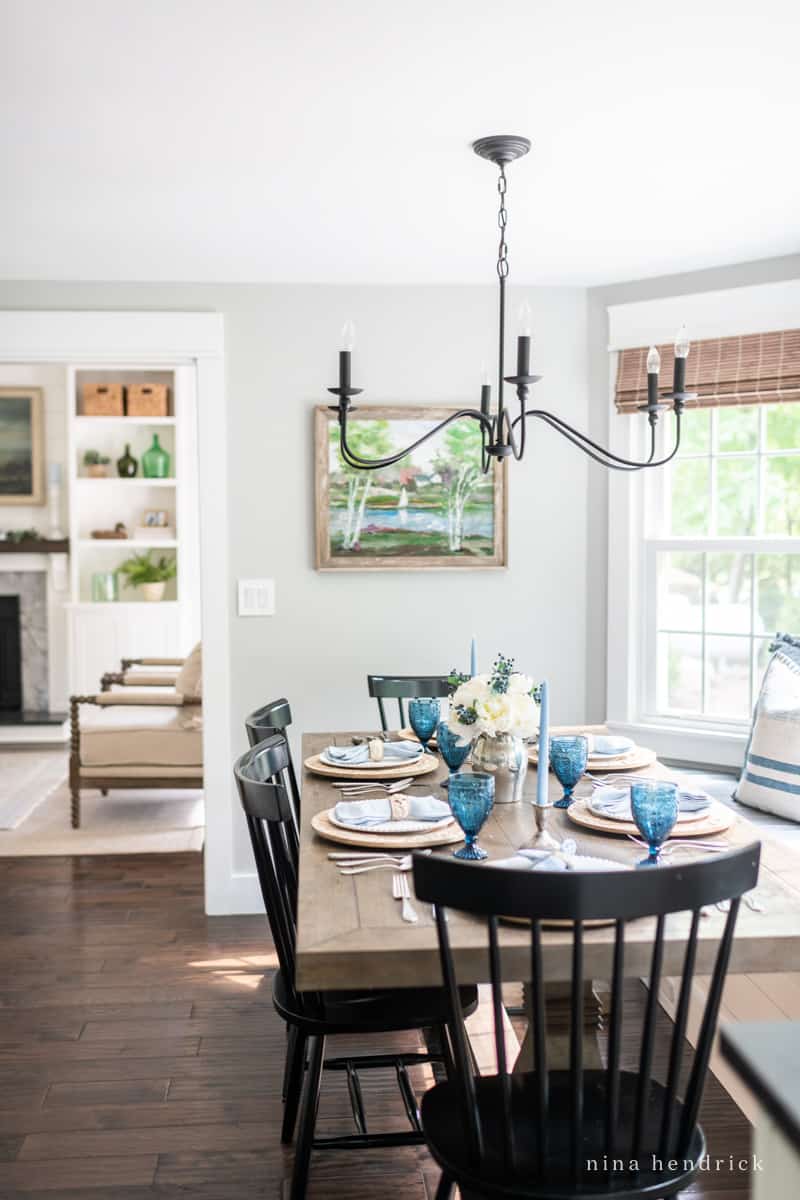 I paired my blue glasses with paler blue candlesticks and napkins. As you may remember, if you were around for my Christmas tour, I love to decorate with blue during every season!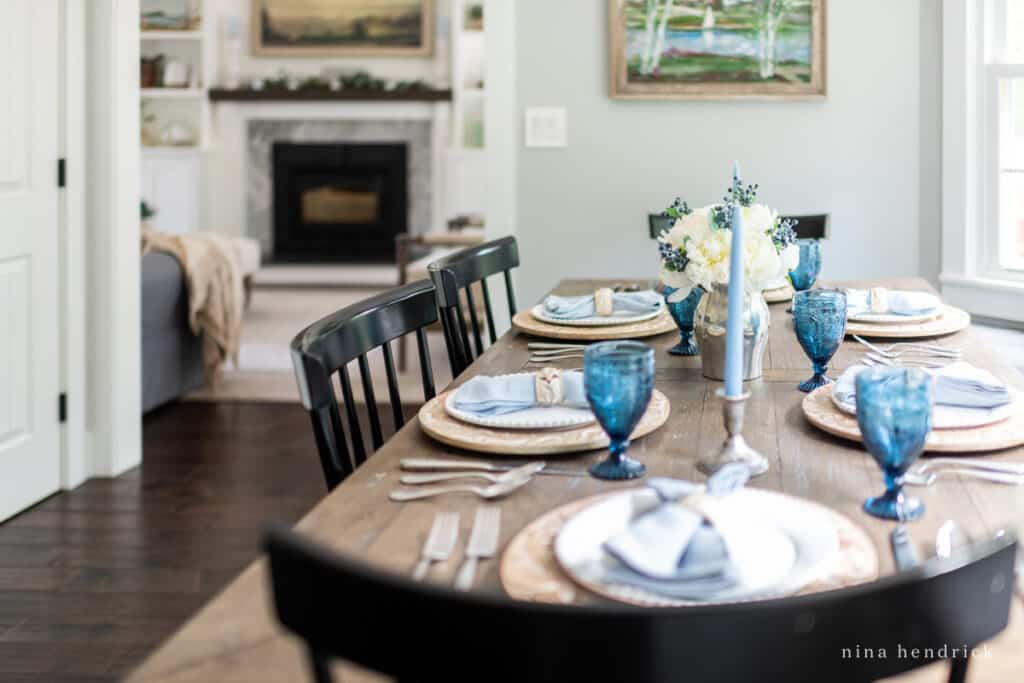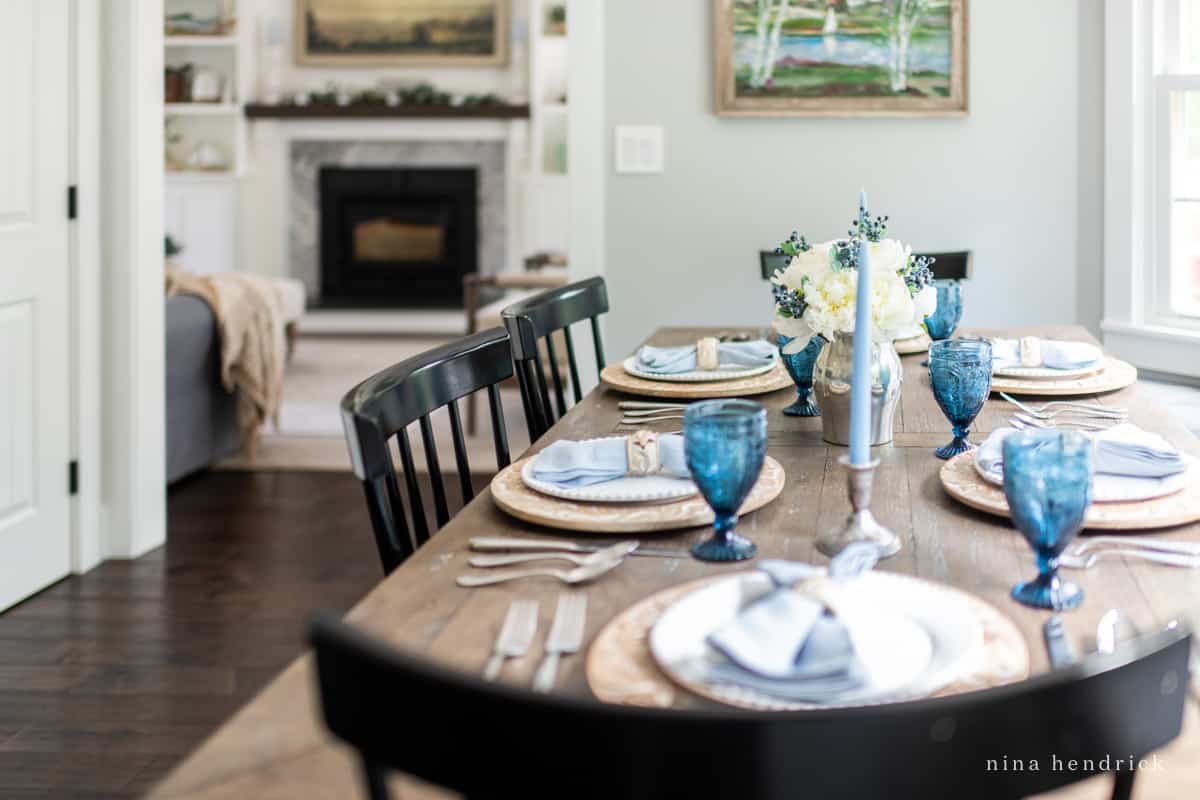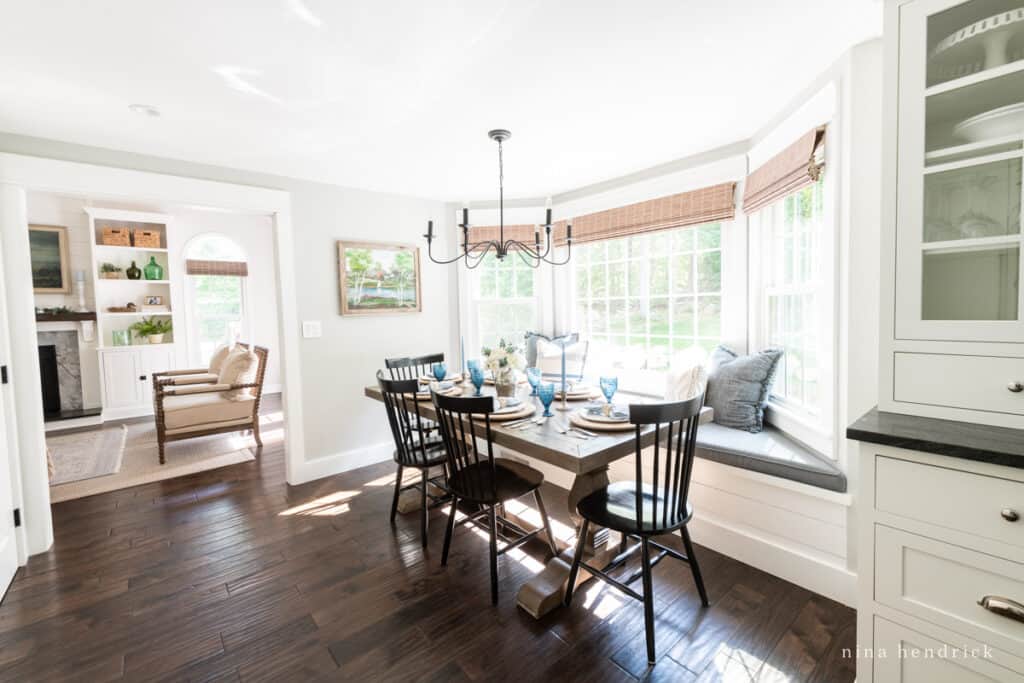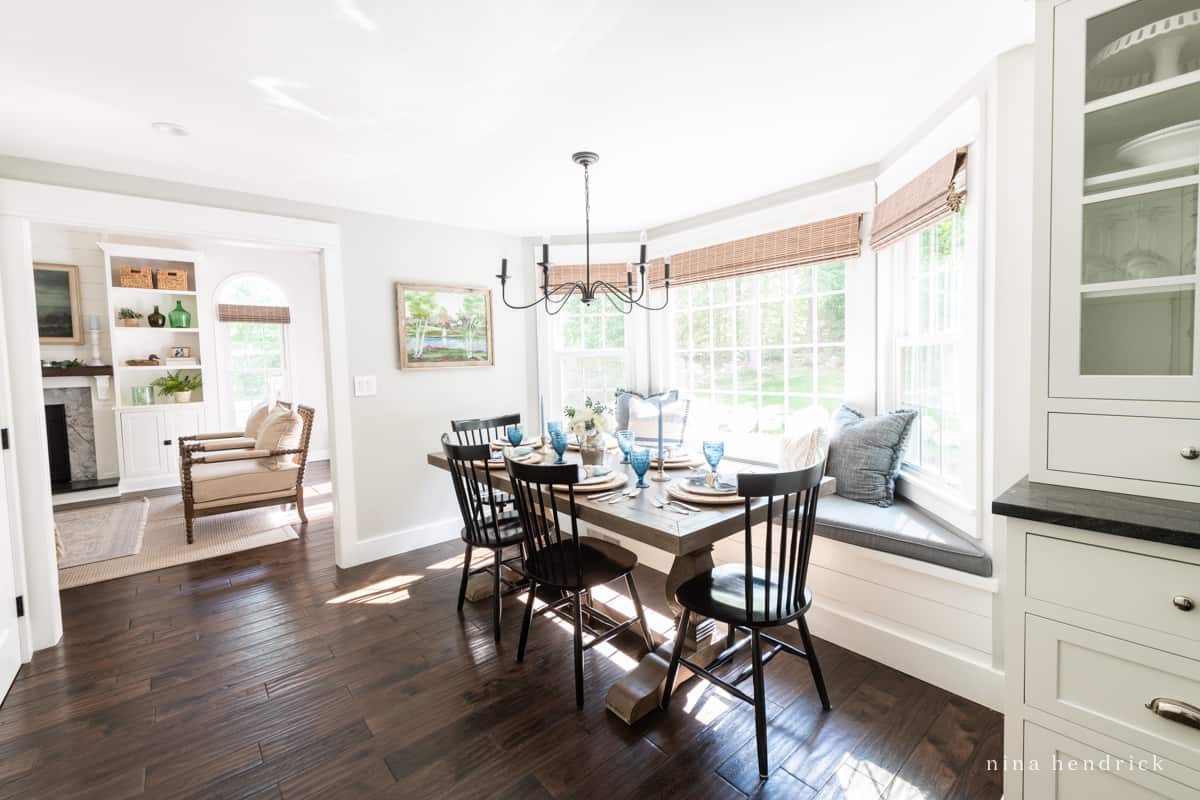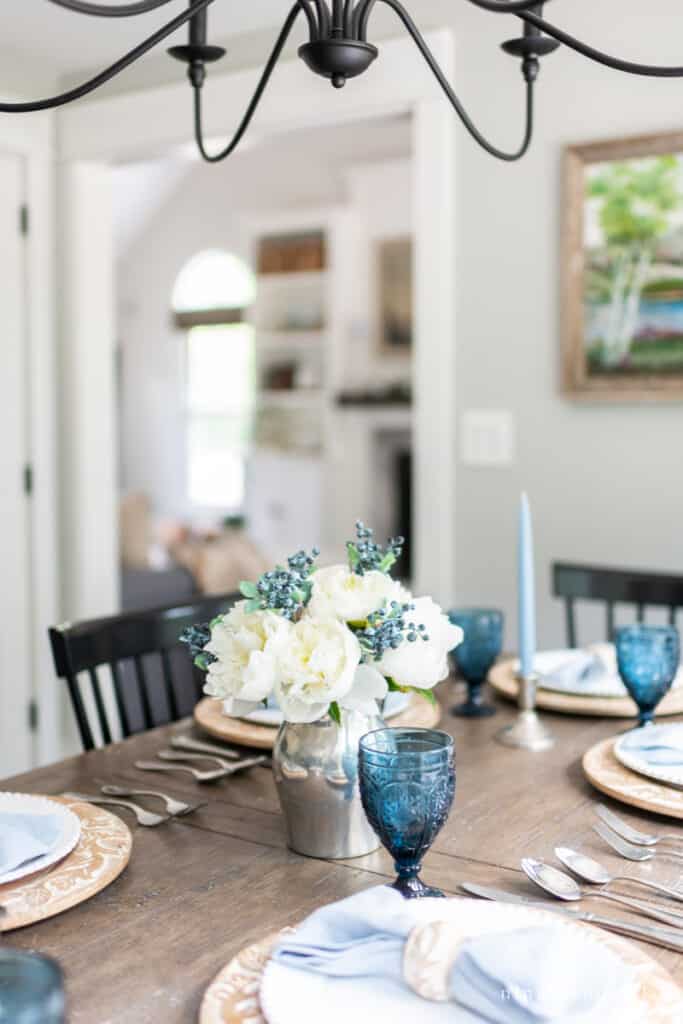 All the other items are things I've had for years. I tried to link similar sources below in case they spark your interest!
Breakfast Nook Source List

How to Decorate for Summer in the Family Room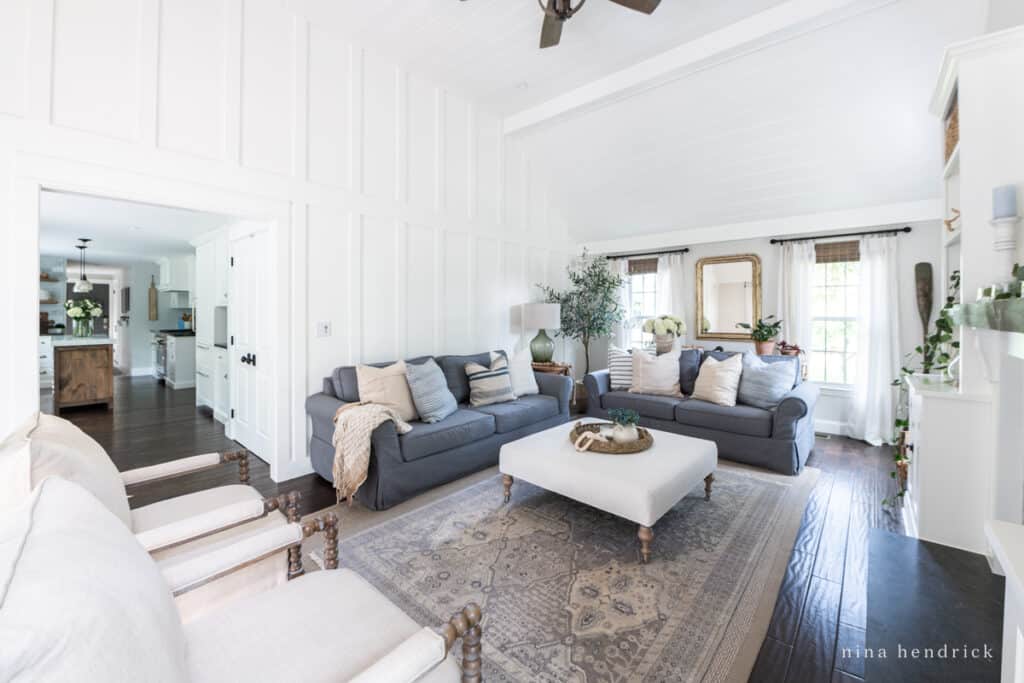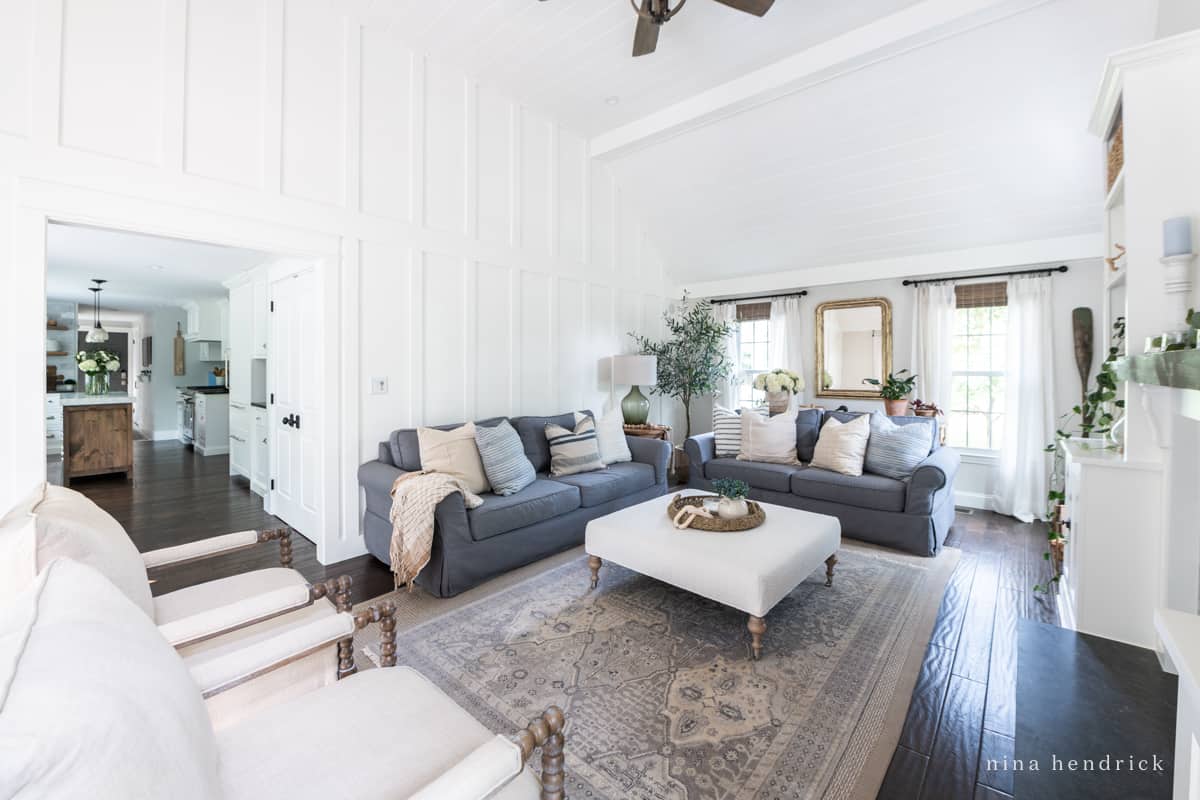 I'm putting the cart ahead of the horse here by showing you this updated family room space! But I was just so excited to decorate for summer that I knew I couldn't pass up the chance.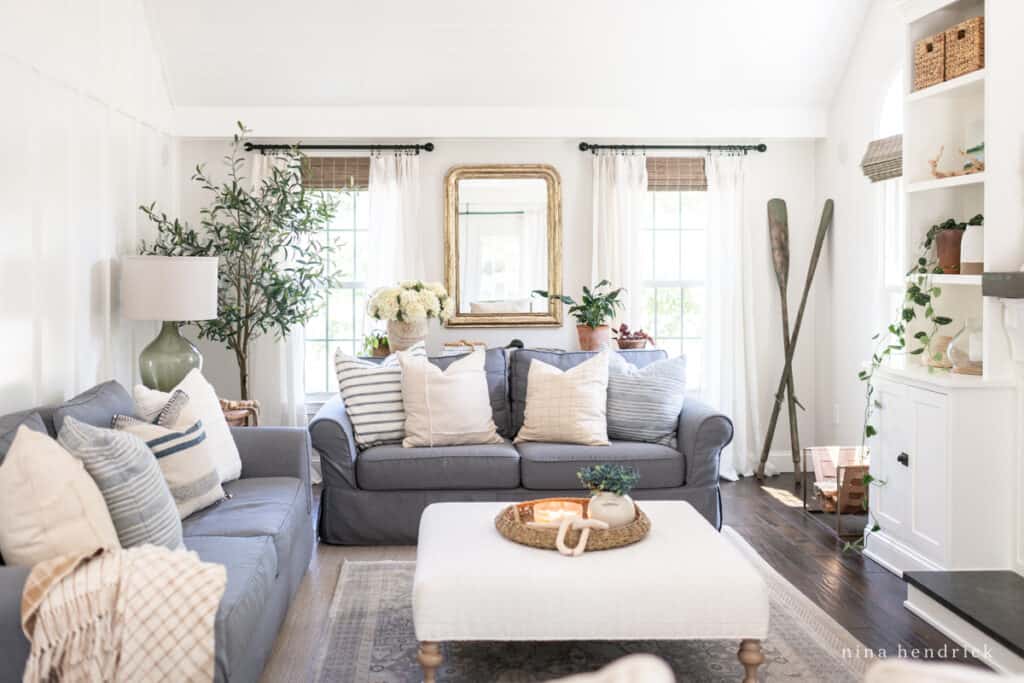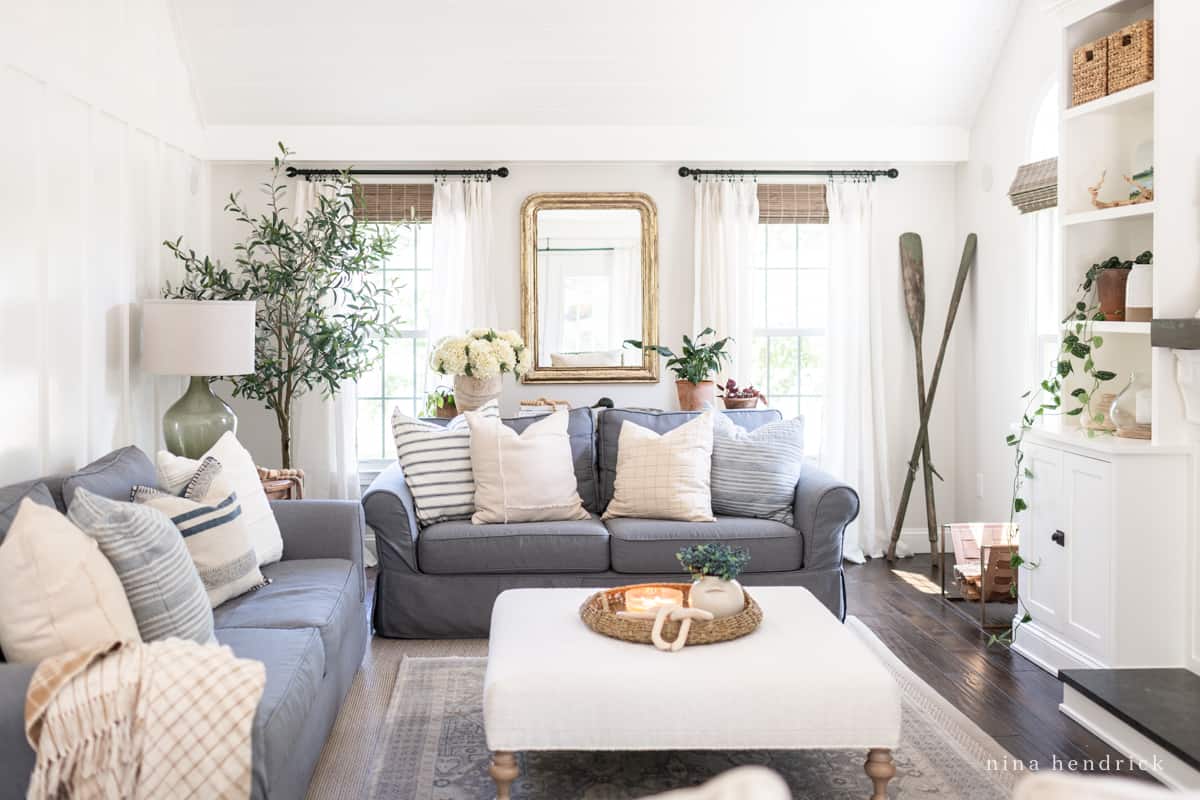 I'll be following up with a complete post that shares the design inspiration as well as how the project unfolded.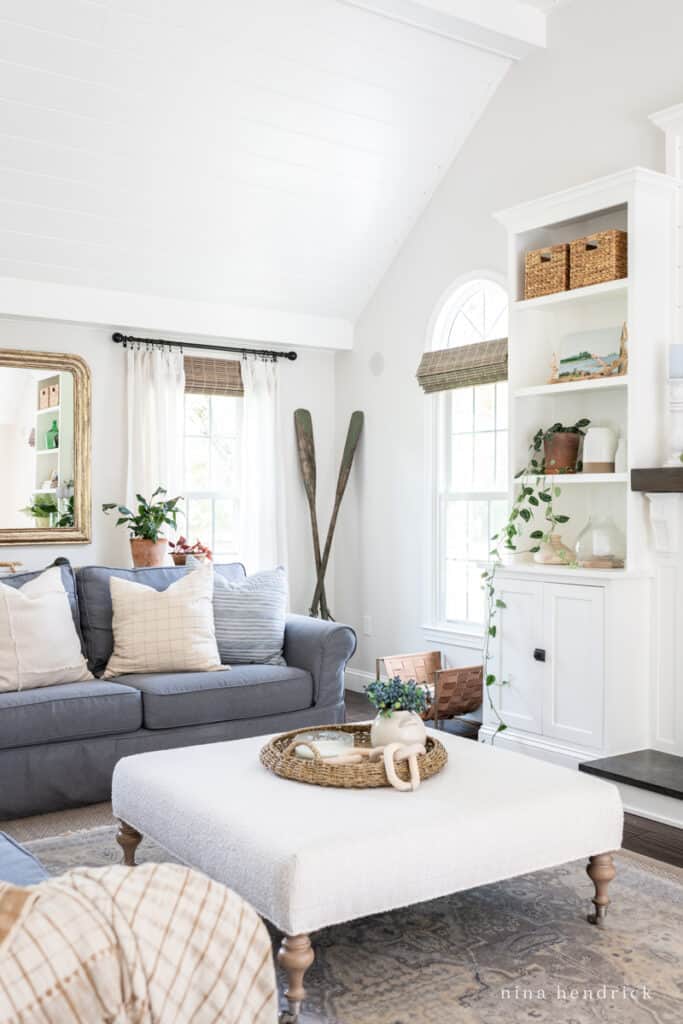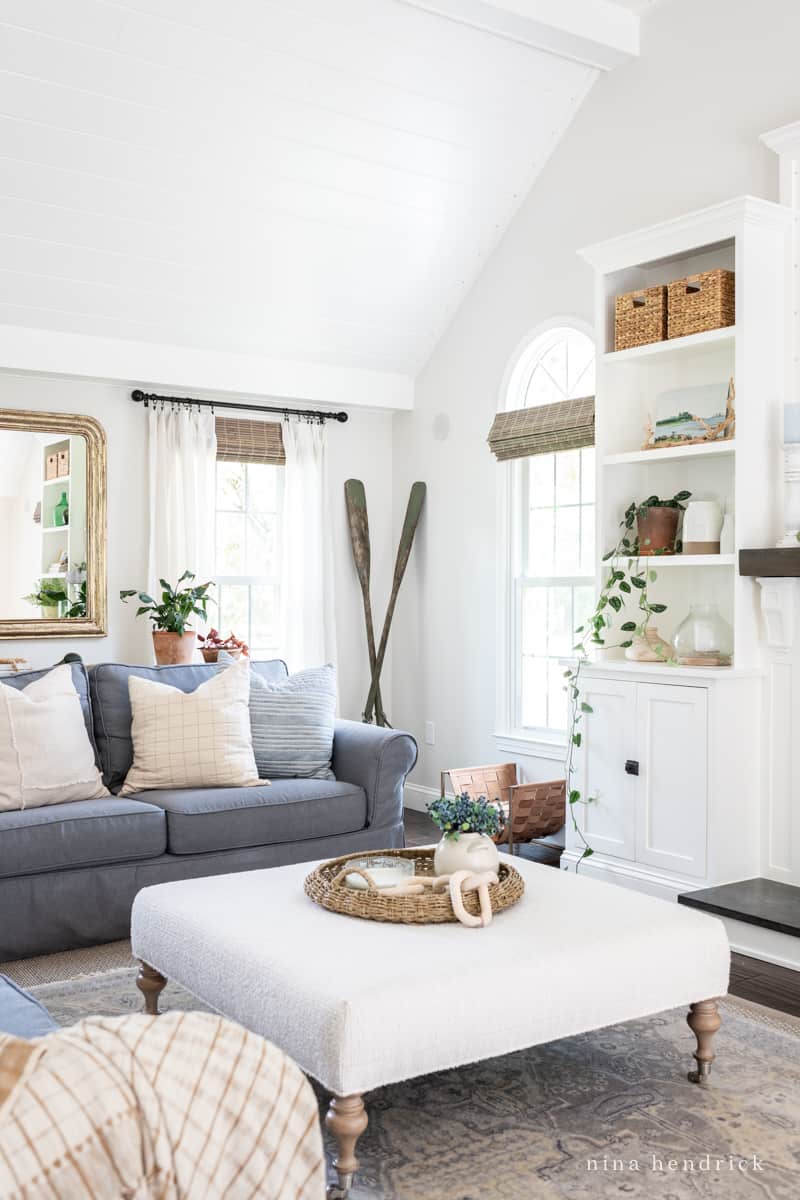 Overall, I'm so happy with how fresh and clean the room looks with the new paint, and I especially love the board-and-batten wall.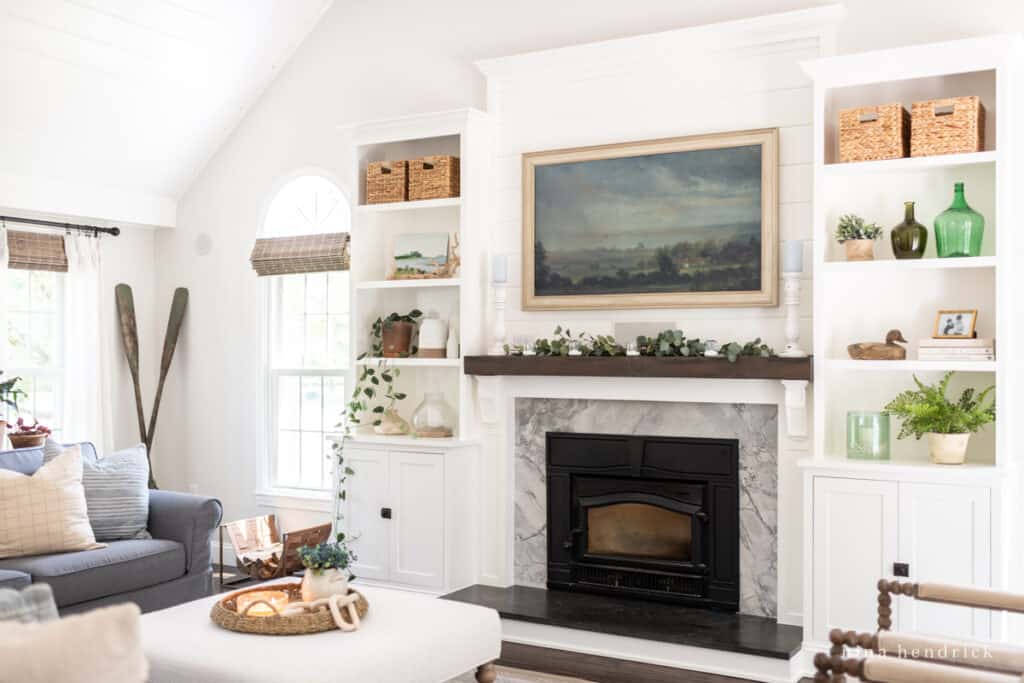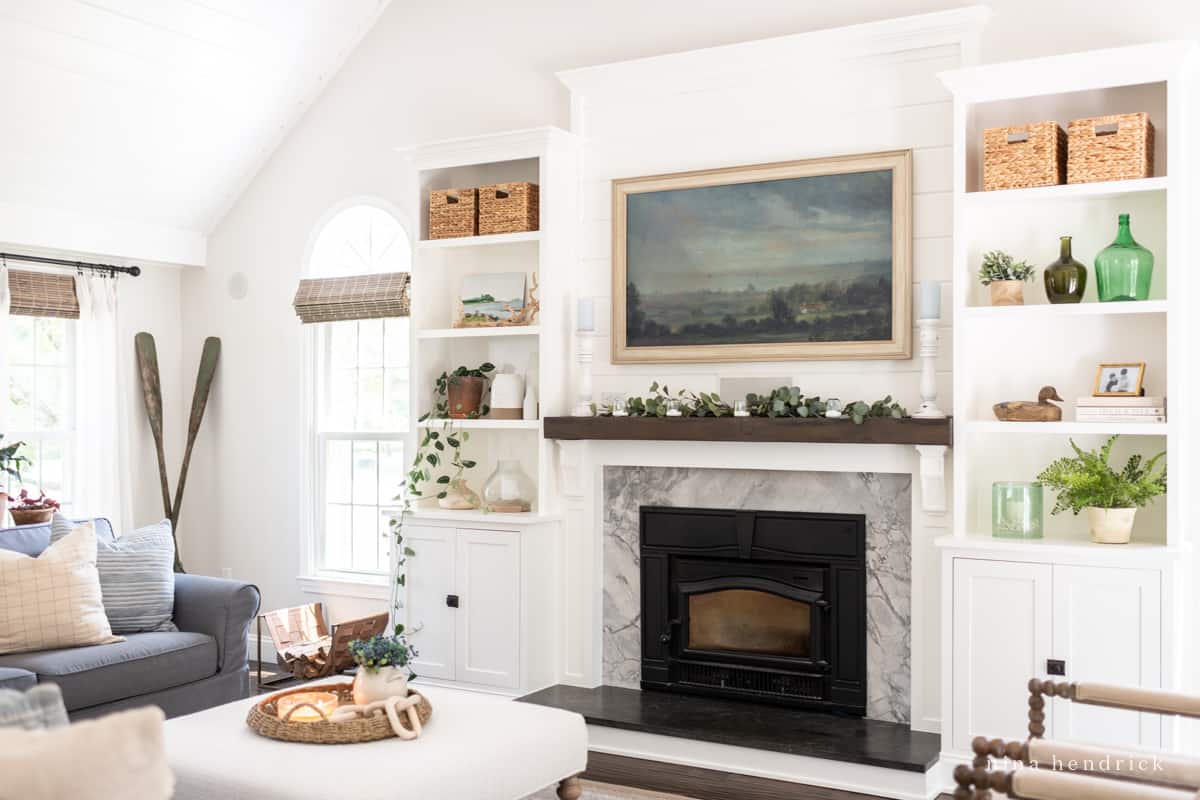 As with the other spaces, I mostly used what I already had on hand in here! There have been some decor updates along the way as the family room was completed.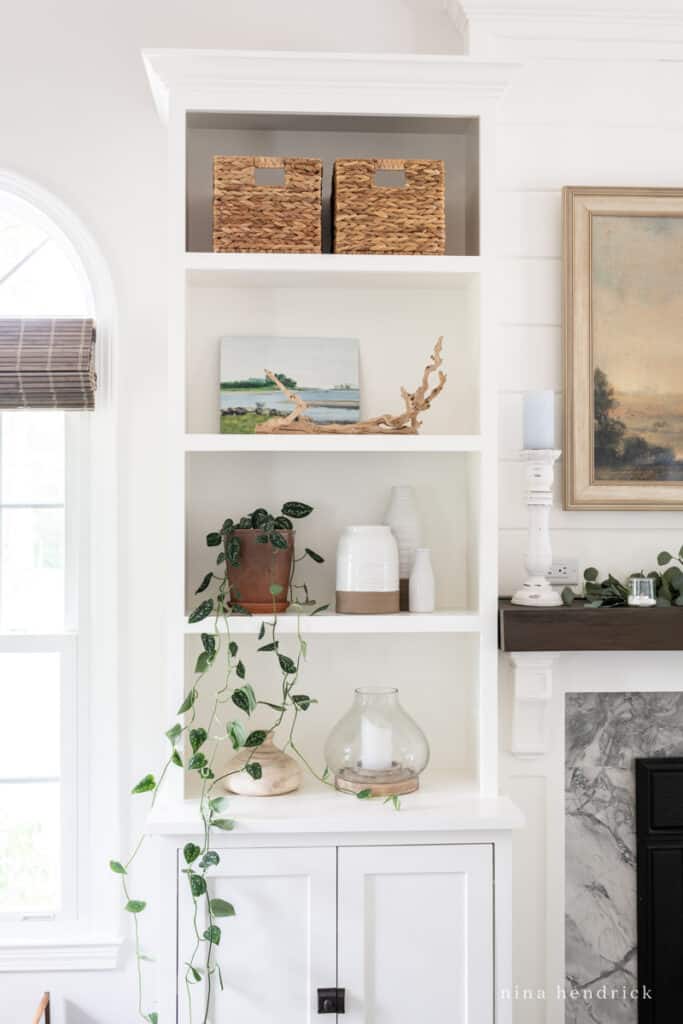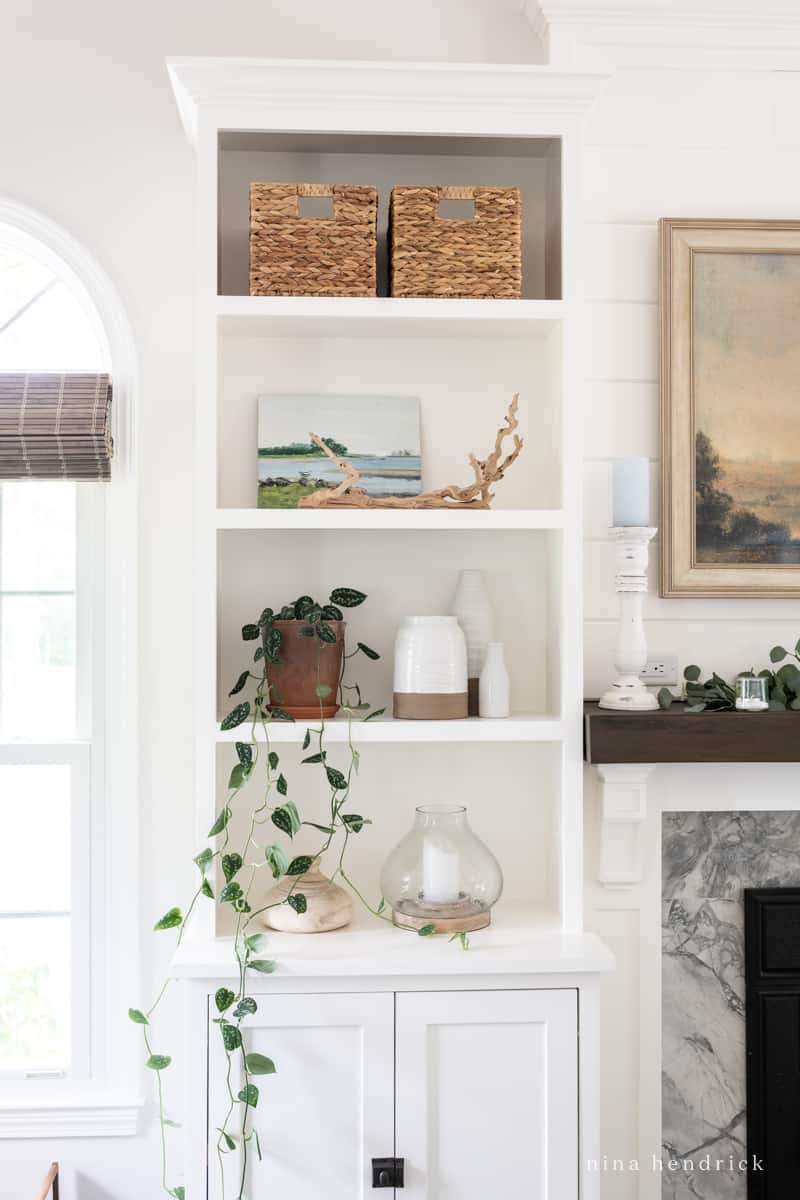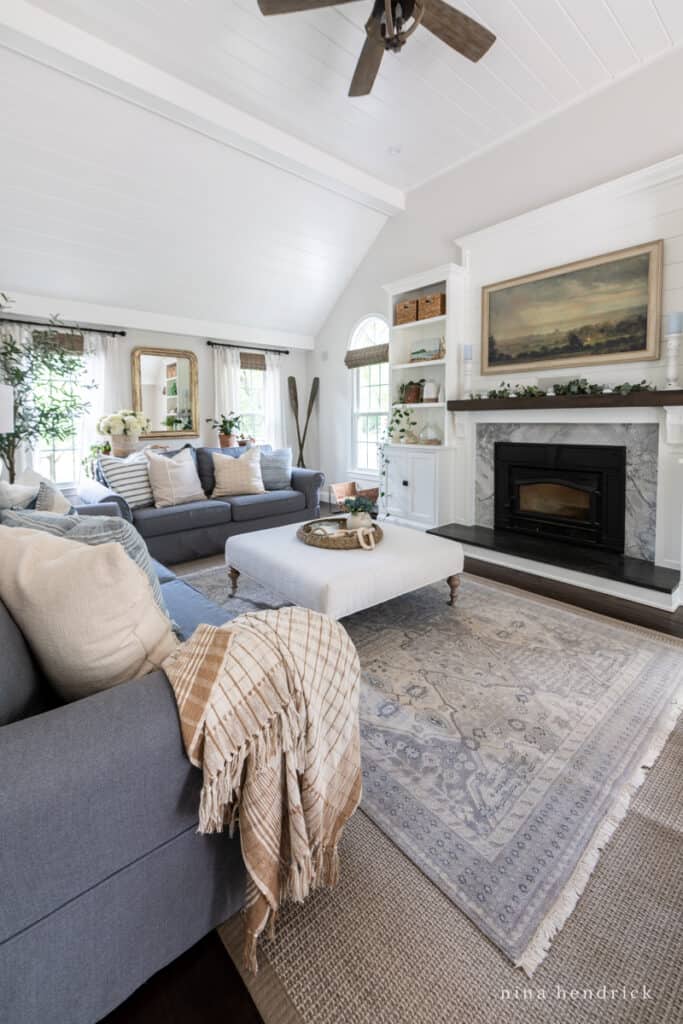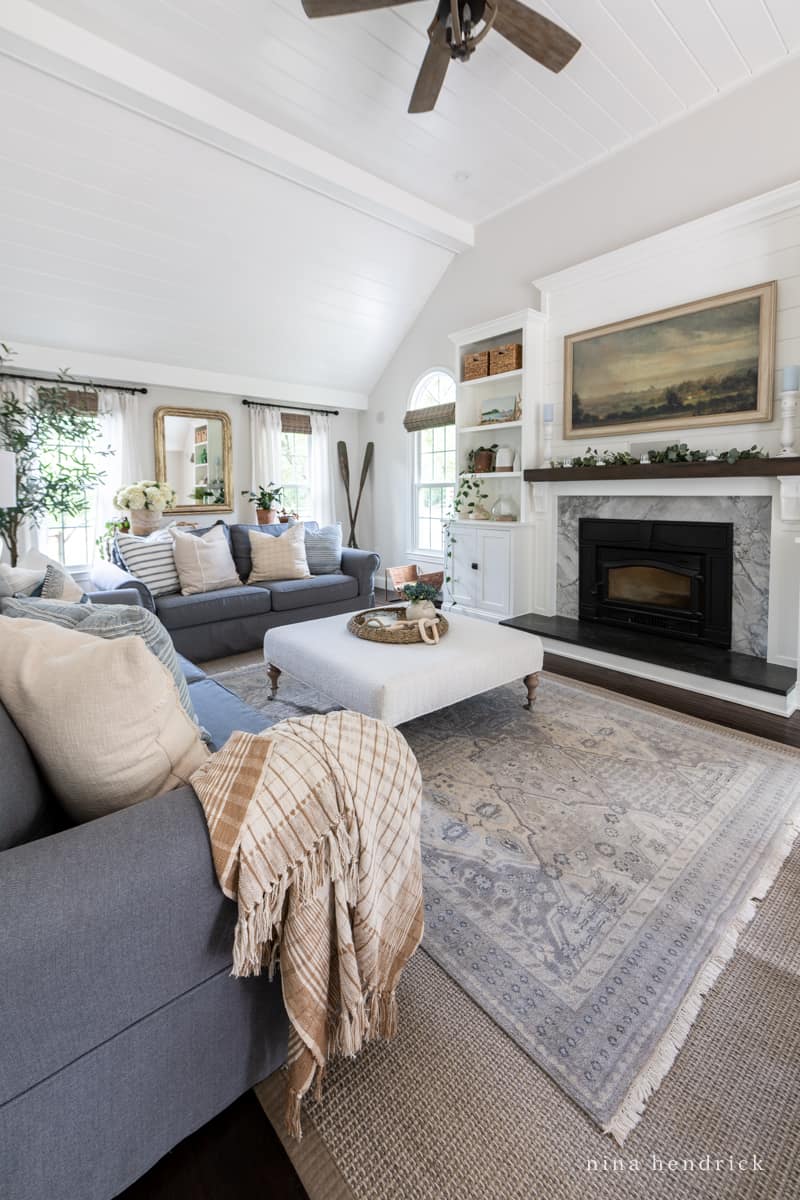 I love so many things about this room! I can't wait to share all of the details with you soon.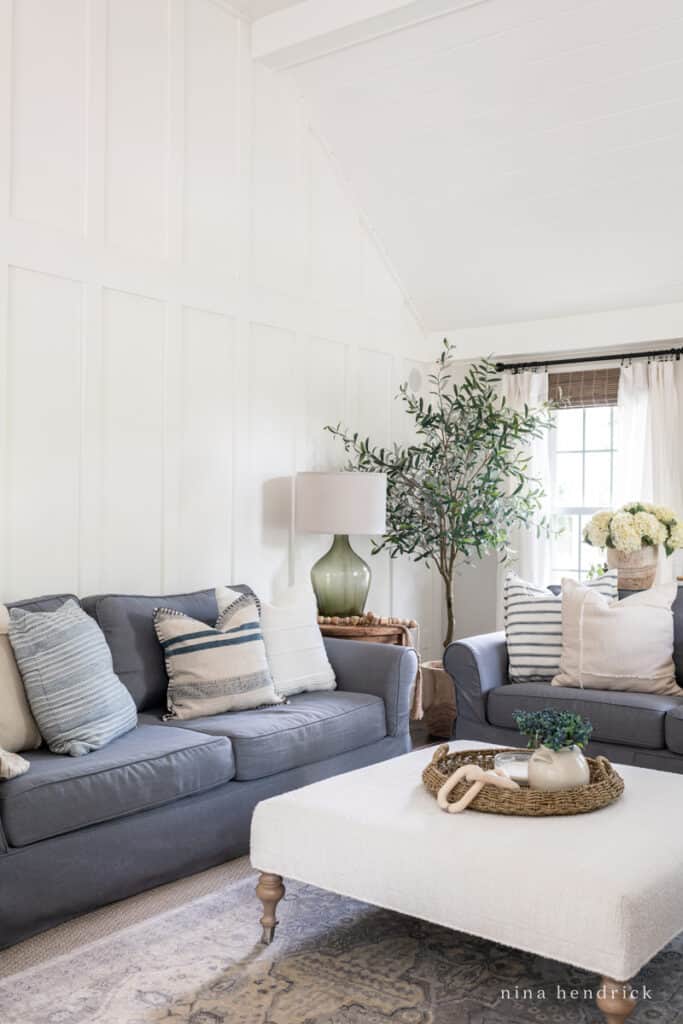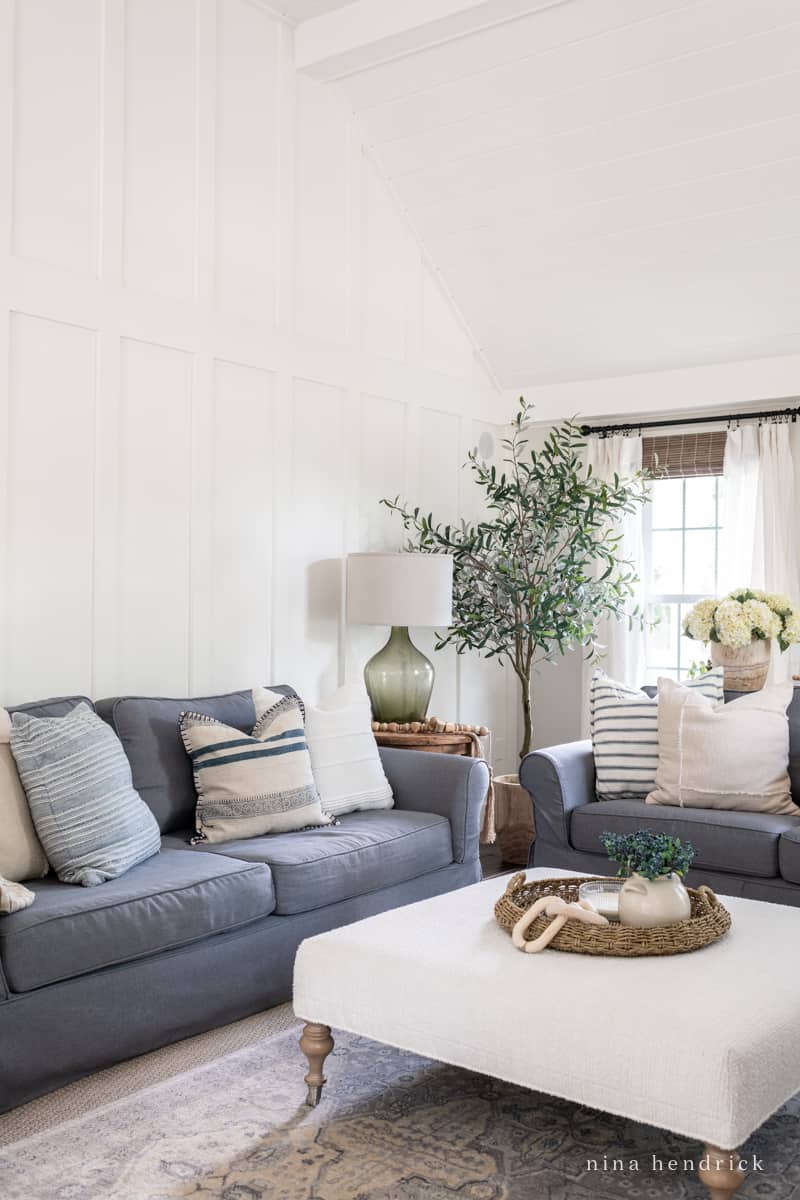 Family Room Source List
Wall Color — Benjamin Moore Balboa Mist lightened by 50% in Eggshell
White Paint Color — Benjamin Moore Simply White in Satin
Flooring — Read my dark hardwood floors post here, Similar Look Here
Window Shades — Driftwood
Curtain Rods — Amazon Basics (these are a favorite!)
Curtain Clips — here
Linen Panels — Off White
Frame TV — here
Custom Frame for TV — Warm Silver
Sofas — PB Comfort (read my review here!) with replacement ComfortWorks slipcovers
Rug — Custom size sisal bottom rug — sisalrugs.com
Top Layer Rug — Serena & Lily Norland Rug
Ottoman — Serena & Lily Chelsea with textured loop fabric in Sea Salt
Spindle Chairs — Overstock
Sofa Table — World Market
Wood Planters — Creative Co-Op (hydrangeas and olive tree)
French Mirror — Similar here in gold (it's called a Louis Philippe Mirror if you want to hunt!)
Olive Tree — 7′ Crate & Barrel
Round End Table — Uttermost Samuelle Wooden End Table
Oversized Lamp — Similar, no longer sold
Wood Garland — here
Vintage Oars — ShabbySeaCottage on Etsy
Round Tray — Target, sold out but similar here
Crock — Studio Magee for Threshold here
Orange Blossom Candle — here
Blueberry Bunch — here
Wood Chain — Bloomist
Grapewood Piece — Etsy
Vintage Duck Decoys — Etsy
Vintage Olive Demijohns — Etsy