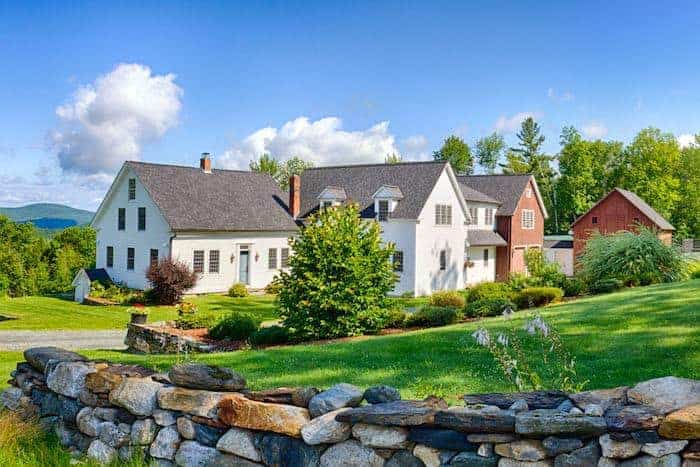 7 Elements of New England Style | Read how the elements of the different regions of New England influence decor and architecture in a Massachusetts home.


For a long time, I had difficulty when it came to categorizing my style. As I often say, I don't actually believe that most people fit into one neat little category in any part of life, and decor style is no exception. I would go bananas if I boxed myself into something like "farmhouse" without leaving the door open to other styles. My decor has always been a blend, and I don't forsee that changing anytime soon!
I love Farmhouse style, but I also love Coastal style, and Cottage. Sometimes I even bring in hints of primitive, traditional, and rustic style. It took me way too long to realize what perhaps should have been obvious from the beginning: I have New England style. I'm inspired by this region that I was born in and I am head over heels in love with the architecture of. Every single element of my design style can be traced back to the things I love about living here.
1. Coastal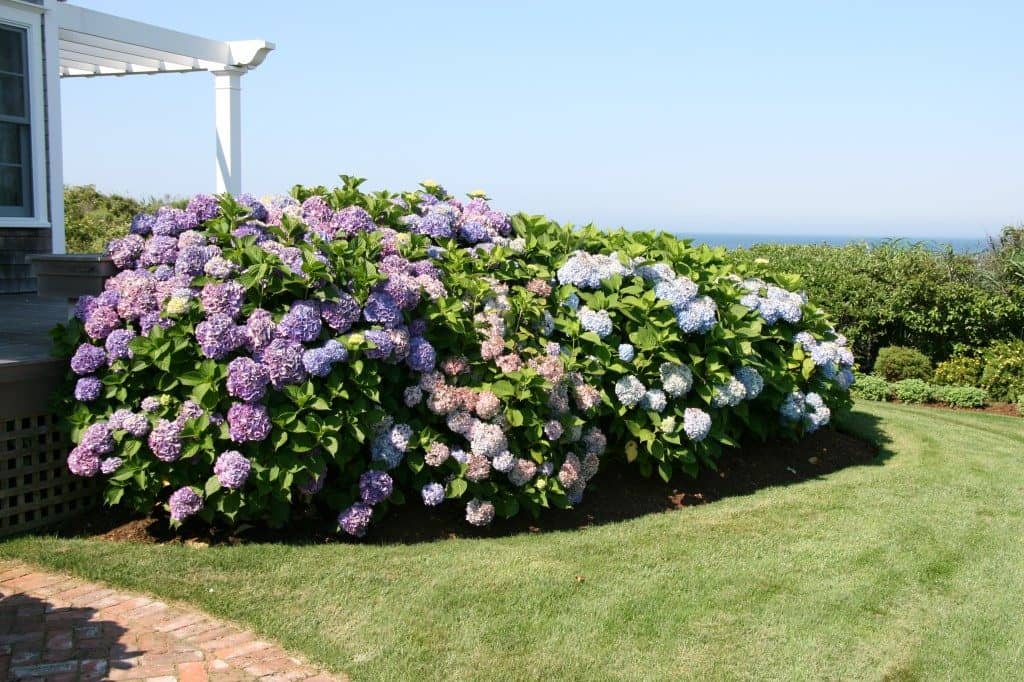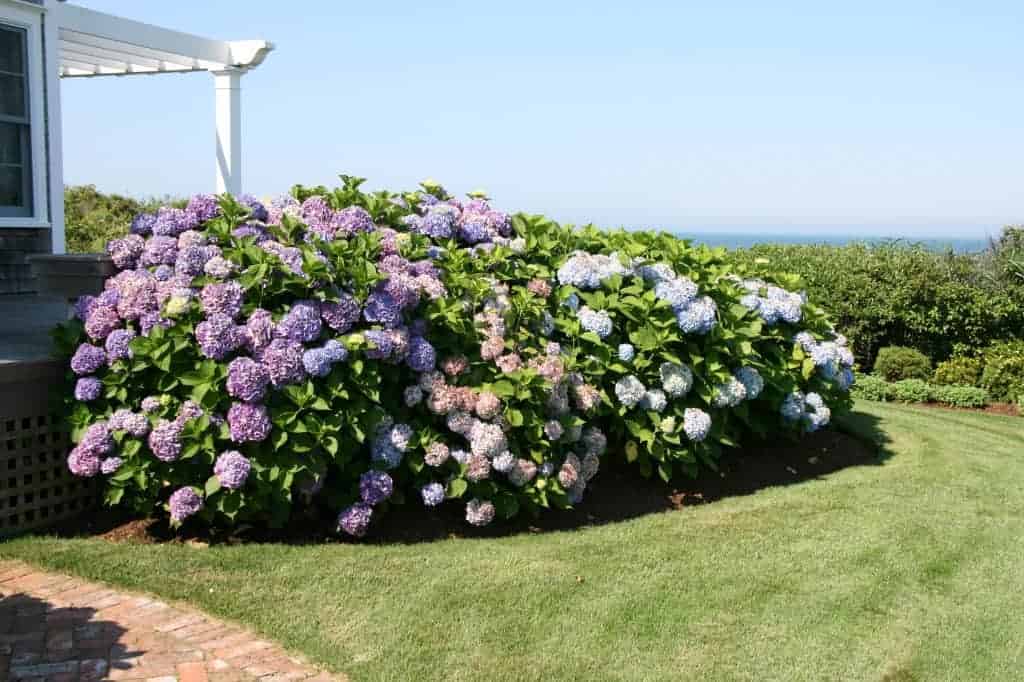 Photo via Jane Ellsworth
I am and always have been inspired by the weather-beaten coast, with its proud lighthouses and salty cedar shingles. When it comes to yard choices, Nantucket is my ultimate inspiration with its Adirondack chairs, abundant gardens, and most of all- hydrangeas the size of dinner plates. Ogunquit, Maine calls to me with its rocky coastline, crystal blue water, stunning homes, and quaint little Perkin's Cove. Whenever I pull blue into my home- both navy and lighter shades, those are the places I'm imagining.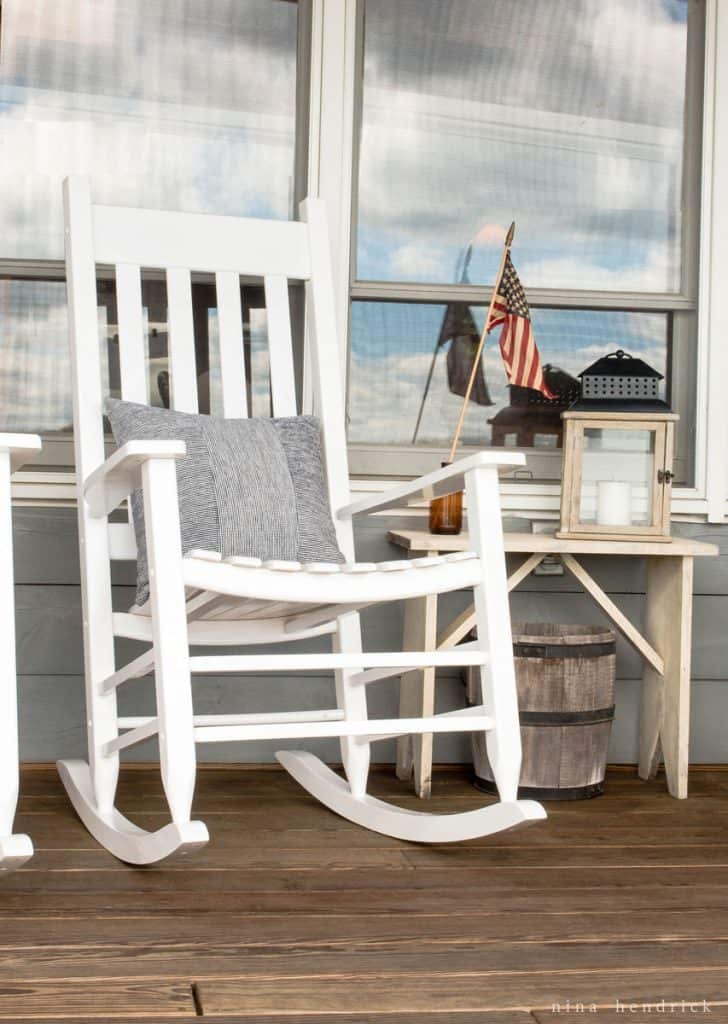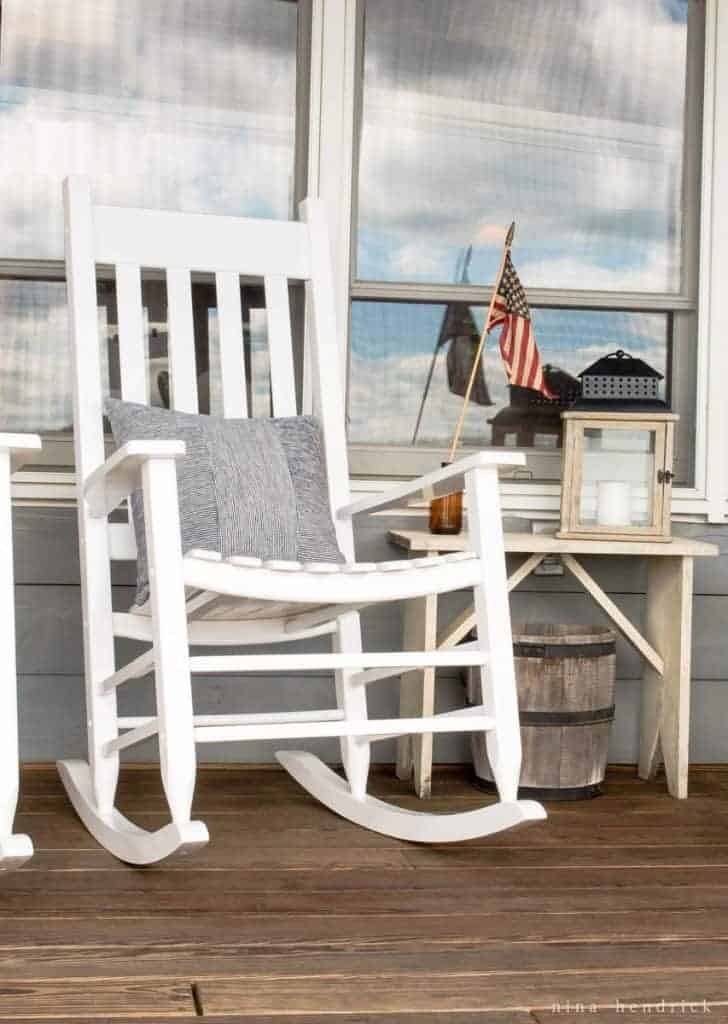 Our Camp Porch
Elements of New England Coastal Style:
cedar shake shingles
white trim
white outdoor furniture
hydrangeas and abundant gardens
shades of blue, specifically navy
white picket fence
2. Farmhouse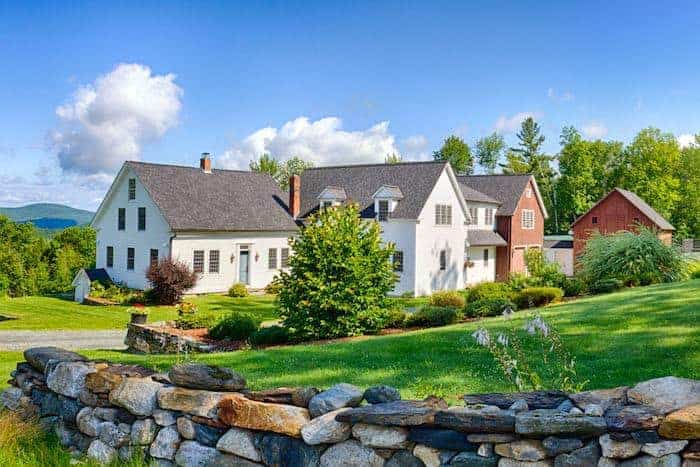 Sootheby's Realty via Hooked on Houses
I know "farmhouse" is a buzzy style right now, and it means something different in New England than perhaps it does in other parts of the country. As much as I love the idea of acreage, farmers here usually didn't have large plots of land as far as the eye could see. They had tidy yards and lived somewhat close together out of solidarity in a new and wild land. They fought and struggled to get things to grow in the rocky soil, and what they grew was to feed their family and hopefully even to share with their parish in an abundant year.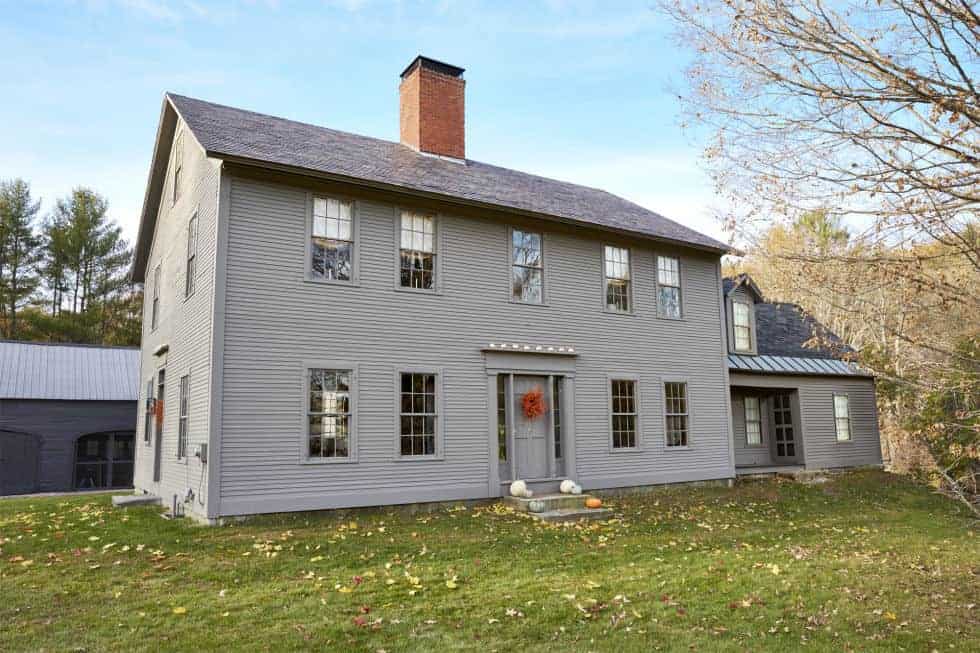 via Country Living
I will admit, sometimes I play the comparison game and I wish for a big airy farmhouse with tall ceilings and sprawling porches on a big piece of land. However, our Massachusetts colonial with its low ceilings and neighborhood is actually much more accurate to 1800s "New England Farmhouse" style. In fact, part of our neighborhood (which was a huge selling point for me) includes historic farmhouses with beautiful barns that seamlessly give way to the new homes. Those old farmhouses are the homes I draw inspiration from when it comes to the atmosphere of our outdoor space. Having a farmer's porch and a backyard garden (and even backyard chickens- maybe someday) is very similar to how my ancestors would have lived, and having a stone wall in our backyard made it feel just like home.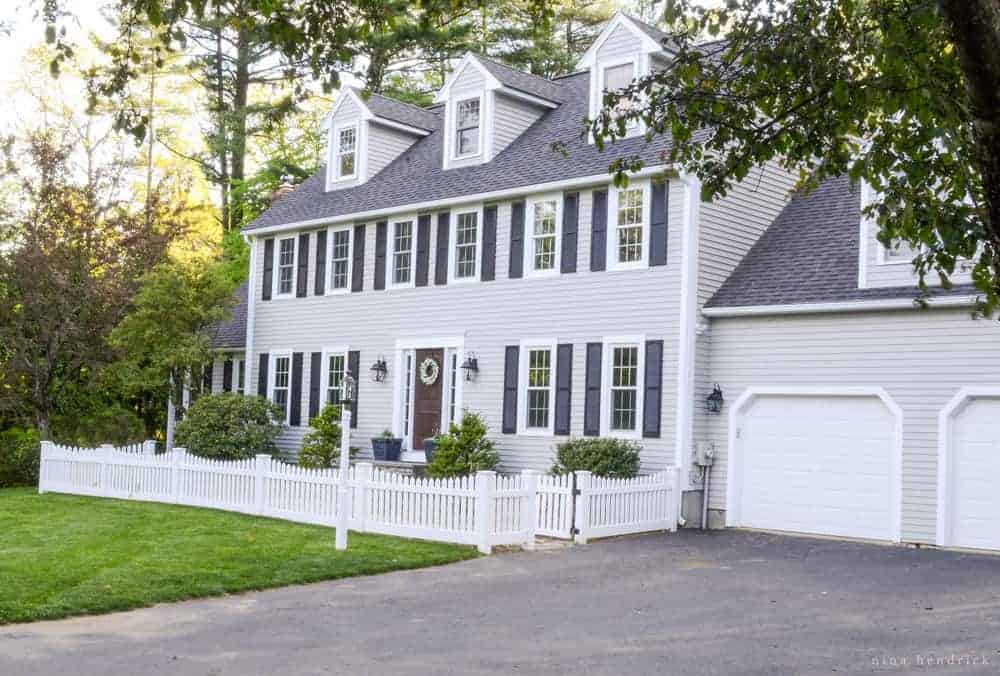 Our Exterior Makeover
Speaking of ancestors, I would be remiss to talk about New England Farmhouses without talking about my home state of New Hampshire. Both sides of my family had beautiful homes of historic farmhouses filled with antiques, big barns, and stone walls that were my playscapes as a child. Nothing has influenced my style quite as much as those homes.
Elements of New England Farmhouse Style:
colonial style home (often white) with additions
low ceilings
central hearth/fireplace
barn (often red)
stonewalls
vegetable garden
chickens/animals
3. Primitive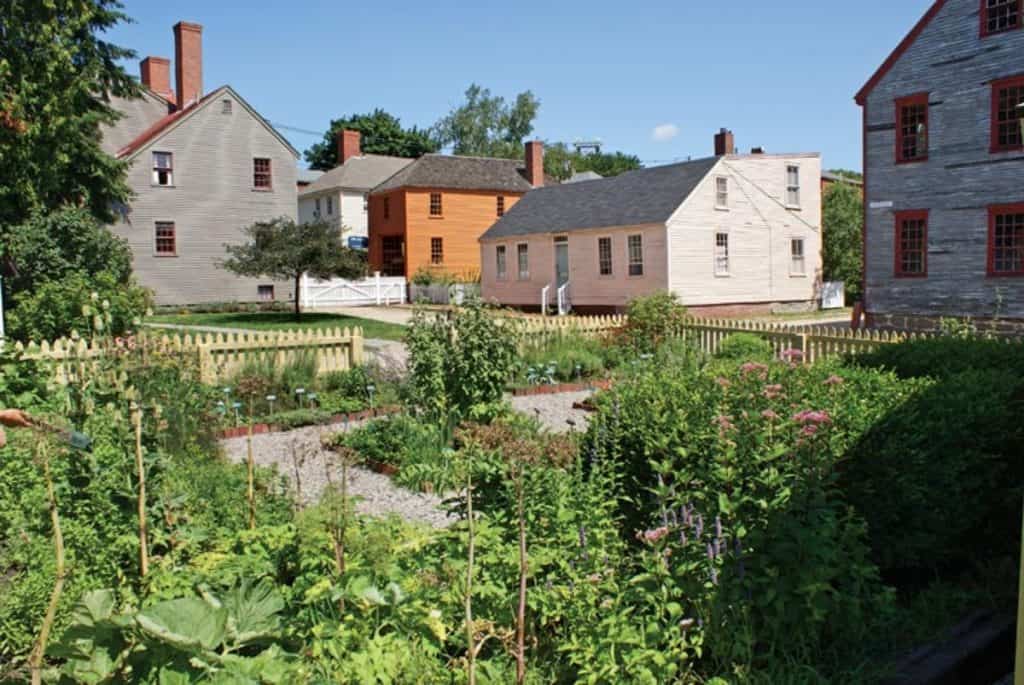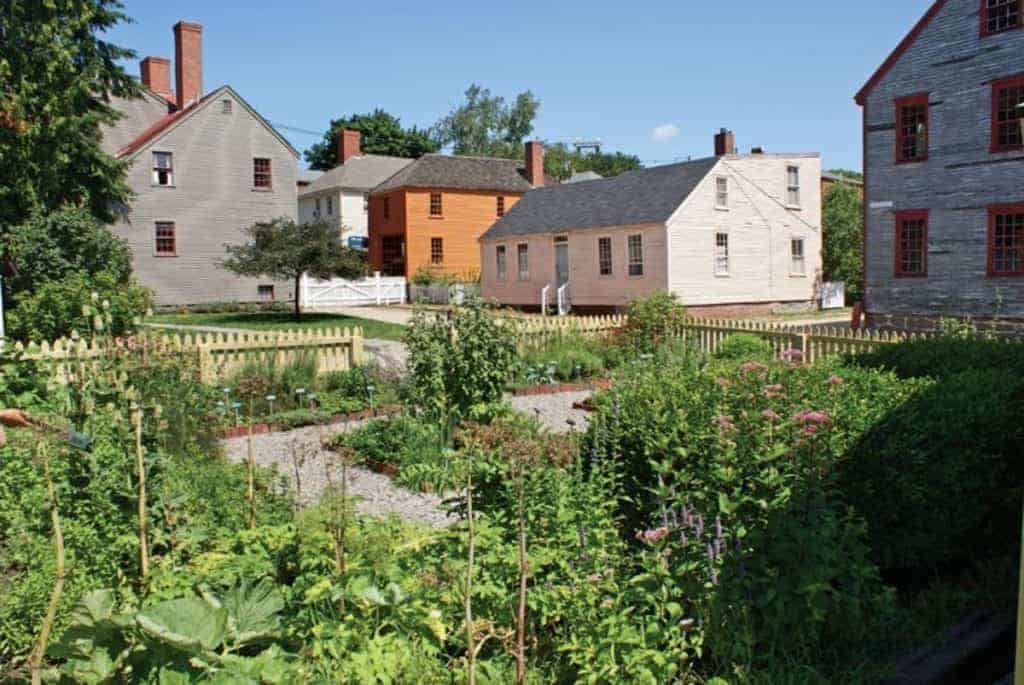 Strawberry Banke via Old House Journal
Primitive style is kind of the precursor to New England Farmhouse Style. It's based more on the communities and villages of the 1600s Puritans.
I'm obviously biased, but my parents home (my childhood home) is a nice blend of New England Farmhouse and Rustic/Primitive style. It is a reproduction antique saltbox colonial with beautiful wood beams and tongue-and-groove ceilings. It brings to mind the oldest homes in this country, the 1600s Puritan homesteads in Plymouth, Salem, and Strawberry Banke.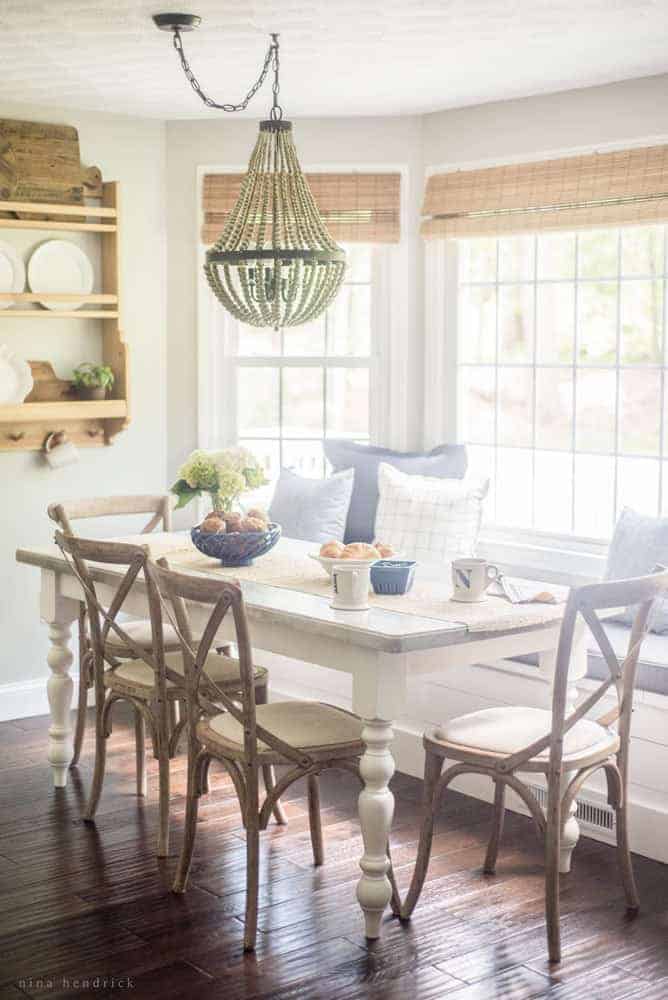 Our Breakfast Nook
When you see me bring in raw wood and antiques, it's often influenced by my parents' decor. However, I went the other direction with my love of painting tongue-and-groove white (my dad cringes when I paint things white), so I didn't adopt the style outright. However, I do appreciate it and I love to dream up ways to decorate in their home.
Elements of New England Primitive Style:
wood ceilings & beams
(or even post & beam)
shaker-style furniture, simple lines
color, but muted (mustard yellow, rust, slate, etc.)
4. Rustic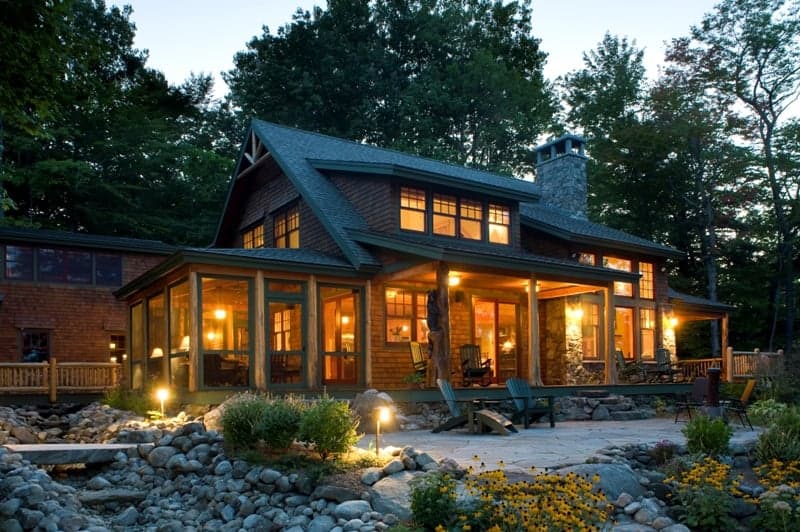 via SD Architects
Rustic log cabin style is another common New England staple. Personally, I think it can be overwhelming in large quantities (like the interior of Camp), so I think it's best to have a few of these focal points in a room without necessarily having a whole room that is floor to ceiling wood with wood furniture. Mack is most drawn to rustic log cabin style because of Camp. I can't pretend it's my favorite, but it is important to include in our home because it's the only thing he really somewhat gives an opinion on.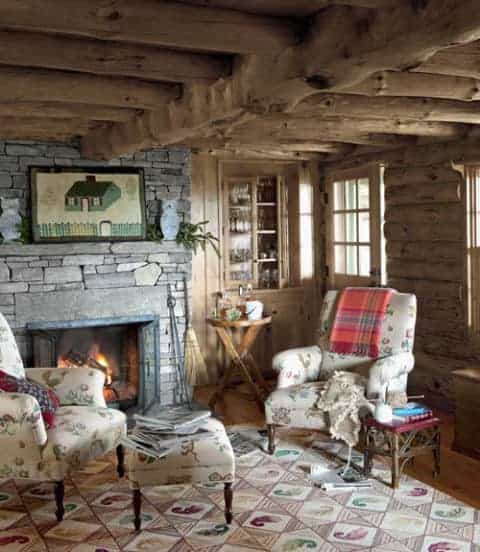 via Country Living
For this style, think hunting lodge. Lots of wood, plaid, fur, leather- you get the idea. In our Massachusetts home, this translates to things like our wood mantle and pine dining room furniture, which were wood pieces in otherwise light rooms. In our decor, I bring in things for Mack like a dark fur throw, wooden signs, etc. Small doses.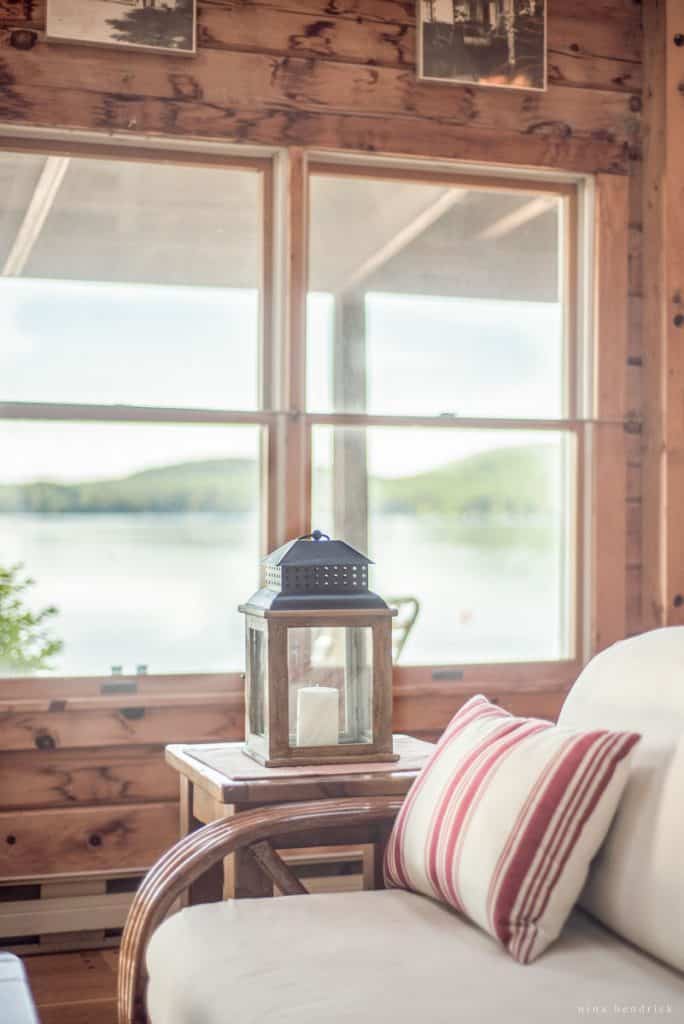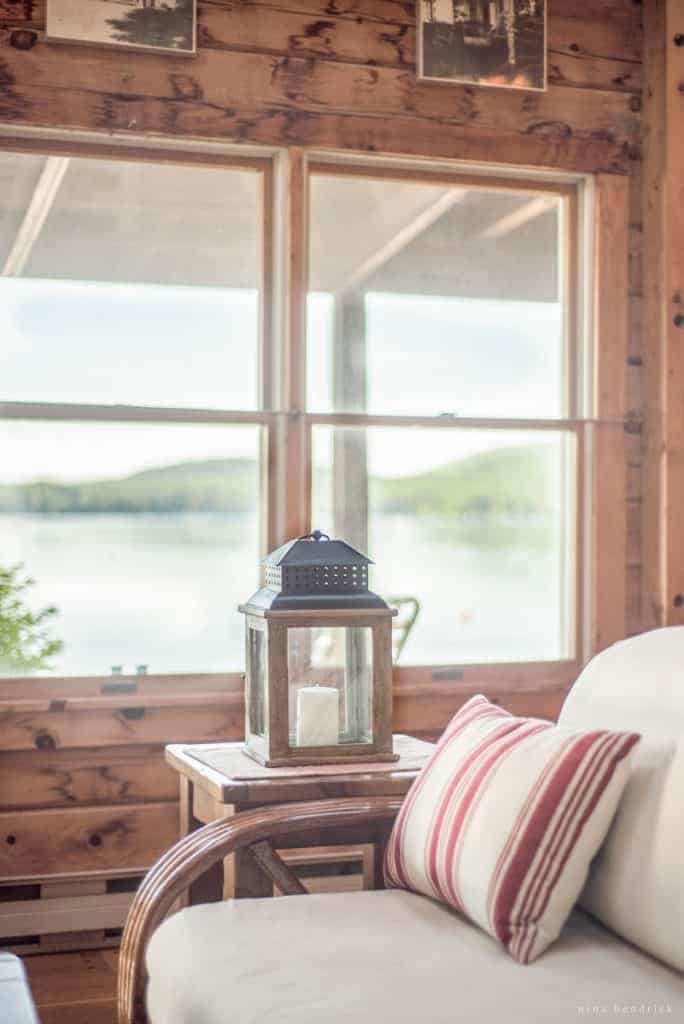 Our Camp
At Camp, I haven't done much yet. I intend to try to preserve the log cabin character but lighten things up with softer fabrics and white furniture. We're going the other direction- breaking up an incredible amount of rustic orange-toned wood.
One element of rustic style I can get on board with is the coziness, especially in the winter. There's nothing I love more than a warm knit blanket and a fire!
Elements of New England Rustic Style:

log cabin
large windows
wood- lots and lots of wood
leather or dark furniture
furs and plaid accents
wildlife motif- deer, bears, fish, etc.
5. Cottage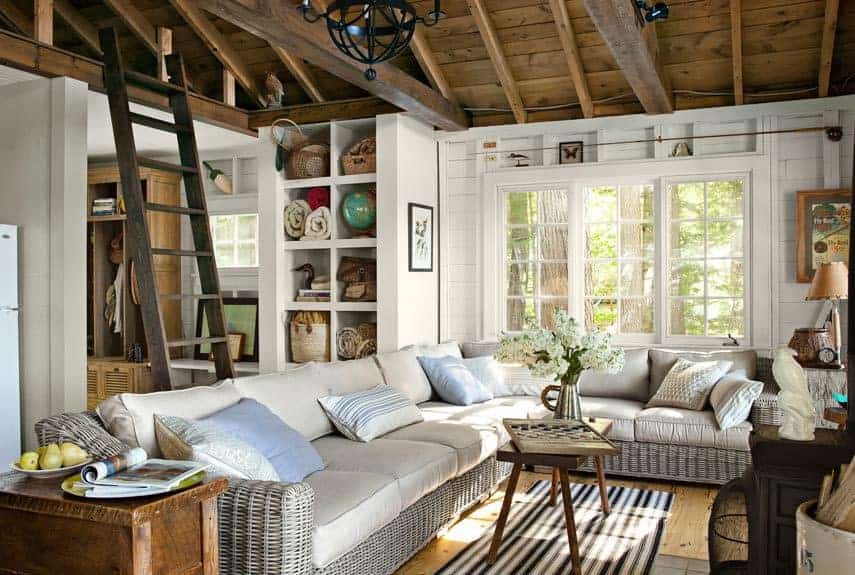 via Country Living
While the Maine coast inspires me, the Lakes Region of New Hampshire is my true heart and home and the decorating style I most closely identify with. New England Lake Cottage style is a blend of the four styles I mentioned above. Like all of the styles, its inclusion in my home was once again influenced by family, from my part, my grandparents' A-frame lake cottage, which we simply call "The Cottage". Mack, of course, has the hundred-year family history of "Camp" and the dwellings that were there prior to the 1980s log cabin. Camps and cottages are an important component to New England style. Unfortunately, they are somewhat a fading component, as the trend seems to be to tear them down in favor of larger Cape Cod style homes. I get it. They were generally built cheaply and quickly and were not winterized. However, I adore updated cottages with their exposed walls painted a crisp white.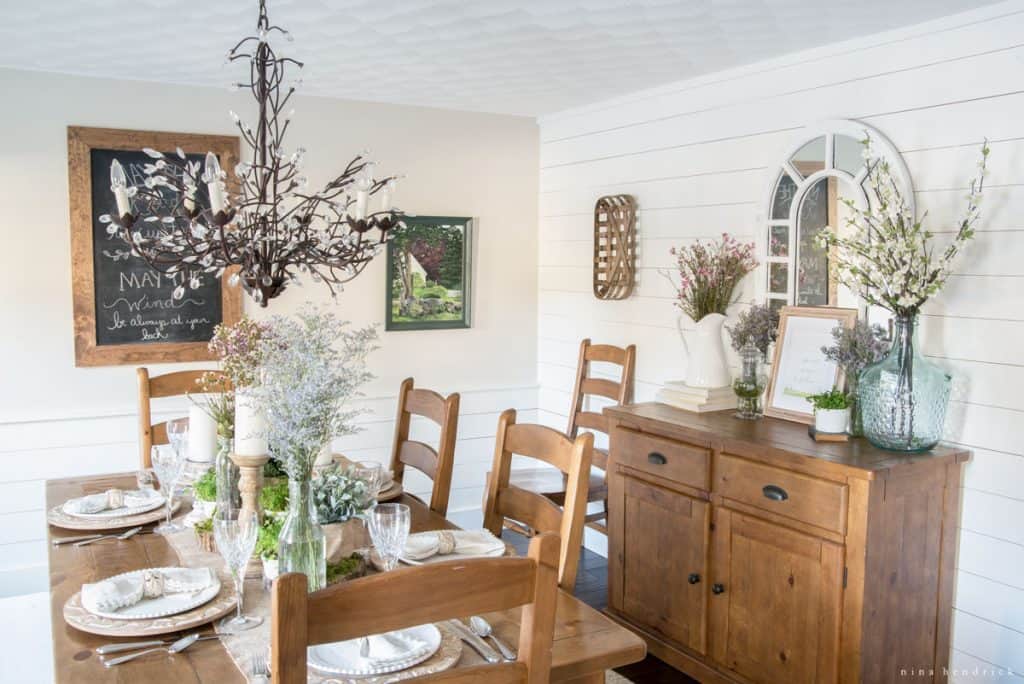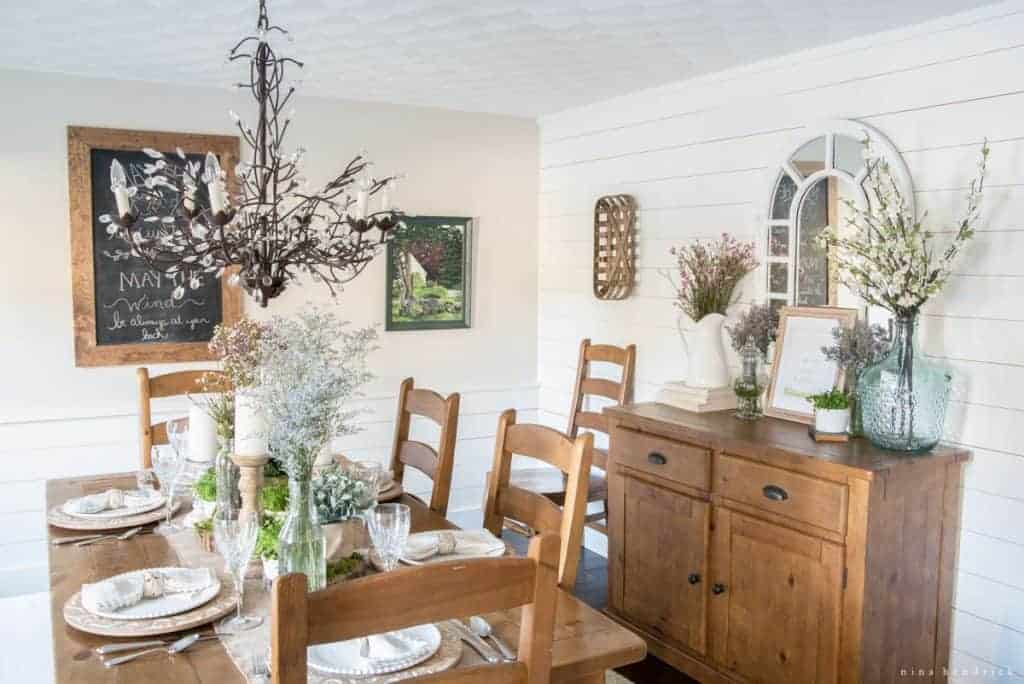 Our Dining Room
When you see planking and board-and-batten in our home, that is what it is influenced by, as well as any light and bright colors.
Elements of New England Cottage Style:
(a mixture of many other styles)
tidy, small homes
wood walls, planked or tongue-and-groove, or exposed studs and rafters (sometimes painted white)
white outdoor furniture
hydrangeas and abundant gardens
light or bright colors
lake or nautical inspired decor: fish, signs, paddles, boats
6. Seaport Style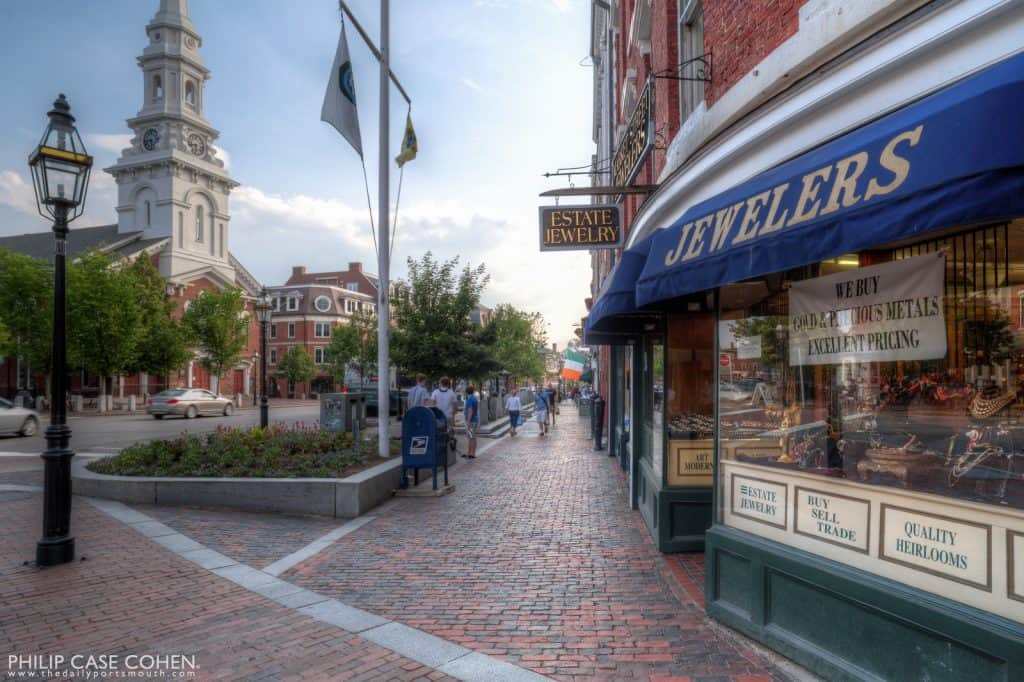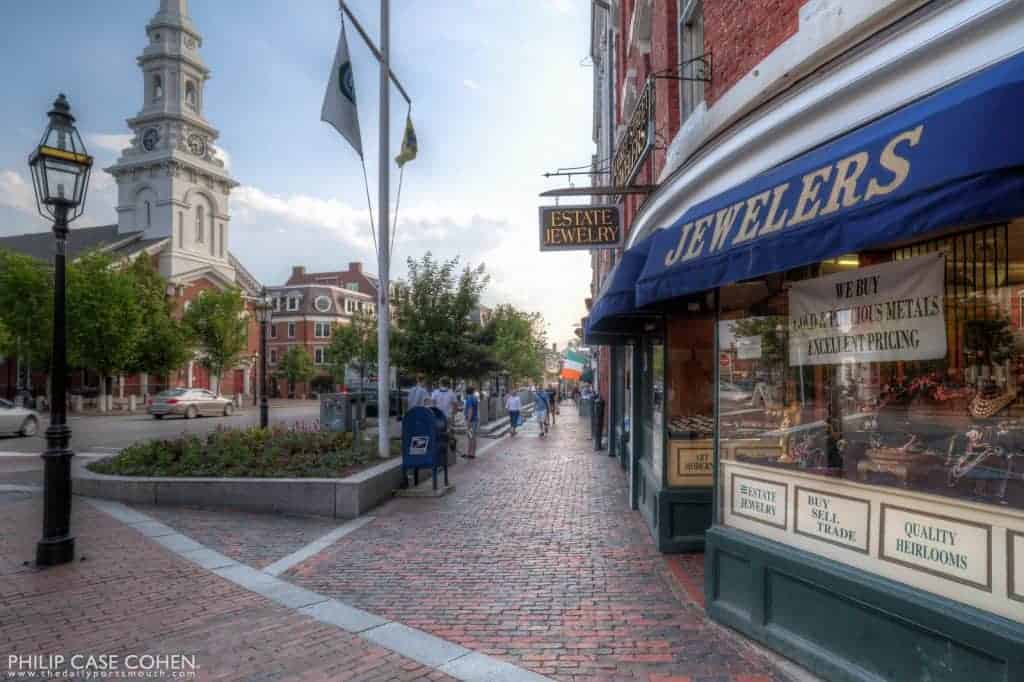 via The Daily Portsmouth
This was hard to define. However, I wanted to make sure to mention that I appreciate the historic elements of New England coastal cities. Portsmouth, NH is one of my favorite places to visit (and eat! Oh my gosh, the restaurants!). It blends the new and old so beautifully. While I prefer Portsmouth, I love the historic elements of Boston and the Old Port in Portland, Maine, as well.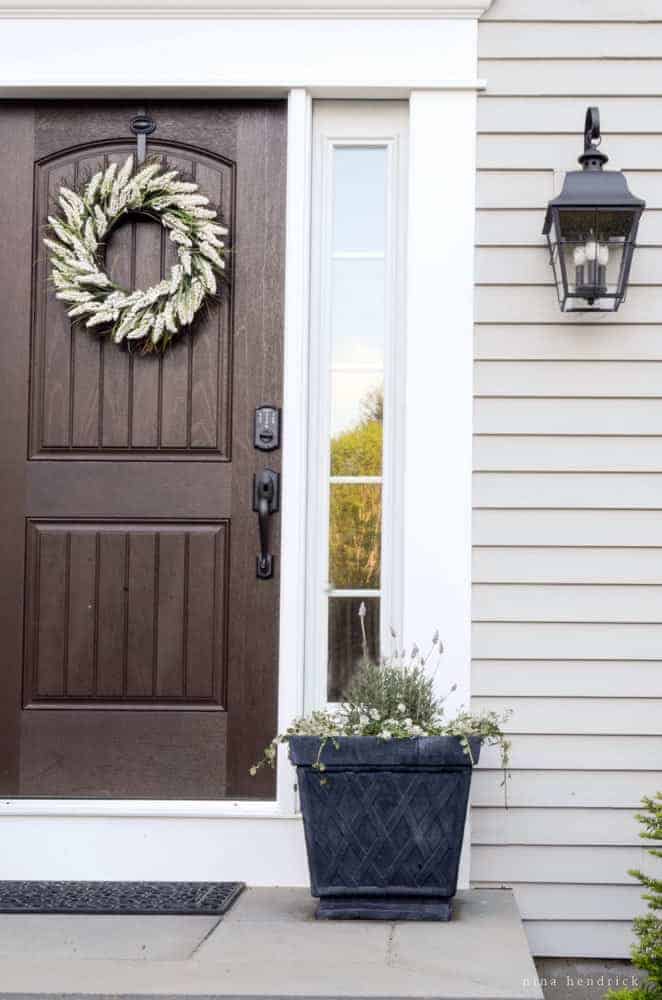 Our Exterior Updates
When I bring in dark metal finishes and lanterns, those places are what I'm picturing. My plans for a brick patio are influenced by Market Square in Portsmouth.
Elements of New England Seaport Style:
cast iron lanterns
bouys, boats, and other nautical decor
lobster traps
brick homes
brick walkways
colonial homes
white trim
window boxes
small front gardens
7. Traditional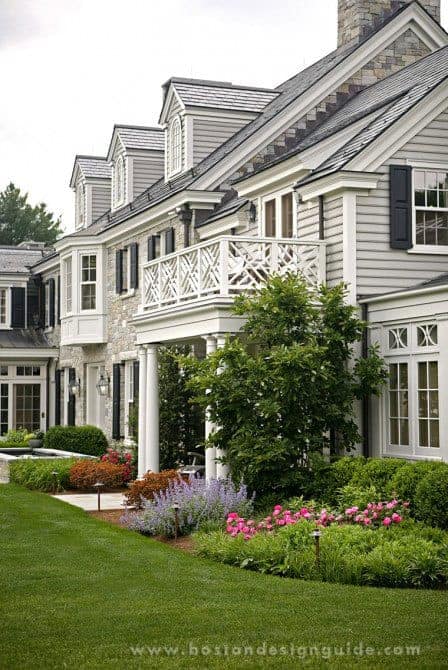 via Boston Design Guide
Similar to rustic style, traditional style isn't necessarily at the top of my list, but the influence is there. I feel like I could have pushed in that direction with this house and decor when we moved in, but I also think it would have felt forced and inauthentic to our family's personality.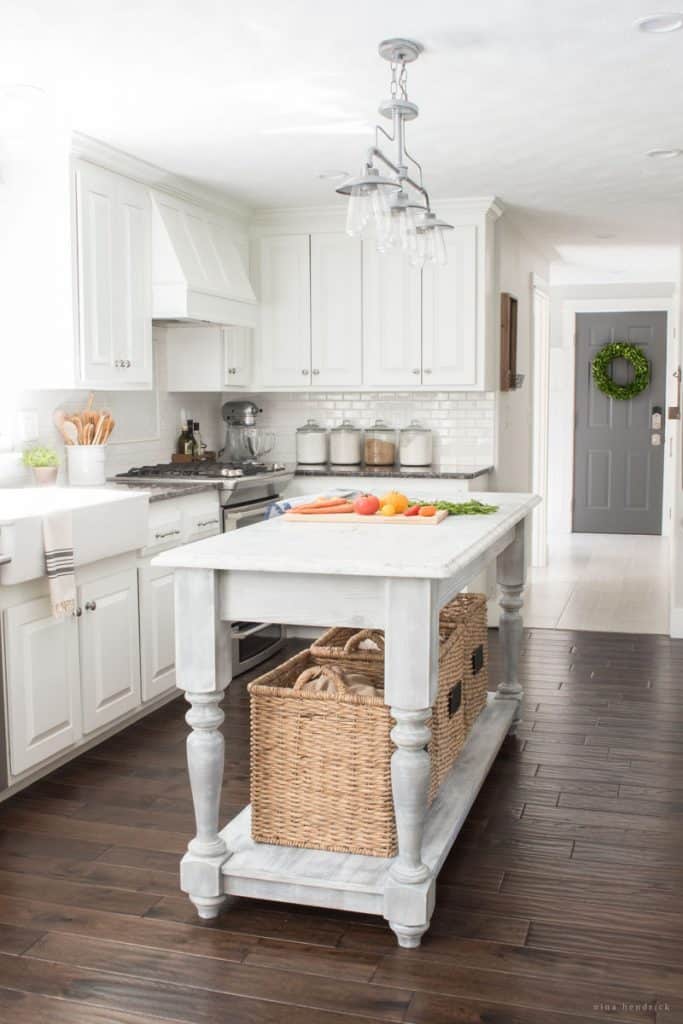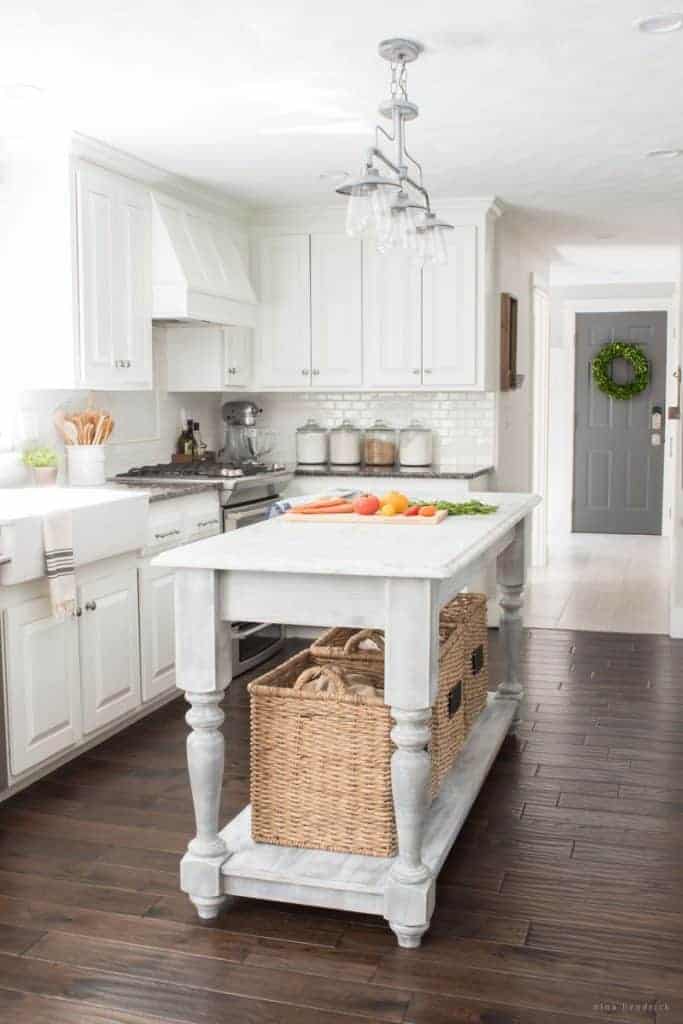 Our Kitchen
With that being said, the dark wood floors, white trim, white cabinets, and white built-ins throughout our home are a nod to traditional New England style. Really, if you removed the accessories and furniture, the base in a lot of the rooms in our home is pretty traditional.
Elements of New England Traditional Style:
colonial style home
columns
palladian windows
dormers
white kitchens
white millwork and paneling
All in all, I love the area I'm from, and I'm so proud to be a New Englander. I love that it has played so heavily into my decor style developing into what it is. Do you love New England style? What's your favorite element?