Ready to embrace the coastal grandmother aesthetic? Here's a full breakdown of how to bring this breezy, summery style into your wardrobe and home.
When a friend first sent me Lex Nicoleta's viral TikTok post about coastal grandmother style, I had to laugh—but only because I felt so seen. J. Crew chinos and half-tucked button-downs? My closet is full of them. Entertaining with fresh food, flowers, and wine? That's my jam! Moving to the seaside to feel the salt air on the breeze all year long?
Well, I got pretty close with my recent move back to the New Hampshire Seacoast. I'm making our new Cape into the coastal grandmother haven of my dreams, complete with all the things I've always loved best: comfortable furniture, gorgeous neutrals with blue accents, and lots of natural texture and materials.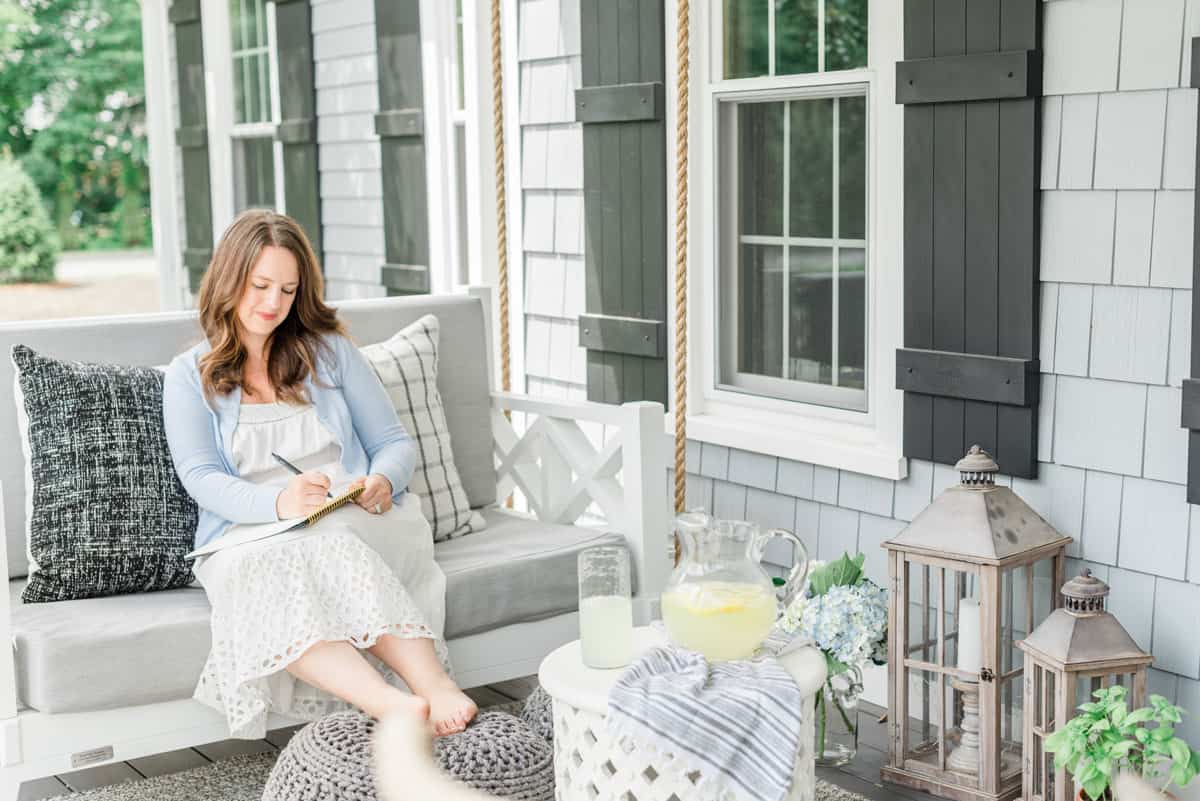 So yes, even though I'm only 33, I think I am definitely a coastal grandmother at heart!
And since I actually do live near the coast, I also know that the internet doesn't get quite everything right about coastal style. So let's dig into coastal grandmother style—what it is, how to get it, and even a few missteps to avoid.
This post contains affiliate links, which means I may get a small commission (at no extra cost to you) if you shop my link. Please see my disclosure if you'd like more info!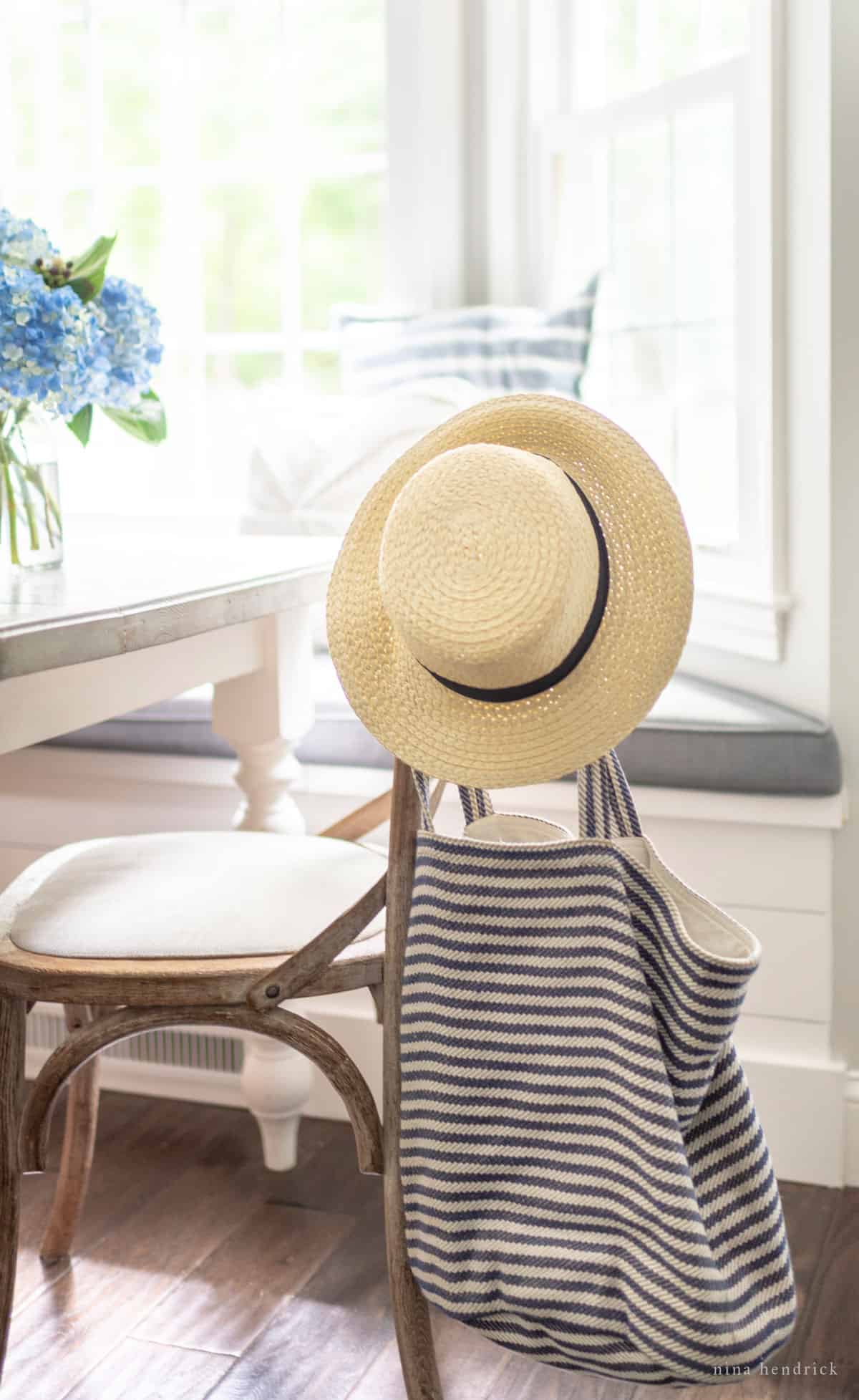 What Is Coastal Grandmother Style?
Coastal grandmother style is best summed up by flipping through some Nancy Meyers movies—especially the ones starring Diane Keaton. These stories take place in gorgeous, shingle-style houses by the beach, and the interiors are bright and airy—lots of white walls and sumptuous, comfy furniture to curl up in while reading a good book. If you like sipping wine, walking on a windy beach, and clipping flowers from your lush garden to throw together an arrangement for a dinner party, you're probably already living the coastal grandmother life.
The whole aesthetic is heavy on a coastal vibe, so both clothes and decor will look like you could be heading to the beach at any moment (never mind if you live miles from the ocean!). Cozy interiors are built around a beachy color palette, with bright whites, sandy neutrals, and gentle blues and greens forming the backdrop. Beachy textures are also important: think sisal accents, woven grass purses and canvas totes, and lots of wood—both natural and painted.
Clothing is practical and preppy, with plenty of coverage—it's perfect for moms and grandmothers who aren't interested in baring it all in a bikini at the beach. Loose, flowy linen pants, capris, and skirts take center stage, as do collared shirts with buttons or loose tunics. Chinos, flats, and fisherman sweaters round out the wardrobe. Sound a little frumpy? It's actually not because these clothes are well-tailored and made to last.
Ina Garten is another great example of the coastal grandmother aesthetic, especially when it comes to entertaining. Just think about her food: fresh ingredients thrown together into simple dishes that are elevated by presenting them in an attractive way. If you can shop at a farmer's market and are willing to splurge on great cheese and wine, you can entertain like a coastal grandmother! (I'm also positive the food tastes better when it's made in a bright, airy kitchen with wide, clean counters.)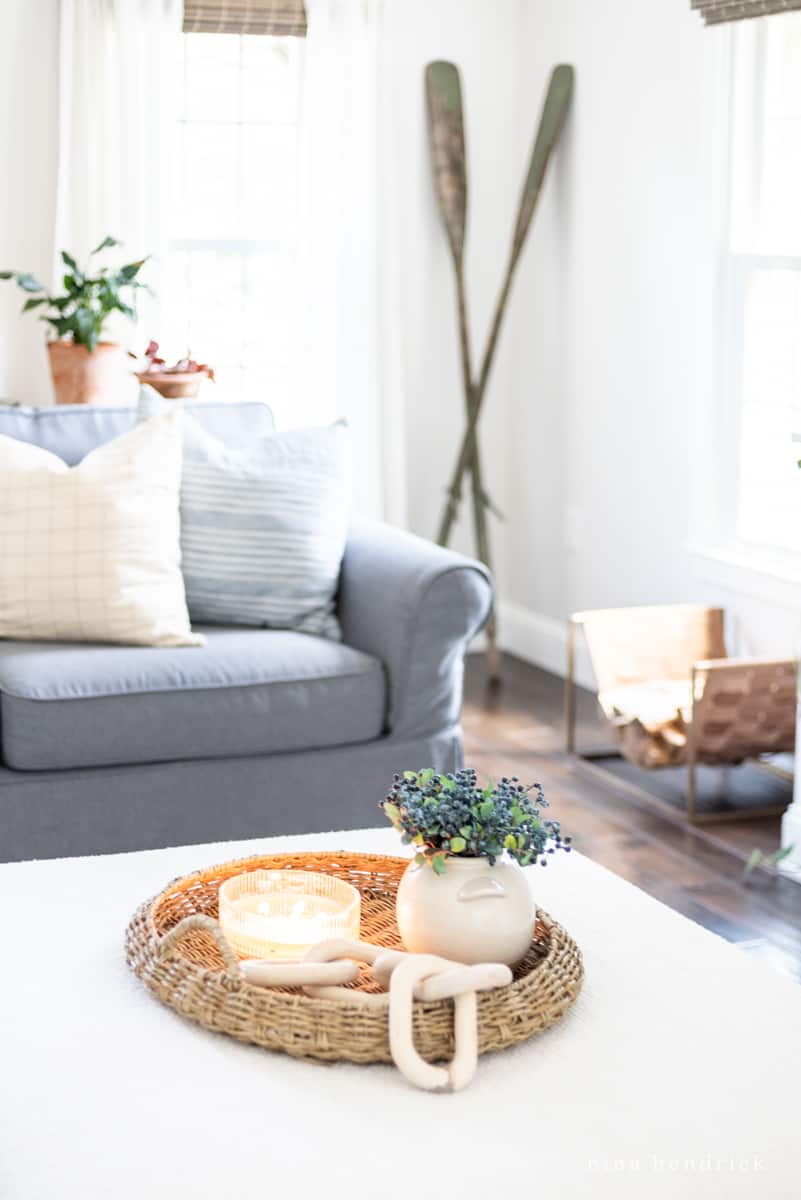 Why Is Coastal Grandmother Style So Popular?
I think the number one reason people love the coastal grandmother trend is that it is comfortable. Loose linen pants, chunky sweaters, and a button-down shirt (half-tucked or untucked!) give you plenty of room to move, whether you're walking the beach or chasing a child. It's the antithesis of high fashion, so you never have to worry about tottering around in stilettos or some awkward dress with lots of straps or extra fabric. Coastal grandmother style also translates to comfort in interior decorating, with lots of pillows, touchable upholstery fabrics, and places to store your favorite items.
In addition to comfort, the coastal grandmother aesthetic is also practical. The clothes are never fussy but instead rely on the clean lines of sturdy basics that will go with anything—they'll even make great partners for most of your non-coastal grandmother pieces. Ditto for home decor: coastal grandmother style is clean, and the color palette is so easy to add new items to without worrying about things clashing—no crazy patterns here! When coastal grandmothers entertain, they also focus on relaxation, so party planning is easy enough to keep you out of the kitchen and instead lets you enjoy conversation with your guests.
Despite the ease, the coastal grandmother style still manages to seem upscale. A lot of that has to do with the focus on the quality of materials rather than the number of items you own. For clothes, cashmere and linen are the fabrics of choice. For the home, it's all about choosing high-quality furniture, lighting fixtures, and accents that will never go out of style.
But don't worry—you can get the style without breaking the bank if you know where to look!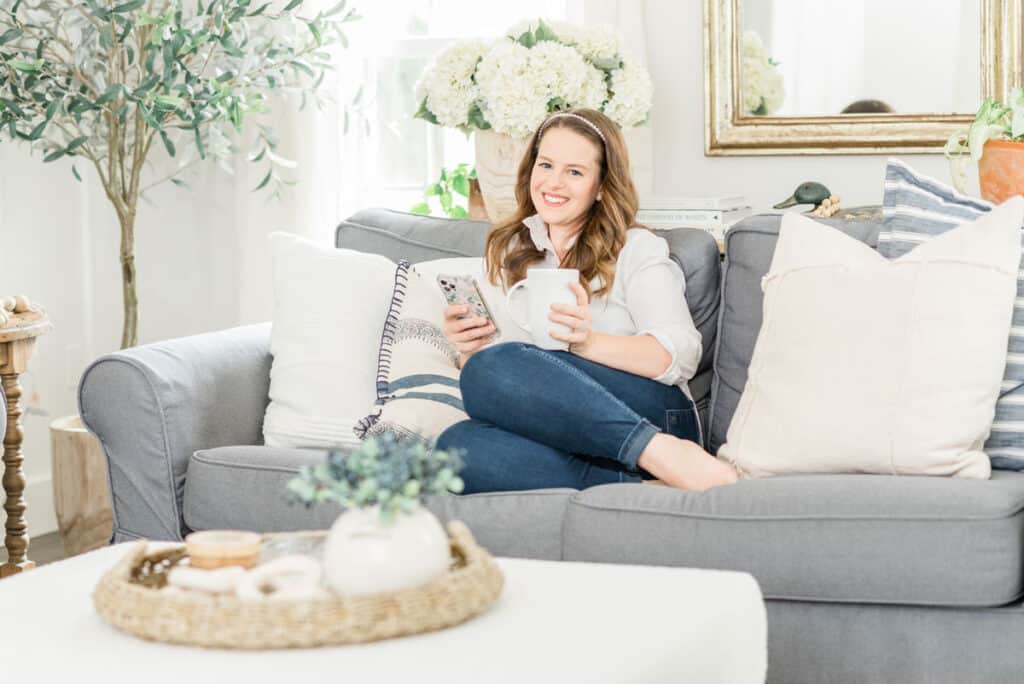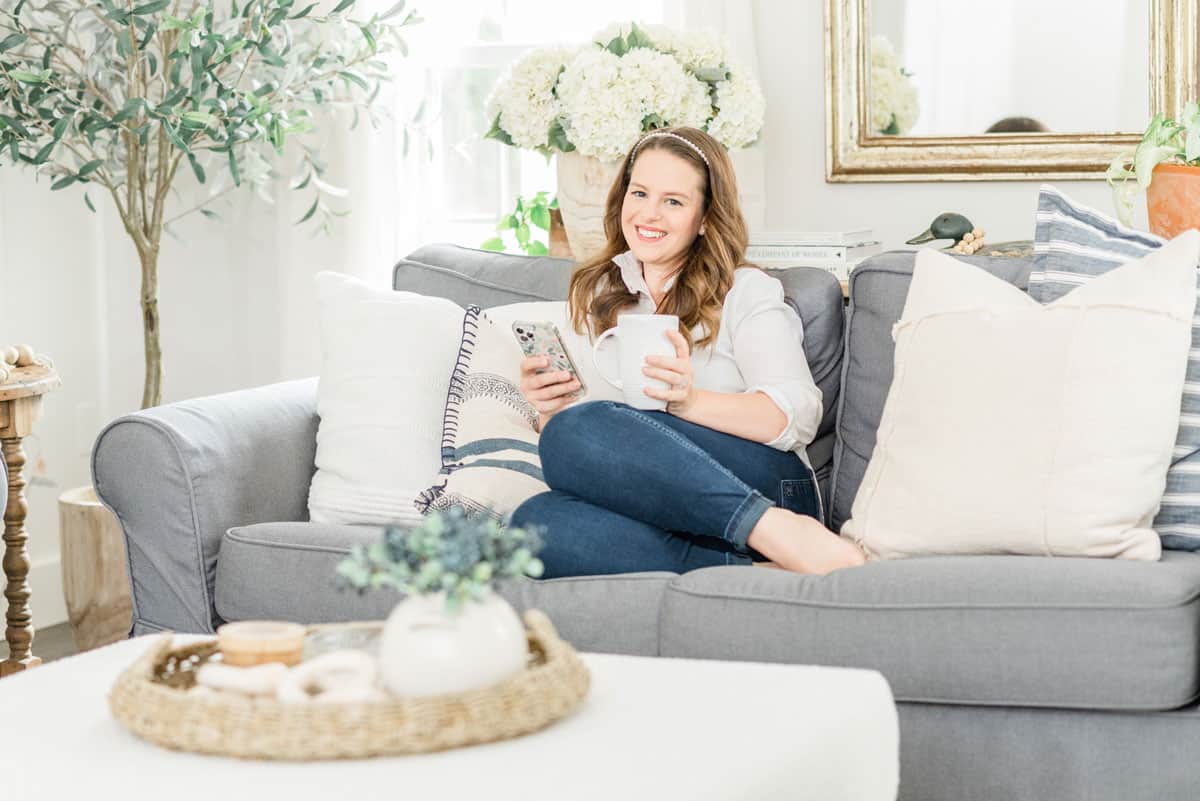 How Do I Get Coastal Grandmother Style?
So you want to be a coastal grandmother? I don't blame you! These women know how to live, focusing on the simple pleasures: reading, gardening, fine food, and great conversation. They create a comfortable home to enjoy the things they love, and they don't waste any effort on fly-by-night fashion trends.
Let's dig deeper into the coastal grandmother aesthetic to see how to put together this timeless look.
Dress the Part
Coastal grandmother dressing is a twist on standard New England preppiness but more comfortable. Think about how you'd dress for an after-dinner walk on the beach rather than a day of sunbathing, and you'll be in the right mindset. Coastal grandmas are ready for anything, whether it's a trip to the market or a surprise guest at their door—and that means being put together and comfortable at the same time.
Start with a limited color palette, so everything can mix and match easily. That means plenty of white, khaki, beige, and any creamy shade in between. To add color, blue is the go-to, especially light blue and shades of chambray.
To keep from being boring, texture is important. When it comes to sweaters, don't be afraid to go chunky with the knits, and add a woven belt or straw bag for interest. While most coastal grandmas favor solid colors, subtle stripes can add interest while staying appropriately nautical.
Here's a run-down of the staples you'll need for true coastal grandmother style: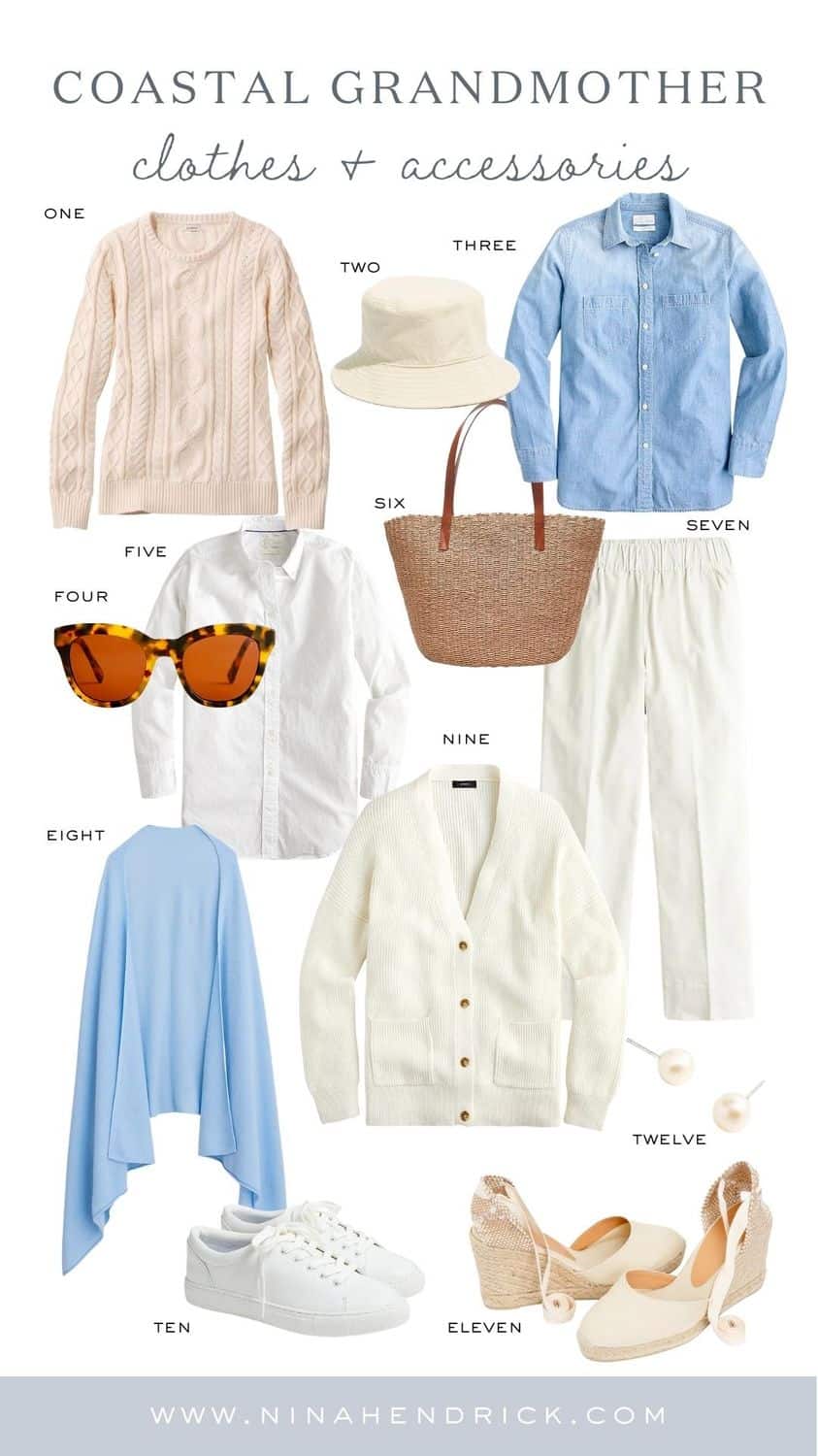 One | Two | Three | Four | Five | Six | Seven | Eight | Nine | Ten | Eleven | Twelve
White Pants:

Wide-legged, flowy linen pants are the standard. You can go full-length or capri.

Chinos:

When you need to put away the linen for winter, neutral chinos are best. J. Crew is my favorite place for these!

Button-down Shirts:

 A tailored, collared shirt can be dressed up or used as an easy coverup for the sun or in the garden.

Warm Sweaters and Cardigans:

 Those ocean breezes get chilly in the fall and winter, so layer up with a soft, cozy cardigan and fisherman knits. Cashmere is the preferred fabric, but you can get the look for less by choosing wool/cotton blends.

Flats:

Camel-colored sandals are great for summer, but they should above all, be comfortable for walking. Ballet flats or comfy Keds work in cooler weather.

Bucket Hats:

 This is the go-to choice for shading and keeping your hair in place when the wind kicks up off the water.
Straw Bags: Perfect for toting your fresh herbs, vegetables, and heirloom tomatoes from the garden or the farmer's market.  
Mistake to Avoid: Lots of TikToks would have you believe you need a wide-brimmed straw hat for this look, but that's only appropriate on the actual beach or in the garden. Wearing a sun hat in town will instantly mark you as a tourist—and annoy everyone that keeps getting bumped by the brim in that tiny boutique or cafe.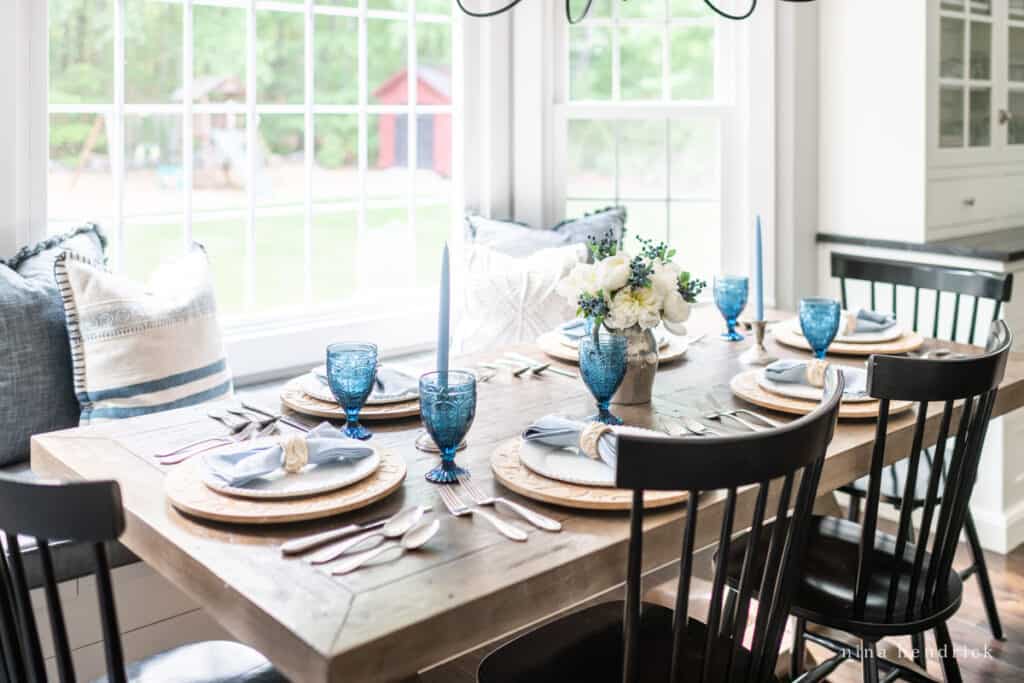 Host a Party
When coastal grandmas entertain, they do it very well, but on a small scale. They're too comfortable in their own skin to worry about impressing people with their talents—they just want to provide good food and great conversation in a cozy, relaxed environment.
Here's how to handle party planning like a coastal grandmother:
Keep It Small:

The ideal get-together is a dinner party, so limit the guest list to the number you can comfortably fit around your dining room table (and have matching china for).

Add a Vase of Fresh Flowers:

 Decorate your table with simple arrangements of big, summer blooms. If you don't have your own cutting garden, ask a local florist for what's in season, or look for wildflower bouquets at the farmer's market.

Good Plates, Casual Settings:

Break out your good china and cloth napkins—coastal grandmas have been building up a collection of essentials for years. But don't stress about salad forks, tablecloths, or place cards. It's a friendly gathering, not Downton Abbey.

Wine and Cheese:

Coastal grandmas like the good stuff, so here's where you can splurge. A well-curated charcuterie board is just the thing to have ready when guests arrive.
Simple Food: Choose recipes that you can pop in the oven to heat up and serve with an easy fresh salad—you only want to spend a few minutes in the kitchen so you can enjoy the time with your guests. Focus on freshness and color instead of complicated technique.
Mistakes to Avoid: Never try a new recipe for guests! You'll be stressed, and that's the opposite of the coastal grandmother aesthetic. Stick with something you know and love to keep things as effortless as possible.
Hallmarks of Coastal Grandmother Interior Design
Though the name "coastal grandmother style" is new, the style itself is not—in fact, I've been a "coastal grandmother" myself forever, but I just didn't know it. Or at least, I had given it another name: New England style.
No matter what you call it, this is a classic interior decorating style that's super-popular on the coast, where people tend to live in old-fashioned houses and value tradition, while still wanting to put a modern spin on things. For coastal grandmothers, "modern" doesn't mean bright colors or bold geometry, though—it just means updating an older home for the way we live today, with comfortable furniture and open-concept living that makes it easy to entertain.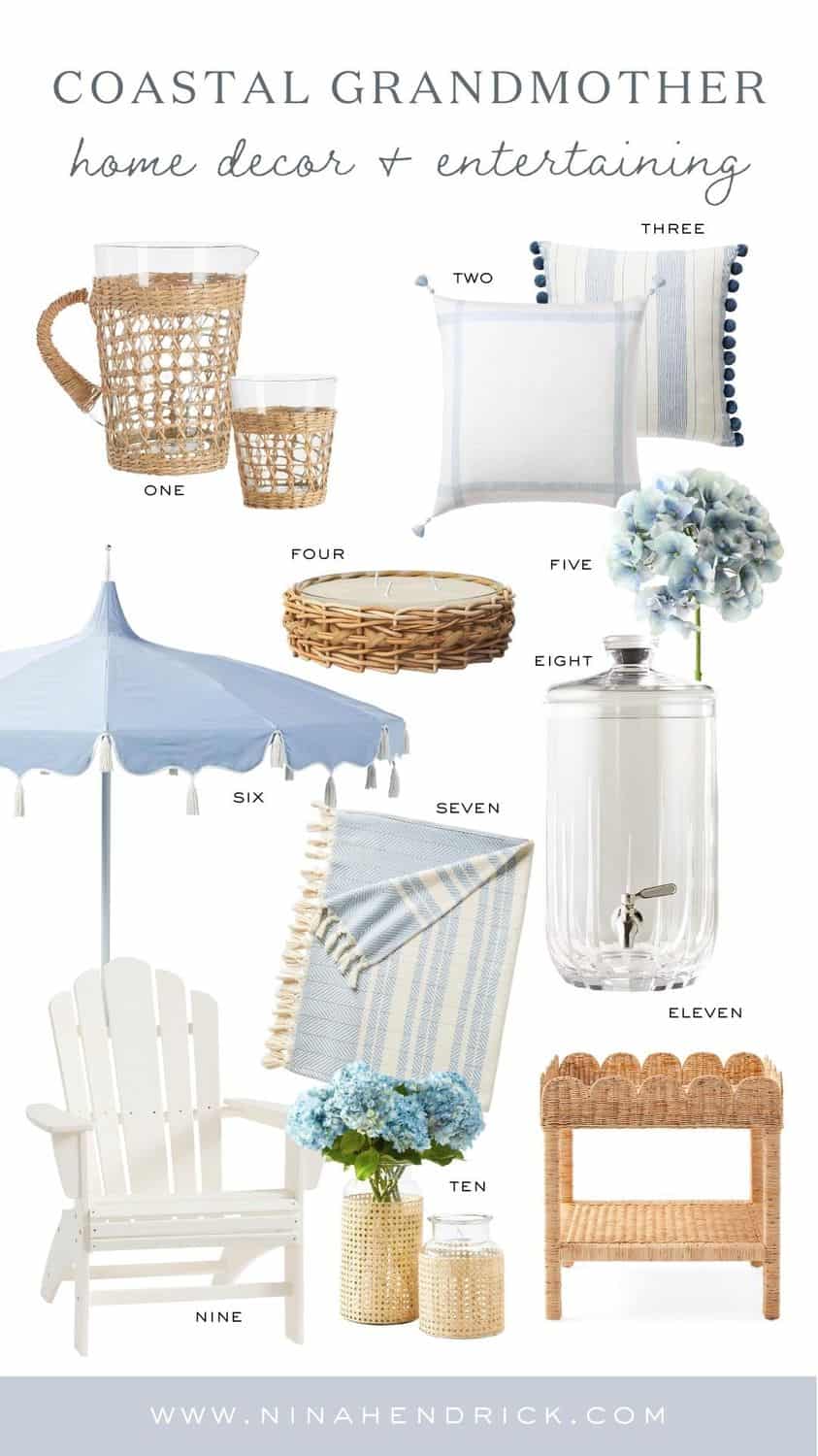 One | Two | Three | Four | Five | Six | Seven | Eight | Nine | Ten | Eleven
Coastal grandmother interior decorating has some specific features as well. Here's what the style means for your home:
Indoor/Outdoor Living:

Summer in New England is short, but while the weather is good, outdoor spaces are an important extension of the house. Think patios with comfortable furniture and a fire pit, or gracious farmhouse porches with rocking chairs.

Sophisticated Neutrals:

Like a coastal grandmother's wardrobe, interior decors also feature a muted color palette of white, beige, and tans. Layering shades of white and beige is restful, though accents in sky-and-sea shades are also welcome.

Woodwork:

Floors, doors, trim, exposed beams—coastal houses have a lot of wood in them! Woodwork can be natural or painted, and the best interiors combine the best of both to create that restful color scheme.

Woven Textures and Natural Elements:

 Baskets, rugs, and even some furniture made of natural reeds and grasses (sisal, rattan, seagrass) are very popular with coastal grandmothers because they add interest to that neutral color scheme. You can also add texture with chunky knit throws and pillows.

Flowy Window Treatments:

Curtains flow all the way to the floor and are usually in crisp cotton or soft linen. For privacy, add white sheers or woven blinds.

Furniture:

Comfort is key! We're talking plush sofas and sectionals with plenty of cushions and blankets. Dining chairs should be comfortable as well, and bedrooms should get plenty of soft touches.

Lighting:

Classic table lamps with ceramic bases are common, as are more modern pendants over workspaces in the kitchen and dining areas. You also want to let in as much natural light as possible.
Mistakes to Avoid: Going too nautical. Hints of beachy decor are great, but don't go overboard with the buoys!
Coastal Grandmother Home Design in Action: A Room-by-Room Guide
How does the coastal grandmother aesthetic look in real life? Let's break it down with a room-by-room tour to see how it works.
Dining Rooms
The centerpiece of a coastal grandmother's dining room is the dining table, which is as big as possible—all the better for entertaining family and friends! A farmhouse-style table will work well. Fresh flowers are all you really need to decorate, though flowy window treatments help keep things soft and playful—the dining room should be friendly and not too formal.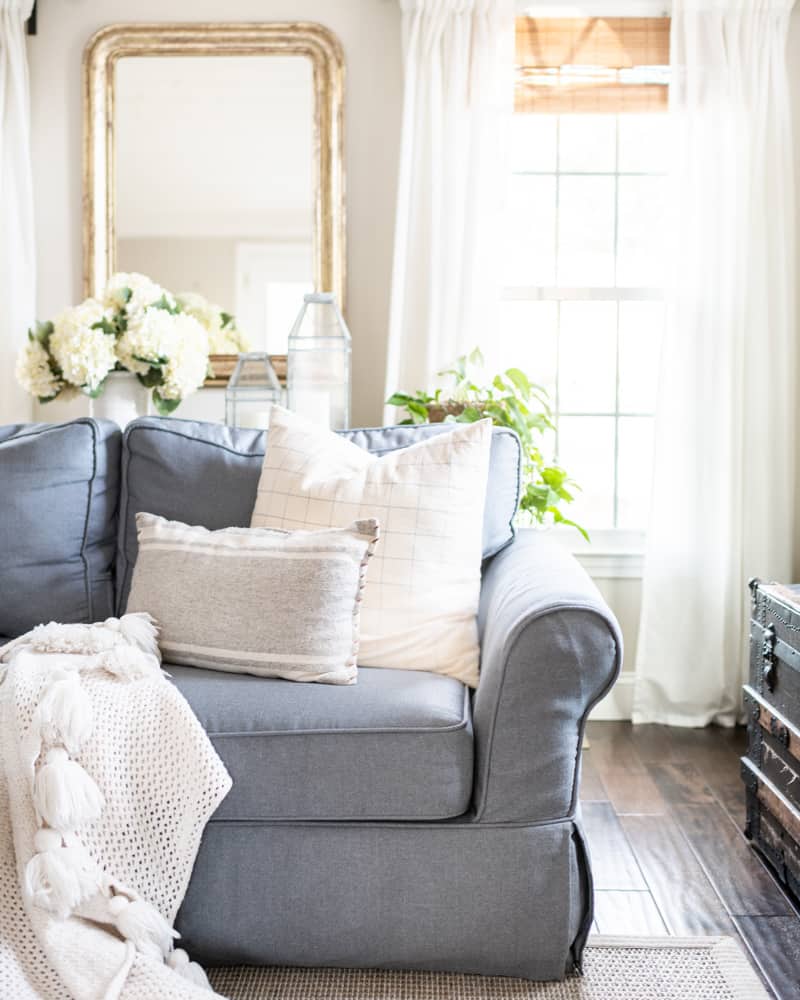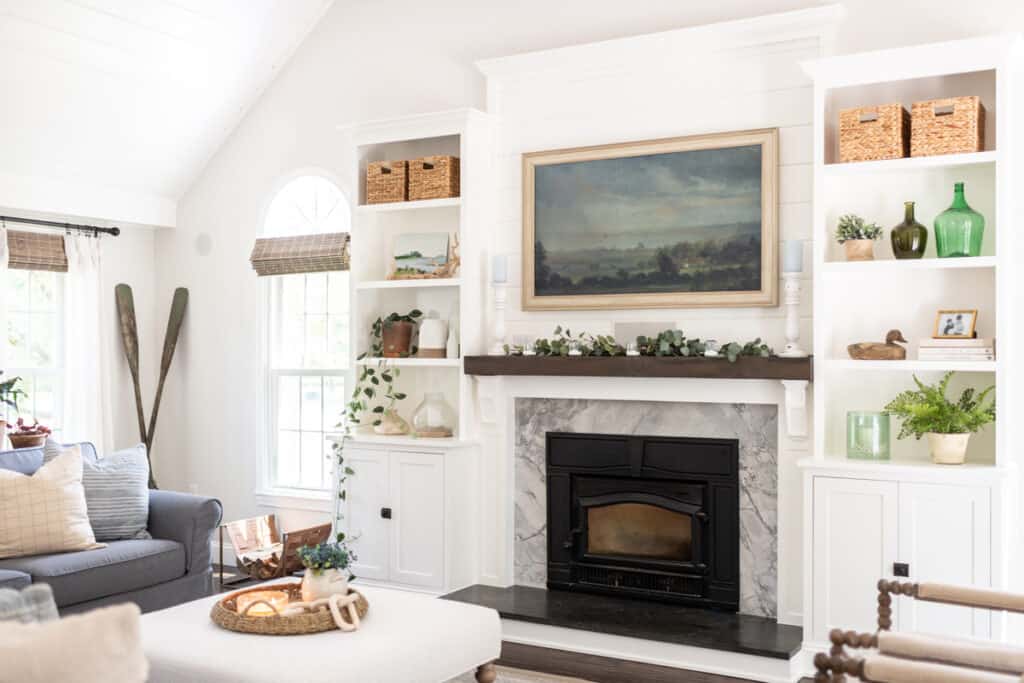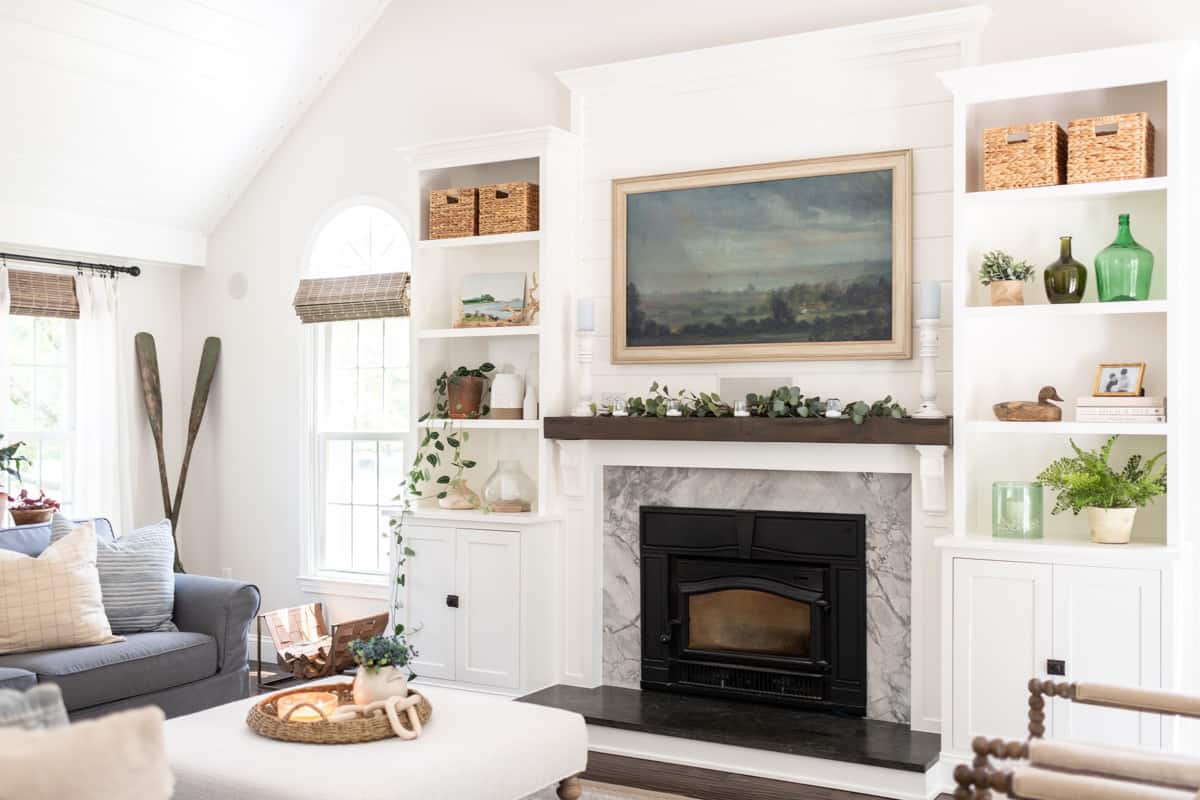 Living Rooms
Natural and neutral is the way to go! In my Colonial living room, you can see how the white walls provide a clean backdrop for the texture of the blinds and baskets. There's also plenty of painted woodwork on the ceiling. I opted for plush slipcovered sofas in gray-blue to liven things up—and hide the dirt from little hands! Note the fresh flowers, houseplants, and the very coastal oars in the corner.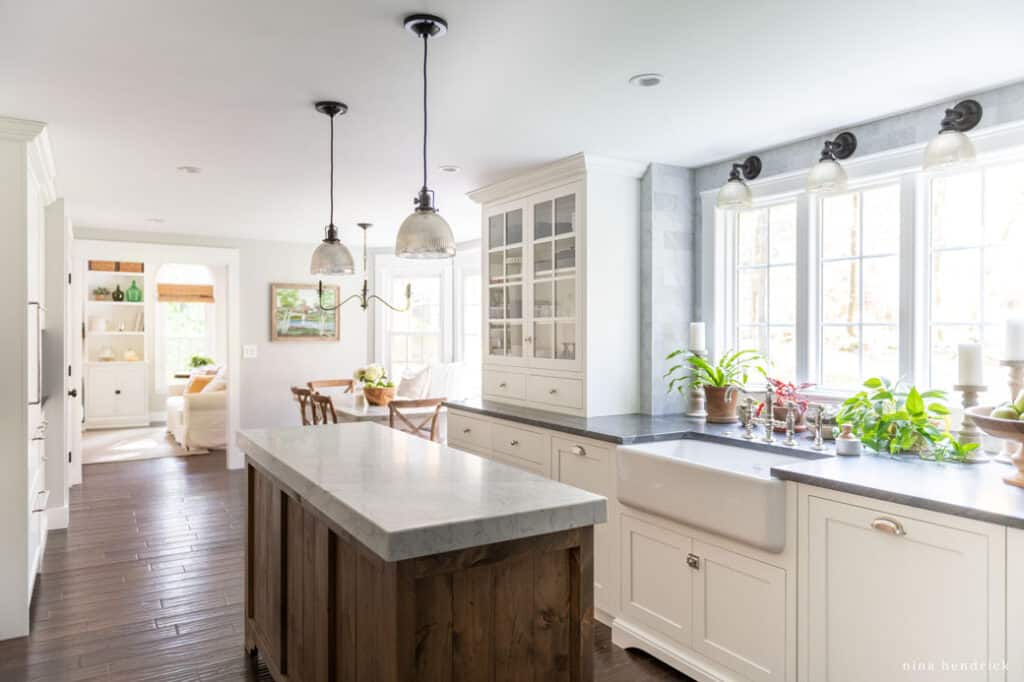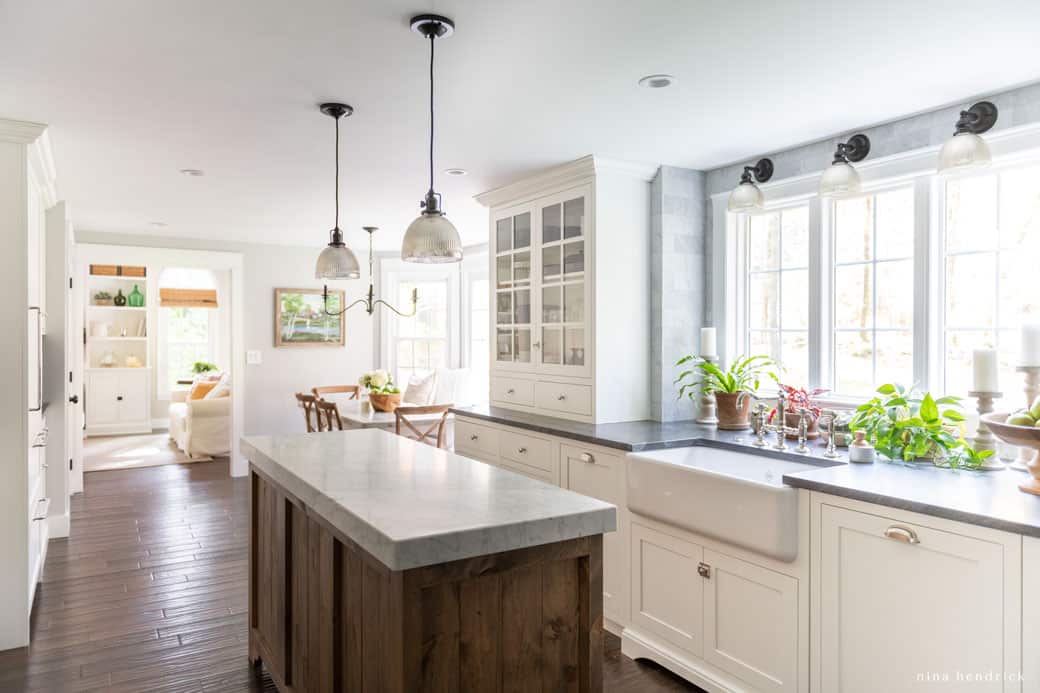 Kitchens
Coastal grandmother kitchens are big, open spaces where people can gather. My cabinets are white, but it's not unusual for them to be painted in shades of blue, green, or gray. Stone countertops and a farmhouse sink help make the kitchen look like it's been around forever. Open shelving helps keep things casual, though it helps if you have nice dishes to display!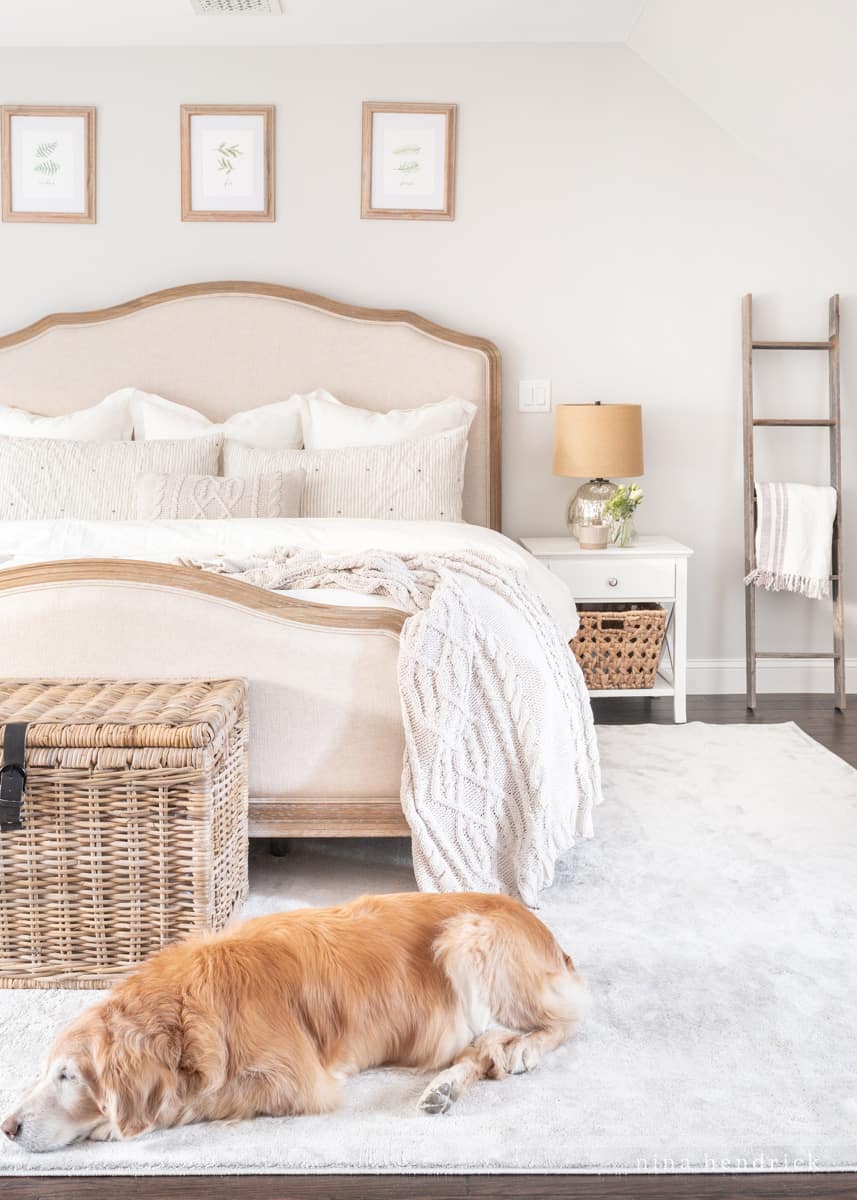 Bedrooms
Keep it comfy! Airy window treatments and a soft bed with lots of pillows and blankets make the coastal bedroom the perfect place to curl up with a book on a rainy day. It's also a good place to experiment with different colors. If you're not a huge fan of beige, try branching out into soft, grayed-down pastels instead.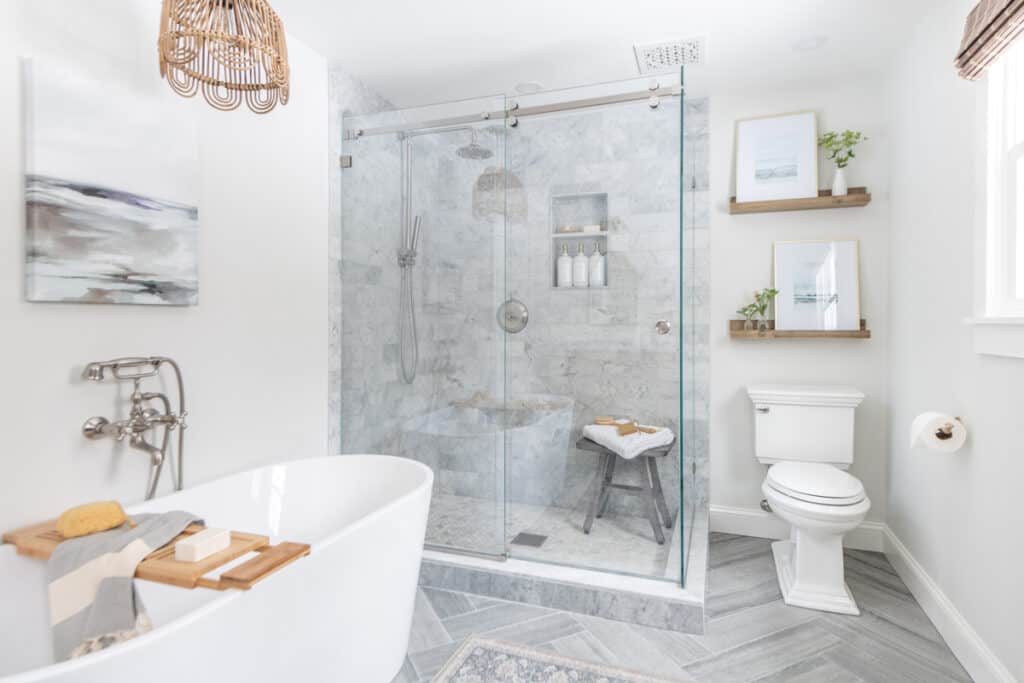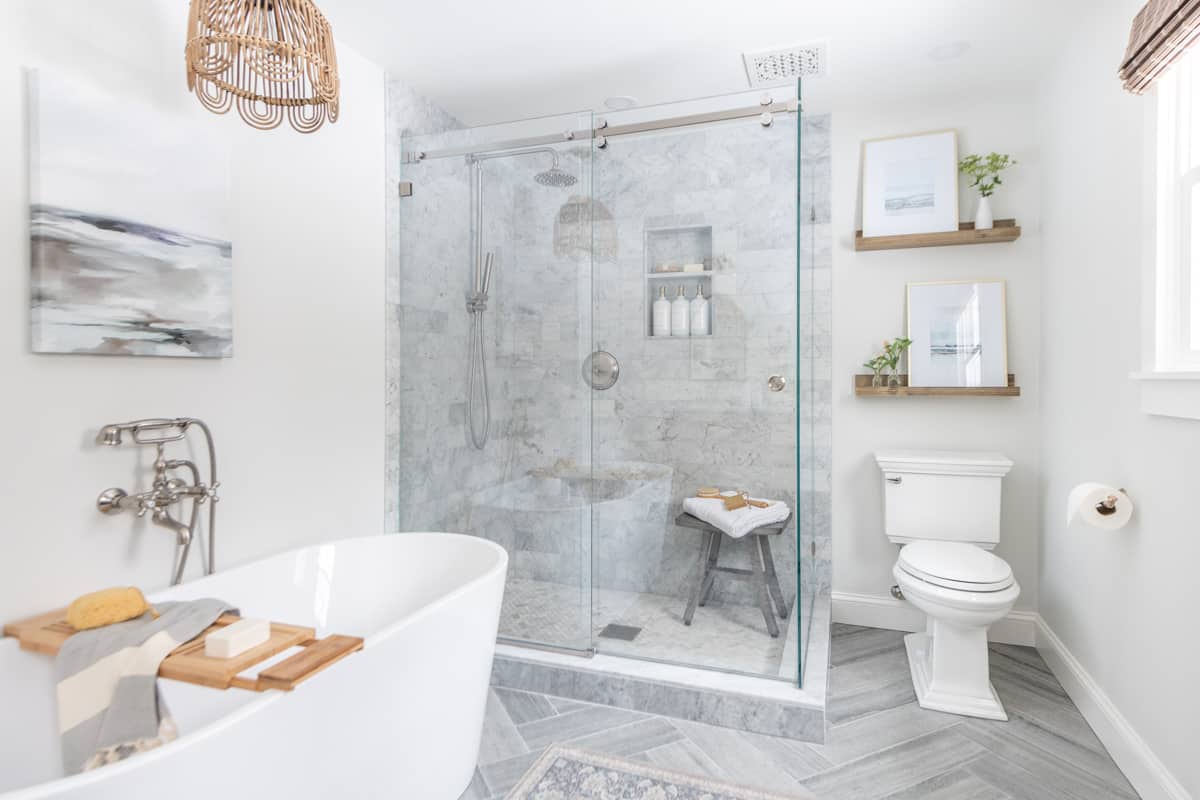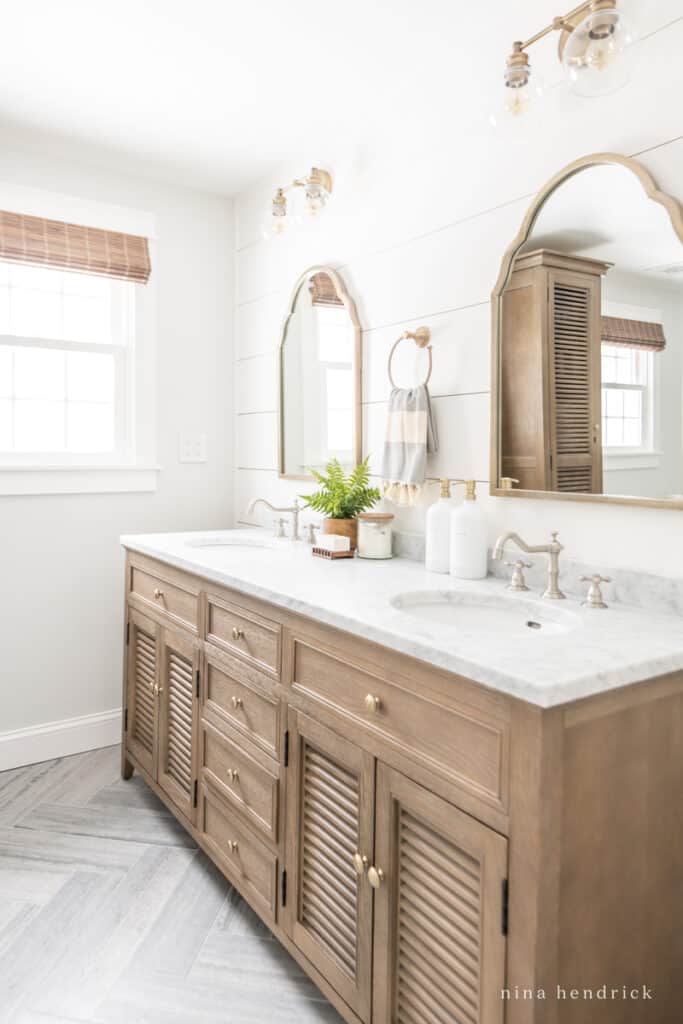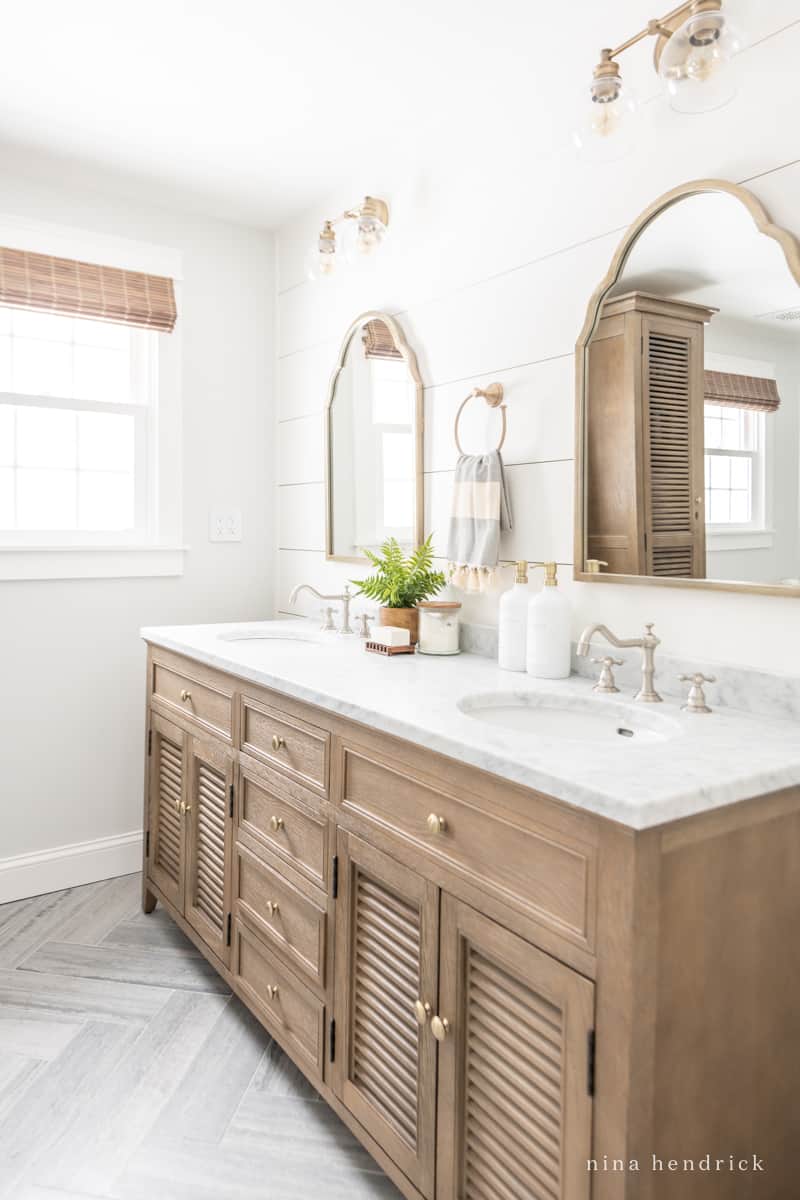 Bathrooms
Keep things clean, white, and bright in the bathroom. I chose a natural wood vanity to stand out against the white walls. The lighting nods at old-fashioned farmhouse lamps for a classic look.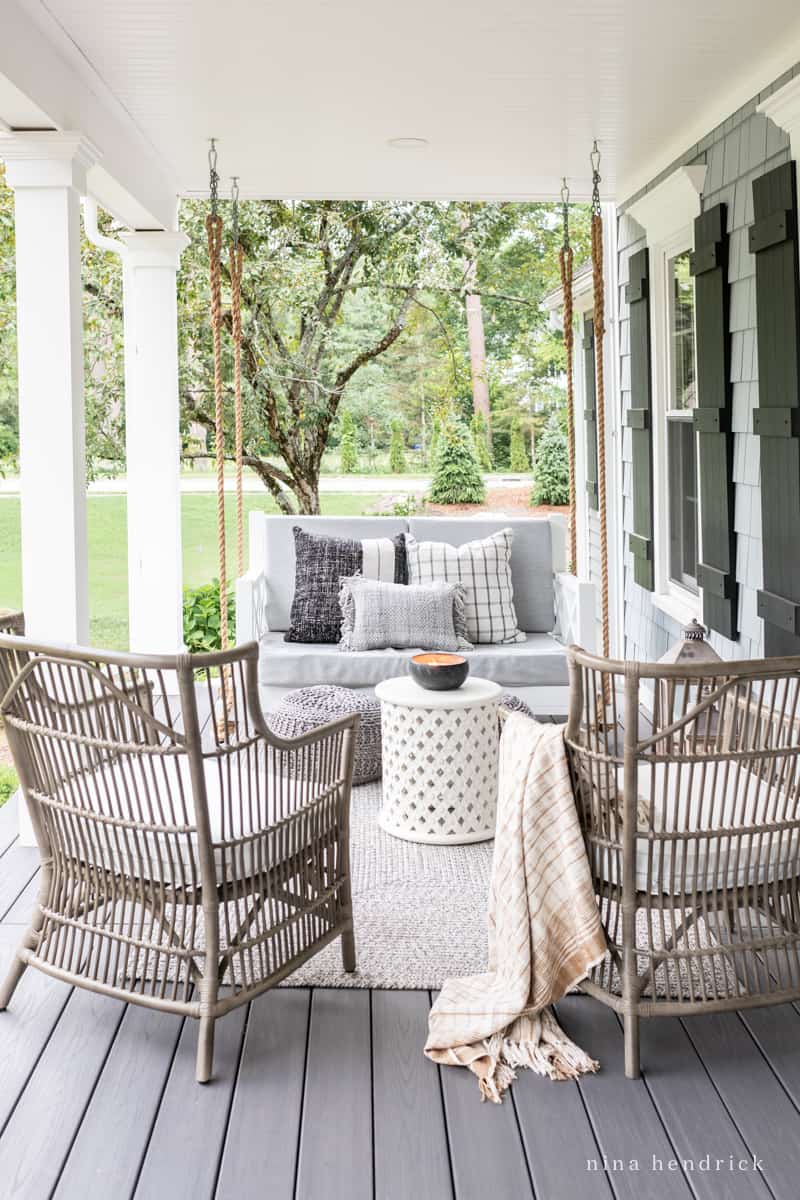 Outdoor Spaces
Make sure that outdoor furniture is just as cozy as the indoor stuff by choosing pieces with plump cushions, whether for an outdoor sofa, rocking chair, or even a classic porch swing. Add pillows for extra comfort, and consider surrounding your outdoor area with potted flowers. Bonus points for hydrangeas—they're every coastal grandma's favorite!
Coastal grandmother style is more than a look—it's a whole lifestyle! The best part about it is that you don't have to work too hard. Because the look is so classic and neutral, you can easily take your favorite ideas to mix and match with your current decor for a refresh. How will you embrace your inner coastal grandmother this summer? Follow me on TikTok @ninahendrick and Instagram @ninahendrickhome for more ispiration!