What should you when home improvement projects don't go according to plan? Unfortunately, it happens pretty often. Here are three tips for moving forward!
As we near the finish line in our Primary Bathroom Project, I thought I'd share an update that will likely resonate with you if you're doing any sort of project in your home (particularly if that still happens to be during a pandemic, which it is at the time I'm posting this). What do you do when projects don't go according to plan?
Let me start off by saying, Mack and I have now been renovating for more than eleven years between our two houses. It's far more common for a project to NOT go according to my exact plans than it is for it to go perfectly. This is especially true as we get closer to the finish line, and our lives have changed in a way that we're bringing in more contractors to do the work that we would have had no choice but to DIY in the past. I'm not knocking contractors AT ALL— thank goodness for them, truly— but they are certainly busy and it can get complicated when you're working around multiple schedules.
When Home Improvement Projects Don't Go According to Plan
So that's where we're left— our bathroom is at about 90% completion. We have a few more accessories to put up, but the biggest missing piece is our shower glass, and it's completely out of our control. Our subcontractor for the glass had a few setbacks, including an emergency of some kind that shut them down for a week.
Beyond that, we had some difficulty nailing down the design. They calculated that the design needed to include a large metal header in order to support the hinged door. We weren't a huge fan of that style so we asked for a design that included a sliding barn door instead. So the back and forth took a bit of time! Now, we're waiting on their workroom (which is backed up because of current events) and so we're still at least a few weeks out from install.
We had originally hoped to wrap up our project by the end of October. Now we'll be lucky to have it done by the end of November. So what do you do when projects don't go according to plan? Here are my three biggest tips.
Adjust Your Expectations
It can be frustrating when your projects don't go according to plan and get stalled, but the first thing you have to do is accept that the original timeline won't happen. Absorb the disappointment that things didn't go how you wanted, and come up with a new timeline.
Express Understanding to Your Contractor
What absolutely doesn't work? Yelling, stomping your feet, and causing a giant fuss with the company you're waiting for. This seems obvious, but unfortunately, some people seem to think that the meaner they are, the quicker they'll get what they want.
Be kind. It's likely that it isn't even within the control of your contact to speed things along. If it is? I can promise they're more likely to advocate for you if you're polite and understanding.
When home improvement projects don't go according to plan… Pivot!
Are you a Friends fan? We're a big fan of this phrase in our projects. "PIVOT!" (we're also partial to "It's rustic" courtesy of the Great British Baking Show). Sometimes you have to get creative. Our biggest challenge with having to wait to complete the project was having five people trying to get ready in one bathroom around the same time. Yes, I do realize many people make do with less— but we have a 90% finished bathroom a few feet away.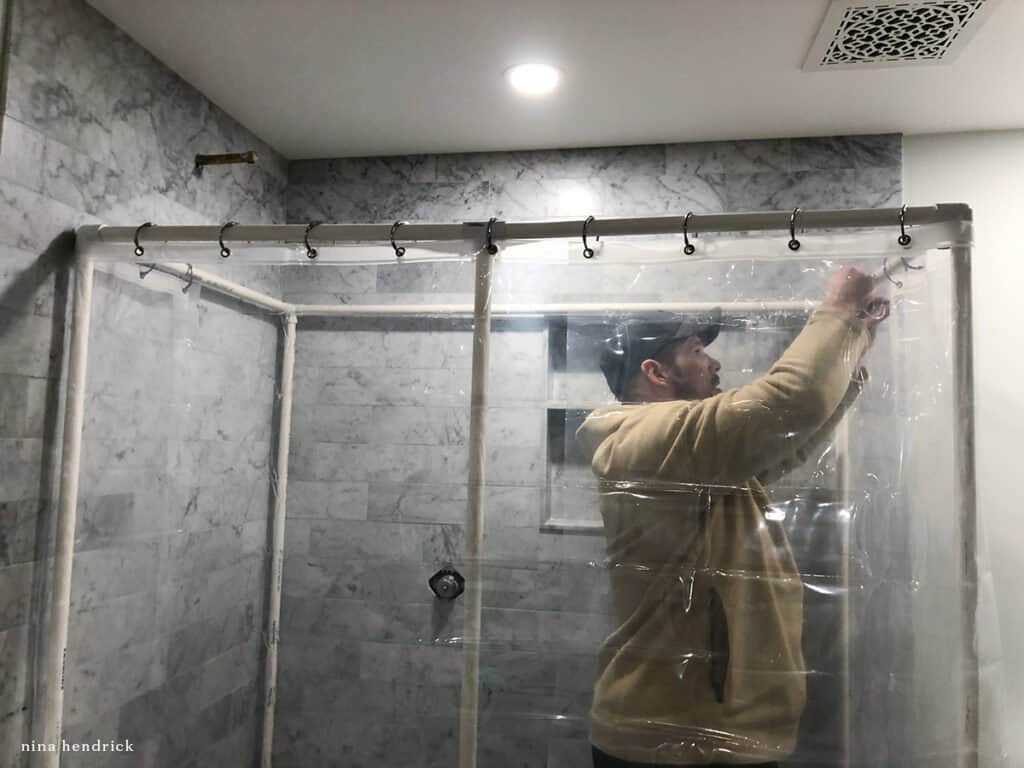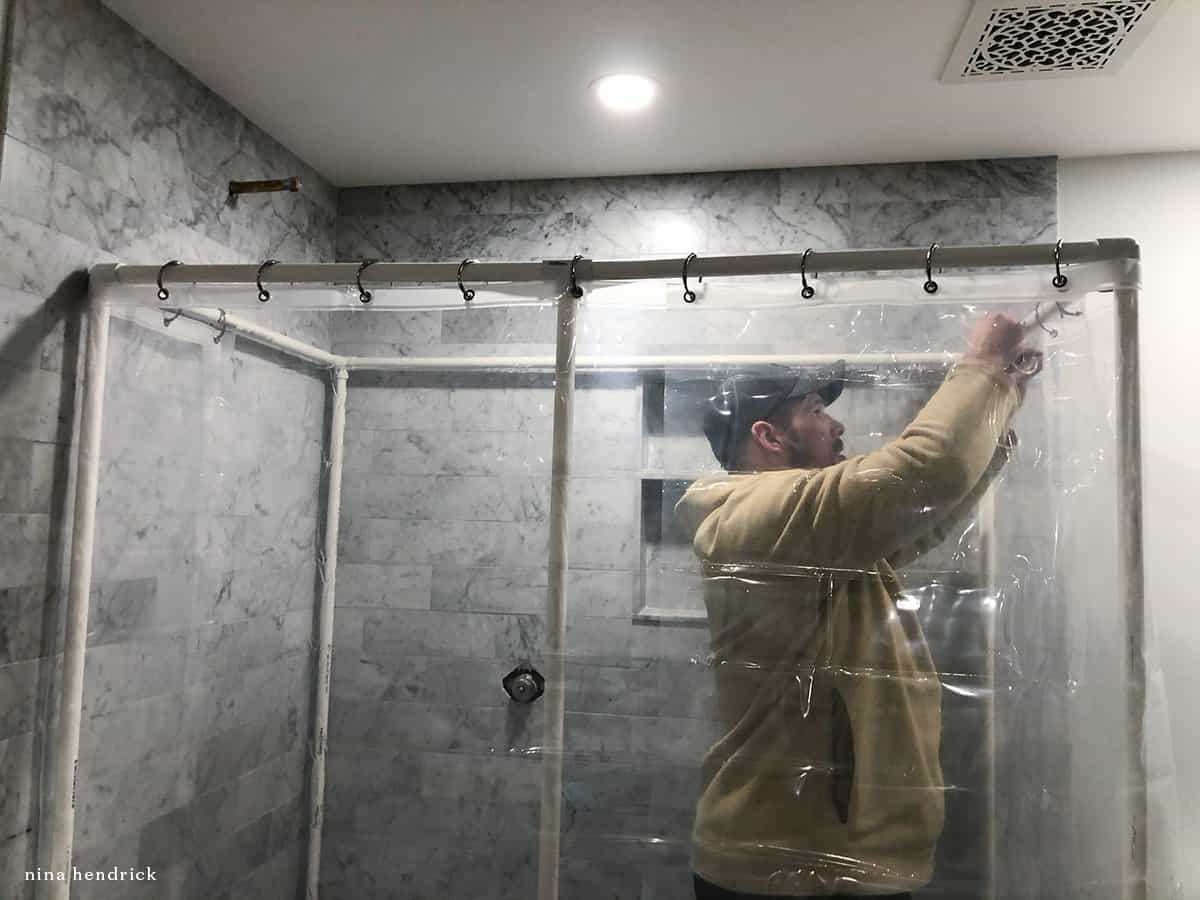 Our two-sided shower wasn't super conducive to a curtain rod (and we didn't want to put any holes in the brand new walls), so Mack got creative. He built us this lovely shower enclosure out of PVC pipe and some cheap plastic shower curtains to get us through the next few weeks. We're calling it the Fyre Festival shower. I know, we're trendsetters over here. 😝
All that to say, am I sad that I didn't complete the One Room Challenge within the six weeks? Yes— but I knew it was a possibility anyway. The world is crazy right now. The point is that we made the best out of the situation for now in order to be back to having a functional morning for our family. In the grand scheme of problems, this isn't a big one! We'll have a beautiful and completed bathroom eventually, and I'm excited to share it with you when we do! Stay tuned.
I hope these tips for overcoming when home improvement projects don't go according to plan were helpful for you in case you're facing the same thing!