Learn how to plank a wall with PVC! Moisture-resistant PVC/AZEK is the perfect material for creating a faux "shiplap" planked wall in your bathroom or outdoors. Get the how-to tutorial here for recreating this coastal-inspired look.
Are you looking for a durable, water-resistant wall treatment for your bathroom? PVC (AZEK) "shiplap" is the perfect solution! In this post, I'm going to show you how to install PVC shiplap in your bathroom like a pro. I'll go over the tools you need, the steps to take, and some helpful tips to make the job easier. By the end of this post, you'll have the knowledge and confidence to tackle this project with ease.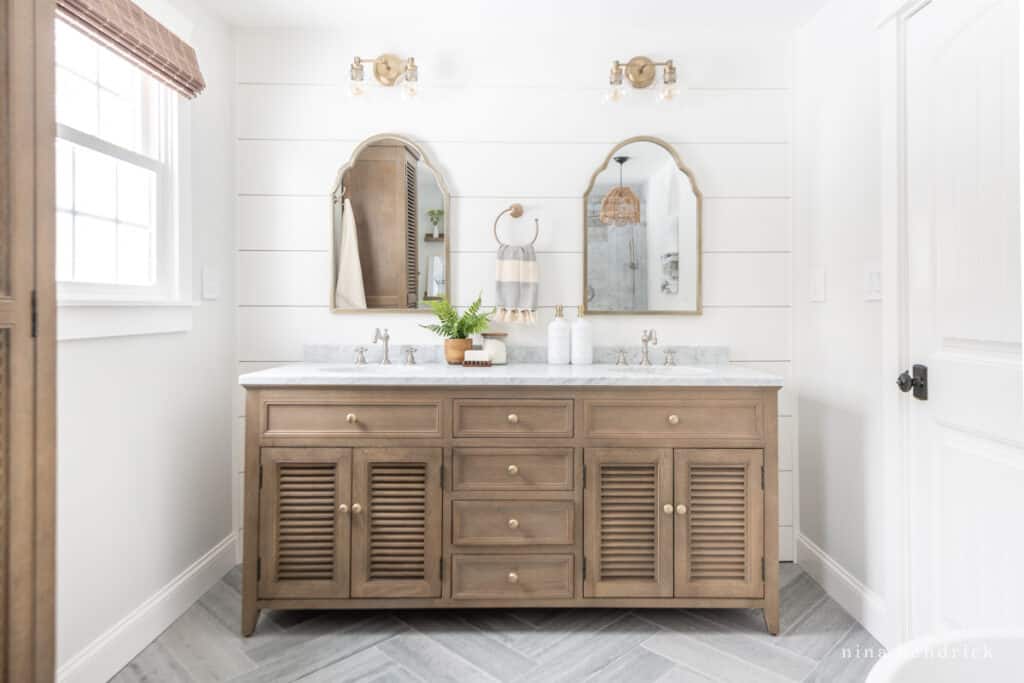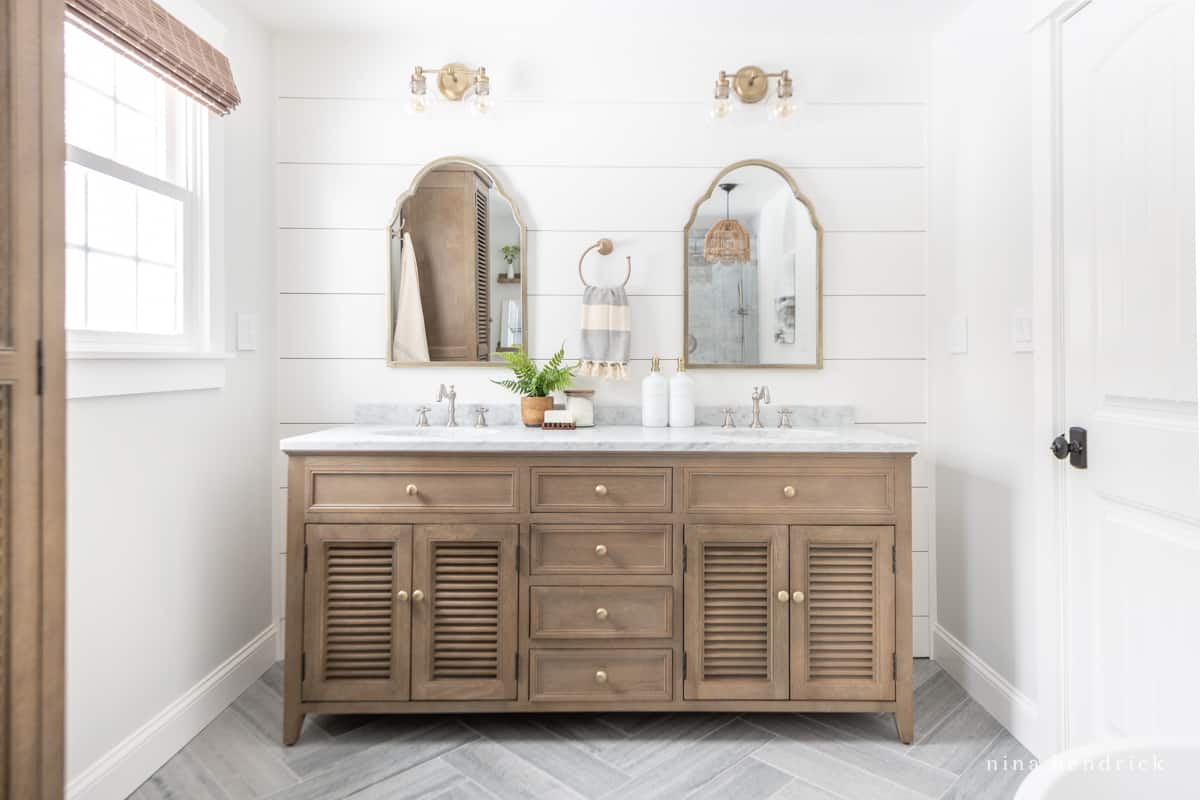 When I planned the design for our primary bathroom project, I knew I wanted to implement some sort of "shiplap" treatment. However, with this being a high-moisture area, I also knew it would be best to use PVC trim, more commonly known by the brand name AZEK (not a sponsor, this is just what we bought).
We'd already done a planked wall treatment in our dining room and then we used the same method to plank our laundry room. Our breakfast nook bench also had a planked front. So I knew doing this would tie-in with my goal of a coastal vibe as well as complementing the other planked areas in our home.
However, it also dawned on me that having a wall of wood in the bathroom may not be the best idea. We recently completed our exterior project, which involved replacing rotting wood trim and siding with lookalike high-end synthetics. So I thought, why not do a PVC/AZEK planked wall in the high-moisture bathroom too?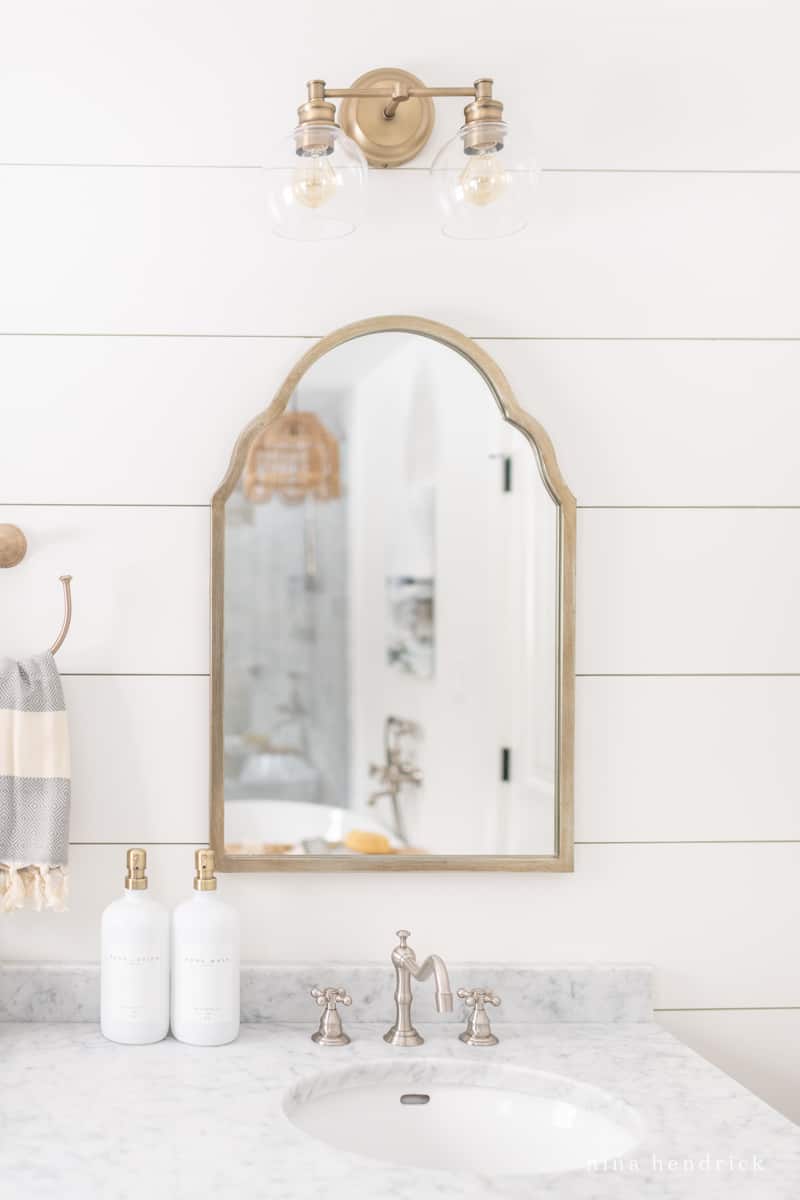 Can you use PVC for "shiplap" in a bathroom?
Absolutely! PVC is an ideal material for bathrooms. It's easy to install as a faux "shiplap", and its waterproof properties make it perfect for high-moisture areas. It is also durable and low maintenance, so it will look great for years to come. PVC Shiplap is also easy to clean and is mold and mildew resistant.
Note: When it comes to cost, it is important to keep in mind that this project is not budget-friendly. AZEK/PVC is expensive; in fact, the materials alone cost us around $600. Although it was worth it for the waterproof wall treatment, it is something to consider, especially if you are hiring out the work, as labor costs will also need to be factored in.
PVC Shiplap for Bathroom Wall Tutorial
How to Plank a Wall with PVC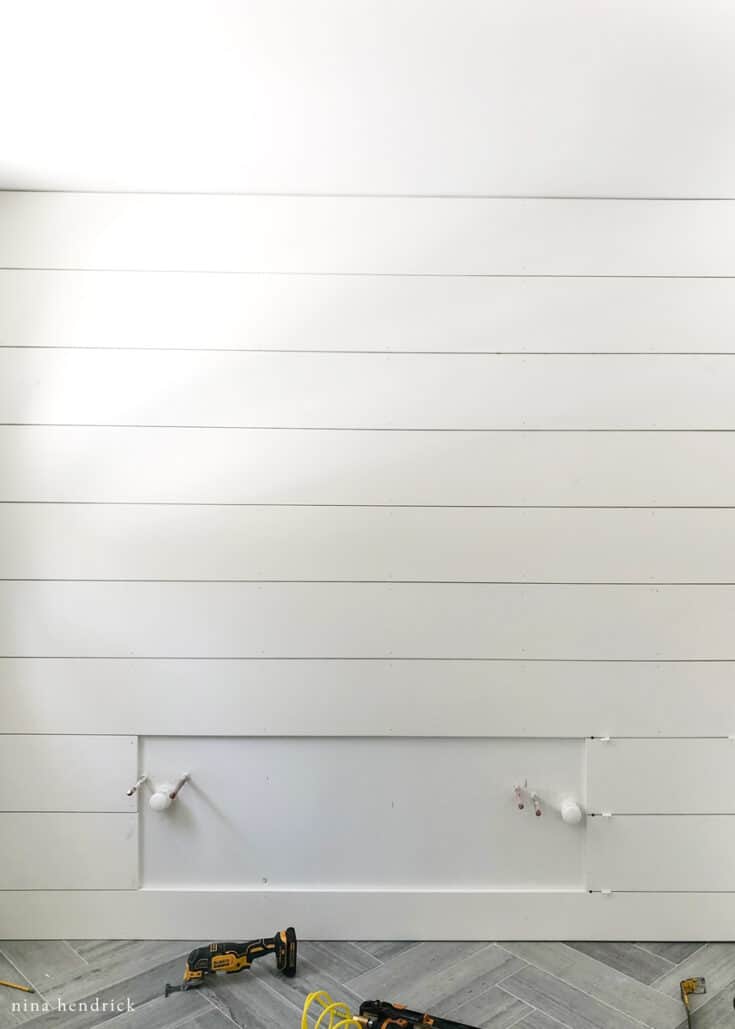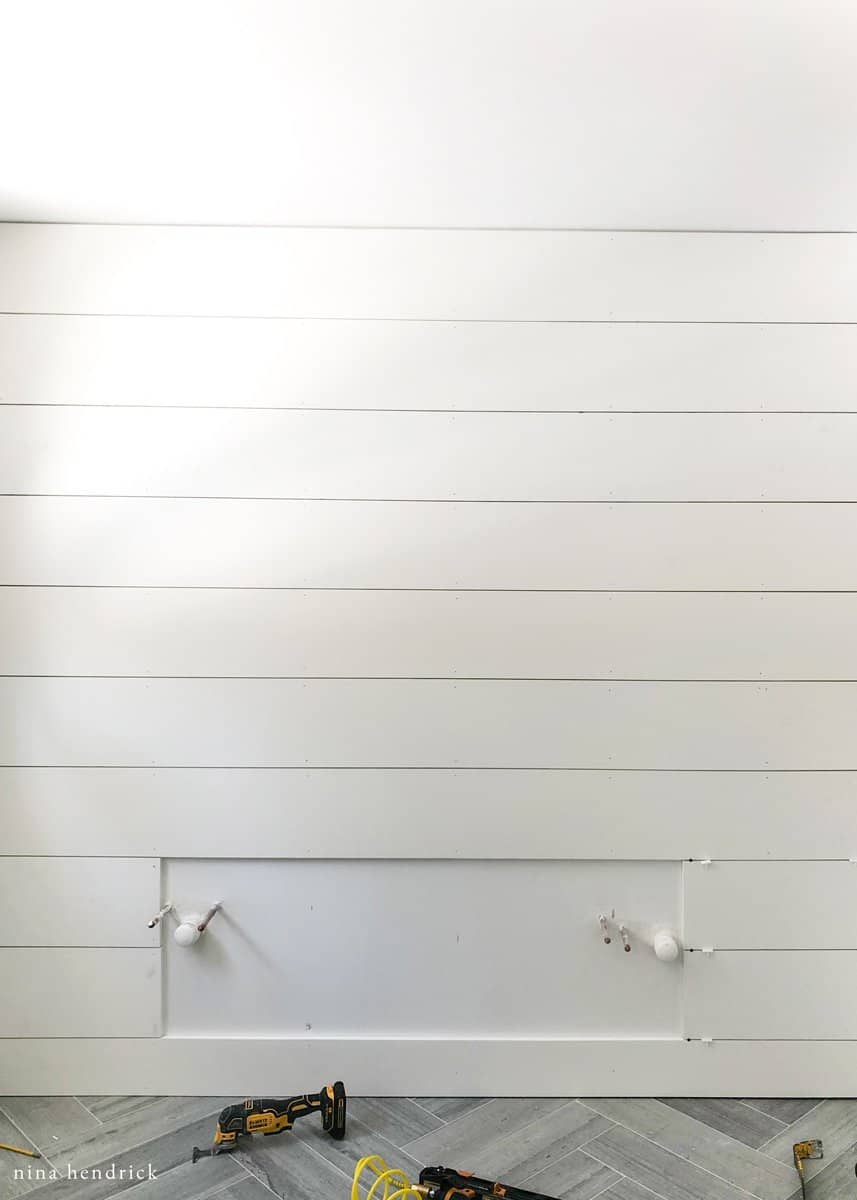 Moisture-resistant PVC/AZEK is the perfect material for creating a faux "shiplap" planked wall in your bathroom! Get the how-to tutorial here for recreating this coastal-inspired look.
Materials
10- 8' Long 10" PVC/AZEK Trim Boards (our wall is just short of 8' and was x " tall— you will need to recalculate this for your own dimensions).
3- 8' long 3/4" thin trim pieces
1/8" tile spacers
Finish Nails
Tools
Compound Miter Saw
Nail Gun
Portable Compressor
Table Saw
Instructions
Measure the top of your wall and cut the board to length using a compound miter saw.
Find the studs, and mark on the wall just below the board.
Level your board. It's okay if there's a slightly uneven gap at the top, as we'll be adding a trim piece at the end.
Following the guidance of the stud marks, nail your board in place at the studs, securing both the top and bottom.
Repeat step one (this measurement may change as you go, depending on how square your room is). Place 1/8" tile spacers between the top of your second board and the bottom of your first. Use a straight edge to find your studs and mark for your new board. Repeat step three.
Continue to follow this process moving down the wall. If you'll be working around plumbing you may have to cut shorter pieces. Just make sure you're nailing into studs to secure the board.
Your final board at the bottom may have to be ripped down to size using a table saw. Depending on how tall your board ends up being, it may make sense aesthetically to cover up the bottom board with an additional piece of baseboard trim to hide a smaller board or cover any strange gaps.
Either purchase thin 3/4" trim strips or rip down one of your boards.
Measure the height of your wall and cut strips down to the proper size with your compound miter saw.
Cover the exposed edges and nail thin trim strips into place.
Repeat the process horizontally for the top.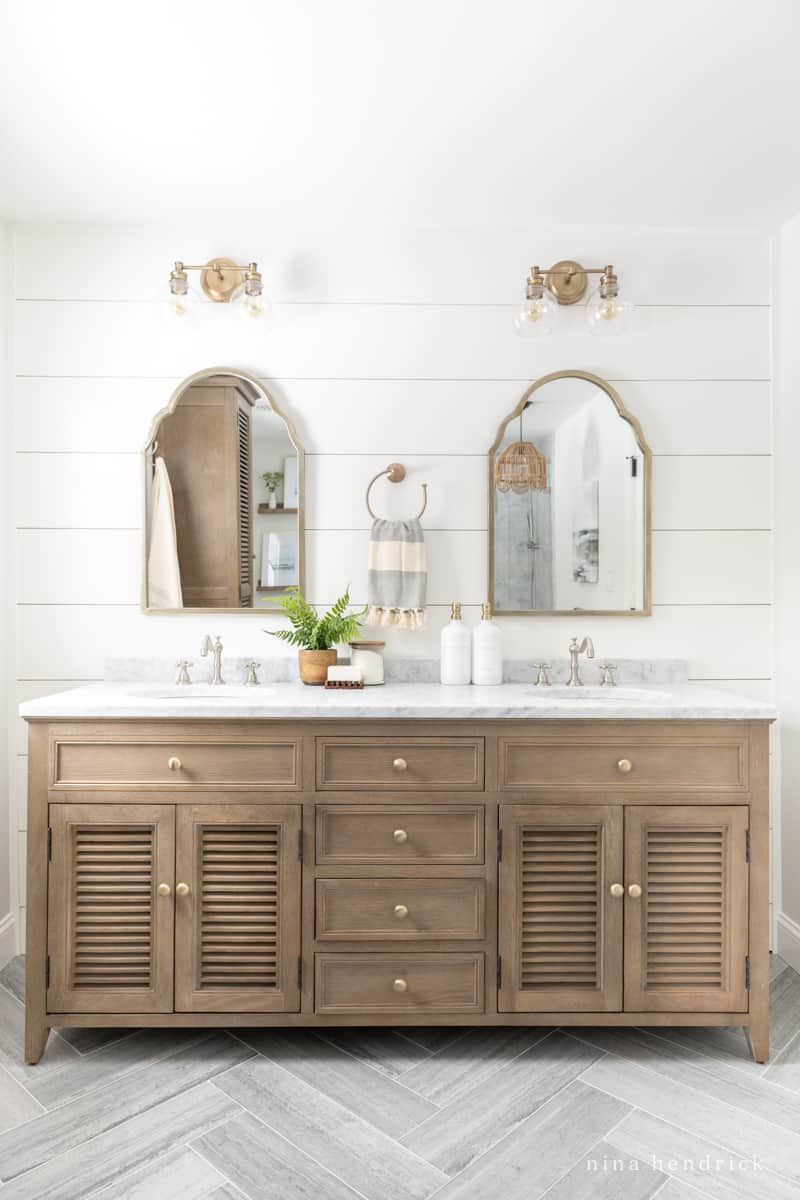 Other Ideas for Where to Install Moisture-Resistant Planks
This wall treatment is not just for interior walls. Consider adding a PVC plank accent wall to your outdoor living area, such as a porch or patio, to give the space a cozy, rustic feel. PVC shiplap can be used just about anywhere you're looking for a durable, moisture-resistant wall treatment solution. With its easy installation and versatility, PVC trim is a great material to use for many home improvement projects.
Ceilings
Porch
Outdoor shower
Kitchen backsplash
PVC shiplap is a great choice for home improvement projects that require a durable, low-maintenance and waterproof material. It is easy to install, affordable and can be used indoors or outdoors. It can also be painted to match any decor. PVC shiplap is a great option for a long-lasting, beautiful look that will last for years to come.
I hope this tutorial made it easy for you to add this coastal look to your home. If you end up installing this wall treatment, share a photo with me @ninahendrickhome! I love to see what you create.