Holiday Housewalk 2015 Surprise House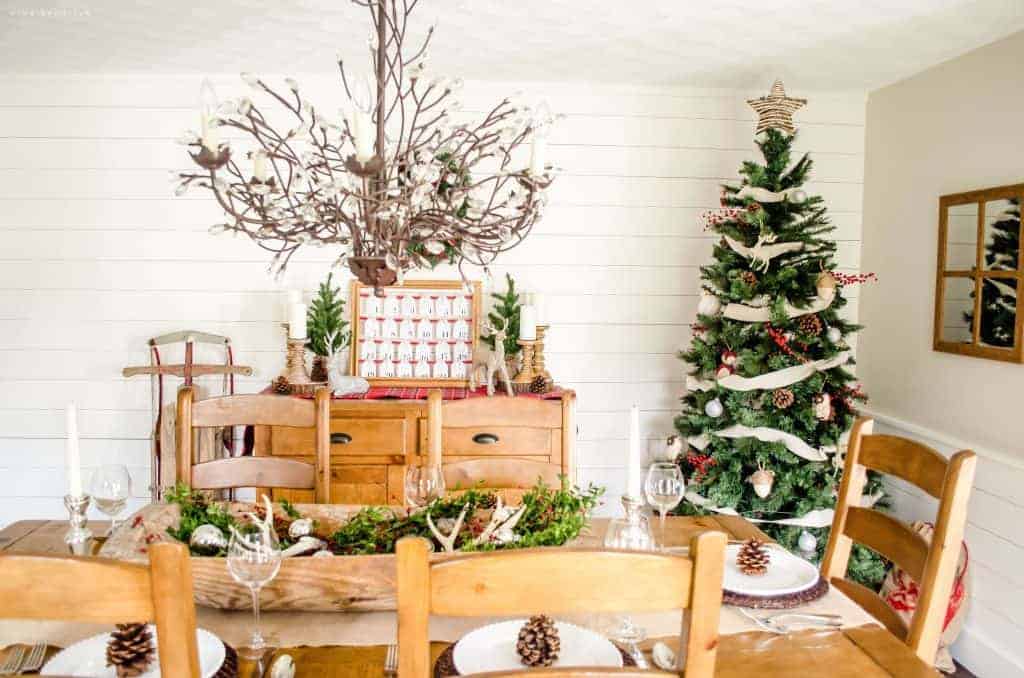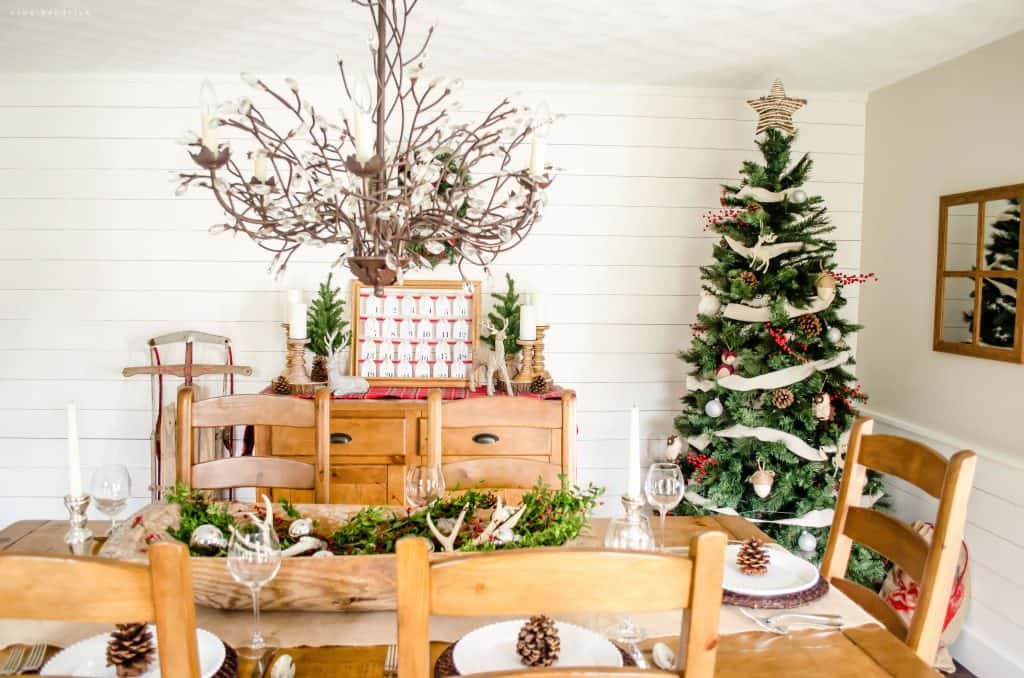 Surprise! Today is a huge day- I'm the Secret Instagram House in Jennifer Rizzo's Holiday Housewalk! Make sure to start back over at Day 1 if you haven't already, there are so many stunning homes to see!
Did you catch yesterday's surprise house Chronicles of Home? Jen's style is so lovely, and she's just as nice in person- she's one of the fellow bloggers I've been lucky enough to meet!
Holiday Housewalk 2015 | Classic and Rustic Modern Christmas Farmhouse
When Jen Rizzo contacted me a few weeks ago and asked if I wanted to be a surprise house in her Housewalk, I was so over-the-moon excited… and to be honest, a little panicked! As luck would have it, we were smack-dab in the middle of tearing apart our dining room, and I thought we would have an extra week until my Christmas home tour. However, I've drooled over admired the lovely homes on Jen's Holiday Housewalk for years, and I absolutely did not want to pass up a chance to be part of it! So we finished everything in record time, and I raced around decorating like crazy. I'm so excited to share the results!
Rustic meets Nostalgic Mudroom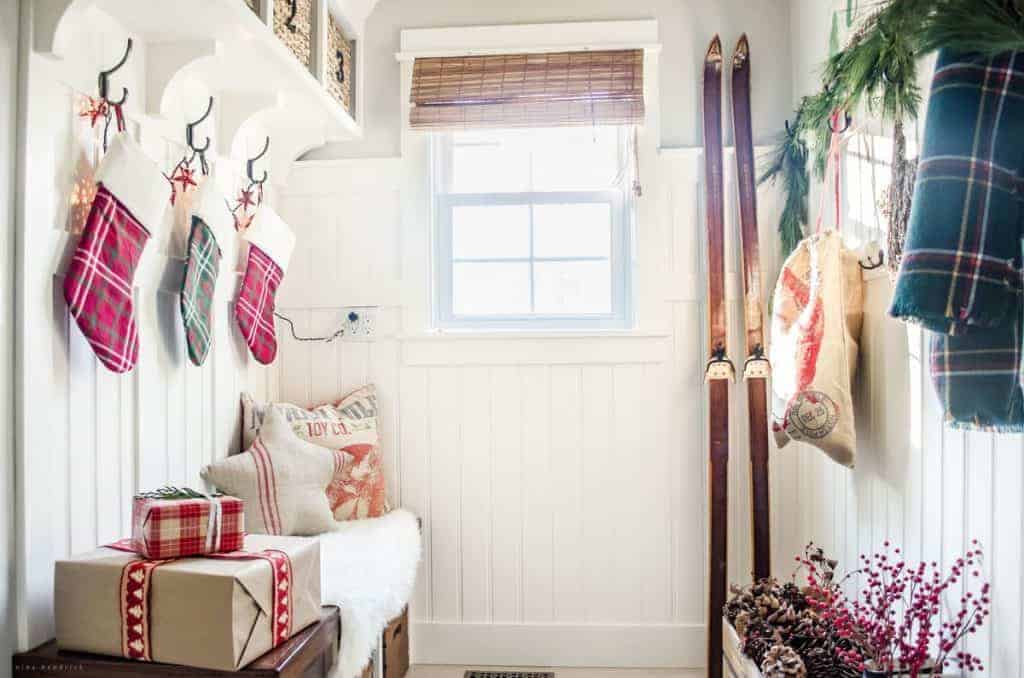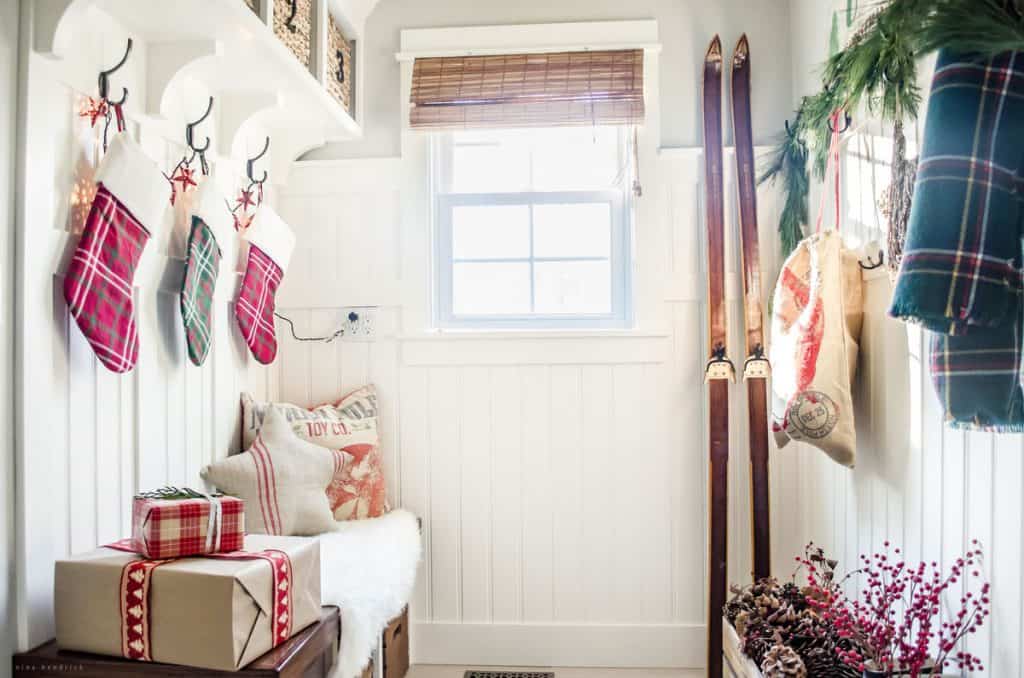 Our mudroom is probably my favorite room to decorate. I've been planning how I would bring Christmas in since I knew we would be renovating the space last year!
My goals for my Christmas decor this year were to bring in some color and have hints of rustic and vintage style. I love the nostalgia of Christmas! I will link to as many things as I can while we go, and I have a full source list with links at the bottom of the post.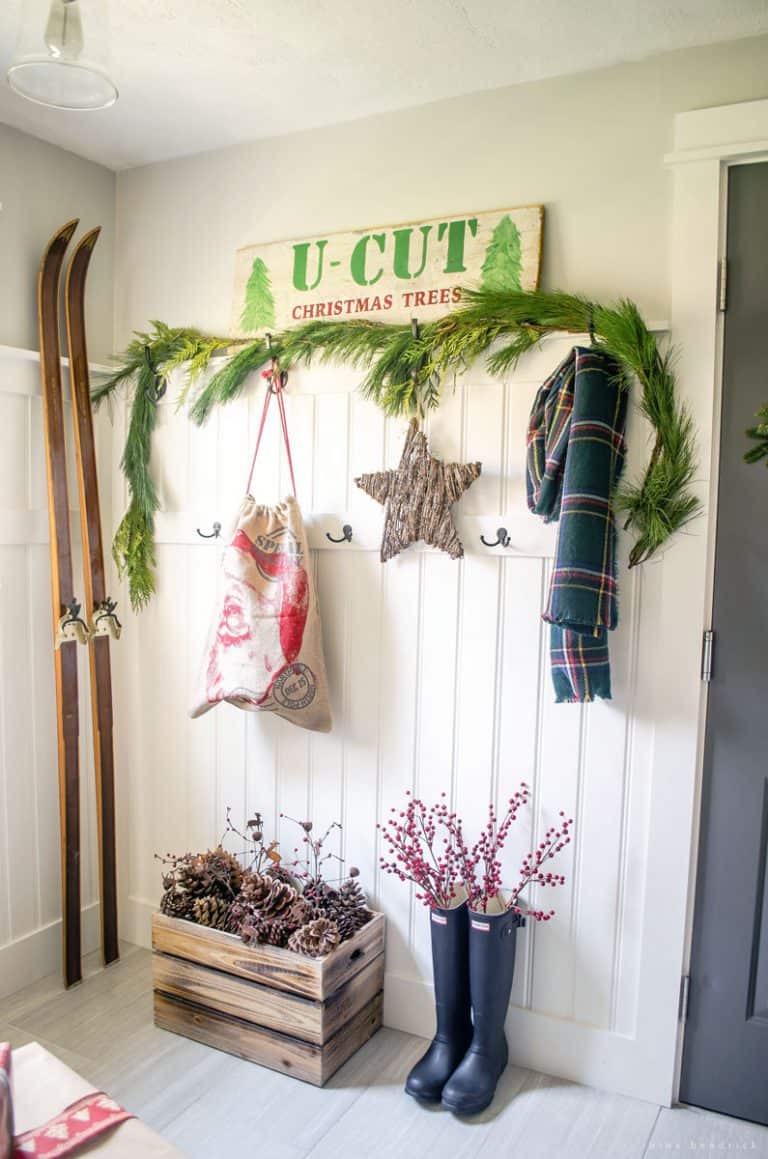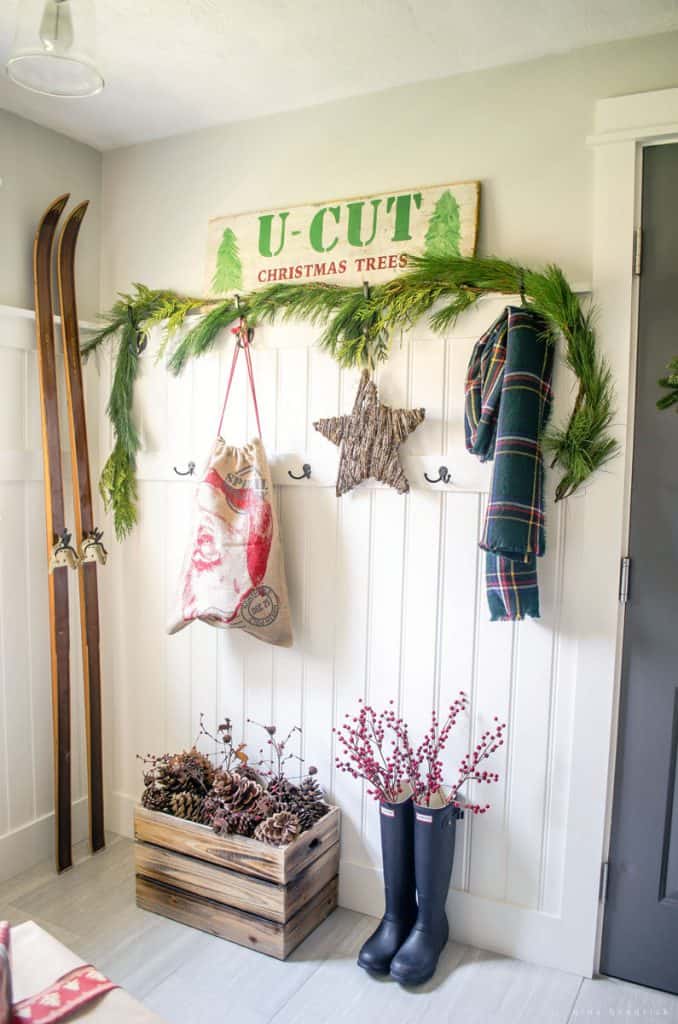 I have been collecting things for this room since summer! A simple pine garland, pine cones, and berries brought in some natural color. The Santa bag was a cute Target find.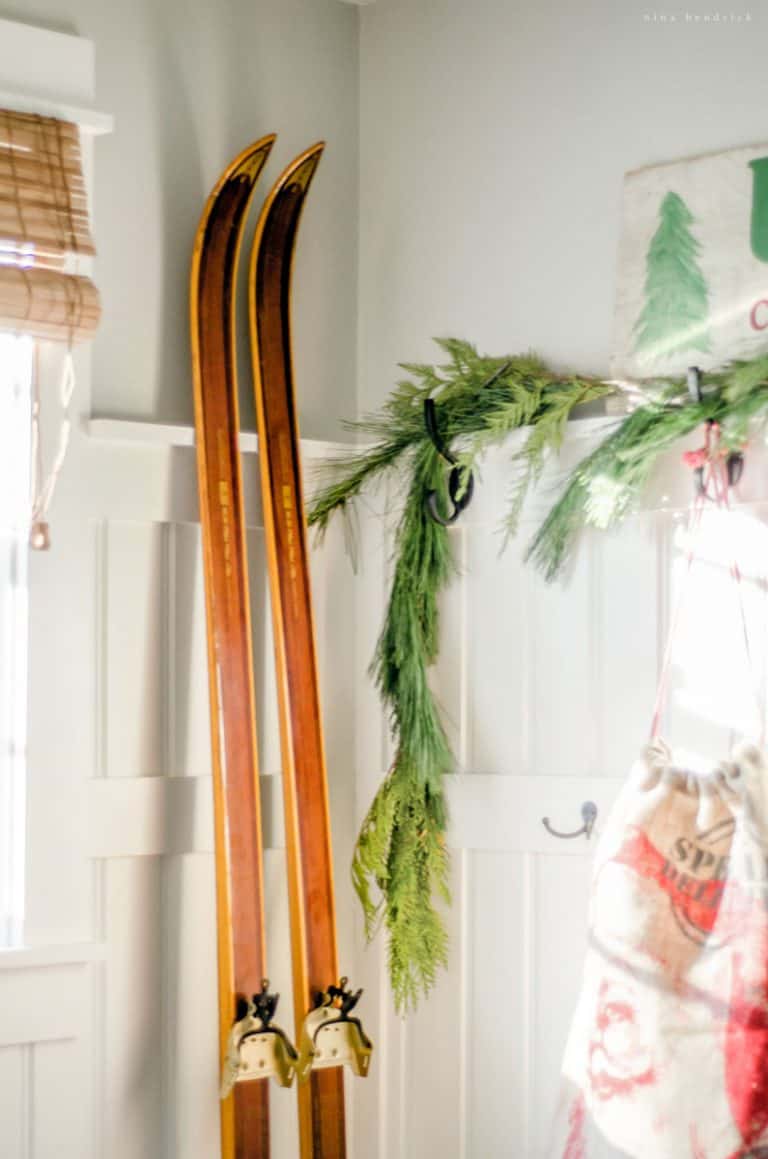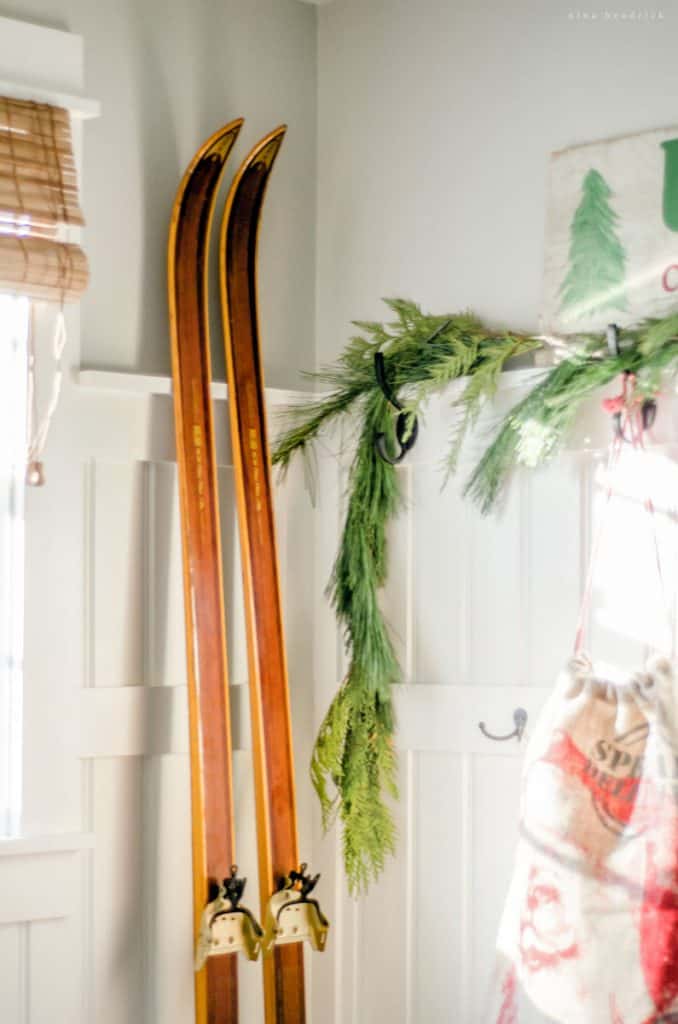 The vintage skis are on loan from our Camp in NH. I've wanted an antique pair of my own for a few years, but borrowing these worked out perfectly for this tour!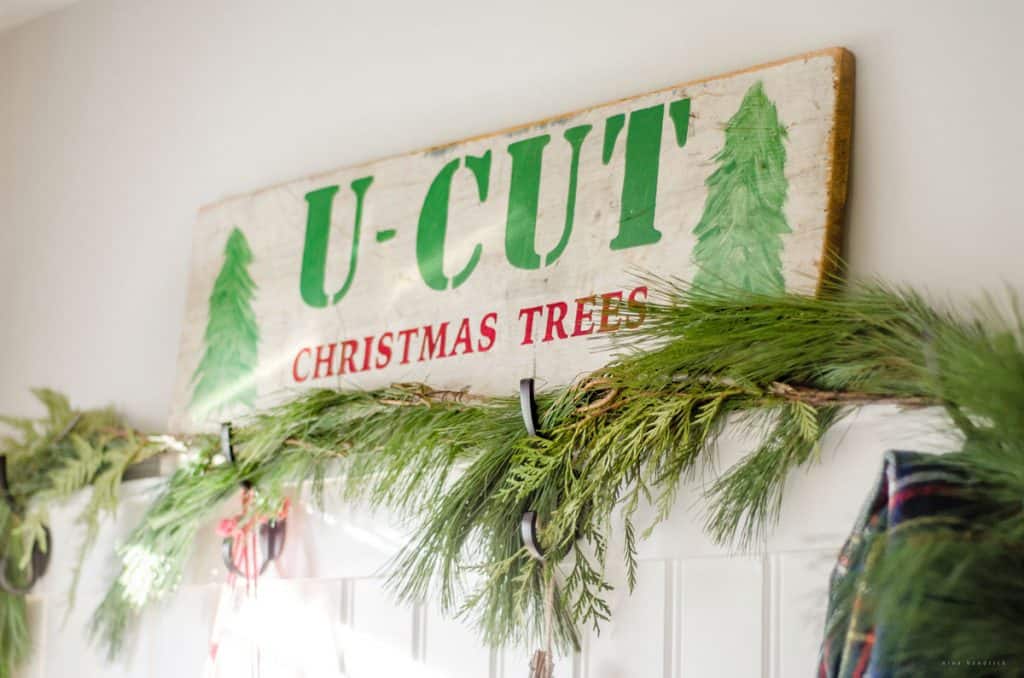 I actually started this hand painted sign (made from an old shelf from our shed) last year, then the final few weeks of my pregnancy kicked in and I was put on bedrest. When I got to it this year it only took me about 5 minutes to finish. I guess I could have done it last year after all, but at that point everything felt like too much work!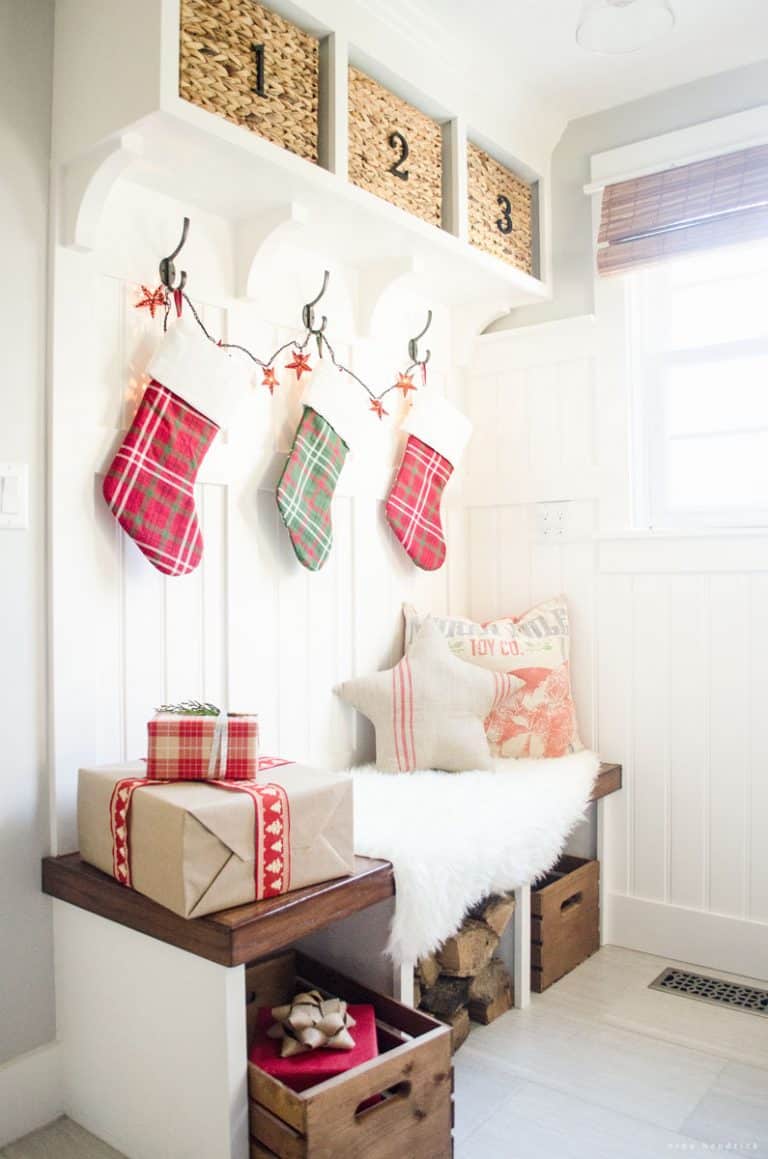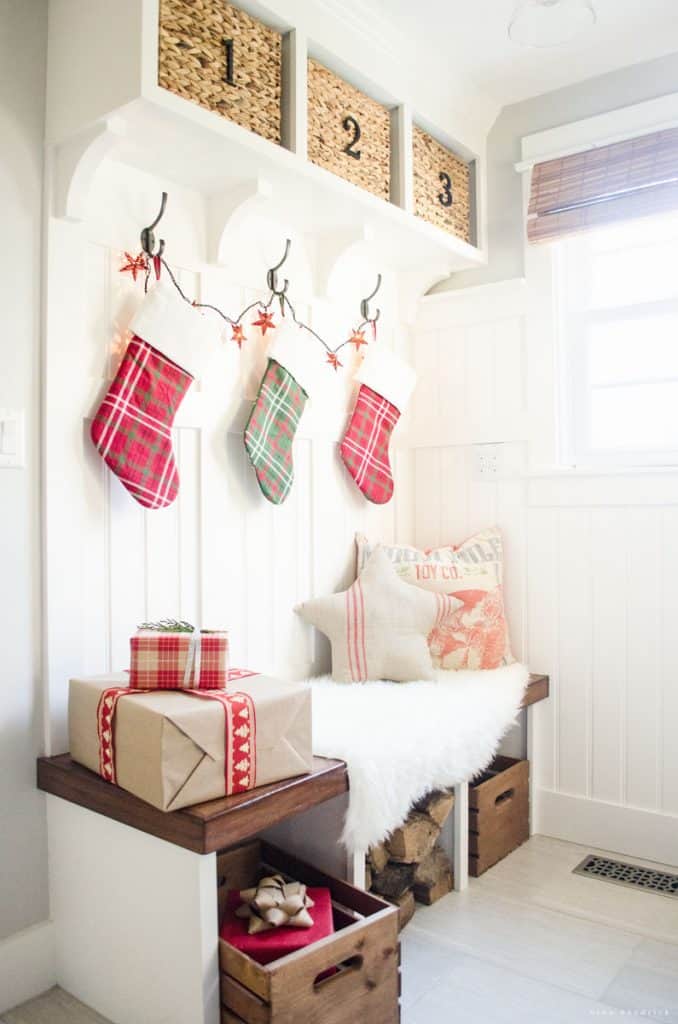 This cozy little spot was a favorite of my kids! They wanted to hang out here and read a book.
Get the Look:[ubergrid id=15330]
See the full mudroom source list here.


Farmhouse Holiday Baking Kitchen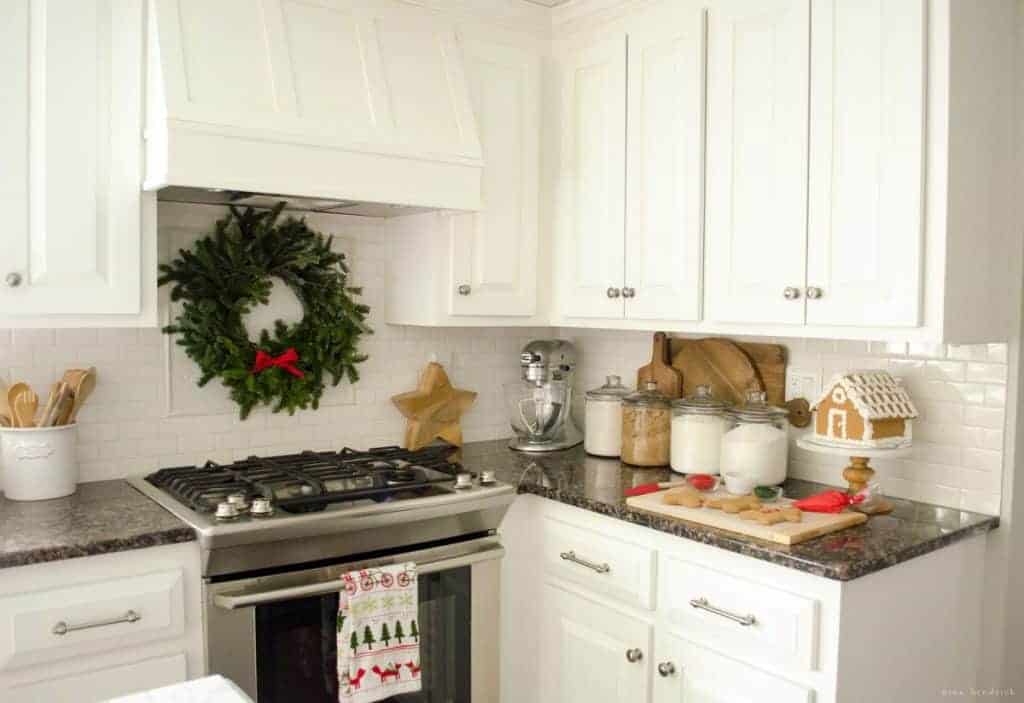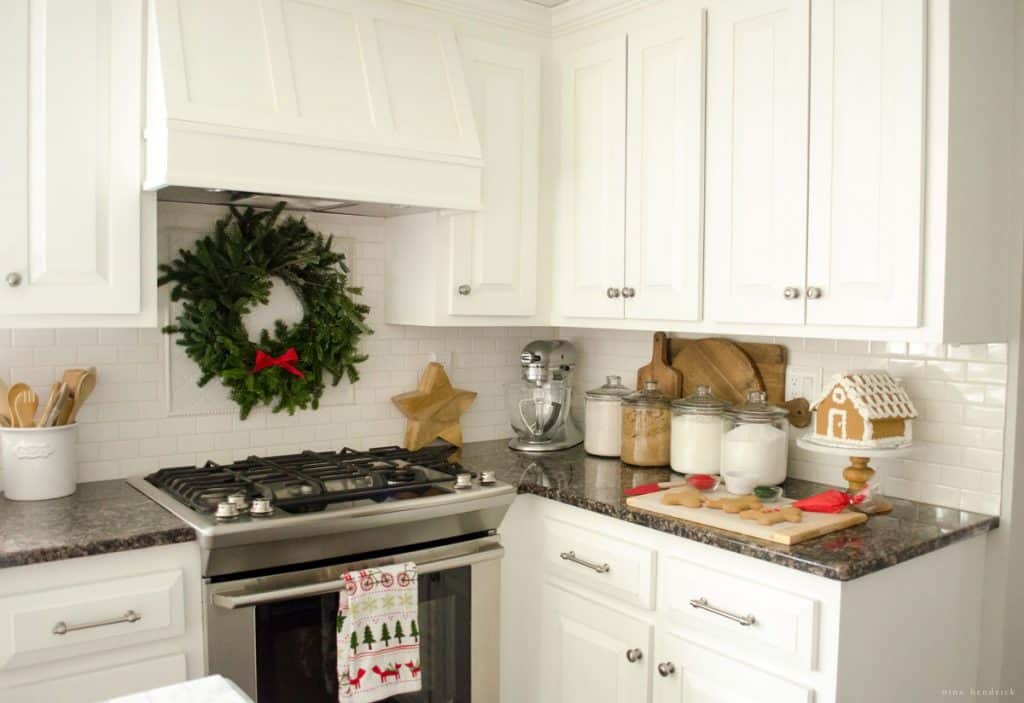 Baking is one of my favorite things to do year-round, but there is just something so special about Christmas baking and cookie decorating! My boys especially love decorating (and eating!) gingerbread, and I love that it's something special we do as a family.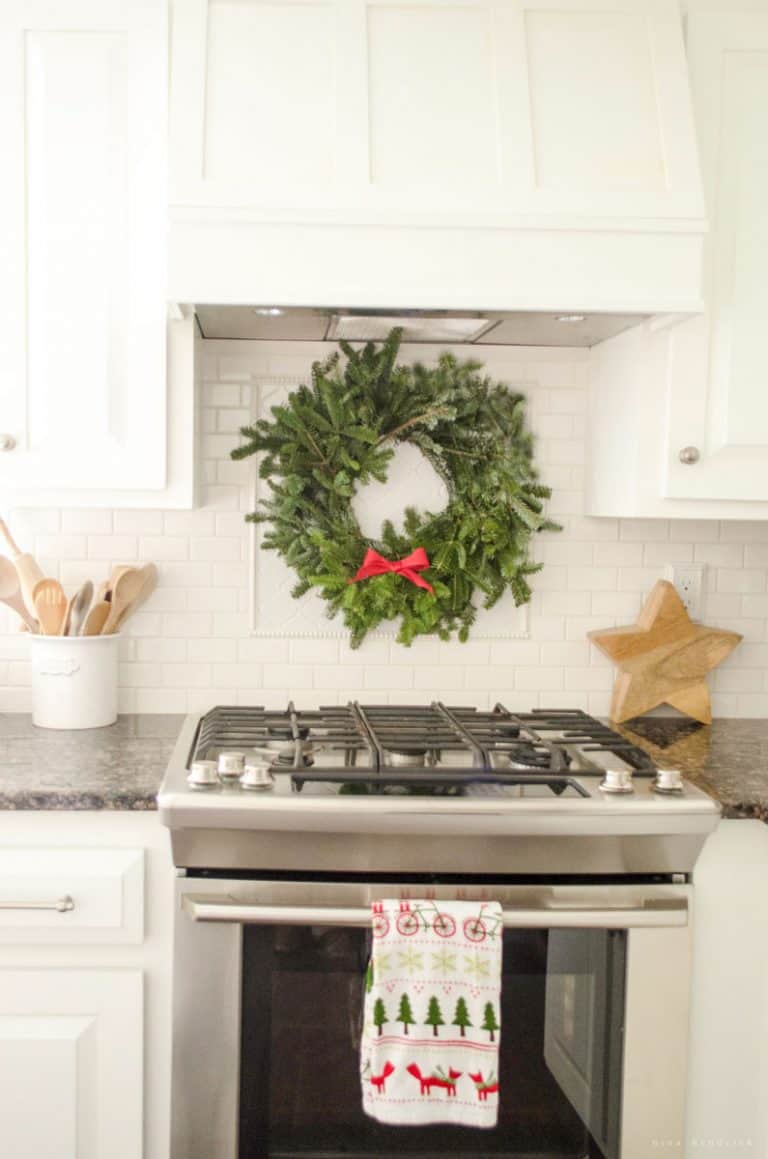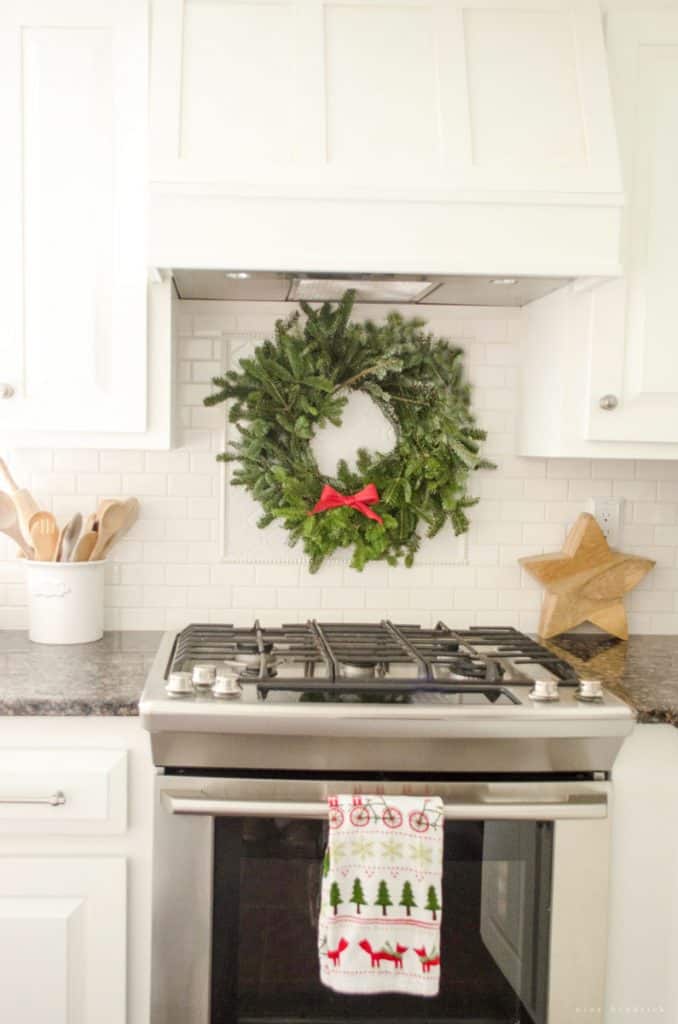 The kitchen is always decorated with wooden objects, and I brought in my star from last year since it matched so perfectly.
I grabbed these rosemary trees from my local grocery store. They smell heavenly and bring in the perfect amount of color!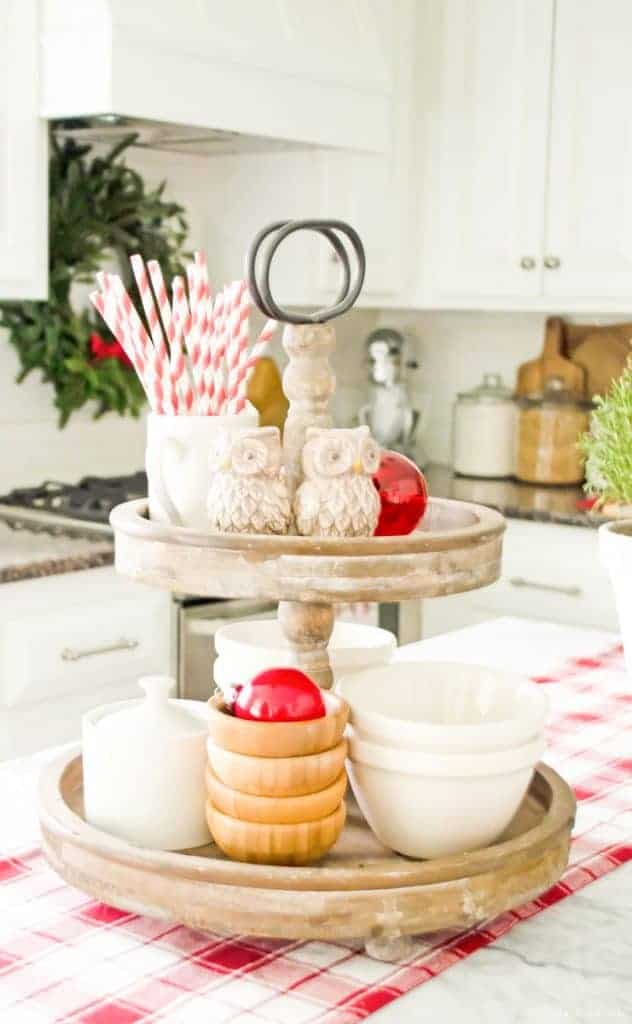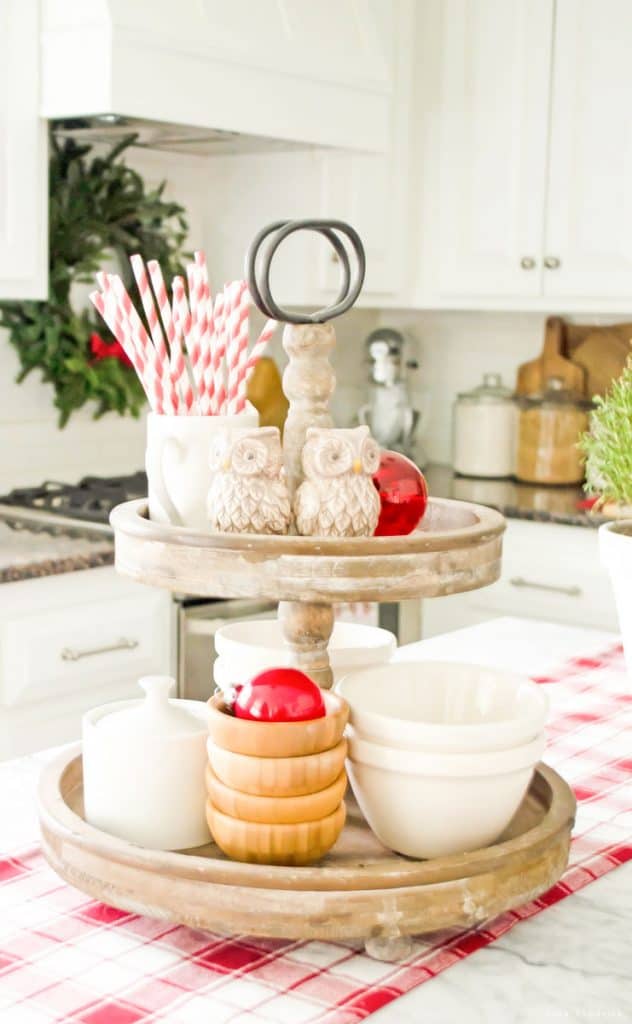 I really only swapped out a few things in my tiered tray from Painted Fox Treasures. It's so fun to dress it up for the seasons and gain a little extra storage!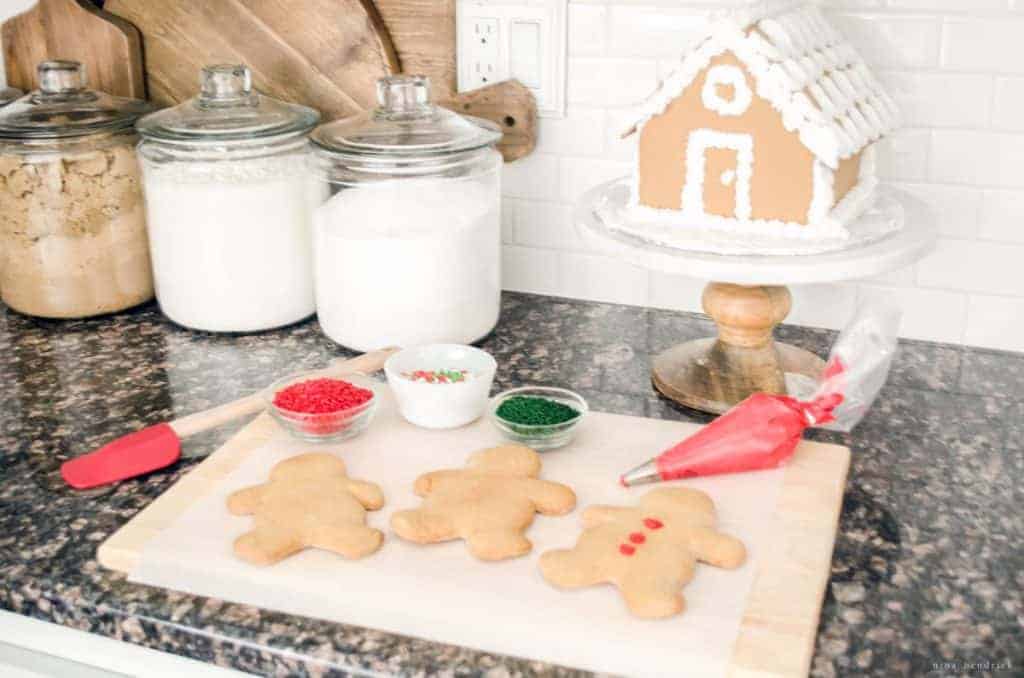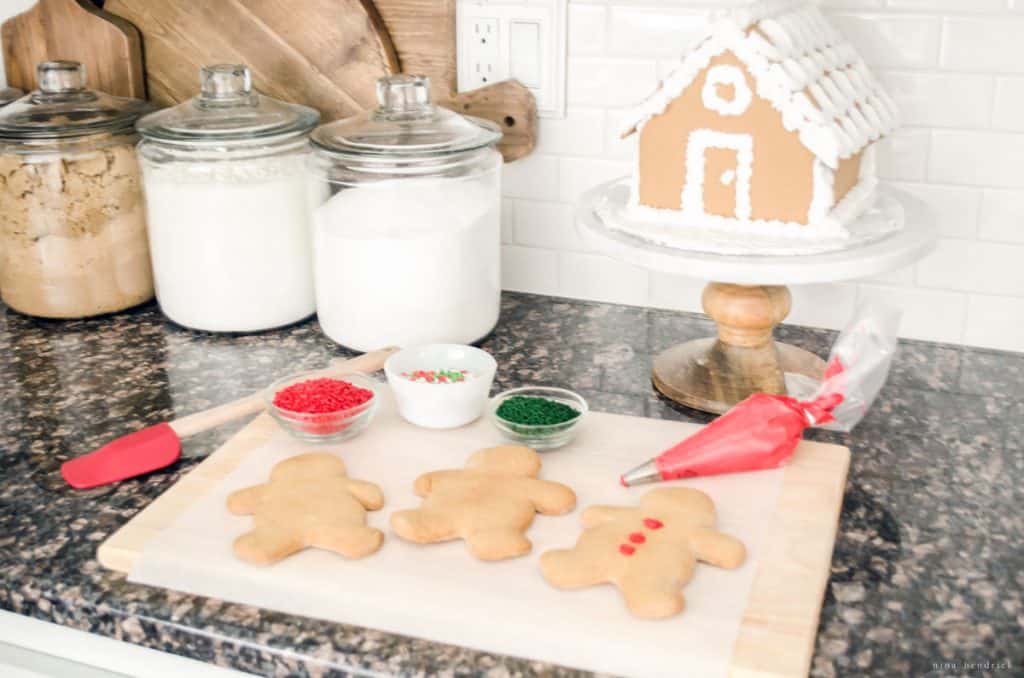 These are the first of many gingerbread people of the season! The gingerbread house is sitting on my favorite cake stand from World Market.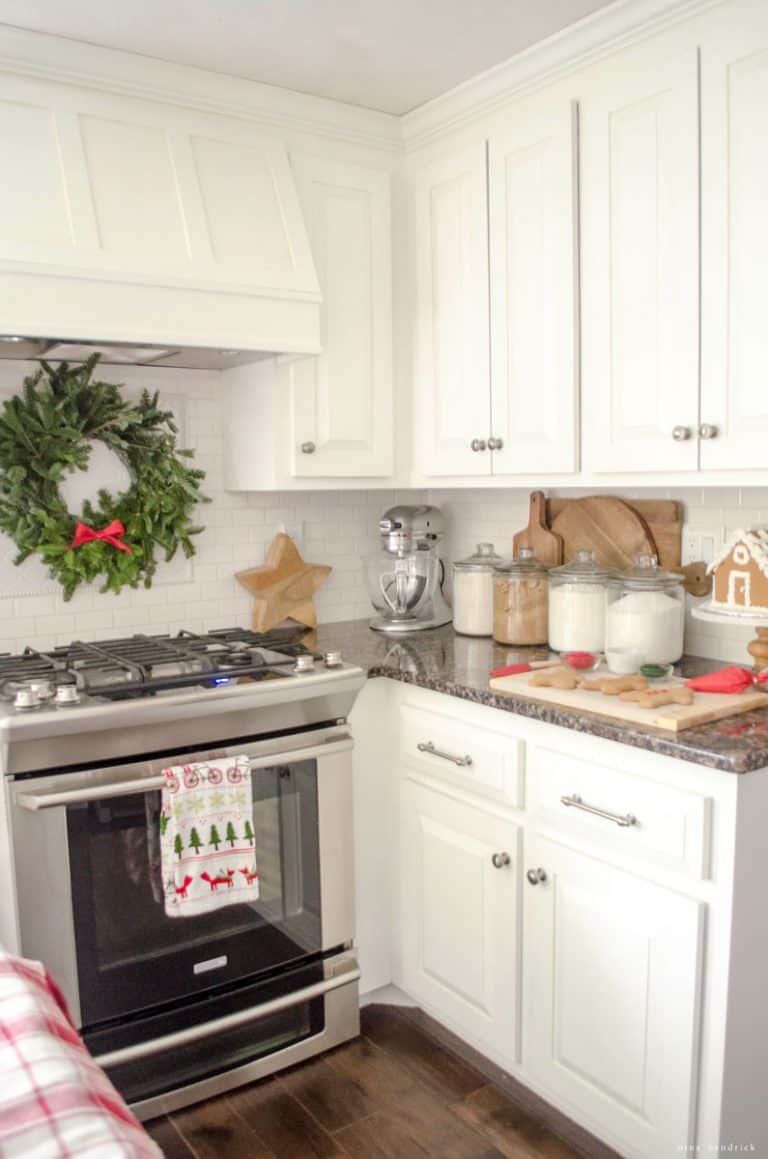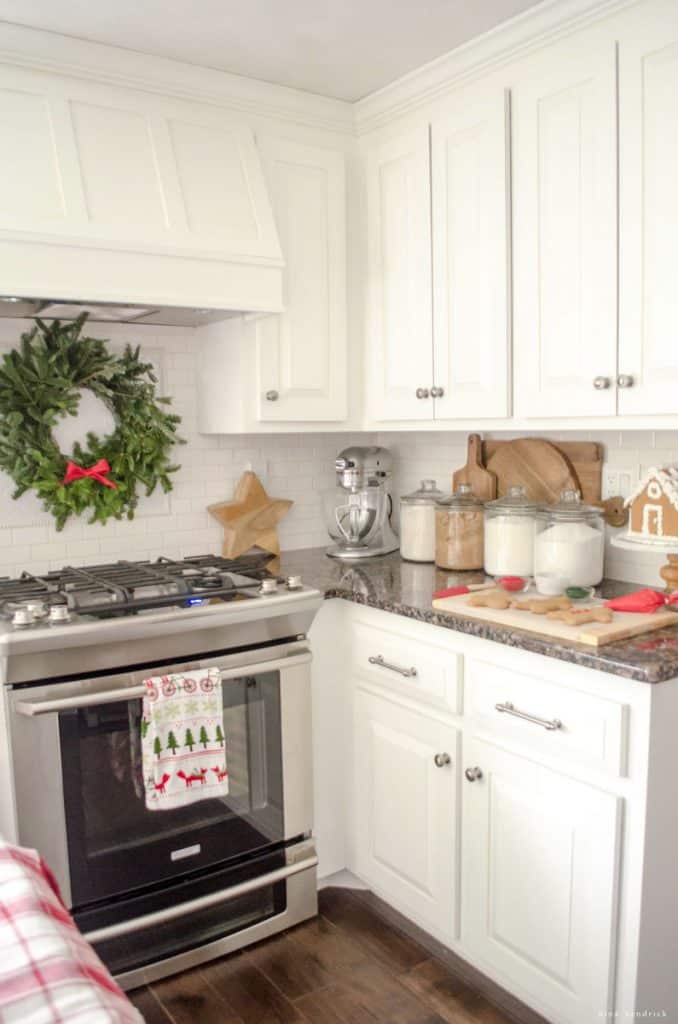 Get the Look:[ubergrid id=15336]
See the full kitchen source list here.


Rustic Farmhouse Glam Christmas Dining Room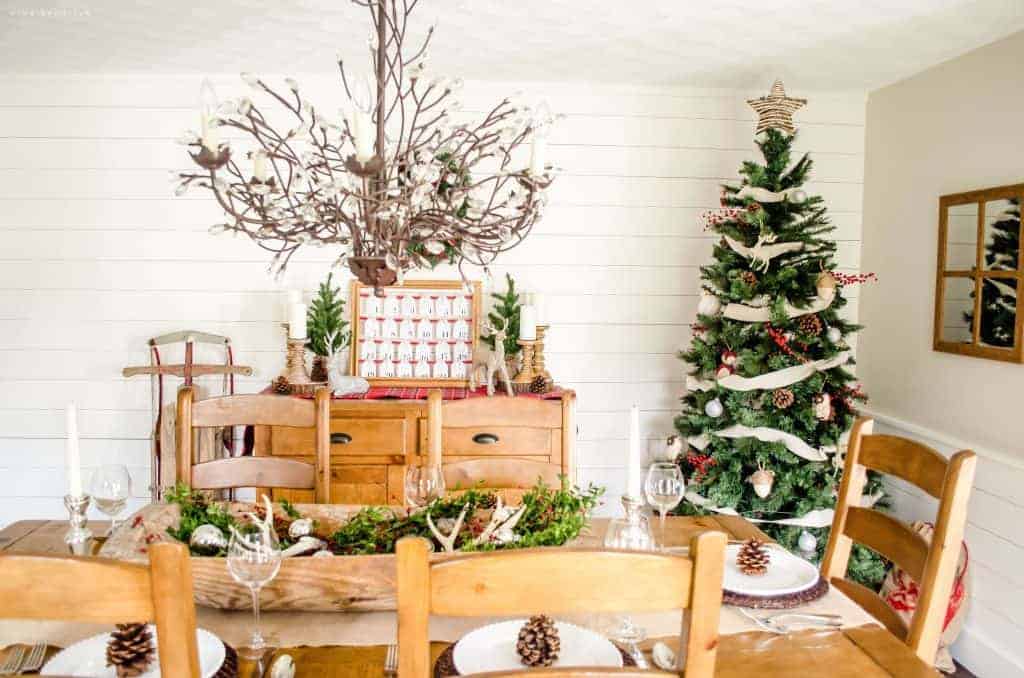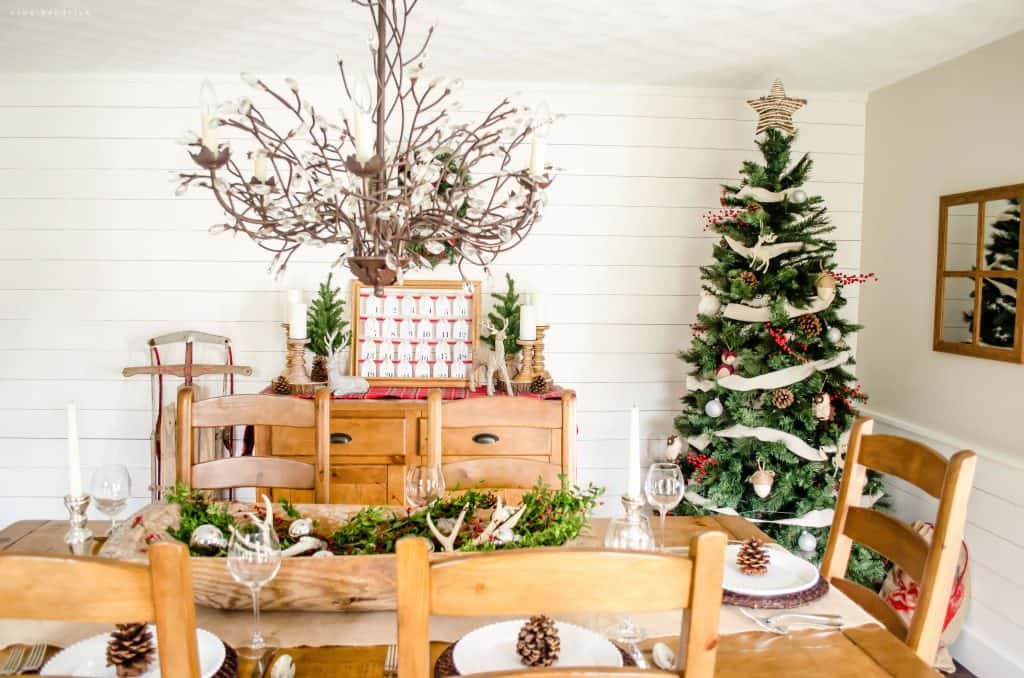 Last up for today, but certainly not least- our newly renovated dining room!
On top of the planked walls and paint, we decided to rotate the farmhouse table by 90 degrees, and it changed the entire room for the better! Combined with the white planking it makes the formerly cramped room feel huge. I am in love with the planking. I want to plank everything now!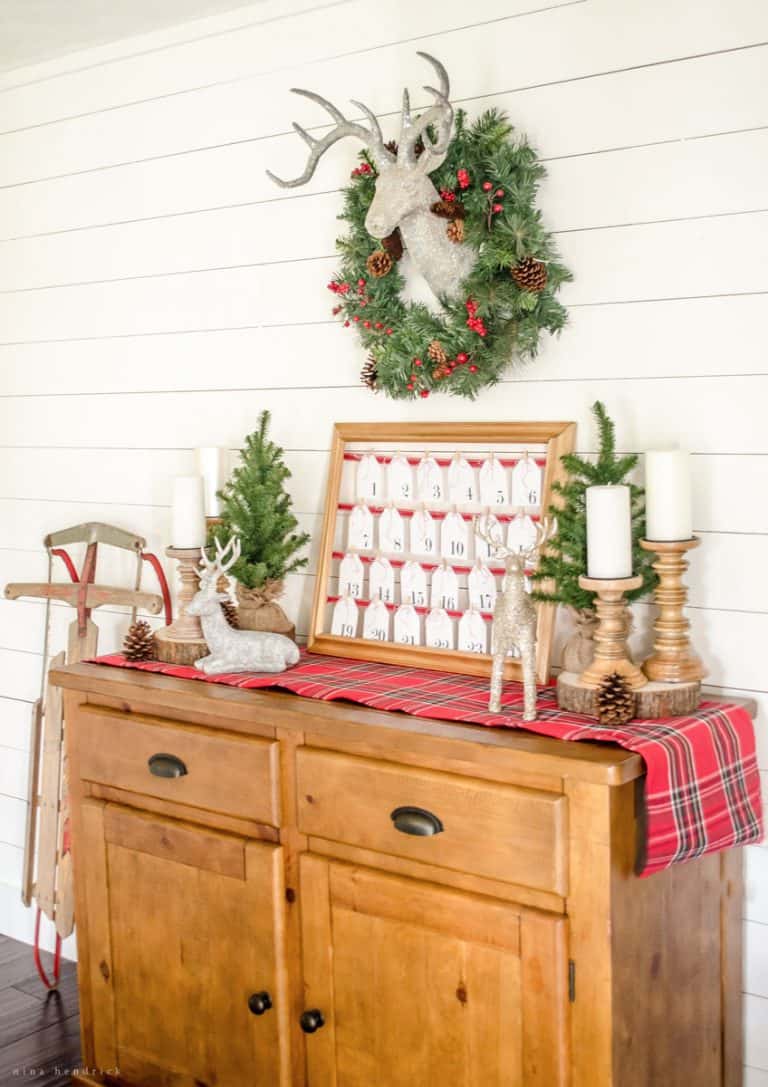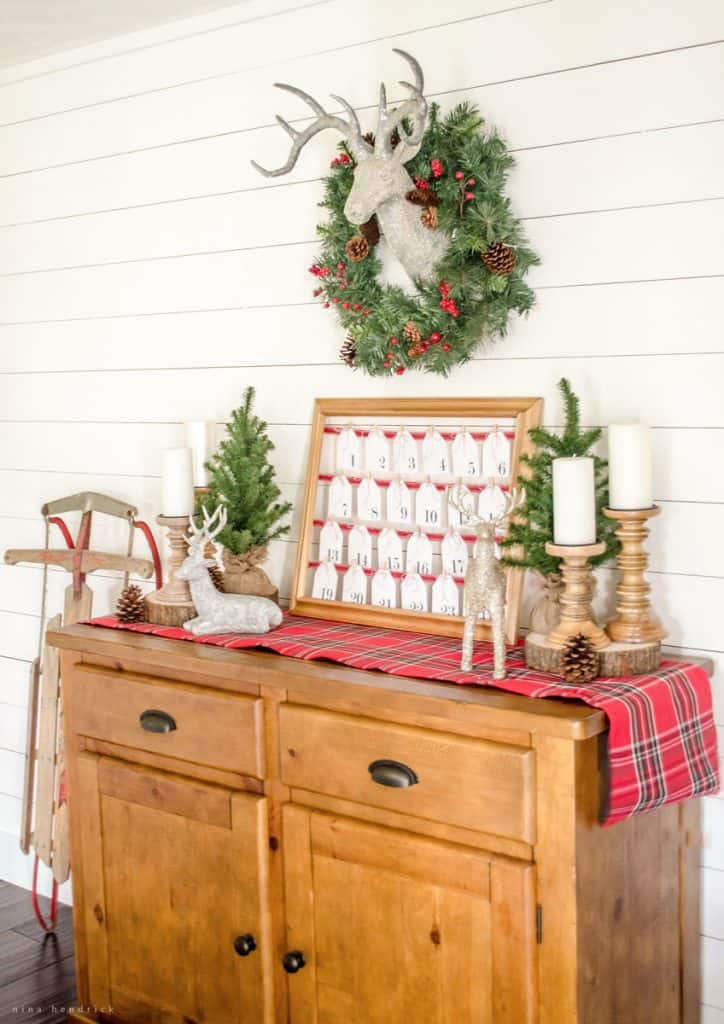 Now I don't know if this is actually a thing, but I'm calling this "Farmhouse Glam" because of the hints of glitter throughout the room. I've really loved glitter lately! The deer were actually originally the gold ones from Target here and here. After I got them home and took the tags off, I realized that gold just doesn't fit my decor personality at all! (Nothing against gold, of course.) So everything got a coat of my favorite Miss Mustard Seed German Glass Glitter instead. Perfection!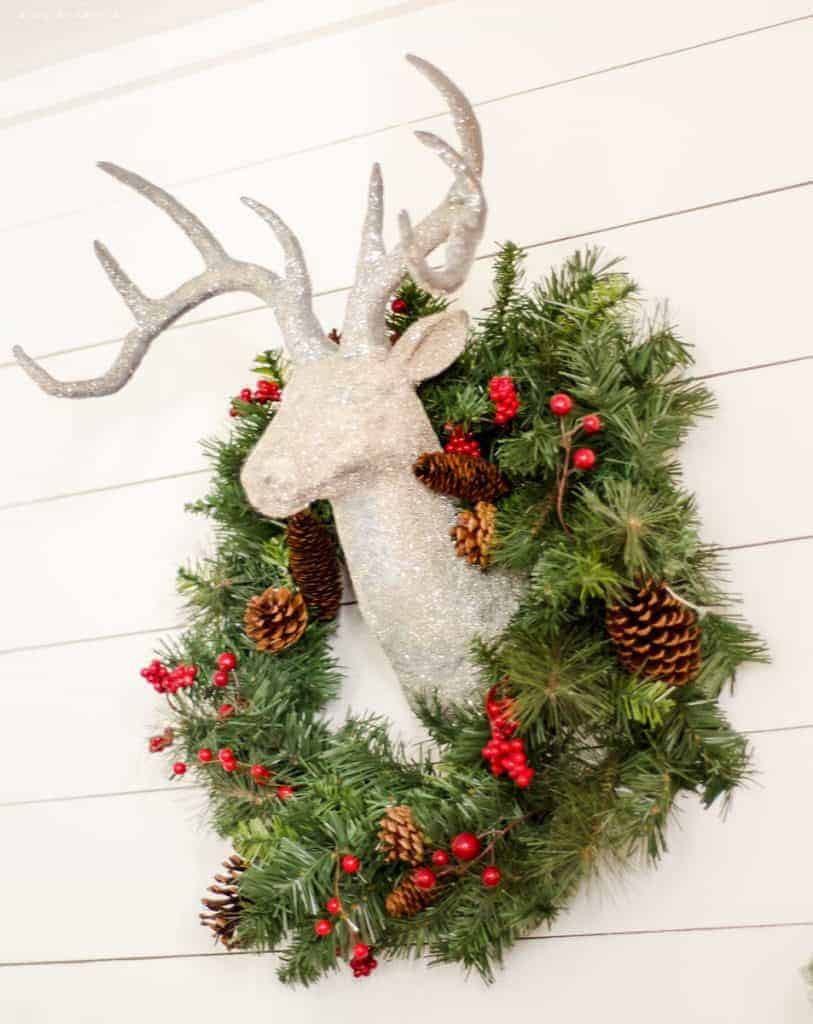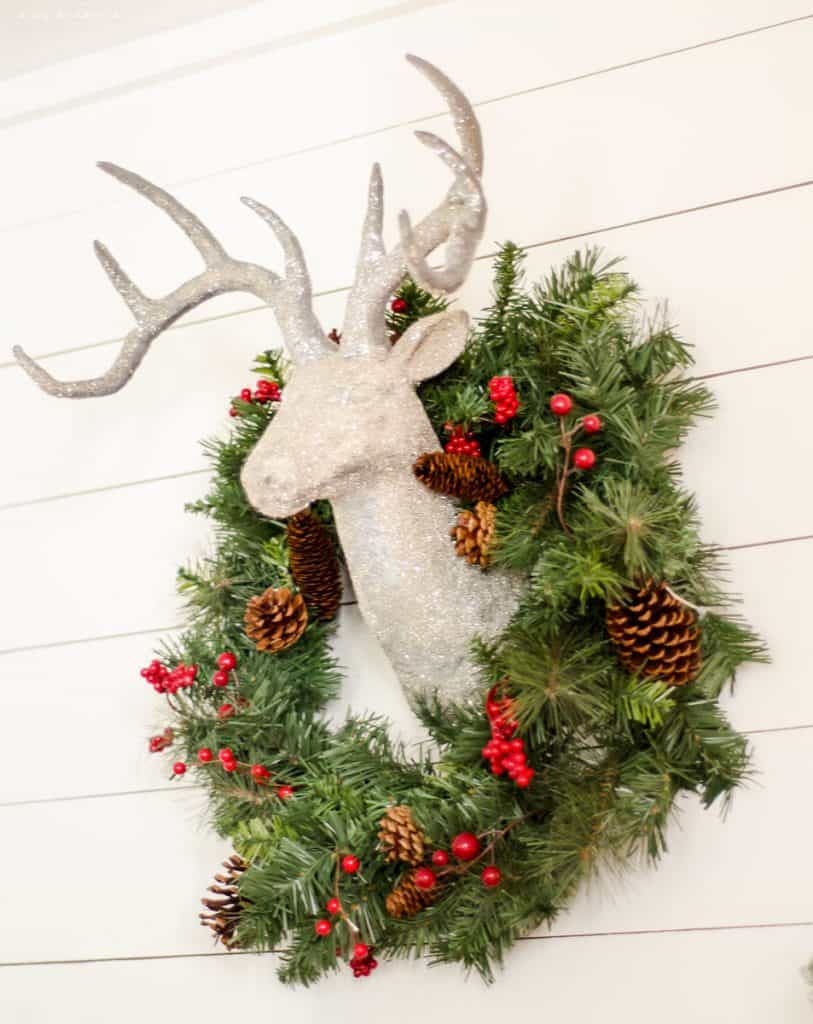 As always, it was a messy process, but I am so happy with the result!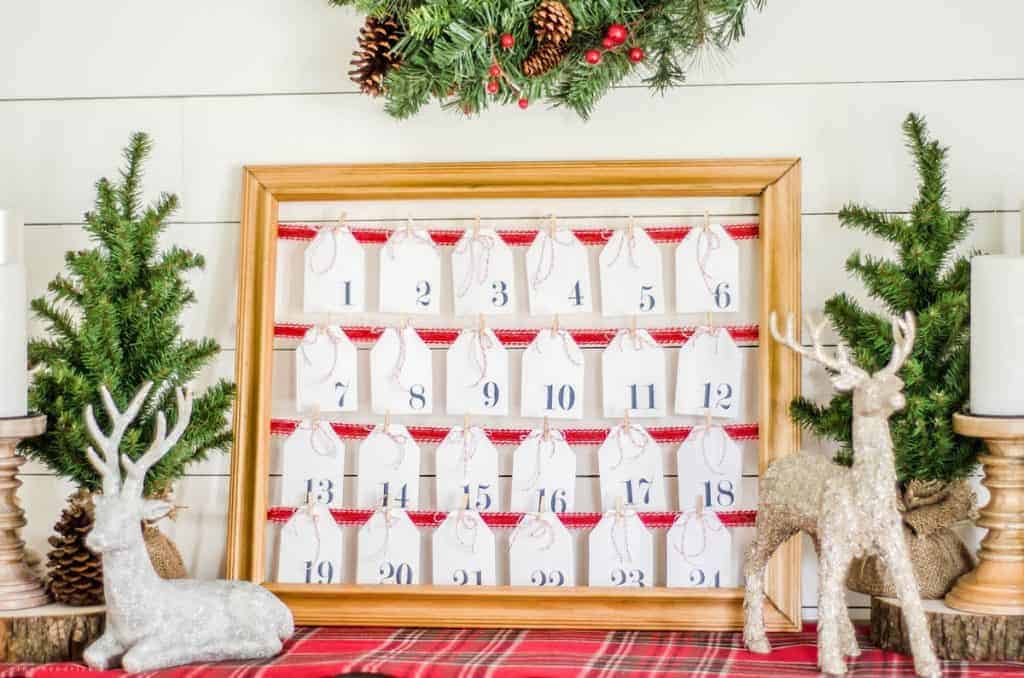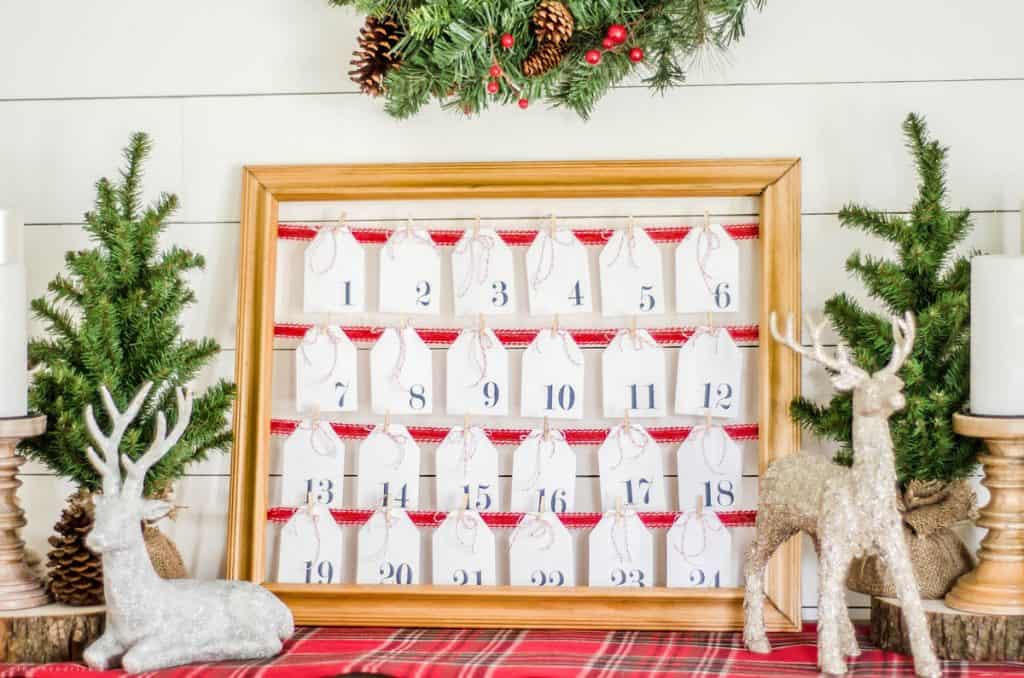 This is our Book Advent Calendar. The boys are so excited to read a new book as a family each night, they are learning the reason for the season, and we get their 20 minutes of reading homework checked off. It's a great thing all around!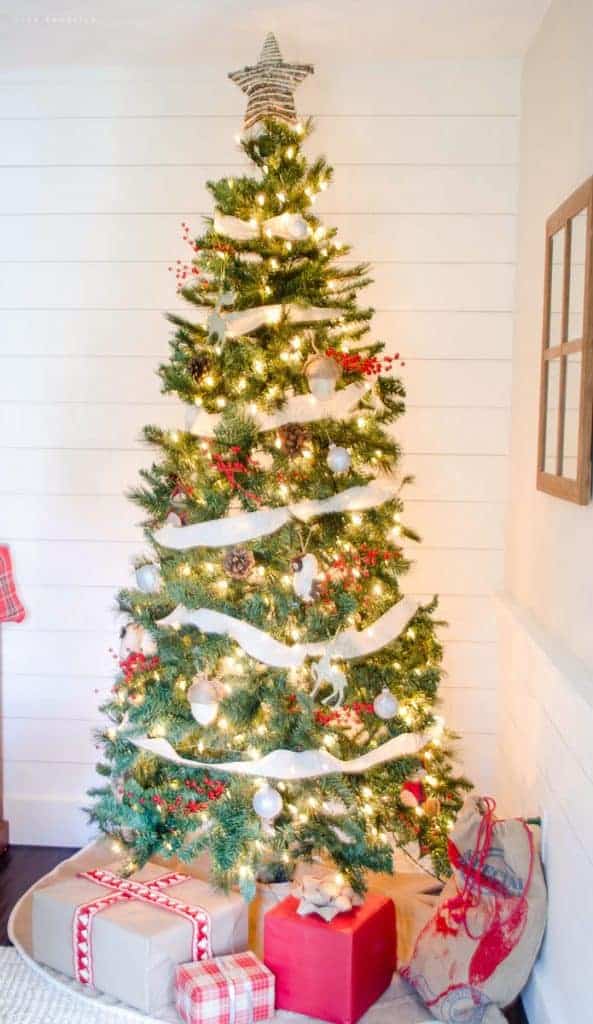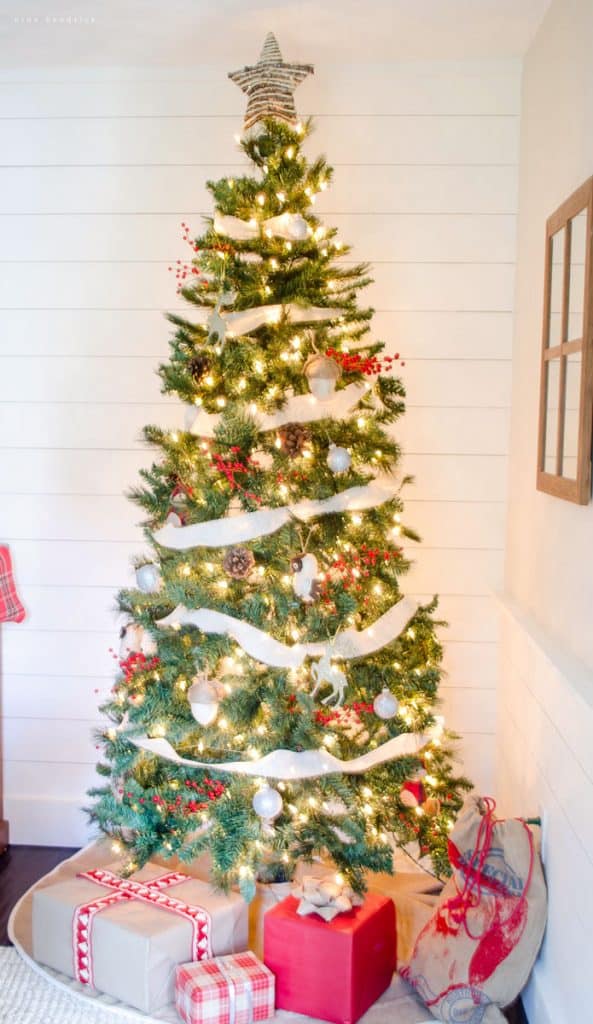 Now for the tree! I went with a whimsical woodland theme, with plush stuffed ornaments and glittery accents. As you can see, I prefer to keep my trees on the simple side- and with three little ones running around- the less breakable the ornaments, the better!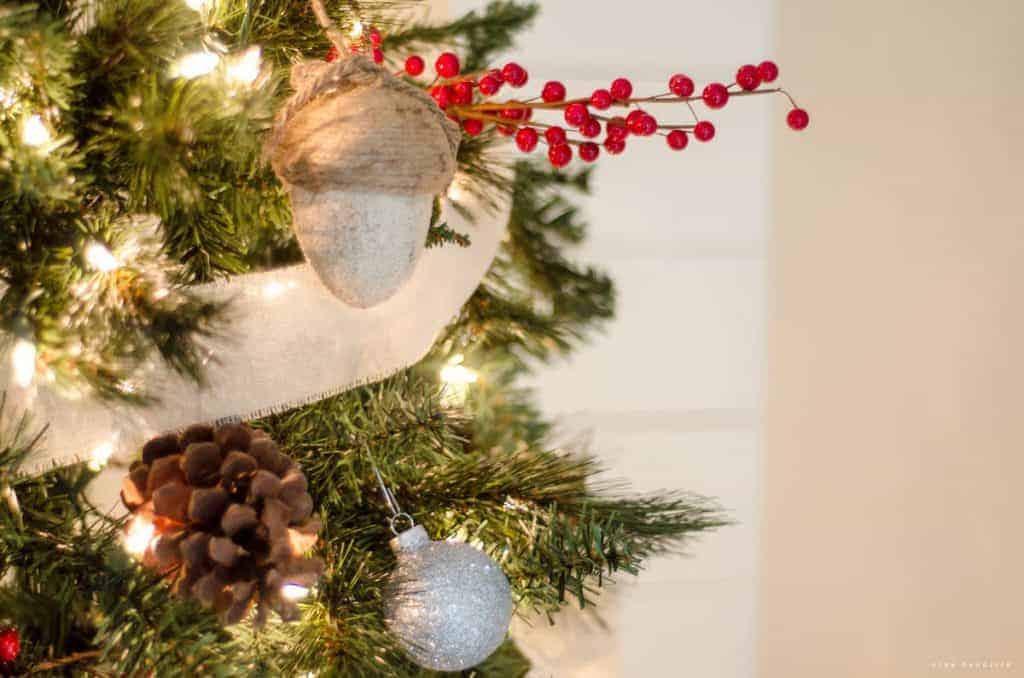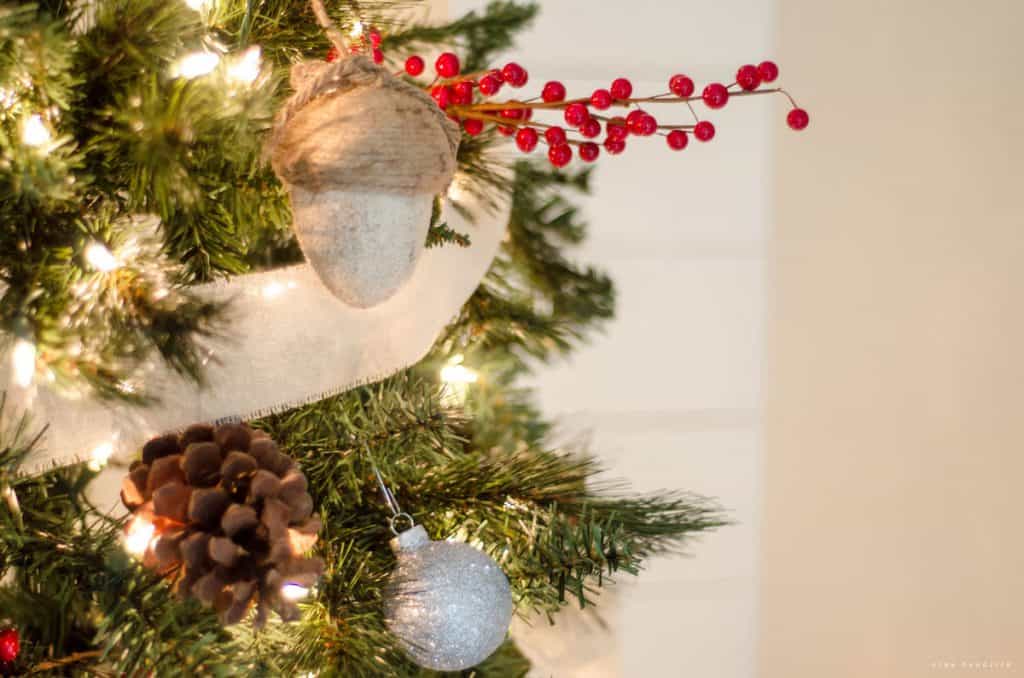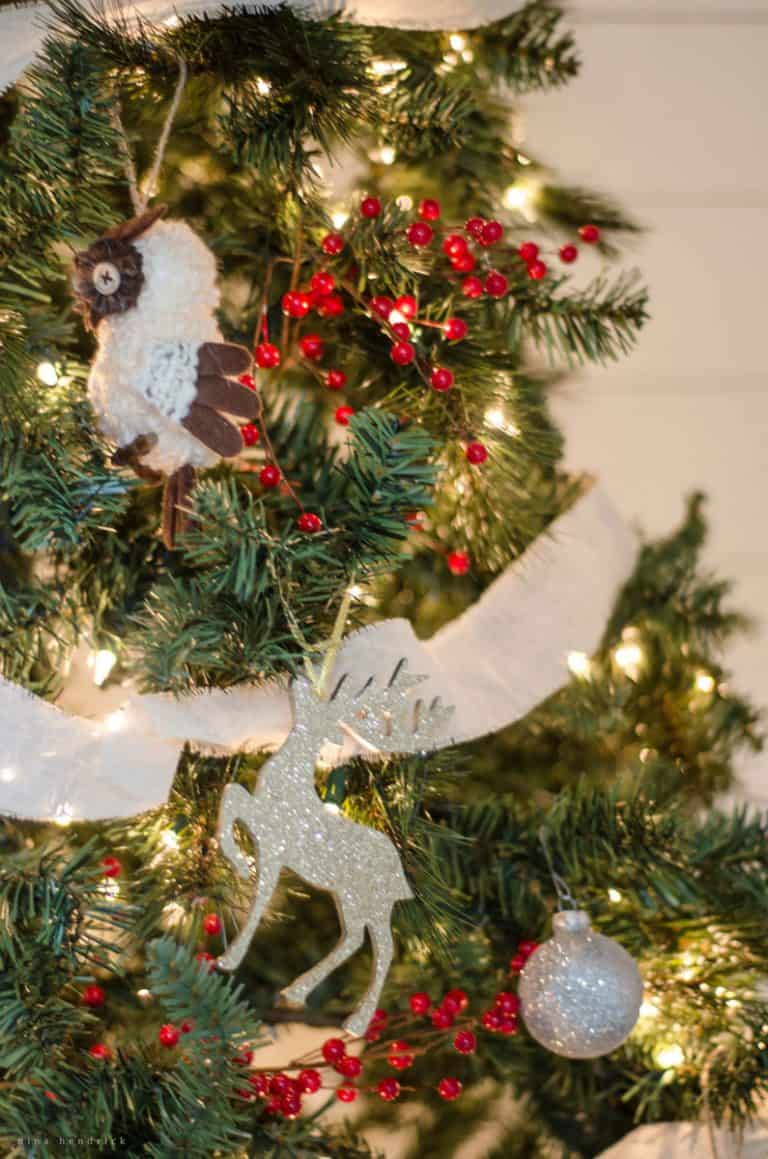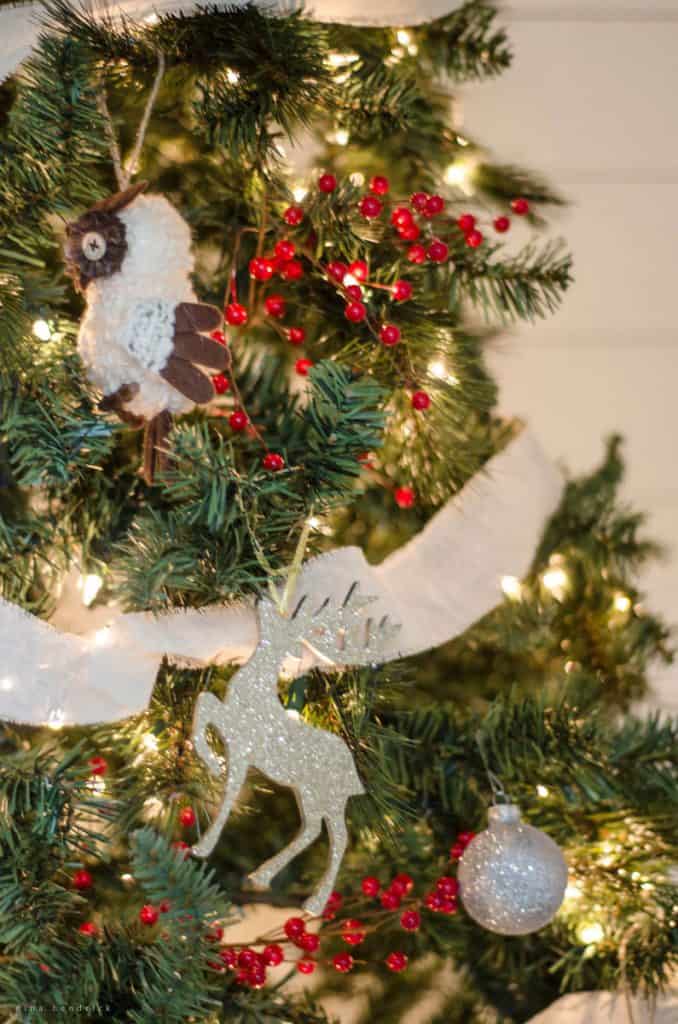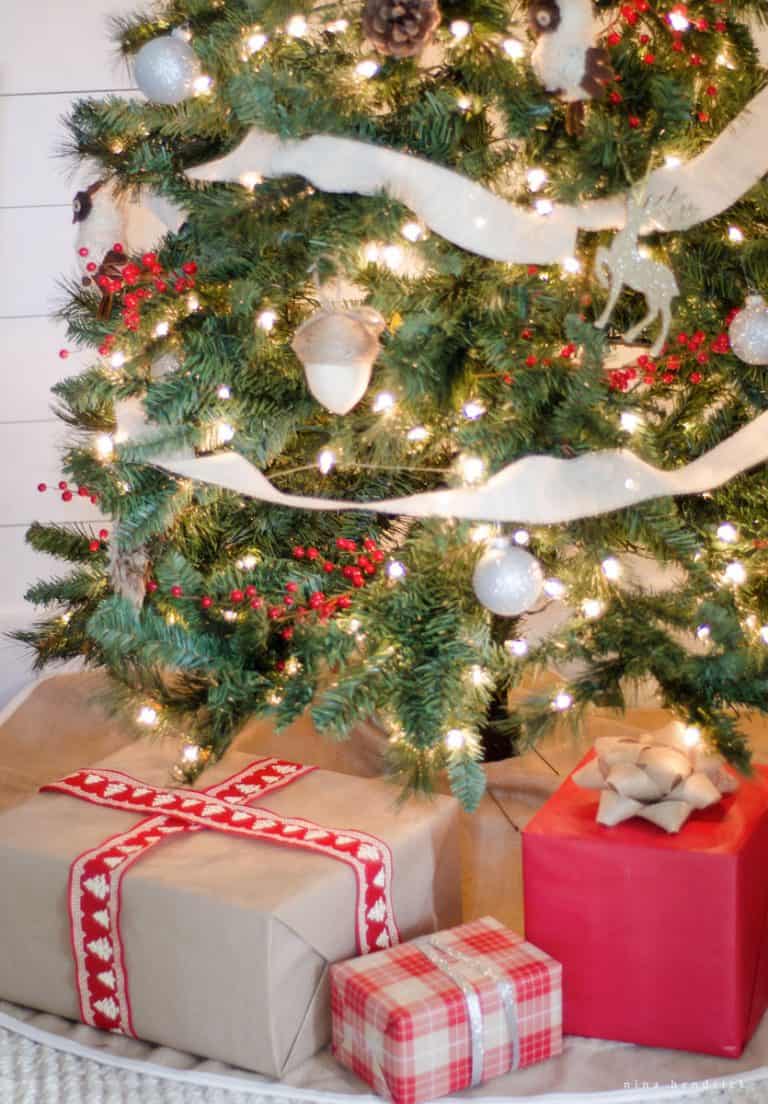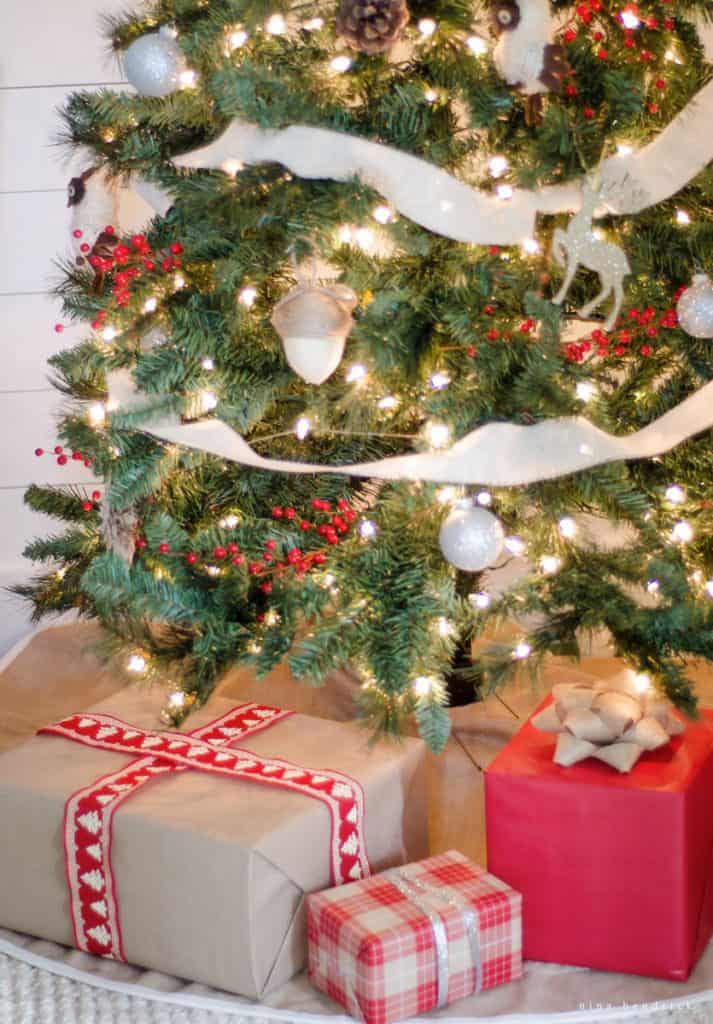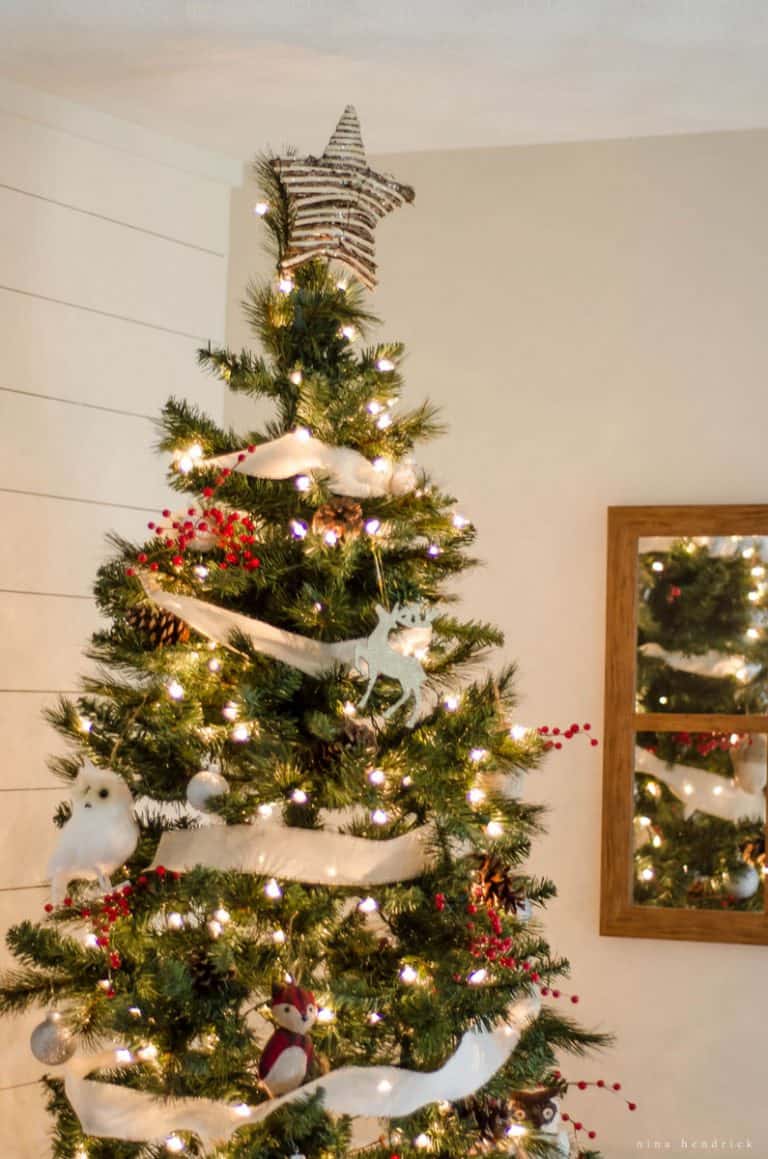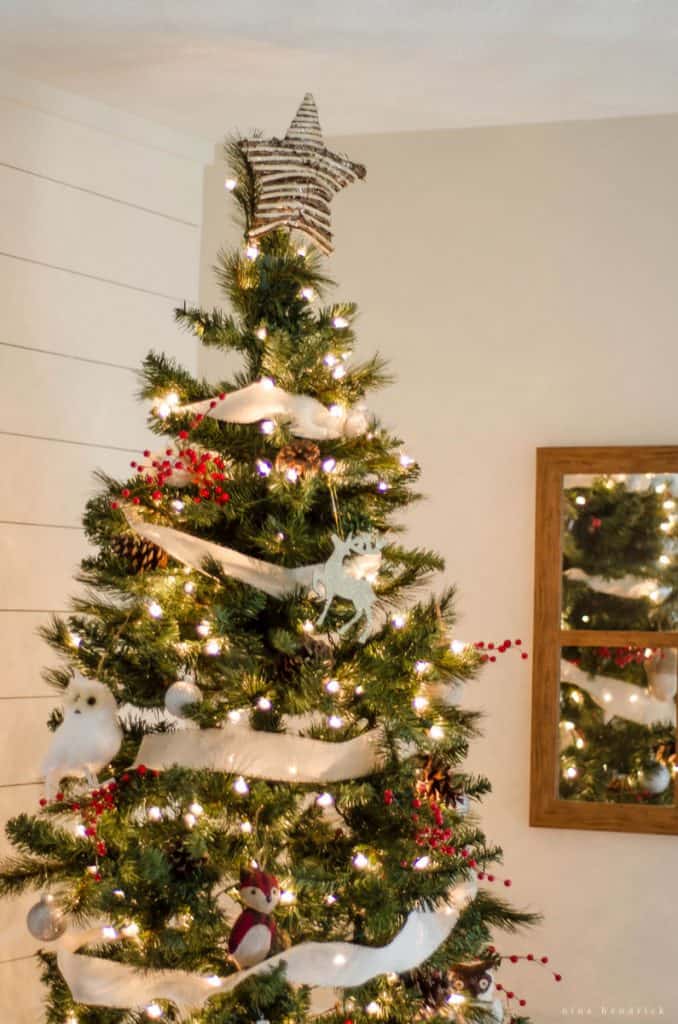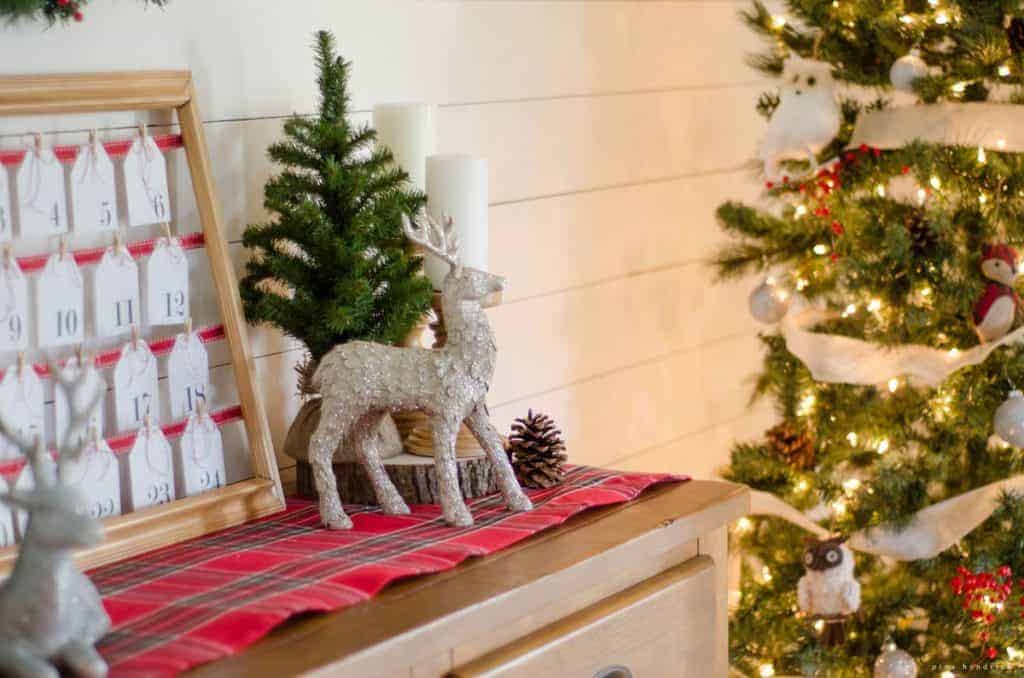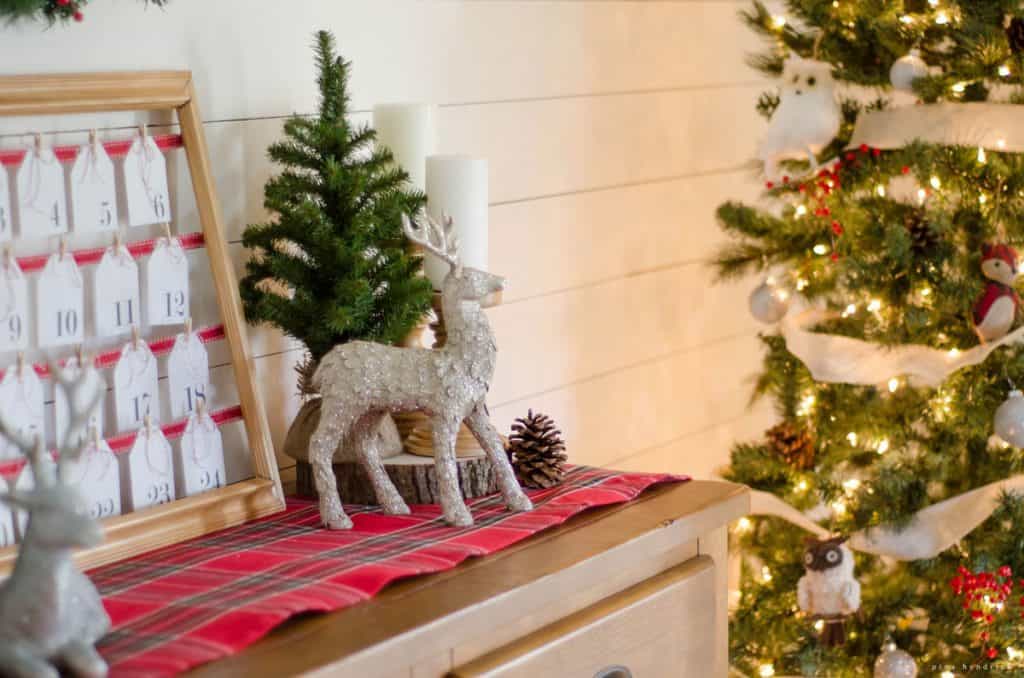 I love having the Christmas tree lights on! It just makes everything feel like magic.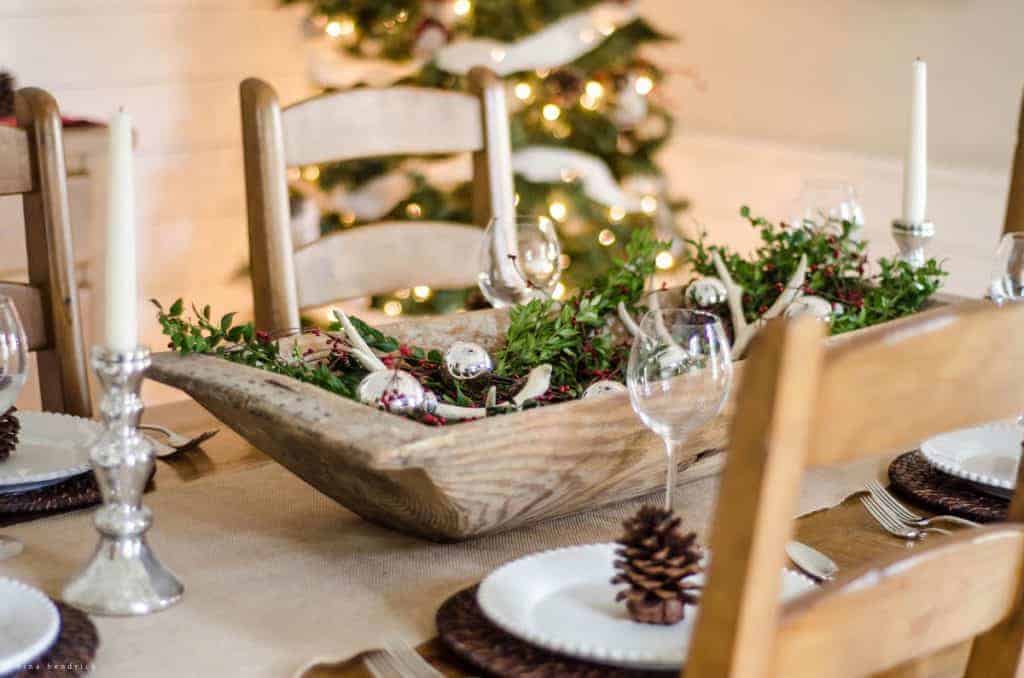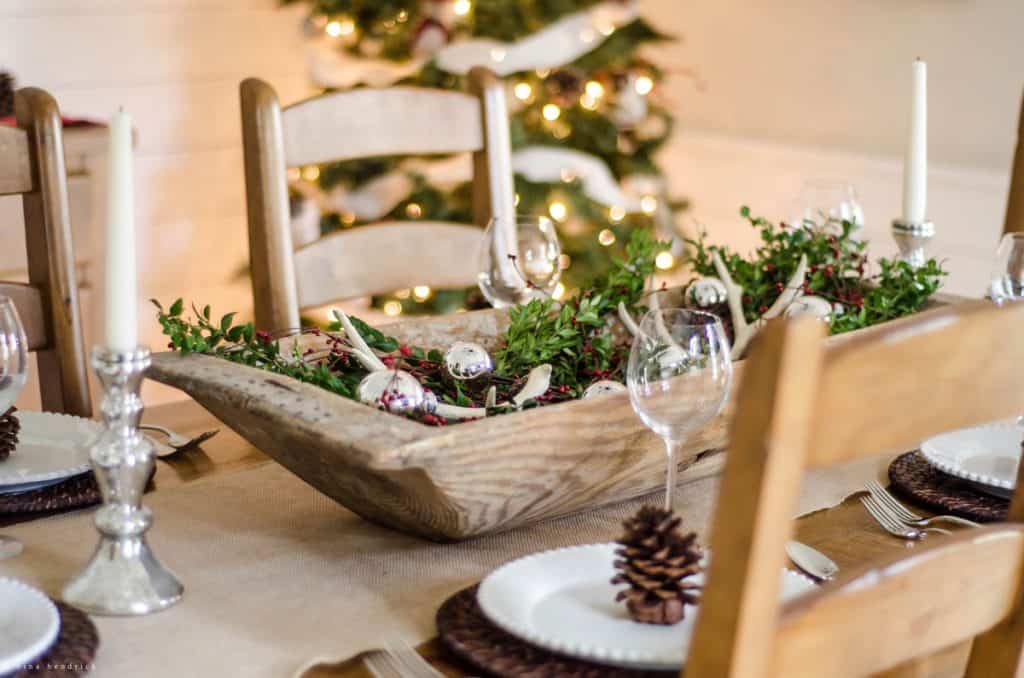 This table will likely evolve as the season progresses. For now, I filled my dough bowl with boxwood clippings, pip berries, faux antlers, and ornaments. It's a simple and natural arrangement.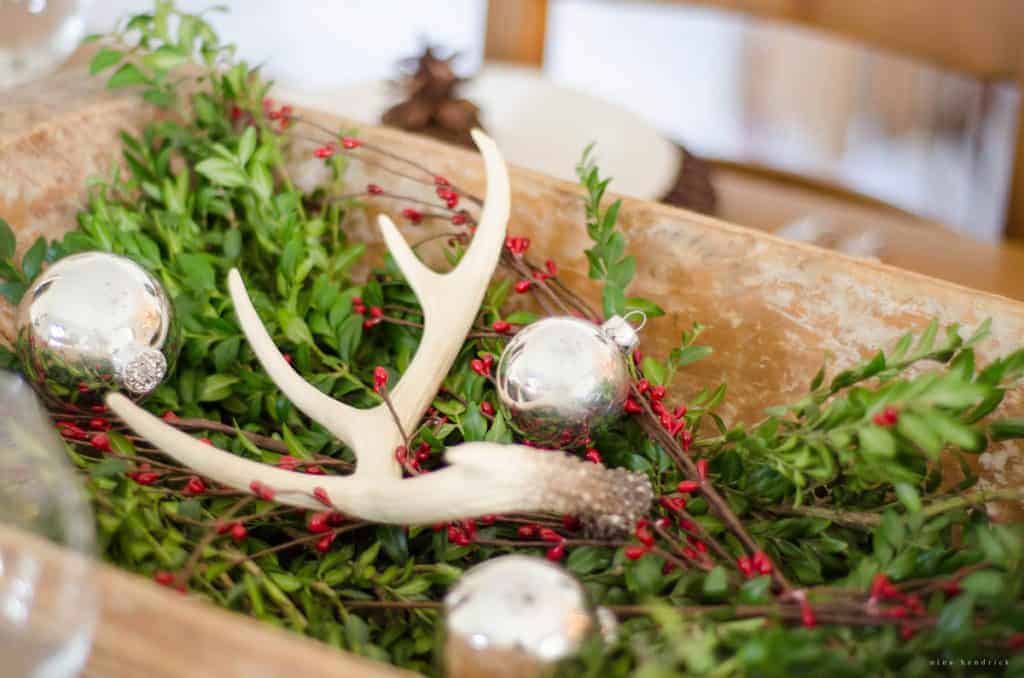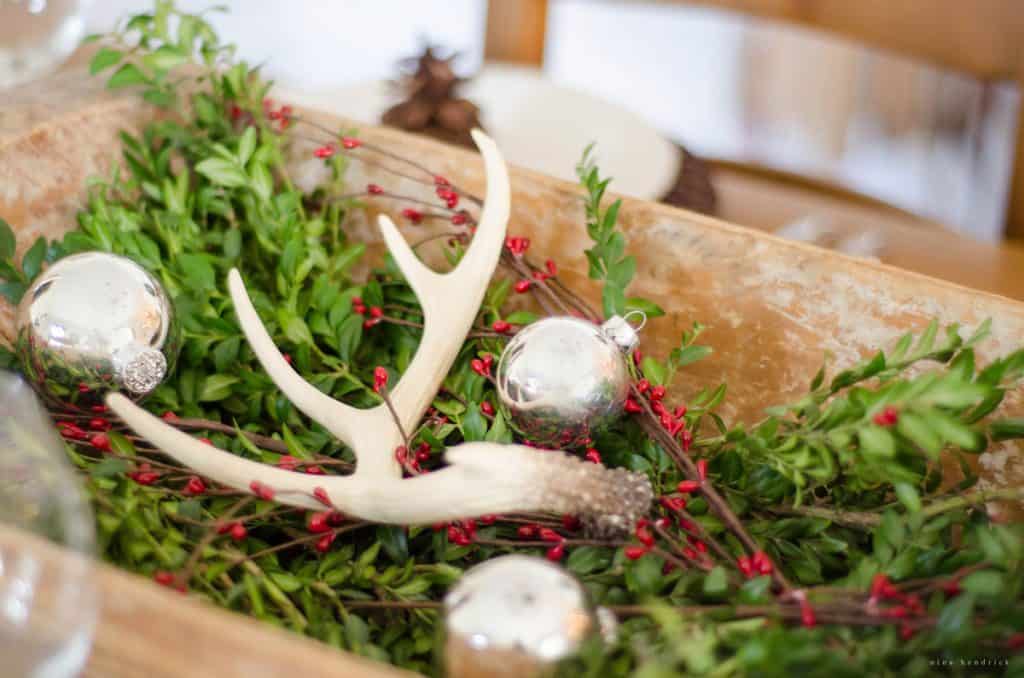 Get the Look: [ubergrid id=15344]
See the full Dining Room source list here.


 I hope you enjoyed this Surprise Housewalk! I will be back with more on Monday!
Make sure to stop by the next lovely surprise home on the tour, Live Sweet Photography!
Or go all the way back to the beginning of the tour, if you haven't already! For more holiday inspiration you can also check out our Housewalk Pinterest board with Good Housekeeping!
Here's the full Line-Up of the Holiday Housewalk:
10. Jeanne Oliver
17. Shabby Nest
18. Restoration House
23. Golden Sycamore
24. Jennifer Wagner
Home Source List
Numbered Baskets: (Baskets & House Numbers) Lowes
Red String Lights- Target
Plaid Stockings- Target (In Store Only)
Santa's Toy Co. Pillow- Farmhouse Wares
Star Pillow- Target
Bamboo Shade: Lowes
Cross-Country Skis: Vintage
Tree Sign: DIY
Santa's Bag- Target