Recreate this romantic, floral English rose garden Valentine's Day centerpiece for your table and download a free 8×10″ printable inspired by Jane Austen!
Valentine's Day is the perfect time to show your loved ones how much you care. This year, why not create a romantic Valentine's Day centerpiece inspired by the classic writings of Jane Austen and English rose gardens? This centerpiece will add a touch of elegance and romance to any dinner table and will be sure to make your Valentine's Day extra special.
Today, gentle reader, you're cordially invited to join in the Season with this Jane Austen print and a Valentine's Day centerpiece inspired by English garden parties and roses. If you're looking for additional Valentine's Day inspiration, you can find see a romantic gold & blush tablescape here, and some cute free printables here!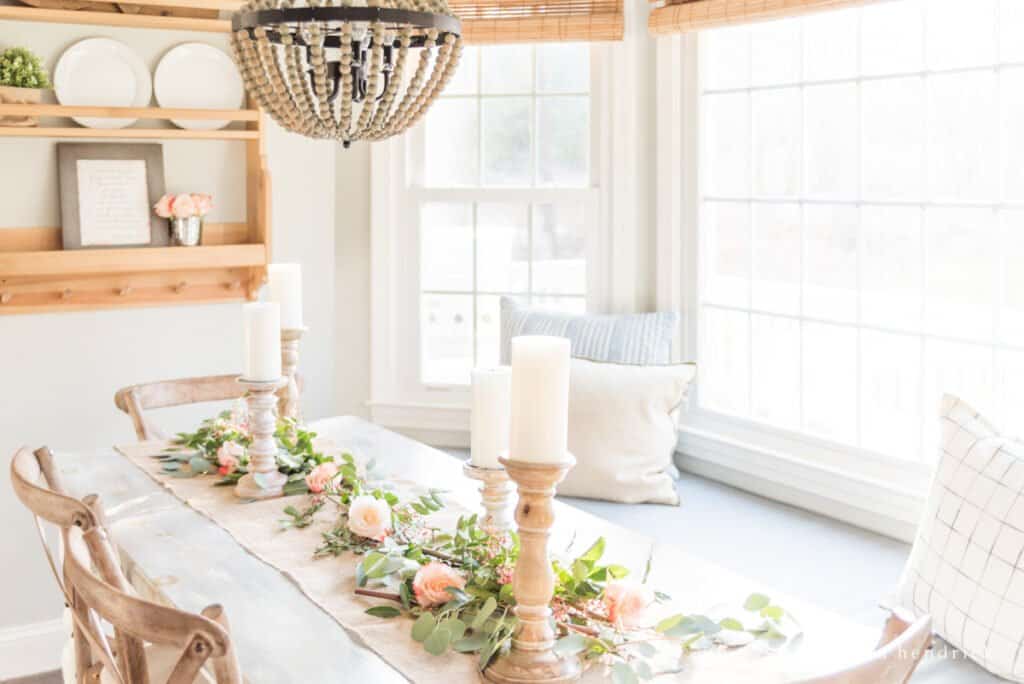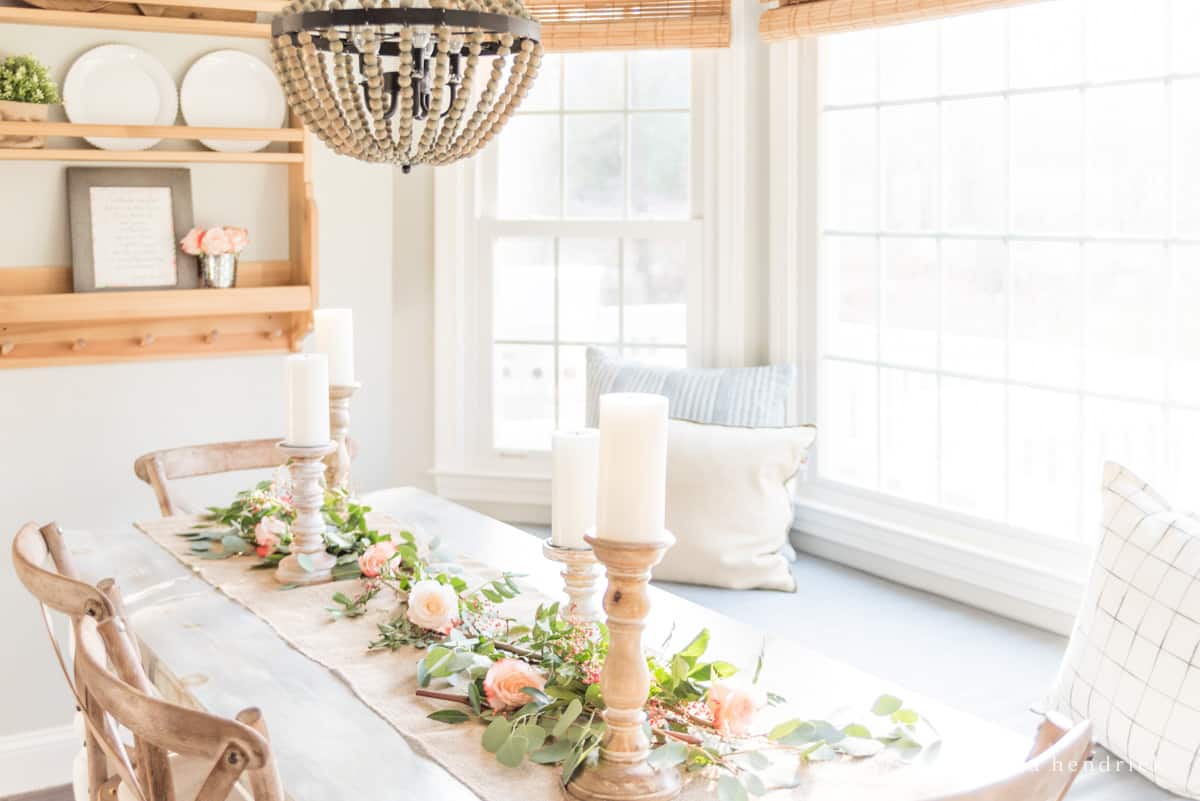 English Rose Garden Valentine's Day Centerpiece Idea & Jane Austen Print
Originally published January 31, 2017.
Romantic Valentine's Day Centerpiece Ideas
With a few simple materials, you can make a beautiful centerpiece that will be the perfect addition to any Valentine's Day celebration. Read on for the step-by-step instructions on how to create a sweet Valentine's Day centerpiece that will help create the perfect romantic atmosphere at your Valentine's Day table!
In case you can't tell, it was a ton of fun to going back in time and envisioning beautiful garden parties in Regency England to design this print for you. I also put together a simple but pretty (and fragrant) Valentine's Day centerpiece in our breakfast nook that can help you bring a fun or romantic touch to any weeknight dinner.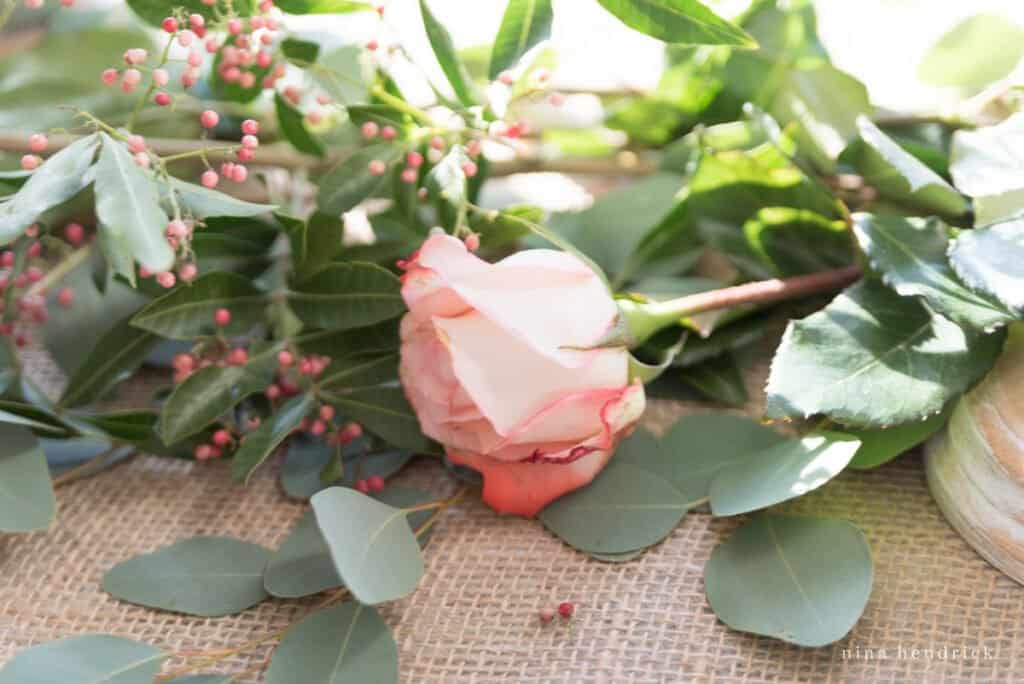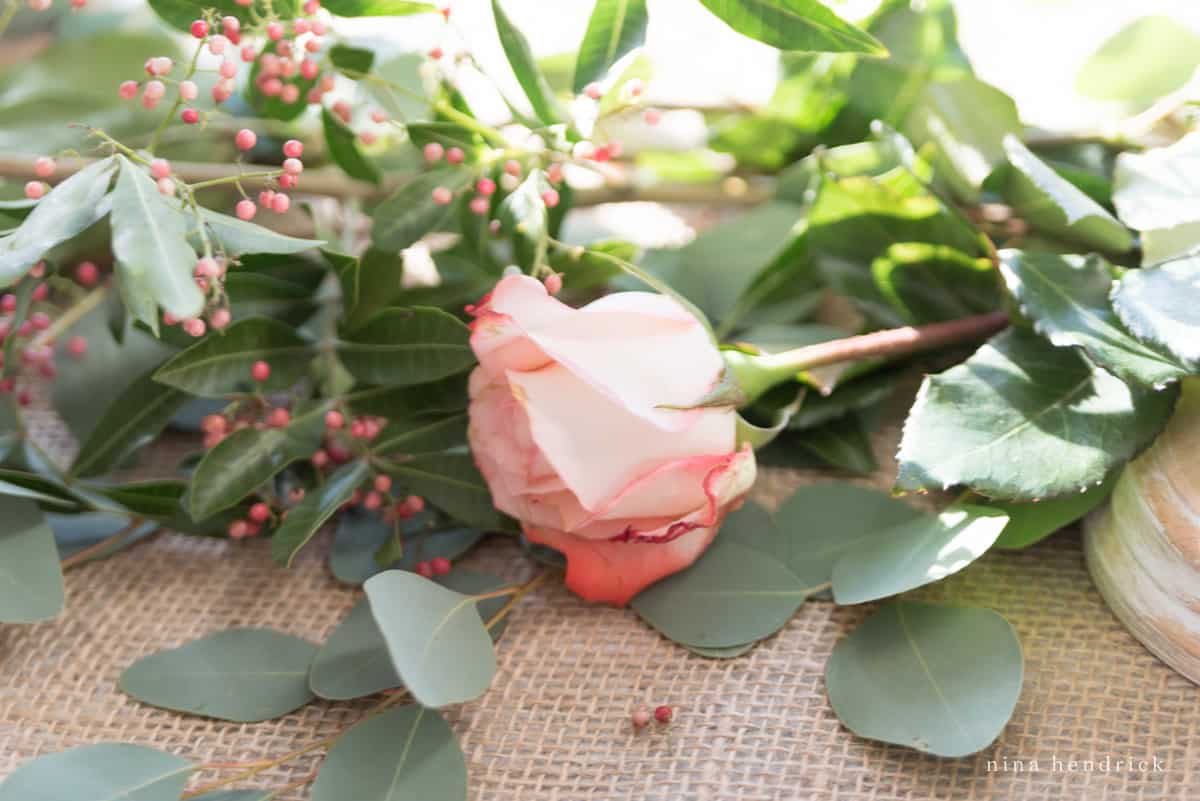 I have wanted to set up a romantic tablescape for Valentine's Day for a long time. For this tablescape, I built it around the quote from Jane Austen:
There could have never been two hearts so open, no tastes so similar, no feelings so in unison, no countenances so beloved.

Jane Austen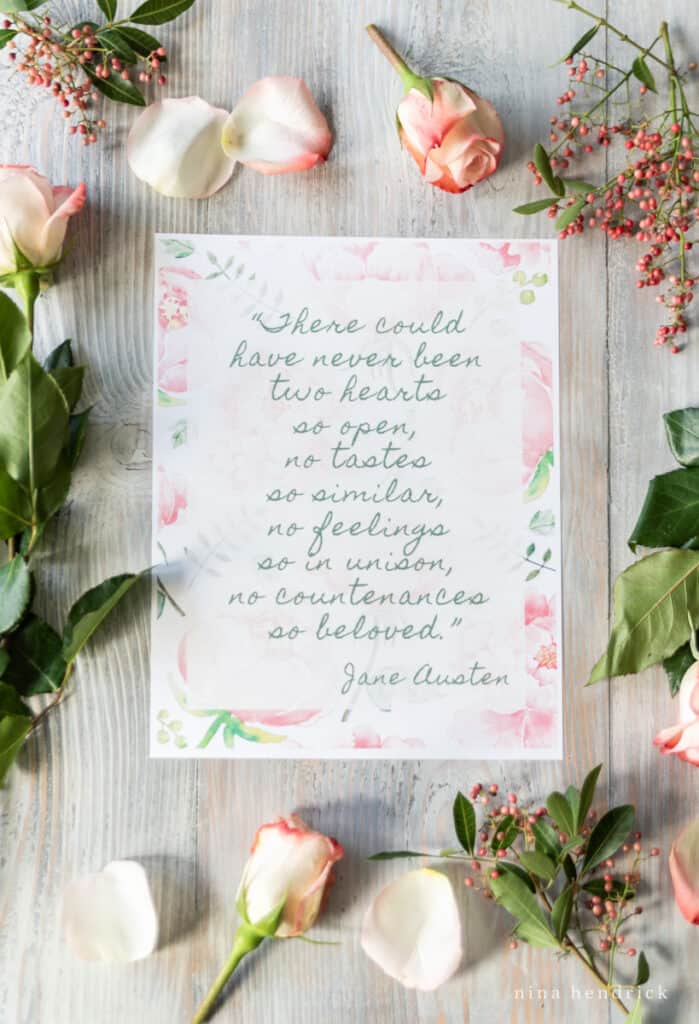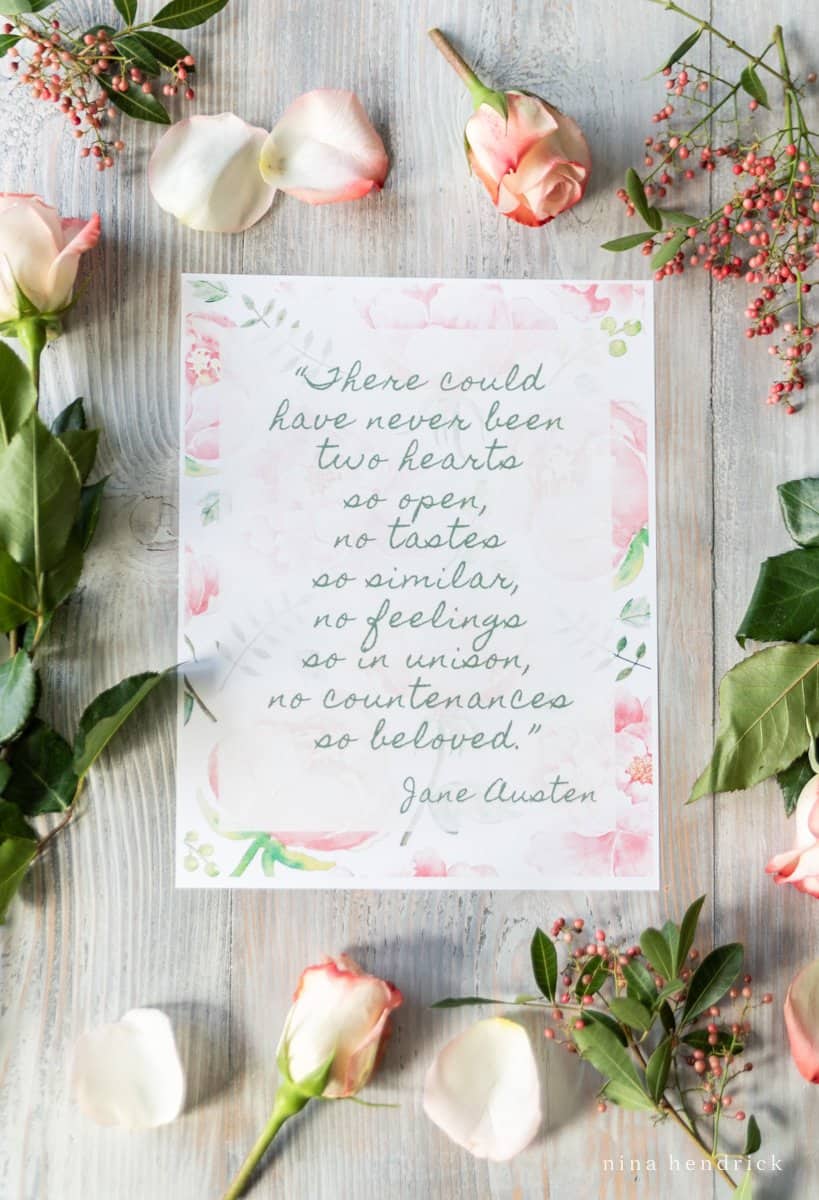 I need to pick up Persuasion again one of these days. I've always loved this particular quote and the romantic agony of Anne pining for Captain Wentworth and their star-crossed relationship.
I designed the printable to be reminiscent of an English garden. I chose flowers in soft pinks and greens to complement the quote.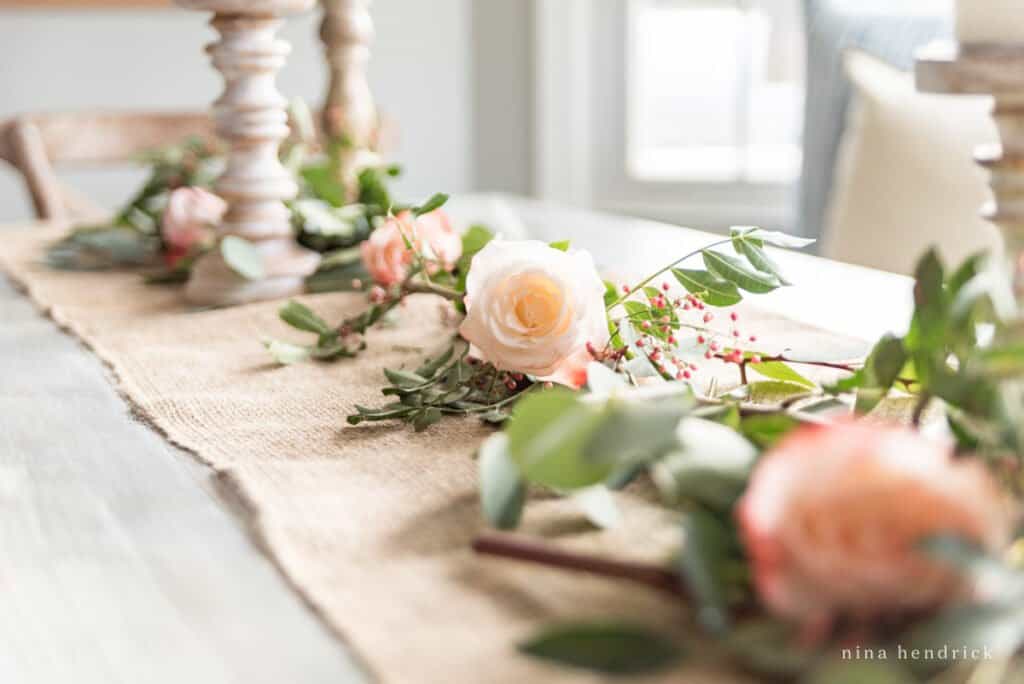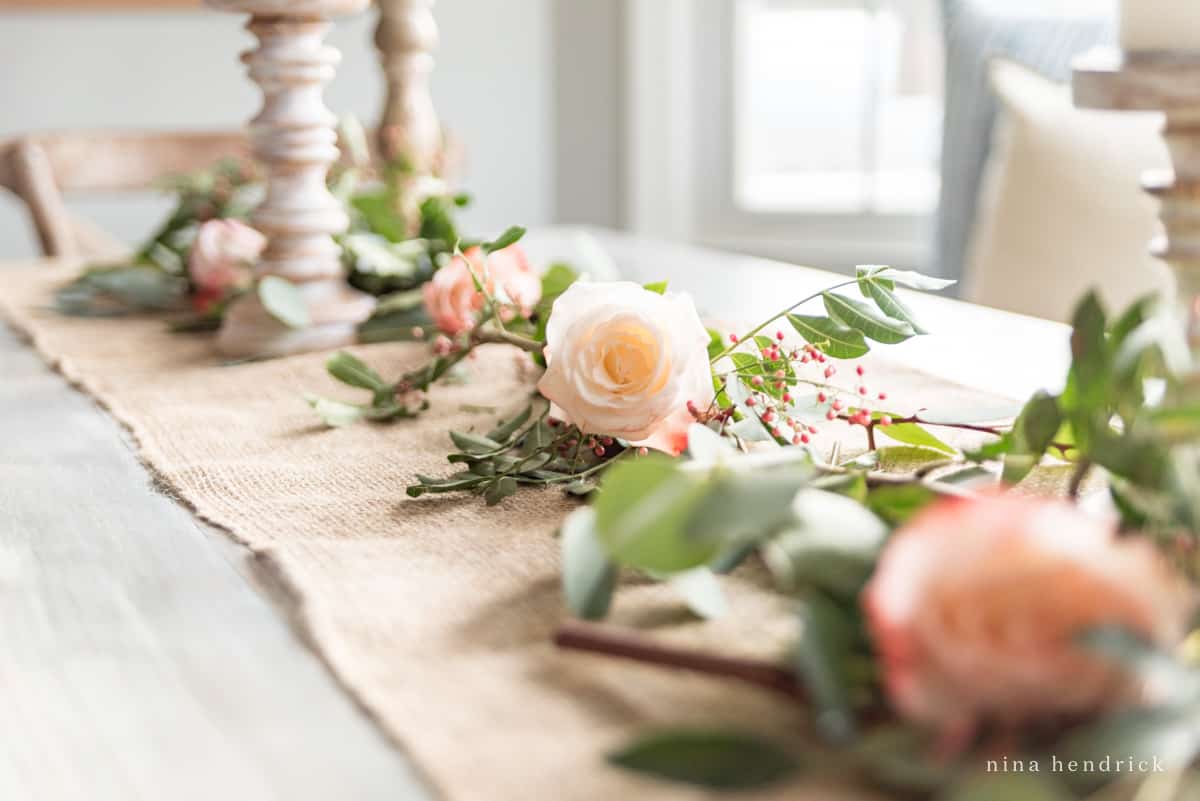 The Valentine's Day centerpiece is a bower of romantic roses, seeded eucalyptus, and pepper berries. This is such a classic combination — and it smells amazing, just like an English garden.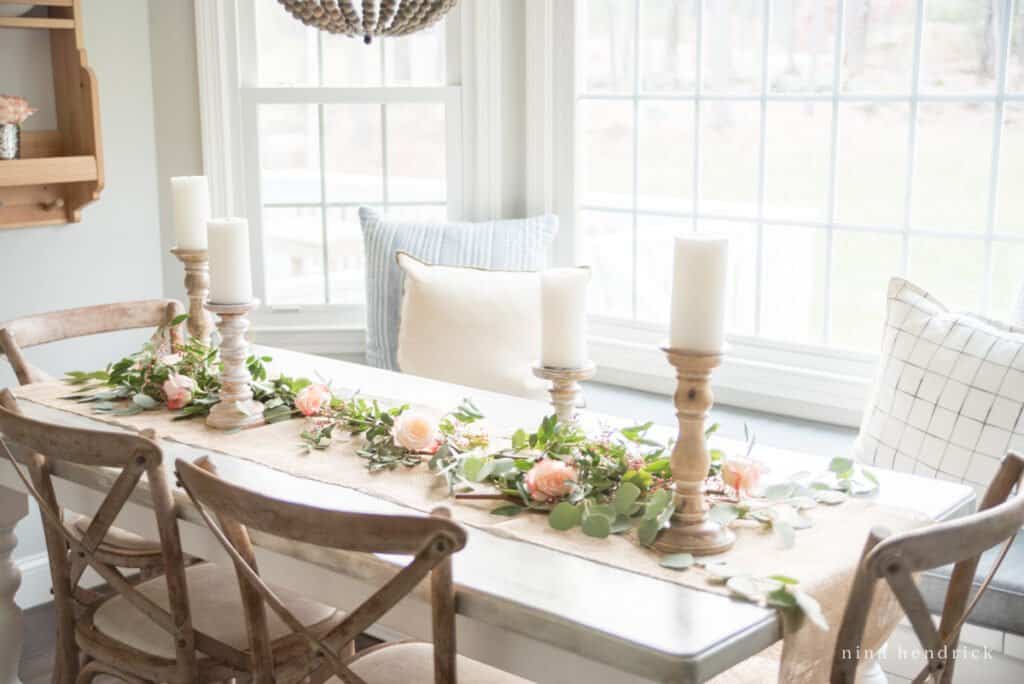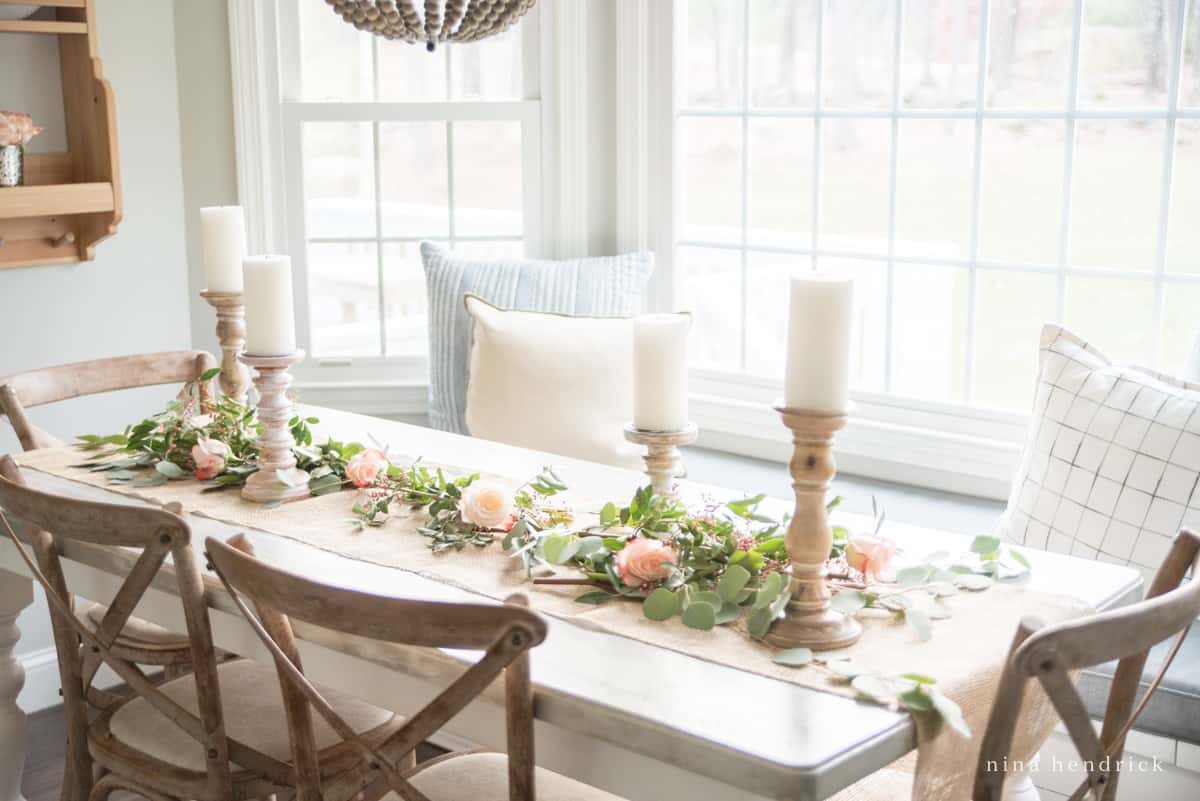 Part of my concept was that this simple Valentine's Day centerpiece could elevate any weeknight dinner into a little holiday celebration, whether just for you and your partner or your whole family.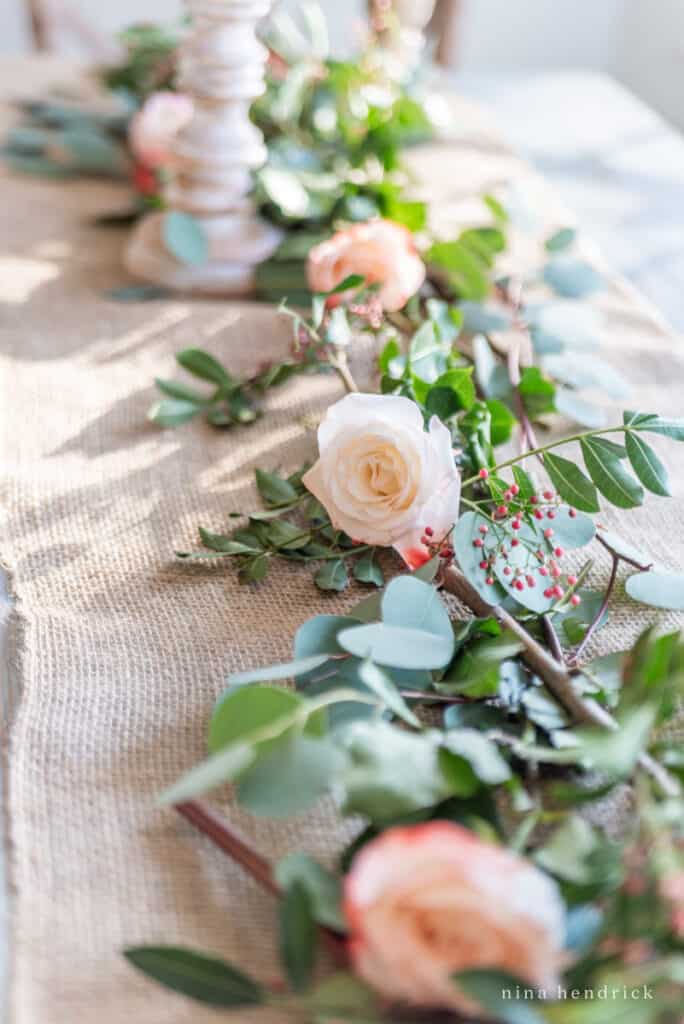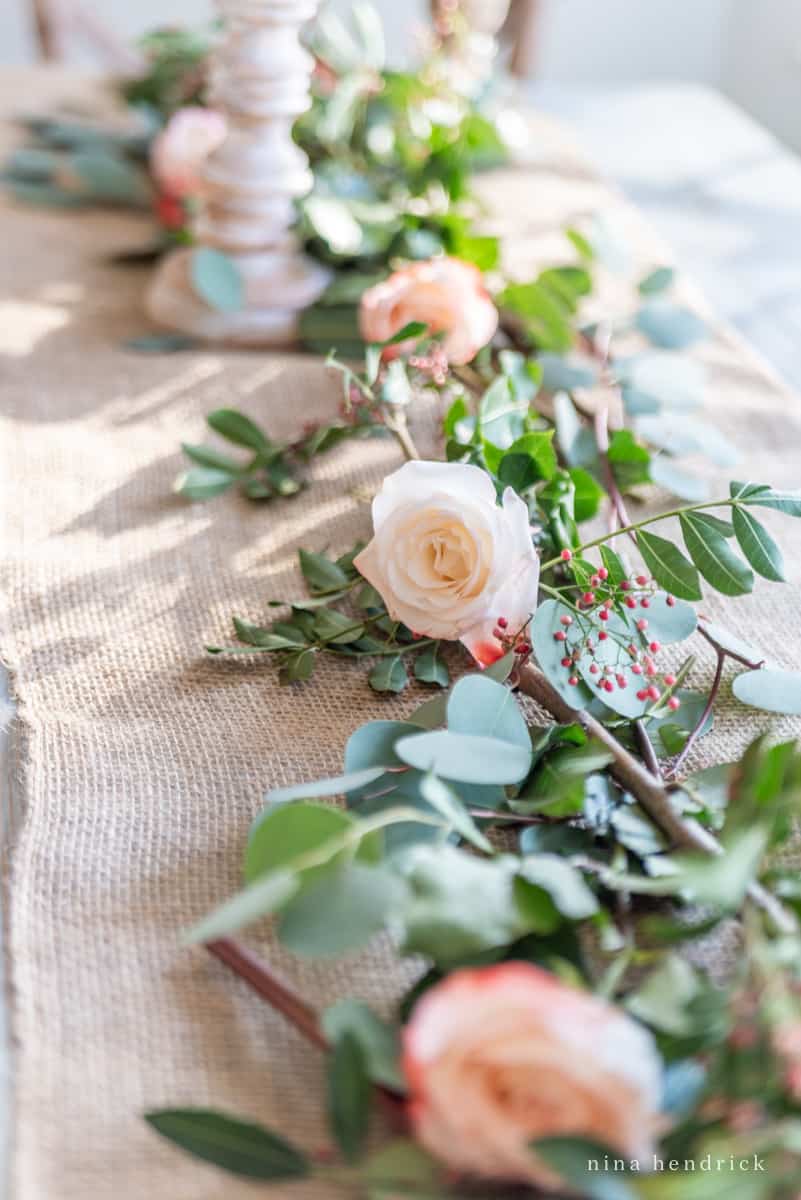 After all, most of these simple flowers and greenery are available right at the grocery store (that's where I got them!).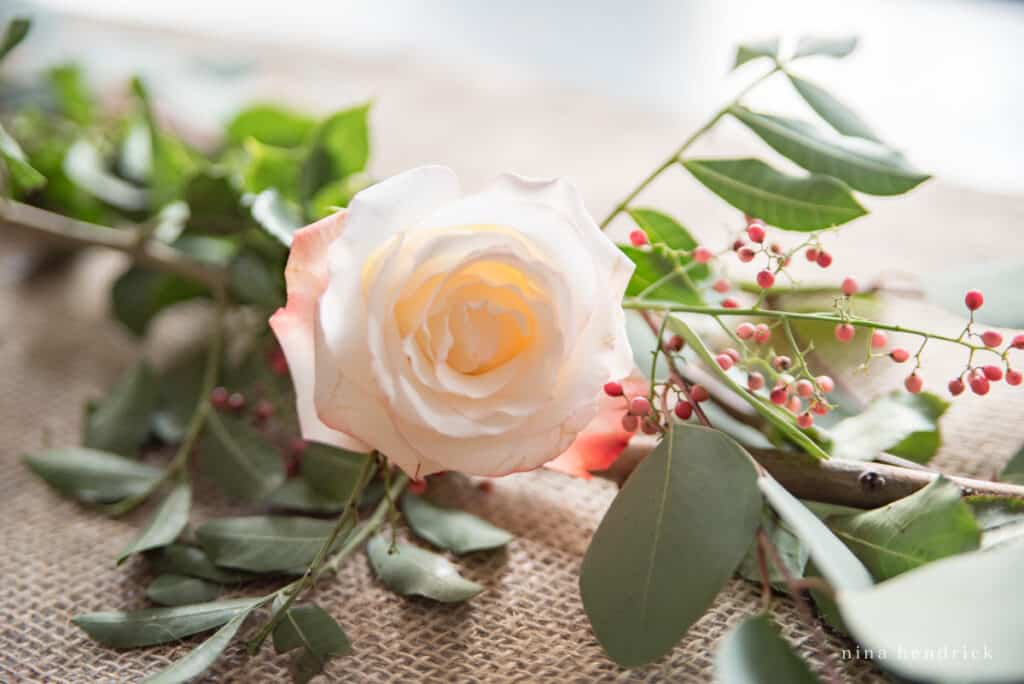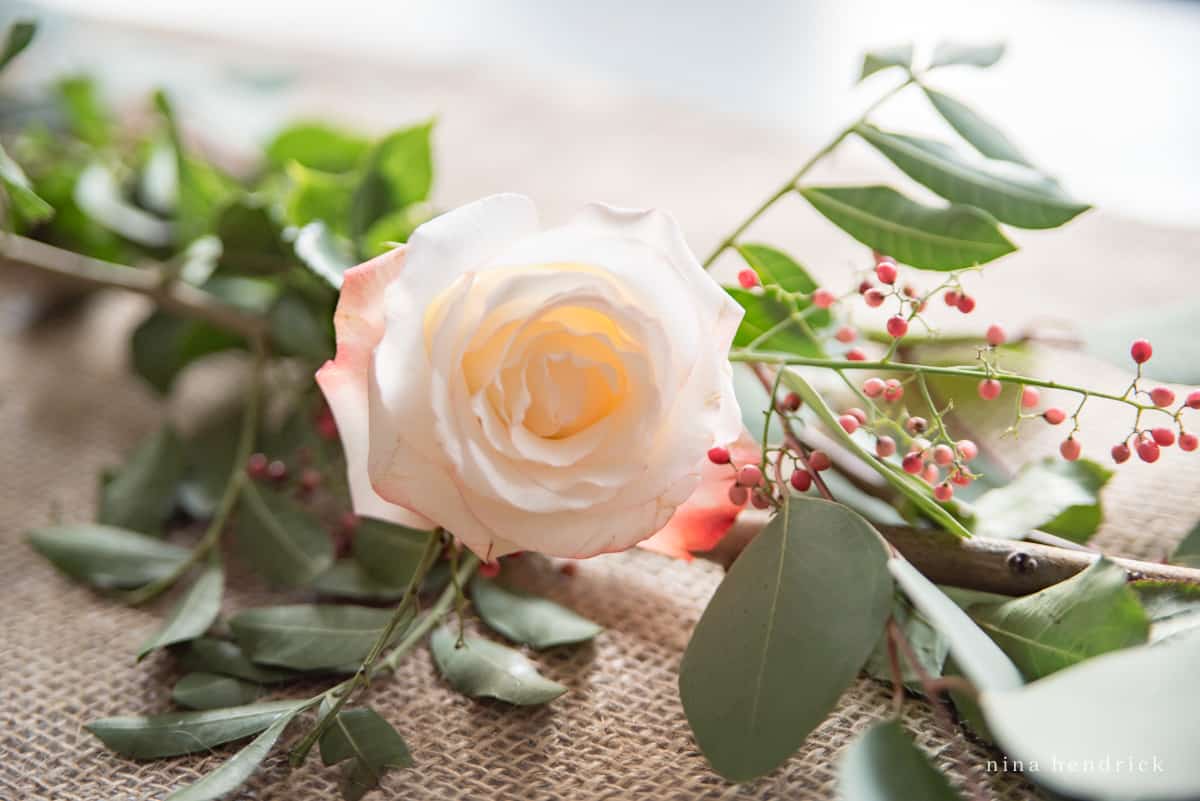 Naturally, since the flowers are out of the water, it would have to be a centerpiece for a single dinner. The good news is that you can then put the flowers in water and create an arrangement that will last days beyond your initial event.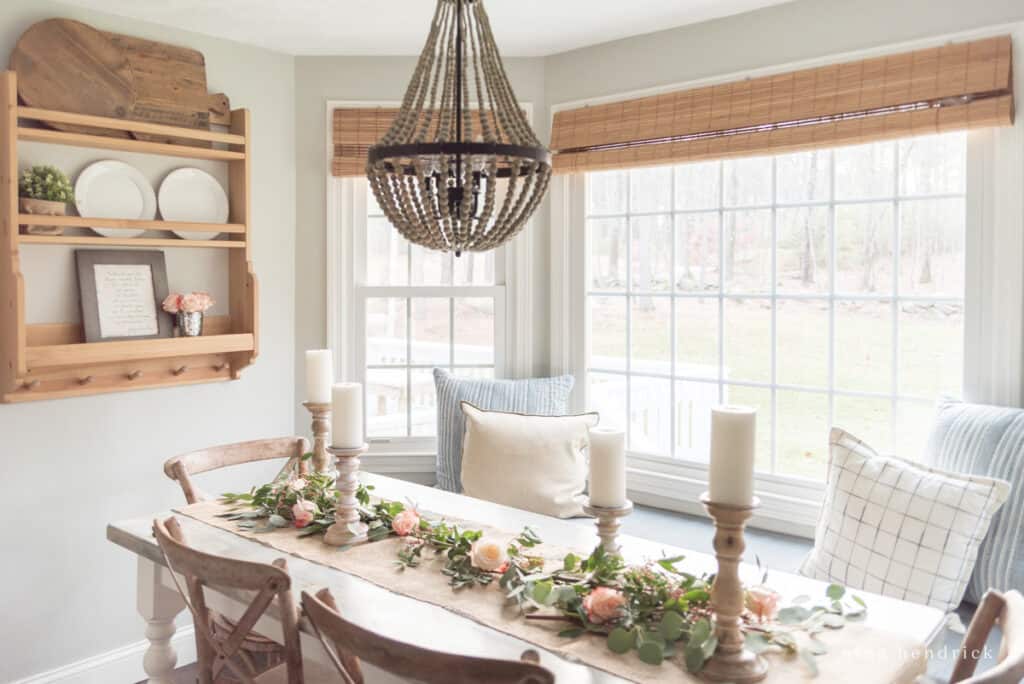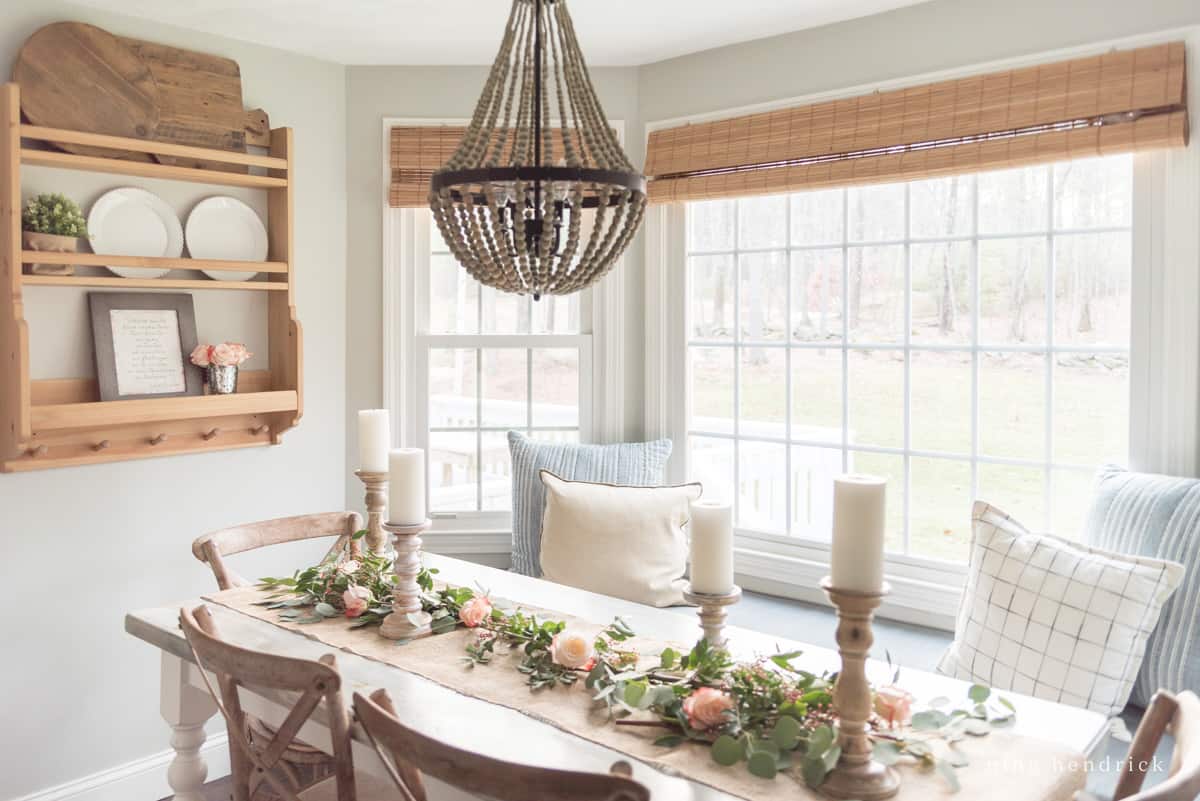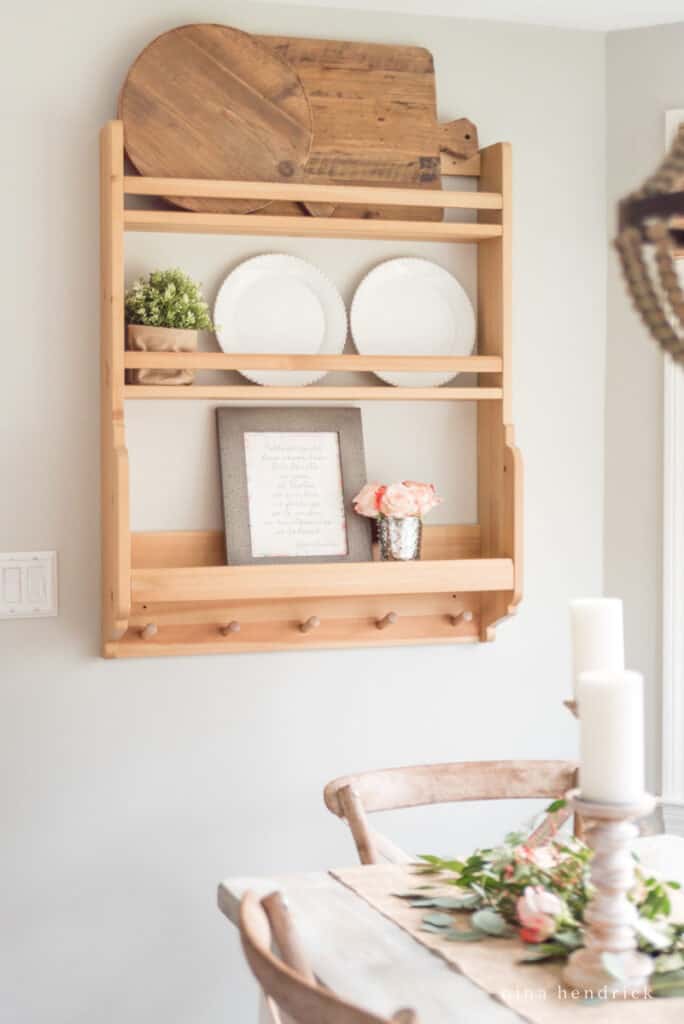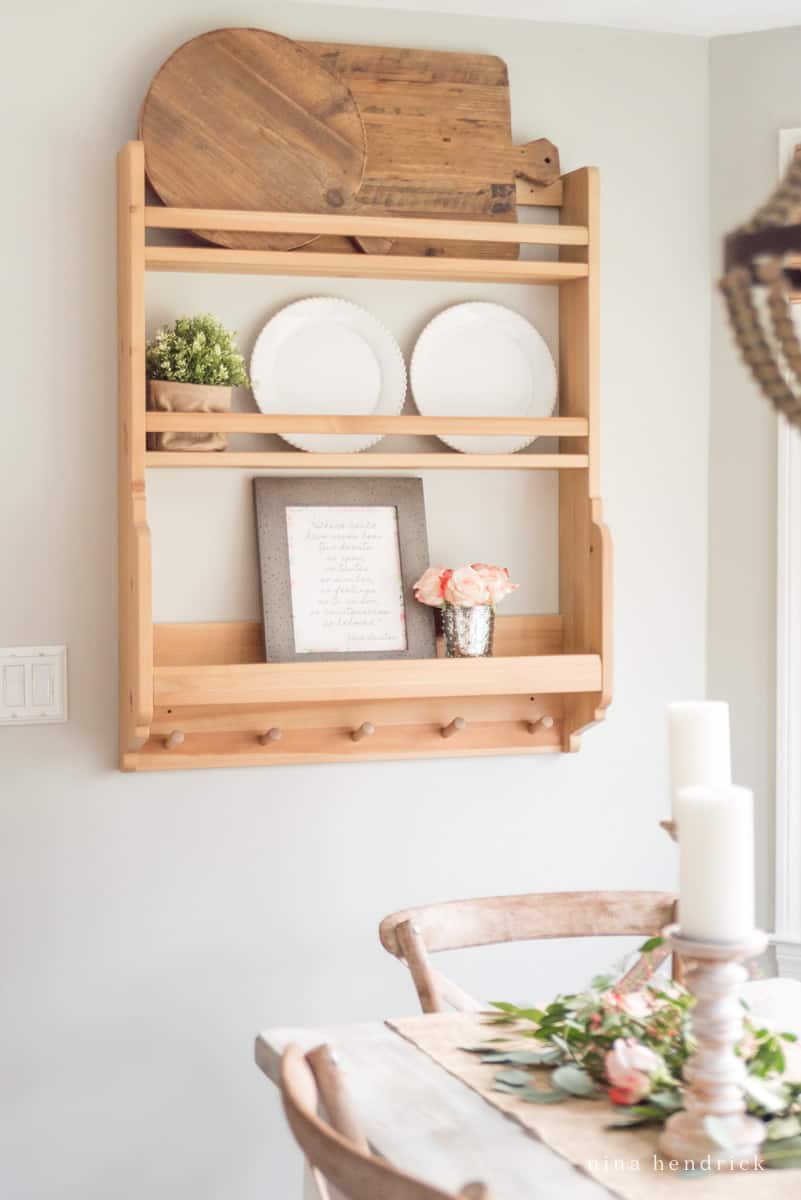 This post contains affiliate links, which means I may get a small commission (at no extra cost to you) if you shop my link. Please see my disclosure if you'd like more info!
I displayed my Jane Austen print on a shelf right by my table. For those who are curious, the exact shelf is no longer sold. However, I sourced a similar one here, and it looks like they take custom orders — so you could have pegs added like mine!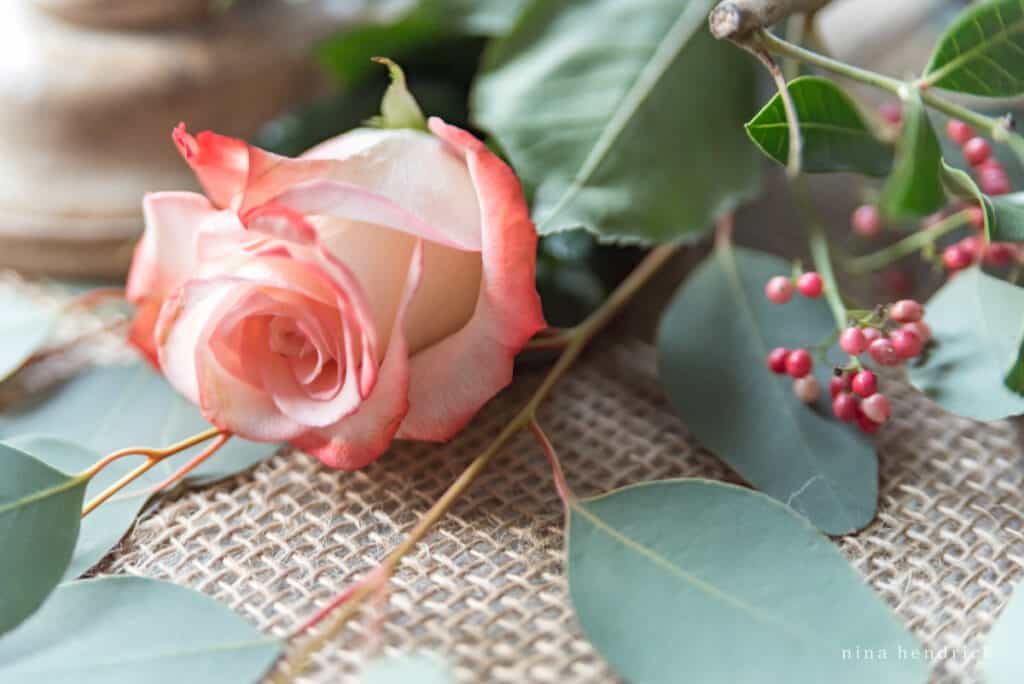 Jane Austen Persuasion Quote 8×10″ Print
Jane Austen's beloved novel, Persuasion, is full of timeless quotes that can bring a bit of elegance and romance to any room. If you're looking for a way to bring a bit of Austen's world into your home, why not download this beautiful 8×10″ printable decor print with romantic florals and cursive? This printable art is the perfect way to add a touch of sophistication to any wall space, and the romantic quote by Austen is sure to make any heart flutter!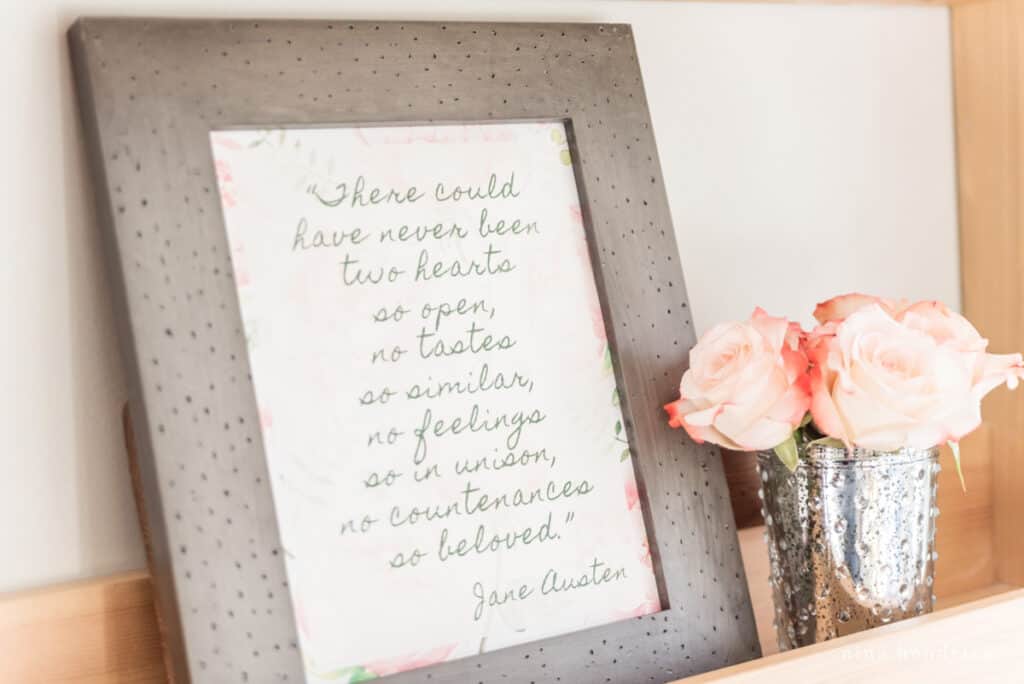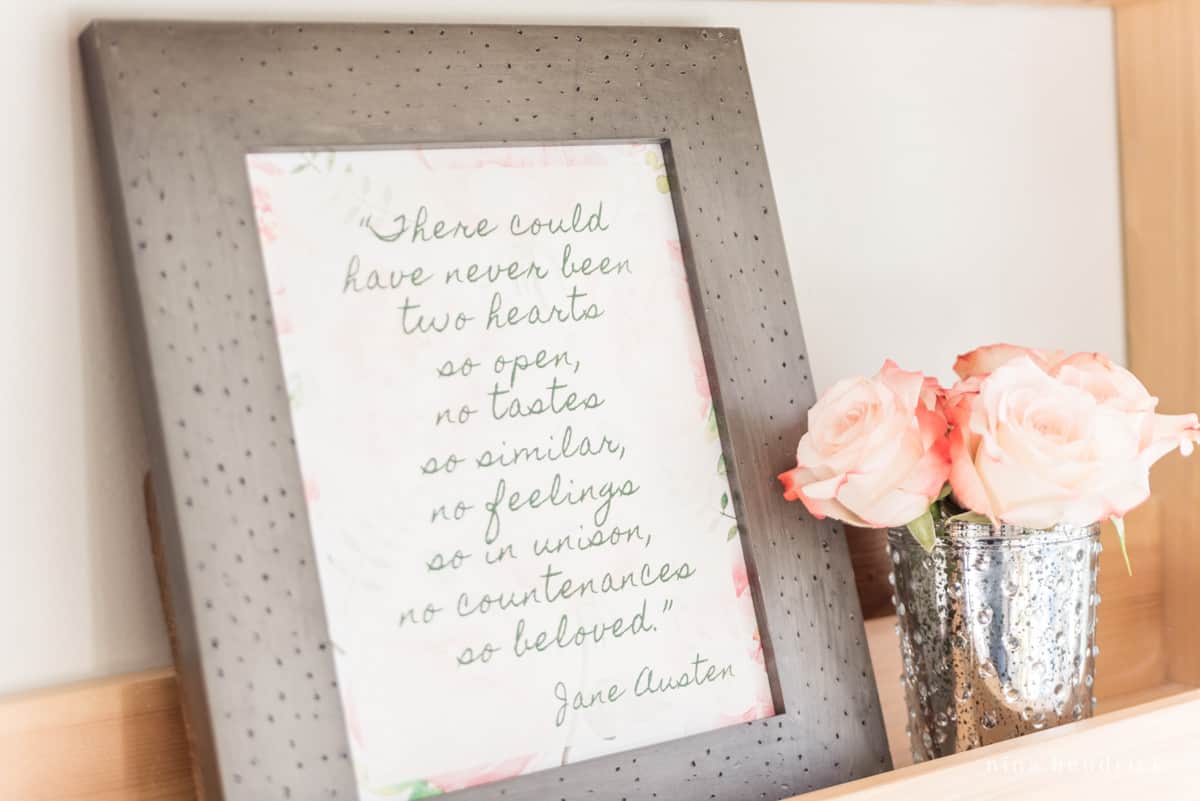 This rustic frame was purchased many years ago and isn't what I'd choose if I could pick a frame today to fit this theme. I think this 8×10″ Jane Austen print would look so pretty in a simple and elegant gold float frame like this one!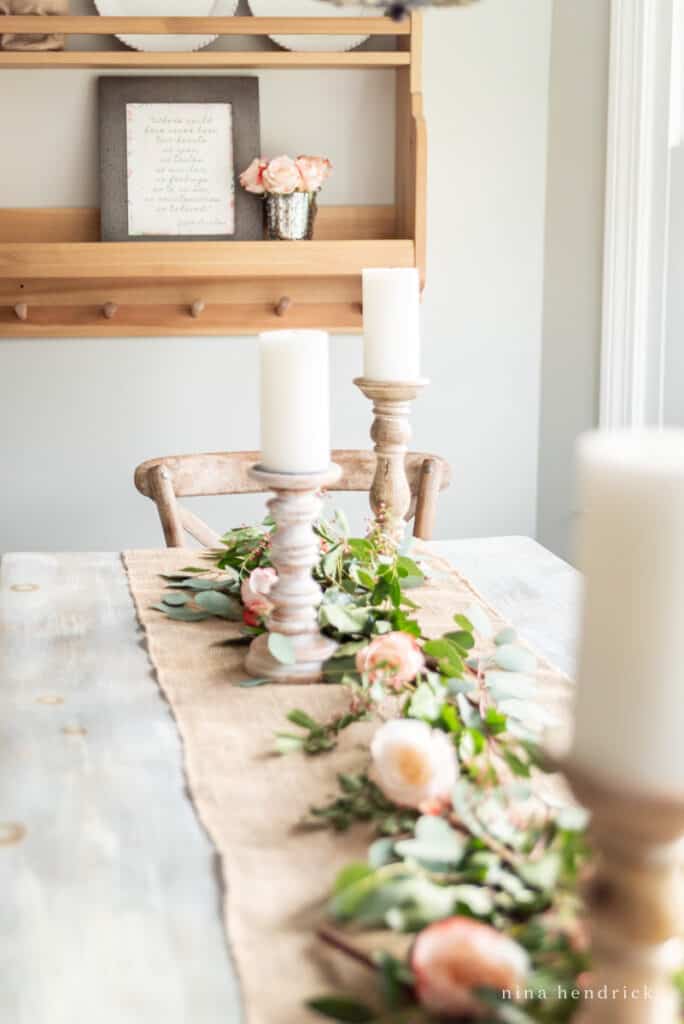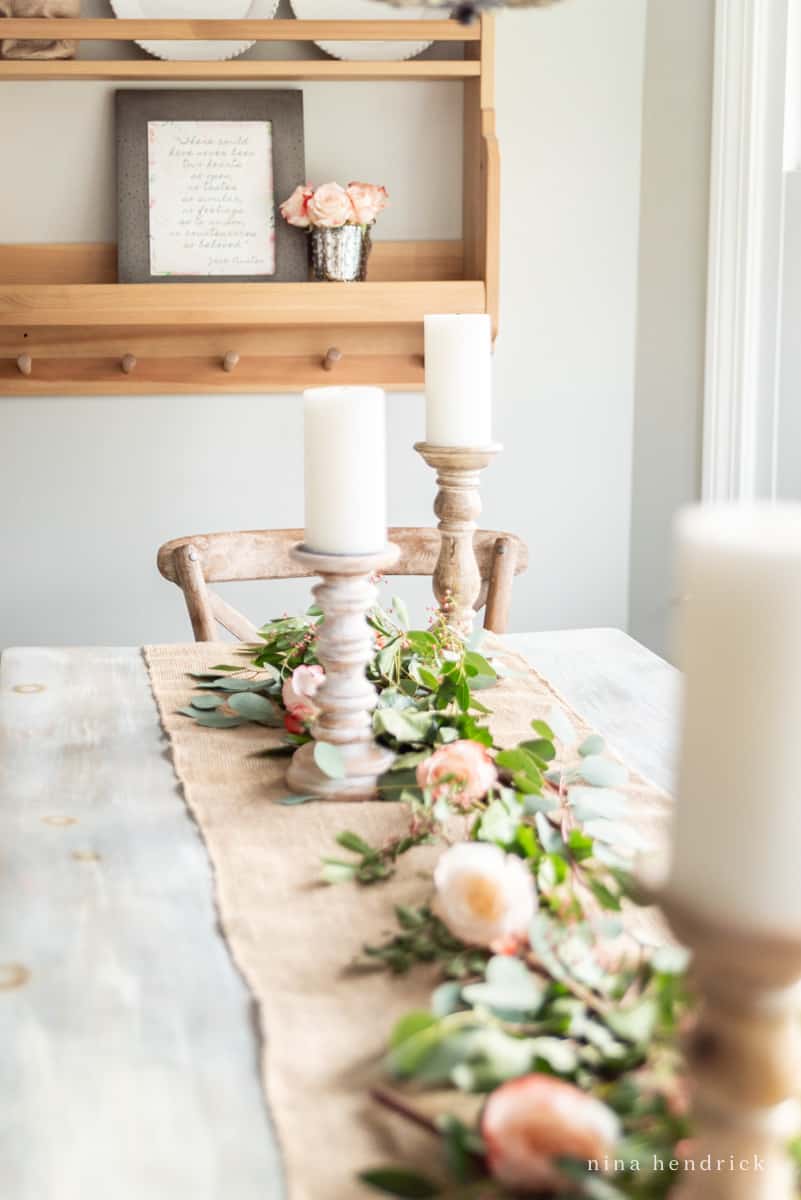 Overall, I hope this combo of the Jane Austen print and the Valentine's Day Centerpiece help you elevate a simple night near the holiday into a mini celebration.
Shop this Post

You can get your free 8×10″ Jane Austen print here: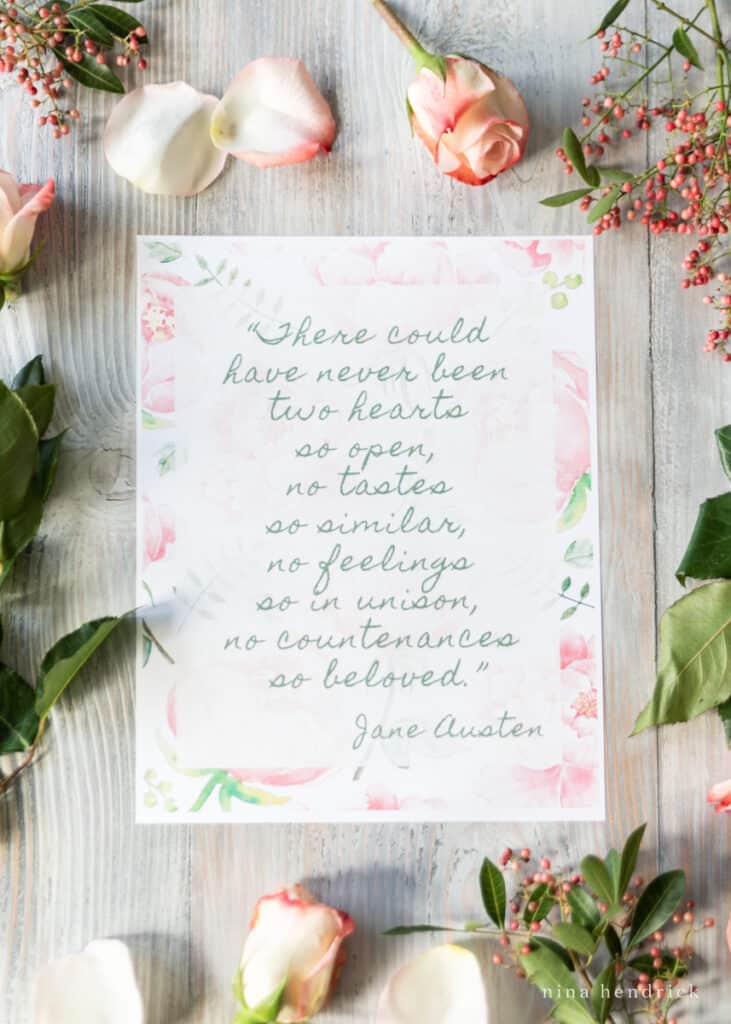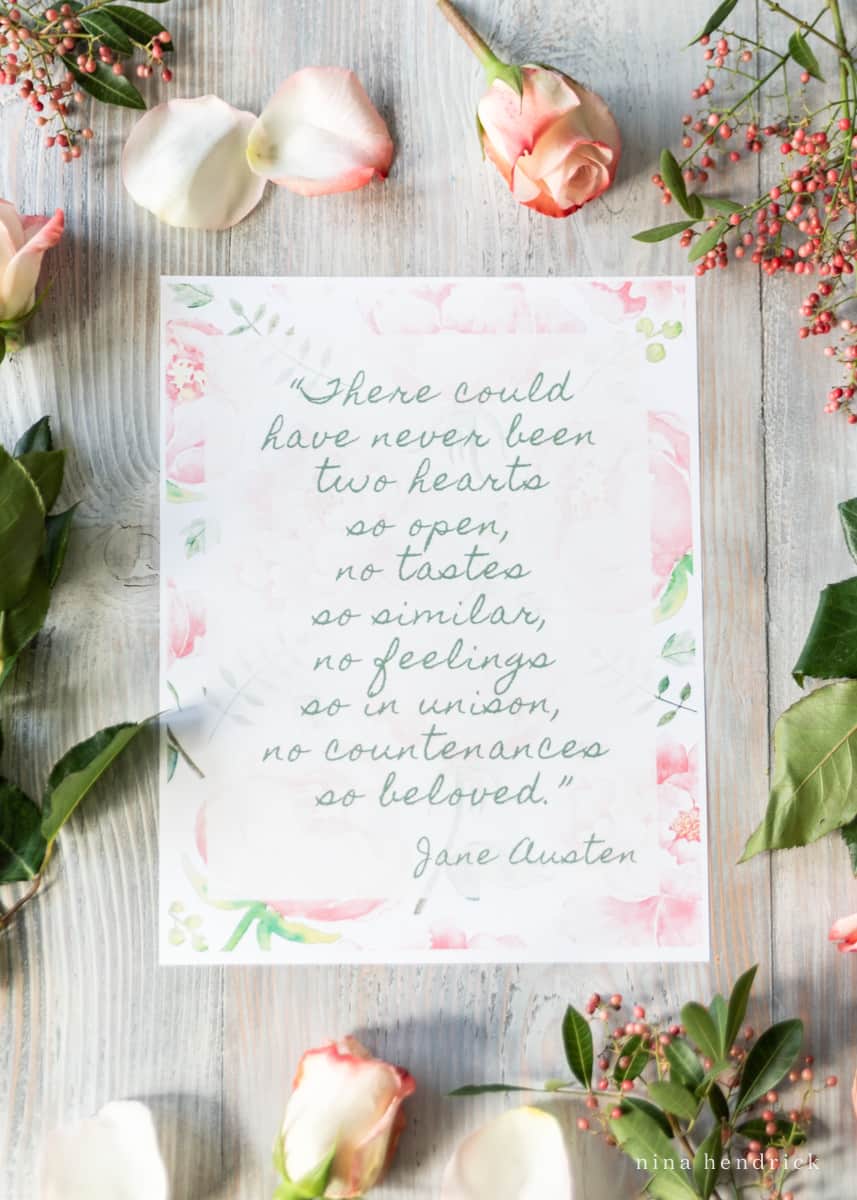 Fill out the form below for access to our free printable library! You'll be able to download this printable today (plus many more) and will also be signed up to receive our newsletter for more unique and creative decor ideas. With this printable, you can add a special touch to your home or office that celebrates the timeless themes of love and understanding found in Persuasion!
Unfortunately, although I want to make sure you are fully enjoying my free printables, due to a high volume of requests, I can't provide individual support for free printables. After filling out the form if you still can't find the email with the password, please check your spam folder, as they often have a misadventure.
Pin It For Later