Looking for a simple way to celebrate Valentine's Day? This romantic gold & blush Valentine's day tablescape can elevate any weeknight into a special celebration. It includes inspiration for a gorgeous blush cascading flower arrangement that you can recreate with grocery store flowers.
Do you decorate for Valentine's Day? It's just around the corner and if you're looking to add a festive touch to your home, a Valentine's Day tablescape is a great way to do it.
A tablescape is a decorative arrangement of items placed on a table. Not only is it a great way to make your dining area look romantic, but also it can also help set the mood for a special Valentine's Day dinner or gathering. In this blog post, we'll provide some great ideas for creating the perfect Valentine's Day tablescape, from decorating the table itself to creating a centerpiece and choosing the perfect place settings. If you're looking for more Valentine's Day inspiration, check out my free printables here!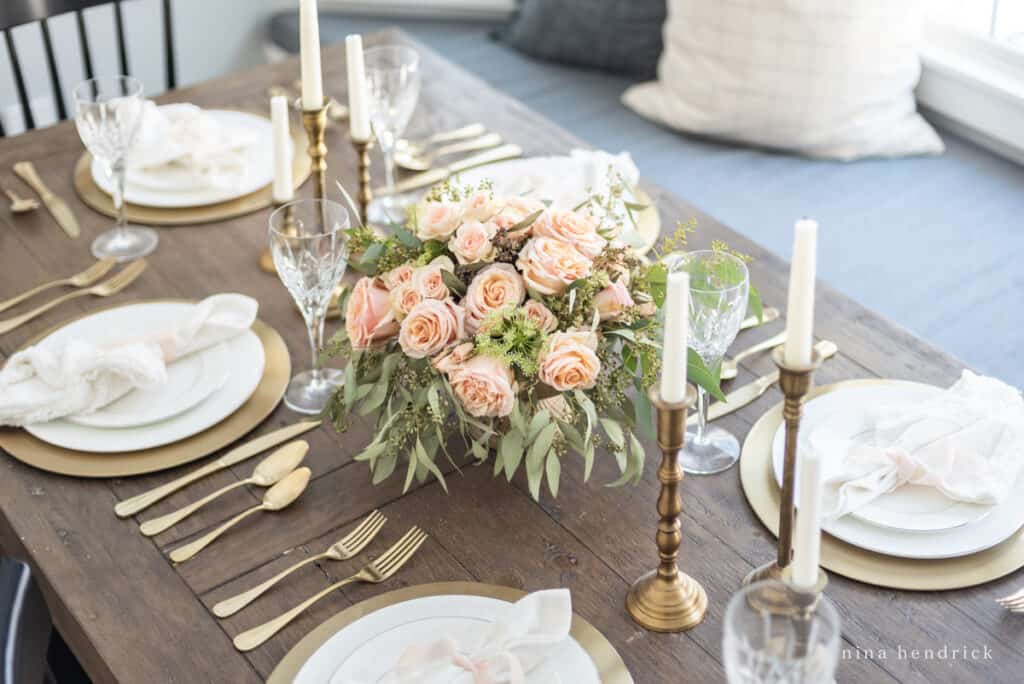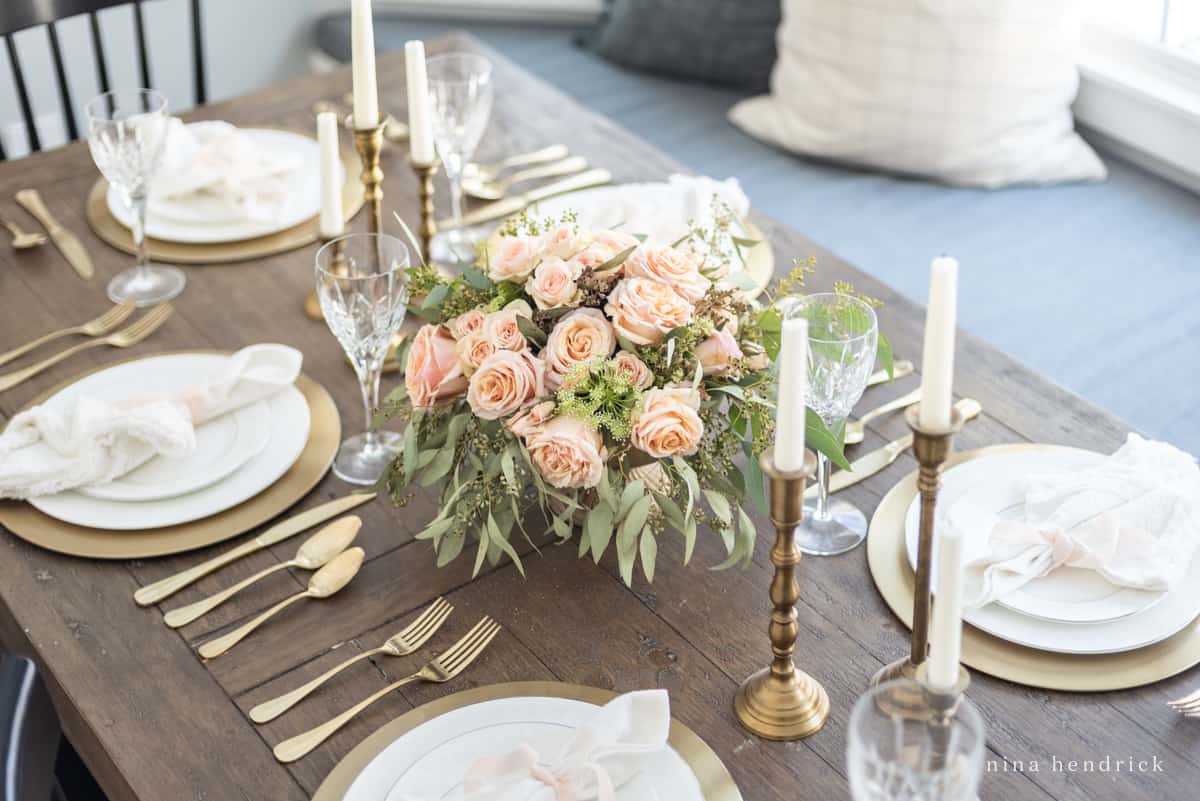 Blush Valentine's Day Tablescape with Garden Style Roses
A Valentine's Day tablescape is a great way to bring the romantic spirit of the holiday into your home. It can be as simple or as elaborate as you'd like, but typically involves a beautiful tablecloth, a centerpiece, and some other decorations like candles, flowers, or chocolates.
Setting the table in this way adds a romantic and festive touch to your dinner and can be a great way to make the day special. If you're feeling especially creative, you can even create a themed tablescape with colors and decorations that match the occasion. No matter what you choose, a Valentine's Day tablescape is sure to create a memorable and unique atmosphere for your special dinner.
I put together this simple and romantic gold & blush Valentine's Day tablescape to show you an easy way to elevate a simple weeknight near the holiday. The best part? I used what I already had along with flowers that can commonly be found at the grocery store. Here's how you can recreate it!
Looking for a crash course on how to create a tablescape? Check out this post!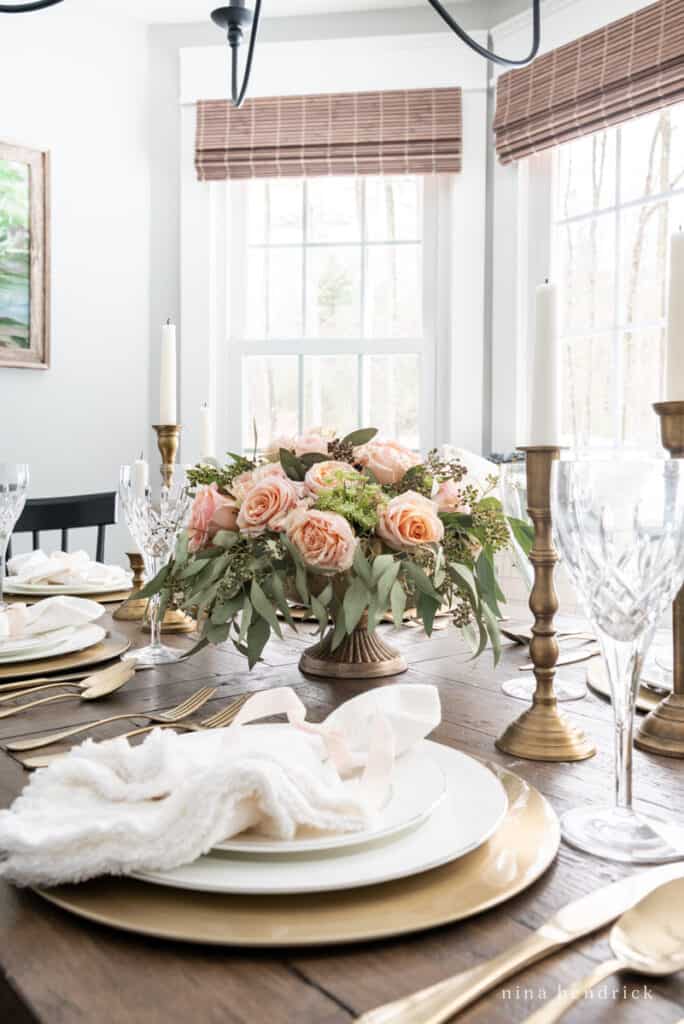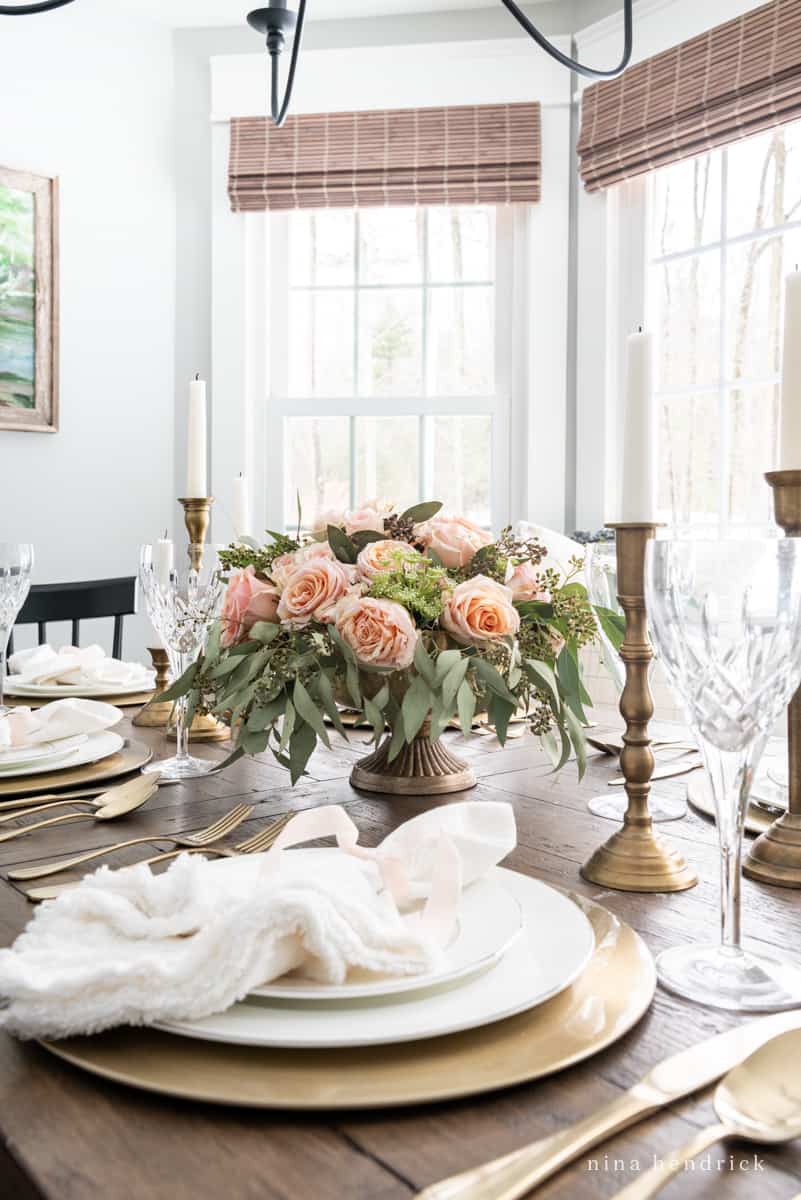 A few years ago, I created a centerpiece inspired by Jane Austen, which I've recently revisited with fresh eyes now that Bridgerton has taken the world by storm. Today's tablescape definitely has some of the same dreamy English garden elements!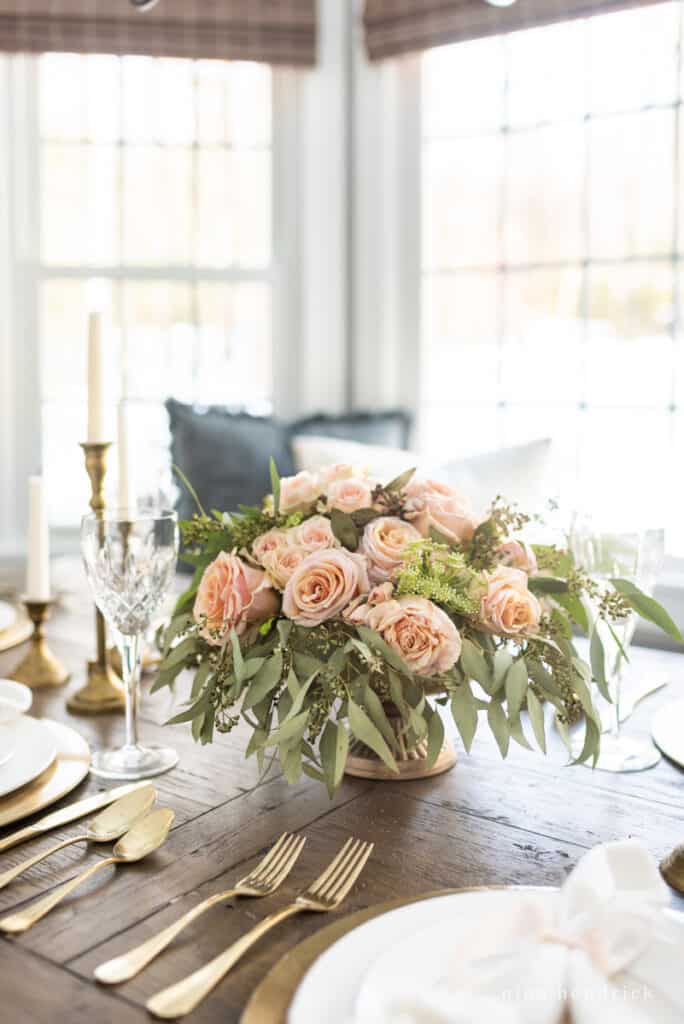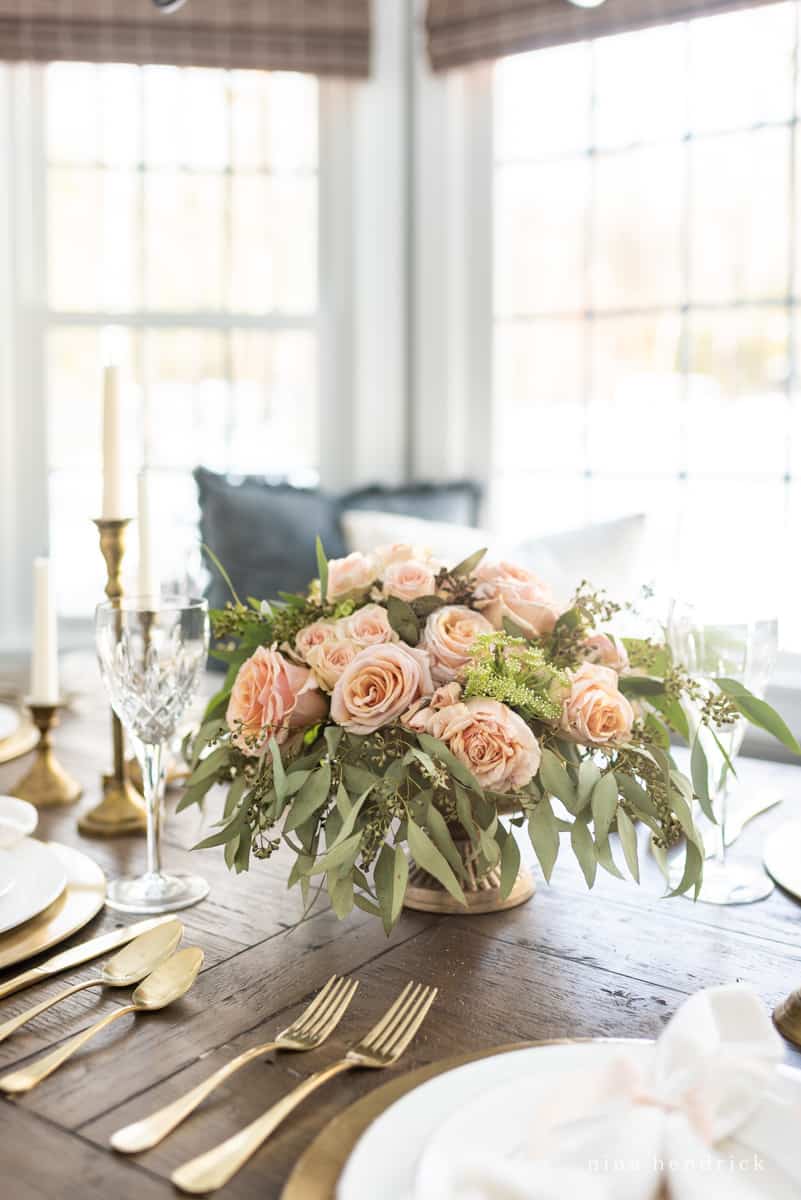 1. Gold & Blush Cascading Flower Arrangement Centerpiece
Let's start with the flowers. I chose flowers for this blush cascading flower arrangement that you can easily just grab at the grocery store.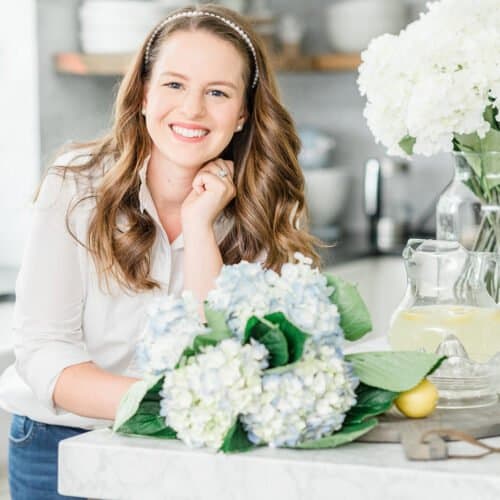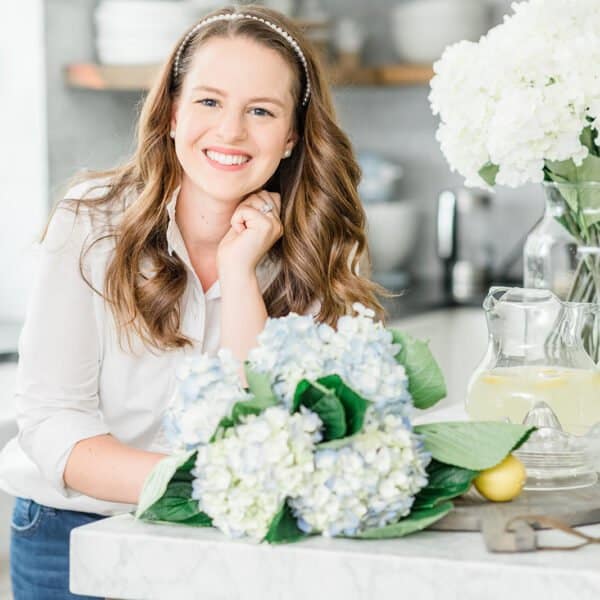 Note from Nina: Floral arrangements don't have to be expensive or complicated to be amazing. Whether they are for Valentine's Day, or any day of the year, grabbing flowers from Trader Joe's, Whole Foods, or your local grocery store can lead to breathtaking flower arrangements!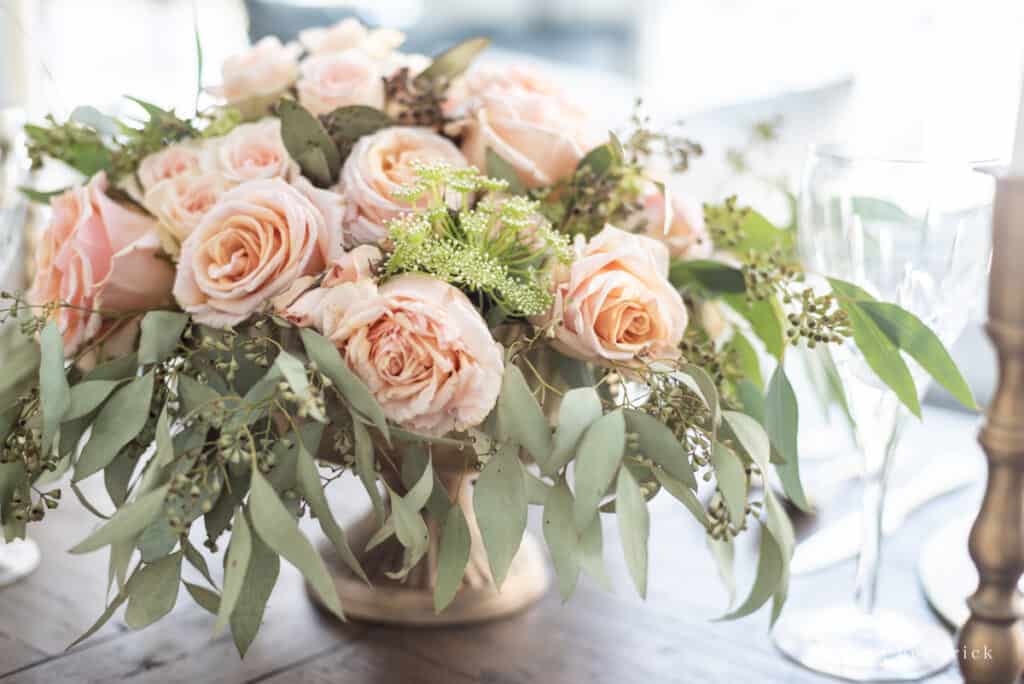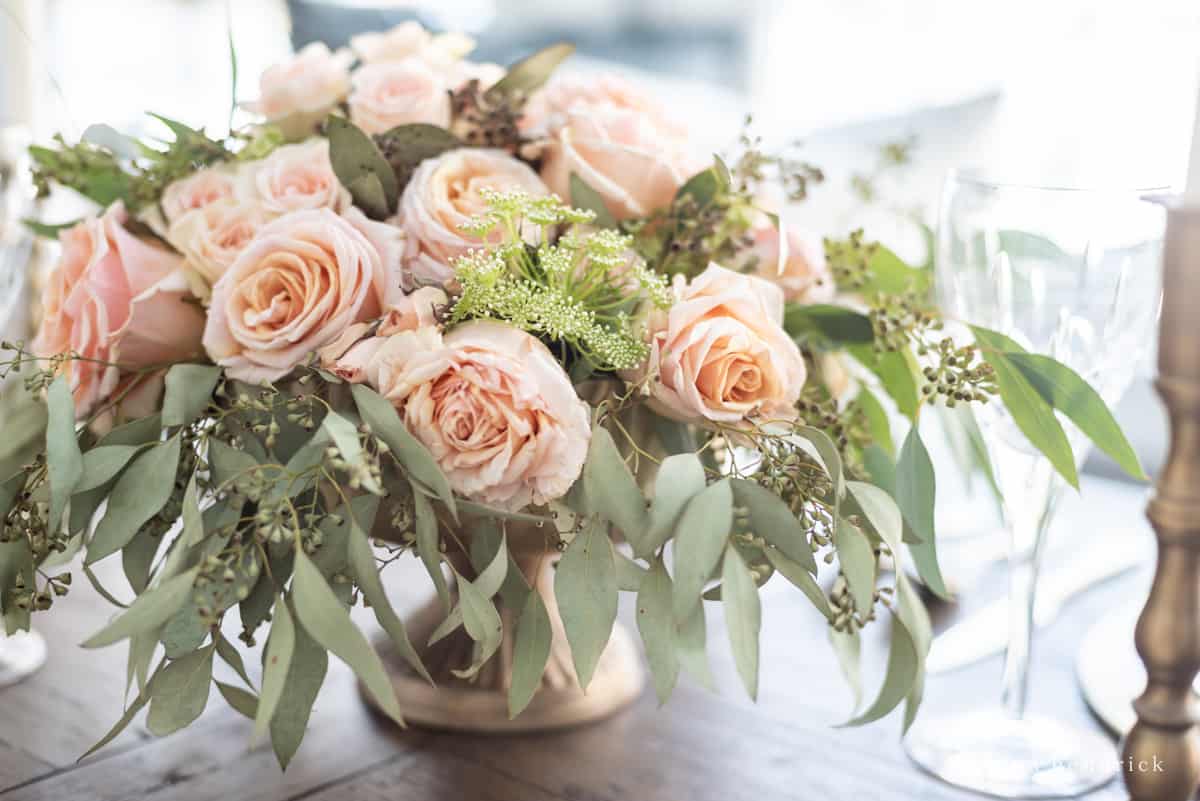 I was obsessed with the colors of these blush roses. They are so soft and romantic — perfect for this theme. I also included some blush spray roses. Unfortunately, some of the spray roses were already a bit past their prime by the time I got them, but they matched the larger roses perfectly.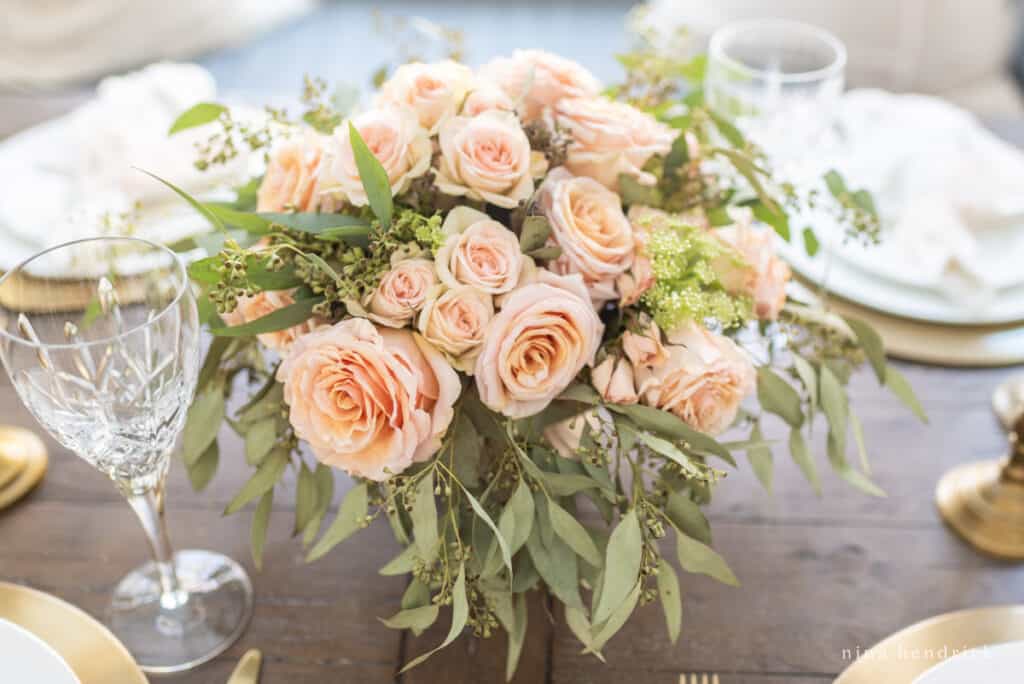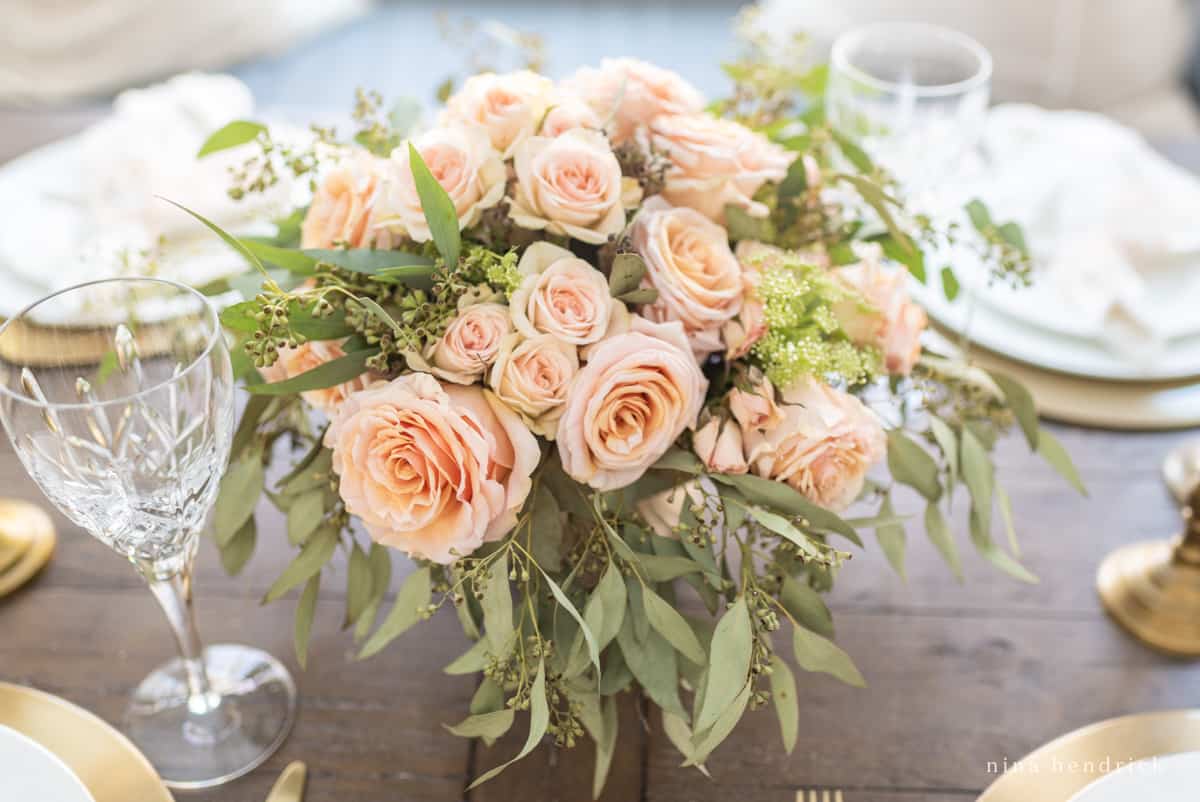 The greens are seeded eucalyptus and Queen Anne's Lace. While the former is almost always available at the grocery store, the Queen Anne's Lace can be harder to find in the winter. If needed, look for a substitute filler with an airy appearance — something like wax flowers or even baby's breath.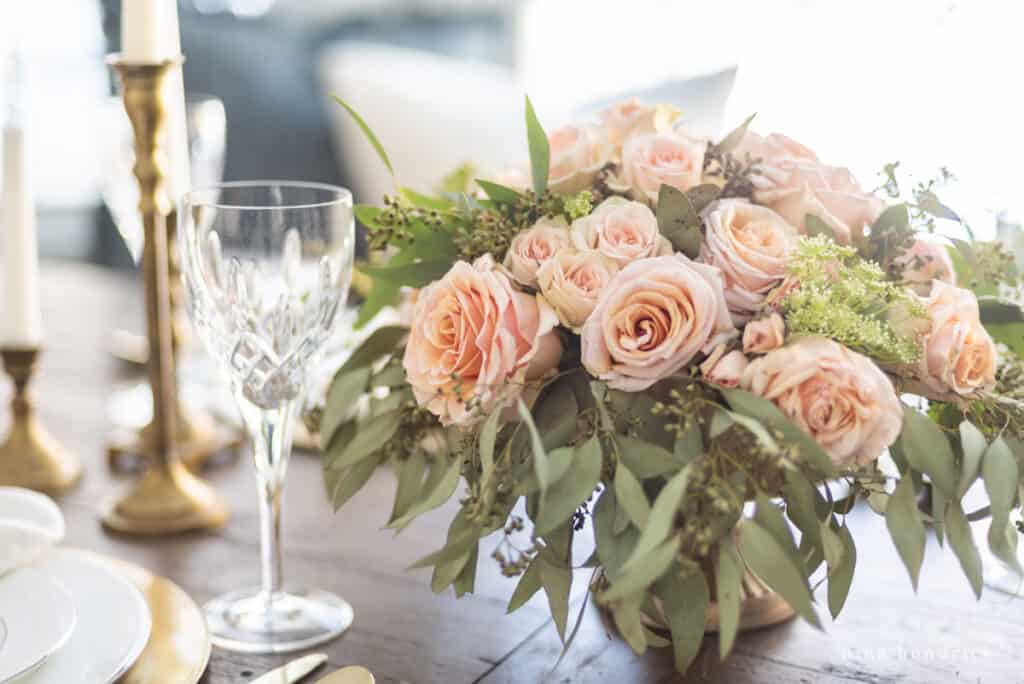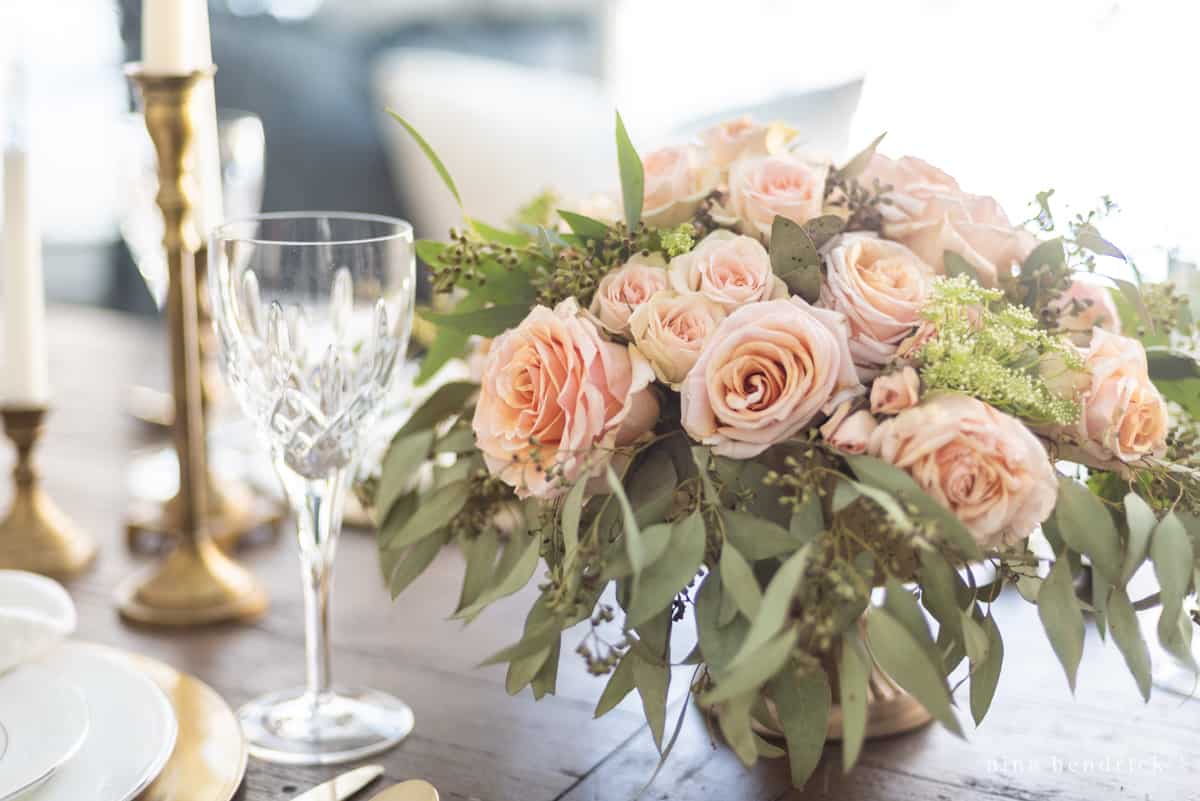 On the flip side, if you happen to come across this in the other seasons of the year, Queen Anne's Lace may just be available out in the yard or in a nearby wooded area or field for free!
This post contains affiliate links, which means I may get a small commission (at no extra cost to you) if you shop my link. Please see my disclosure if you'd like more info!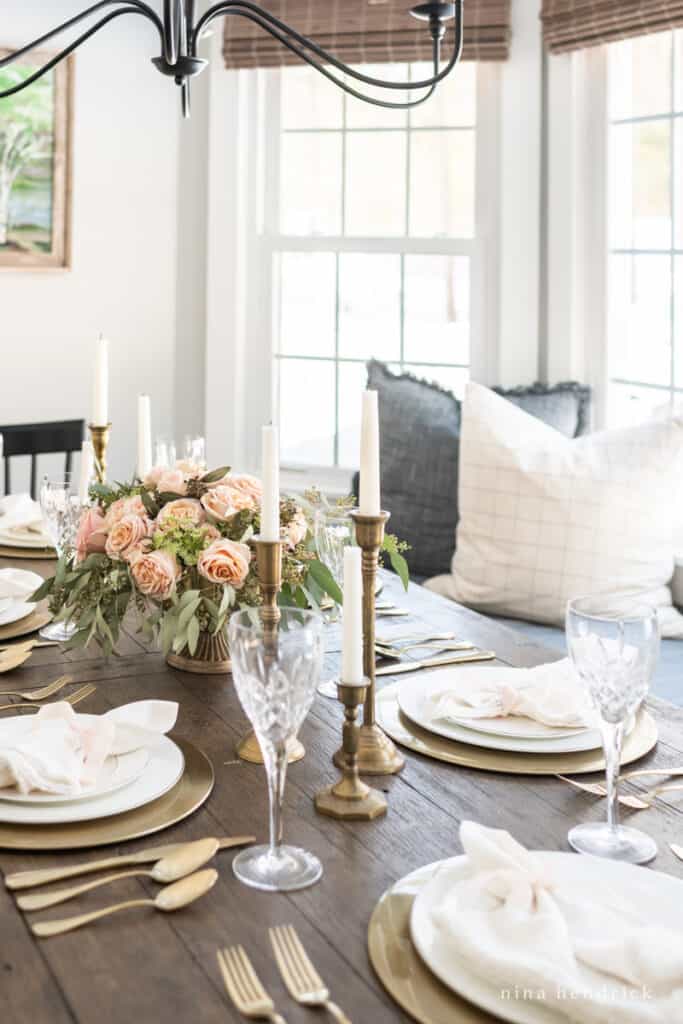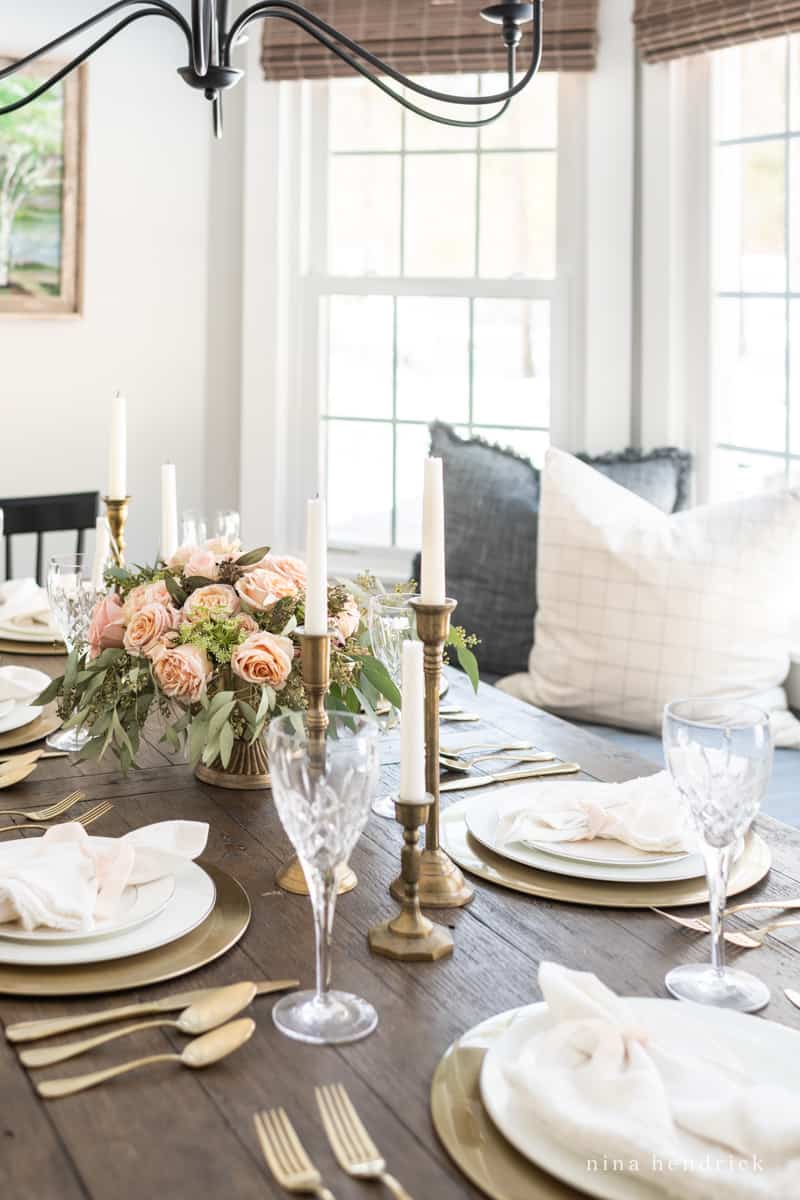 The only thing besides the flowers that I purchased for this tablescape was the gold bowl that I used as a vessel. It was perfect for creating this blush cascading flower arrangement and I know it will become part of my tablescape capsule collection! Just make sure to tape a grid across the top so that the center flowers have something to hold them up.
More Valentine's Day Floral Arrangements Ideas:
Consider a large arrangement of roses, lilies, and carnations in shades of pink, white and red.
Add smaller groupings of flowers, such as daffodils, tulips, and daisies in the same colors.
For a more dramatic look, add a few branches of flowering cherry or magnolia blossoms.
2. Gold & Blush Valentine's Day Tablescape Place Settings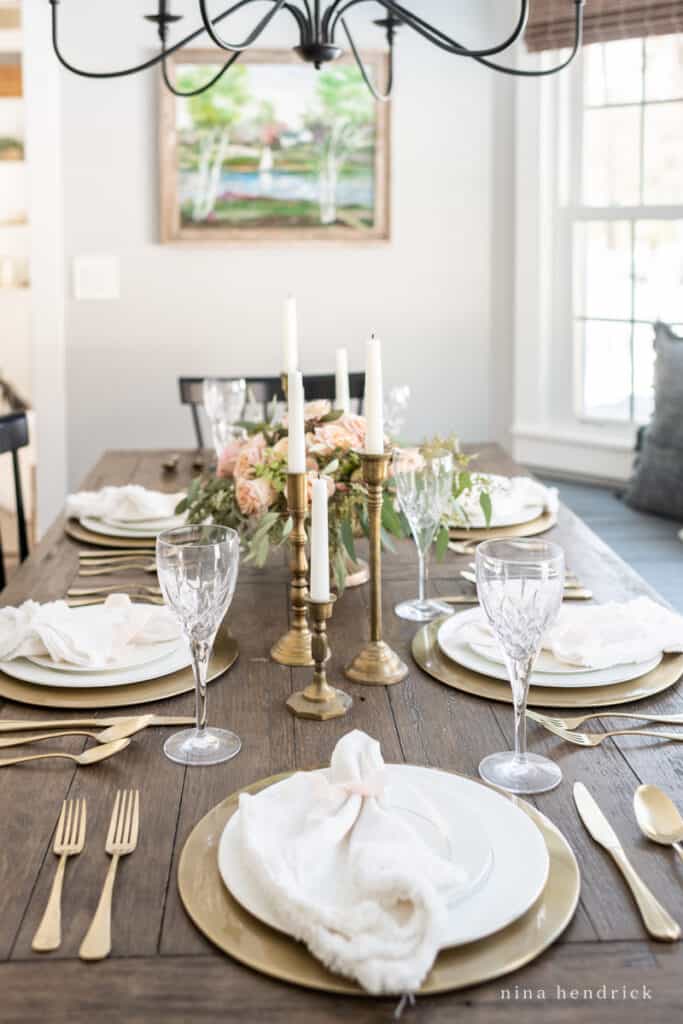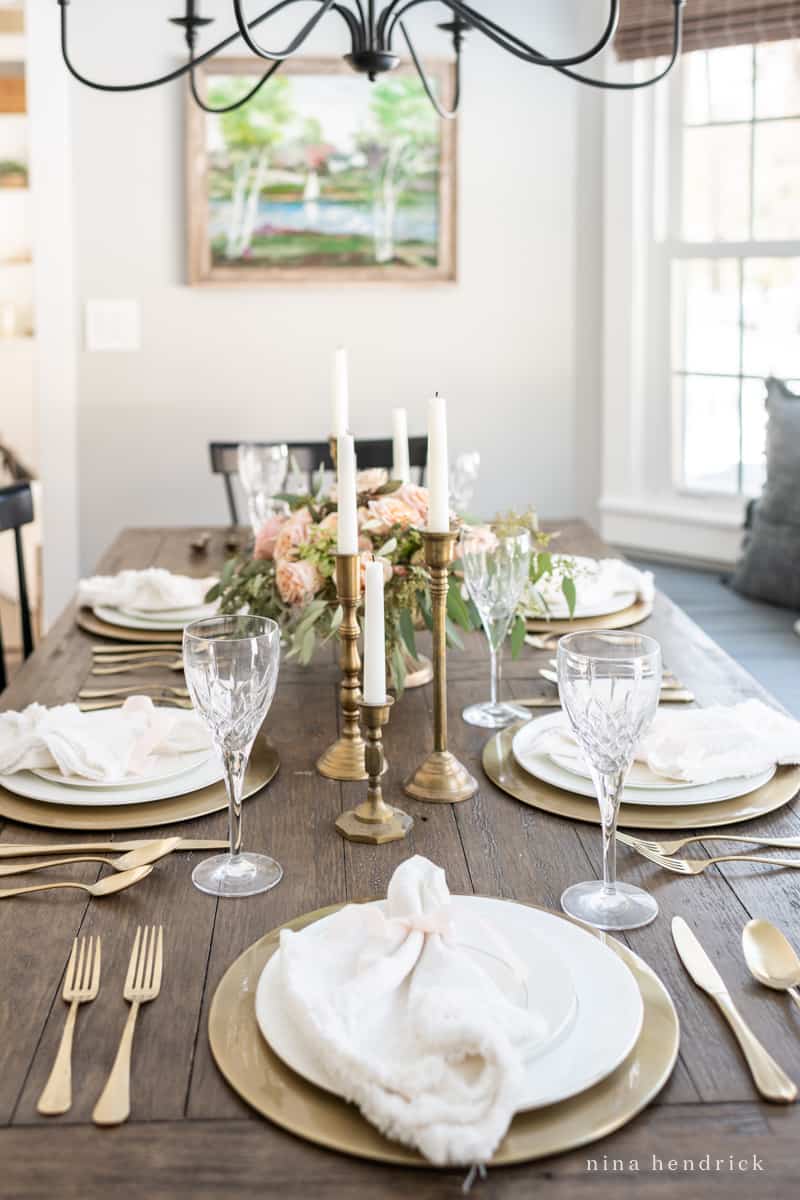 The place setting that I used for this Valentine's Day tablescape is made up of my usual standbys reworked to create a romantic table setting. I always advocate for having a collection of entertaining essentials that you can customize with beautiful seasonal decorations.
If you want to see my entertaining essentials in my other tablescapes through the seasons, you can check out my moody fall tablescape here, a spooky but elegant Halloween tablescape here, and my blue Christmas tablescape here.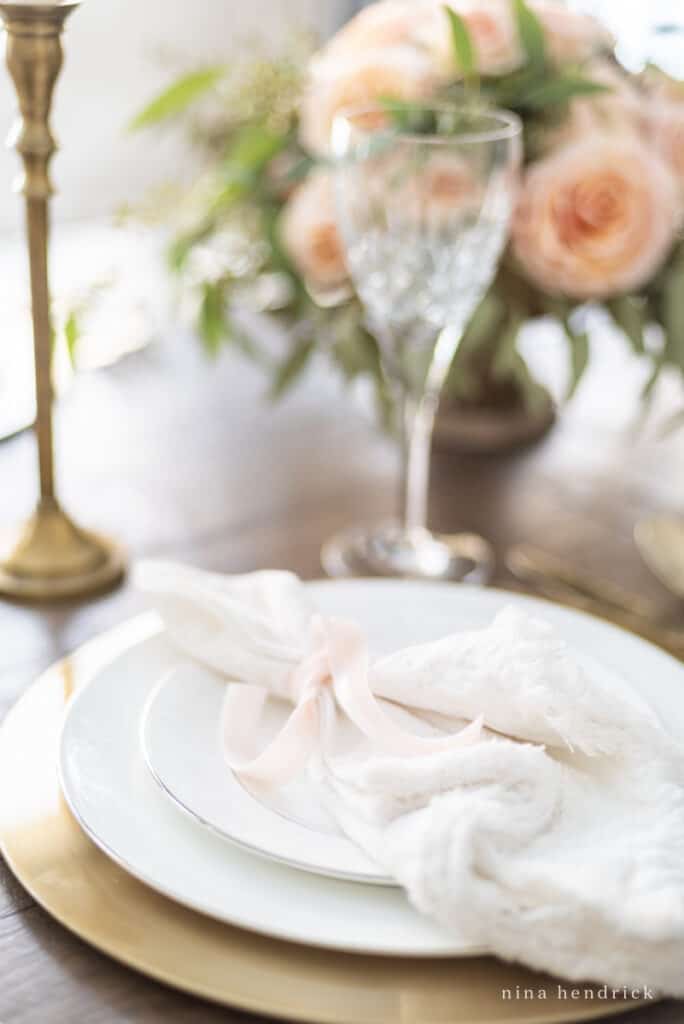 To keep with the blush Valentine's Day tablescape theme, I used this soft blush ribbon. I remembered as I was writing this that I also have a gorgeous blush linen ribbon that I wished I had used. Live and learn!
I also used our wedding china, gold chargers, and gold flatware. All of these tablescape essentials can be shopped below!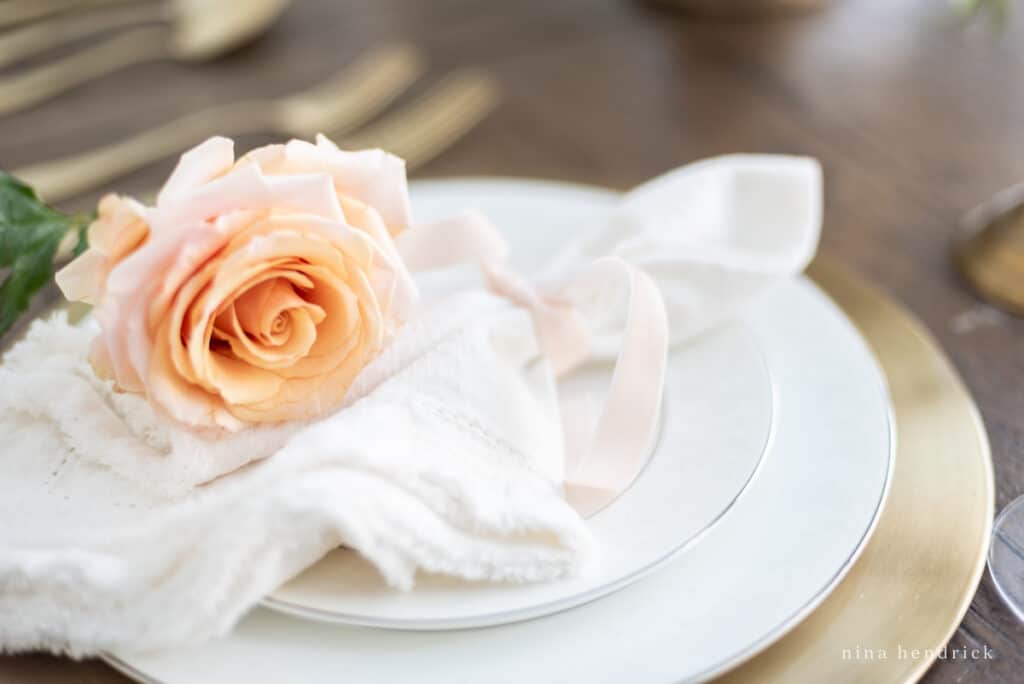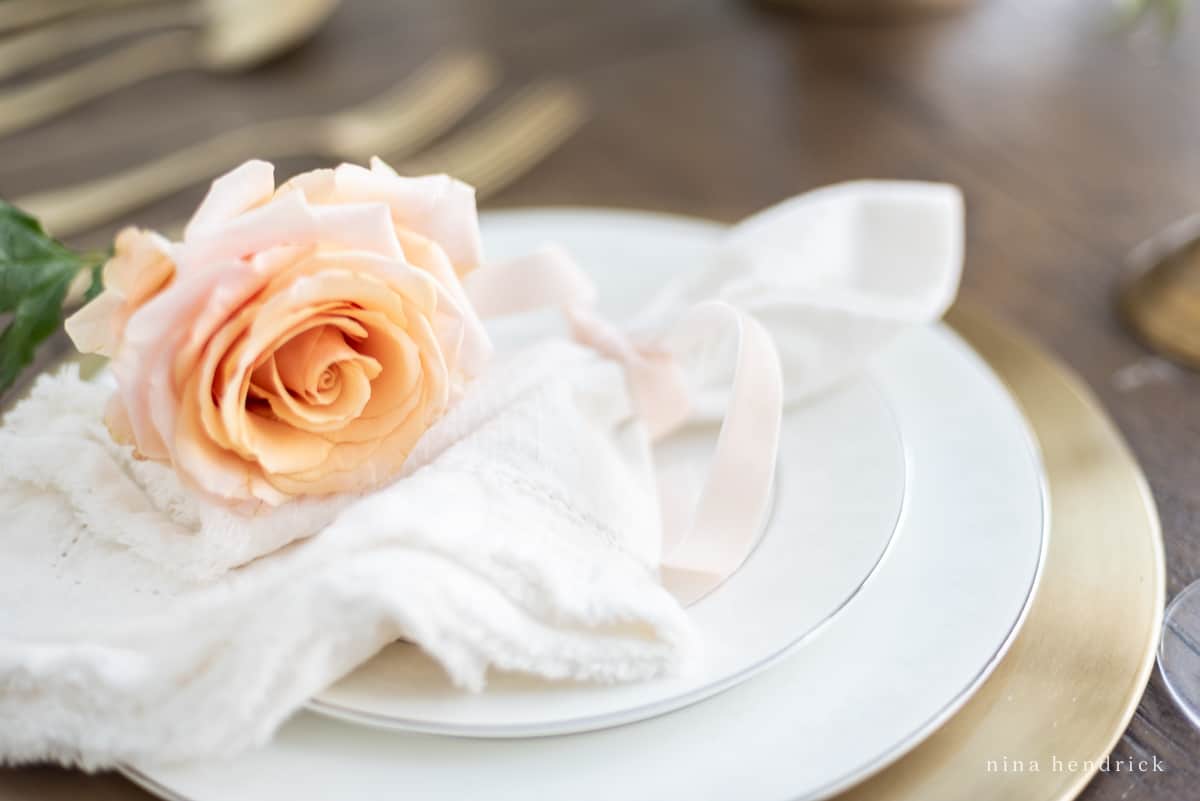 More Ideas for Decorating Your Valentine's Day Table Setting
A Valentine's Day tablescape should be romantic, cozy, and inviting!
Start by adding a special touch to your tablecloth with a lace table runner.
For a festive look, consider adding heart-shaped confetti or rose petals sprinkled around the table.
Use heart-shaped valentine plates instead of round.
Candles are a must-have for any romantic evening, so light up a few pillar candles and place them around the table.
To complement the flowers, add a few votive candles in various shades of pink and red.
Finally, to give your guests something special to take home, place a few small chocolate hearts at each place setting.
Don't forget romantic music for setting the scene!
3. Valentine Dishes for Your Valentine's Day Tablescape
Now that you've created your beautiful tablescape, it's time to think about dinner! Whether you're planning a romantic date or a fun Galentine's Day, you'll want to serve up some delicious dishes on your Valentine's Day table. Think of what your Valentine loves to eat, or try something new.
For starters, make sure you have an amazing charcuterie board filled with a variety of fresh cheeses, meats, and crackers. Entrees can range from a classic steak and potatoes to a more adventurous fish dish. If you're feeling adventurous, you can even try making homemade sushi! Don't forget to finish the meal with sweet desserts like a decadent chocolate cake or a romantic fruit tart.
And don't forget the drinks! A bottle of champagne or a Valentine's Day-themed cocktail from your home bar will set the mood for a perfect evening.
Get the Look: Romantic Gold & Blush Valentine's Day Tablescape

I hope this blush Valentine's Day tablescape gives you a little inspiration to create your own Valentine's Day celebration at home. If there's anything the world needs now, it's a little more love.
If you want to learn more about the breakfast nook where I set up this tablescape, you can visit this page for sources and more details.
Make sure to stop by my Instagram where I always share new tablescape sneak peeks in my stories!