Materials
Before we dive in– there is one thing I really want to emphasize. I truly feel that filling in the grain is what made this project so successful. I know that step is the hardest- but on our test pieces that didn't have filler we were left with black grain even after several coats.
We had additions to this project that you may not have to worry about. For example, we had to add trim pieces to the doors to accommodate the new hidden hinges. Our previous shelves were warped fiberboard and were covered in shelf-liner, so we opted to replace them and built high-quality cabinet-grade plywood shelves (with a chunky trim piece on the front).  We also added crown molding and had to do some carpentry to strengthen the sink cabinet to hold our new Farmhouse sink. Some of the cabinets were damaged and sagging, so we had to reinforce them. Once we accomplished all of that, we could finally start on the painting process!
The "process" or prep work is probably 95% of the project. Once you get to the painting, it moves very quickly! But unfortunately, you're in for a long process before that happy step.
Materials: 
MY LATEST VIDEOS
1.Shop Vac 2.Shop Vac Brush Attachment 3.DeWalt Orbital Sander
 4.Step Ladder
 5.Painter's Tape
 6.TSP Substitute
 7.Plastic Sheeting
 8.Gorilla Tape
9.80 Grit Sandpaper Discs
 10. 80 Grit Angled Sanding Block
 11.DryDex
 12.3-Inch Putty Knife
13. 1-1/4-Inch Putty Knife
14.220 Grit Sandpaper Discs
15.220 Grit Sanding Block
16.KILZ Original Primer
 17.KILZ Spray Primer
18.Mini Roller Kit
19.2-Inch Paintbrush
 20.320 Grit Sanding Block
 21.Insl-x Cabinet Coat
22.Paint Measuring Cups
 23.Distilled Water
 24.HomeRight Finish Max Pro 25.Satin Polyacrylic
(optional) 26.Air Compressor (optional) 27.Caulking
 ALSO: Don't forget your safety equipment! A Paint Project Respirator
, Safety Glasses
, and Hearing Protection
 are always a must!
 About The Paint: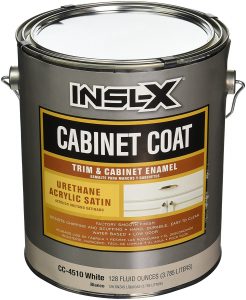 This was a very important part of the process for me. As I mentioned above, a lot of research went into my decision to use a paint sprayer and Insl-X Cabinet Coat Enamel
 (p.s. they did not sponsor this post in any way- they have no idea I exist!). For color, I chose not to tint it, but since it's a Benjamin Moore Product, they will tint it if you wish! In it's natural state, it has an ever-so-slight bluish tinge (but much much less than the graphic on the can- that is actually an example of the paint when tinted blue!), which I actually really liked. But keep this in mind if you are hoping for a warmer color- you may have to go one shade warmer to counteract the blue. It's best to talk to your local paint store expert and see what they recommend.
It is an acrylic water-based enamel. It was already pretty thin, but through trial and error, we determined that the best results were achieved with our paint sprayer when we diluted it 8% with Distilled Water. We are being very specific about the Distilled Water- we tried it with tap water and the minerals in our water reacted negatively to make the paint discolor and run. To achieve the 8%, that is where your measuring cup (and probably a calculator) will come in handy! Make sure to mix it well.
My favorite aspect of this paint- and the reason why I recommend it so highly- is that it has really great self-leveling properties. It has provided the closest thing I've seen to a cabinet factory finish without being the real thing. It also has not chipped so far within a couple of months since the cabinets have been painted, so that is promising as well! You can read details from the manufacturer here.
 The Paint Sprayer:
I wrote in my first tutorial for this project, " We chose [The PaintReady Sprayer] in part because of its relatively good feedback during our research. Another bonus was that we could pick it up at our local [Big Box Store] immediately, and it was fairly inexpensive compared to other options. One concern we had while testing it out was its tendency to create an 'orange peel' texture. But with the correct dilution of the cabinet coat, some adjustment of the paint sprayer, and the self-leveling properties of the cabinet coat, we were able to eventually figure out the best way to achieve a smooth finish."
All of the things I wrote were true. That was our first experience with a paint sprayer, and we eventually got it to work in a way that was satisfactory for the project. It was somewhat frustrating, but we assumed it came with the territory.
We assumed right, there is certainly a learning curve when it comes to paint sprayers. However, once we worked out the correct dilution for the Finish Max Pro (with the paint a little thinner than the original tutorial), we agree that the paint has an even smoother texture. It is, therefore, a better tool. We've also never experienced the dreaded "orange peel" (a.k.a. air bubbles in the paint.) with this paint sprayer.
Update 9/20: I have disabled the comments on this post due to volume of repeat questions. If you have any question at all about this project, chances are that it is answered either in the comments of this post, in the ebook, or in my follow-up Kitchen Cabinets FAQs post. You will probably find your answer quicker than I can get back to you! If you have checked the resources and comments but still cannot find the answer, feel free to send me an email, and I will do my best to help you out as I am able!