I am so excited to share today's post with you! This reconfigured space has added so much functionality to our first floor, and as dramatic as it may sound- it has improved our life!
BEFORE
If you're new here, you probably missed my post projecting our plan for the space. While rearranging doorways didn't work out, we were able to vastly improve the traffic pattern simply by providing a "drop zone" for backpacks, coats, boots, and snow clothes.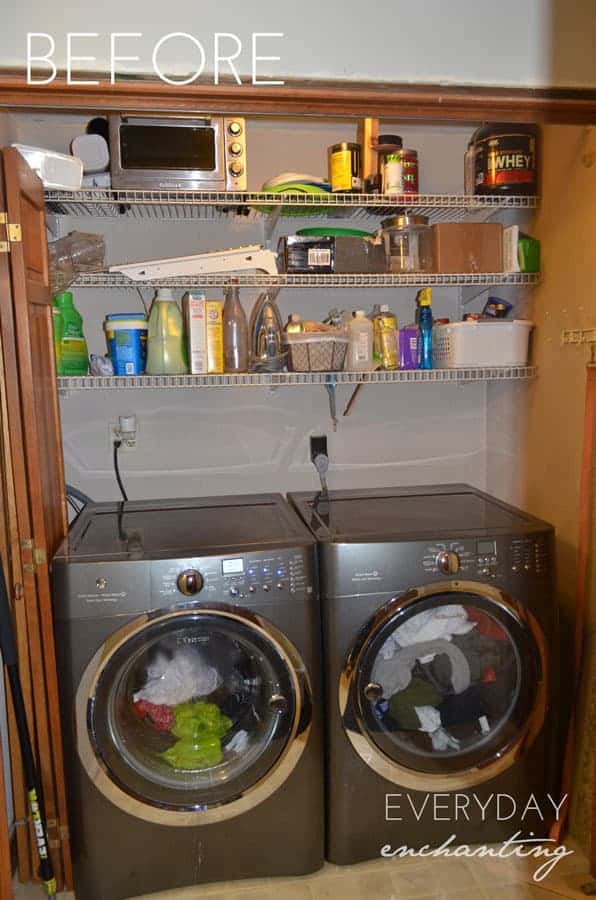 This space was in sorry shape. Broken bifold doors, cluttered shelves, and only a tiny space to hang coats. Shoes, coats, backpacks and snow gear more often than not ended up piled in front of the laundry machine along with laundry baskets. This left very little room to make your way into the house.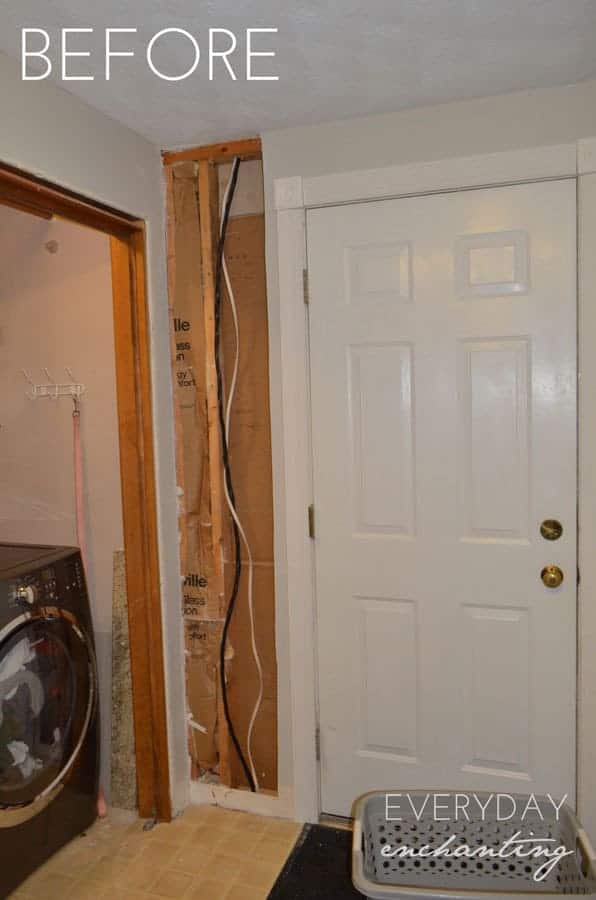 (I didn't have access to a wide-angle lens at the time, but I wanted to make sure to show the layout in relation to the door)
From an aesthetic point of view, it was in very bad shape. Old linoleum, textured walls, and dark trim added up to make a depressing space. We had to open the wall to wire for the new laundry room upstairs. Doing laundry is hard enough, it doesn't help when it's an ugly space!
For those wondering what we did with our washer and dryer, we are in the process of building a new laundry room off of our master bedroom. (Yes, I love having them upstairs! No, we aren't worried about water damage!)
AFTER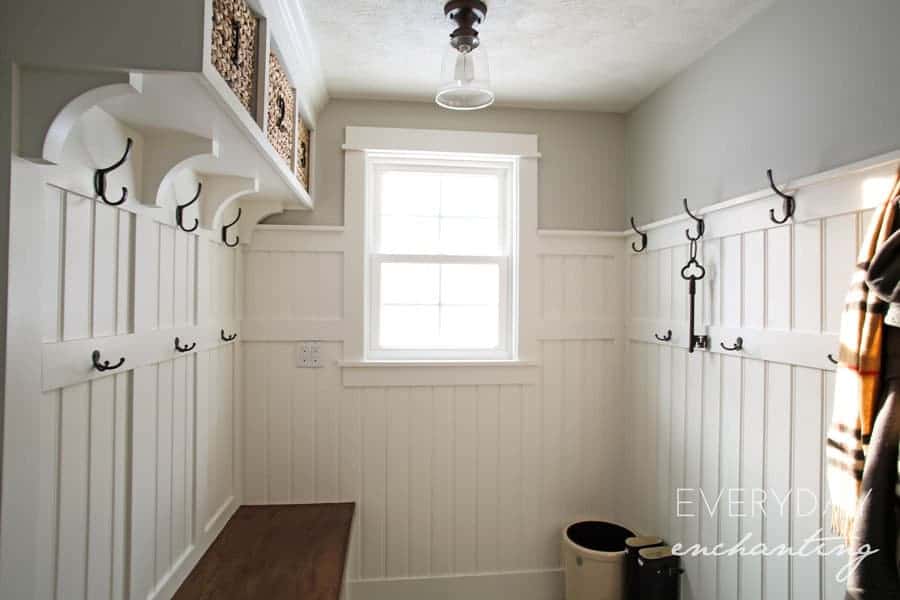 It's hard to believe it's the same space! The most drastic difference is hands-down the addition of the window. It has provided much needed natural light to the utility hallway.
The built-ins provide a perfect space for the boys (and someday Lyla) to hang up their coats and backpacks. We did two levels of hooks, which proved to be a good decision now that they are hauling an extra tote bag with snow clothes back and forth to school. In the summer, hats and mittens can be stored in the handy baskets up above (which I glued house numbers to for fun labels for each of our kids!).
I had originally dreamed of "lockers" for the kids (basically the same design but with dividers), but Mack talked me out of them due to the tight space. He was right, the space is ultimately brighter, and the bench is more usable without dividers. And as I always say, his carpentry skills never cease to amaze me. I dream, pin, explain what I want, and draw a rough sketch- and he somehow brings it to fruition! I'm a lucky girl!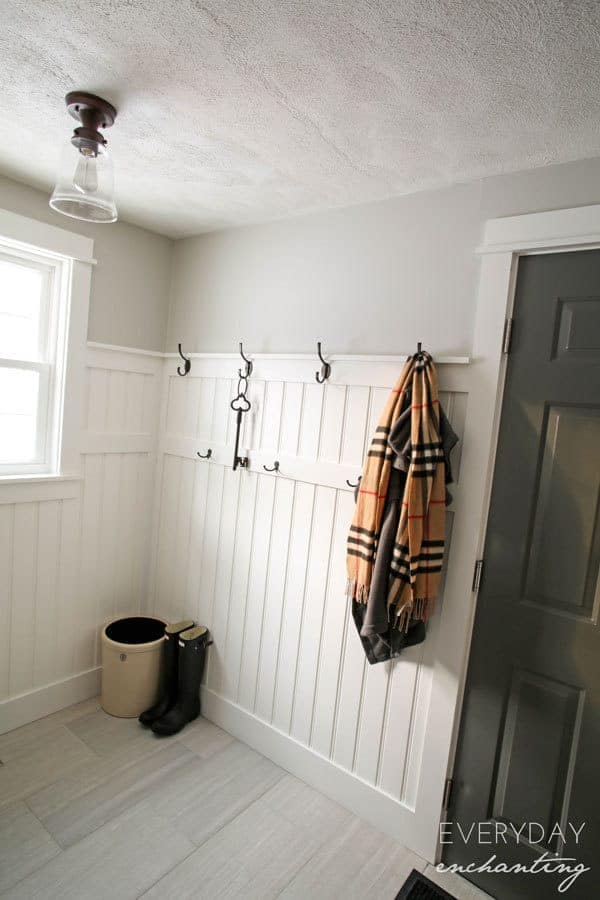 When we were discussing design, I see-sawed between board-and-batten (like the adjoining Powder Room) and beadboard. I decided that beadboard was ultimately the better option, with the added bonus that Mack didn't have to spend as much time making sure the drywall was perfect on that part of the wall. I love the farmhouse detail it adds to the room, and it still ties in well with the rest of our updates, like the beadboard ceiling in the powder room and the pantry. In a separate post I will be sharing the process of building the wall treatment and built-ins and painting with our Homeright Finish Max Pro Paint Sprayer.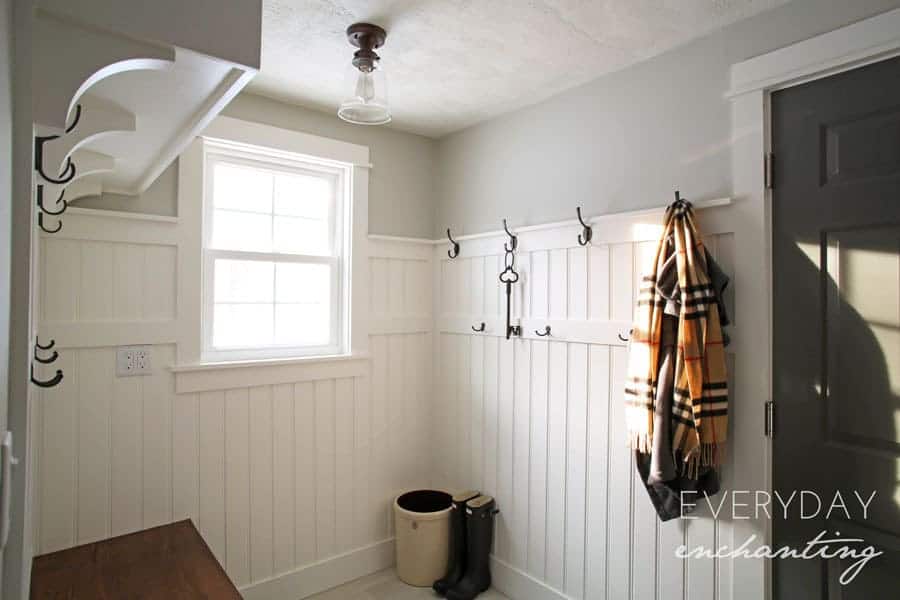 You'll also notice we tiled the floor to match the powder room, replaced the light fixture, and painted the existing door rather than replacing it for now (sources and paint colors are at the bottom of the post). I'm still in the process of decorating the room, although I don't plan on going crazy in here. I'm going to put some greenery in the 5 gallon crock- some sort of tree. I'm searching for a bamboo shade in the right size for the window, and I plan to add some sort of barnwood sign to the sliver of wall.
As with all of the spaces in our home, it's not 100% done, but it is such an incredible improvement! In the future we will be adding a planked ceiling treatment, replacing the door to the garage, and revamping the utility closet across the way (which is still a disorganized mess). But like I said earlier, having a space for a drop zone is a huge improvement! And the fact that it's so pretty doesn't hurt either! ;)
I will be back to share the tutorials on this project (and I will link to them at that time), but for now here are the sources:
White Paint: Benjamin Moore Simply White 
Upper Wall Paint: Benjamin Moore Gray Owl
Door Paint: Benjamin Moore Kendall Charcoal
Bench Stain: Minwax Polyshades Dark Walnut
Beadboard: Home Depot
Floor Tile: Leonia Silver 12×24″,
Upper Hooks: Gatehouse Wall Hook
Lower Hooks: Gatehouse Double Garment Hook
Baskets: Allen + Roth Hyacinth Milk Crate
Basket Numbers: Gatehouse 4″ House Numbers
Giant Key: Amazon* (Similar)
Giant Crock: Amazon*
Scarf: Burberry*
Boots: Hunter*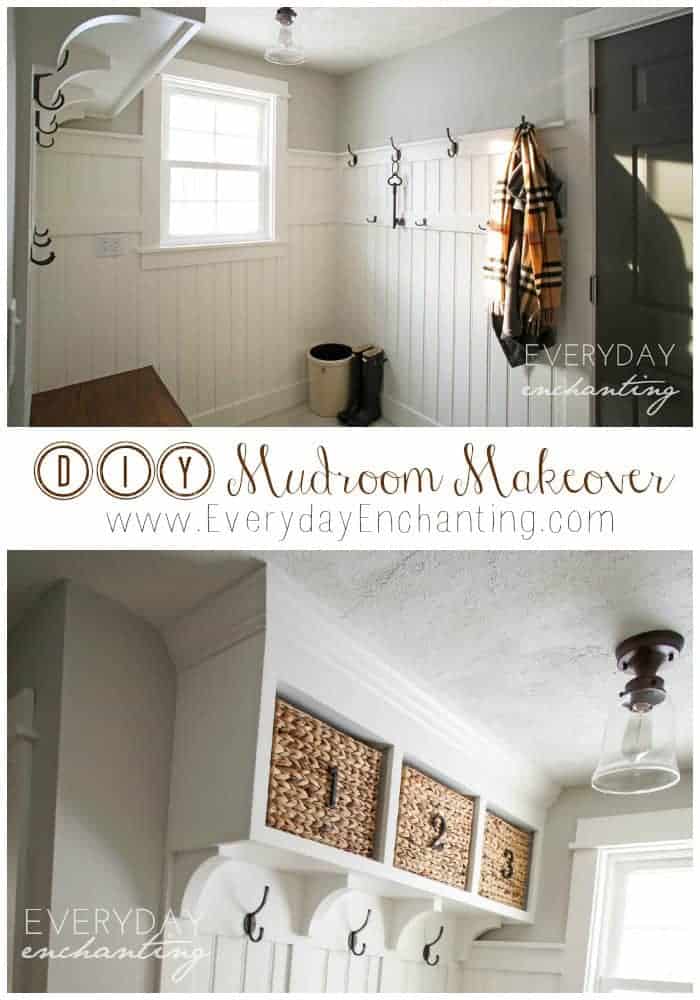 This post contains affiliate links, which are marked with an asterisk (*). We also received a paint sprayer from Homeright, which was used in this project. However, we only recommend products we believe will be useful to our readers. Read more about our policies here.