Discover how to transform a dark and cramped laundry closet into a functional drop-zone with this DIY mudroom makeover!
The best DIY projects not only add beauty to your home, they also add functionality and improve your daily life. This DIY mudroom makeover certainly fits those requirements! In this post, I'll show you how to create a functional mudroom space from a cramped closet. I know many 80s & 90s colonial floor plans have this same layout, so I hope this gives you some ideas and sparks inspiration!
Originally published February 25, 2015
Laundry Closet to Mudroom Makeover — Before
When we first bought our New England Colonial in 2012, we had a cramped laundry closet with bifold doors that was causing a logjam by our garage entry. We knew pretty quickly that we wanted to improve the traffic pattern and provide a "drop zone" for backpacks, coats, boots, and snow clothes.
It was a project that snowballed into other projects, since it involved moving our laundry room upstairs and ultimately even reworking the bonus area above our garage into our new primary bedroom suite. That's how renovations often go, I call it the "whack-a-mole" game!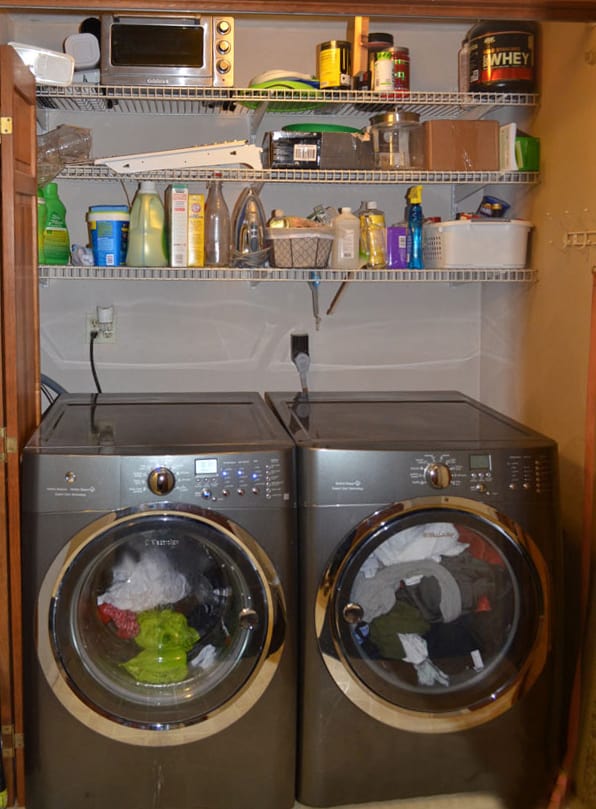 Before, this space was in sorry shape. There were broken bifold doors, cluttered shelves, and only a tiny space to hang coats. Shoes, coats, backpacks and snow gear more often than not ended up piled in front of the laundry machines along with laundry baskets. This left very little room to make your way into the house from the garage.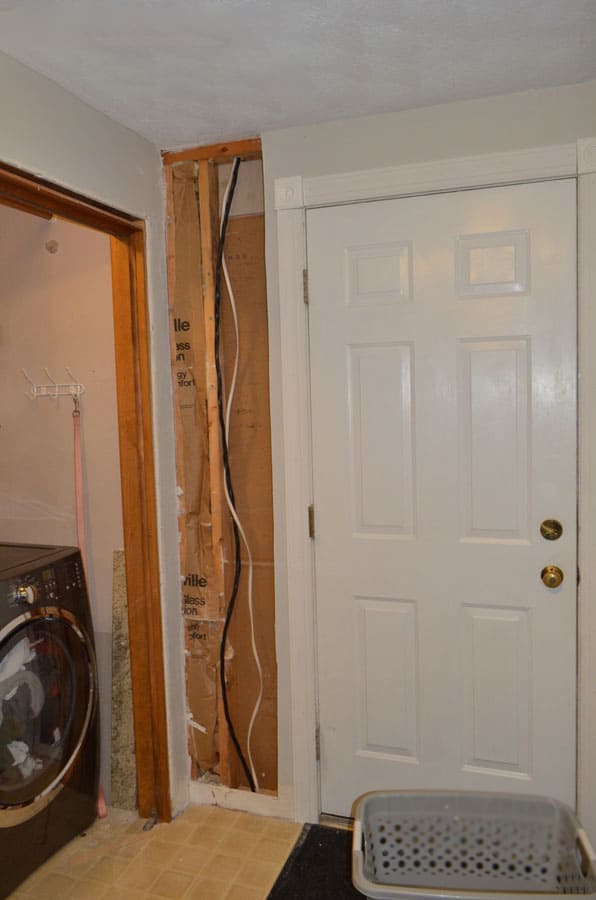 It also needed some style help. Old linoleum, textured walls, and dark trim added up to make a depressing space. We had to open the wall to wire for the new laundry room upstairs and so we left the wall open for a while. Doing laundry is hard enough, it doesn't help when it's an ugly space!
DIY Mudroom Makeover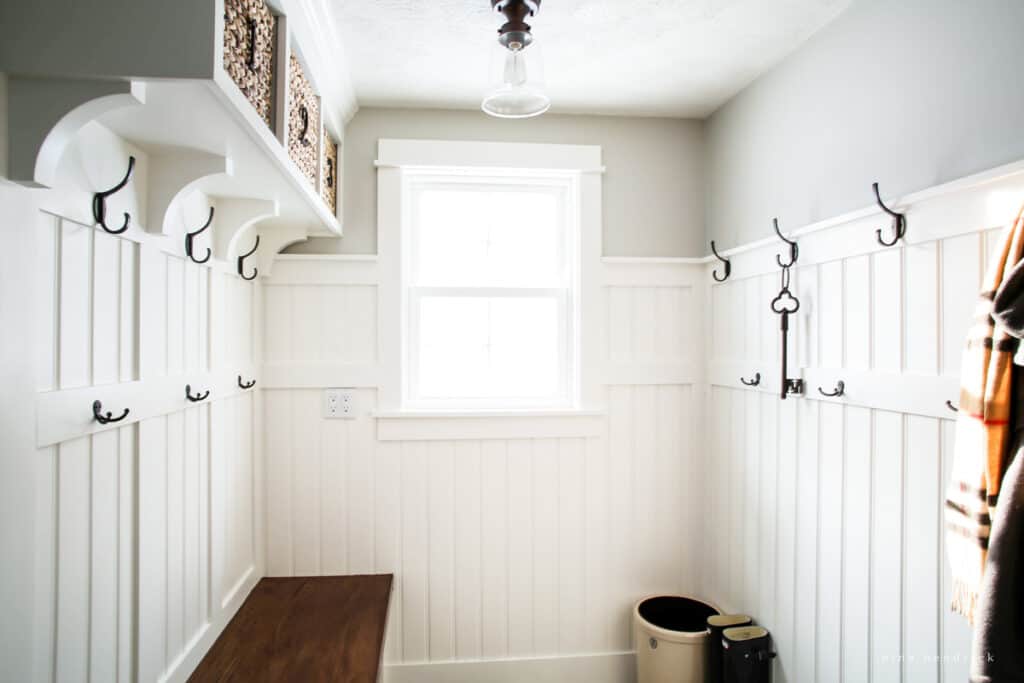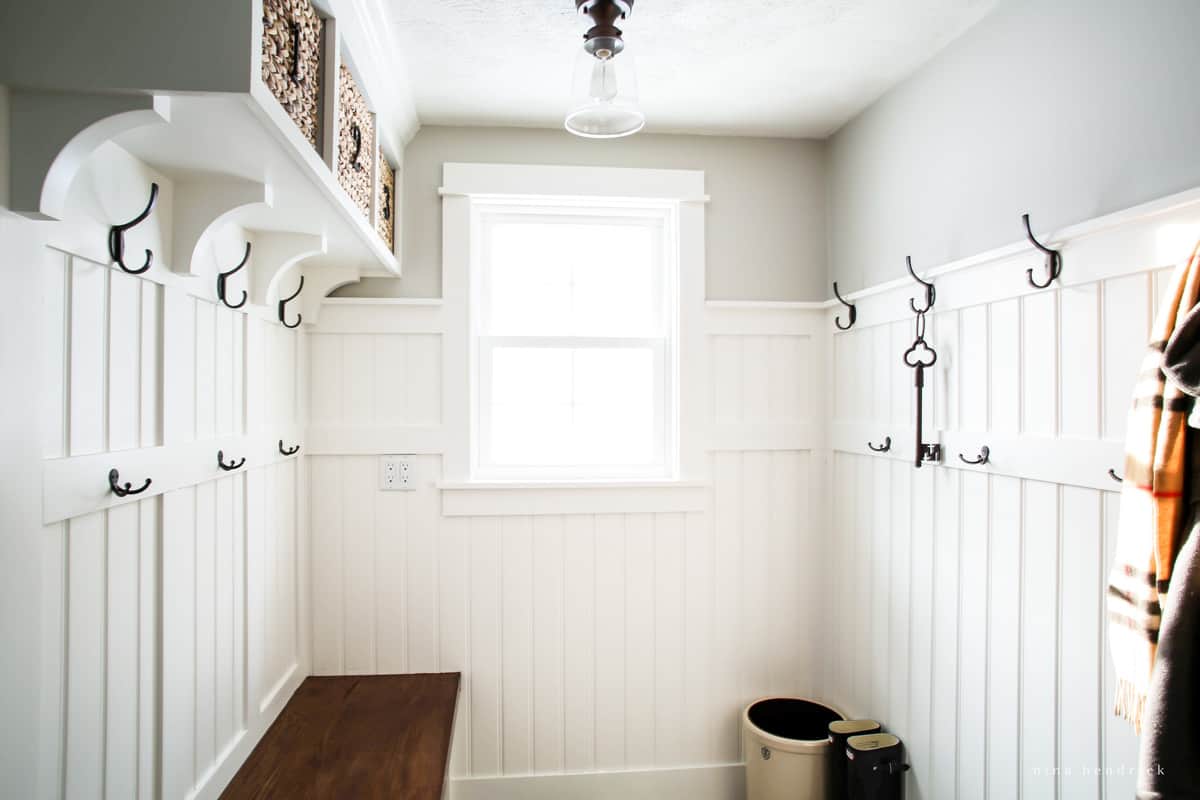 Here's a preview of the "after" before I break down the features. It's hard to believe it's the same space! The most drastic difference is the addition of the window. It has provided much needed natural light to the utility hallway.
Functional Storage Ideas for the Mudroom
When I planned the storage in the closet to mudroom makeover, I originally dreamed of "lockers" for the kids (basically the same design but with dividers). Mack talked me out of them because of the small size of the room. He was right. The space is ultimately brighter, and the bench is more usable without dividers.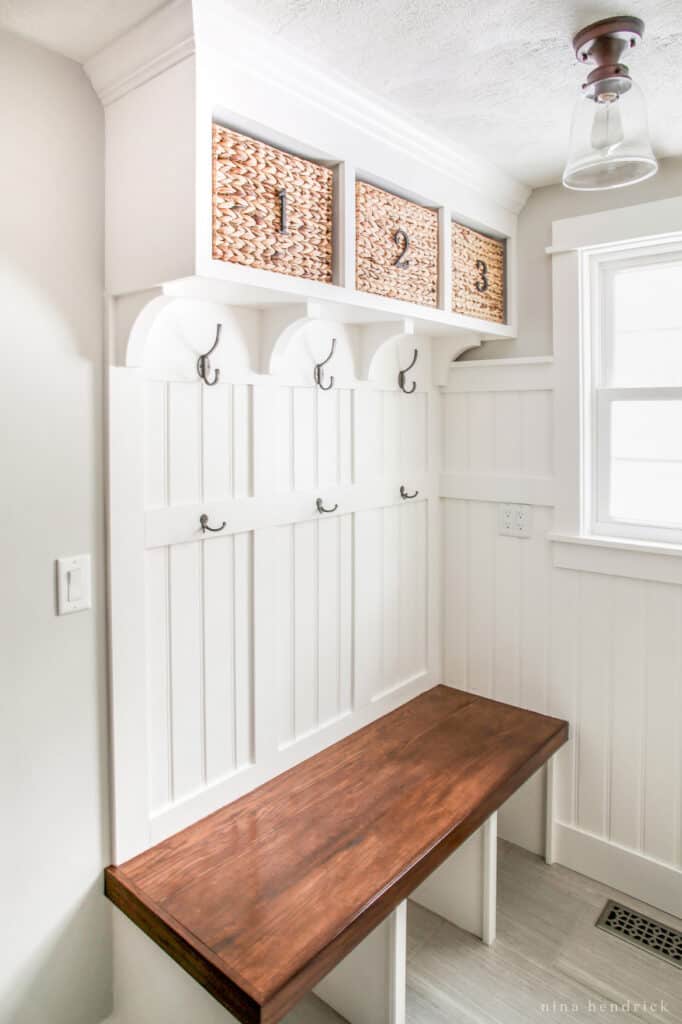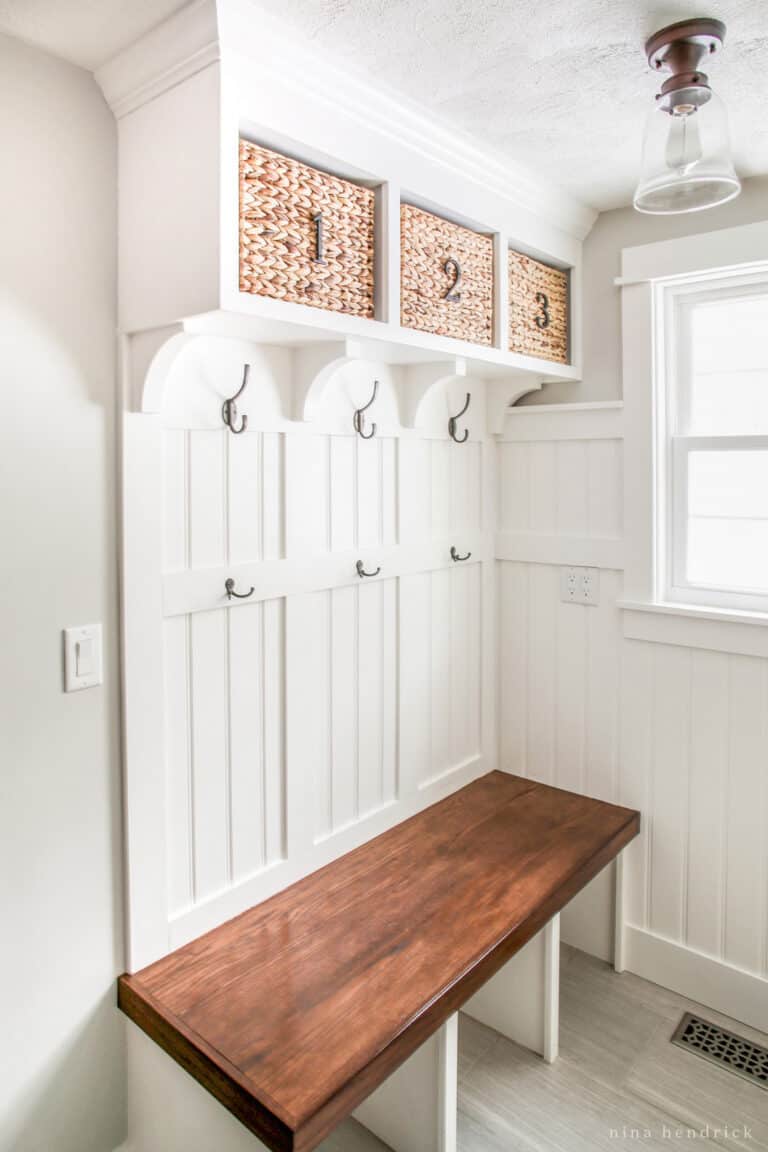 The built-in bench provides a perfect space for the kids to hang up their coats and backpacks. We did two levels of hooks, which proved to be a good decision once they were hauling an extra tote bag with snow clothes back and forth to school. In the summer, I can store hats and mittens in the handy baskets up above (which I glued house numbers to for fun labels for each of our kids!).
The area under the bench is perfect for shoes. I later added some crates to further help corall items. I had vague ideas of adding casters to the crates, but never got around to it!
The opposite wall has two layers of hooks for extra coat hanging. Overall, it's plenty of storage for ourselves and any guests!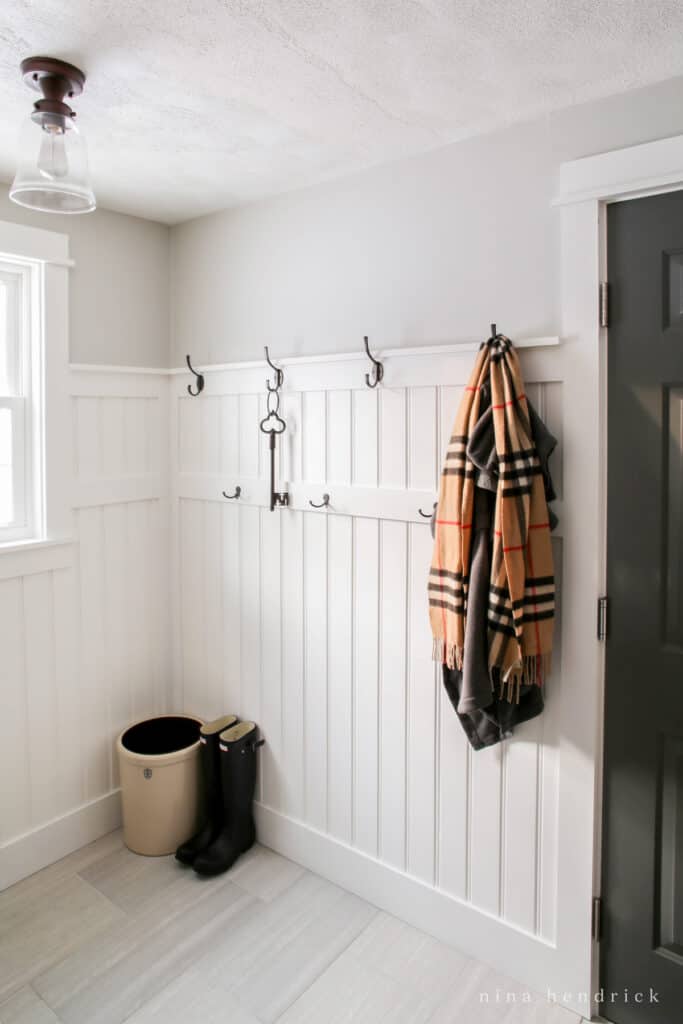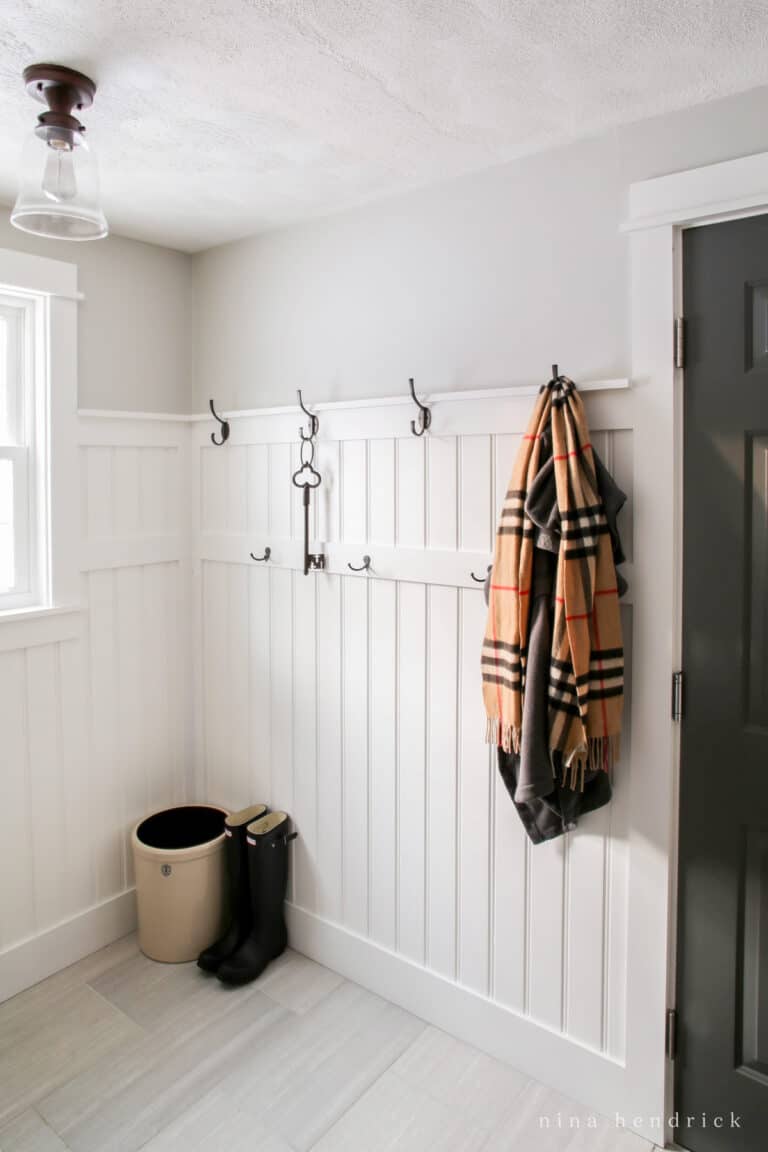 Divided Beadboard Wall Treatment
For the walls, I see-sawed between board-and-batten (like the adjoining Powder Room) and beadboard for this mudroom makeover. I decided on a hybrid. Beadboard on the walls ensured that Mack didn't have to spend as much time making sure the drywall was perfect and the 1×4 horizontal boards provided a flat space to install the hooks.
I love the architectural detail this wall treatment adds to the room, and it still ties in well with the rest of our updates, like the beadboard ceiling in the powder room and the pantry.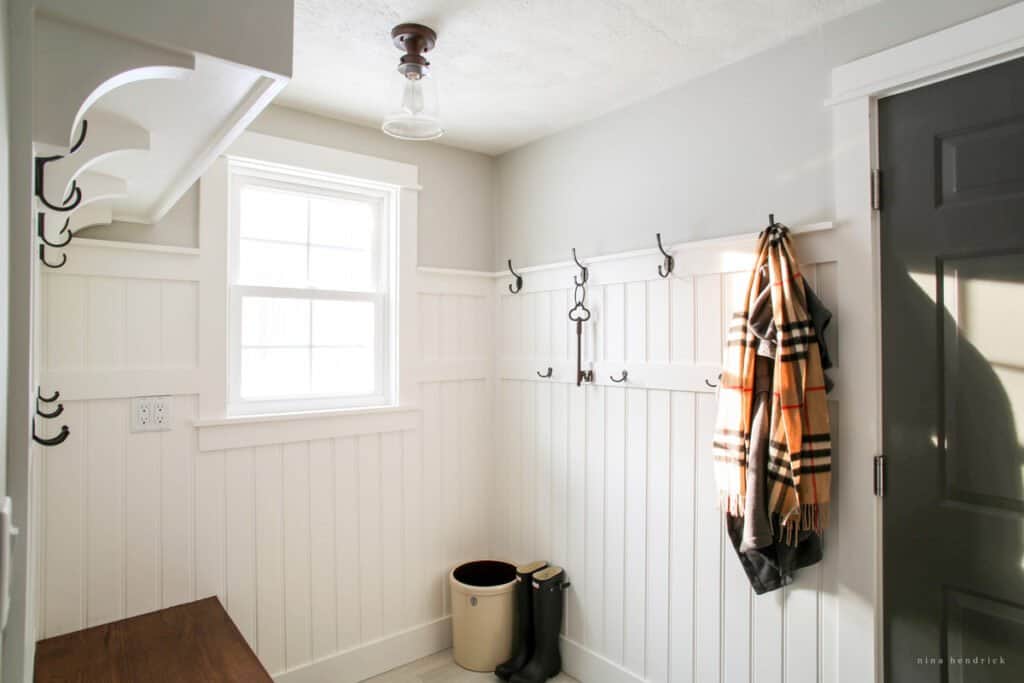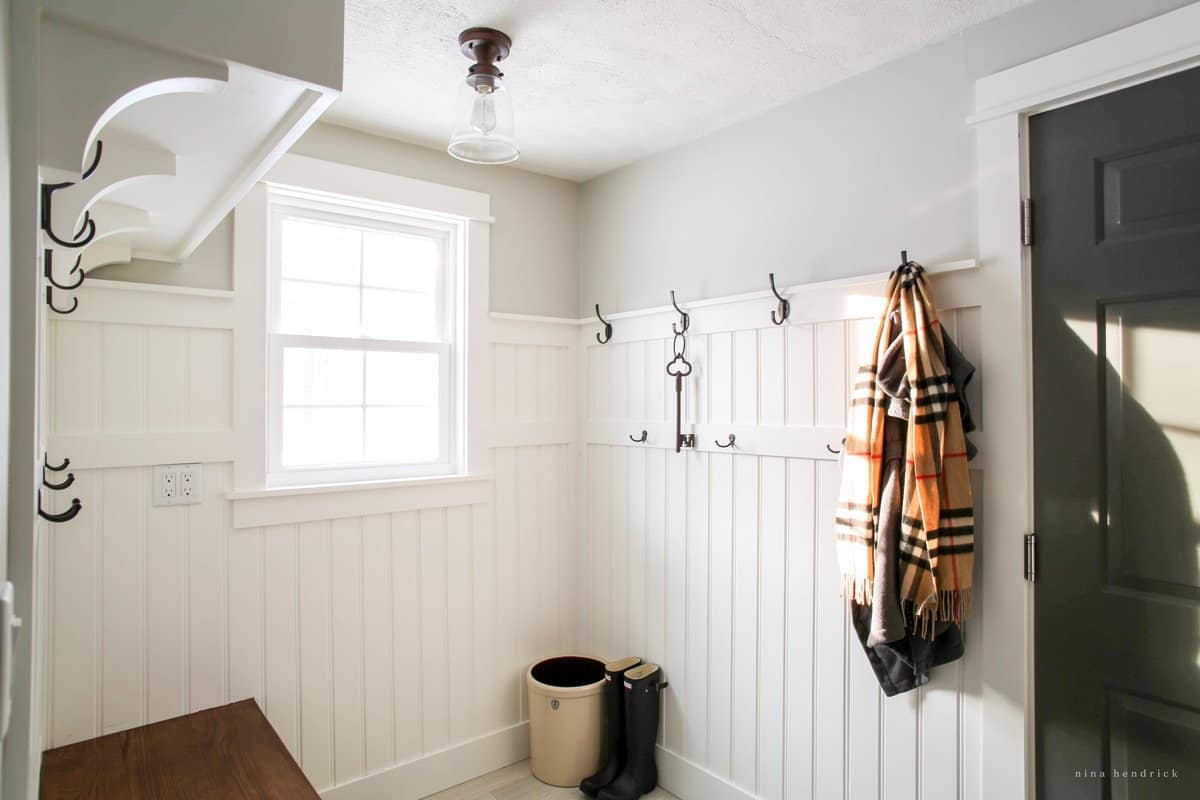 You'll also notice we tiled the floor to match the powder room, replaced the light fixture, and painted the existing door. I'm still decorating the room, although I don't plan on going crazy decorating in here, since it primarily needs to function for us.
Overall, having a space for a drop zone is a huge improvement. The fact that this DIY mudroom makeover is so pretty doesn't hurt either!