Looking for inspiration for a little girl room that makes you both happy? This floral girl room makeover features soft blush tones, hints of gold, and a gentle nod to fairy tales.
Today, I'd like to introduce you to my most difficult client of all time. She's about 3'6″ tall but has the biggest personality I've ever encountered, and a LOT of opinions. She also happens to be my six-year-old daughter, Lyla. You can read more about our negotiations here in the mood board post. This is our end result and compromise: a fairy tale blush girl room makeover. You can also see the closet makeover here!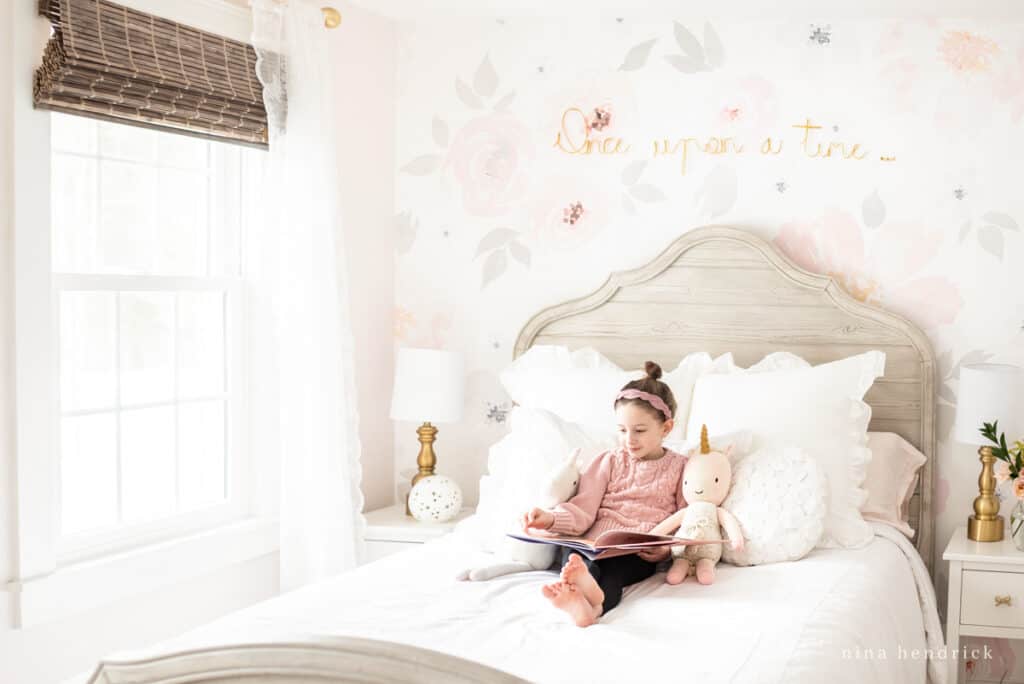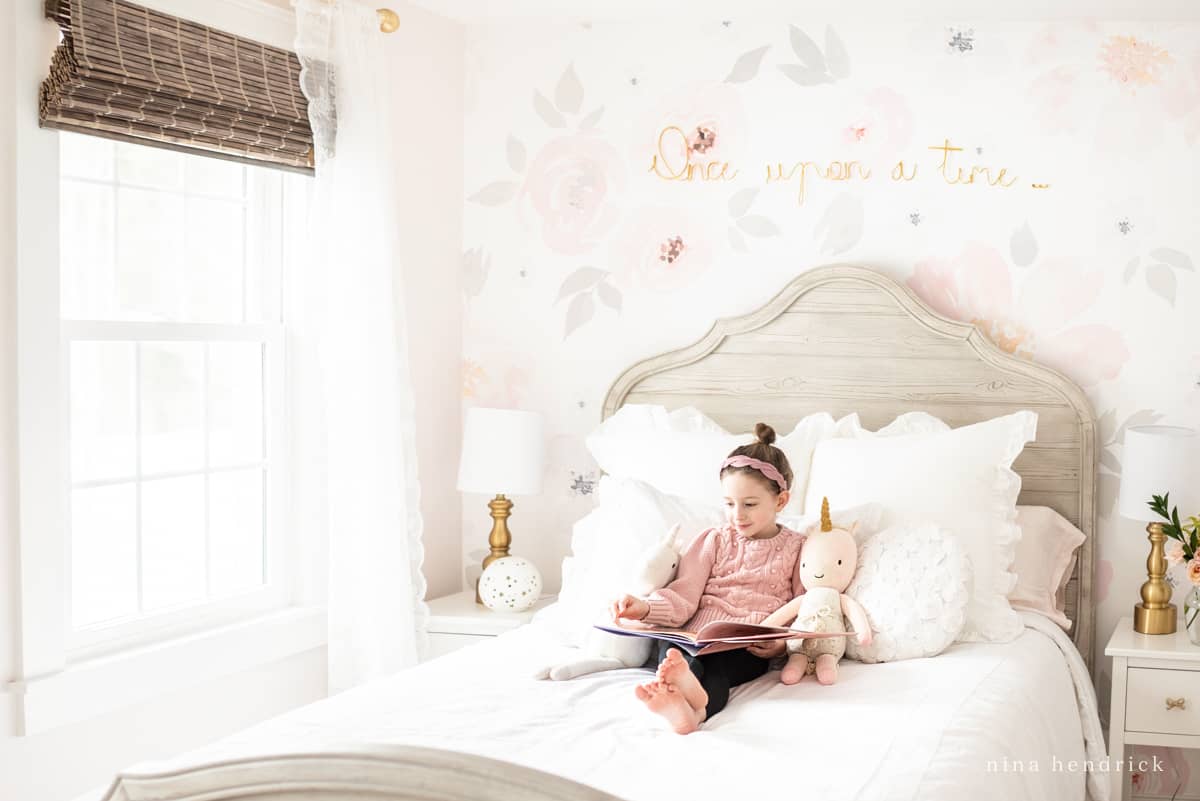 Fairy Tale Gold & Blush Floral Girl Room Makeover
Before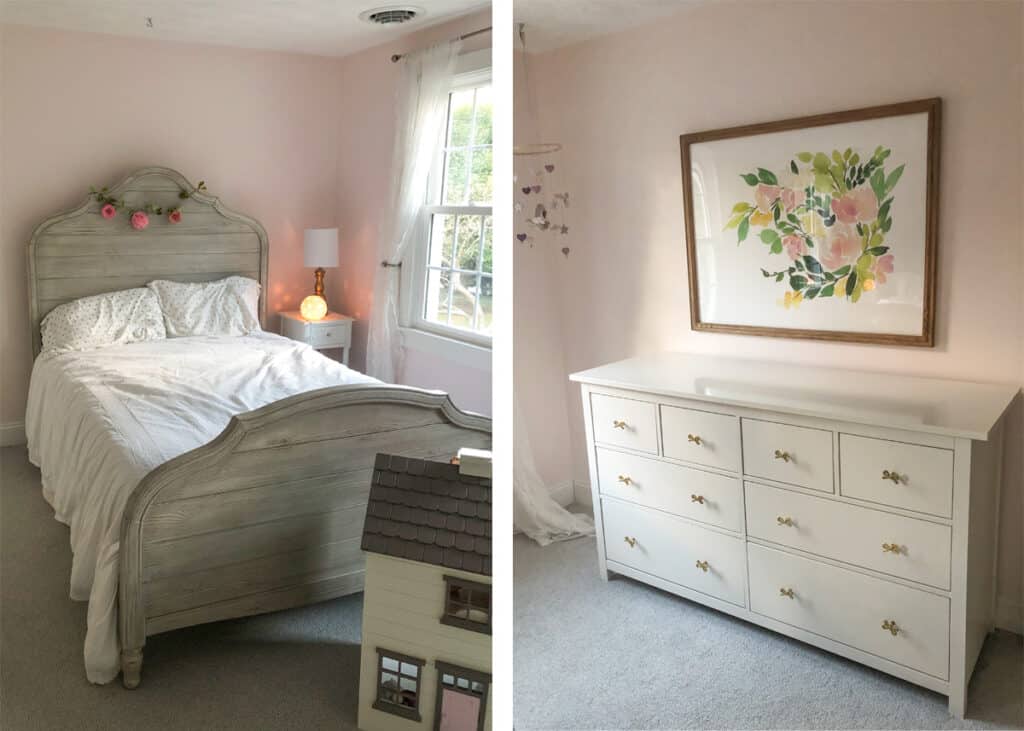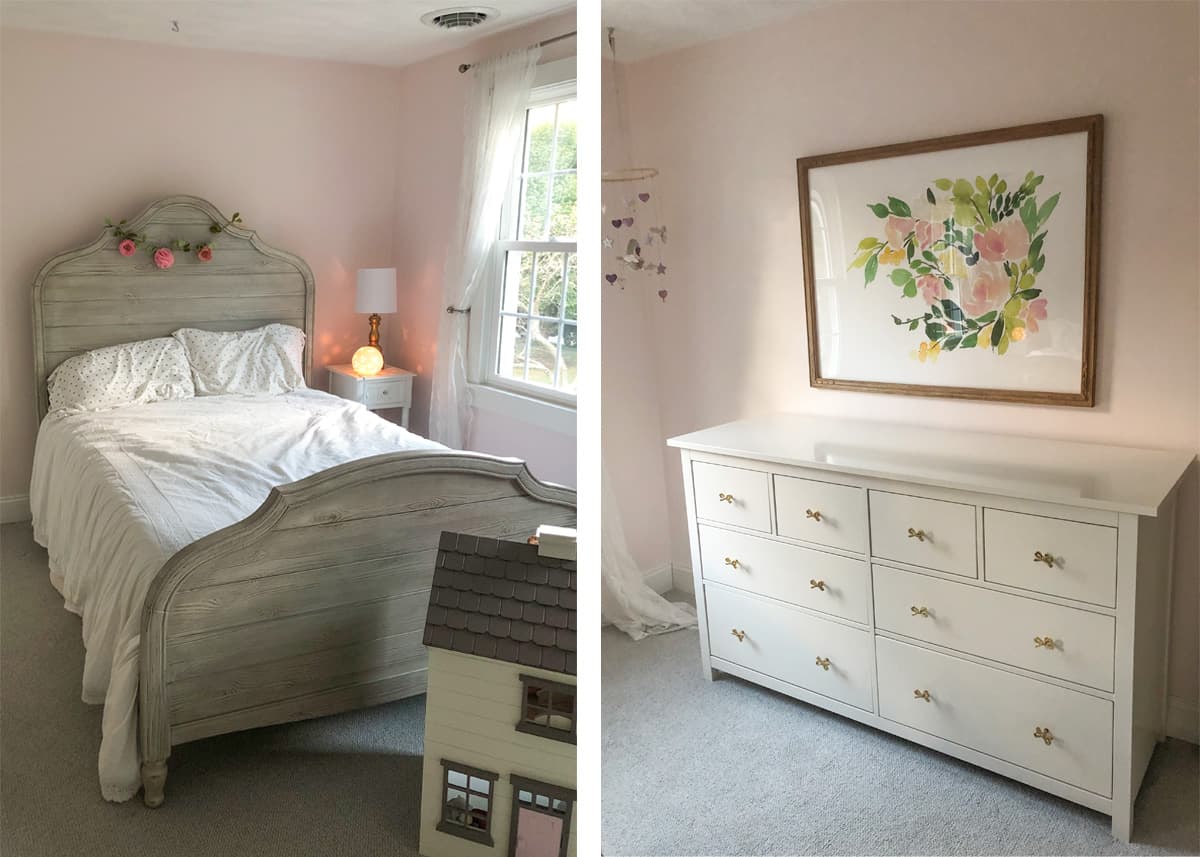 Lyla's room was once our primary bedroom. You can read this post to see how we reworked the floor plan to create a new primary suite from a bonus room above the garage. We were able to carve out a hallway to the new suite plus a smaller bedroom with a generous closet out of the former layout. It stood at about 70% complete for several years as we tackled other parts of our house renovation.
After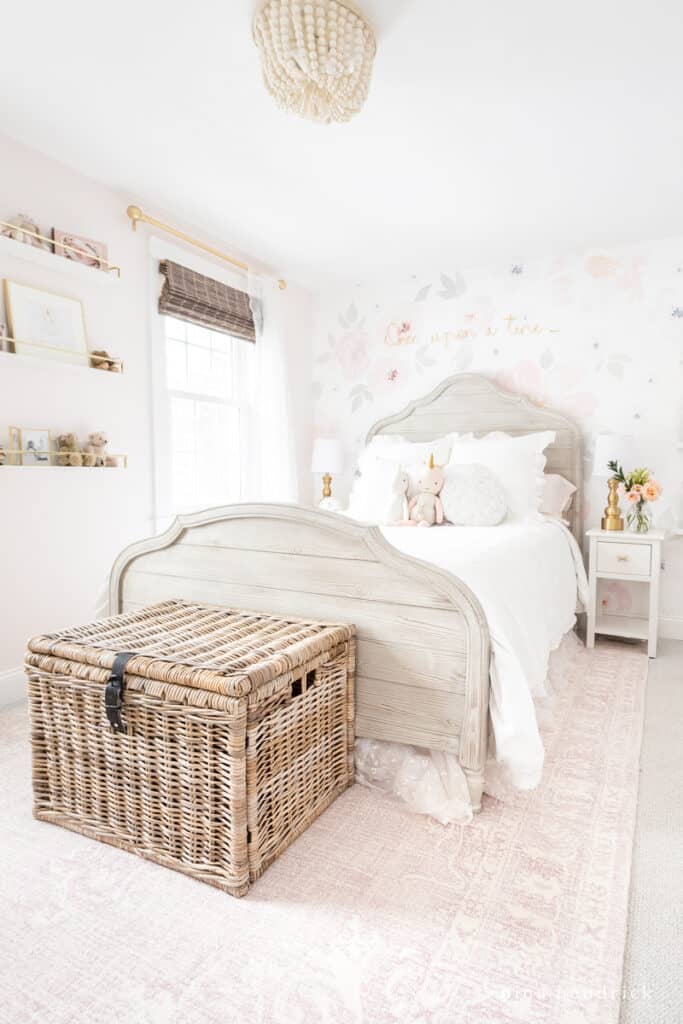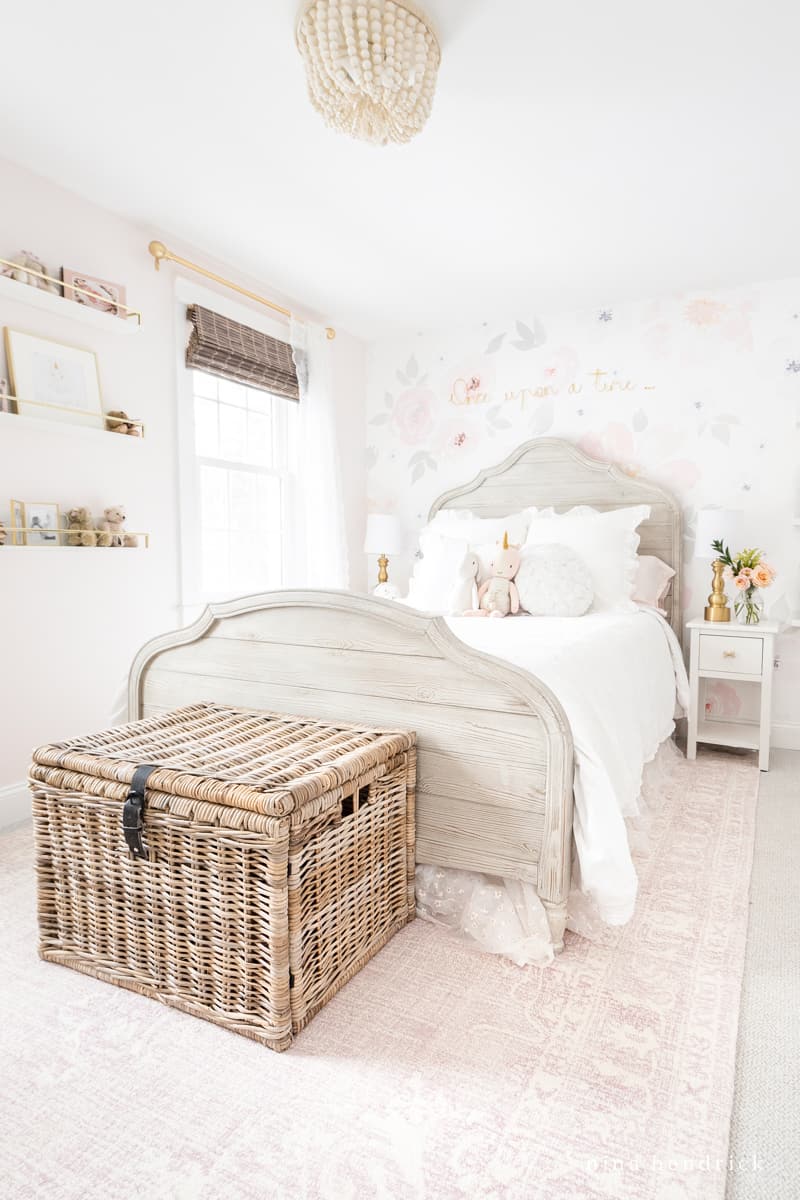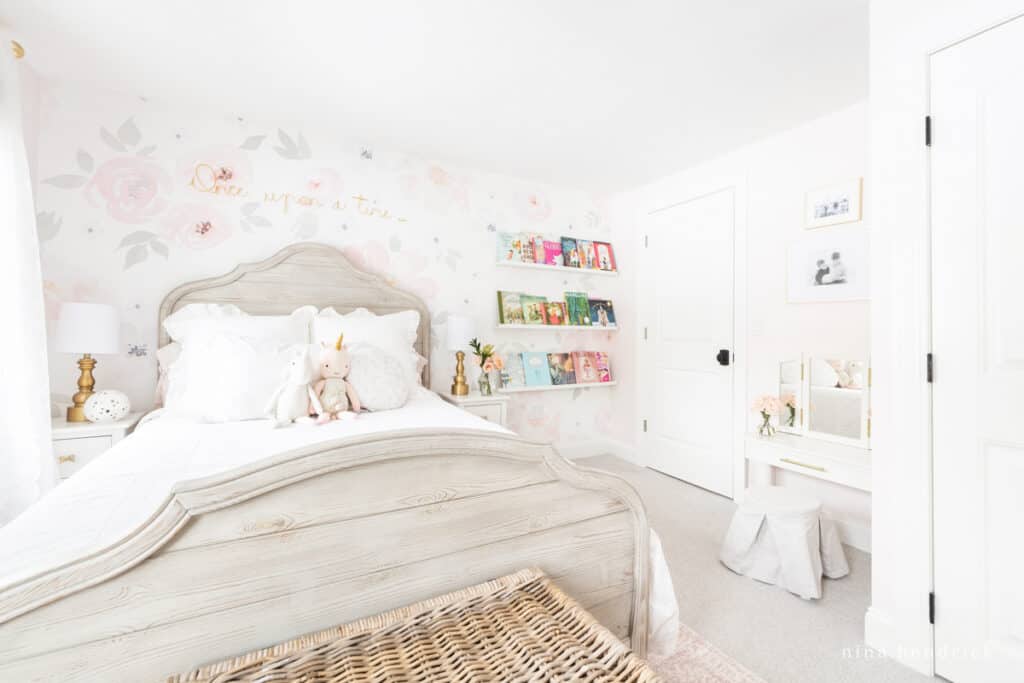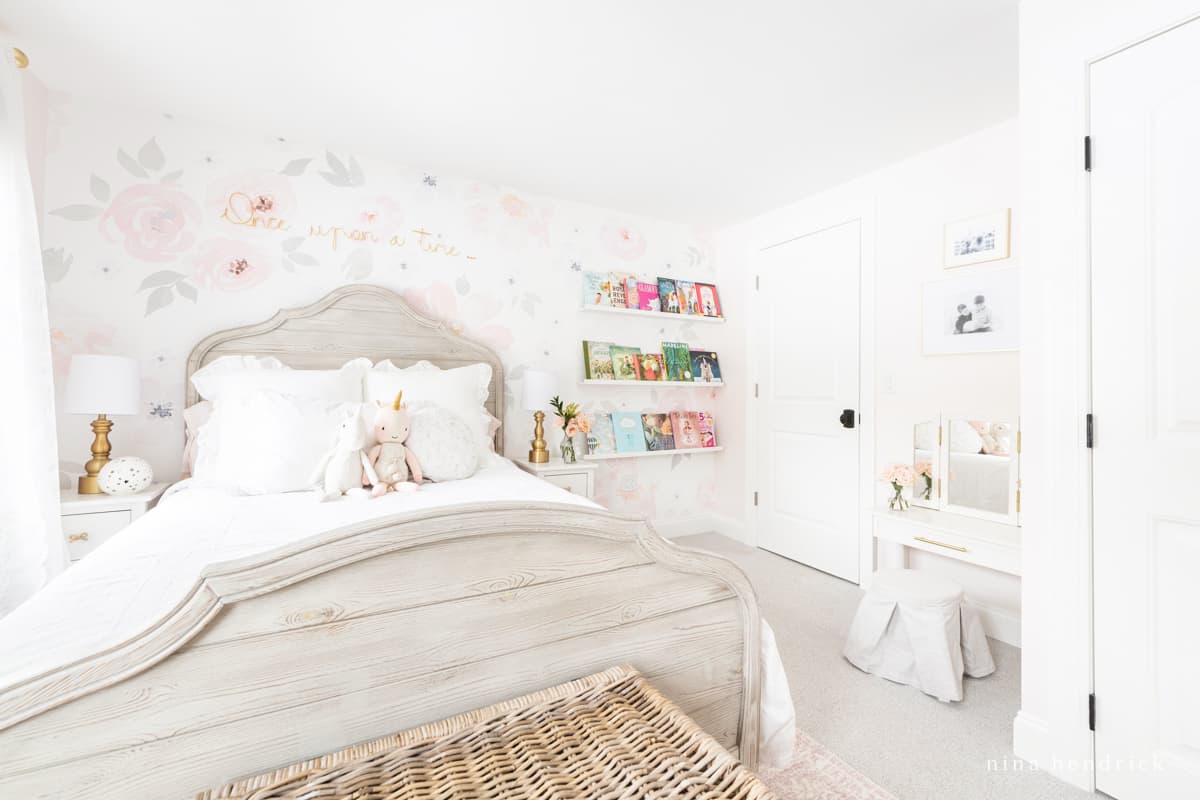 Lyla requested Disney Princesses, but I wanted something that would grow with her a bit. We landed on a soft blush and gold floral girl room makeover with hints of a fairy tale theme that can be removed later on if needed so that the room will stand the test of time.
The Perfect Blush Paint Color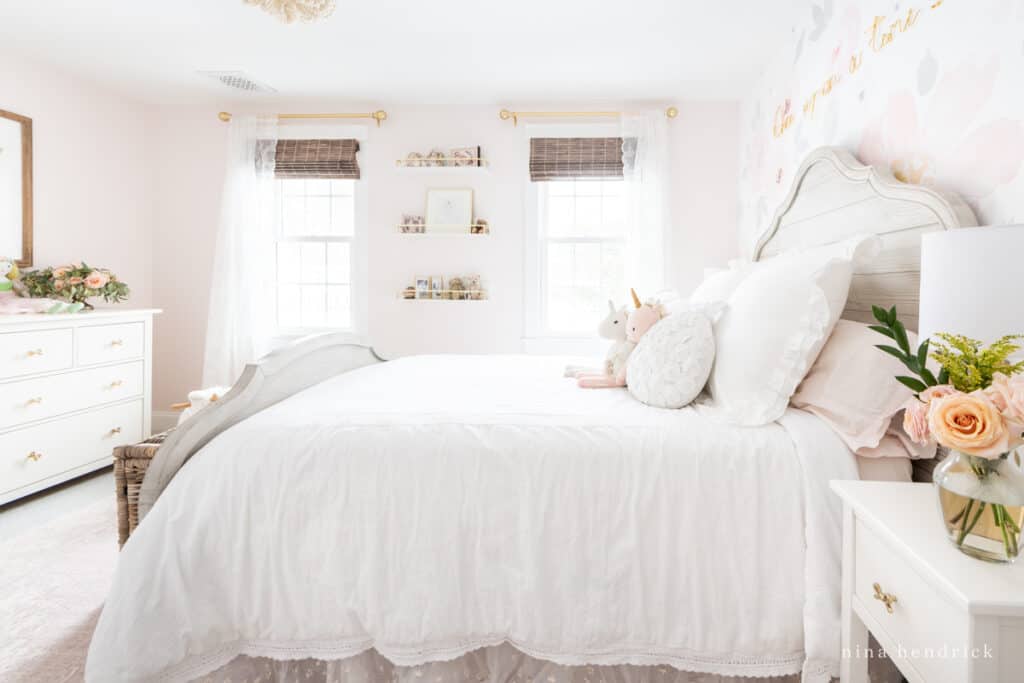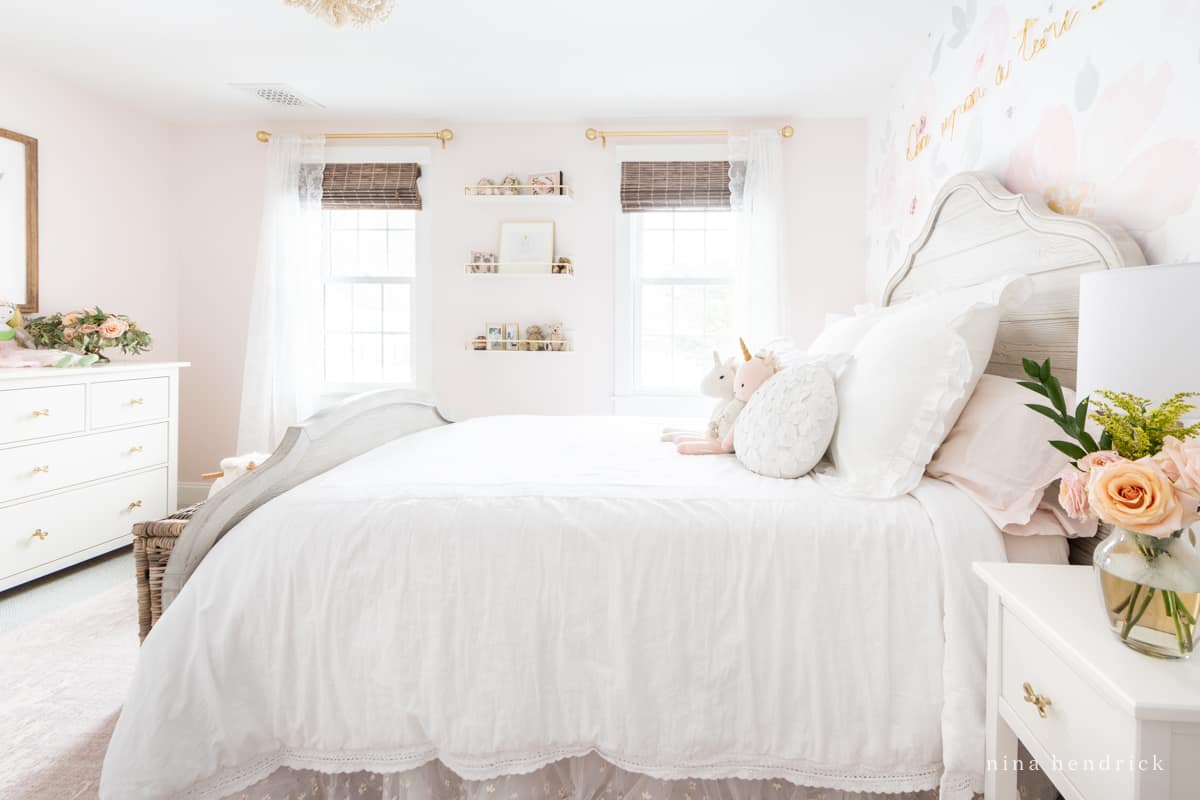 After looking at so many paint colors that my eyes crossed, I decided to give Benjamin Moore Melted Ice Cream a try. It was still a bit too dark and Pepto-ish for the lighting, but it had a really promising gray undertone. I lightened it by 50%. Bingo! Blush paint is so difficult, but this one seems to be a winner. The trim and ceiling are Simply White to match the rest of our home.
This post contains affiliate links, which means I may get a small commission (at no extra cost to you) if you shop my link. Please see my disclosure if you'd like more info!
Floral Girl Room Makeover Watercolor Wallpaper
I had the floral watercolor wallpaper installed professionally since they are quicker and better at it than I could ever be! It's in the back of her closet as well. My feeling on the wallpaper wall is that it's neutral enough that it will hopefully grow with her (barring a goth phase or something).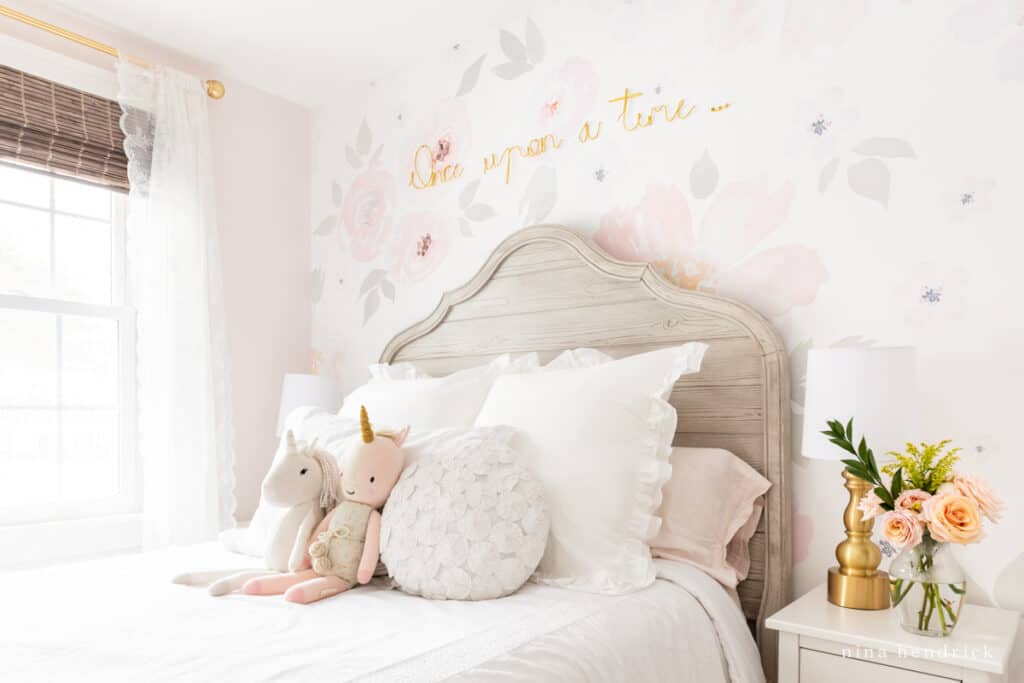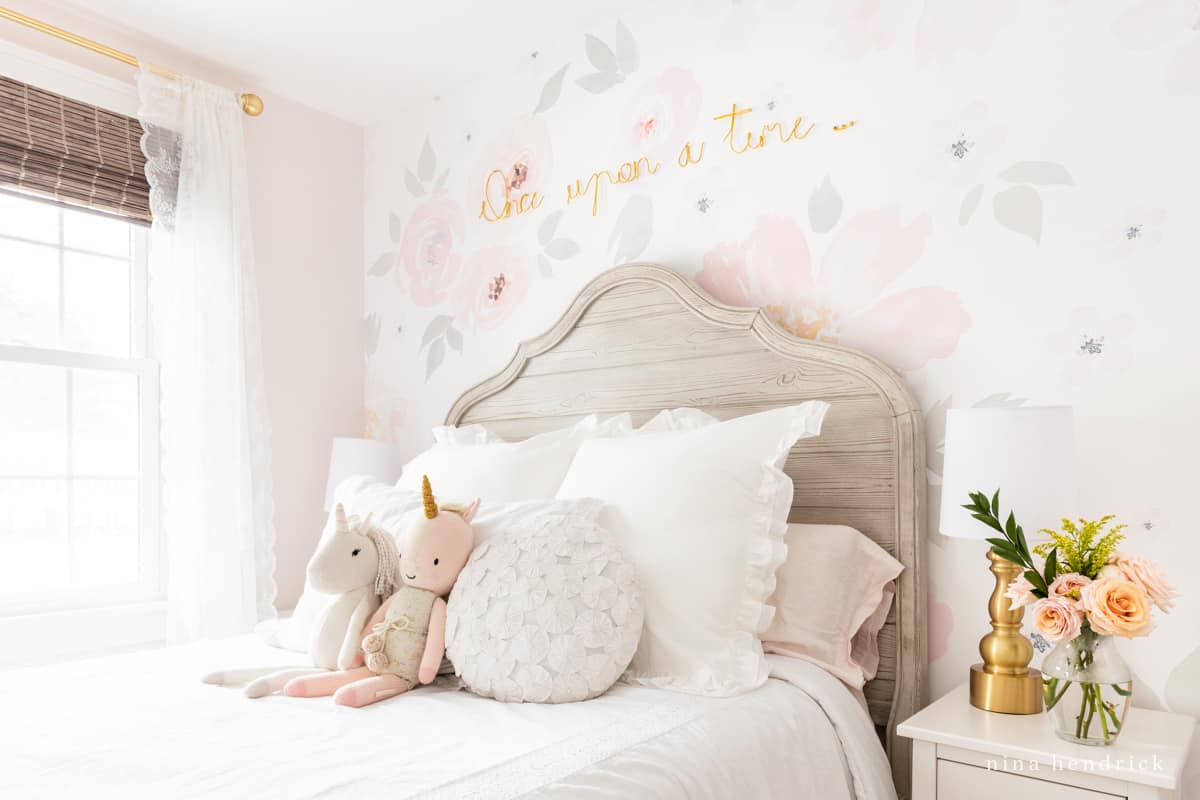 A Space Planning Plot Twist
Beforehand, the plot twist in this wallpaper plan came when it was time to design her closet. Essentially, I strongly dislike sliding and bi-fold doors (they tend to pinch little fingers) but her room isn't large, and I didn't want the swinging doors to smack into her bed. I hemmed and hawed over this. Just when I'd almost settled on pushing her bed off-center and closer to the window, it dawned on me that I could flip the bed to the other wall. So suddenly the wallpaper wall got bigger and the bed wasn't centered on the wall.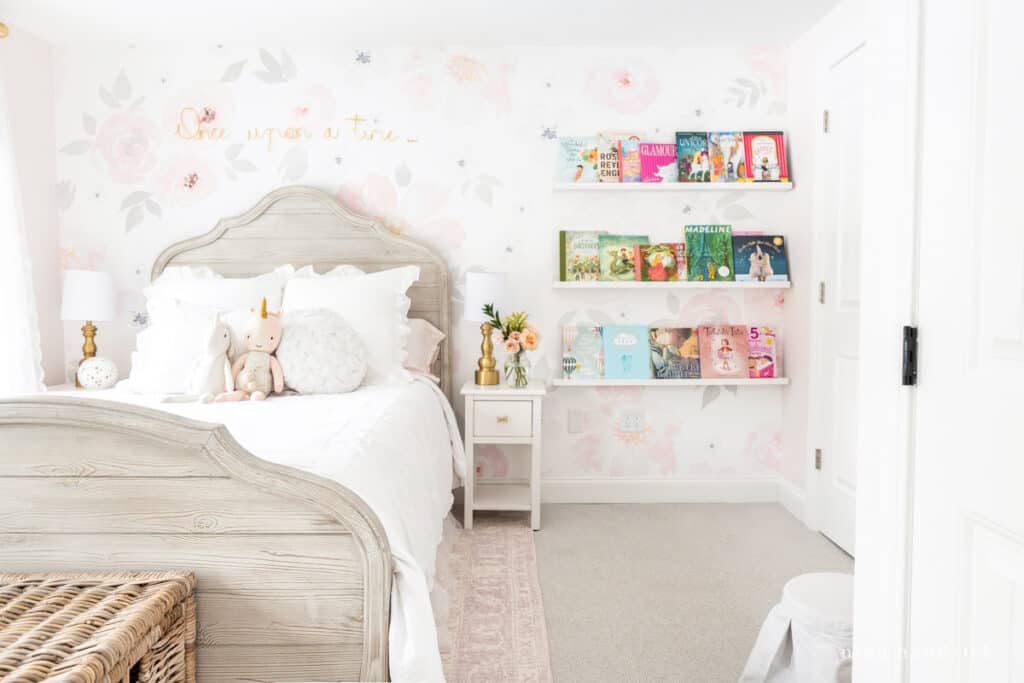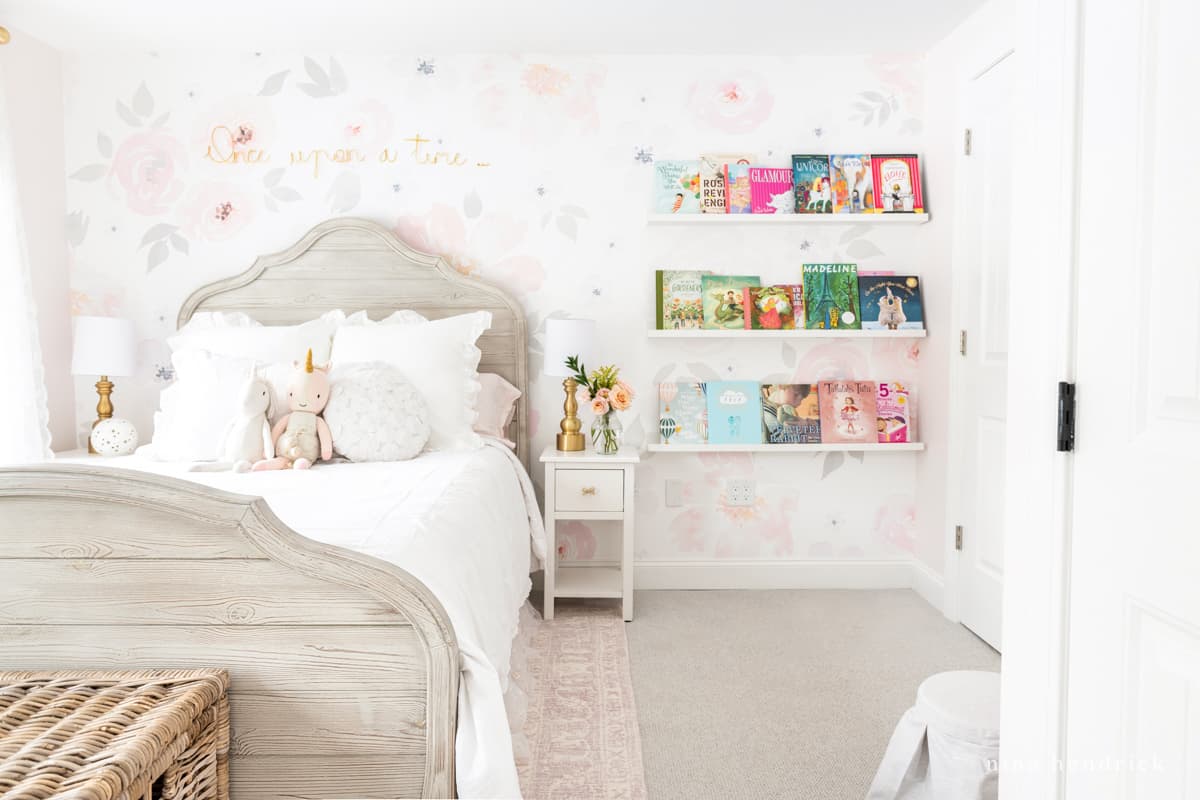 By switching the bed to the other wall we were left with a large expanse of the wall blank beside her bed and behind her door. Since her room isn't large, there wasn't room elsewhere for a bookcase.
A Library with Book Ledges
I decided that we should install book ledges on the extra wall area to make use of the space. Lyla loves to read and her "library" makes her feel just like Belle, and bonus, now the wall is balanced out.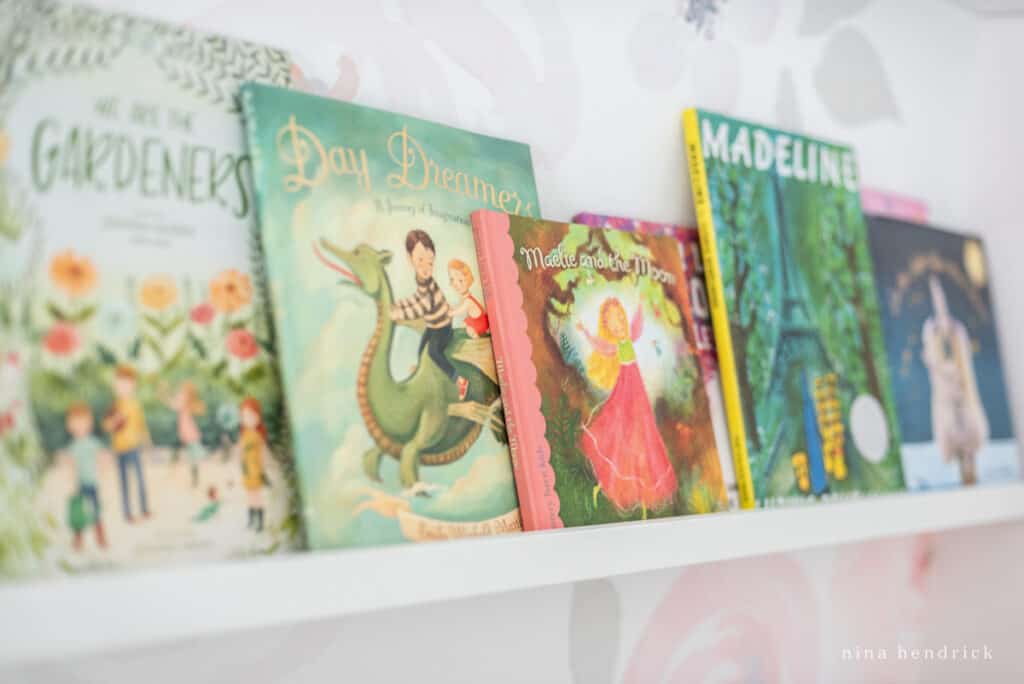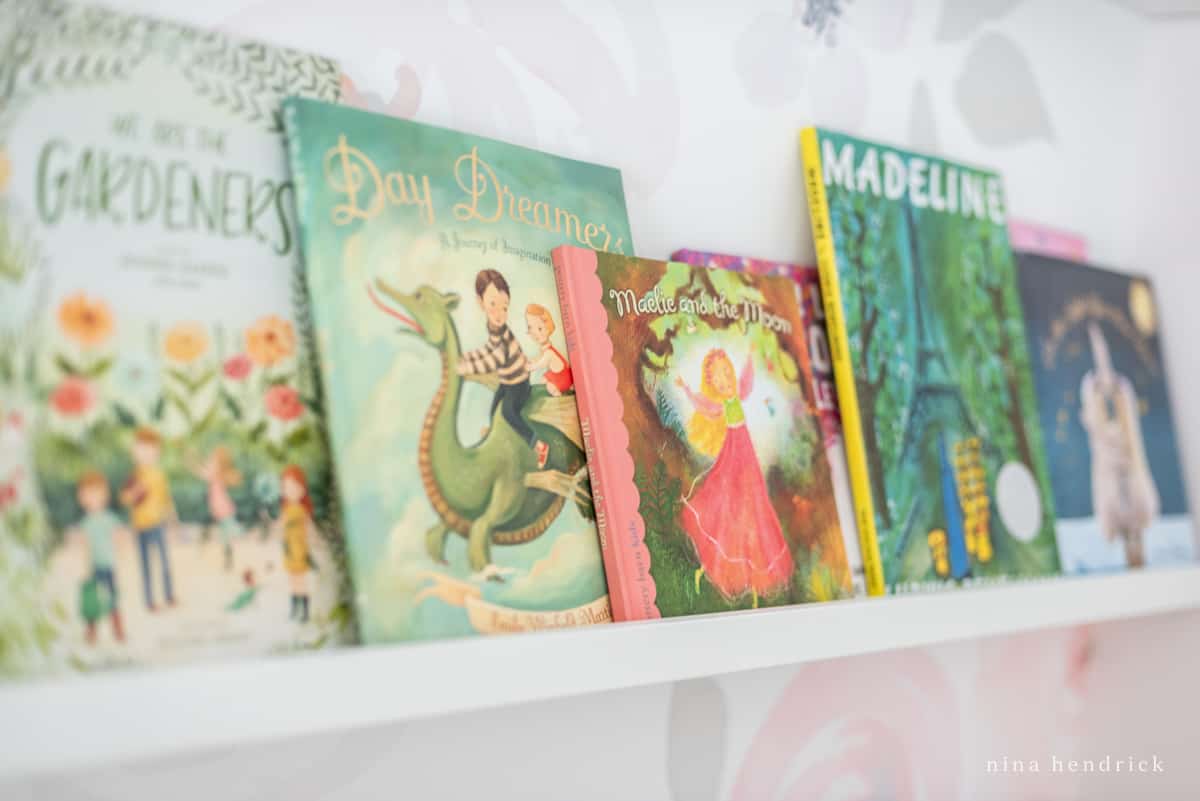 Gold Wire Words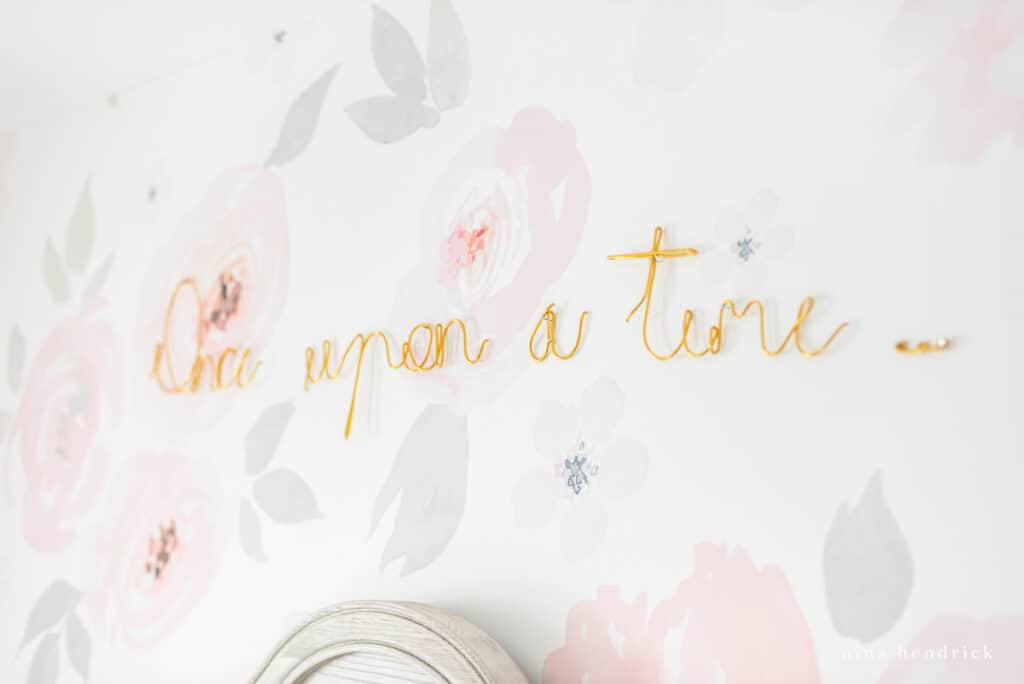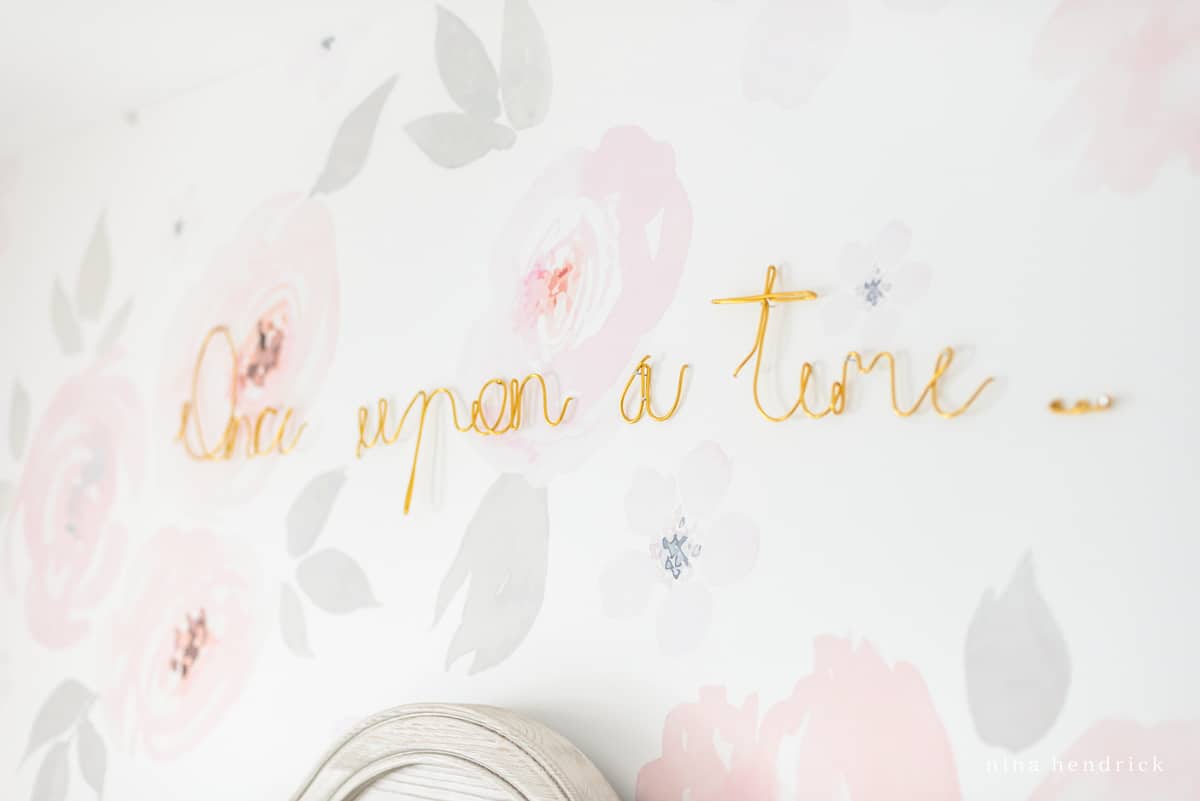 I added the "Once Upon a Time" gold wire word art above her bed as a nod to the fairy tale request. They were a little tricky to hang, but I eventually just decided to use small nails and I can patch the holes if she ever wants to take them down.
Alternative Sources for a "Princess Bed"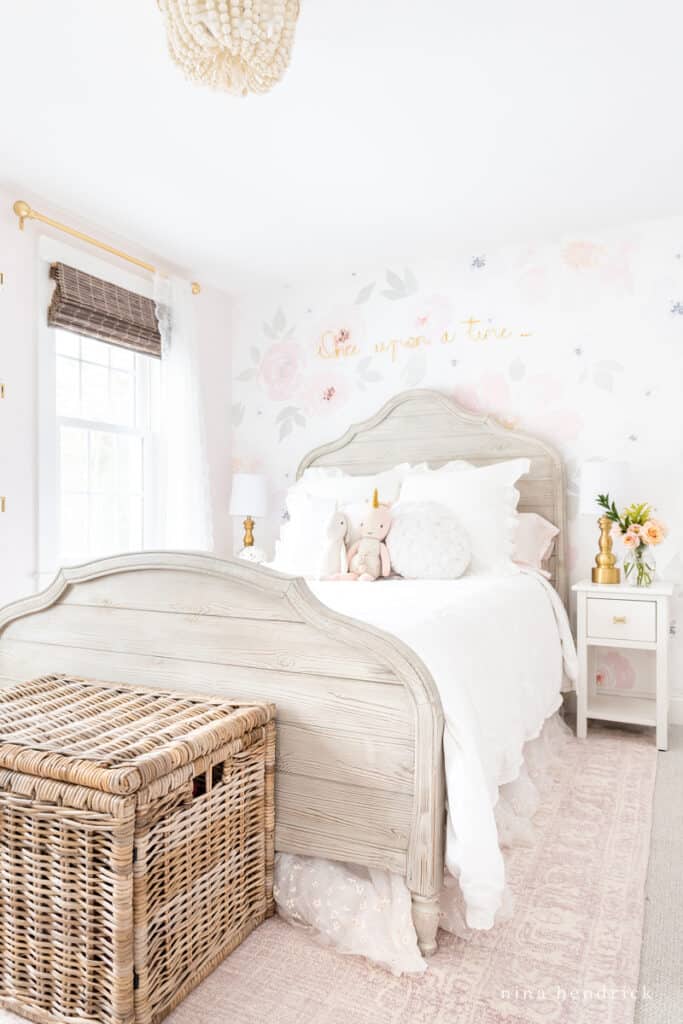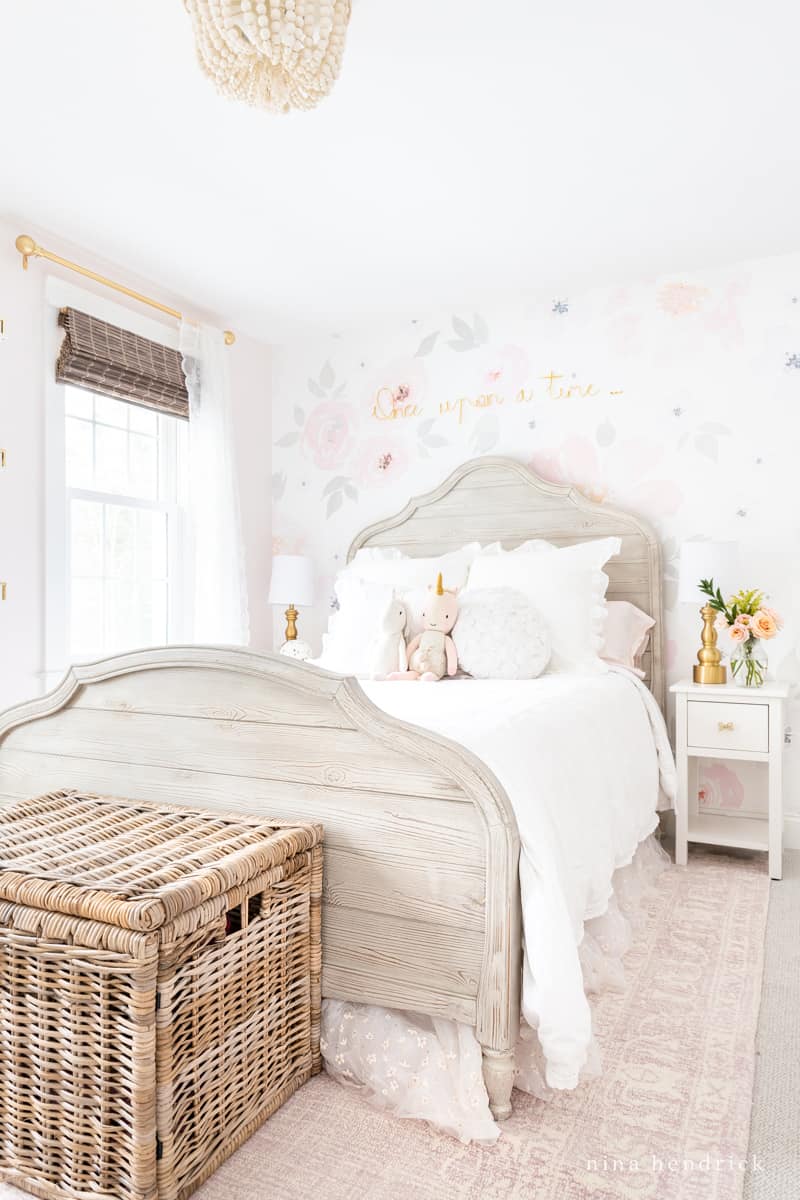 Her "princess bed" was found at PB Teen a few years back, but unfortunately, it's no longer sold. However, I found this headboard and this bed that both have a very similar style to the original.
Floral Girl Bedroom Makeover Play Vanity Nook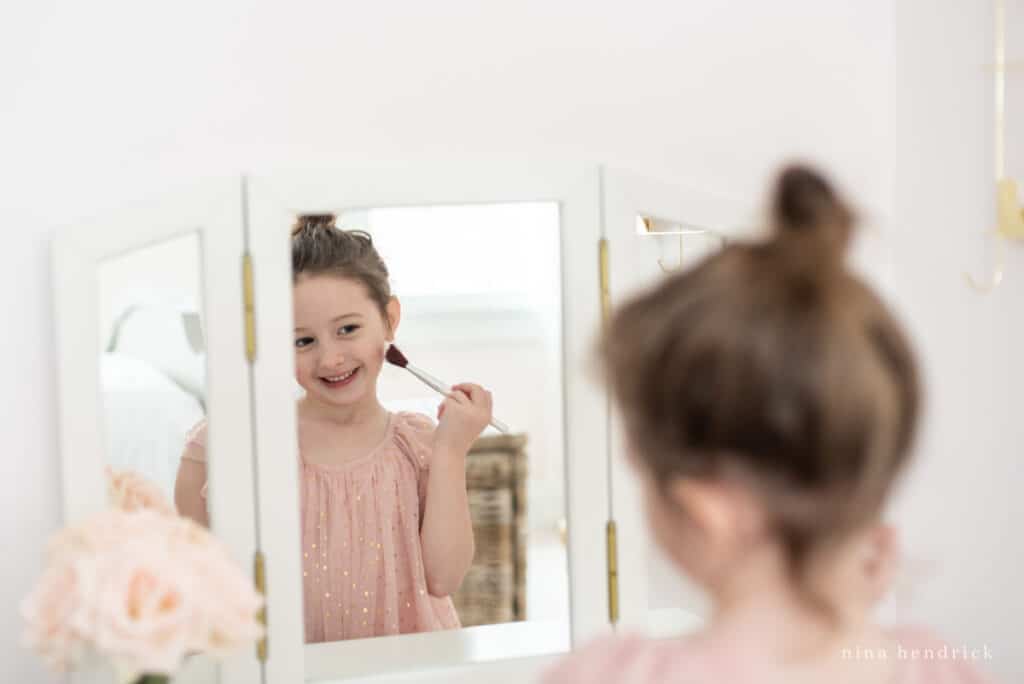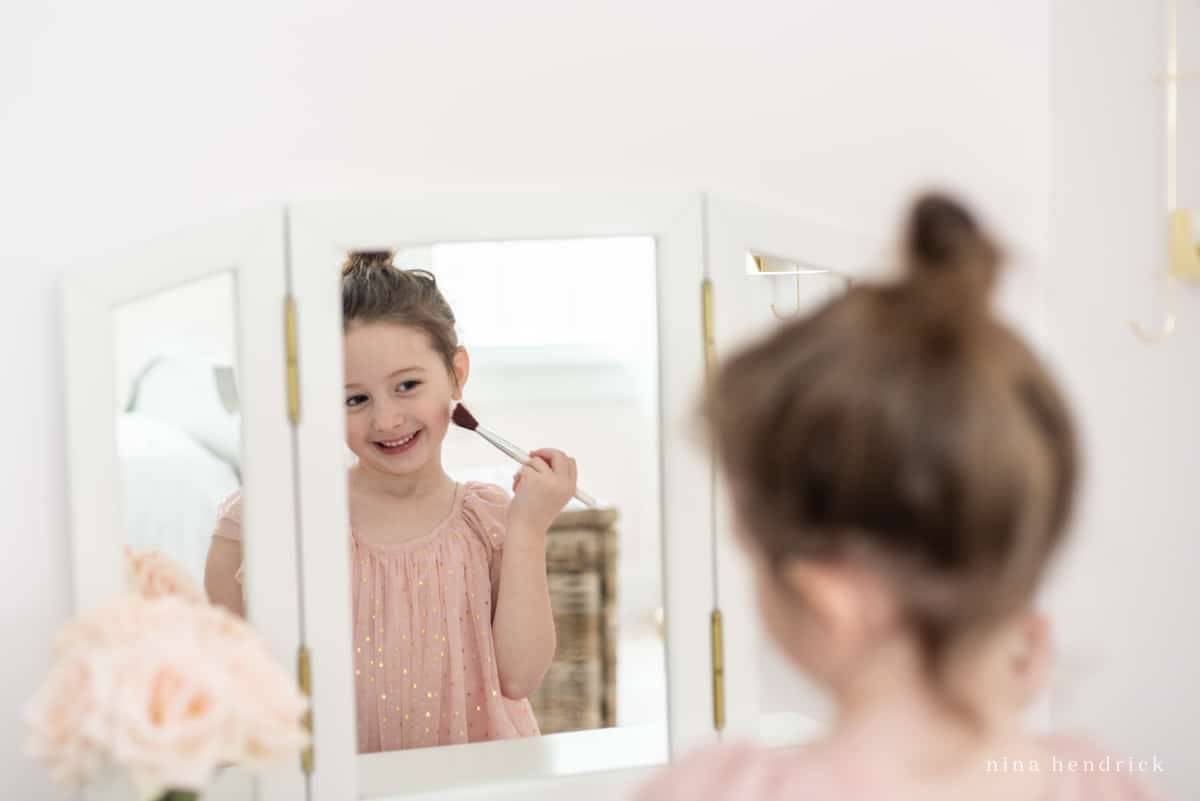 She also likes to do her hair and pretend to put on makeup. When I saw her playing in the hallway with a mirror we'd removed from our bathroom project, I knew that she'd love a play vanity and stool, so we got her one for Christmas.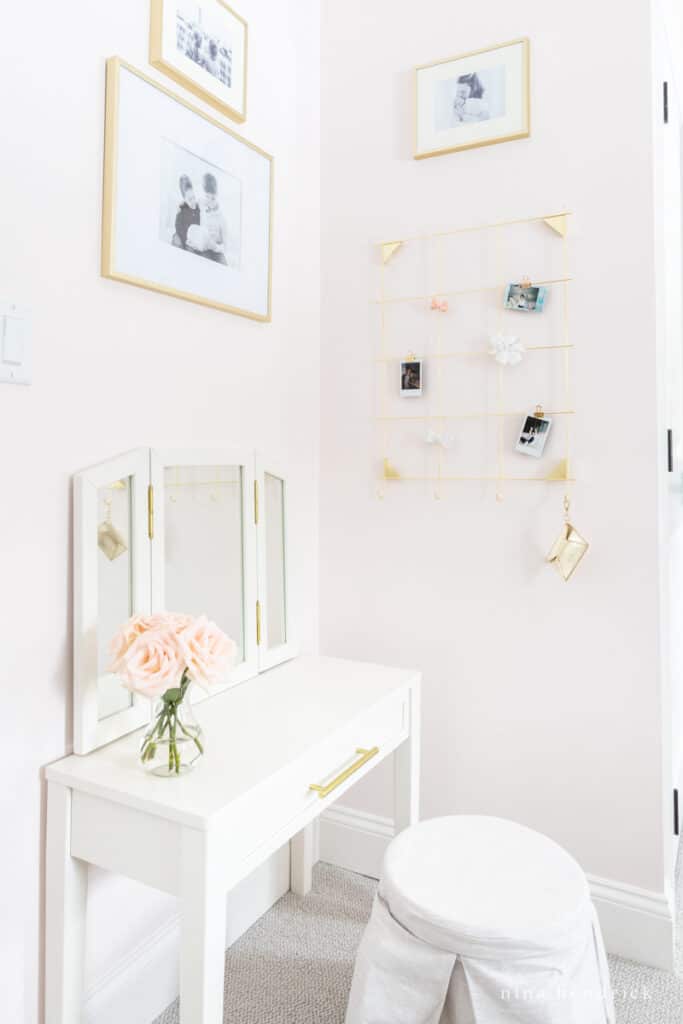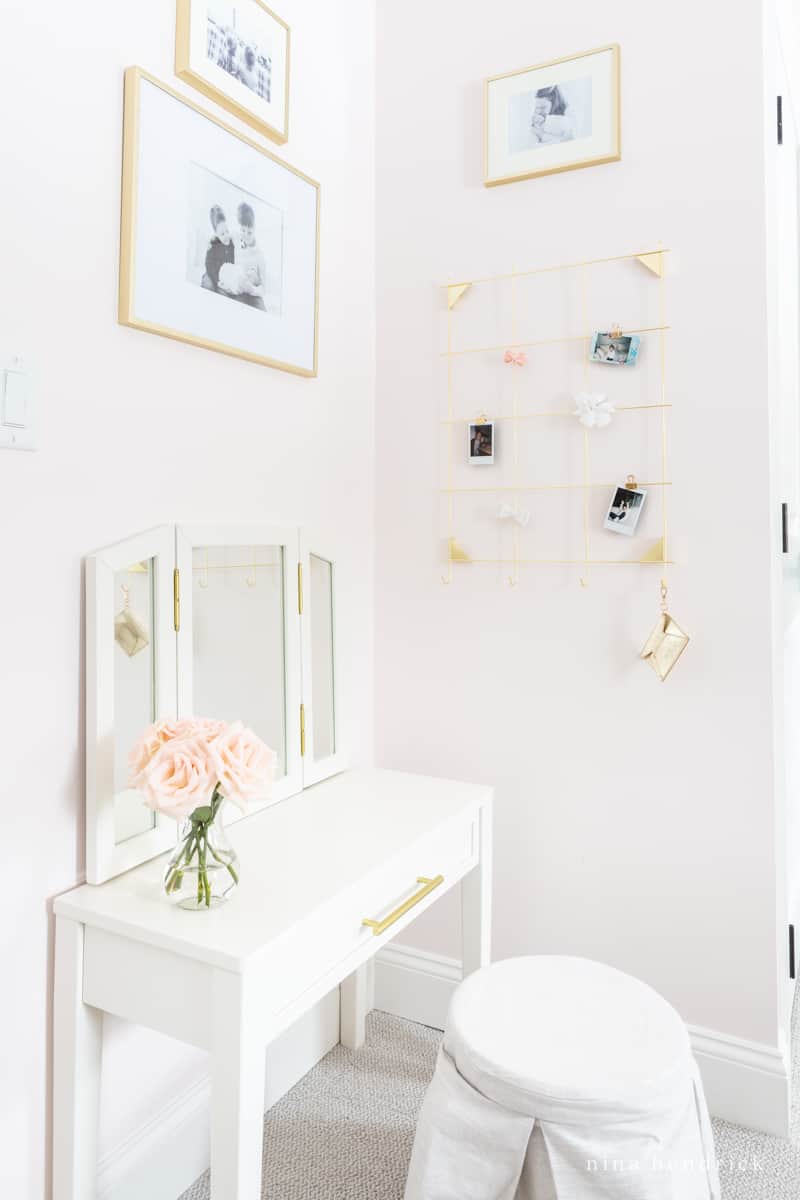 We created a gallery wall around it with pictures that she chose (she picked out which pictures she wanted all around her room) plus a little gold message board (from IKEA, but a similar one can be bought online here) where she can store her bows and hang up her artwork and pictures she takes with her camera.
The Dresser Wall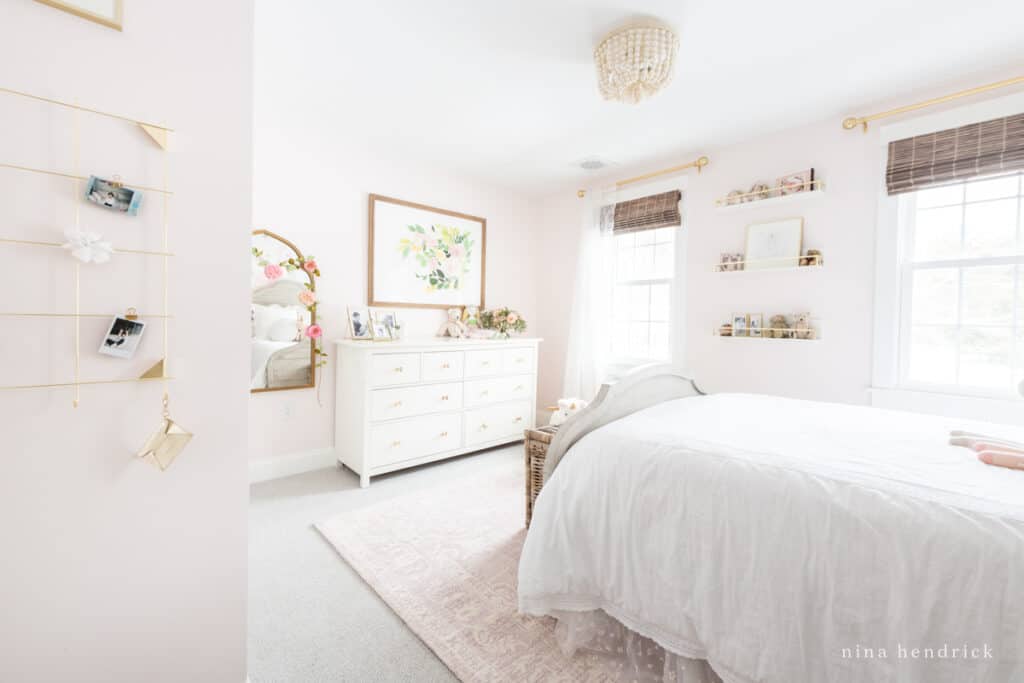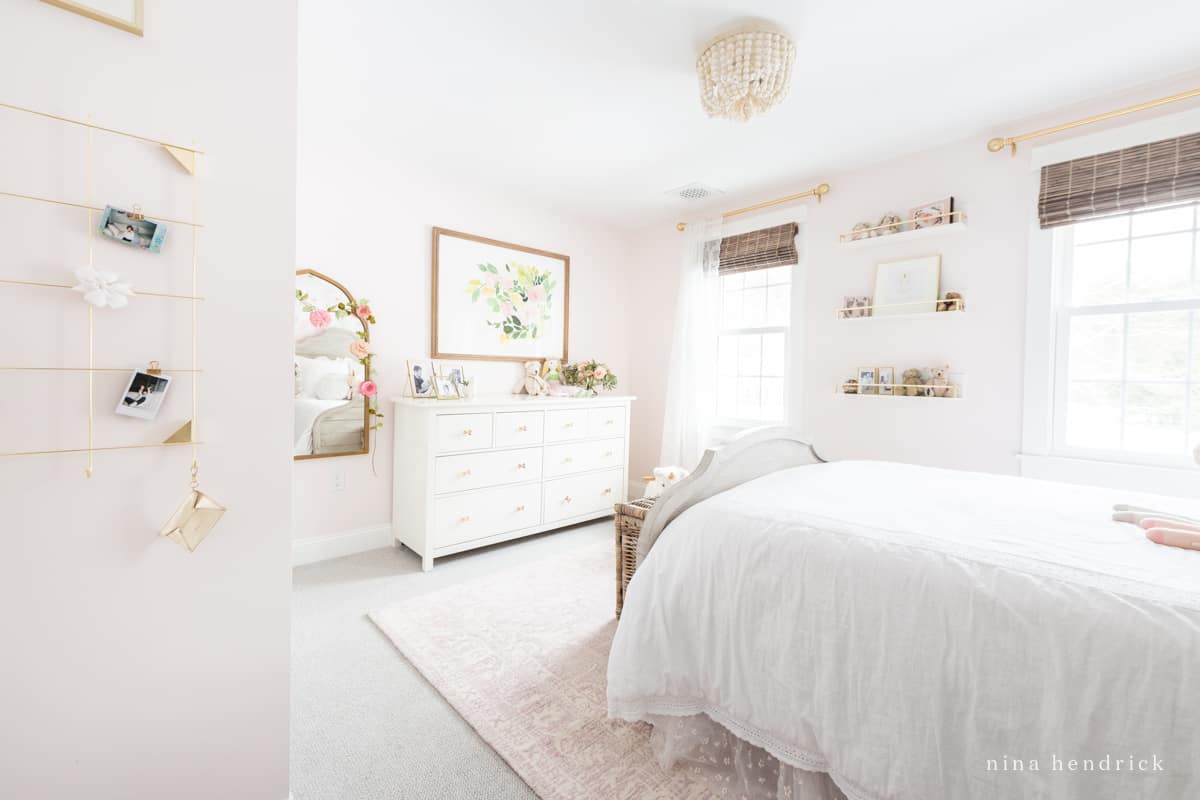 Again to be able to open the doors of the closet, the dresser needed to be slightly off-center on the wall. Luckily we were able to arrange things so that the dresser could be centered across from the bed, but far enough away from the doors. Sometimes space planning works out easily!
A Gift from the Universe
However, we were left with a little gap of empty wall. It seemed like the universe heard my vague musings of what to do with the space. They shipped a random extra mirror with the mirrors for our primary bathroom. When I told them, they said to just keep it.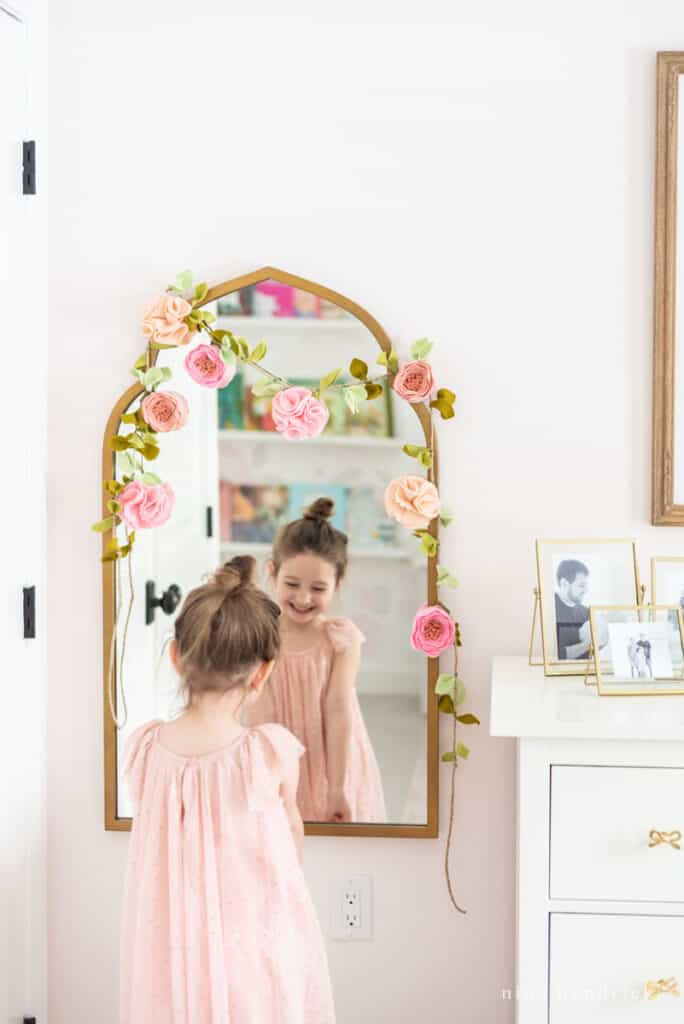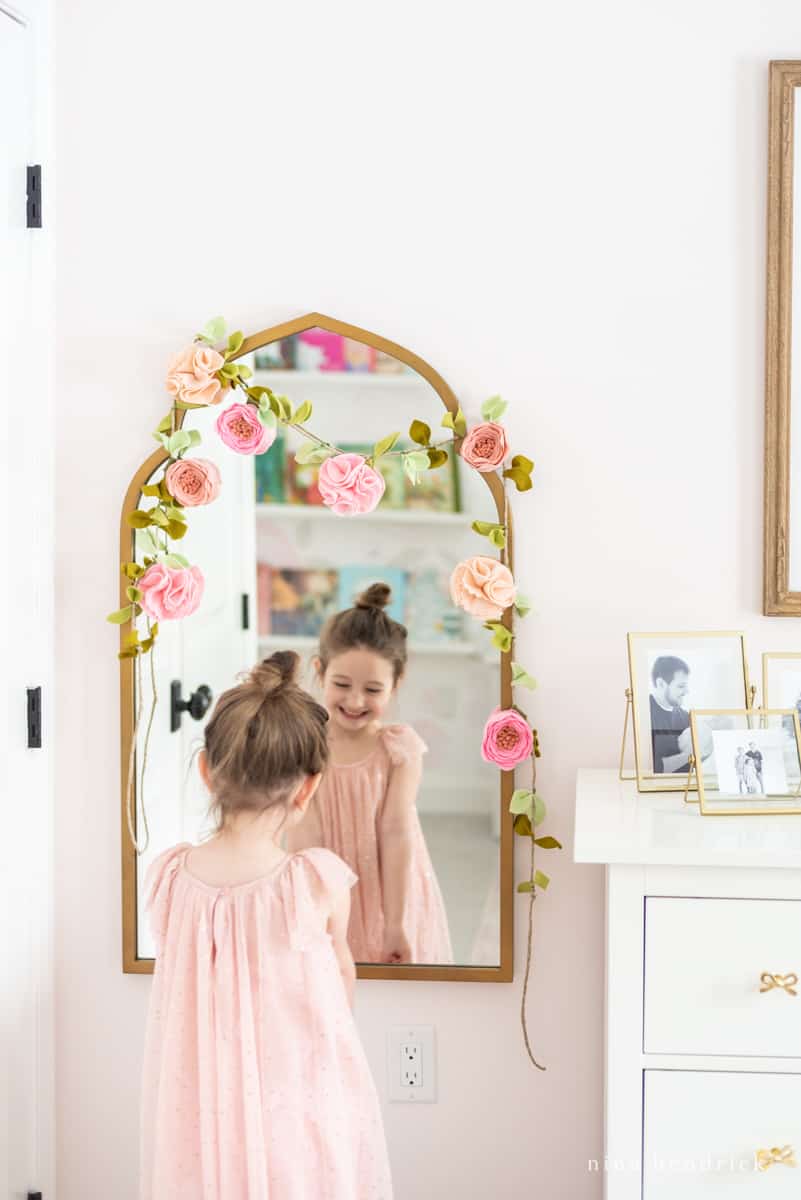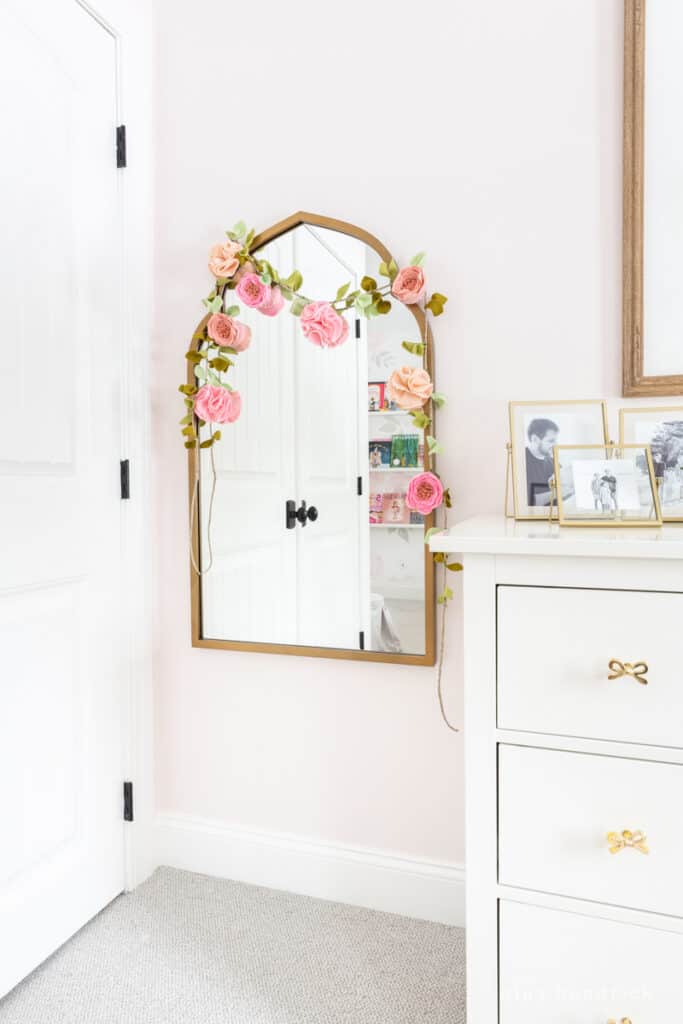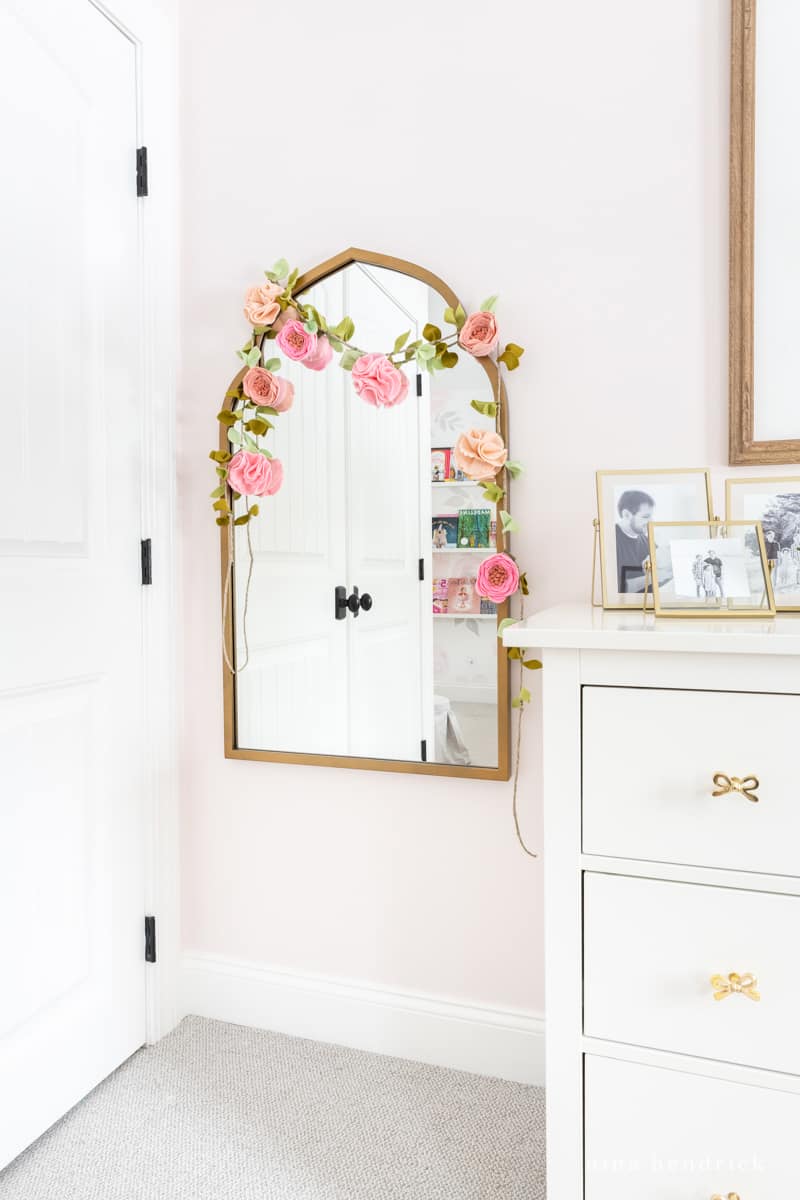 While it's not necessarily what I would have chosen, it was free and it's gold-ish. Plus, it almost has a little Princess Jasmine feel to it, doesn't it? I hung the garland (here's a similar one) from Lyla's first birthday party asymmetrically around it and it works out quite well. If I feel ambitious at some point I may try to perfect the finish with gold Rub-and-Buff.
Dresser & Bow Drawer Pulls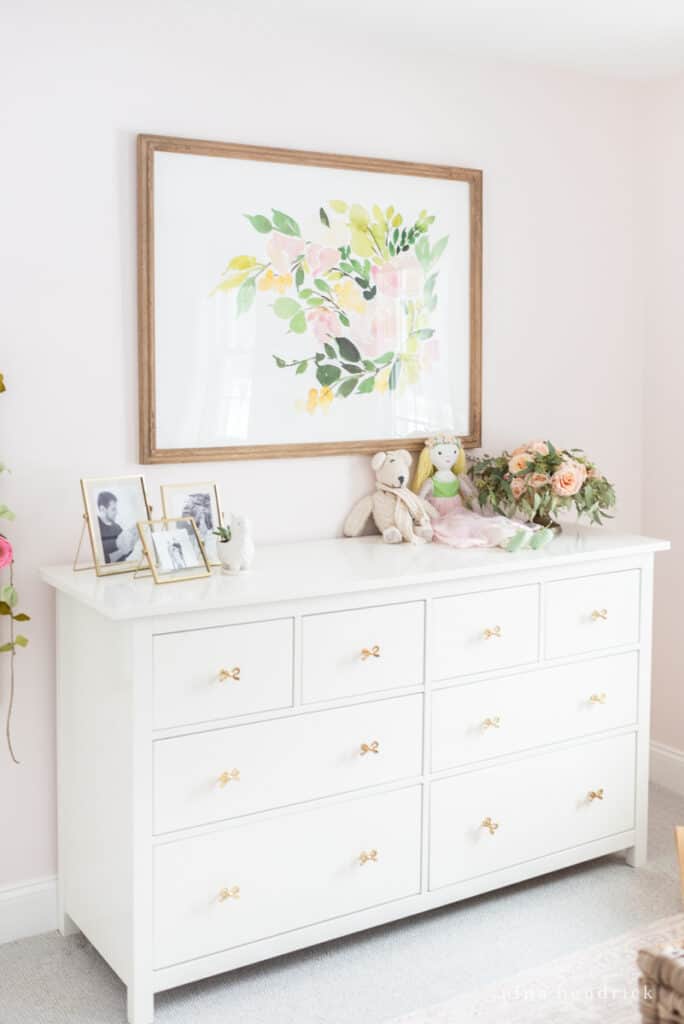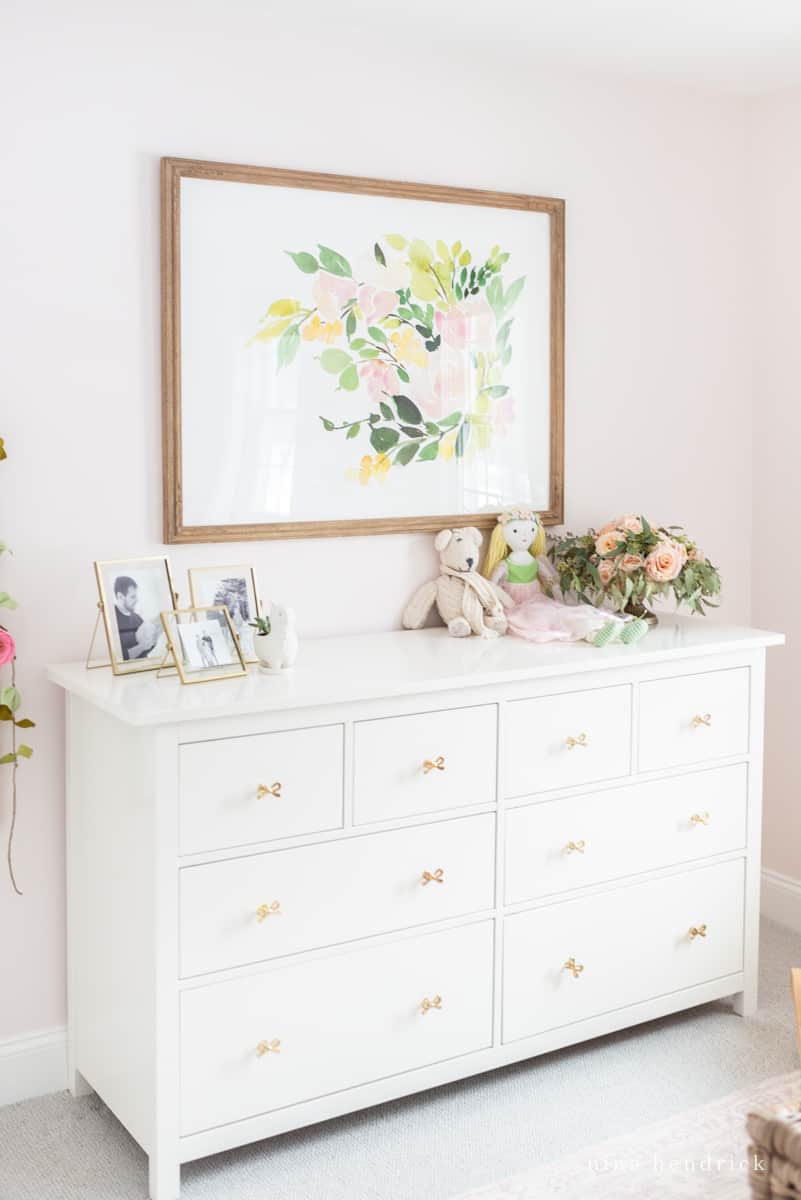 Lyla's dresser was the changing table from when she was a baby. It's the IKEA Hemnes and we cut down the legs a bit so that I could more easily use it to change her.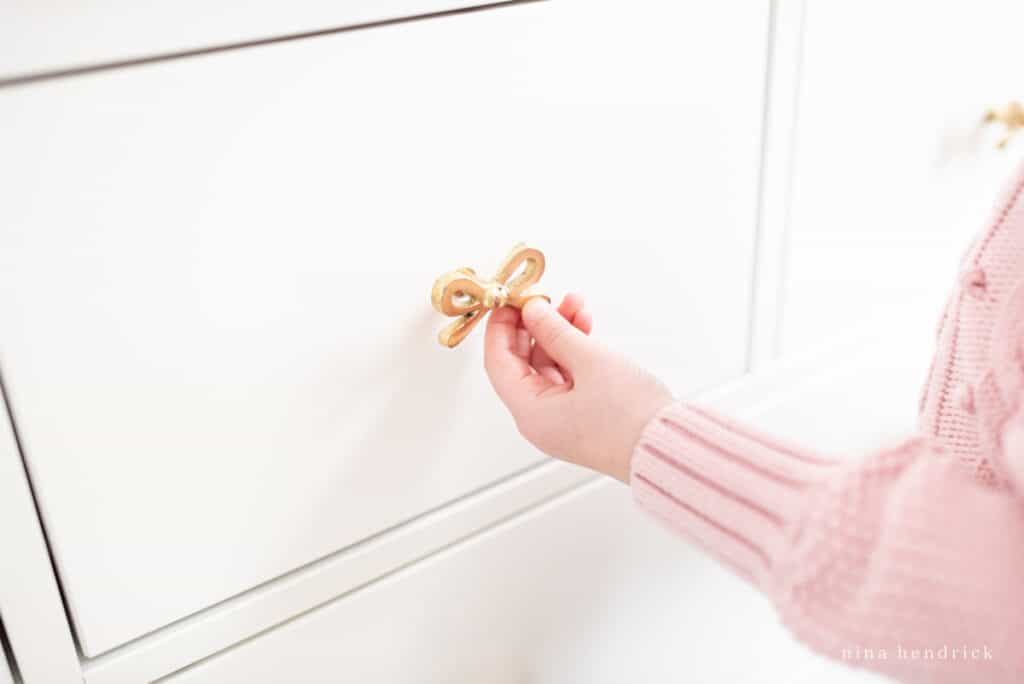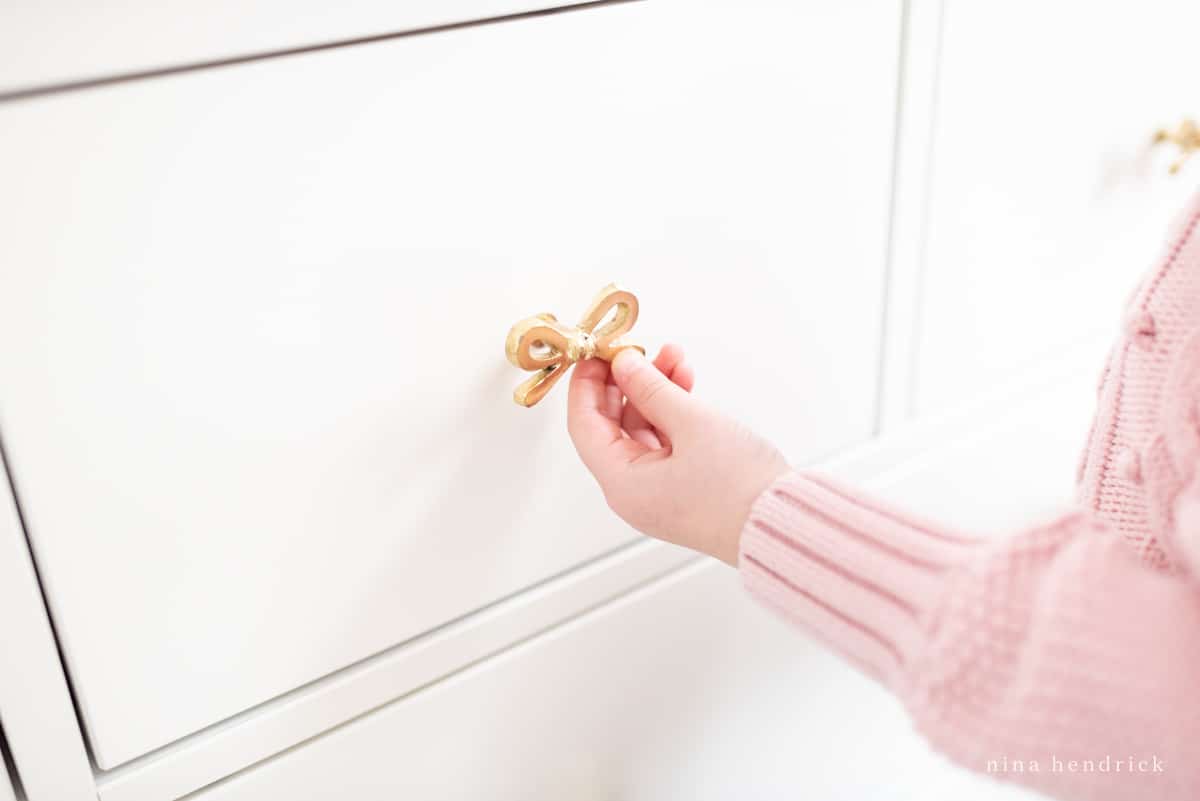 I swapped out the hardware for these adorable bow pulls. Just a little PSA, please remember to anchor furniture! Like all of our furniture, this is securely anchored to the wall into a stud.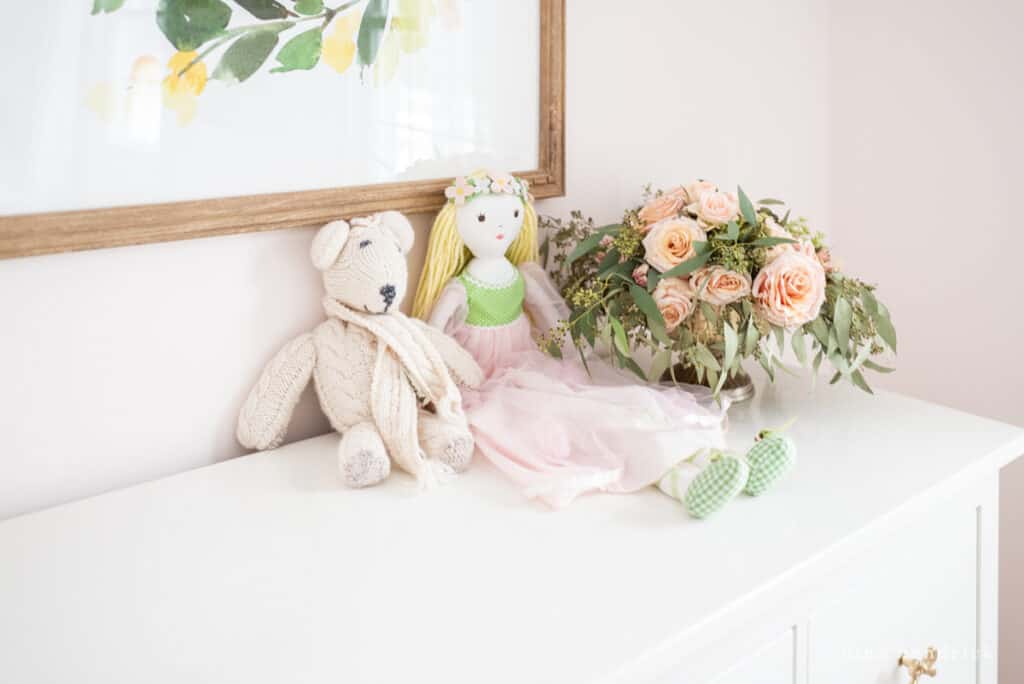 I reused the artwork above the dresser that was gifted to me by Minted when she was born. It's still lovely and timeless! The bear was handmade and we brought it back from our trip to Ireland and the little princess doll has her name embroidered on the skirt and was a gift before she was born. I borrowed the floral arrangement from this Valentine's Day tablescape.
Delicate & Rustic Window Treatments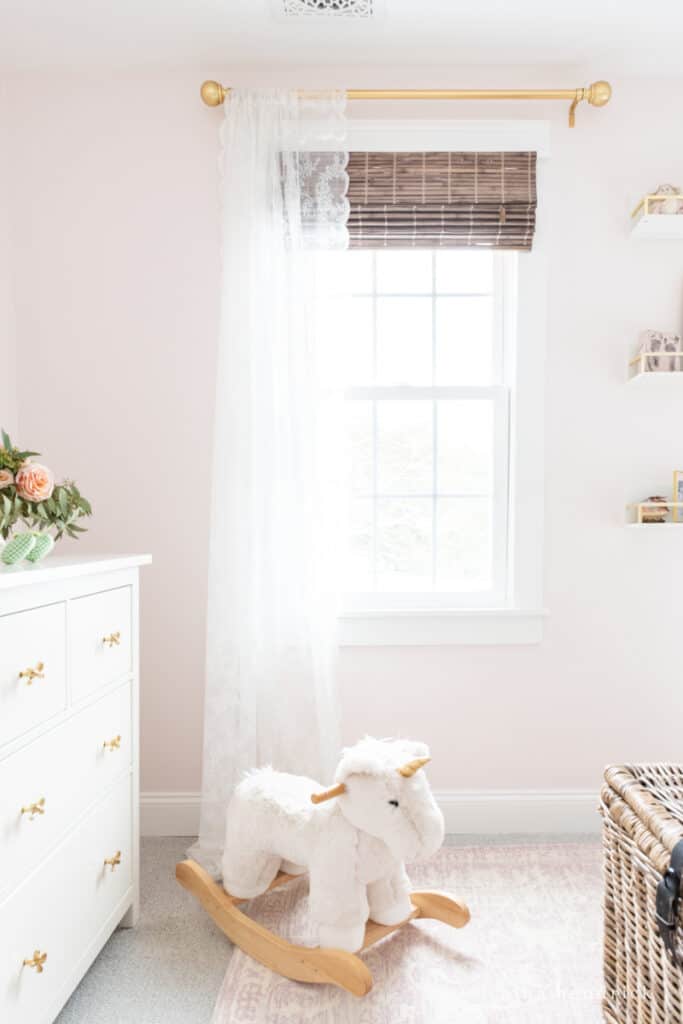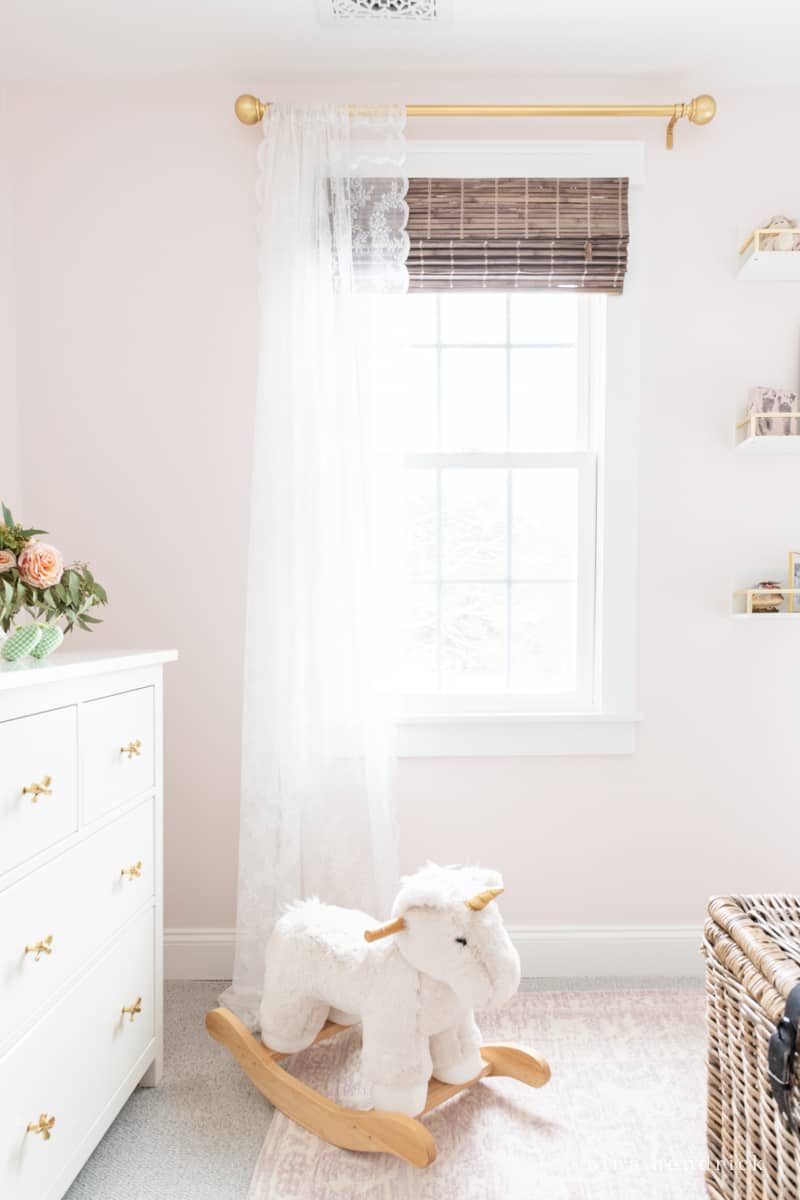 Her lace curtains are also from IKEA. Unfortunately, they no longer sell them. I sourced some similar ones for you here. I used the same weathered wood blinds that can be found elsewhere in our home. The rocking unicorn was from when she was a baby. I honestly can't part with it yet, and she still plays with it. She puts a pretend bridle on it because she's dreaming of taking horseback lessons.
Decorative Shelves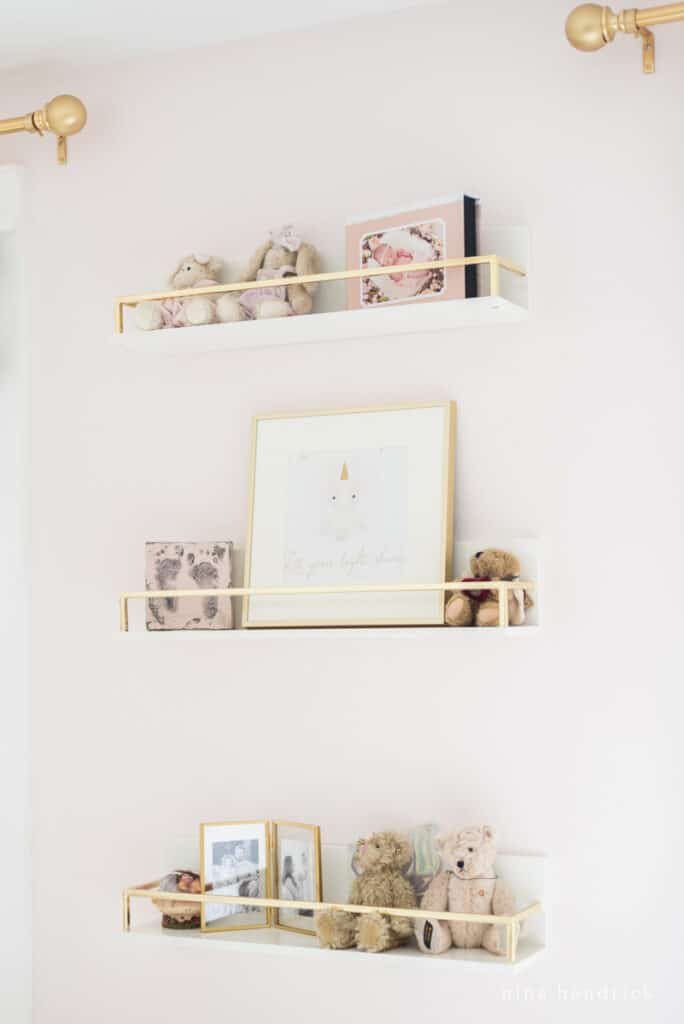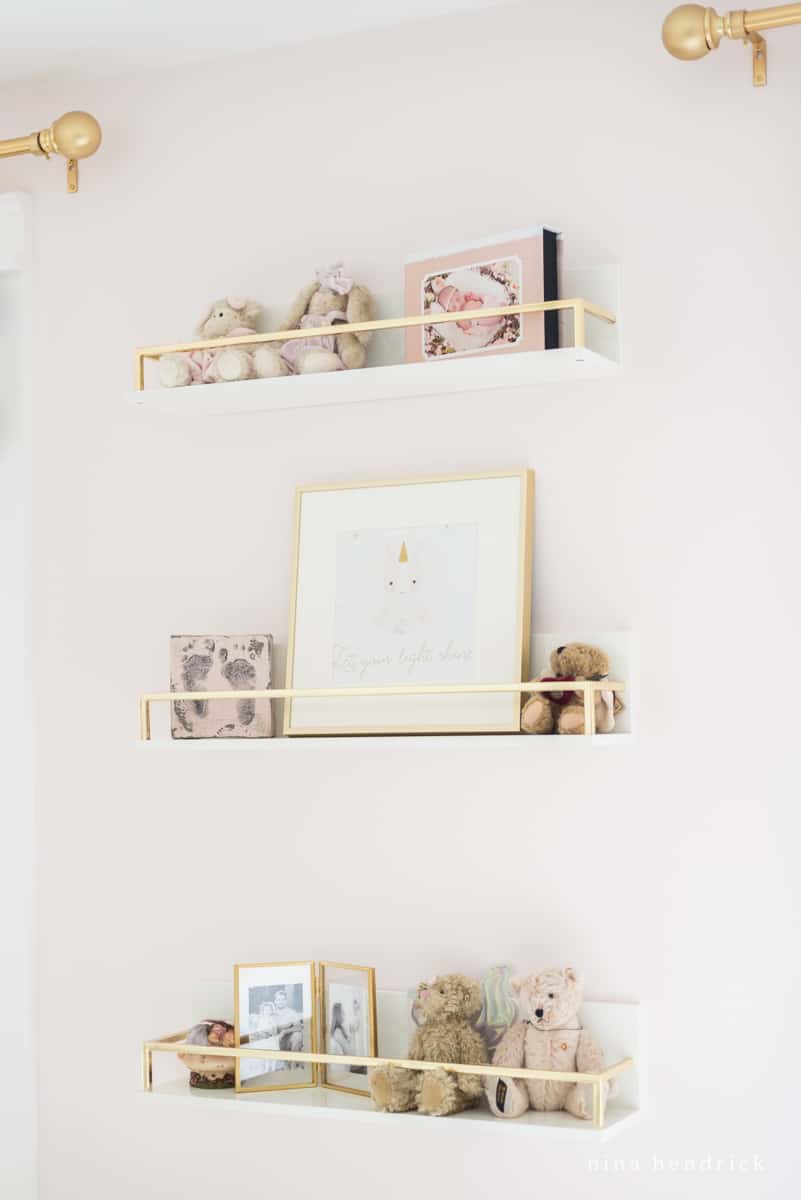 Between the two windows, I added shallow new shelves. All of the items on them are sentimental. A lot of them are from when she was a baby. The bears and fairy statues were mine when I was a little girl and Lyla picked them out of what I saved from my childhood.
Compact Nightstands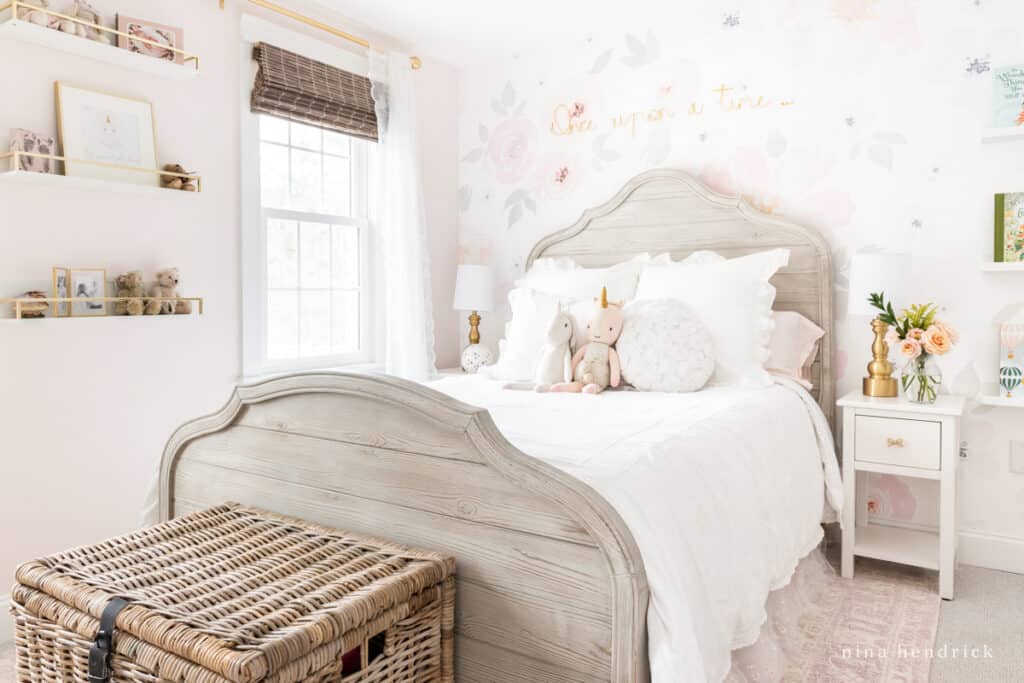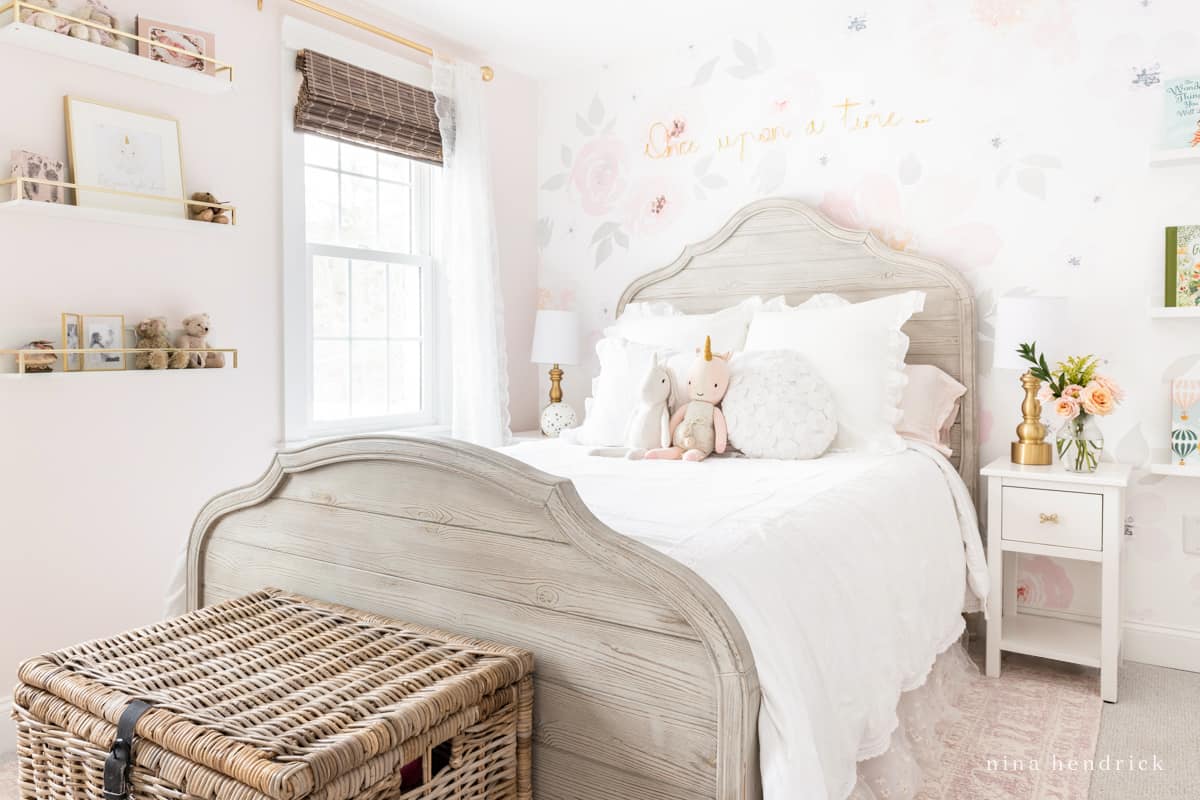 I found two narrow nightstands to put beside her bed, with simple gold lamps (similar here). She also loves her nightlight that projects stars all over her room. The trunk at the foot of the bed stores all of her stuffed animals. It was from IKEA, but it's no longer sold— here's a similar one.
Lace & Linen Bedding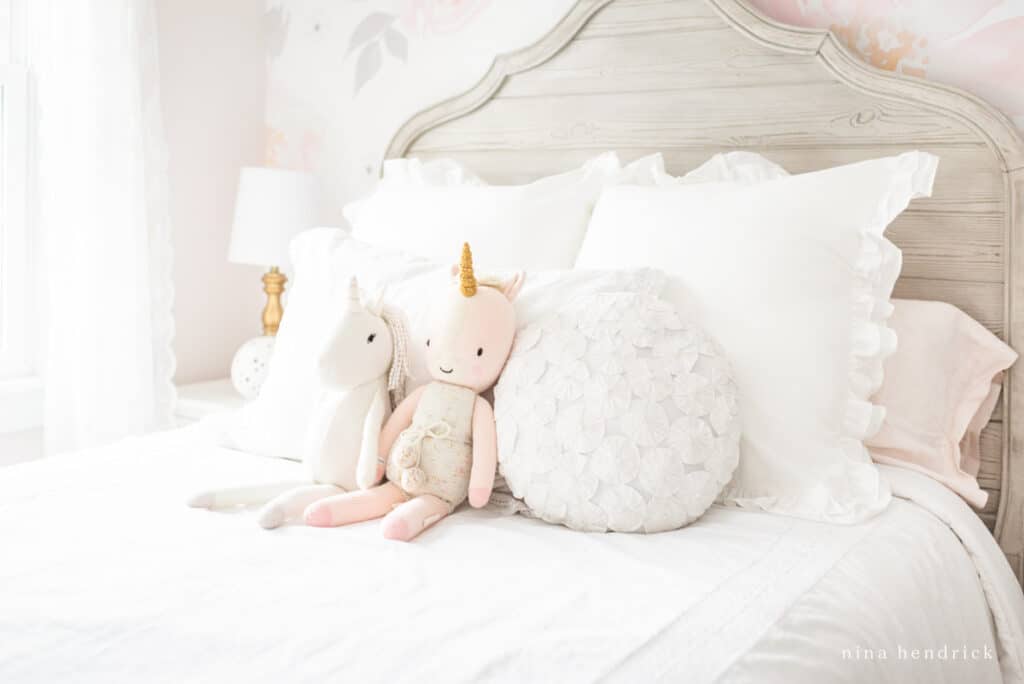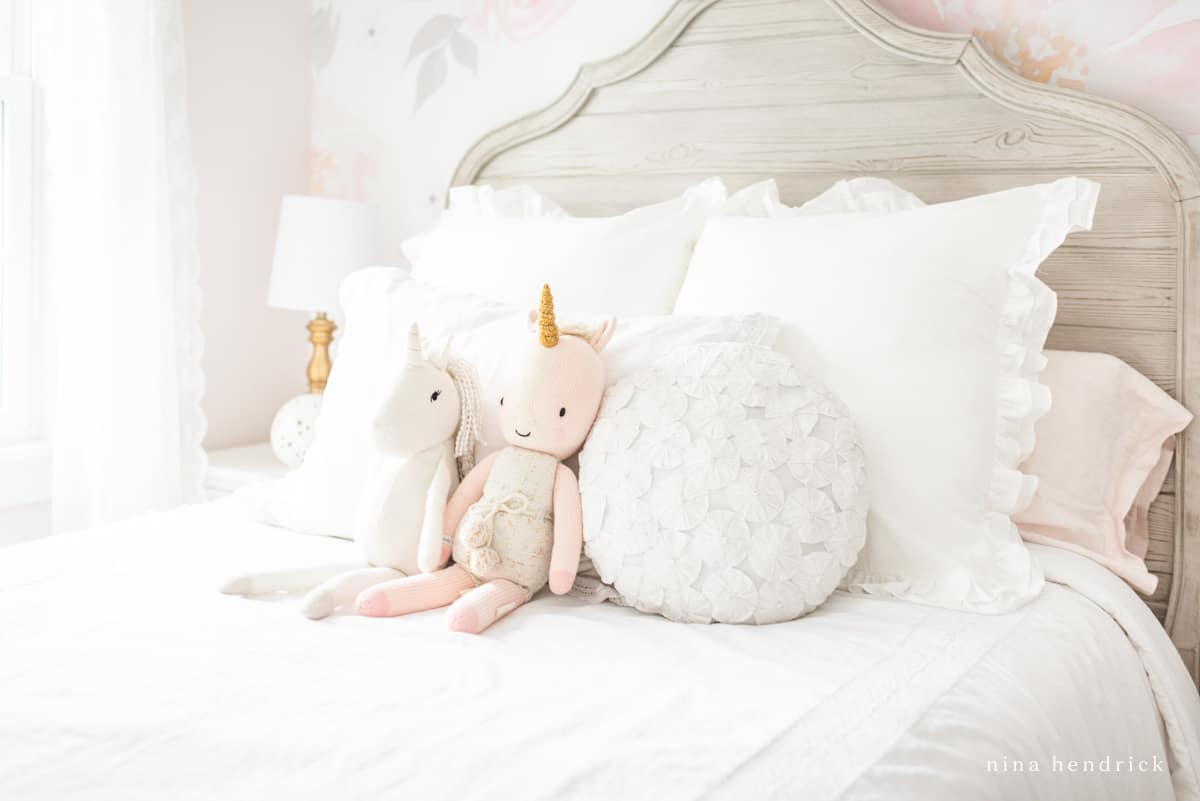 We've had her bedding for quite a while, but I've linked something similar here. Here are her pink linen sheets. The linen euro pillows are a new addition that she loves for reading. Here's a similar round pillow. Her pink unicorn "friend" can be found here and here's a similar white one.
Tulle Bed Skirt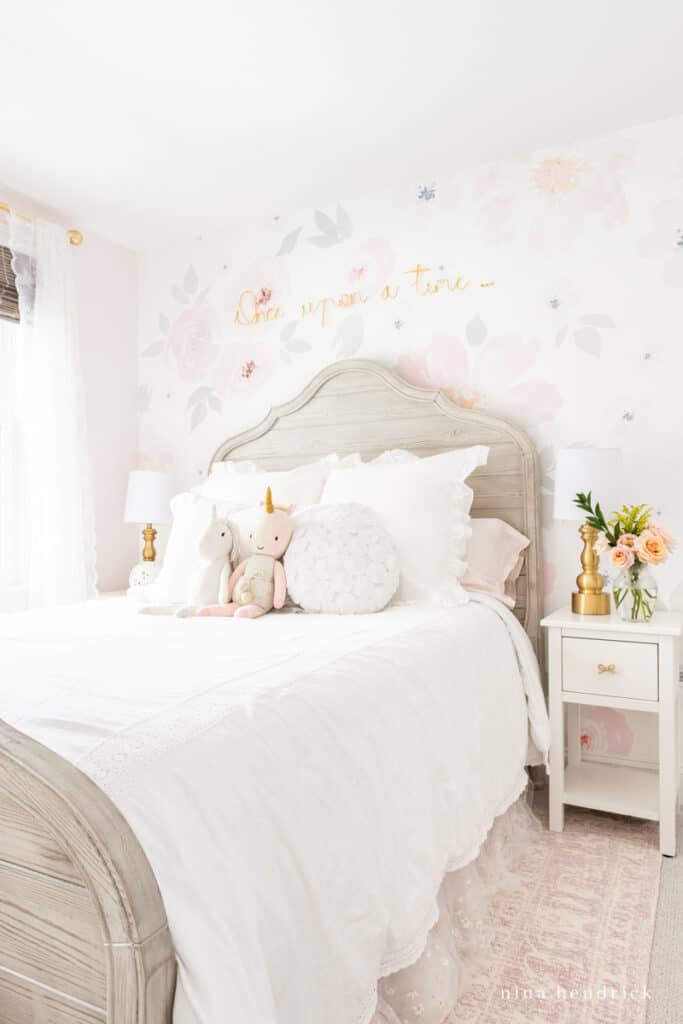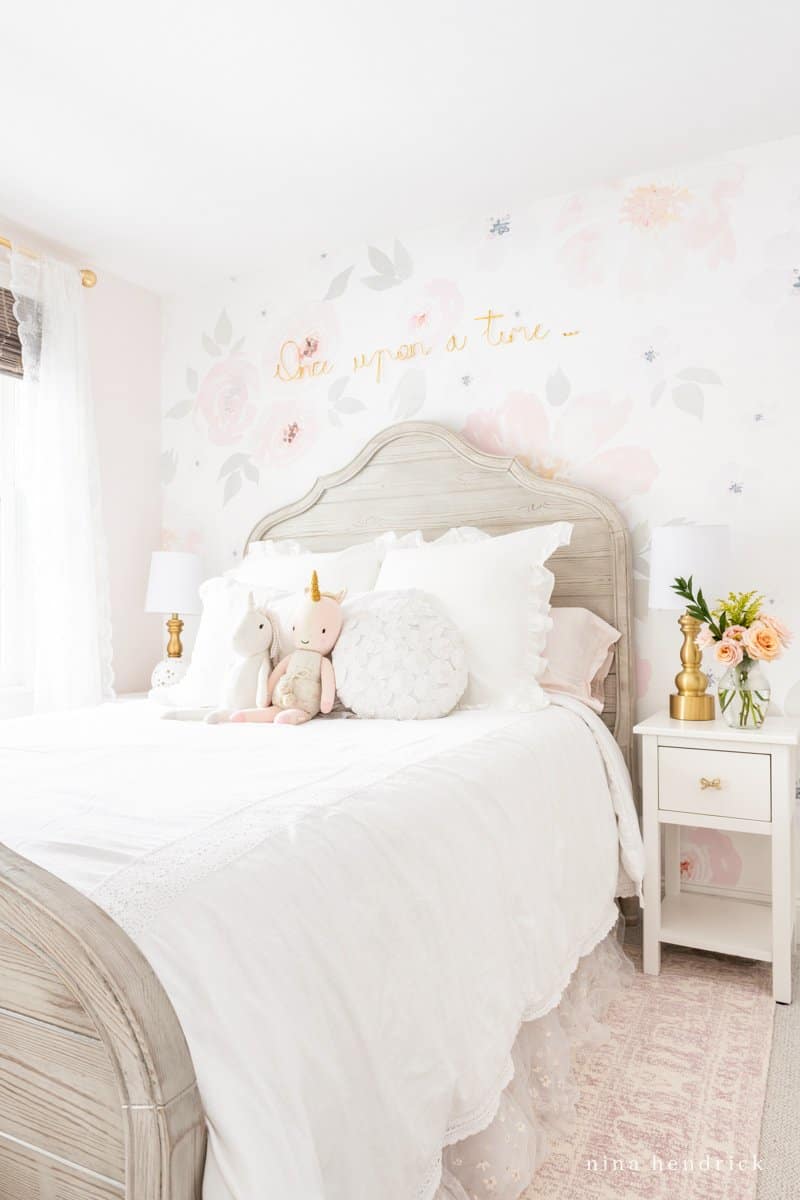 I also recently added the tulle bed skirt, which was an absolute logistical nightmare to install. Lyla's too petite to have a box spring (she couldn't safely get in and out of bed at the height), so her mattress rests on slats. It pressed the bed skirt down too much and made it too short when I tried to install the bed skirt over the side rails. So I had to remove the slats, put the bed skirt back on around them, and screw the slats back in through the bed skirt.
Vintage-Inspired Rug
The blush vintage-inspired rug is also a recent addition. I know rug over carpet is a perplexing choice to some, but I like how it breaks up the space a bit.
A Floral Girl Room Makeover fit for a Princess…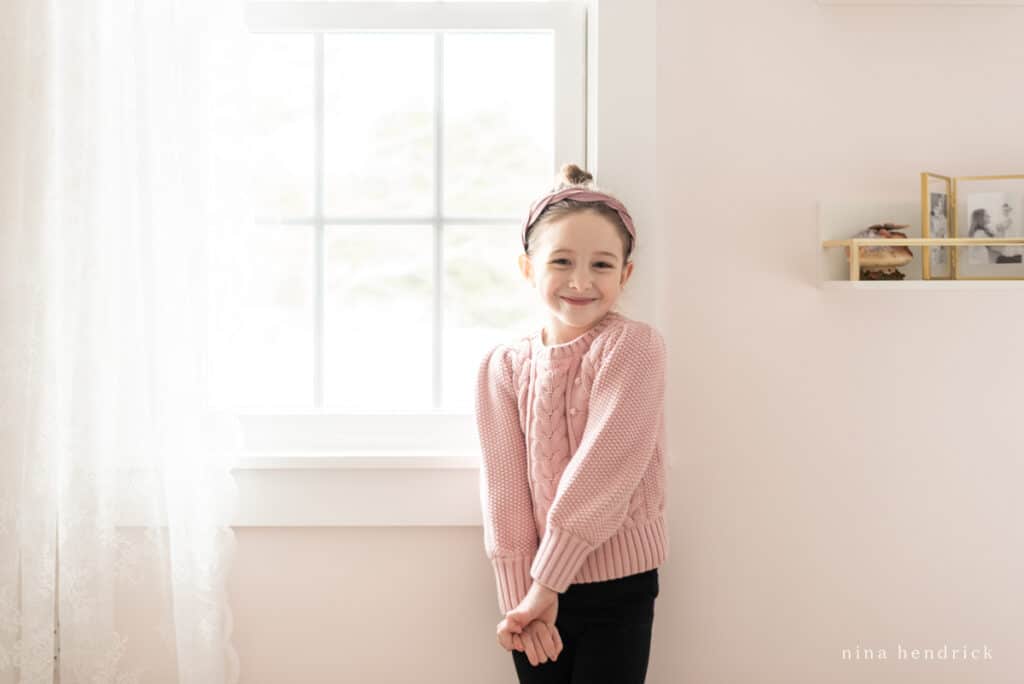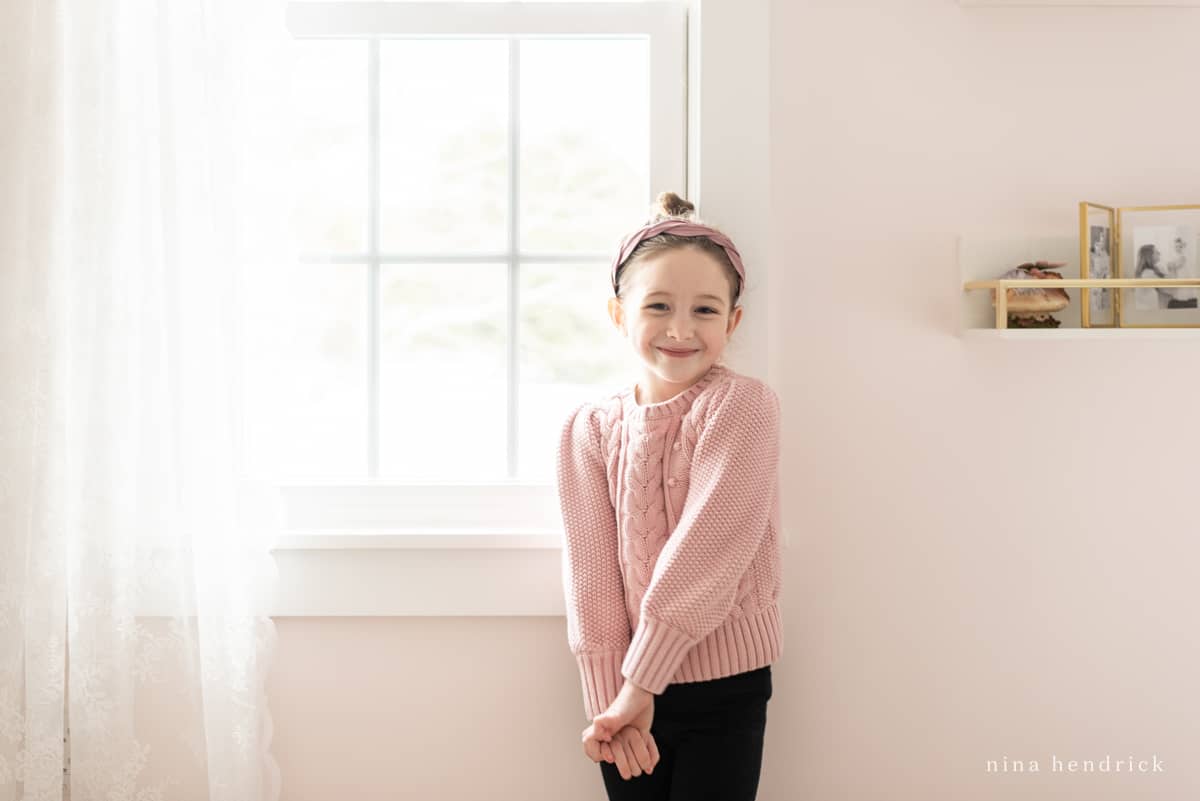 I think that covers it! Lyla absolutely loves her floral girl room makeover and is so proud of it. I believe we reached a compromise that can grow with her and evolve a little if her taste does. Now we're on to her brothers' rooms and closets! Make sure to follow along on Instagram to see them unfold.
Floral Girl Room Source List
Wall Color — Benjamin Moore Melted Ice Cream lightened by 50%
Ceiling Color — Benjamin Moore Simply White in Eggshell
Trim Color — Benjamin Moore Simply White in Semi-Gloss
Carpet — Stainmaster Gramercy in Lexington
Wallpaper — Walpaperie Amara Floral
Light Fixture — here
Bed — PB Teen, no longer available. Full Size. Similar here and here.
Comforter — Simply Shabby Chic, no longer available— similar here.
Sheets — pink linen
Pillows — Linen Euro Pillow Covers and Inserts, Round pillow.
Pink Unicorn — here
White Unicorn — No longer available, similar here
Bed Skirt — here
Wicker Trunk — IKEA, no longer sold. Similar here.
Wire Word Art — Wonder Wire Design, gold, medium
Bedside Tables — here
Gold Lamps — Target, no longer available. These are similar (wish I'd seen them before!).
Star Nightlight — here
Rug — Astrid Rug, 7×10, Blush
Book Ledges — here, 36″
Vanity — here and stool here
Picture Frames — Large, 5×7" (says 8×10″ but matted for 5×7″)
Wire Picture Hanger — IKEA, similar here
Mirror — See post for story, not sure. Similar here.
Felt Flower Garland — No longer sold, similar here
Dresser — IKEA Hemnes, similar here
Bow Hardware— here
Set of Three Gold Frames — here
Llama planter — gift, but similar here
Floral Artwork — 30×40″ Whitewashed French Farmhouse Frame
Stuffed Animals — Aran Bear (Ireland), doll no longer sold
Gold Flower Bowl — here
Curtain Rod — here
Lace Curtain — IKEA, no longer sold, similar here
Driftwood Shade — here
Gold & Acrylic Shelves — 2′ here
Square Frame — 8×8″ here
Folding Frame — Vertical
The rest of the items on the acrylic shelves are sentimental (passed down) or handmade.
Pin It for Later