Make the day special with a delicious Valentine's Day Charcuterie Board! Learn how to make a board step-by-step filled with an assortment of meats, cheeses, crackers, and fruit, along with special festive holiday sweets.
Valentine's Day is a time to celebrate love, and what better way to do that than by gathering your loved ones around to enjoy a beautiful charcuterie board? Whether you're hosting a romantic dinner for two or a cozy Galentine's Day celebration with friends, a Valentine's Day charcuterie board is the perfect way to take your gathering to the next level.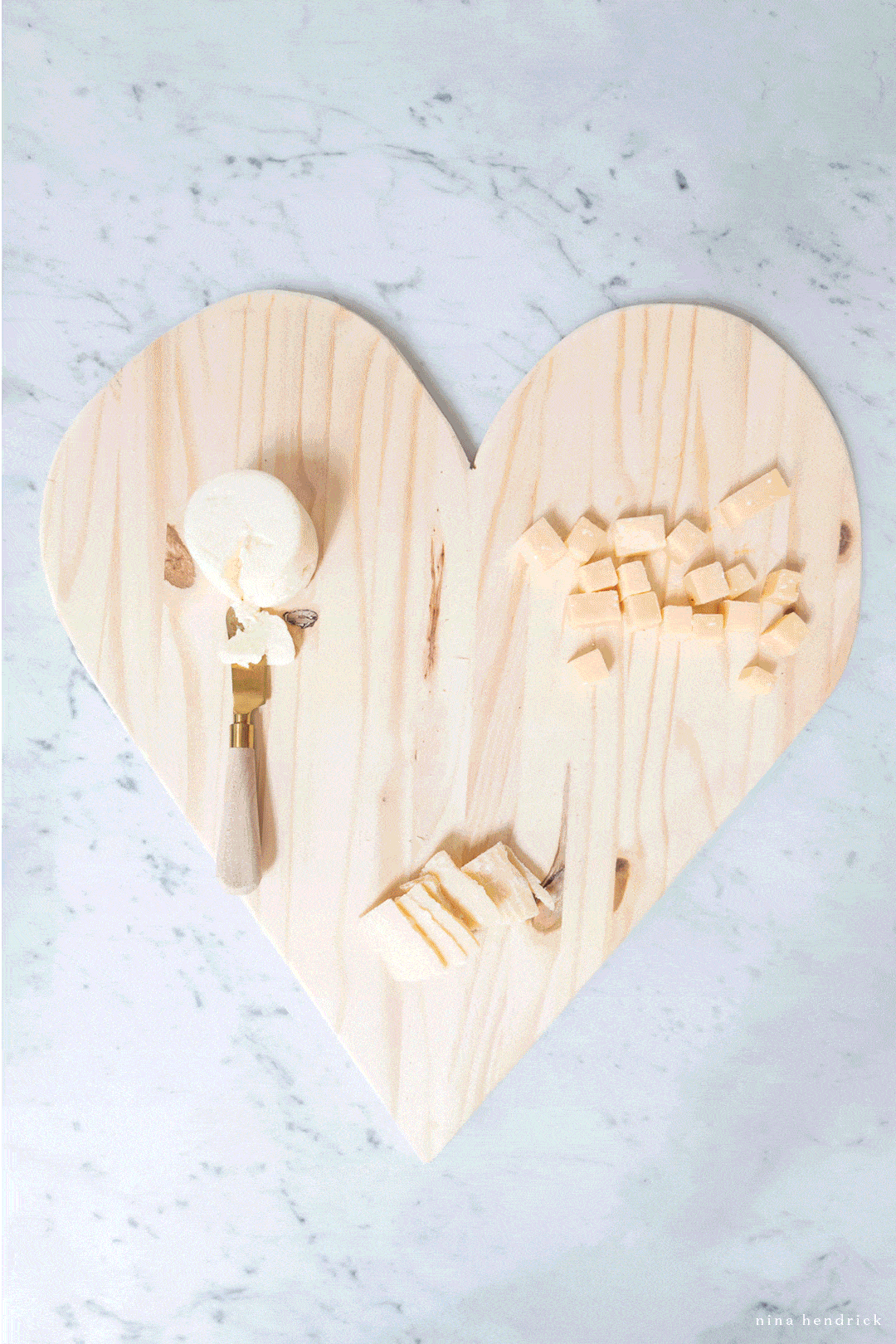 Charcuterie boards are a crowd-pleaser that work great for any holiday or even everyday entertaining. Visit this post for my charcuterie board basics!
This post contains affiliate links, which means I may get a small commission (at no extra cost to you) if you shop my link. Please see my disclosure if you'd like more info!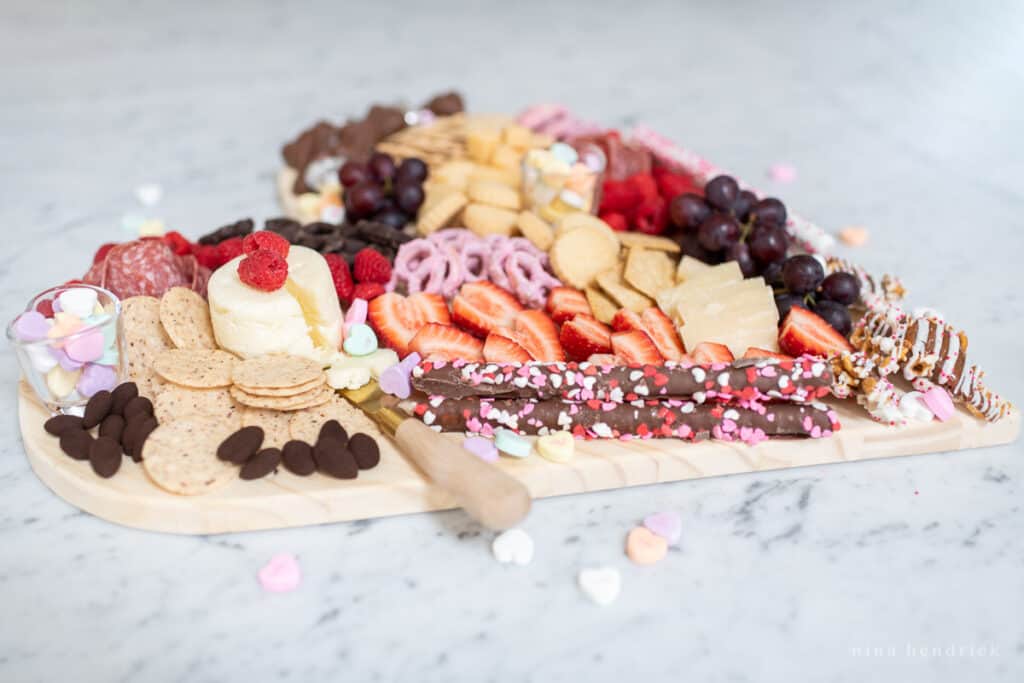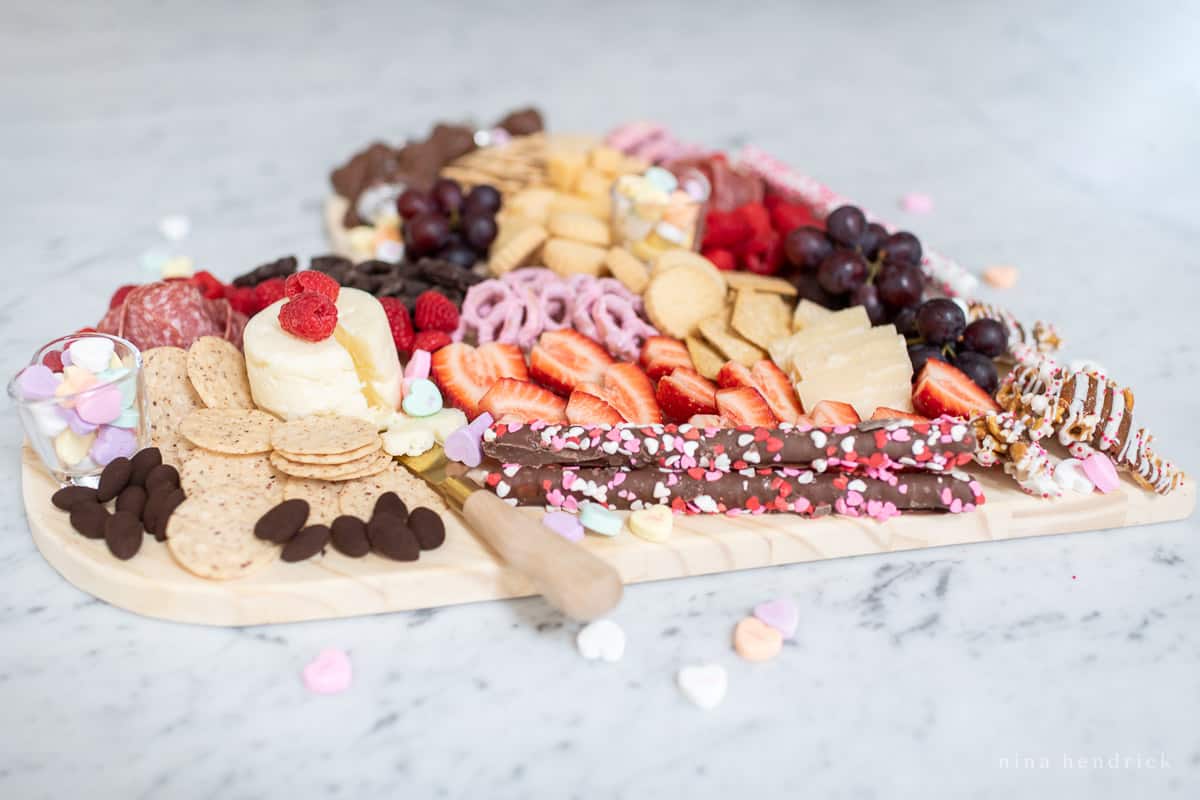 How Do You Make a Valentine's Day Charcuterie Board?
A Valentine's Day Charcuterie board is the perfect way to celebrate the season of love. Start by selecting a variety of cheeses, meats, fruits, vegetables, and nuts. Choose colors and flavors that will complement each other and make a beautiful display. Arrange the ingredients on a large cutting board, platter, or even a baking sheet. Here are some ideas for the different elements.
Choose Your Board
Begin by picking a platter or board that has plenty of surface space to hold your charcuterie items. A heart shaped platter or board is even better! I cut this one out from some leftover butcher block, but I also found you some great options here and here.
Start with Cheese
Start off your board with a variety of cheeses. I suggest having three: one soft, one medium, and one hard cheese that's a "safe bet" most people enjoy, like cheddar or parmesan. Soft cheeses like Brie and Camembert pair perfectly with some fresh fruit and a glass of wine, while hard cheeses like Cheddar and Parmesan make delicious nibbles when served with some crackers or thinly sliced baguette.
Select 1-2 Types of Meat
When it comes to creating a Valentine's Day charcuterie board, meat should definitely be a part of the equation. Cured meats, sausages, and even candied bacon are all excellent choices when thinking about what to include in your spread. Mixing and matching different types of meat for an interesting flavor profile is always a great idea. Consider prosciutto, pepperoni, salami, and chorizo to get you started. Don't forget to provide some toothpicks for easy snacking!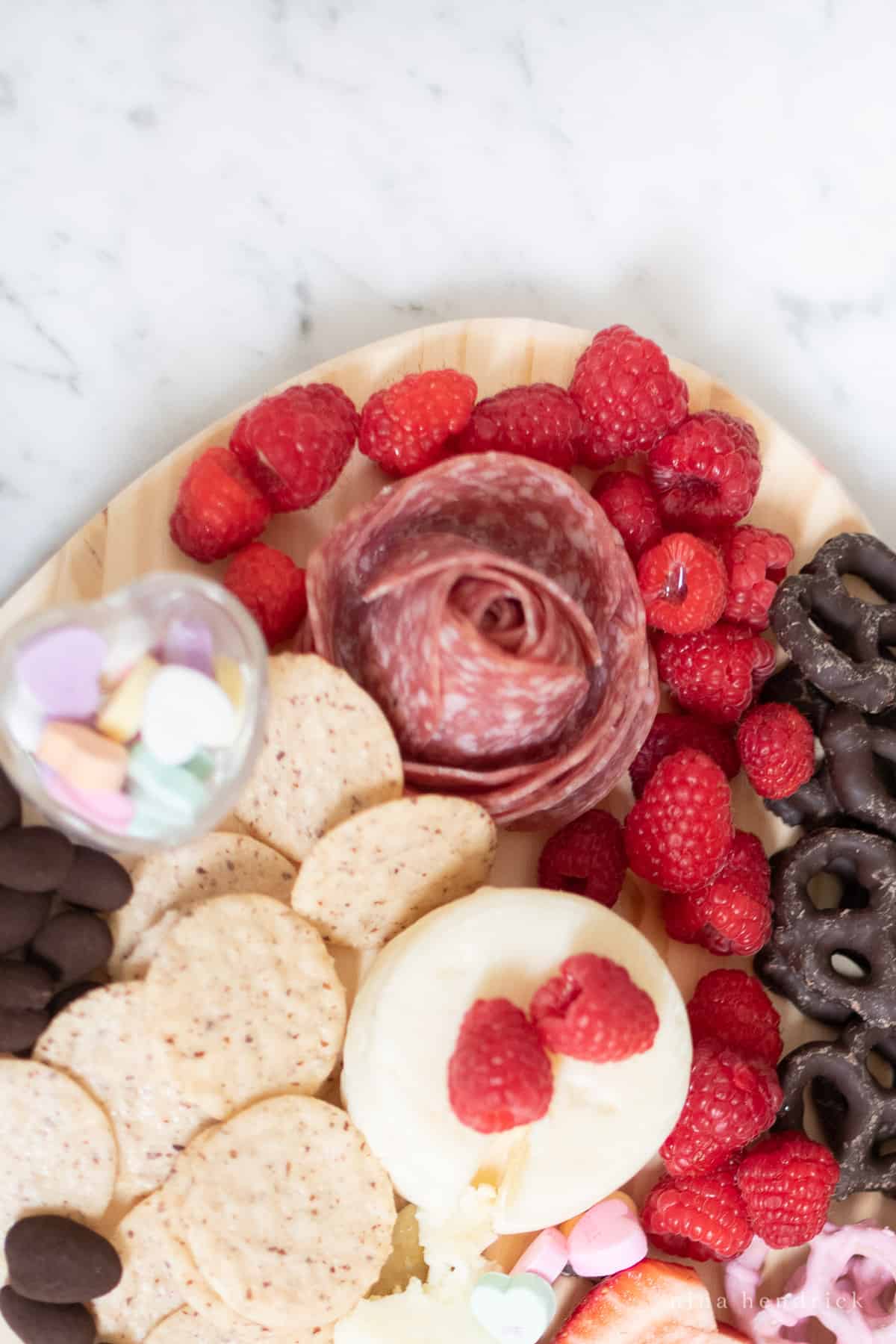 How to Create a Salami Rose
Creating a Salami Rose is a great way to add a unique and romantic touch to a Valentine's Day Charcuterie Board.
Start by choosing a salami that is thinly sliced and is the size of the rose you'd like to make.
Next, take a shot glass (or similar-sized glass) and begin layering the salami slices tightly into it, folding the top third of the first layer over the outside edge.
Keep layering until you reach the center, and then roll a slice to form the center bud.
To secure the rose, use a toothpick.
Place the Salami Rose on the Charcuterie Board with other favorite cheeses, crackers, and meats. Your special Valentine is sure to be impressed!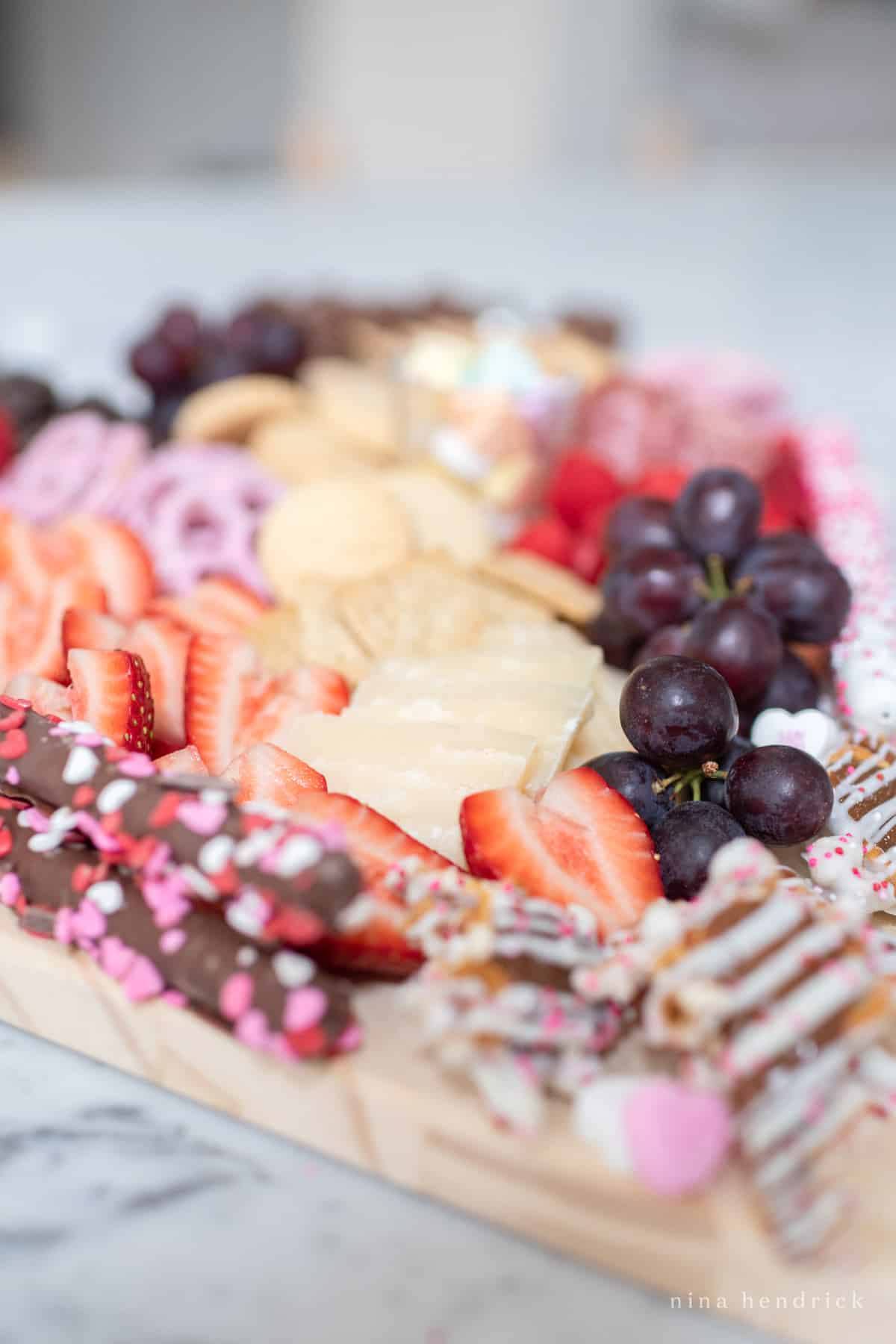 Fruits and
Vegetables
Think of adding heart-shaped strawberries like I did here! Other healthy options include diced apples, grapes, red bell peppers, and cherry tomatoes. These will add a bright pop of color and flavor to your board!
Bread and Crackers
You need 1-2 types of crackers, but not too many, because we'll be adding some other carbs to the board! Choose something that goes with a lot of things, like a simple butter or water cracker.
Dips and Jams
Choose from a variety of dips, such as hummus, guacamole, and salsa, and jams, such as raspberry, strawberry, and fig. Place these tasty treats on the charcuterie board alongside an assortment of crackers, bread, and other snacks.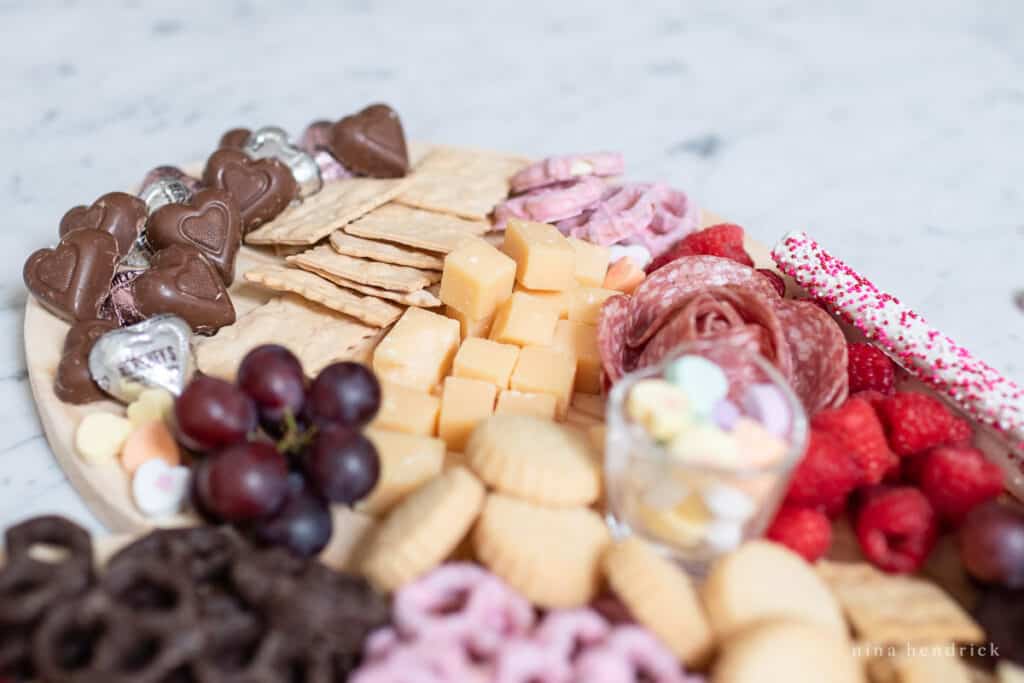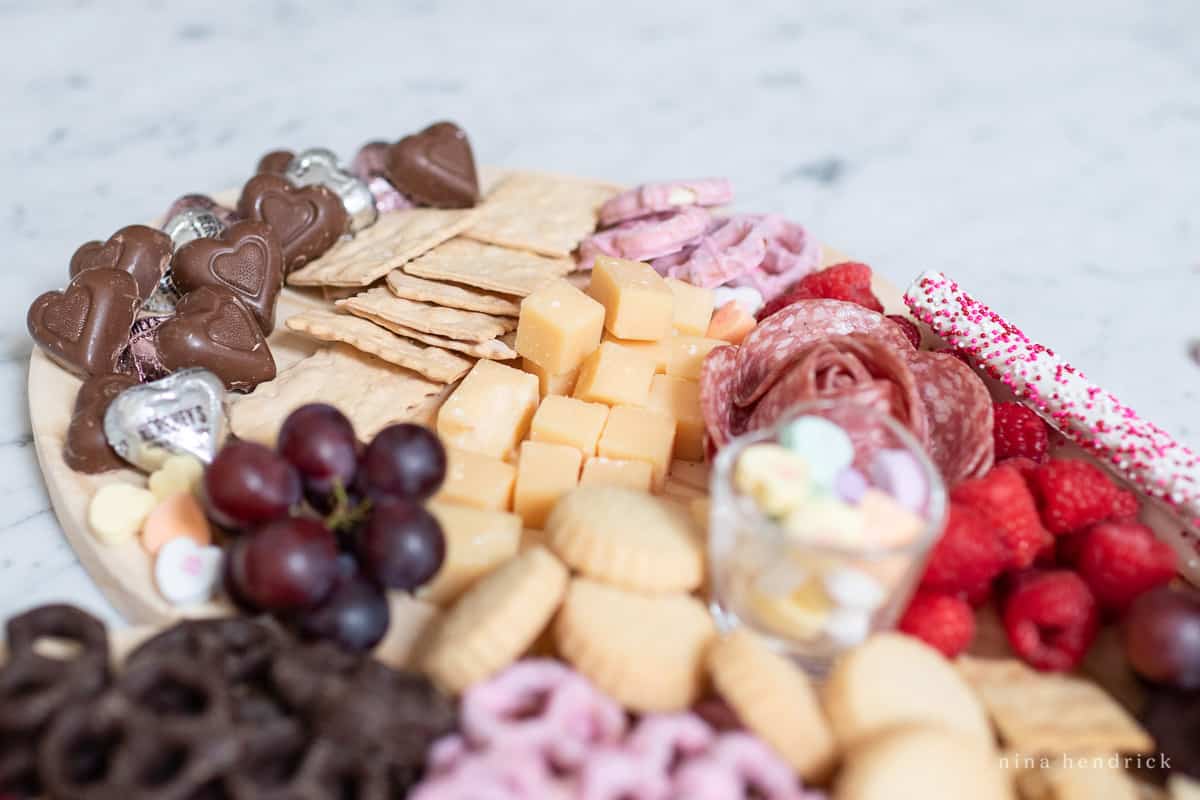 Chocolate and Extras
Chocolate is the ultimate classic treat for Valentine's Day, and it's the perfect addition to a romantic charcuterie board. Get creative with different types of chocolate by adding white and dark chocolates, truffles, and chocolate-covered strawberries. To make the board even more special, add some extra touches such as chocolate-covered pretzels, nuts, and marshmallows. For an extra-decadent treat, add some heart-shaped cookies or macaroons.
Don't forget to finish things off with some classic Valentine's Day candy like conversation hearts or non-edible decorations like roses!
How to Create a Valentine's Day Charcuterie Board Step-by-Step
How to Create a Valentine's Day Charcuterie Board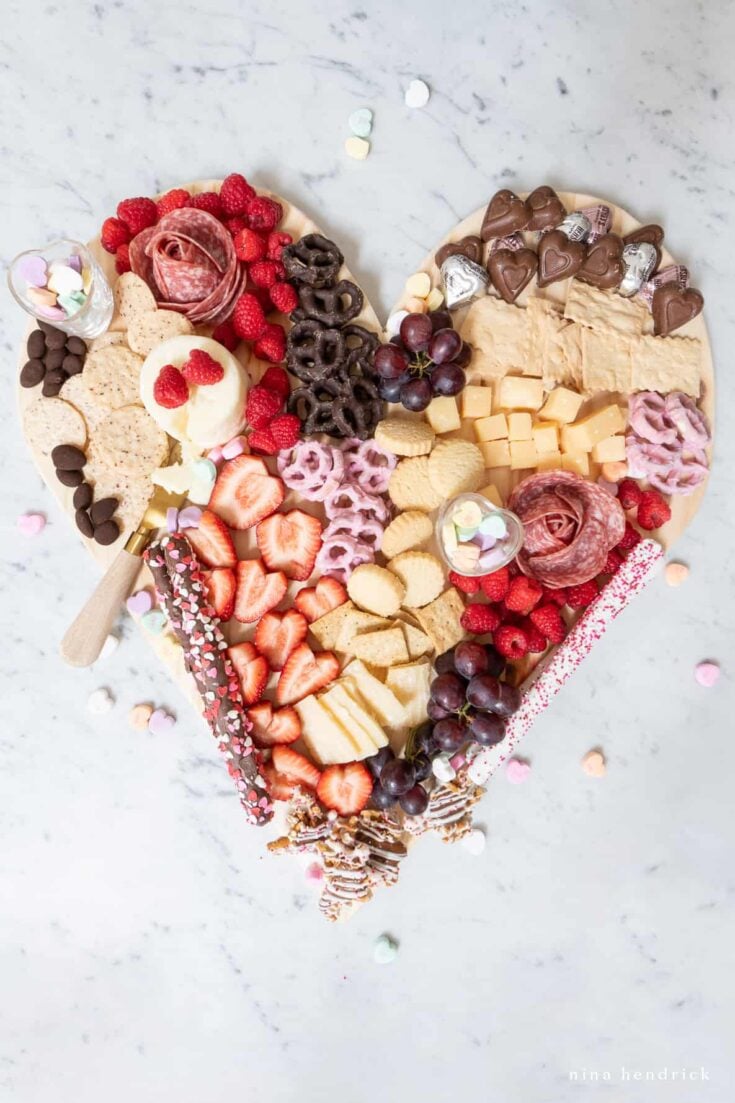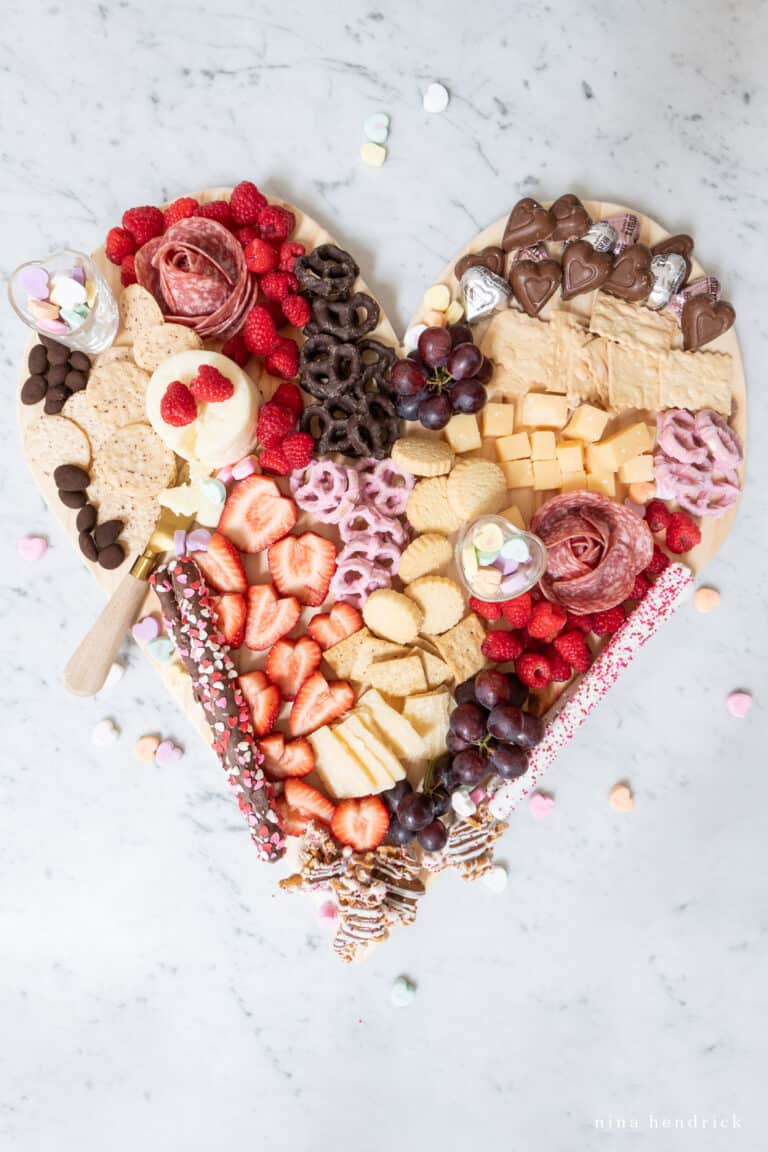 Make Valentine's Day extra special with a delicious homemade charcuterie board! This easy-to-follow guide will show you how to create a stunning and romantic charcuterie board with a variety of meats, cheeses, fruits, nuts, and other accompaniments. Get your Valentine's Day off to the perfect start and impress your special someone with this beautiful and tasty treat!
Materials
2-3 Types of Cheese (Soft, Medium, Hard): Brie, cheddar, parmesan
1-2 Types of Meat: Salami
2-3 Types of Fruit: Raspberries, strawberries (cut into hearts), and grapes
2-3 Types of Crackers: Almond crackers, pitas, and gluten-free
Nuts: Chocolate-covered almonds
Sweet Valentine's Day Treats: Shortbread cookies, chocolate-covered pretzels, milk chocolate hearts, and conversation hearts
Instructions
Begin with a board. A heart-shaped is fun but any board or platter will do!

Next, add your 2-3 types of cheese. I chose brie, cheddar, and parmesan.

Add your meat. I created teo salami roses (see the blog post for instructions). Make sure to secure yours with a toothpick so it doesn't fall apart like mine did at first!

Add some fresh fruits, such as raspberries, grapes, and strawberries, for a healthy touch.

Add your crackers. I chose some gluten-free options along with classic pita crackers.

Last but not least, fill in the blanks with some sweet treats like chocolate-covered almonds, shortbread cookies, and chocolate candies. Top it off with some colorful candies, like conversation hearts, to bring a festive flair to your board!

Notes
Serve with a chilled sparkling wine or champagne for a romantic touch!
Valentine's Day charcuterie boards can be as simple or as elaborate as you want them to be. Whether you're enjoying them alone or with someone special, they're sure to be a hit.
What Drinks Should You Serve with a Valentine's Day Board?
So you've created your Valentine's Day Charcuterie Board. Now, what about the drinks? Here are some great beverage options to pair with your board:
Sparkling Wine—A light and refreshing sparkling wine pairs perfectly with a Valentine's Day Charcuterie Board. It's light enough to not overpower the flavors of the food, yet flavorful enough to bring out the unique taste of each item.
White Wine—A crisp white wine is the perfect complement to your board. This type of wine is slightly acidic and full of flavor, which helps to bring out the delicate flavors of the board.
Red Wine—Red wine is full-bodied and pairs well with the heavier meats and cheeses that are typically featured on a charcuterie board.
Cocktails—For a more festive feel, why not try a signature Valentine's Day cocktail? Whether you prefer a classic martini or a more modern concoction, there are plenty of options to choose from.
Champagne—What better way to celebrate Valentine's Day than with a glass of bubbly? Champagne pairs well with practically anything on a Charcuterie Board.
Valentine's Day is the perfect occasion to create a romantic and special charcuterie board for your special someone or for a Galentine's Day celebration with friends. From selecting the perfect cheese and cured meats, to adding the right accompaniments, you can create a unique and delicious board to enjoy with those you care about. So go ahead and get creative! Make a Valentine's Day charcuterie board to celebrate your love and show your appreciation for one another. If you end up creating one, make sure to share it with me @ninahendrickhome!