Celebrate with ideas from this adorable Gone Fishin' party, which is jam-packed with fishing birthday party ideas and inspiration, plus free printable decor!
If you're looking for a unique way to celebrate a special occasion, why not plan a fishing party? Fishing is an activity that can be enjoyed by all ages and can make a great theme for a birthday or retirement party. From decorations to food and activities, there are plenty of fun fishing party ideas that you can use to make your celebration a hit. In this blog post, we'll provide some creative ideas for throwing a Gone Fishin' birthday or retirement party that your guests won't soon forget.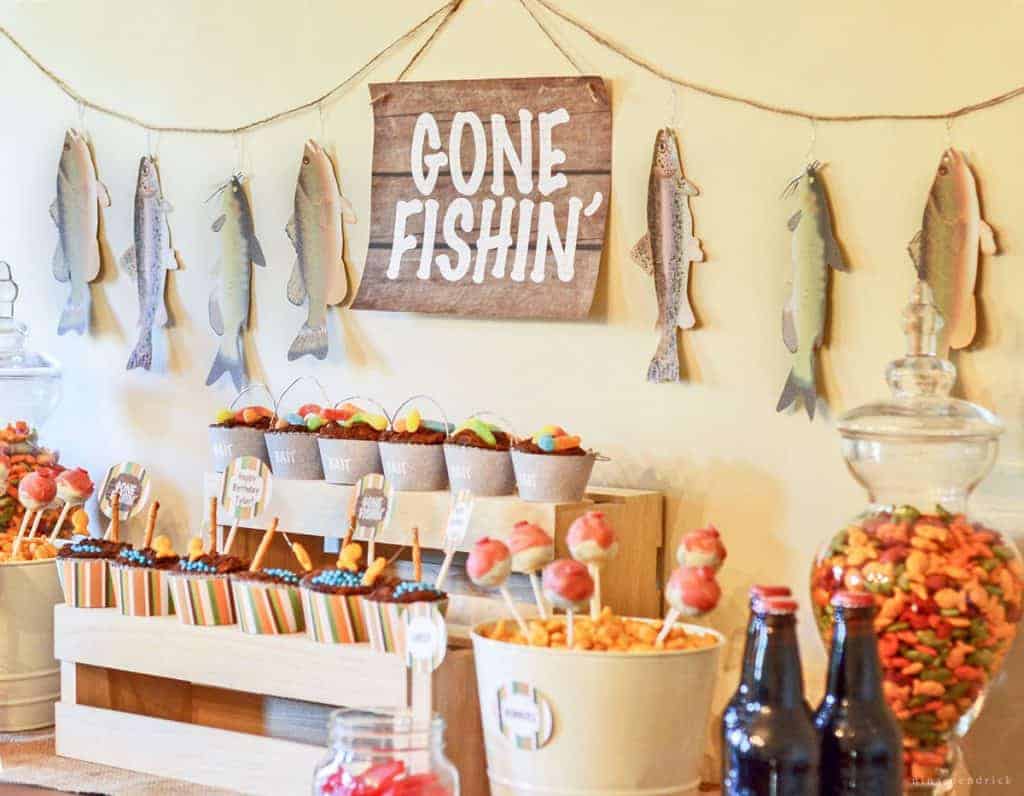 Do you have a fishing enthusiast in your family? I have a couple of them! Not only are my little brother and dad avid competition bass fishermen, but Mack and the boys love to fish at Camp and have a rich family history of fishing. This party I put together to celebrate my brother's nineteenth birthday was a perfect fit for the entire family. If you're looking for more party and entertaining ideas, you can find some of my favorites here!
This post contains affiliate links, which means I may get a small commission (at no extra cost to you) if you shop my link. Please see my disclosure if you'd like more info!
Fishing Birthday Party Decorating Ideas
Originally published April 19, 2013
Although we hosted this event as a birthday party, these fishing party ideas will really work for any event! I've talked to people who used the free printable decorations (available at the bottom of the post) for retirement parties and Father's Day events as well.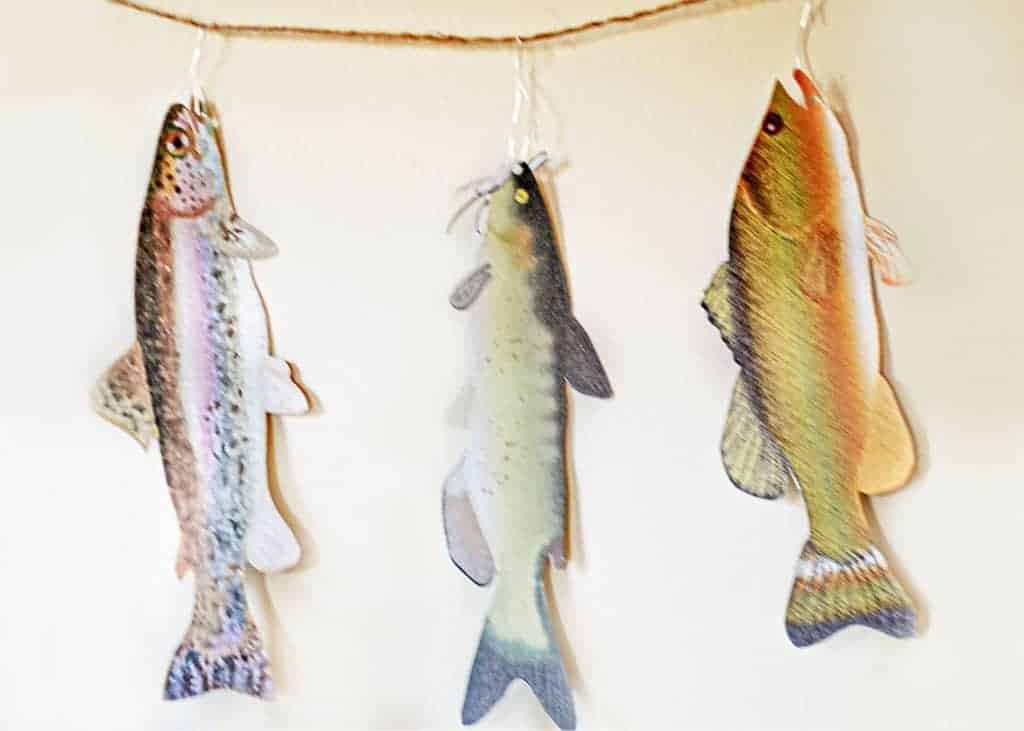 Hanging Fish Banner
I had a hard time finding pre-made decorations to fit exactly the theme I envisioned, so I designed the fish banner that includes a bass, trout, and catfish. After I was finished, I cut it out and attached to the twine with craft wire made to look like fishing hooks.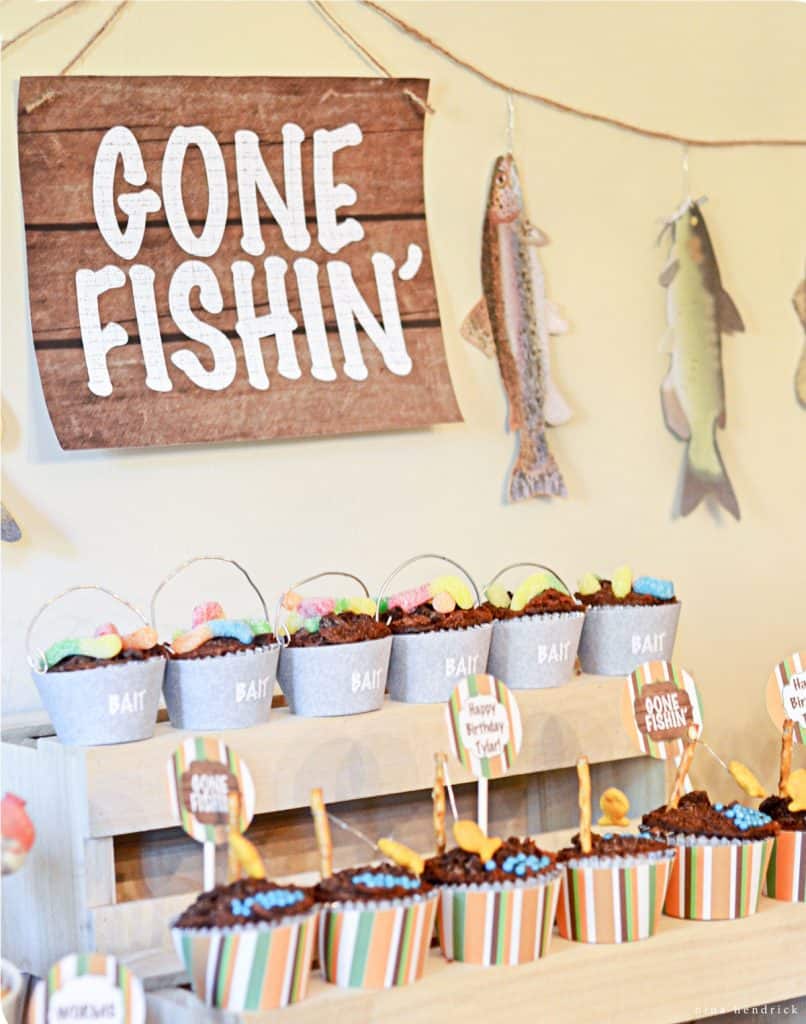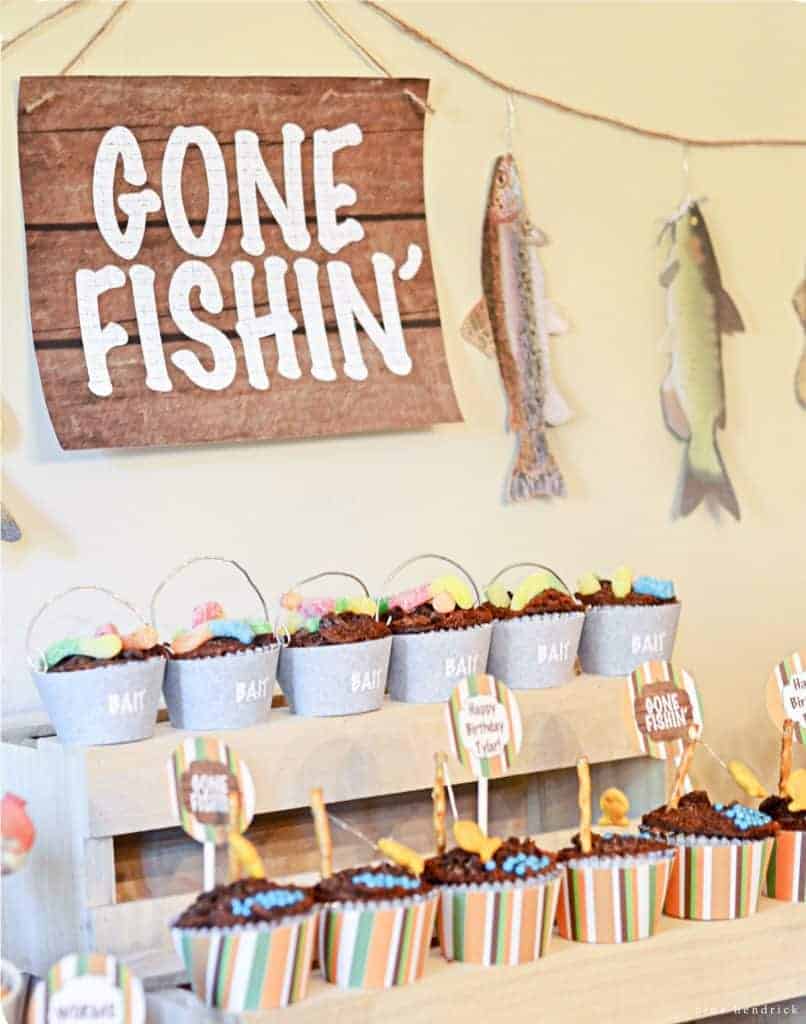 Gone Fishin' Sign
I also designed and printed the Gone Fishin' sign to look like something that someone would hang on the door to let you know that they're away for the weekend! The sign was printed on a sturdy cardstock and measures 8.5" x 11", but you could have it scaled larger at a print shop.
More Fishing Party Decor Ideas
Hang fishing net along the walls for a nautical feel.
Create a fun photo booth area with a backdrop of a lake and plenty of props, such as fake fish, life jackets, and tackle boxes.
Fill an empty canoe with ice to store beverages.
Shop for fishing party decorations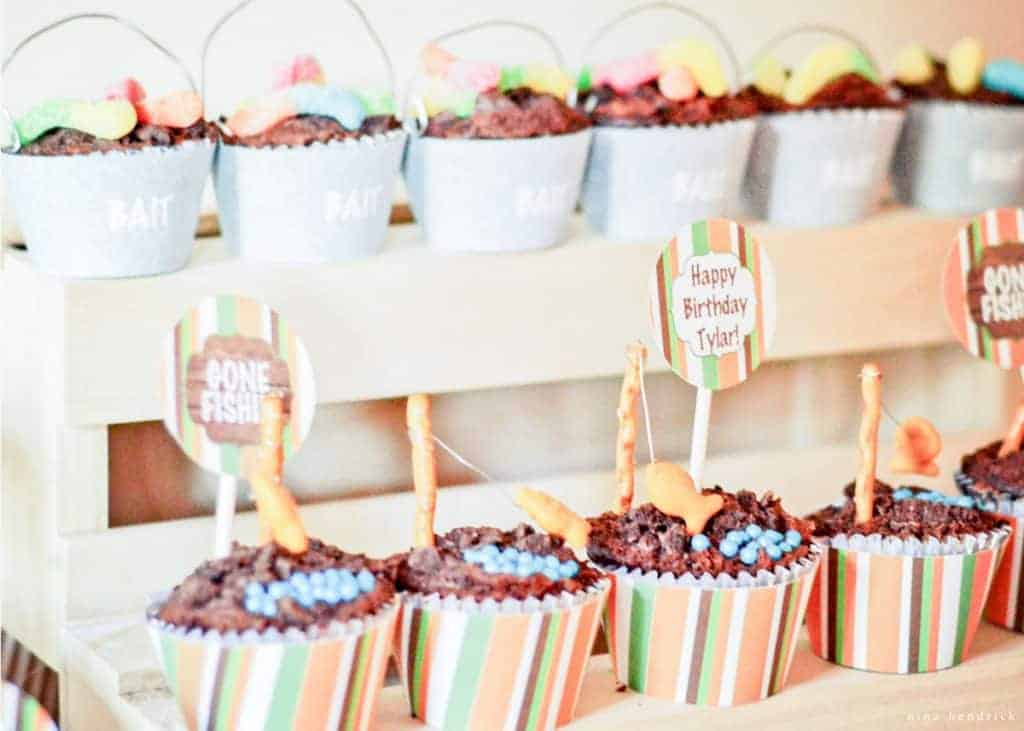 Fishing Birthday Party Snack Ideas
I brainstormed some fun ways to integrate yummy and kid-friendly snacks into the themed decor!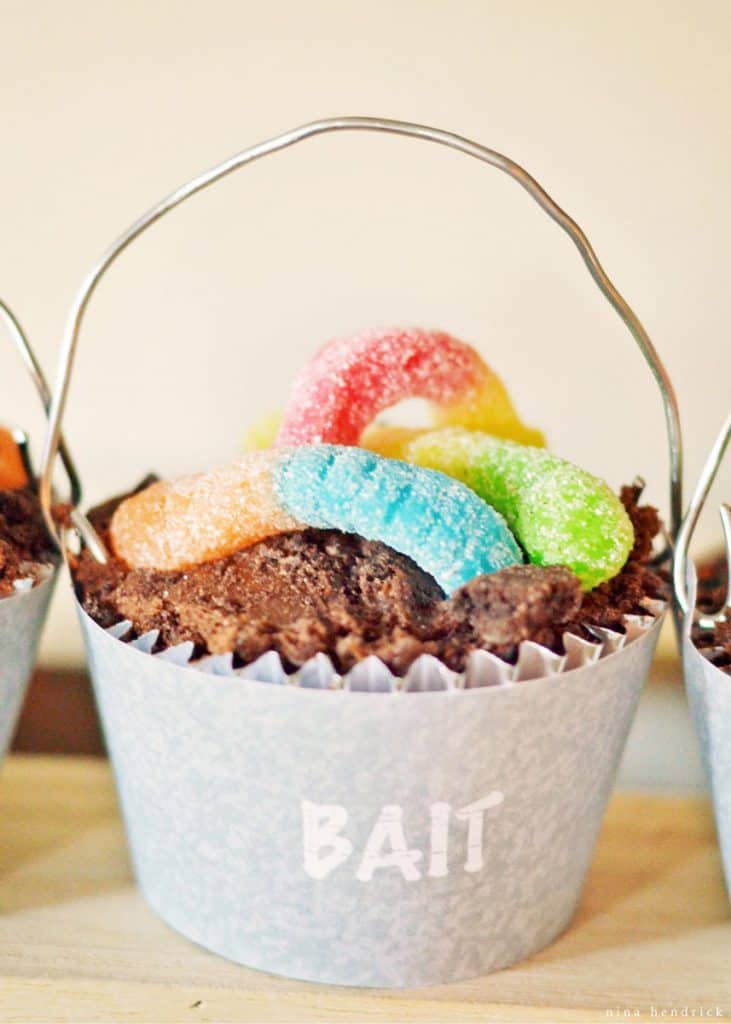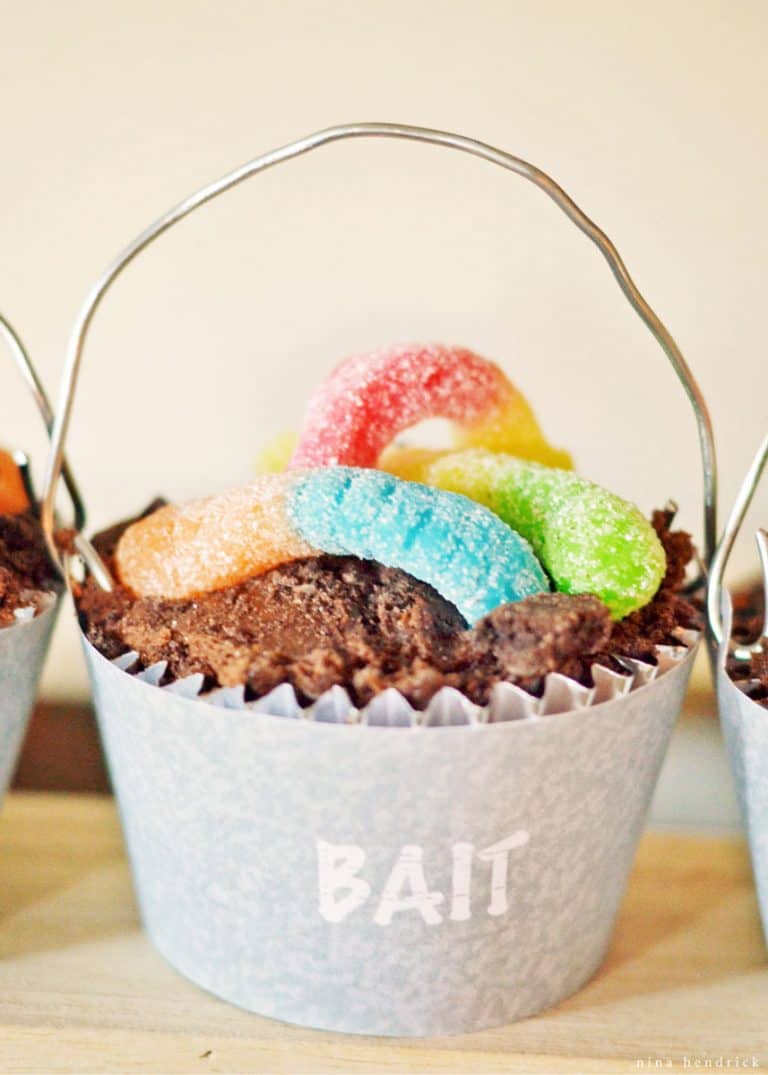 Bait Bucket Cupcakes with Gummy Worms
The bait bucket cupcakes are made of chocolate with a milk chocolate buttercream. I crushed up some chocolate cookies for the "dirt". I put a sour gummy worm on each cupcake so that they looked just like the night crawlers at the tackle shop.
For the "bait buckets", I designed a printable galvanized bucket template. I hooked some craft wire through each side for the handle.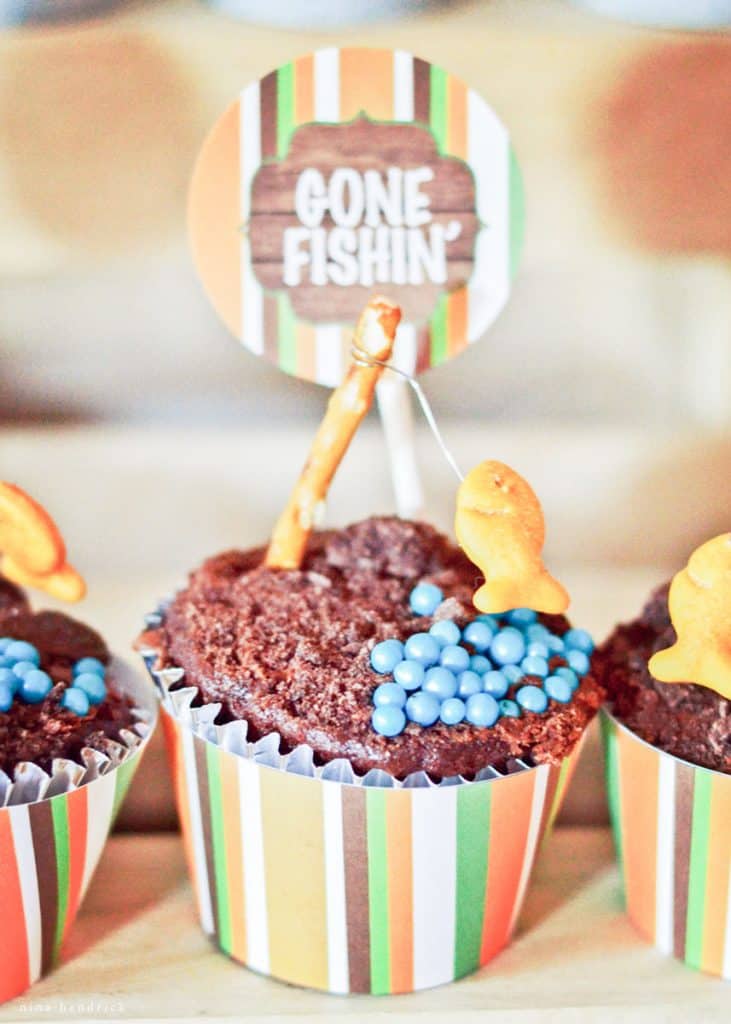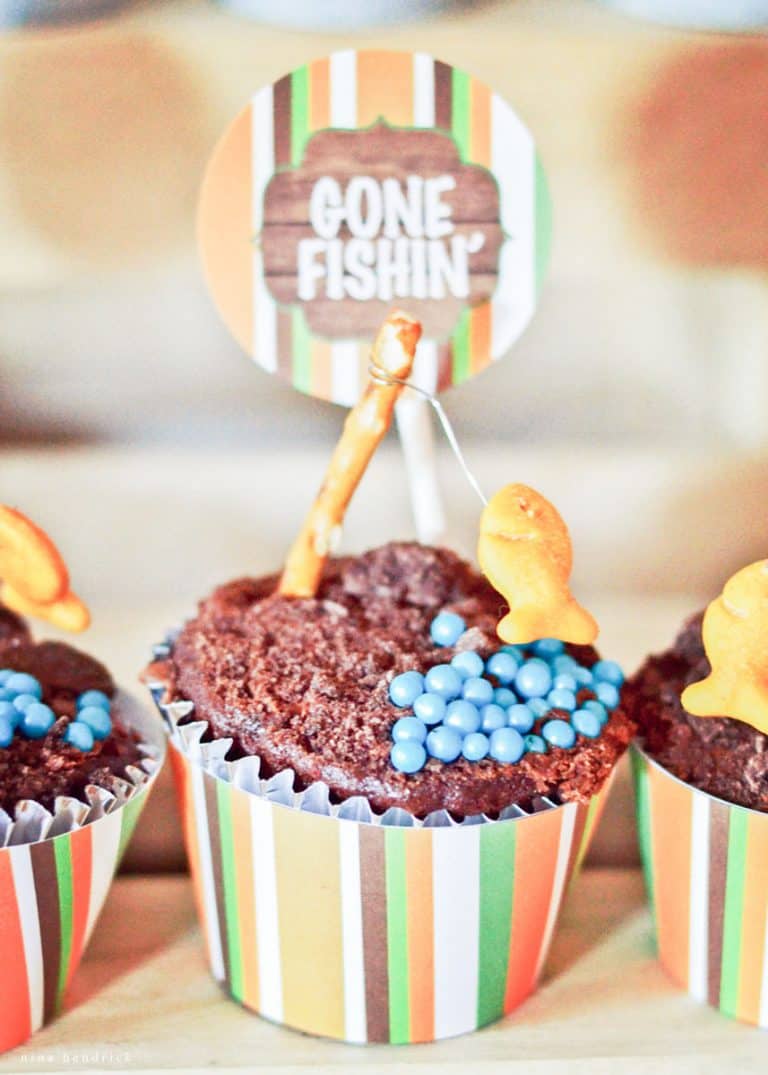 Fishing Pole Cupcakes
For the fishing pole cupcakes, I used a pretzel as the rod and hooked on a goldfish with some craft wire. You can also use licorice! The "water" was made from blue candy pearls, but I'd recommend using blue sprinkles or buttercream, since the pearls can be a hard on little teeth.
I displayed the cupcakes on some unfinished wood crates. I thought they fit in with the rustic lake theme of the party. They were a great way to bring a bit of the lake to the party and offer guests a tasty treat.
Bobber Cake Pops
I created some cake pops shaped like bobbers. To display them, I placed foam in a metal bucket and then added the goldfish crackers to hide the foam. Then, I was able to stick the bobbers inside! Another great method is to design the cake pops so that the pop is on the bottom. It's easier to keep them held together that way!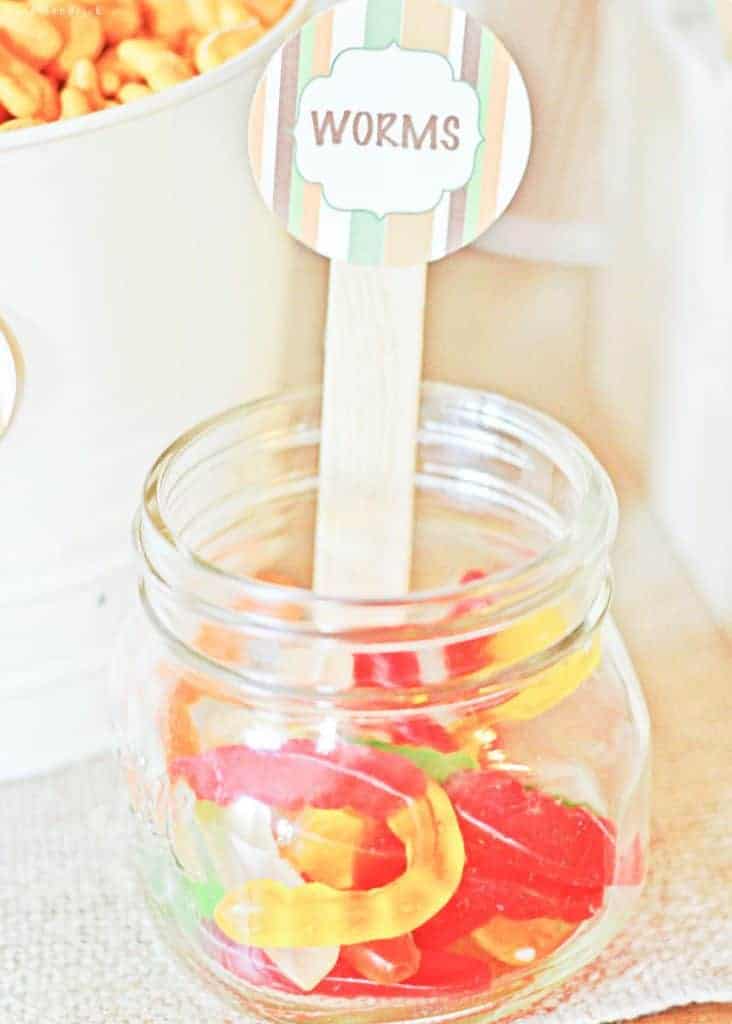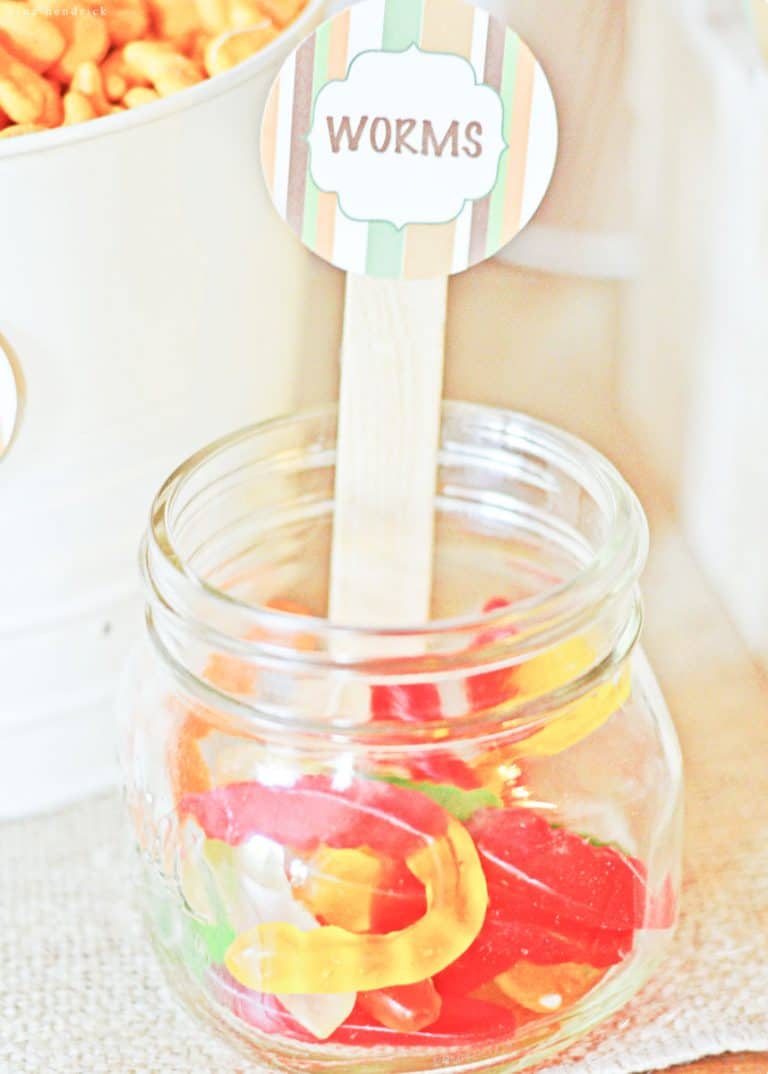 I finished off the table with some Swedish Fish and gummy worms in mason jars. The bottles are IBC Root Beer, a favorite of both my dad and brother. To balance everything out, I filled some apothecary jars with rainbow goldfish.
More Fishing Birthday Party Snack Ideas
Have a "catch of the day" table filled with colorful fish crackers, Swedish fish candy, Goldfish crackers, and a variety of other treats.
Set up a "tackle box" table of finger foods like popcorn, chips, and other snacks.
For drinks, put blue Kool Aid into a fishbowl and add some swedish fish to it.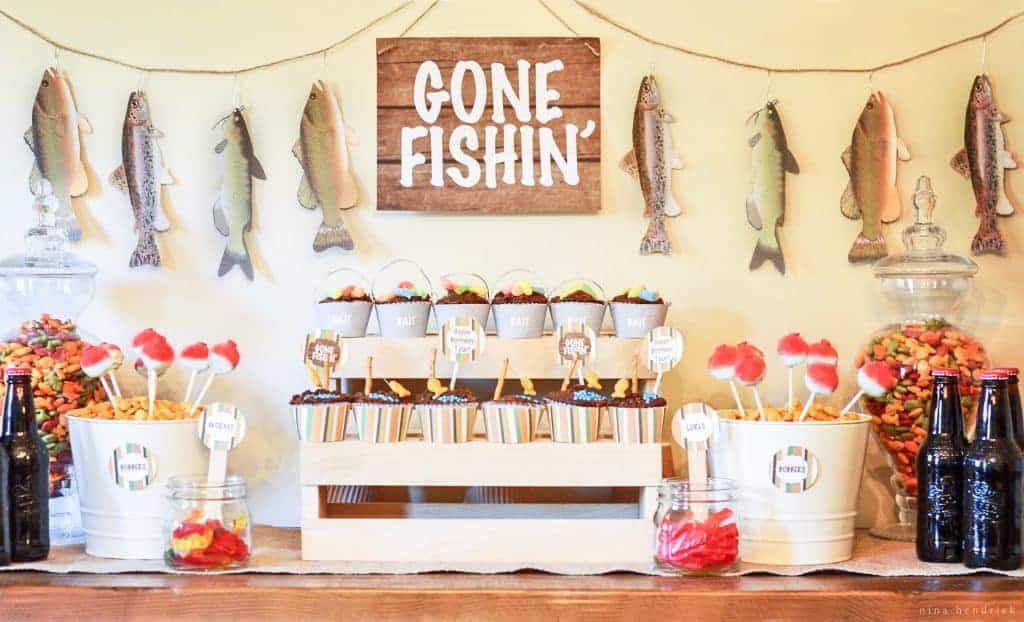 Fishing Birthday Party Games & Activities
To make the day even more special, you can organize fun fishing-related activities and games to keep your guests entertained.
For the younger kids, a game of "Fishing For Prizes" is a great way to get everyone involved. Have everyone bring a fishing pole and a bucket and have them try to catch a prize.
For the older kids, an old-fashioned game of "Fish for Fun" is a great way to get everyone involved. Have guests bring their own fishing poles and try to catch the most fish. You can also organize a tournament-style competition and see who can catch the most fish in a certain amount of time.
Kids can enjoy making their own fishing poles out of craft sticks, string, and magnets, and decorate them with their favorite colors and stickers.
For games, kids can take part in a fish-themed scavenger hunt, a fishing tournament, or a fish-themed version of pin the tail on the donkey.
Fishing Birthday Party Favors
Fishing birthday party favors are a great way to thank your guests for attending your party. Fun favors to send home with your guests include:
Toy fishing poles
A small fishing game
Go Fish card game
Mini tackle boxes filled with gummy worms, Swedish fish, and other candies
Fishing lures
A fishing hat
No matter what type of party favors you decide to give out, your guests will be sure to appreciate the thought and effort put into your special day.
Free Printable Fishing Party Decorations
Grab this collection with the two banners, the sign, and the bait bucket cupcake wrappers. They are free to subscribers!
A fishing birthday party is a great way to celebrate a special occasion in a unique and memorable way. With the right supplies and decorations, you can create a fun and exciting atmosphere for your guests. Fishing can also be a great way to spend quality time with family and friends. So if you're considering throwing a fishing birthday party, don't hesitate to get started planning. And don't forget to invite your guests to bring their own fishing gear!
I hope that these fishing birthday party ideas and free printable decorations have helped you create a special day for the angler in your life! Let me know in the comments or tag me on IG @ninahendrickhome to show how you use the free printables. I love to hear about your events!