Get all of the details of our upstairs laundry room makeover and learn about my design mistakes (so you can avoid them!).
I'll admit, this room is pretty. However, nothing in the world will make me excited to do laundry, and that's the hill I'll die on— see the sign below. But there's one thing I am excited about and it's that I finally get to share our laundry room makeover with you! If you're just tuning in, I also shared the project inspiration and plans here and the details about how we carved a laundry room out of an awkward second-floor hallway here. You can also get the details about the closet side of the room here! The complete source list for this side of the room is at the bottom of the post.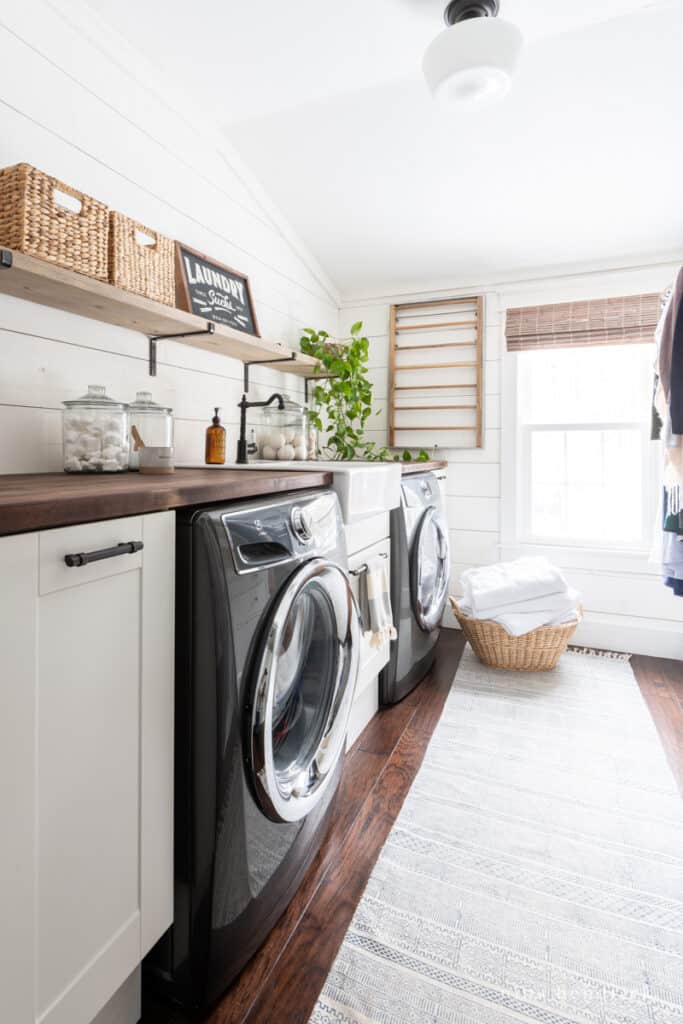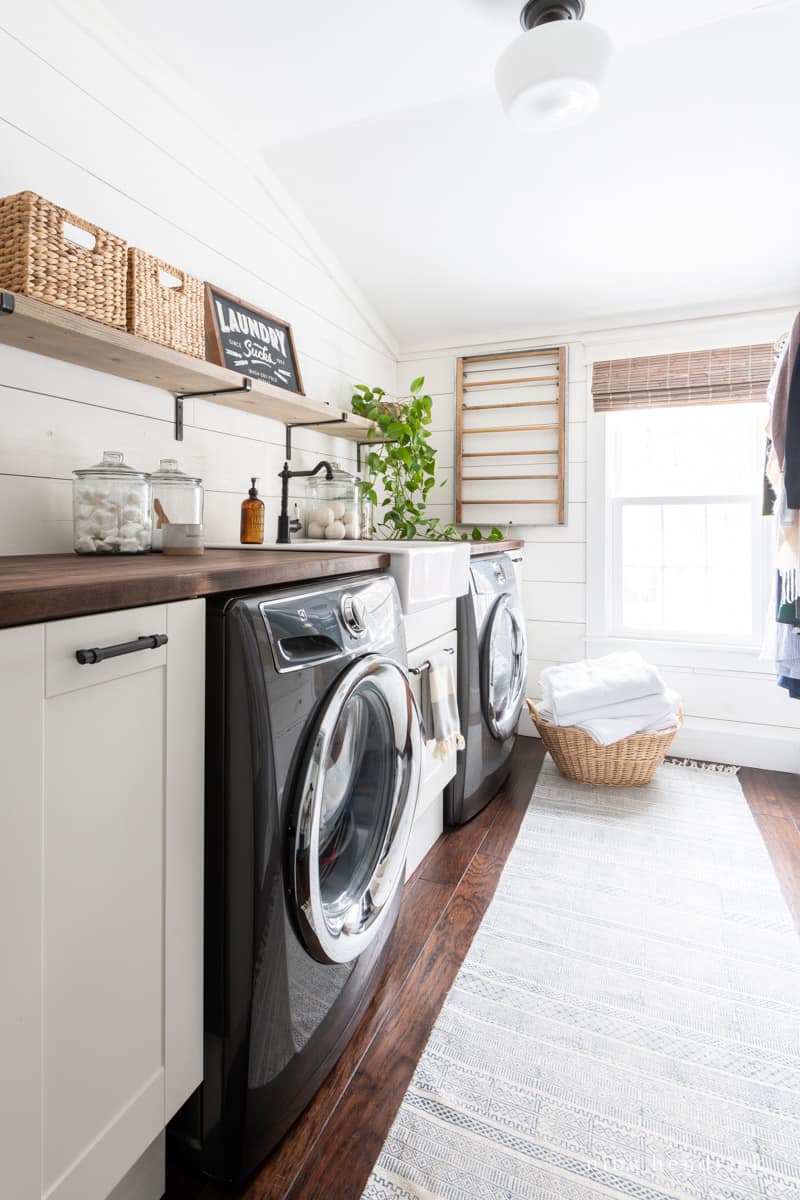 Laundry Room Makeover with White Planked Walls & Rustic Touches
Follow along on YouTube!
Like many projects, we accomplished this laundry room makeover over the course of years as we renovated while living in our home. While I shared details along the way, it took a while before it was truly "finished". However, it was now finished a while ago, and I'm just now posting.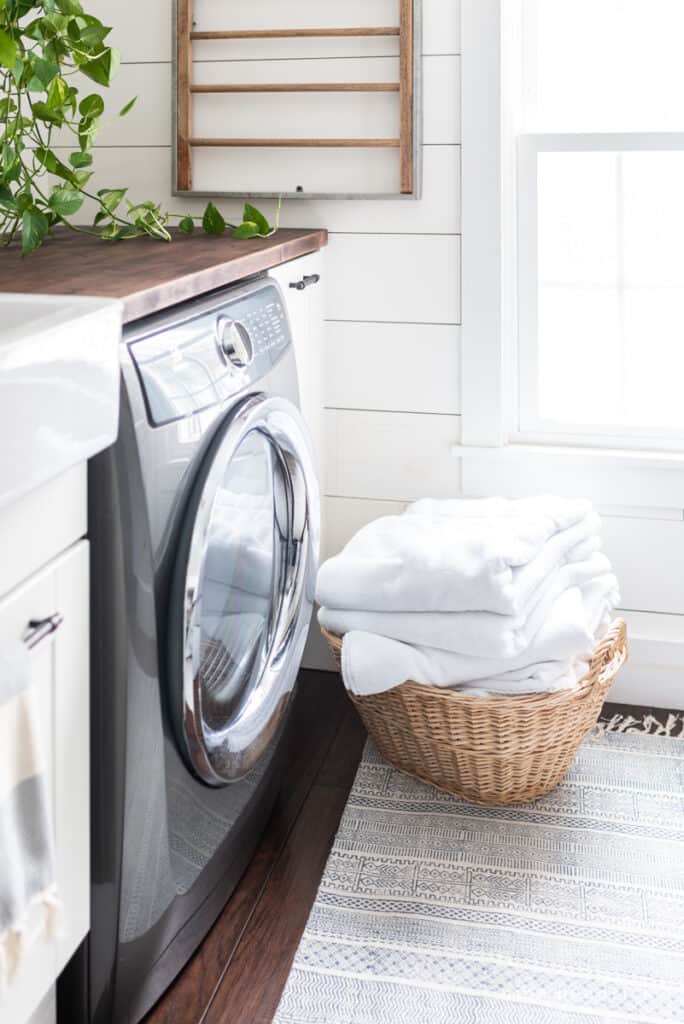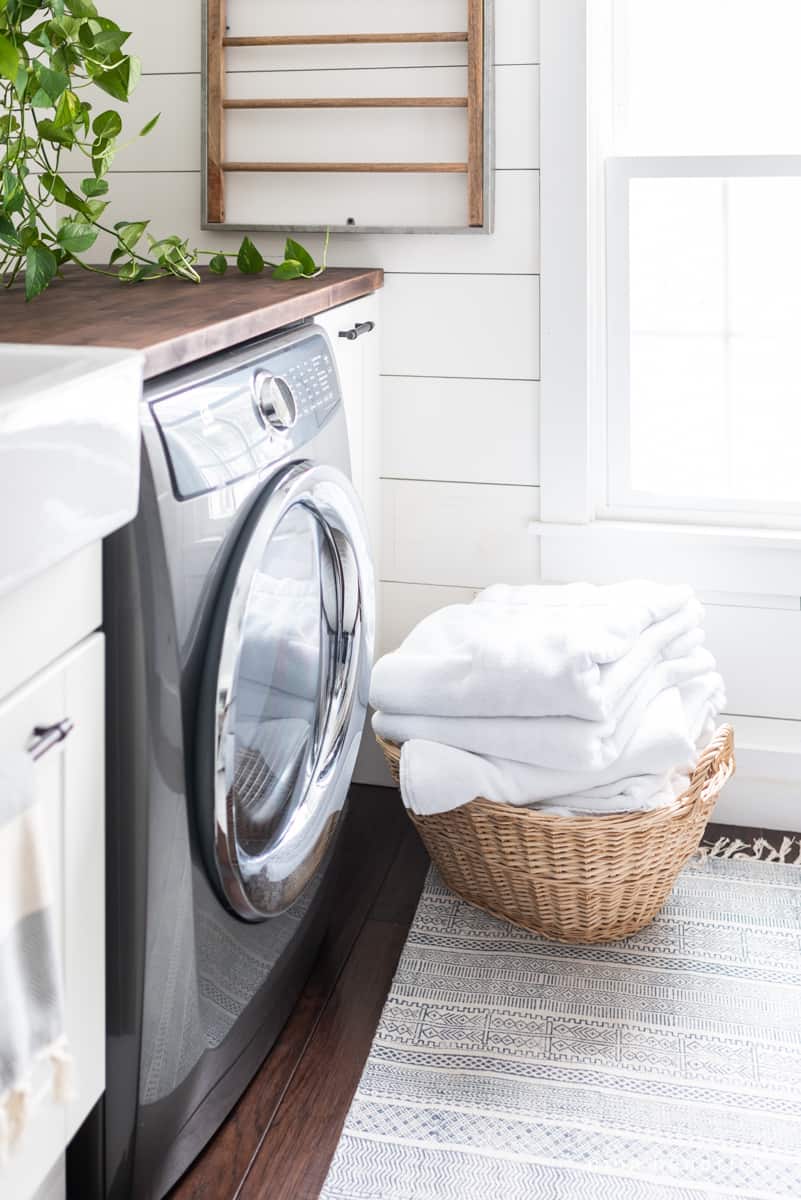 I'll admit, there are two reasons why it took me a long time to post a pretty styled shoot. One is that laundry is my biggest struggle in homemaking. I'm terrible at keeping up with it. So more often than not, this room is an absolute disaster of laundry piles. There's a real-life confession for you!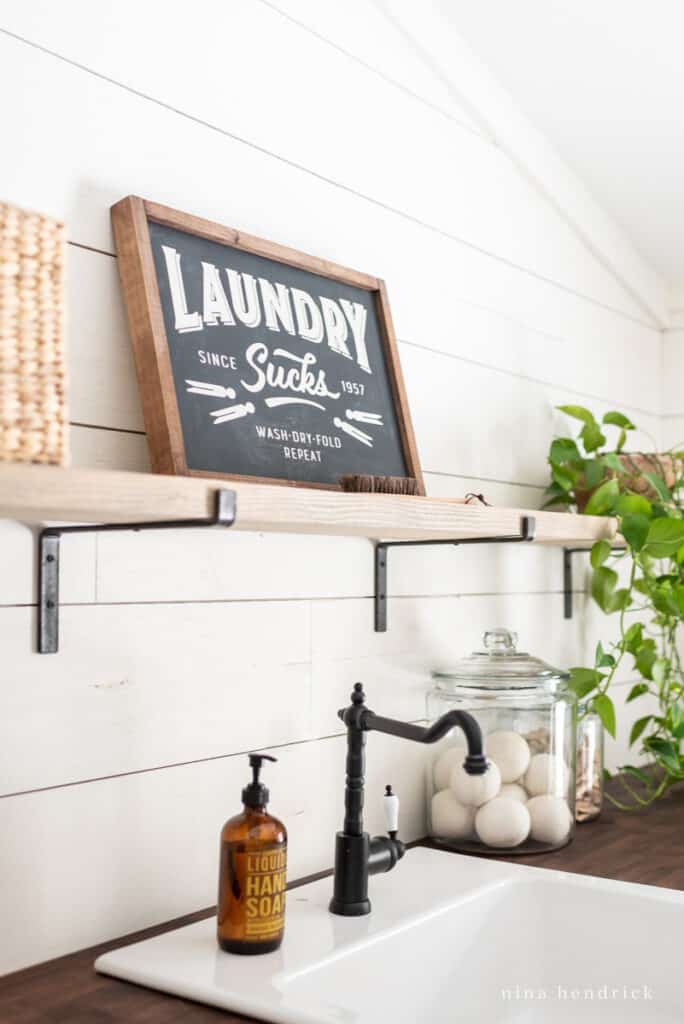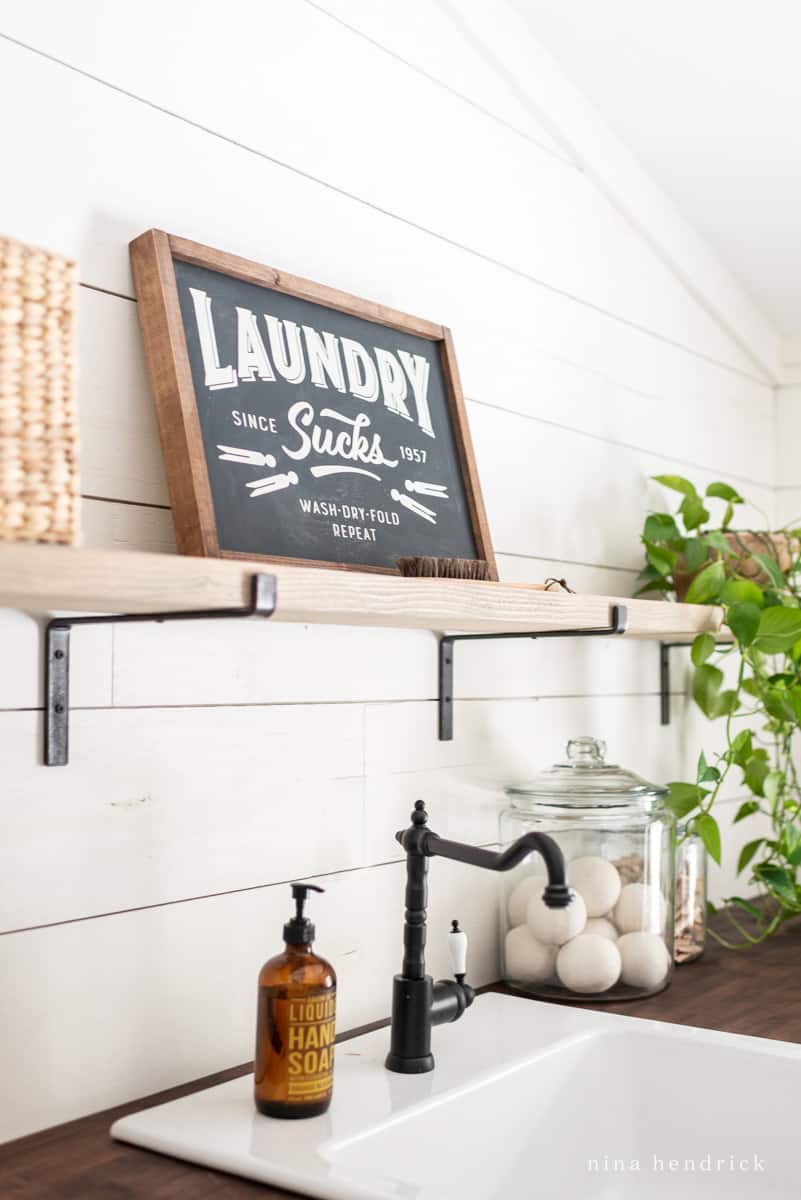 The second reason is that I made some design mistakes in this laundry room makeover that I'm not super proud of. However, I do think they're important to share (especially if it prevents someone else from making the same mistakes!). I'll get into the design mistakes in a minute, but first, let's talk about the style of the room since I have no complaints there!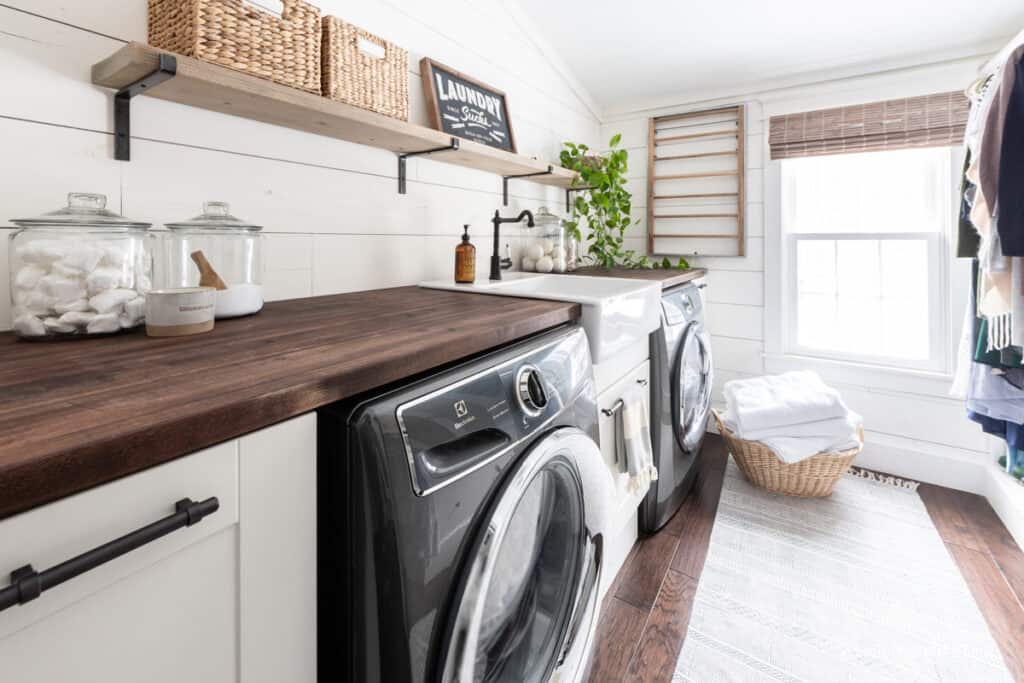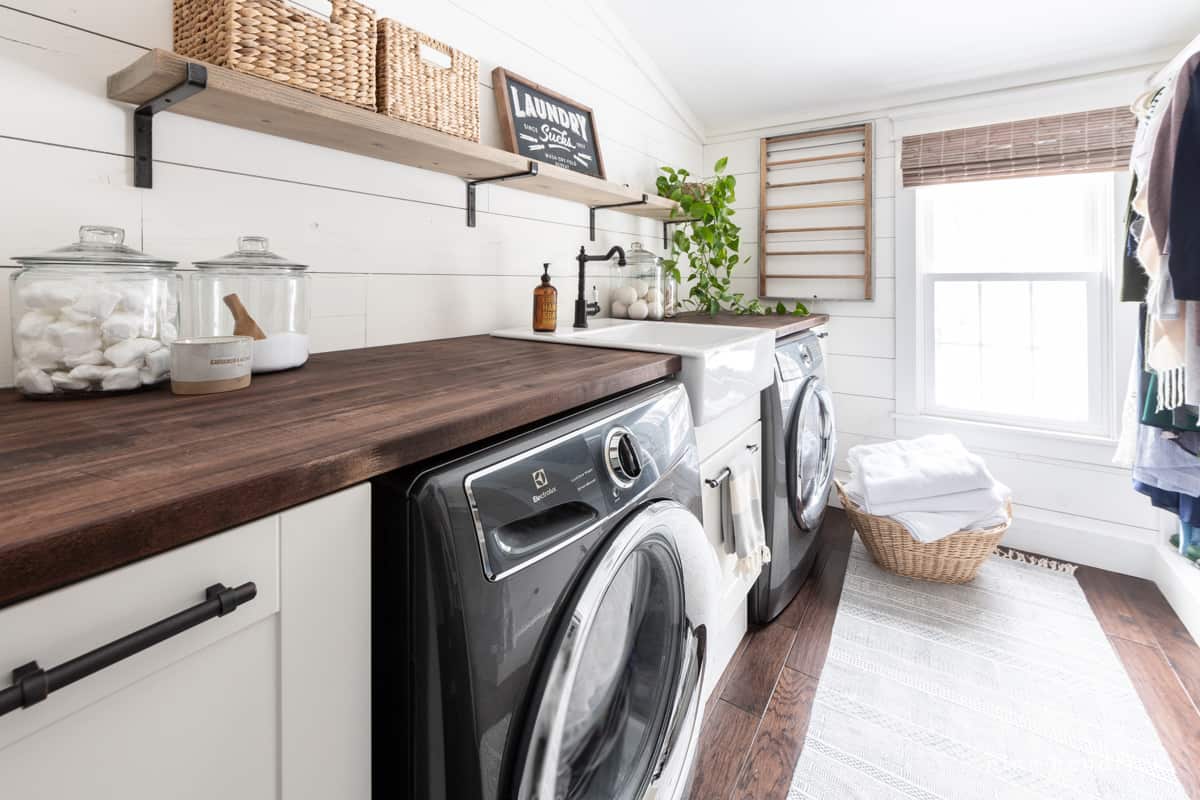 As I talked about in the renovation post (you can get more details there!), we added the same planked wall treatment that we have in our dining room, albeit with thicker 8″ boards, and then used a paint sprayer to give everything a nice Benjamin Moore Simply White finish.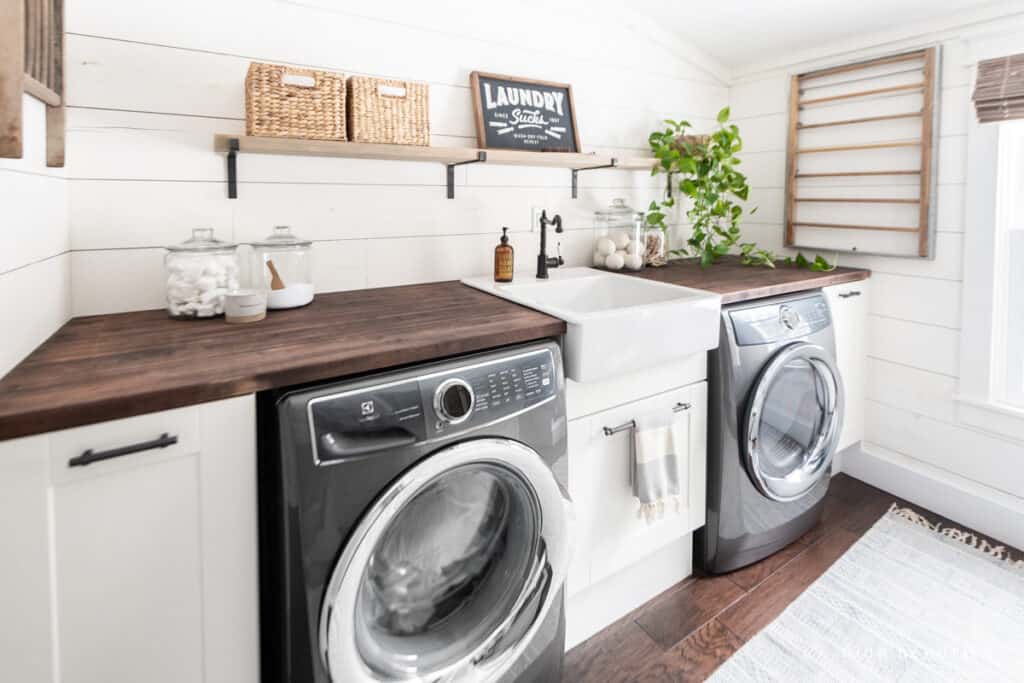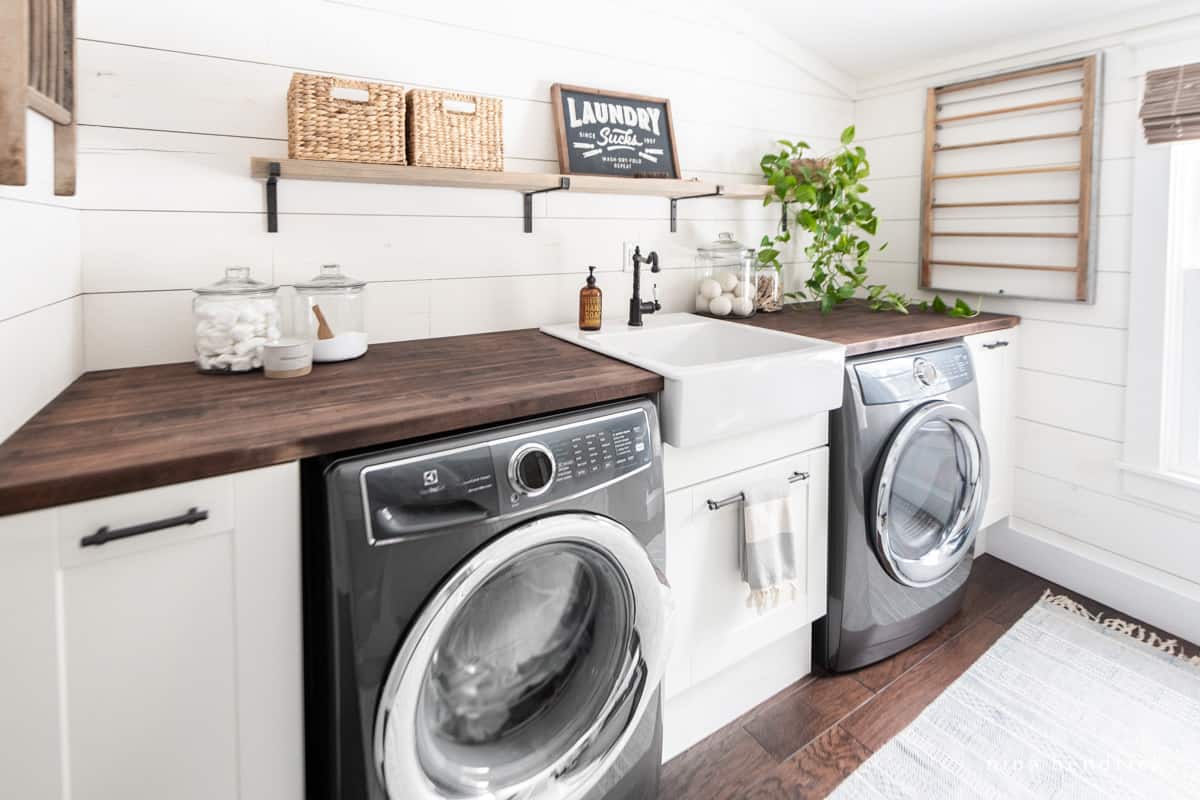 This post contains affiliate links, which means I may get a small commission (at no extra cost to you) if you shop my link. Please see my disclosure if you'd like more info!
We carried through the same engineered hardwood floors (similar here) that are in our primary bedroom.
Our cabinets are from IKEA, which you probably already know are great for their affordability and nifty storage components. We decided to raise them up in order to go across the tops of the washer and dryer, which are on either side of the sink. This layout, my friend, was my biggest design mistake in this room.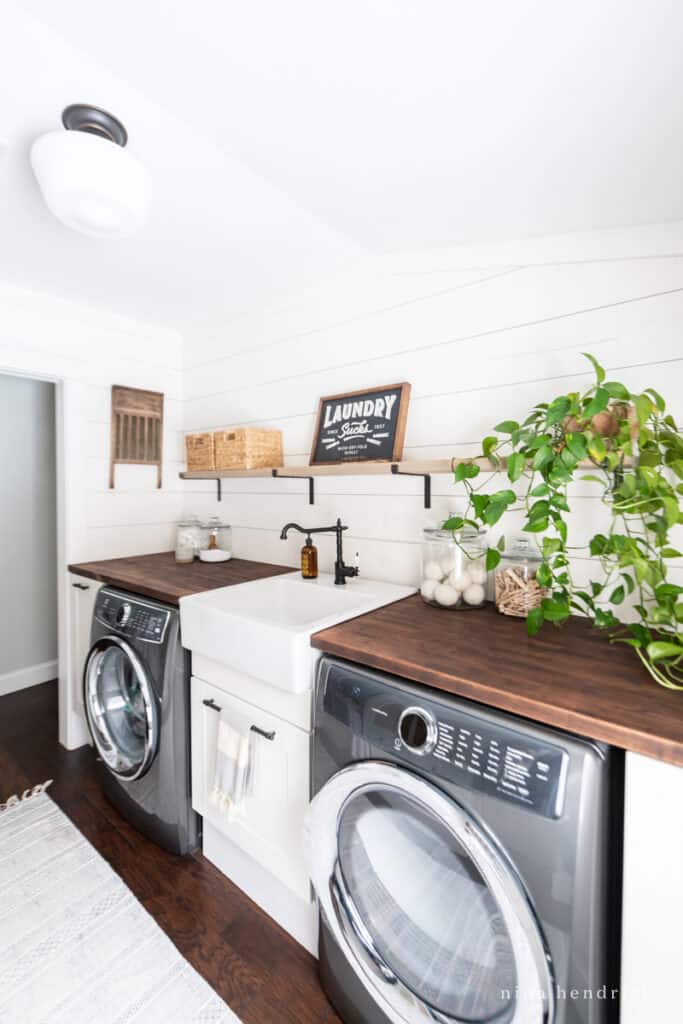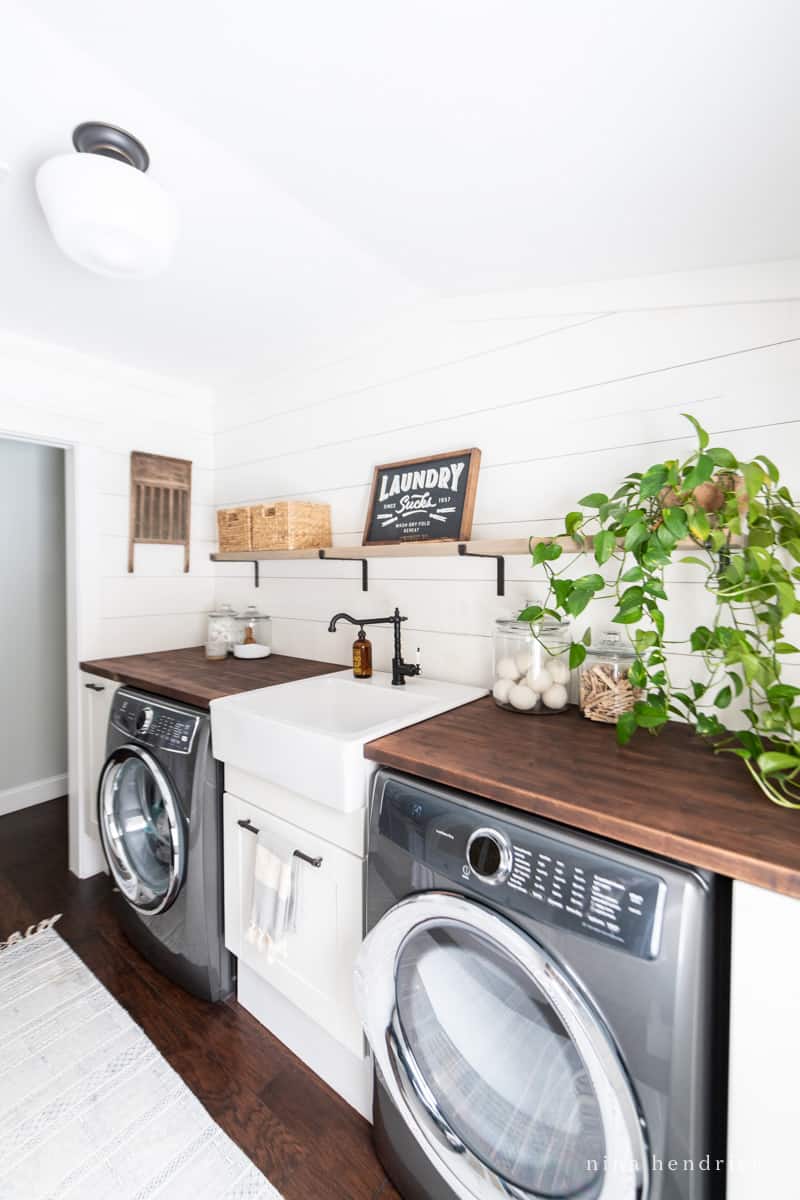 If I could turn back the clock and do this laundry room makeover all over again, I'd put the washer and dryer together with a countertop above and have the sink down lower at normal counter height on the side. I love symmetry, and there are a LOT of laundry room makeover inspiration photos out there with the sink between the washer and dryer. I didn't want to add mine to the fray without putting this major disclaimer out there!
While it's admittedly only a fairly minor inconvenience to have the washer and dryer separate, it's preventable. I drop a lot of wet laundry in the process of transferring it, so I'll often load everything into a basket and bring it over to the dryer. Not the end of the world, it's just kind of silly!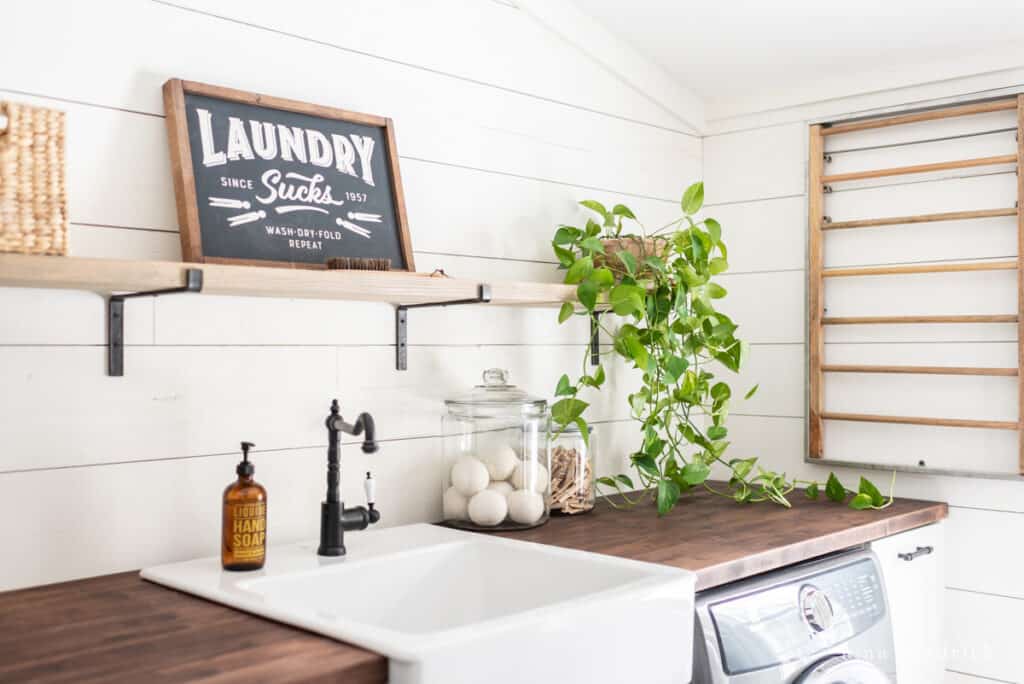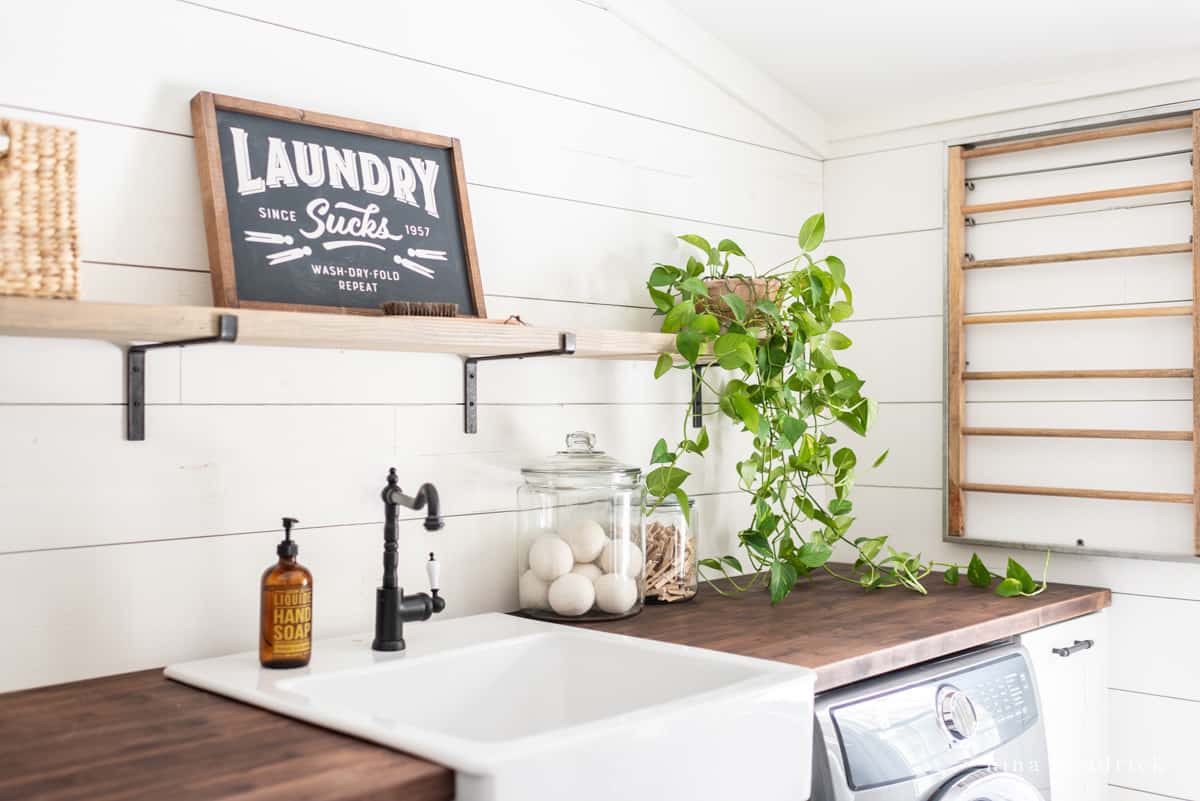 I also don't really like having the sink up so high. However, it's been very convenient overall to have a utility sink. This is where I'll often rinse out paintbrushes or soak stains.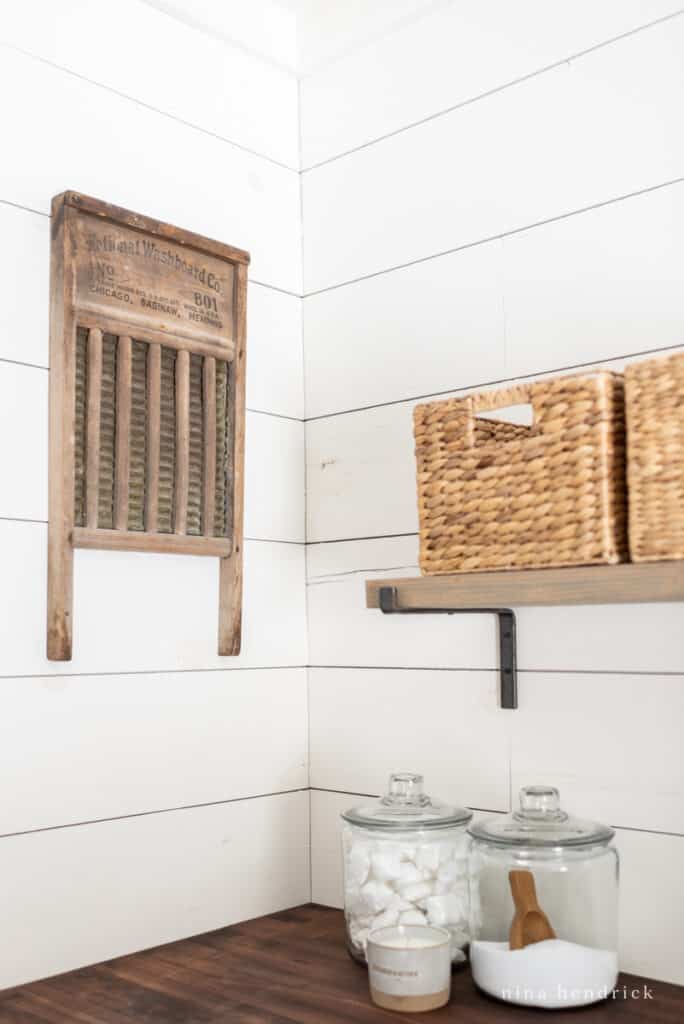 When I put guesses out to the Instagram world about my design mistakes, there were two guesses that surprised me and now I know I should address them.
Open Shelving in the Laundry Room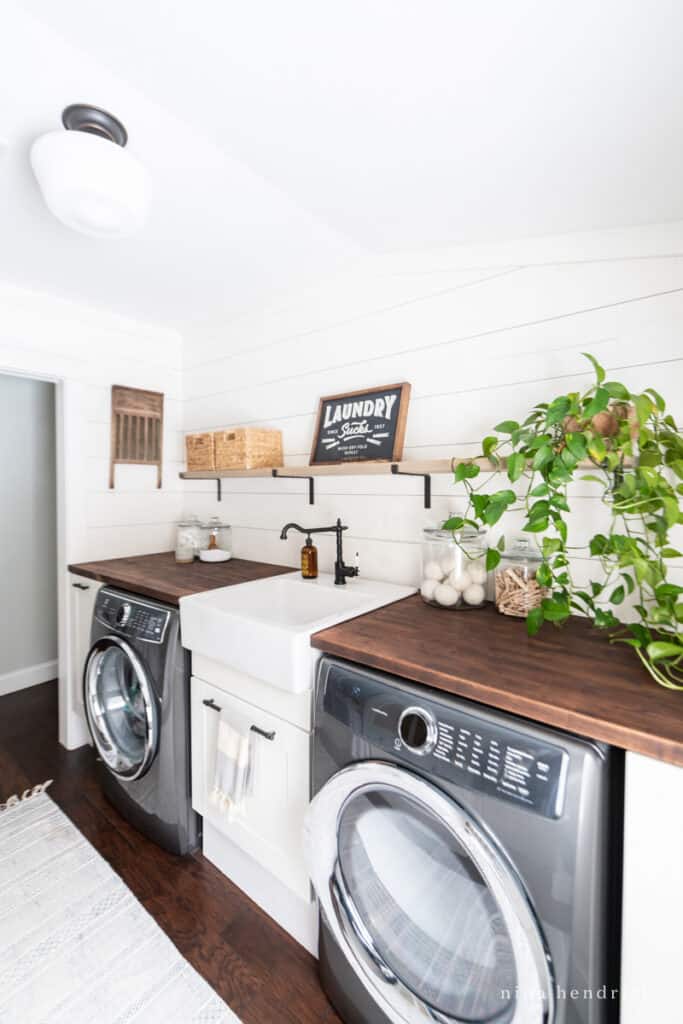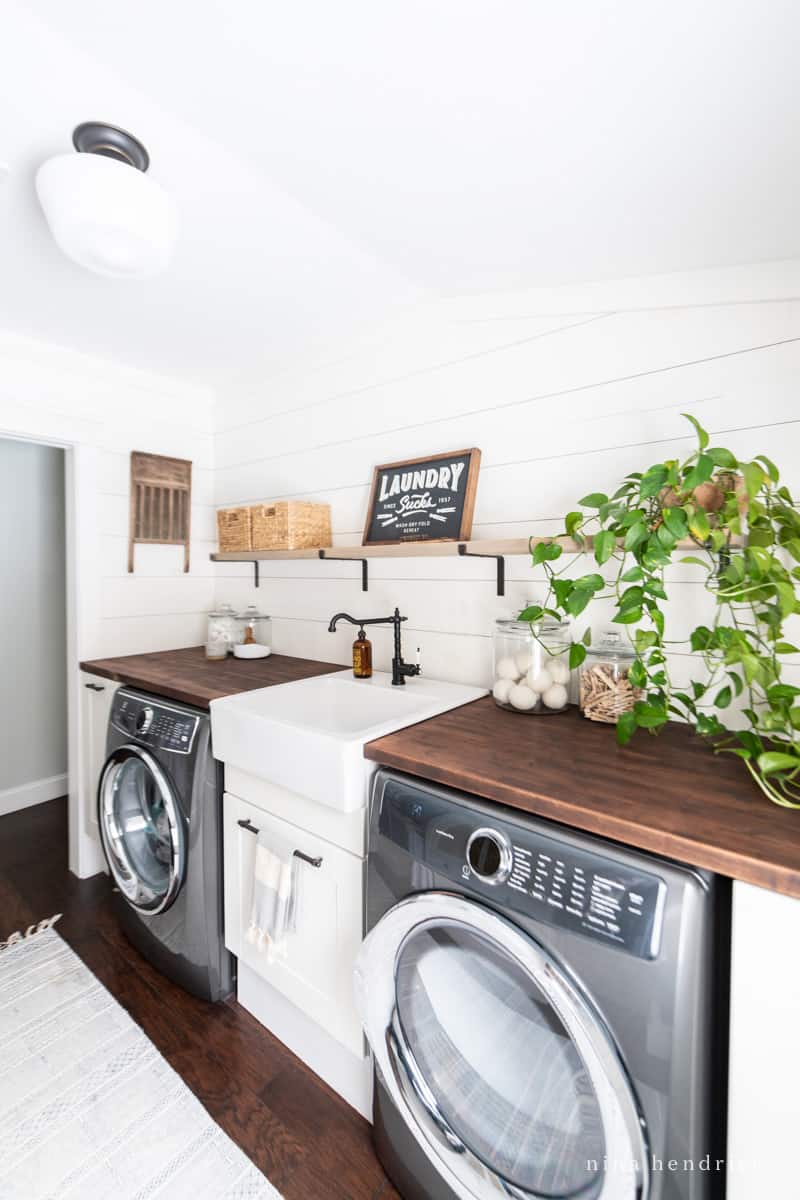 The first was having an open shelf instead of overhead cabinets. Now, I know from our kitchen renovation that open shelving is always controversial. As with our renovated kitchen, nope, I don't regret having open shelving! I love using the rustic pine boards that are milled by our family friend Bernie in New Hampshire. Regarding storage, there's more than I even fully use between the lower three cabinets. Dust also hasn't been a major issue in either spot.
Galvanized Clothes Drying Rack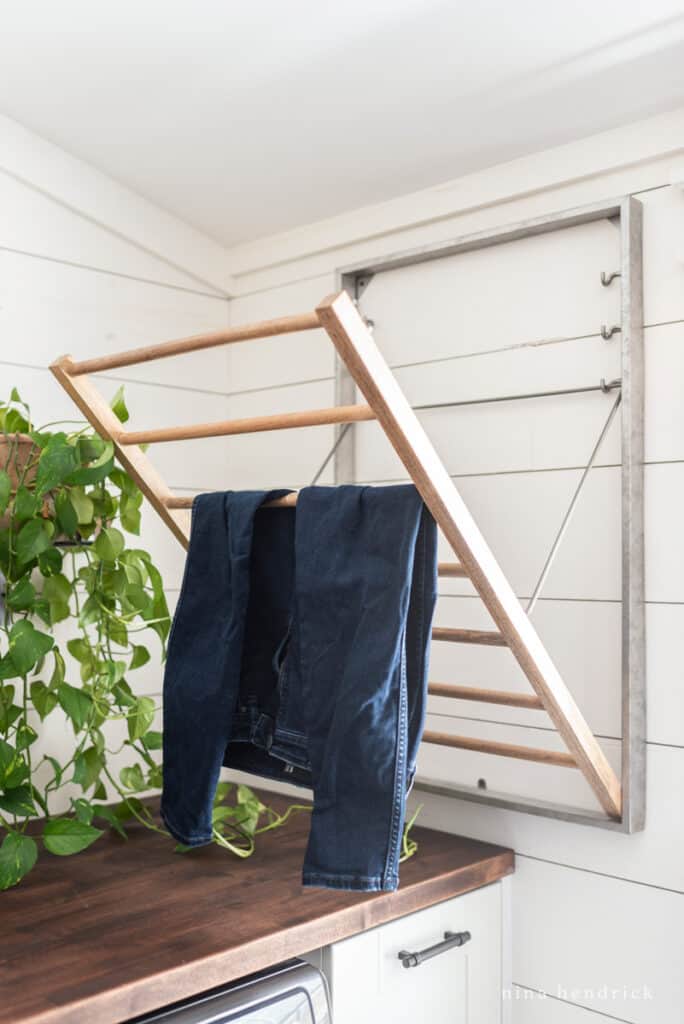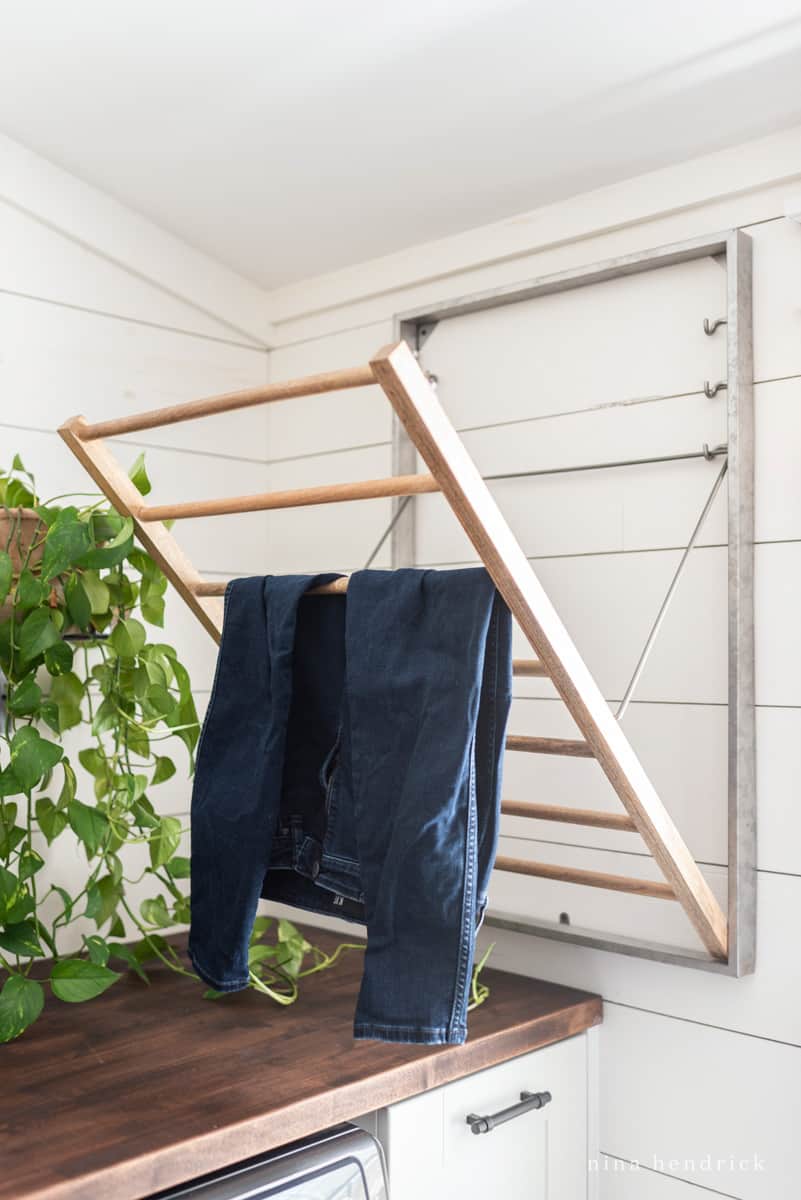 The second guess about our laundry room makeover mistakes that surprised me was respondents thinking that the drying rack doesn't open. I think this was because of the perspective of the particular photo I shared. It opens fully, that's why the shelf doesn't go wall to wall as I had originally planned.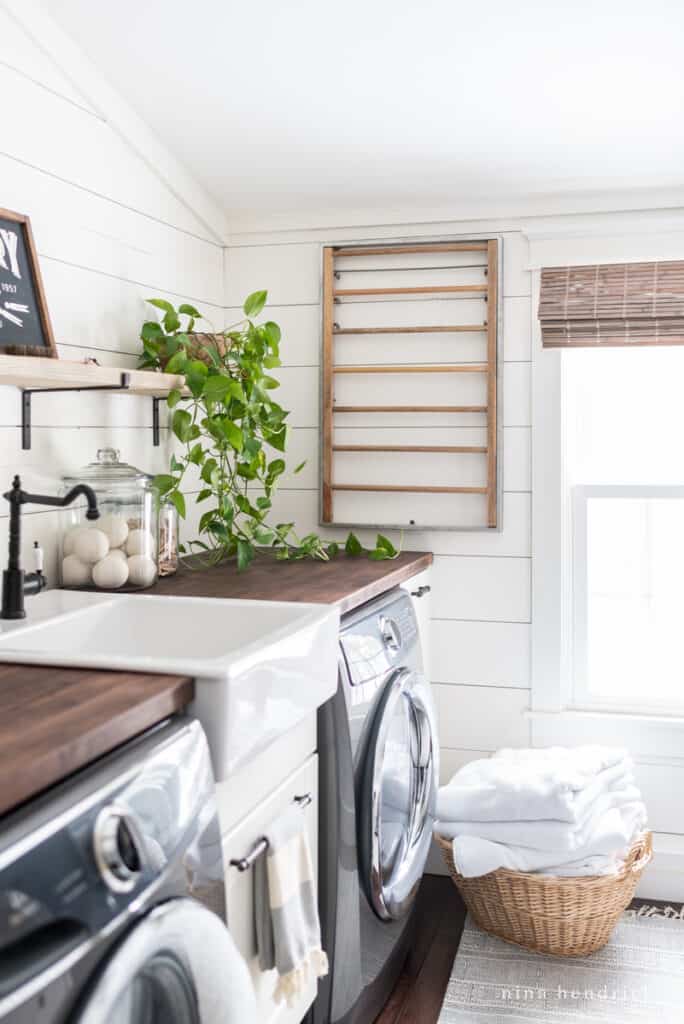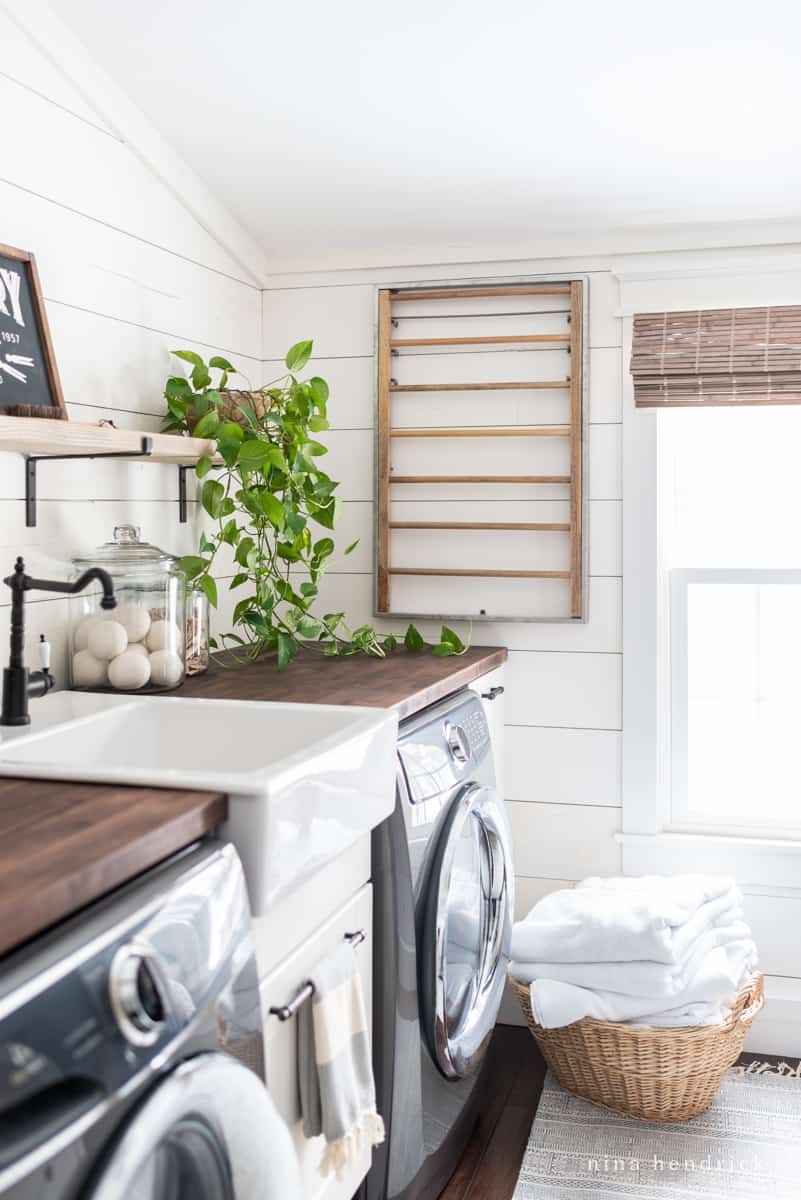 It's actually been really helpful to have the drying rack. Several years ago when I first shared our laundry room makeover, and that we were moving it upstairs, I had a lot of comments from readers who use a clothesline. They noted how tough it would be to bring wet clothes outside from the second floor. I don't currently use an outdoor clothesline, New England weather isn't exactly the greatest for it 90% of the year — but I hang up sweaters and jeans to dry on this drying rack and it's great!
Laundry Room Makeover Mistake 3: Butcherblock Countertops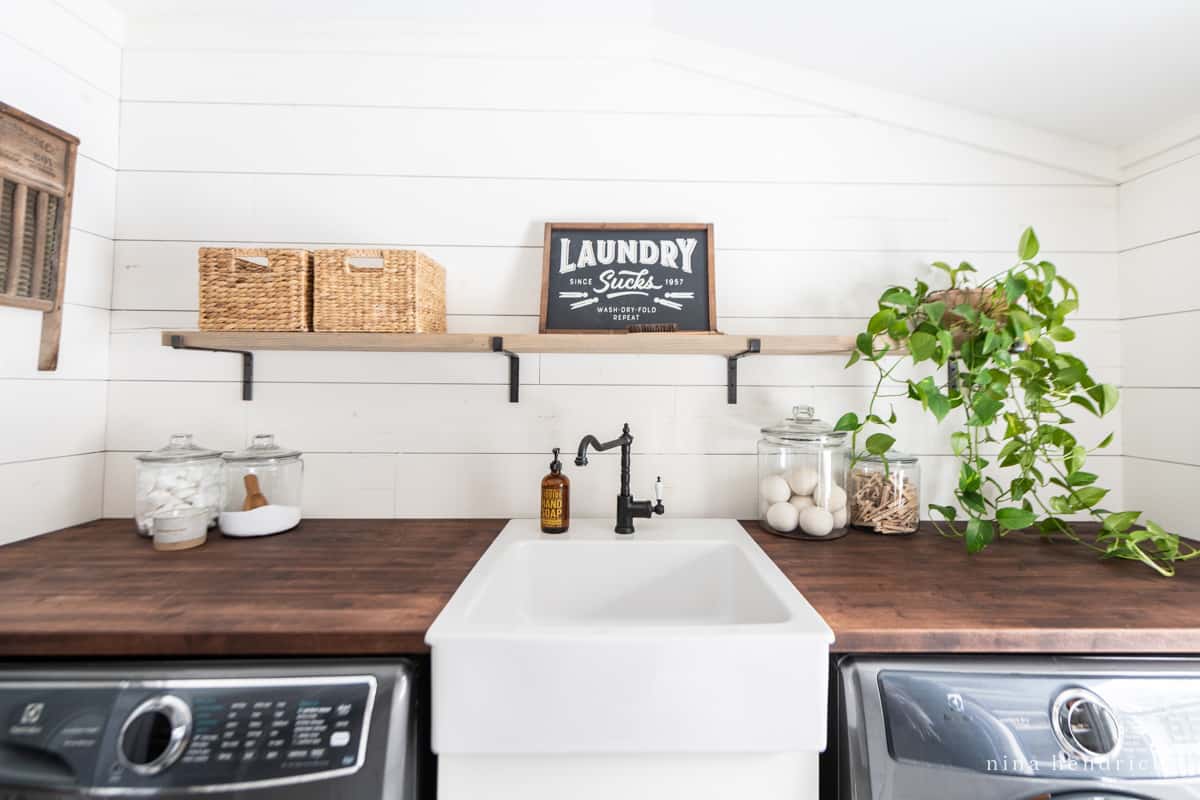 The final design mistake I made in this laundry room makeover is also pretty minor and livable, but worth mentioning. If I did this all over again, I wouldn't choose butcher block counters. It may be that I really just don't like butcher block. It has scratched easily even with a topcoat and needs to be refinished.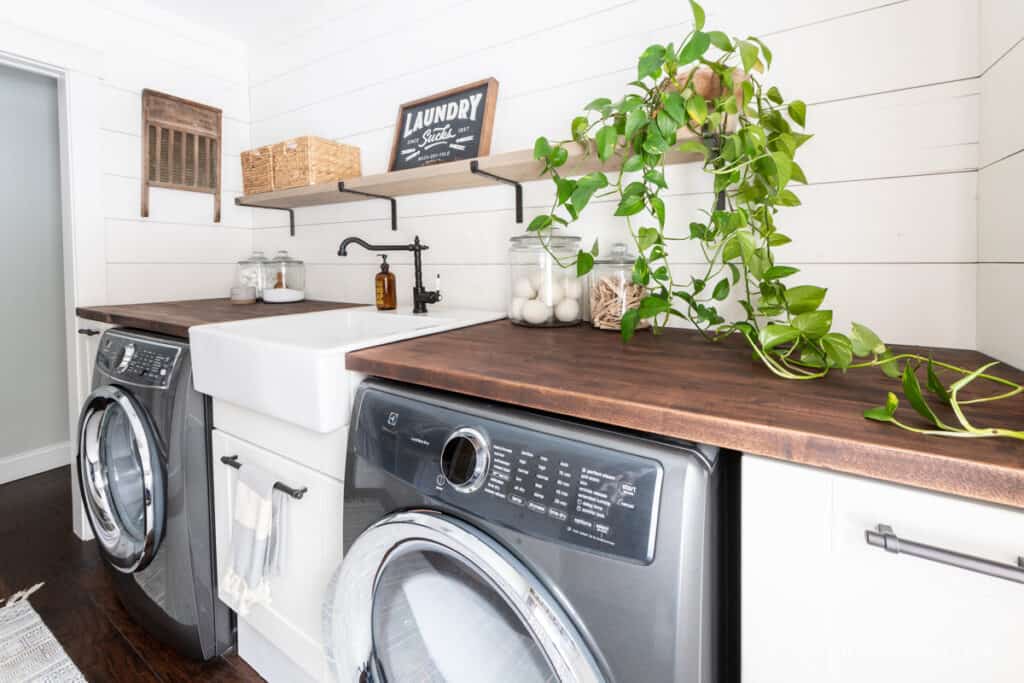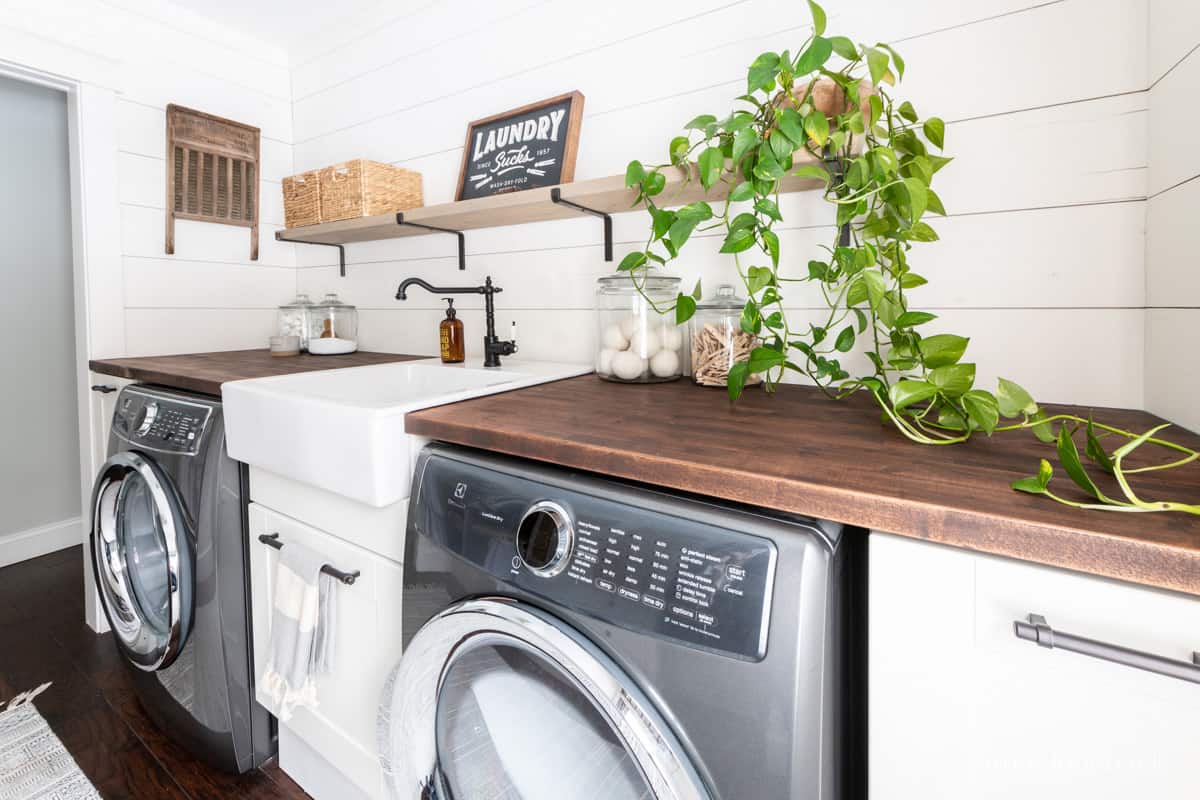 Notice on my list of design mistakes I didn't mention anything about having our laundry room on the second floor. We were warned against this vehemently because of potential floods. Guess what happened last year? Our washer machine leaked. Guess what didn't happen? It didn't go through the floor and into the garage, even though I opted out of the tray below.
I was surprised, I'll be honest. However, I caught it early and it didn't penetrate or damage the engineered hardwood. After trying to fix it, we discovered it was likely caused by the sediment from our well water clogging different parts of the machine (we filter it as much as we can, but we still have issues). We got a new set. They were about 9 years old, so it wasn't a huge surprise.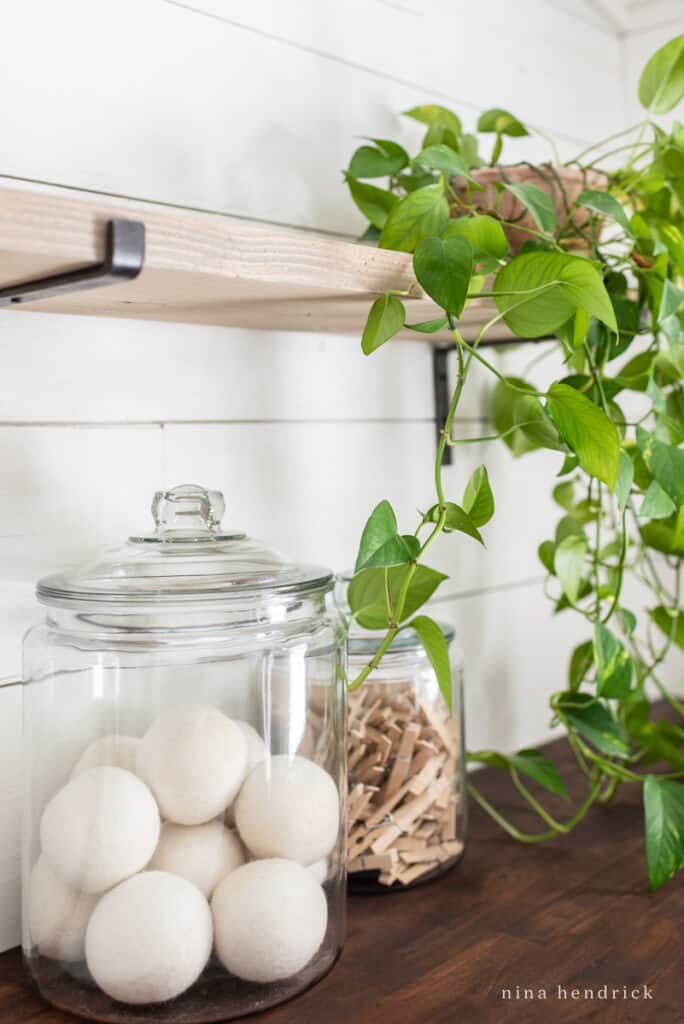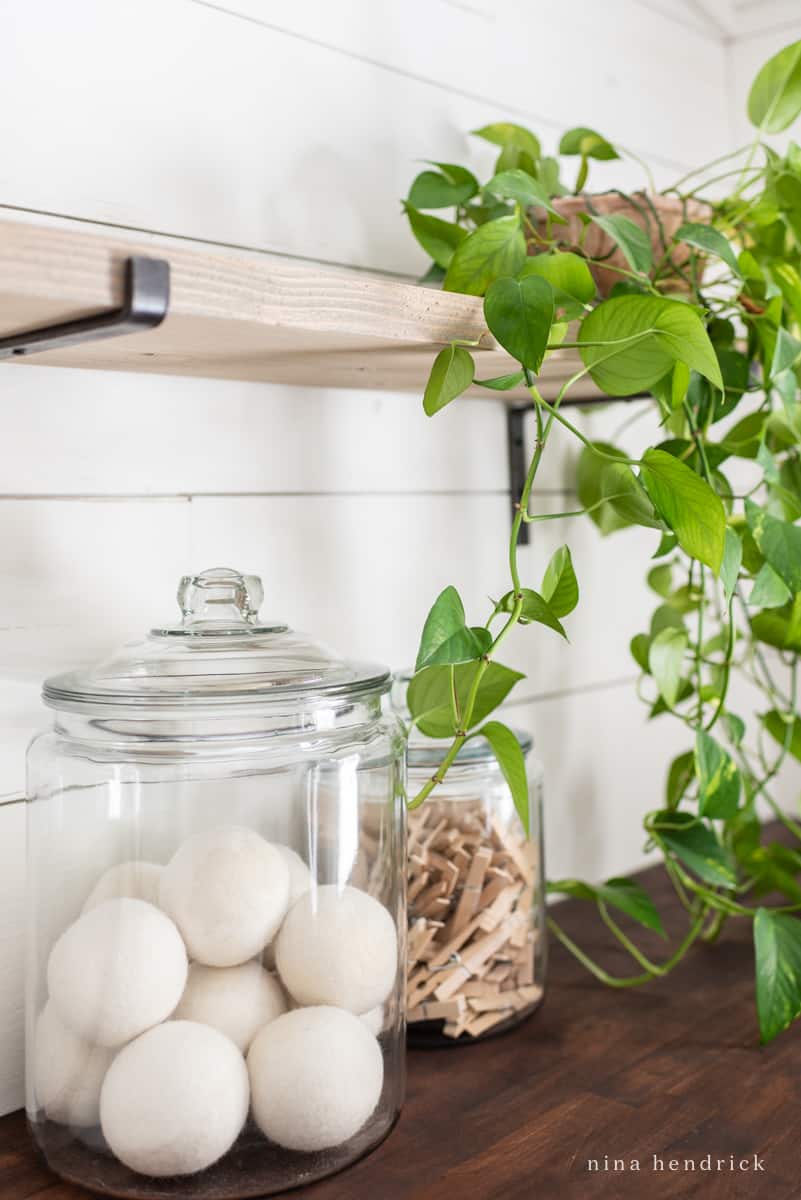 So all-in-all, even with my design mistakes, having this laundry room makeover complete and on the second floor is still an improvement over where we began with a cramped first-floor laundry closet.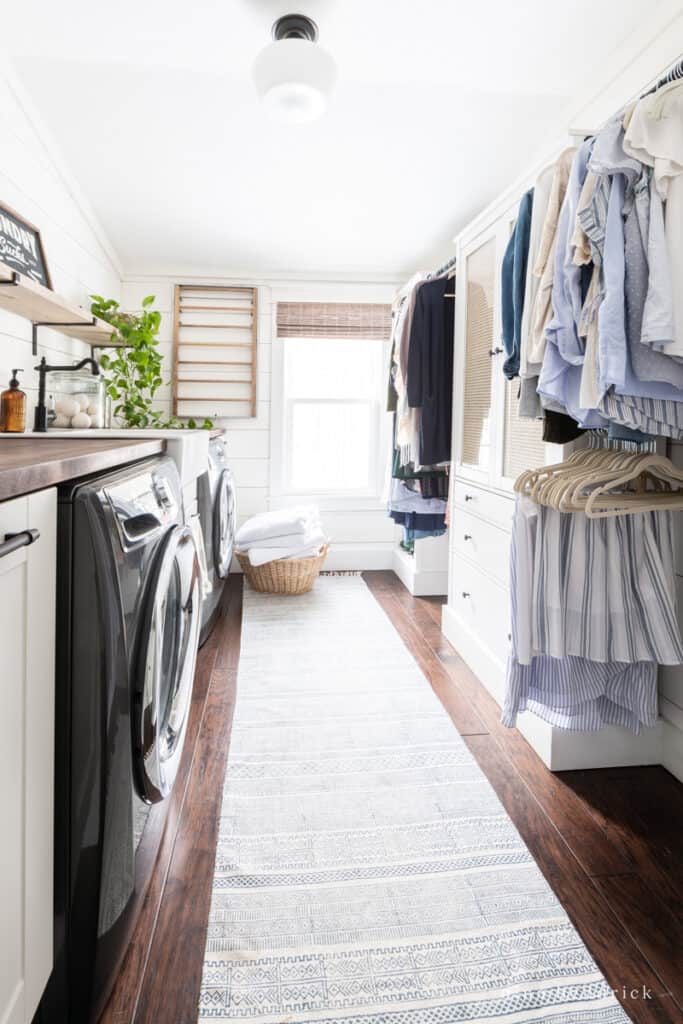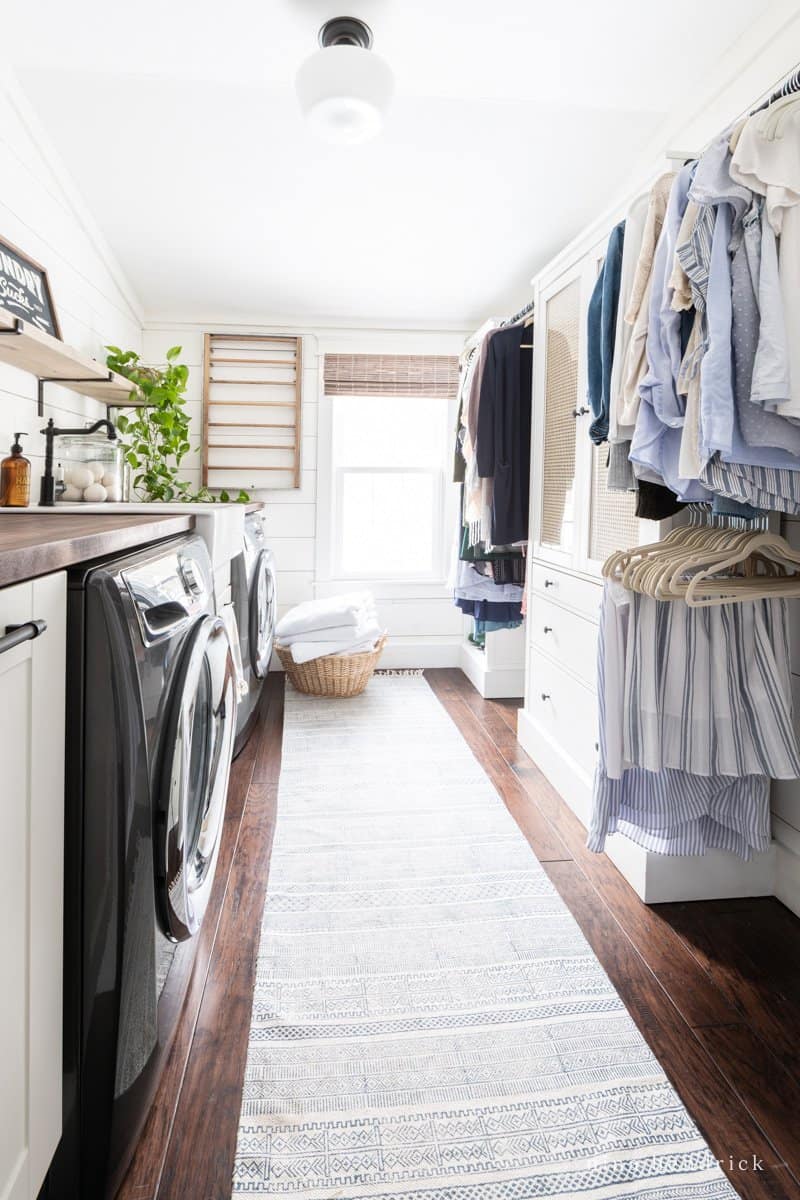 And there you have it! To catch the closet side of the makeover, visit this post and you can also see my quick and easy DIY for covering the glass doors with cane webbing. You can find the full source list for the laundry room side below.
Laundry Room Source List
Wall Color — Benjamin Moore Simply White in Eggshell
How to Plank Walls Tutorial
Cabinets — IKEA GRIMSLÖV
Flooring — Engineered Mocha Stain, similar here
Floating Shelves — DIY with a tutorial to come. 12″ deep rough cut pine. Stained Classic Gray.
Shelf Brackets — here, 12″
Sink — IKEA DOMSJO (since discontinued and replaced with the HAVSEN)
Faucet — IKEA, discontinued. (one I'm considering as a replacement)
Countertop — IKEA PINNARP stained Dark Walnut
Drawer Pulls — Here in Bronze
Washer — Electrolux
Dryer — Electrolux
"Laundry Sucks" Sign — here
Drying Rack — here
Washboard — vintage, but similar here
Baskets — similar here
Runner — 2.5 x 8′ here
Anchor Jars — here and here
Dishcloth — here
Light Fixture — Heirloom Bronze
Woven Shade — Driftwood