No interior design is complete without good lighting! Use this interior lighting design guide to choose and install lights to create the perfect mood in your space.
When was the last time you thought about the lighting in your home?
If you already have a great interior lighting design, you probably don't think much about it. But if there's a problem, you're sure to notice. Maybe there's a gloomy room that never gets enough natural light or a dark corner where you can't see well enough to read. Maybe your pendants are out of date — or worse — you hit your head on the dining room chandelier. Or maybe shadows on your kitchen counters make it hard to see what you're doing.
Whatever the issue, our home's lighting problems reveal themselves less by how they look and more by how they make us feel. Lighting has a huge effect on the ambience of your space.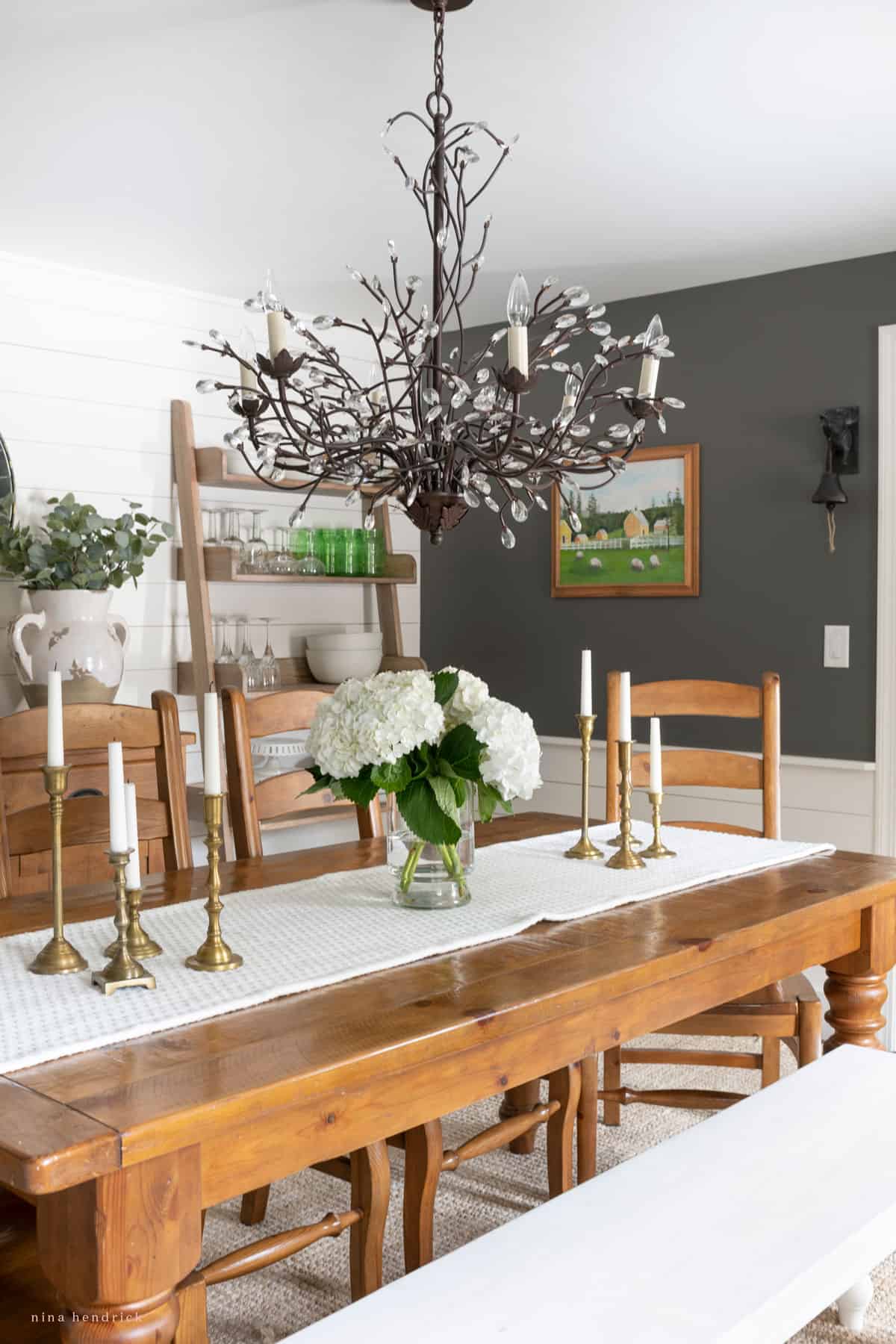 Unfortunately, DIY home decorators often treat interior lighting design as an afterthought. But it's not enough to simply choose a fixture you love. You also need to consider how those fixtures work in each room's lighting plan. If your plan is off, your room could feel cold, uninviting, or just plain uncomfortable because you can't see well enough to enjoy being there.
So let's fix that right now. I've developed this lighting guide to help you understand how different types of lighting work together and what you'll need to evaluate in each room to create the look and mood you want. I'm also including plenty of lighting ideas and pro tips for measurements to help you place your lighting fixtures appropriately in your space.
Ready to get started? Let's light this up!
This post contains affiliate links, which means I may get a small commission (at no extra cost to you) if you shop my link. Please see my disclosure if you'd like more info!
Interior
Lighting Design Basics: The Three Lighting Layers
In most rooms, a single lighting fixture isn't going to cut it. That's why lighting designers think about lighting a room in layers. It's a great way to ensure that all areas of the room are sufficiently illuminated. Plus, it provides more flexibility to create different moods and highlight different elements of your overall design.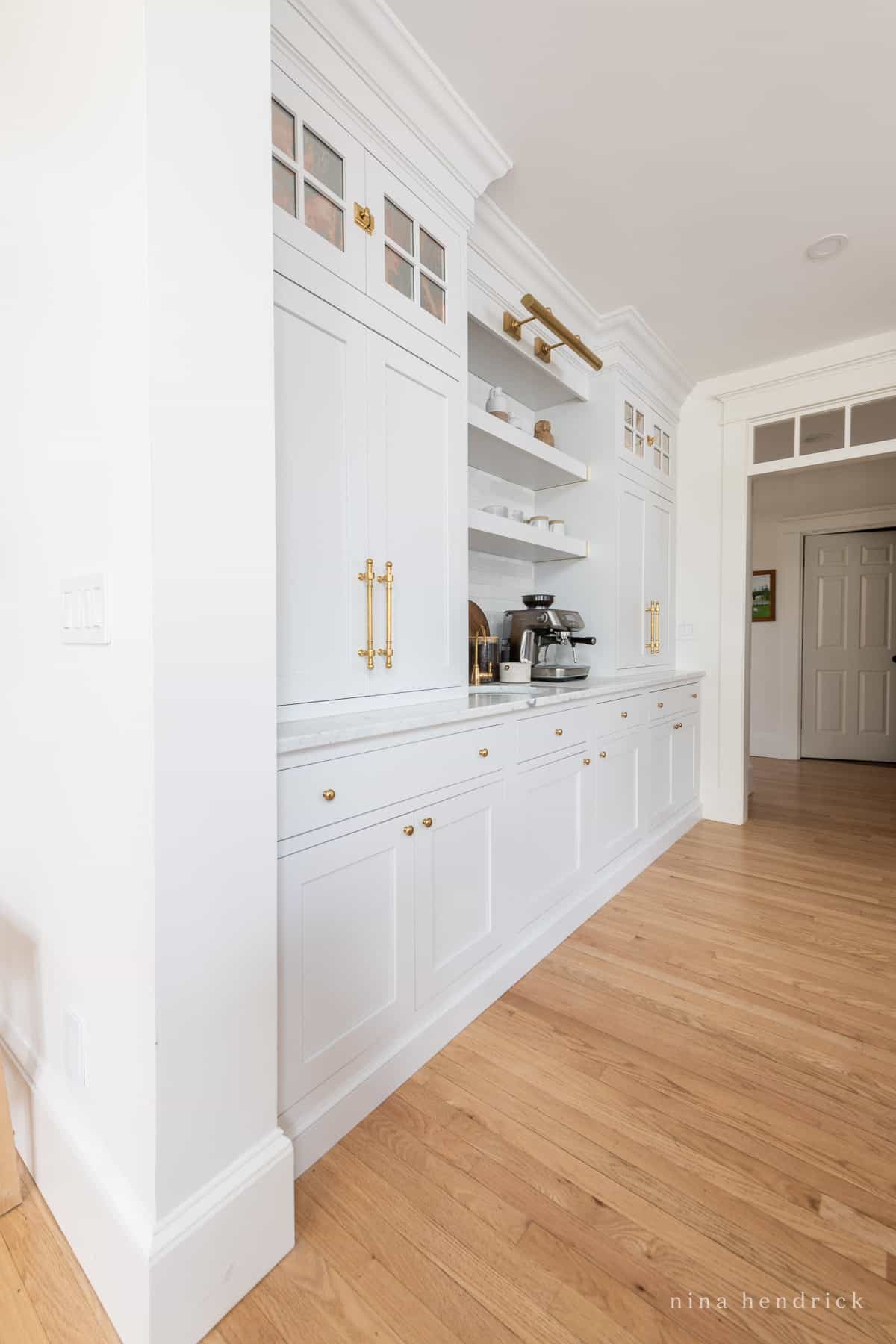 The three layers of Interior lighting include:
Ambient Lighting: This is your general lighting. It does the lion's share of illuminating the space, and it generally consists of the ceiling lights you'll turn on with a switch at the entryway. Ambient lighting can include overhead lighting fixtures and recessed lights. Nearly every room needs ambient lighting as the "base layer" of lighting.
Accent Lighting: Accent lighting is the fun part of the interior lighting design plan and includes decorative fixtures like chandeliers, pendant lights, wall sconces, and table lamps. These different lighting fixtures are often chosen for their looks rather than their wattage, so it's important to combine them with good ambient lighting to avoid a dim room. Accent lighting can also include track lighting or spotlights that highlight a work of art in your room.
Task Lighting: Task lighting adds an extra light source in places where you need to see what you're doing. It's commonly found in kitchens, bathrooms, and living areas where you might read or do work or hobbies. Task lighting often includes items like lamps, but it could also include recessed lights or under-cabinet lighting if they're focused on work areas.  
It's important to note that not every room needs every layer of light. For example, a dining room may not need task lighting, since you're more likely to eat and chat there than to write a book. Likewise, a spa-like bathroom might function perfectly with just task or accent lighting around the vanity and tub, rather than a single overhead fixture.
As you consider your lighting plan, I recommend starting with the statement accent fixtures, since these will take center-stage in your overall room design. From there, you can decide if and where you need additional task lighting and choose fixtures that coordinate with your statement room lighting. Finally, you can fill in gaps with ambient lighting to eliminate dark corners and ensure your room is bright enough for comfort.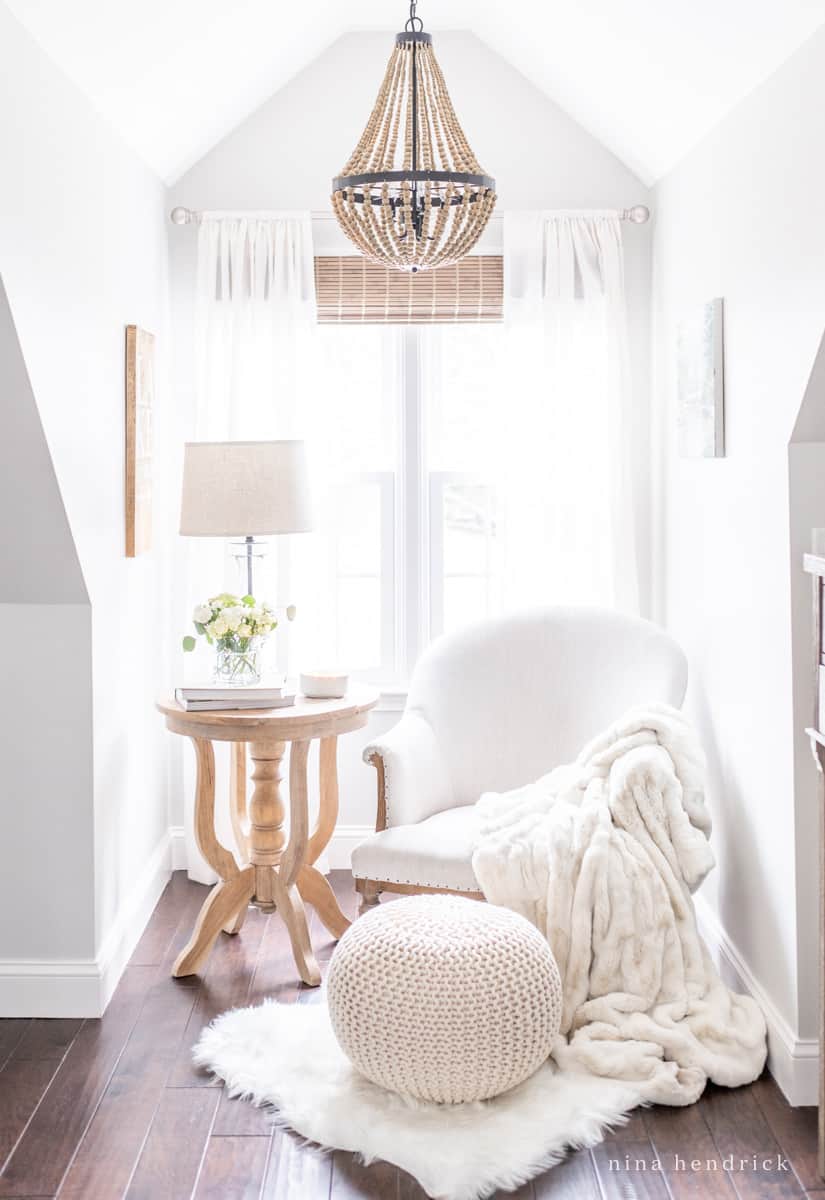 Similar pendant | similar Lamp
How Much Light Do You Need? Calculating Lumens
How bright should your room actually be?
It depends on what you do there. Lighting designers recommend varying brightness for different rooms of the house. This brightness is measured in lumens (not to be confused with wattage, which is how much electricity your bulbs or fixtures use). Here are the general brightness guidelines for each room:
Living Room:

10-20 lumens per square foot

Kitchen:

70-80 lumens per square foot

Dining Room:

30-40 lumens per square foot

Study/Office:

60-80 lumens per square foot

Bedroom:

10-20 lumens per square foot

Bathroom:

70-80 lumens per square foot
To calculate how much light you need in a room, measure the area and multiply by the number of lumens recommended above. For example, a 10 x 10 bedroom is 100 square feet. 100 square feet x 20 lumens per square foot = 2000 lumens.
From there, you can find out how bright your light bulbs are by checking for lumens on the package. Add up all the lumens currently in use in your room to see if you have adequate light or whether additions are in order. Sometimes a single table lamp or corner torchiere is all you need to transform the brightness of your room.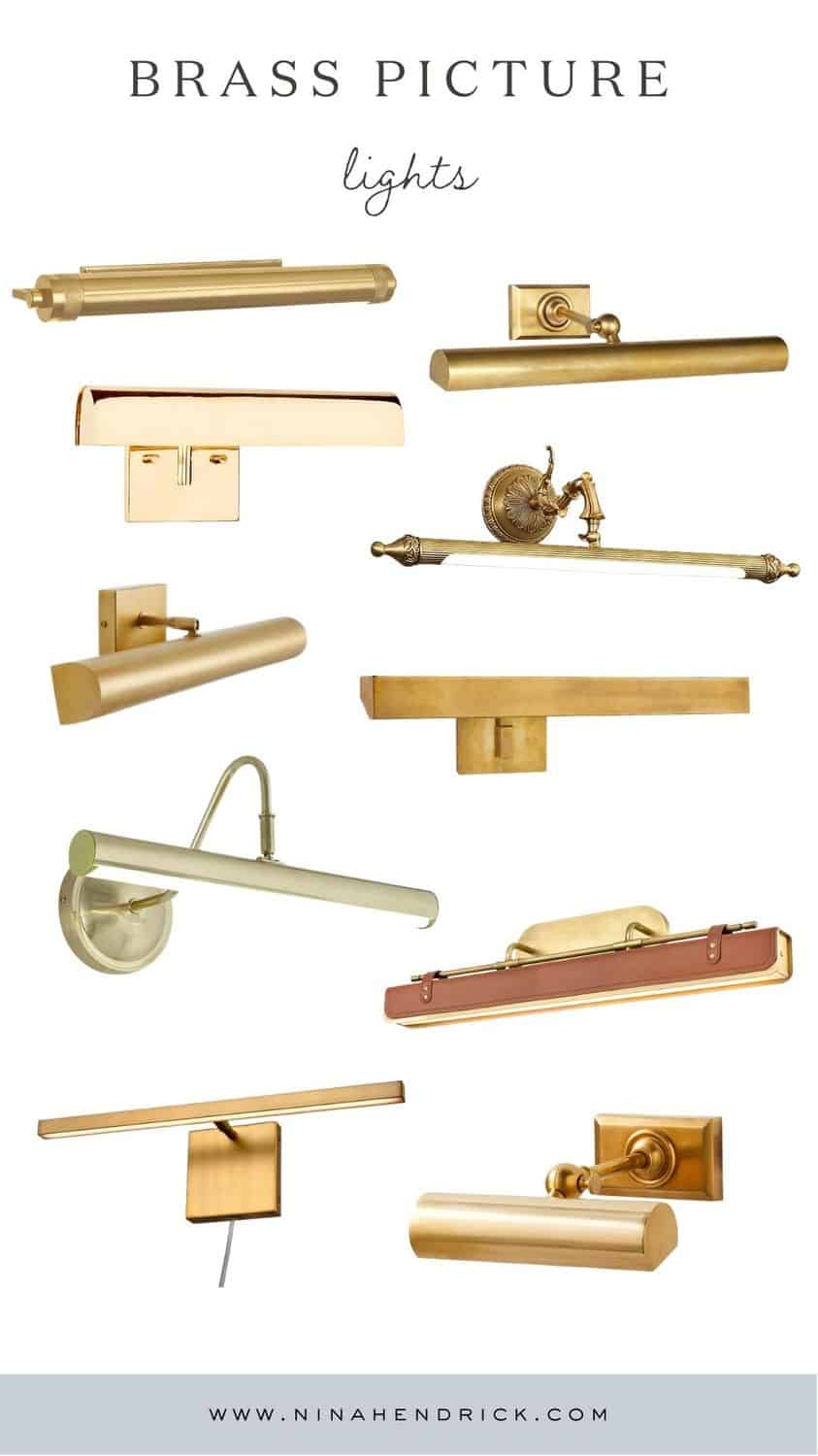 Understanding Color Temperature
Modern light bulb shopping is actually fairly complicated! In addition to understanding the lumens to get the right brightness, it's also helpful to know about color temperature. Color temperature is measured in Kelvins, and the higher the number, the "cooler" the light feels. Lower Kelvin ratings mean the light feels warm — that is, the light has more of a golden glow. Cooler bulbs are meant to be more like the bright white of natural daylight, but at night they can feel a bit cold and sterile. Warmer bulbs try to match the look of old-fashioned incandescent bulbs to provide a cozier feeling, but sometimes they can change the entire look of your color palette.
In general, there are three categories of color temperature:
• Warm White/Soft White (2700 Kelvins): this warm light is ideal for a golden glow in living rooms, dining rooms, and bedrooms.
• Cool White/Bright White (4100 Kelvins): Ideal for kitchens, bathrooms, and other workspaces for a brighter feel and less eye strain for reading.
• Daylight (5000+ Kelvins): Bluish light meant to look like the midday sun. This is useful in task lights or places like garages and workshops where you need to see what you're doing. It can feel too harsh for everyday living, though.
When choosing paint colors for your home, test your swatches with the light bulbs you plan to use, so you can see what the color looks like under the right color temperature. Hardware stores often have a light box with different temperatures, where you can play around to see what you like best.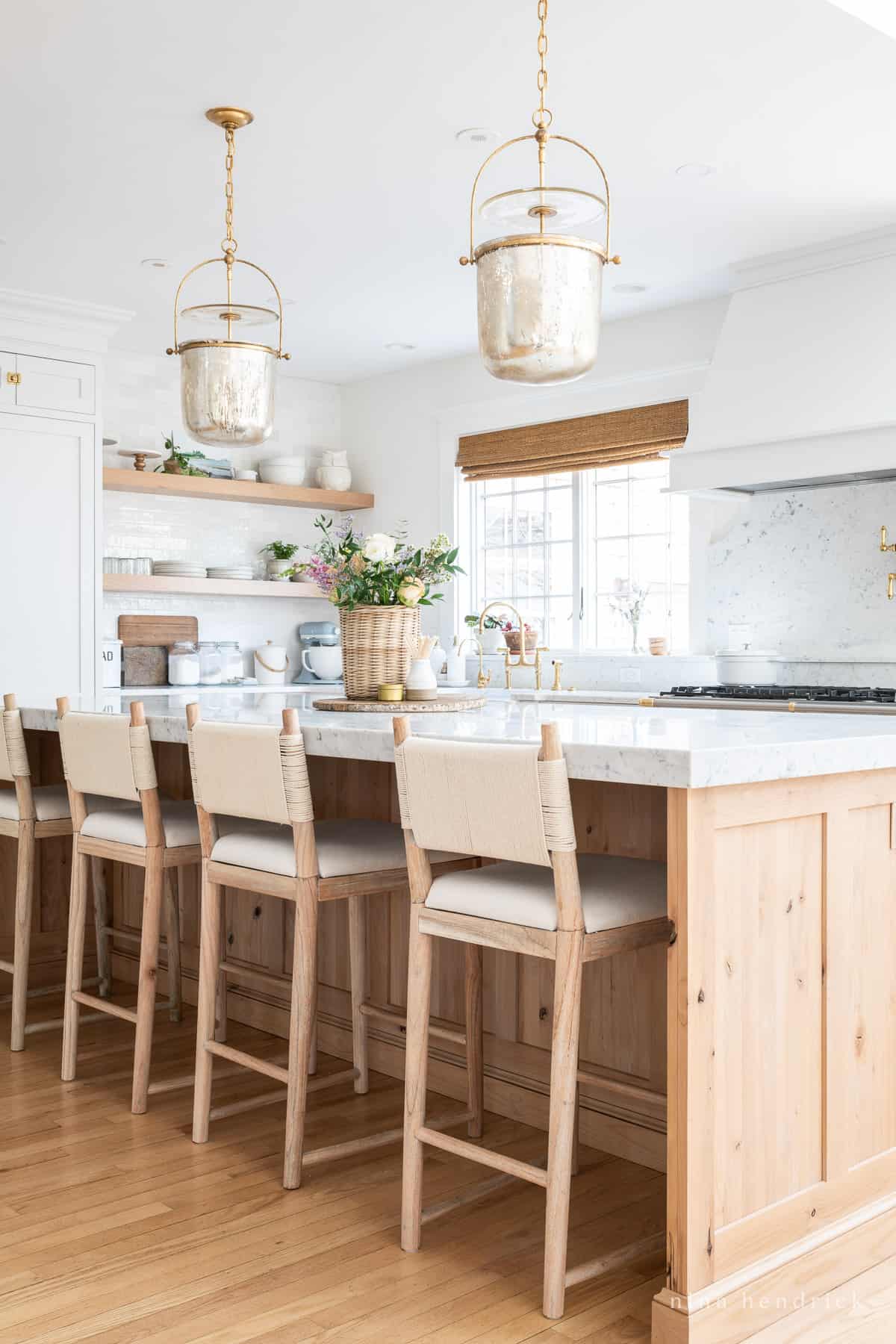 Rules for Lighting Fixture Placement
Of course, no interior lighting design plan is complete until you choose and hang all your fixtures. While there are no real "rules" about mixing and matching styles to get the look you want, there are several important guidelines to get your proportions right. Keep these in mind as you finalize your plan to ensure your lights blend seamlessly with the rest of your room: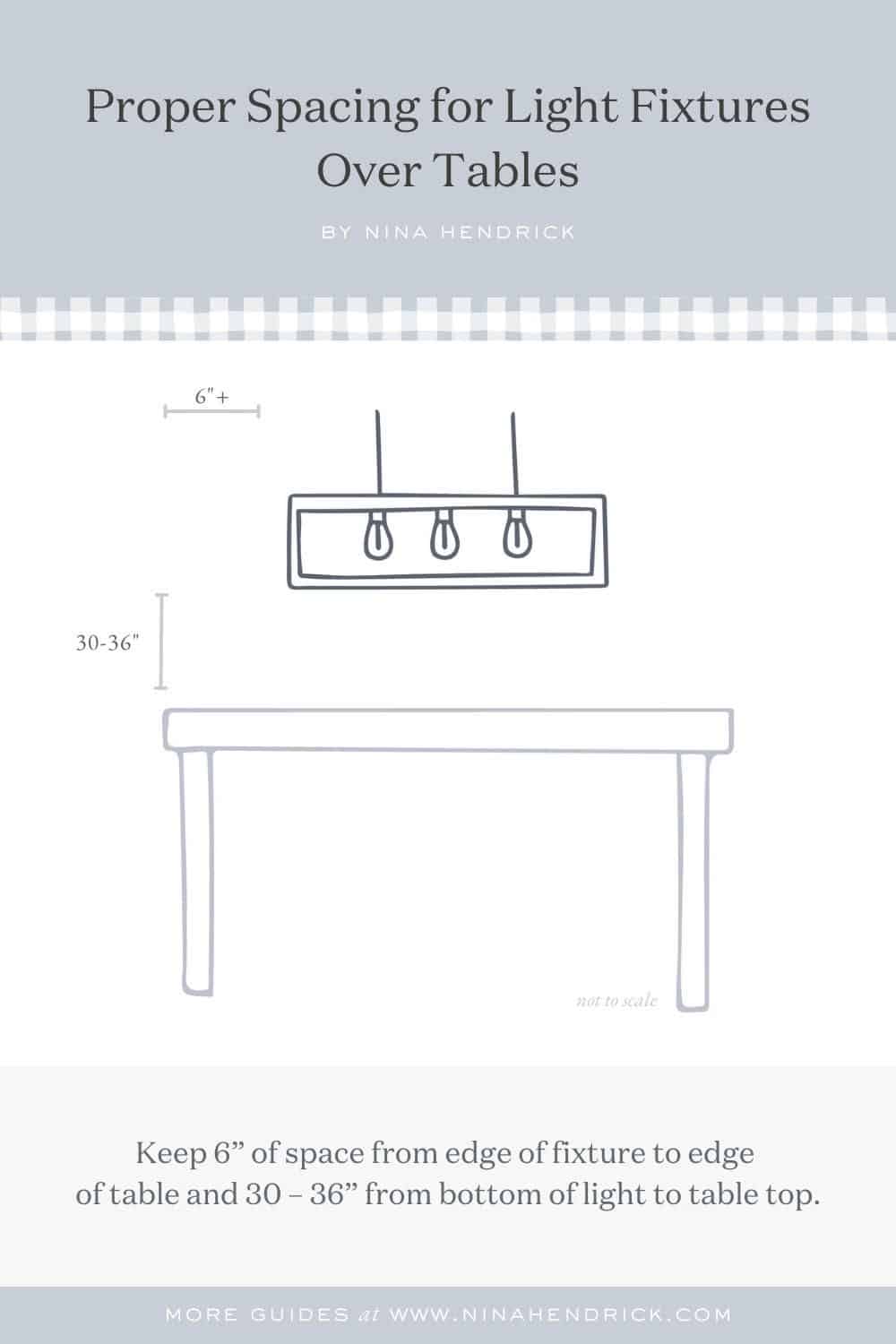 Dining Fixtures
Make sure your fixture is no wider than your table. A good rule of thumb is that your table should be at least 6 inches wider than the light on either end. The bottom of the fixture should hang about 3 feet above the table top when installed.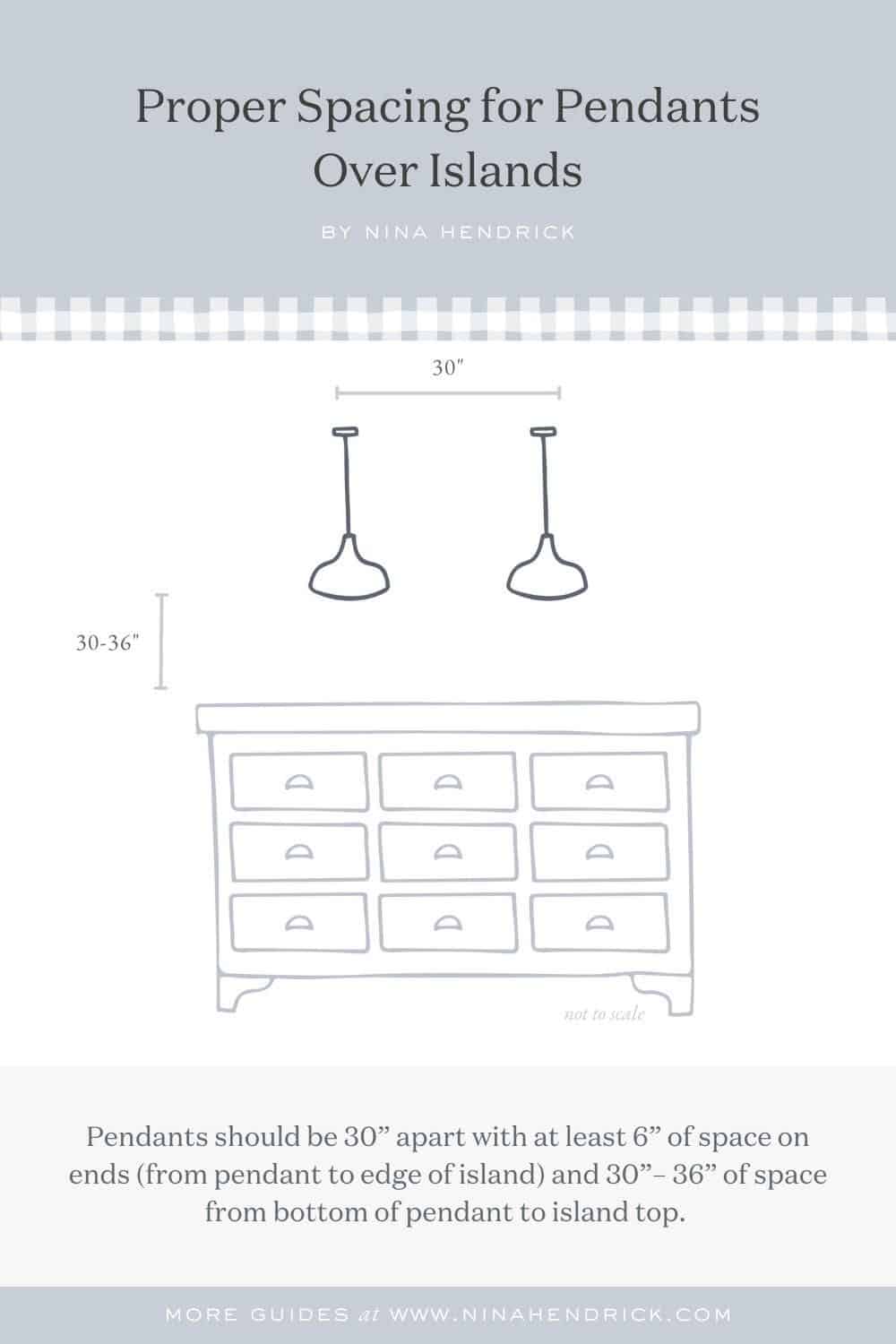 Kitchen Island Fixtures
Follow the same rules as above for proper placement. If you choose a series of pendants, space them 30 inches apart.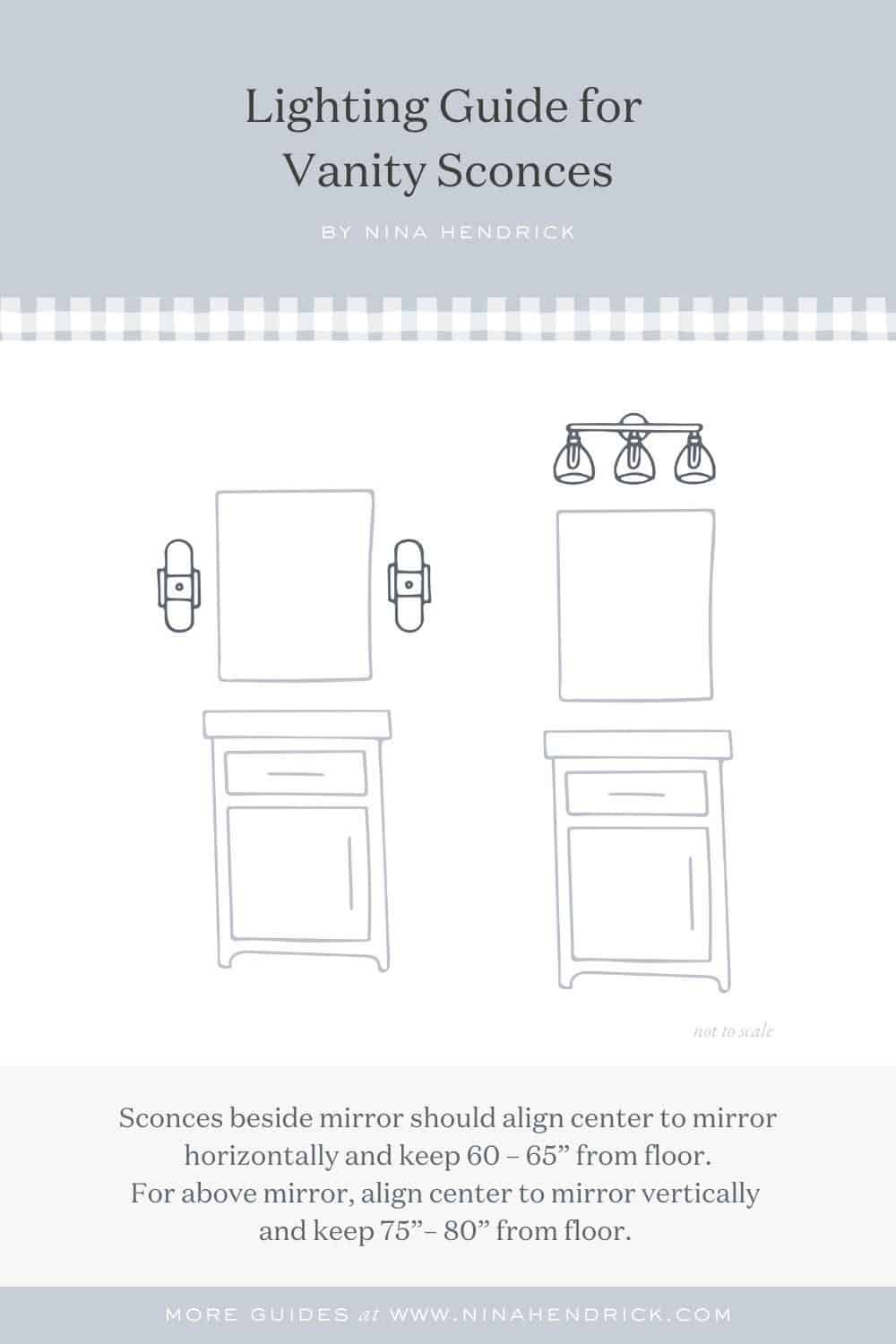 Bathroom Vanity Fixtures
For side lighting, center fixtures horizontally on the mirror and hang at least 5 feet above the floor. For overhead lighting, center vertically over the mirror and hang about 6½ feet from the floor.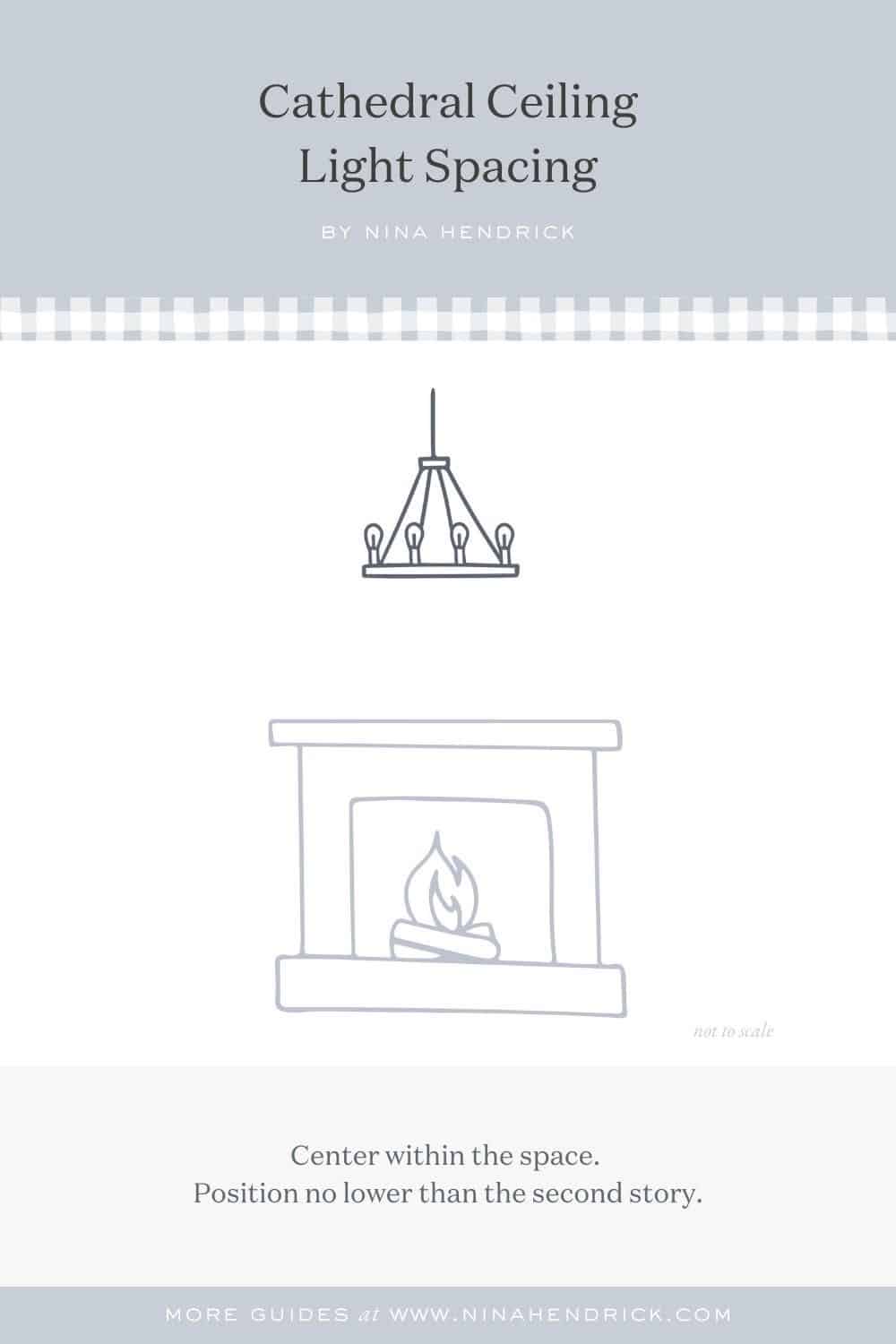 Cathedral Fixtures
Center these in your space, and make sure the light hangs no lower than the second story floor for best balance.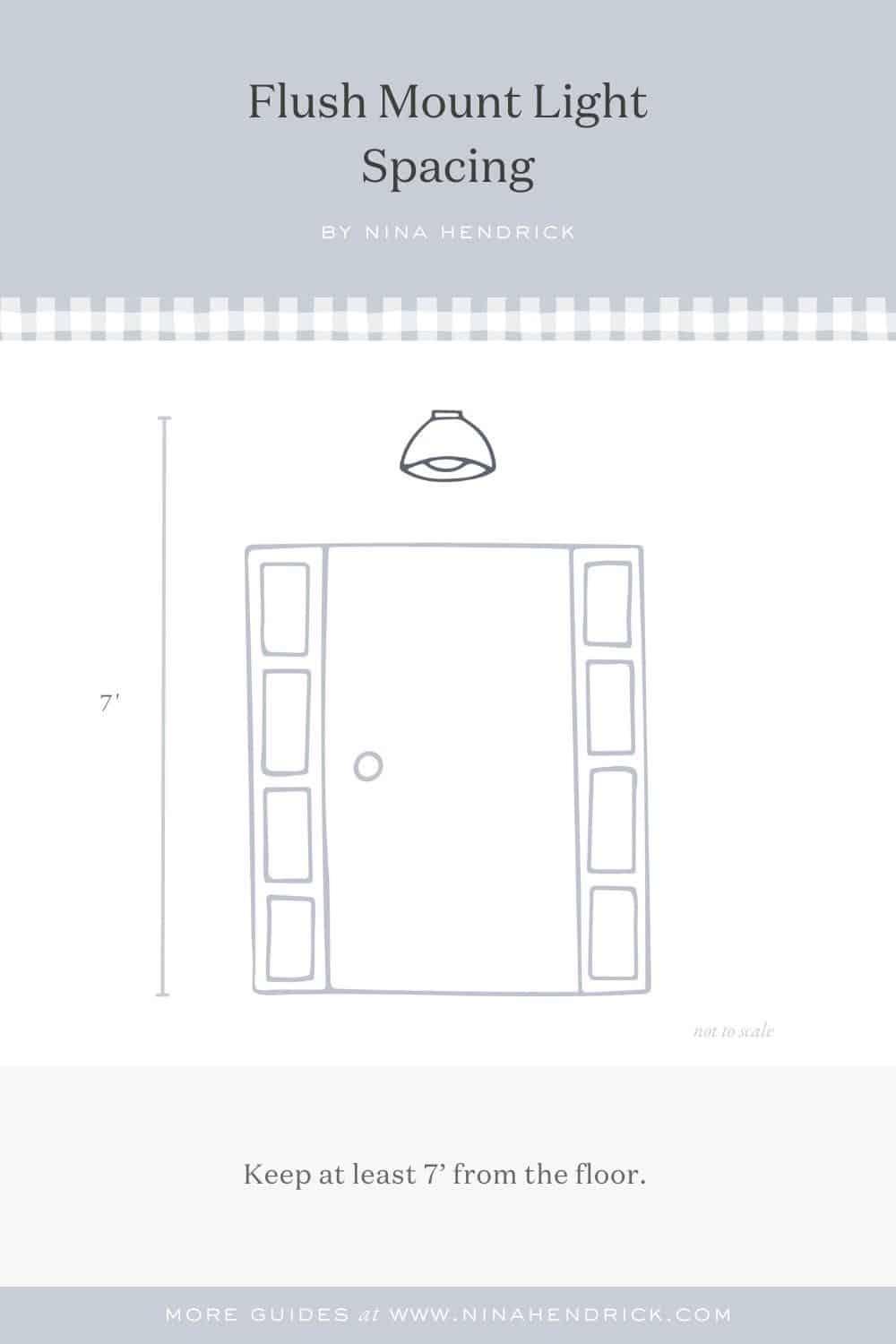 Flush Mount Fixtures
Make sure these hang no lower than 7 feet from the floor. If you have very low ceilings, recessed lighting may be a better choice.
Don't forget about the eyeball test! These rules give a great starting point, but always hold the light in place to get a feel for what looks best in your room before you commit.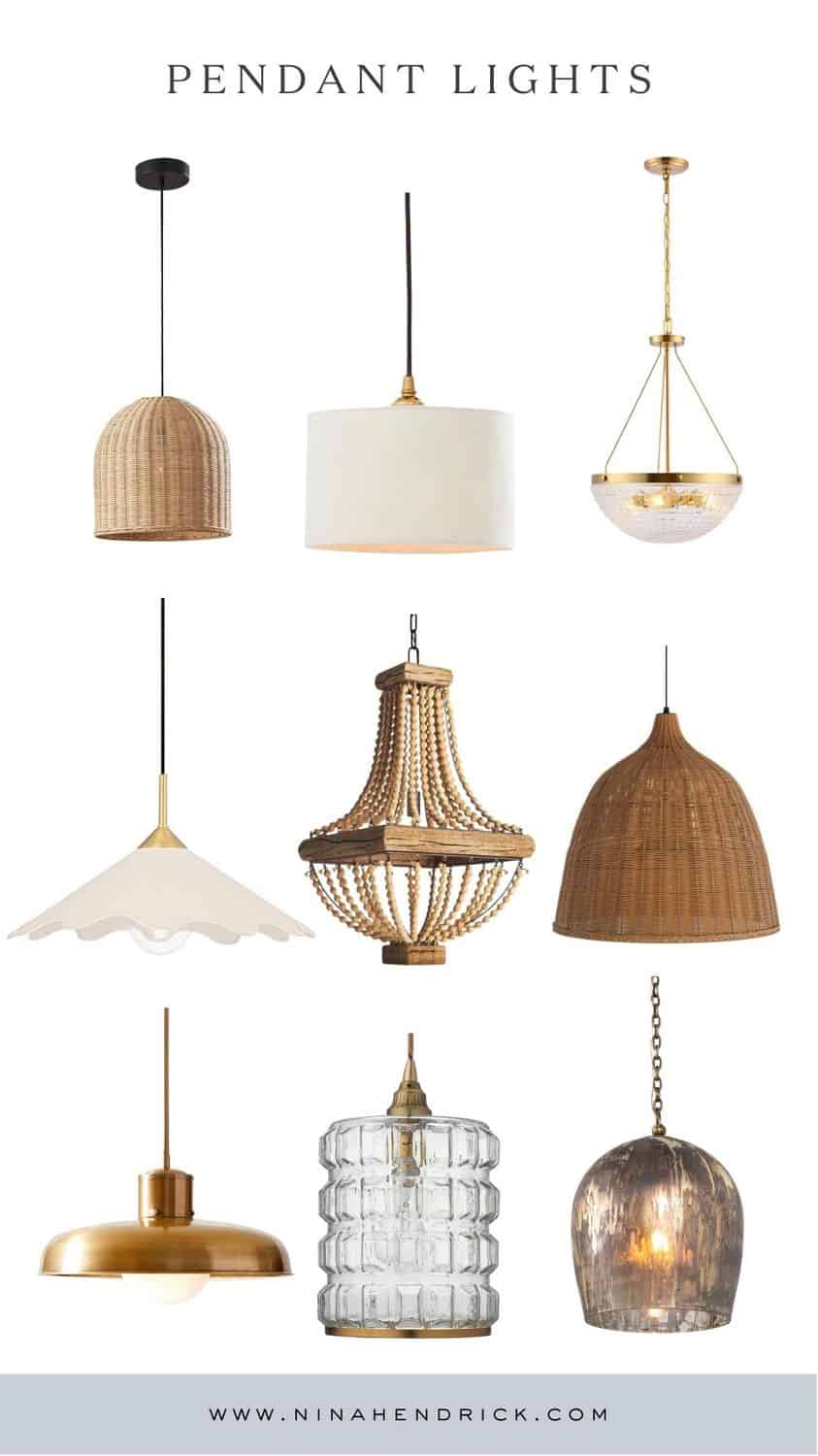 one | Two | three | four |
five | Six | Seven | Eight | Nine
Great lighting isn't hard to do. In most spaces, a little extra accent lighting is often the key to transforming your room from dim and dull to a sparkling showcase. Adding extra light layers also allows you to better control the mood by flicking on extra lights — or dimming them down — as needed.
Join me on Instagram @ninahendrickhome to see more great decorating tips and share photos of how you've transformed the interior lighting design in your own space. I can't wait to see what you come up with!