How to Build a Simple Farmhouse Bench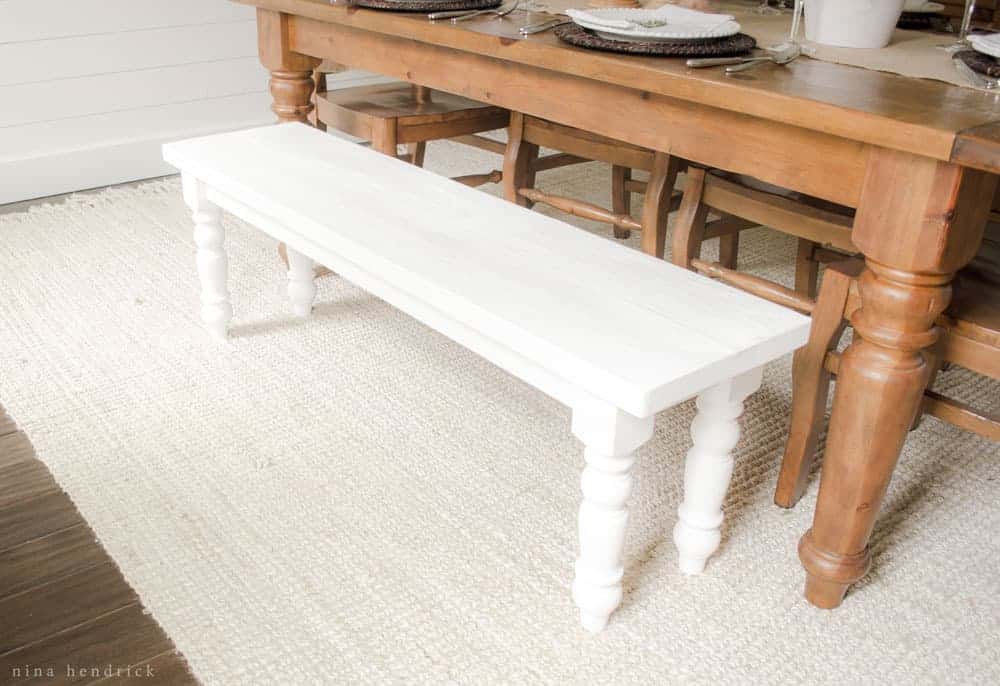 Although we are lucky enough to have a separate "formal" dining room, we are not exactly formal people. So when it came time to tackle the dining room project, we knew we wanted to create a space that was as laid-back and relaxed as possible. One idea that I came up with to accomplish that atmosphere was to replace two of the dining chairs with a simple farmhouse bench. Three adults or four children can sit on the bench easily, which makes it perfect for large family gatherings.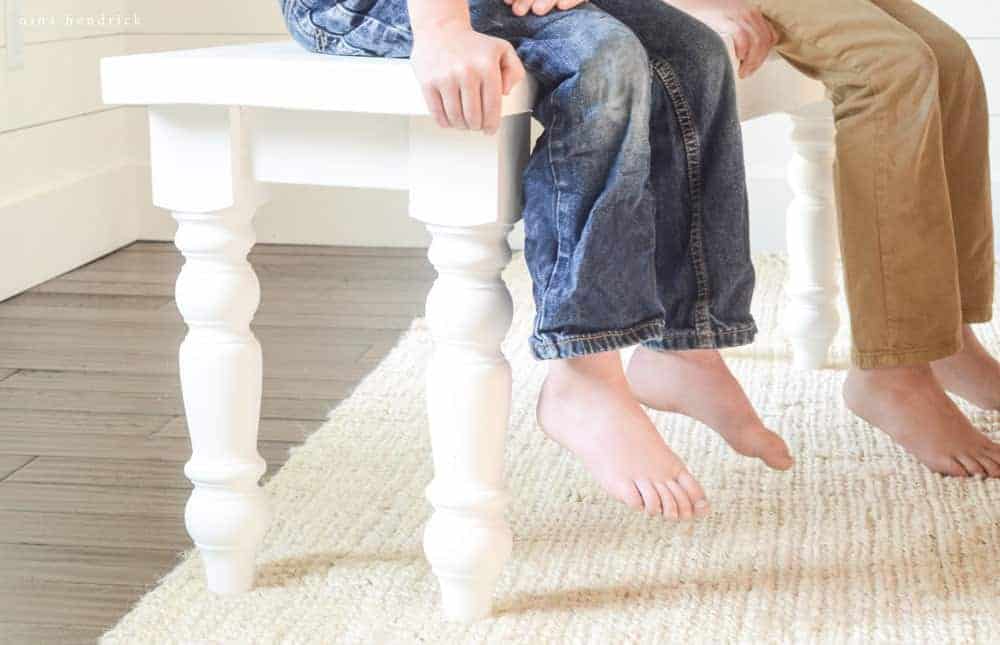 Creating the bench was one of the quickest and easiest builds we've ever done. It's a great beginner project, and a perfect opportunity to involve a junior helper. Read on for the full tutorial or you can purchase a printable version of the plans below!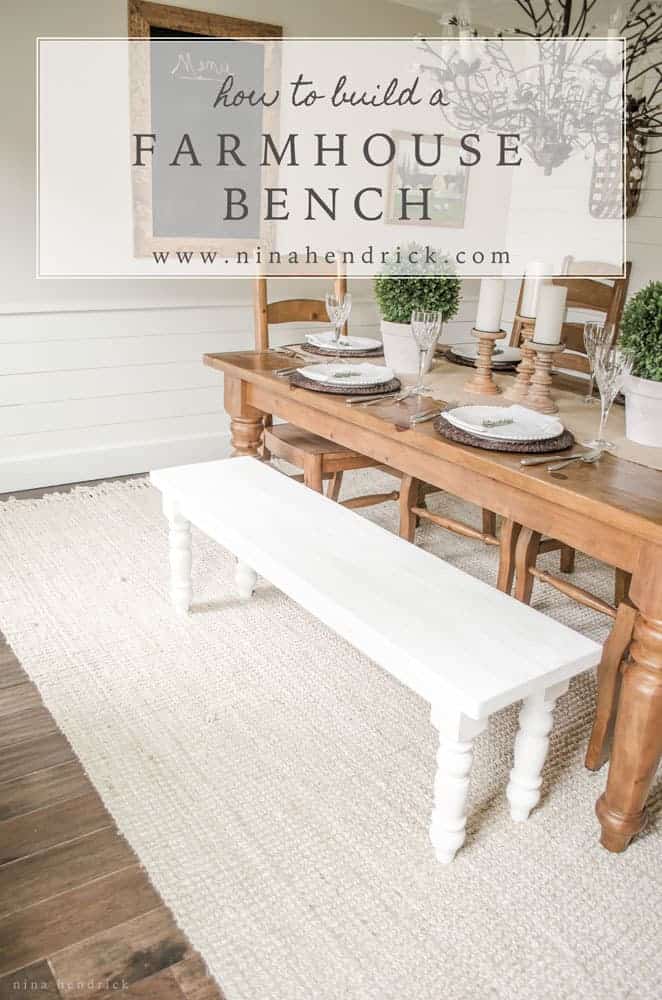 How to Build a Simple Farmhouse Bench
Dimensions: 14  x  56  x  18″
Approximate Time: 3 hours
Supplies Needed
Approx. Materials Cost: Less than $200 (legs cost $160)
Tools Used
Cut List
2– 2×8 @ 56″ ripped to 7″ (⅛" off each side to square) (top)
2– 2×4 @ 46″ ripped to 2 ½" (½" off each side to square )(side top support )
2– 2×4 @ 6 ½" ripped to 2 ½" (½" off each side to square )(front and back top support )
Trim legs to 16 ½"
Instructions
Step 1
Rip down each side of your 2x8x10 and 2x4x10 with your table saw as directed in cut list to create a straight edge. Make all of your cuts to length with your compound miter saw, referencing the cut list.
Step 2
Drill all of your pocket holes.
2 @ each end of 2 ½ x 46″ and 2 ½ x 6 ½" boards
alternating pocket holes on bench top (or, alternately, use a biscuit joiner)
Step 3
Take your two 56″ boards and apply wood glue to the intended seam. Join boards with your pocket hole screws. Allow glue to dry.
Alternate method: We chose to use a biscuit joiner on the bench top, to allow for expansion and contraction.
Step 4
Take two of your short end pieces, and attach to legs with 1 ½" pocket hole screws. We inset from the front of the legs by ½". Clamps may be helpful, since the legs will not be completely secure until the top is attached firmly. If you wish, you may use a nail gun to secure legs to center support. 
Step 5
Take two of your long front and back pieces, and attach to legs with screws. Again, inset by ½". You should now have a complete base. If you wish, you may use a nail gun to further secure legs to rails.
Step 6
Once the top has dried completely, sand smooth with 120-grit sandpaper. Round off the edges if you choose.
Step 7
Lay the bench top upside-down. Flip the base upside-down also, and center it in both directions. Join base to top with pocket hole screws using the pre-drilled holes.
Finish
I painted the bench with two coats of Folk Art Chalk Paint in White Adirondack, sanding lightly between coats. After, I gave it a top coat of Satin Polycrylic to give it more durability. I normally love to stain the top and just paint the legs on projects like this, but I really wanted to break up the wood of our dining set.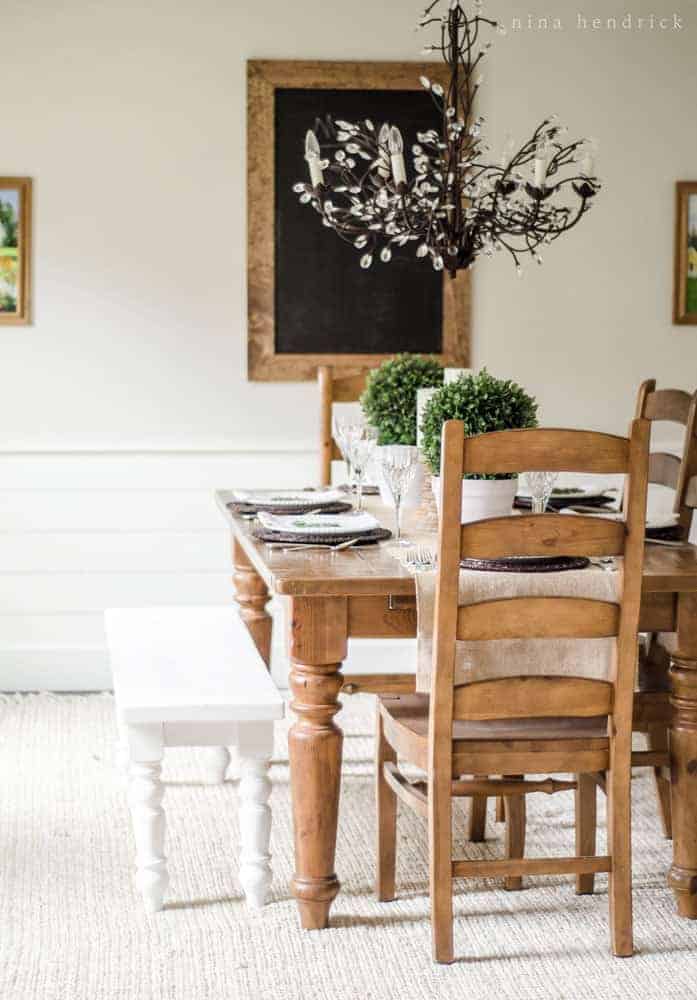 What do you think of our new casual seating? I think it's the perfect solution for a family-focused gathering space. I'd love to hear from you, and whether you're planning to build this!
Room Sources:

---
Love this build? You may also enjoy: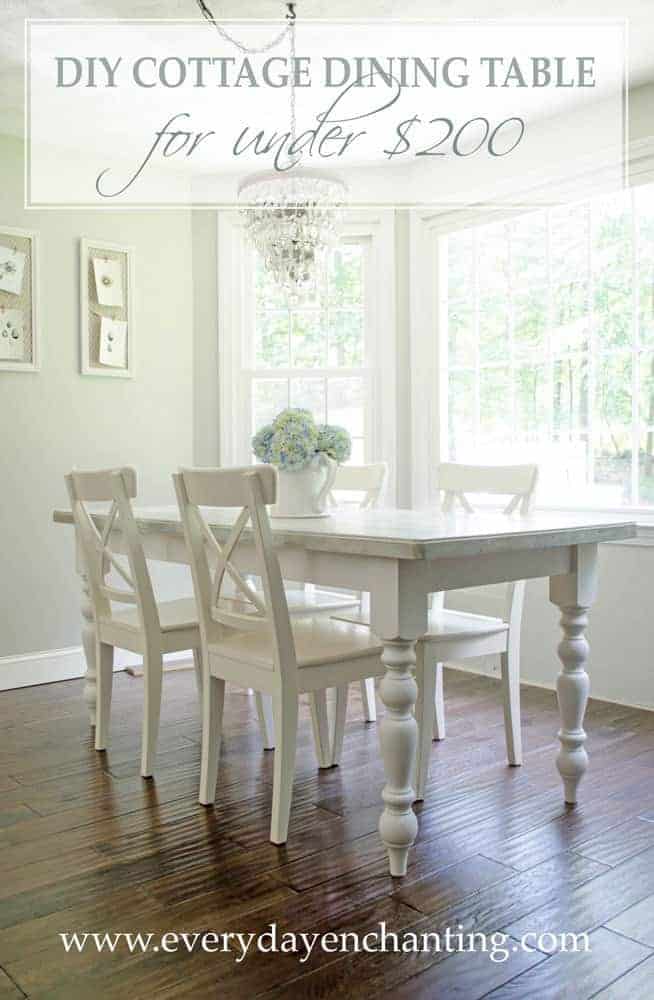 ---
How to Build a Simple Farmhouse Bench