This guide of entertaining essentials takes away the guesswork so you can welcome guests with the confidence of a well-seasoned hostess.
Whether you're brand new to the hosting scene, or wanting to curate your existing entertainment repertoire, I've created the ultimate guide to entertaining essentials for your home, that will leave you feeling confident, at ease, and volunteering to host the next gathering. Get ready to be showered with "thank-yous" for being the perfect host!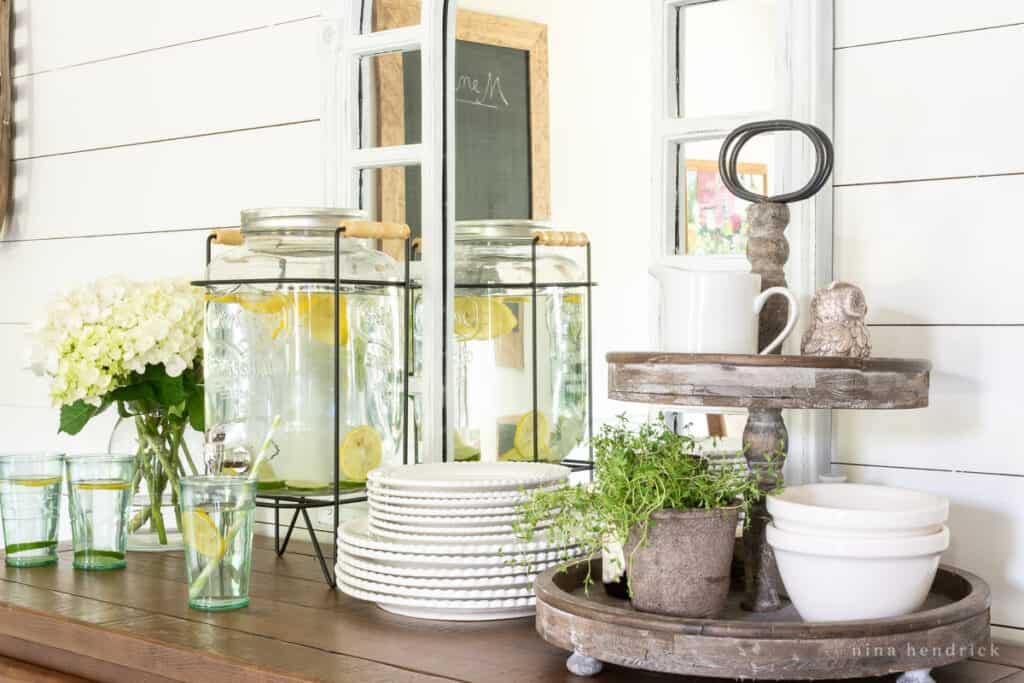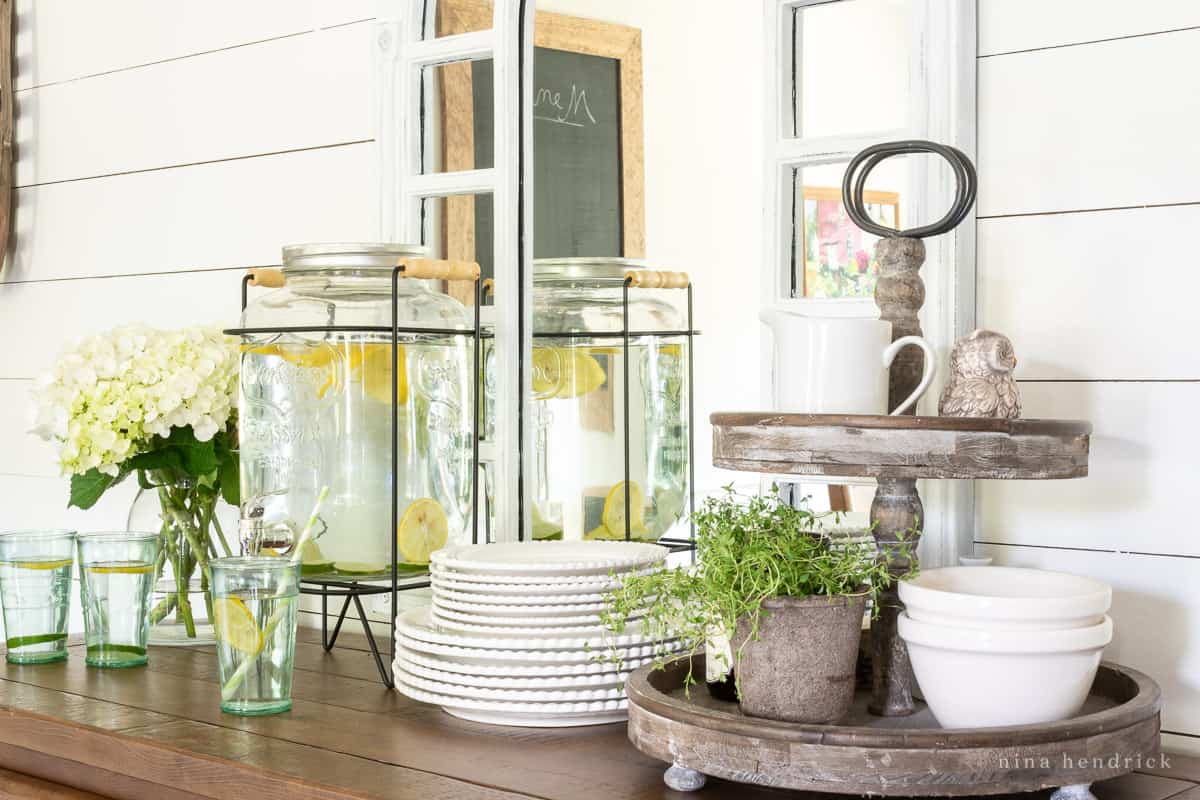 The fact is, every seasoned hostess once started at ground zero, with no servingware or experience taking care of guests. For every Martha Stewart in the world, there's also a fresh-to-the-scene newbie. Not sure about the difference between a dinnerware charger and a cell phone charger? Don't sweat it, friend! We all start somewhere. :)
I've put together a no-fluff list of essential items for hosting, so that you can save time, money, and most importantly, your sanity! I'll teach you the pillars of good hosting, so that all the main boxes are checked. With these carefully curated items, and my hosting 101 knowledge, you'll be ready to take on the group's next soiree. So grab a mug of something warm and comforting, drop your shoulders, and settle in. My advice will evaporate your hostessing stress faster than you can say, "welcome to my home".
Entertaining Essentials and Basics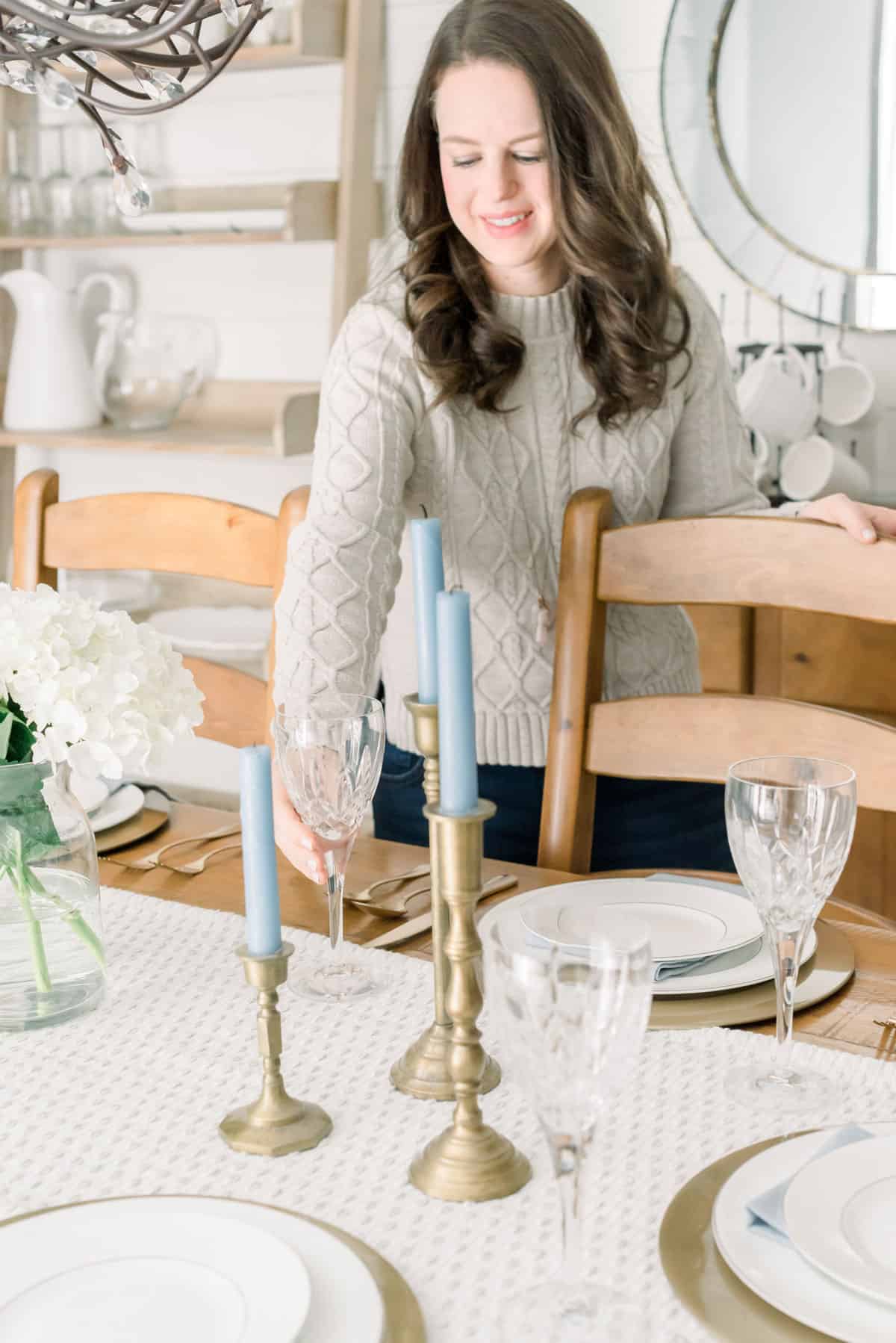 The 4 Pillars of Good Hosting
If you're looking for the perfect way to entertain your guests, you have to start with the basics. Whether you're hosting a dinner party, a holiday gathering, or a birthday celebration, understanding the four pillars of good hosting will help you make sure your event is a success. These entertaining essentials cover everything, from the food and drinks you serve, to seating, to the decorations and activities you plan. Read on to learn more about the four pillars of good hosting.
So, what exactly makes the perfect host? I'd say, if there's one quality that supersedes all the rest, it would be this:
The ability to anticipate your guests' needs and plan accordingly.
People want to feel taken care of when invited into your home, and planning ahead is your best bet to ensure that happens. It's true that each guests' needs may be different. Some are more high-maintenance, while others are uncomfortable if they feel too fussed over. But for simplicity's sake, let's zoom out and look at the big picture.
There are 4 main pillars of hosting:
1. Food
While it's true that not every gathering calls for food, most of them do. Remember this rule of thumb: If guests will be gathering at your house for more than an hour, then it's a good idea to provide something to snack on. Once you know you'll need food, you'll want to decide what fits the gathering – hor d'oeuvres or a full meal. Consider the timing of the gathering. Will it run through a typical meal time? If yes, then providing a full meal would be appropriate. If not, then hor d'oeuvres will suffice.
There's something about fulfilling a person's basic need for nourishment, that brings so much warmth and gratitude to the atmosphere. A satisfying bite to eat will keep everyone in good spirits, and will thaw even the grumpiest guest's heart!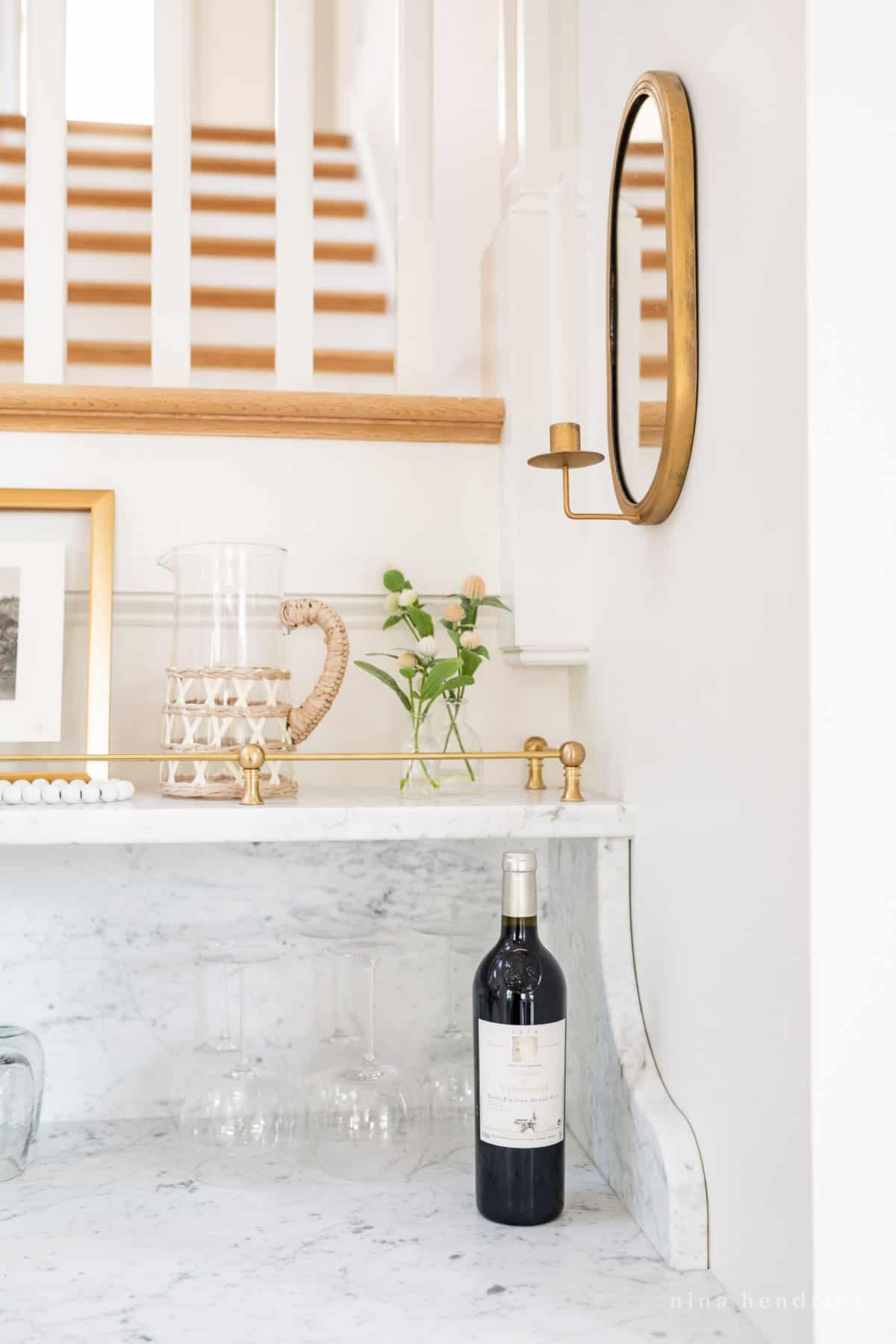 2. Drink
Ingrained etiquette usually prompts us to ask this question soon after each guest arrives.
"Can I get you something to drink?"
Whether you're serving water or libations, no one wants a thirsty guest! A good host always keeps their guests well hydrated. You don't want anyone getting a headache, or feeling low on energy, so offering refreshing drinks is a must. And unlike food, some sort of drink is needed at every gathering. So, no matter the duration or time of day of your get-together, prepare to offer your guests something to wet their whistle. You can see my favorite cocktail recipes here!
3. Seating
What's the very first thing people usually offer after welcoming you into their home?
If you said, "a seat", you're correct!
The act of offering guests a place to rest their feet probably goes back to the beginning of our civilization. (I haven't checked, but just think how much more walking our ancestors did!) Not only does it give your guest an opportunity to physically recoup, but it also puts their mind at ease. Because offering someone a seat in your home is in the same spirit of telling them to get comfy and stay a while. That feeling is received, whether you speak those words or not, and it plays a big role in giving people a warm welcome to your home.
You'll want to make sure you have enough seats for the number of people you're expecting, so larger gatherings may require some creative solutions. Pull any accent chairs, ottomans, benches, or footstools, into the main gathering area to accommodate seating for your guests.
If you know you'll be entertaining a large crowd often, these folding teak chairs are an essential investment!
4. Entertainment
The last pillar of being a good host is to ensure your guests are generally having a good time. And while it's not your job to break out a cane and top hat in addition to your other hosting duties, you'll want to have a general plan for setting the vibe. Sometimes creating conditions conducive to deep conversations will suffice, and other times the fun may need to be a bit more produced.
The good news is, fun entertainment doesn't have to be taxing, and it's only limited by your imagination! Here are some ideas:
Feature a film
Create a simple photo backdrop
Play charades
Take turns telling your fav memory with the guest of honor (great for birthdays)
Showcase a guest's famous party trick
Tell a riddle, have everyone write down their answers, and take turns reading them aloud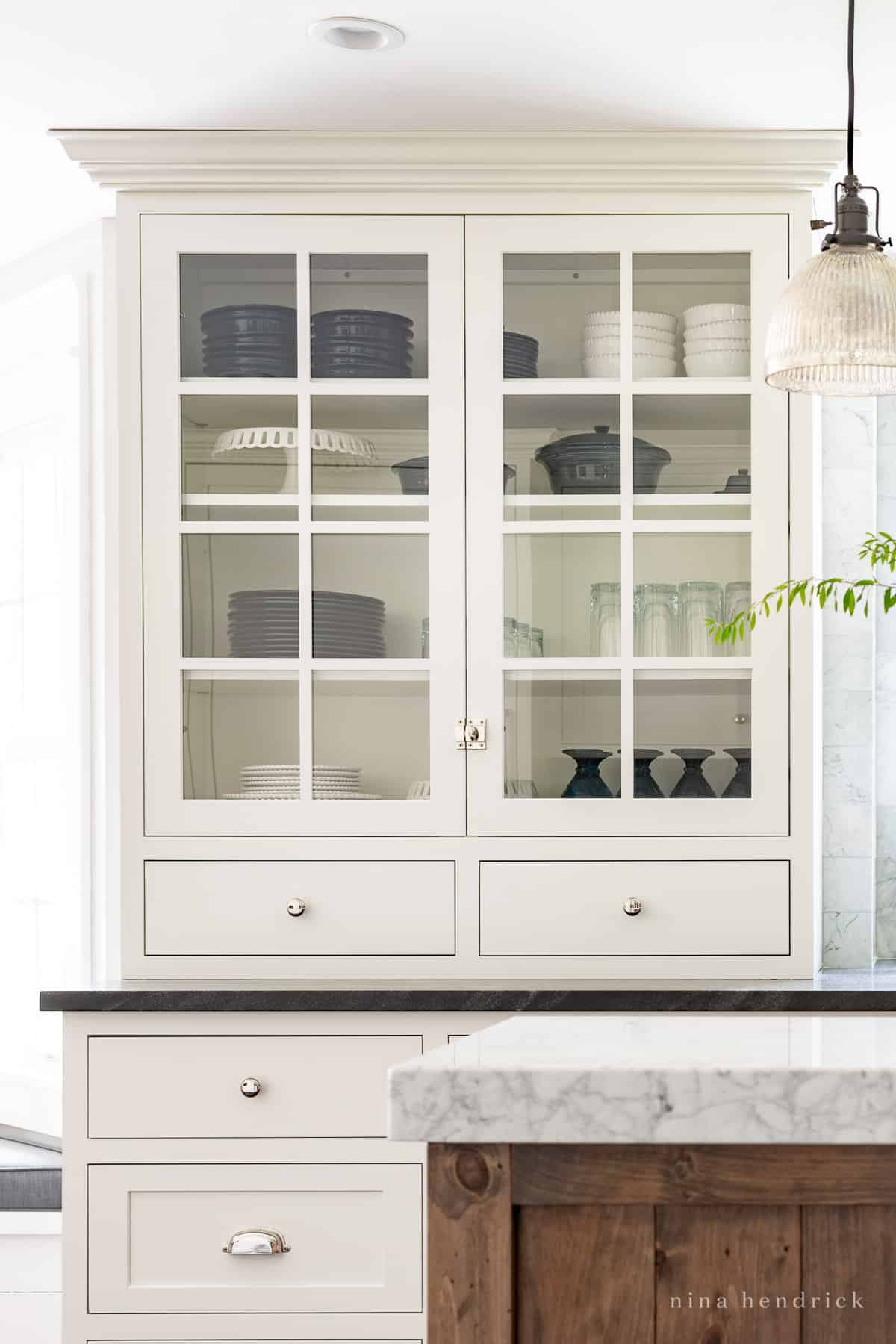 Entertaining Essentials – The Timeless Pieces You Need
Now that we've laid down a solid foundation of good hosting, let's go over the essential items you'll need to get the job done.
Below are the essential entertaining items that are timeless and elegant canvases for every theme. There's a good chance you already have some of them in your home. Whether you're hosting a dinner party or baby shower, creating your wedding registry or just refreshing your current collection, these elevated pieces offer a fresh spin on the classics, without breaking the bank.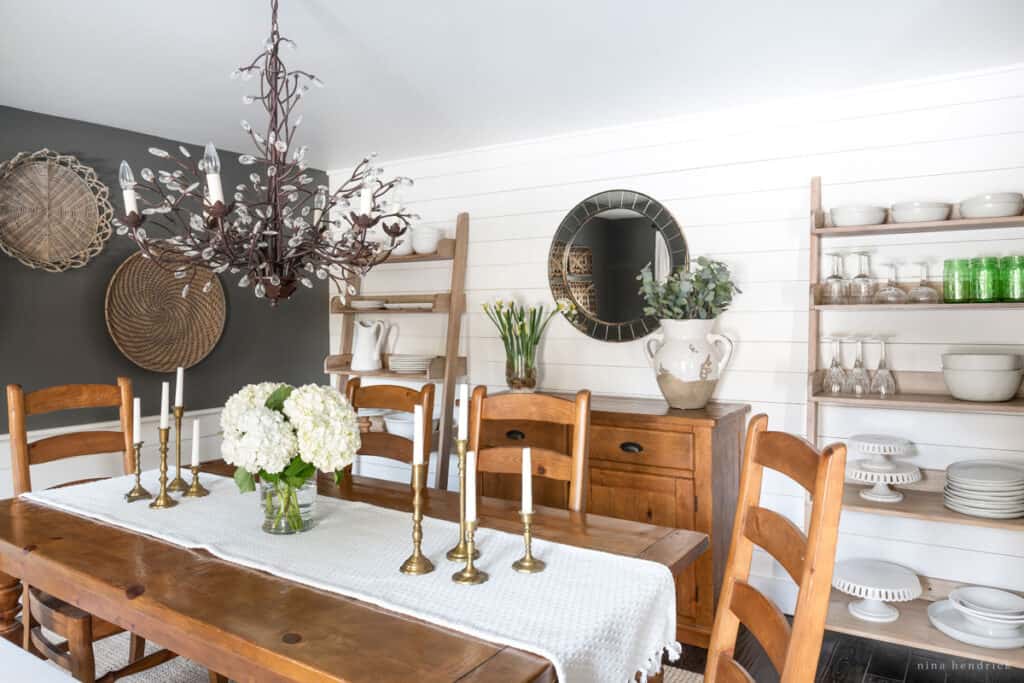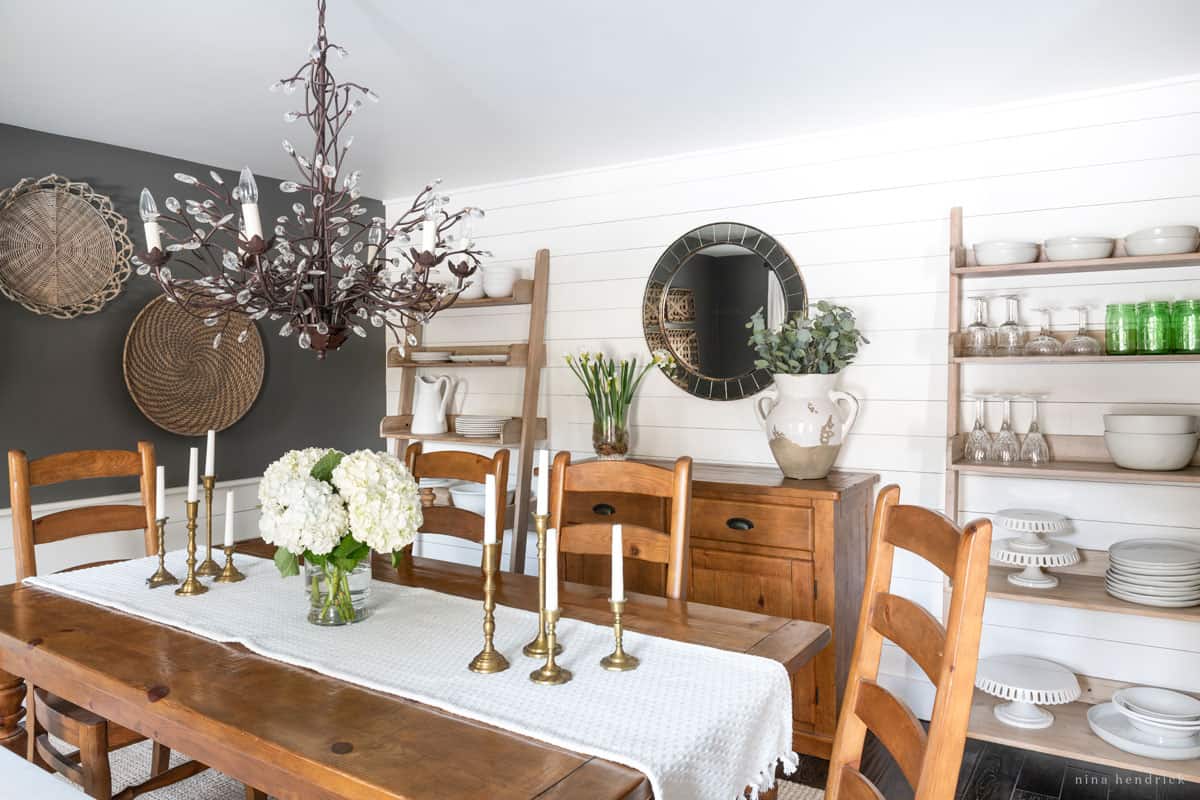 Serveware
Every hostess needs beautiful serveware to display her food offerings. Your food presentation is part of your party decor and should be presented as such! For the look that's cleanest to the eye, you'll want your serveware to match. I always recommend going with a white set because it can coordinate with any occasion or theme.
I found this classic porcelain 6-piece entertaining essentials serving set from Pottery Barn, that includes all the main pieces you need. I'm in love with the clean lines of this set, and especially partial to the rectangular platters. They will elevate any party's food presentation and never go out of style!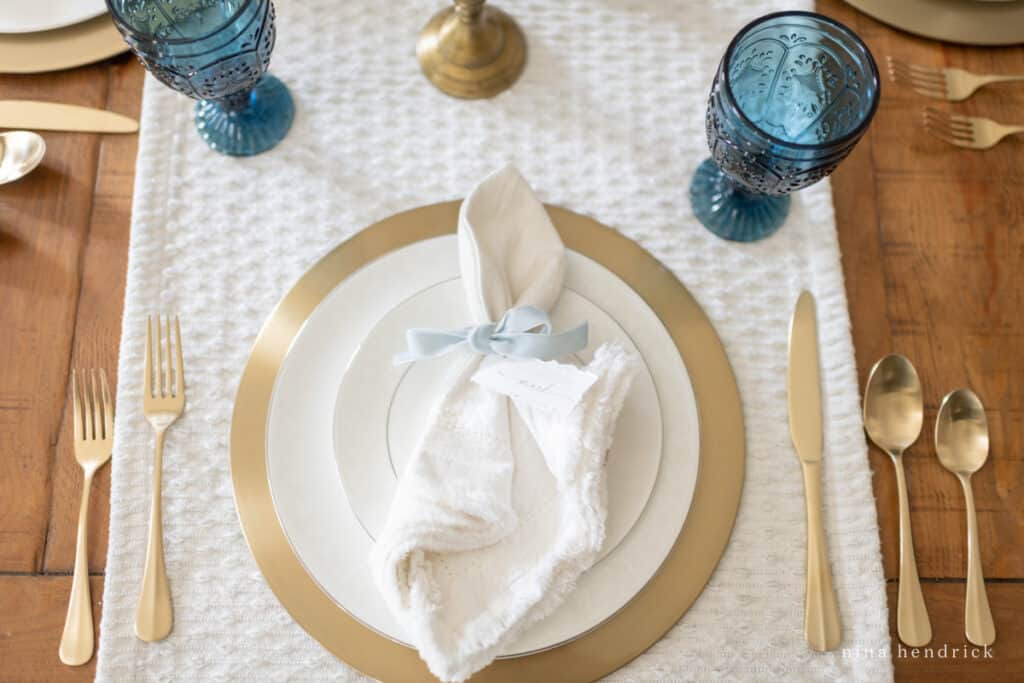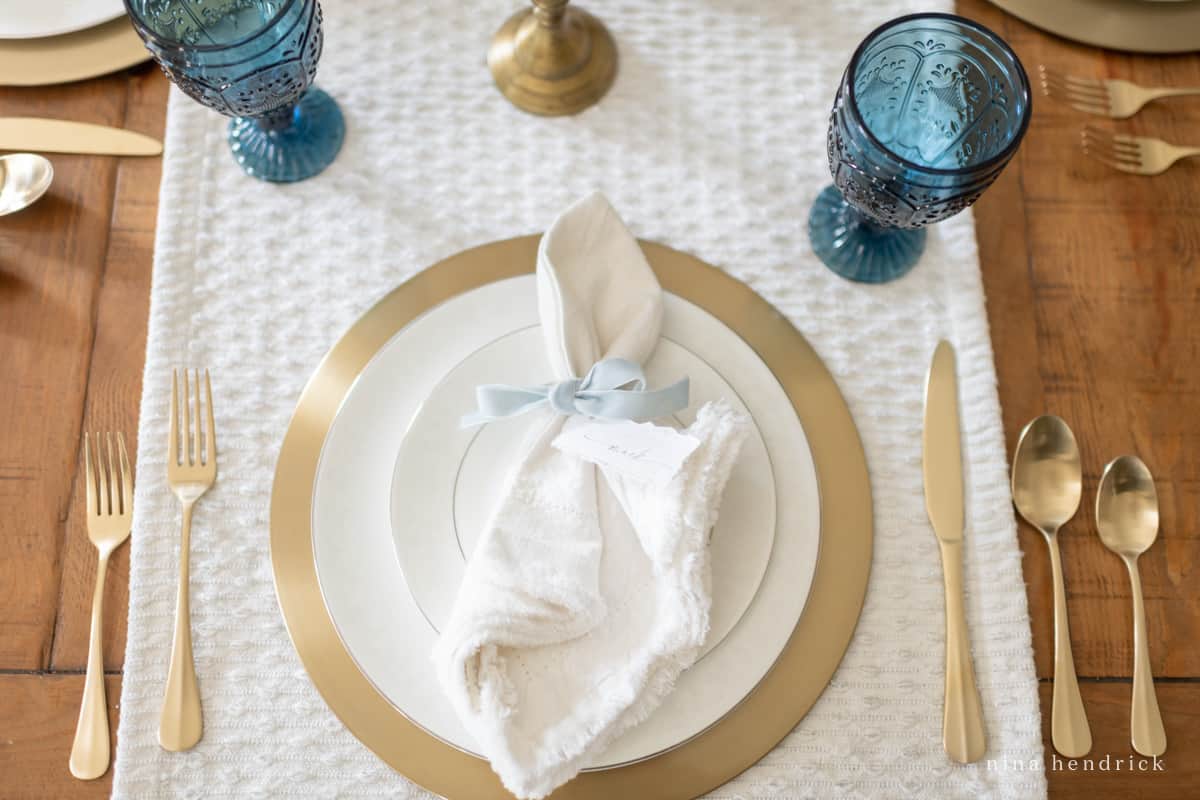 Dinnerware
Now that everyone's seen your beautiful food presentation, it's time to dish up! You'll need plates and bowls to provide for your guests. While some casual get-togethers (like kids' birthday parties) call for disposable entertaining dishes, it won't feel appropriate for every gathering.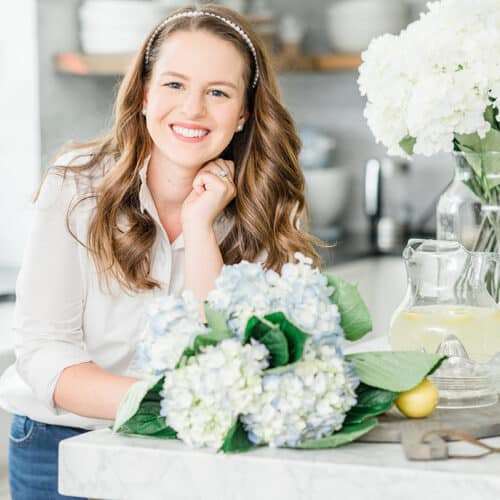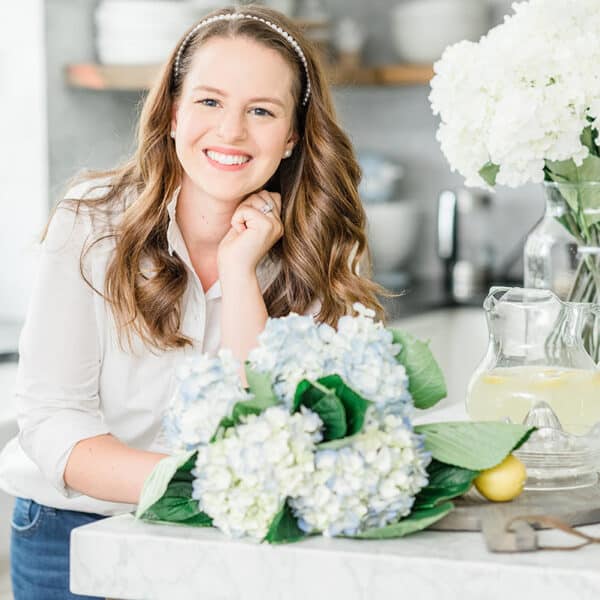 Tip from Nina: Consider what type of food you'll be serving. Finger foods only? Cute and compostable disposable plates may suffice. Having a full course meal? Break out the sturdy porcelain!
You can't go wrong with this all-white porcelain dinnerware collection from Williams Sonoma. It's beautiful, high-quality, and will stand the test of time.
Flatware
Utensils can sometimes be overlooked when it comes to entertaining tableware, but don't underestimate the visual impact of polished flatware that catches the light! Utensils frame dinnerware, and their metal finish is the perfect compliment to porcelain. While gold may be currently on trend, a full flatware set is an investment, so I recommend going with a finish that is timeless.
I adore the simplicity of the Briggs flatware set from West Elm. It's a fresh update to classic silver, that will go with anything and outlast all the trends!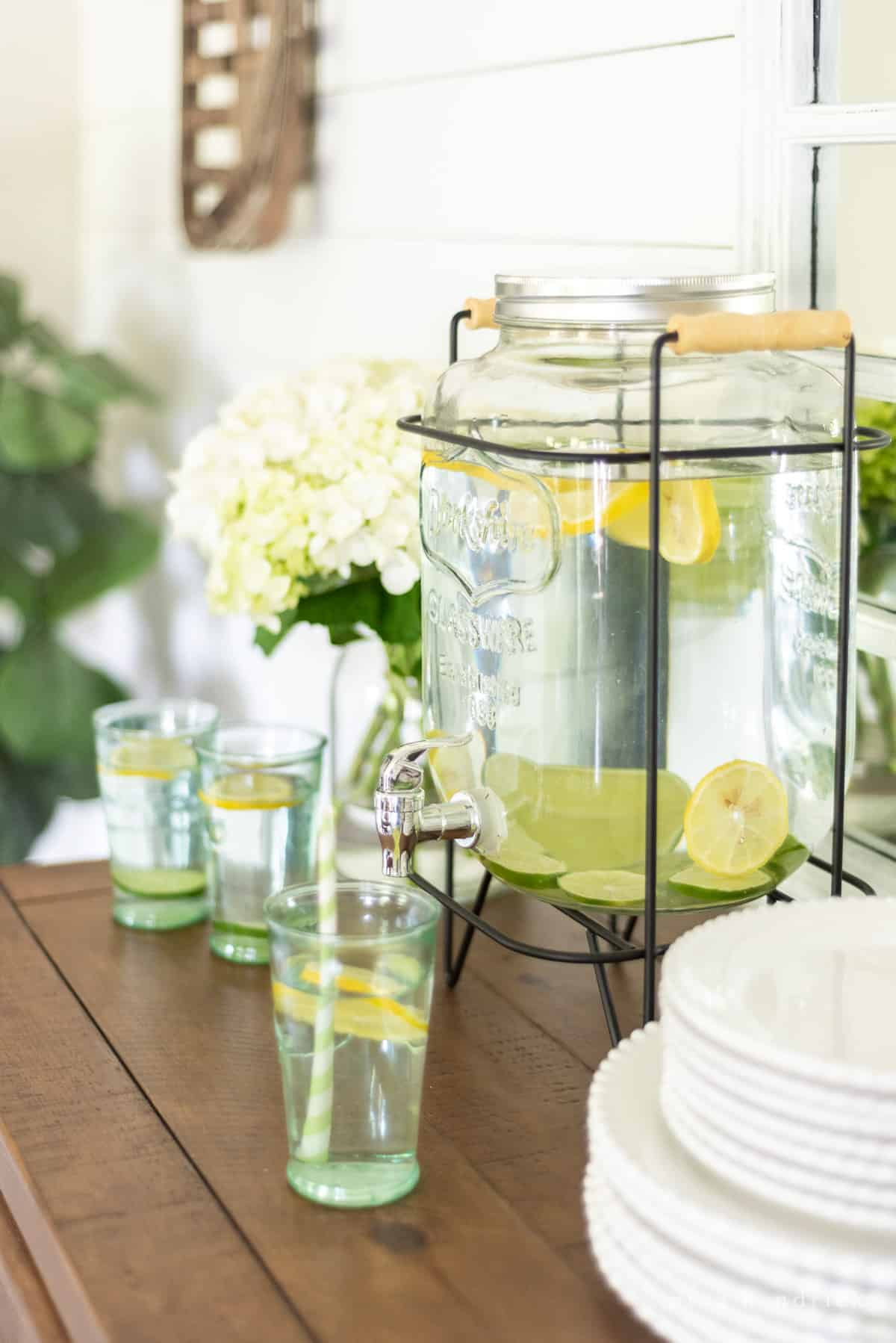 Drink Dispensers
Drink dispensers are a MUST for hosting big parties! I highly recommend investing in a pair of them. They will be used over and over again, so you'll definitely get your money's worth, and their impact is two-fold!
They take the party up a notch by making your event feel more special.
They allow your guests to self-serve their drinks, which takes a load off the host.
I've had my drink dispensers for years, and they've been used more times than I can count!
I also really love this pure glass drink dispenser from West Elm. It has a modern design that you don't see everyday. It would be a refreshing replacement for the seasoned hostess's existing dispenser!
Glasses
A fantastic way to start your glasses collection, is to acquire tumbler glasses and rocks glasses. These two sizes will accommodate most every drink menu, and they can work double duty for both your kitchen and home bar.
I was thrilled to find this timeless 24-piece tumbler and rocks glass set on Amazon! You get a ton of bang for your buck with this set, and they'll go with anything and everything. The tumblers work great for water, iced tea, or lemonade, while the rocks glasses are just right for juice, punch, a specialty mocktail, or an old-fashioned.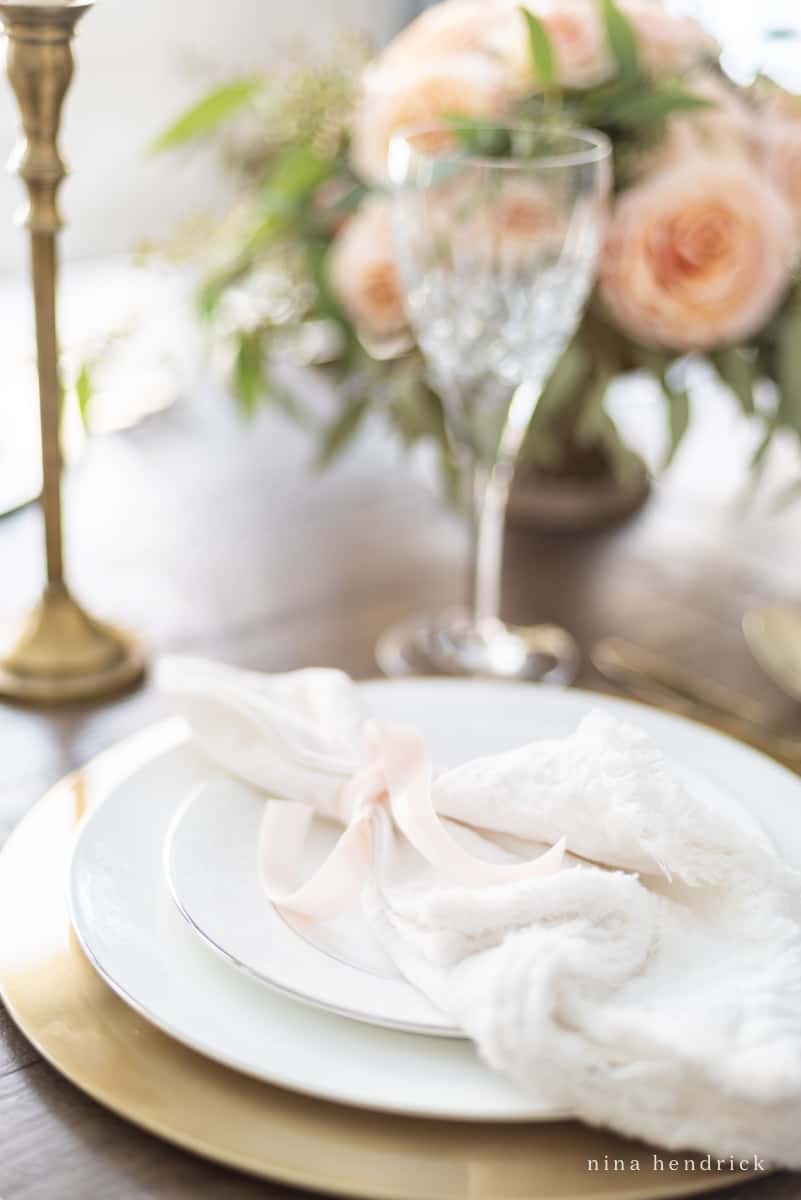 Linens
Every hostess needs a set of nice linen napkins in their collection of entertaining essentials. They can range in price, depending on what outlet they're purchased from. Include this classic set with eyelet detailing in your wedding registry, and your loved ones will be able to gift you beautiful linens without going over budget. I like the look of this set better than others that cost 4x this price! Beyond weddings, classic white linen napkins make a lovely gift for any occasion. They'll get used many times over, and when they finally need replacing, it won't cost an arm and a leg!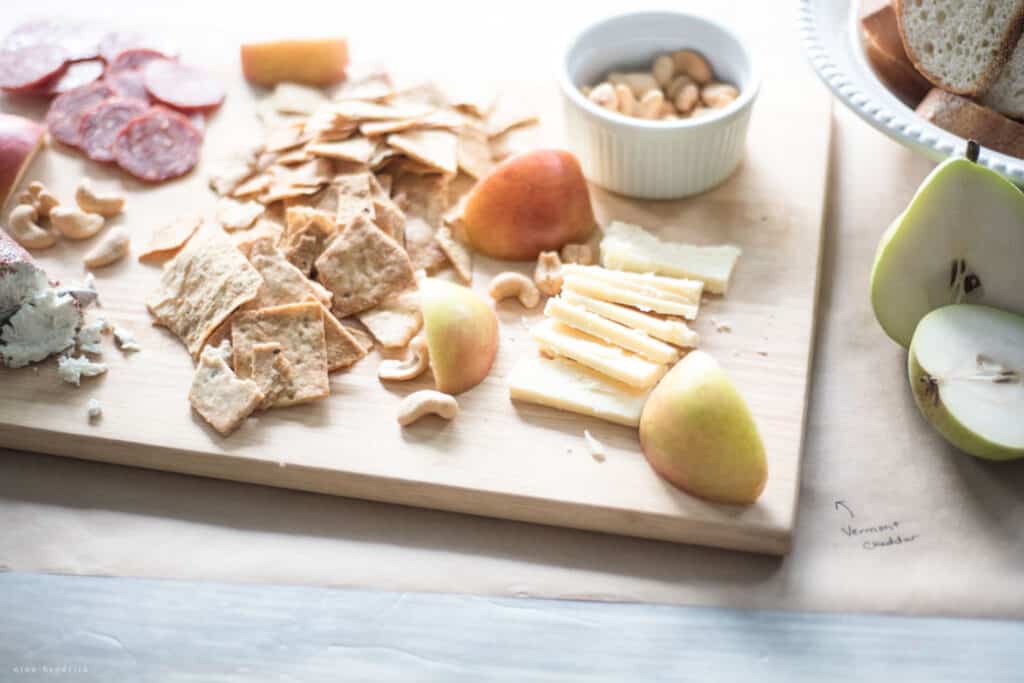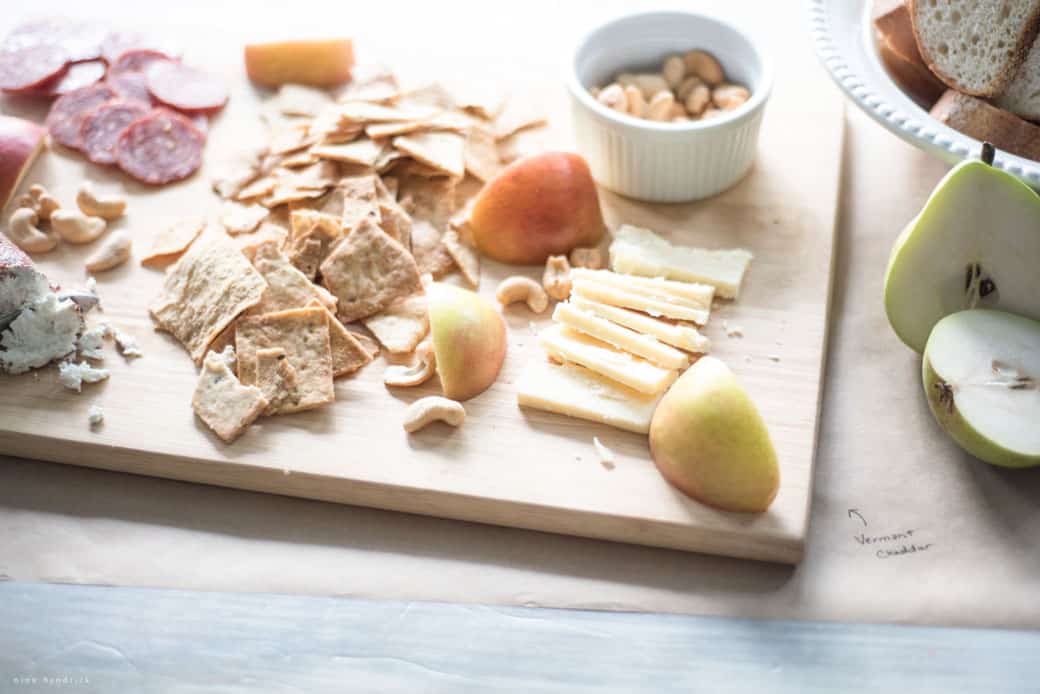 Charcuterie Board
Creative and elaborate charcuterie board displays have been all the rage for the past few years, and they're not going out of style anytime soon! It's truly no wonder; these beautiful works of art make the ultimate Instagram-worthy food post. Instead of going out of style, people are starting new niche trends with them. (Butter board, anyone?)
There's really no wrong way to "charcuterie", and they're really fun to create. Your collection of entertaining essentials isn't complete until it's got a charcuterie board like this one!
Glass Vase
Every hostess needs at least one large glass vase to provide the centerpiece your party needs. I'd recommend one with a wide-rim because they're more versatile. Whether it's holding a fresh flower arrangement, a large candle, or other creative decor items, this gleaming staple is a must-have.
If you'd like an in-depth tutorial on creating a full tablescape, you can find easy step-by-step instructions here.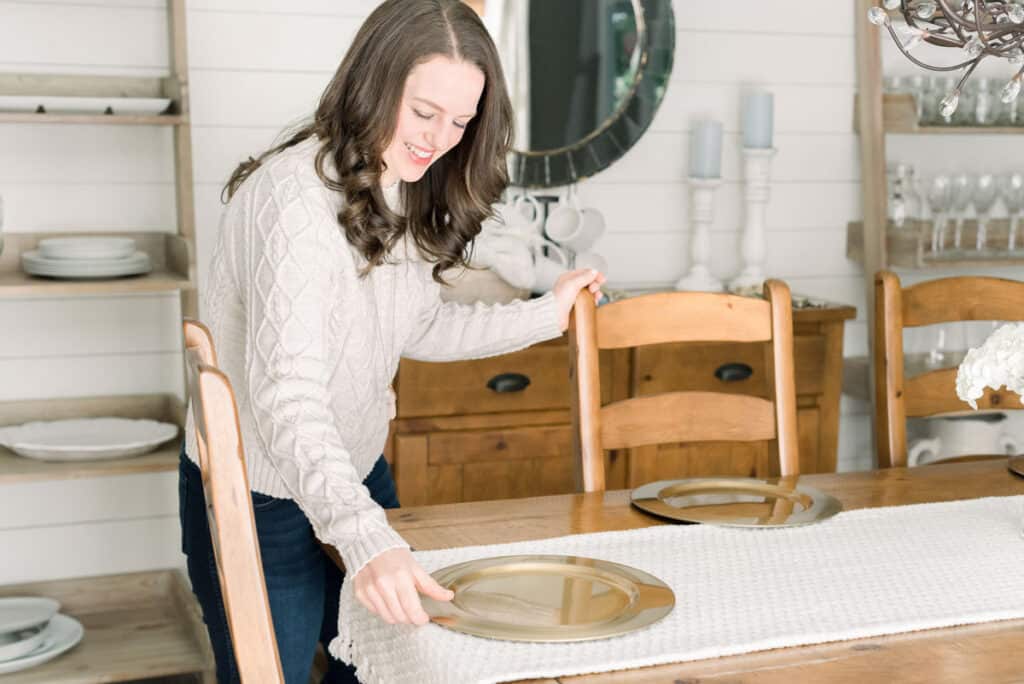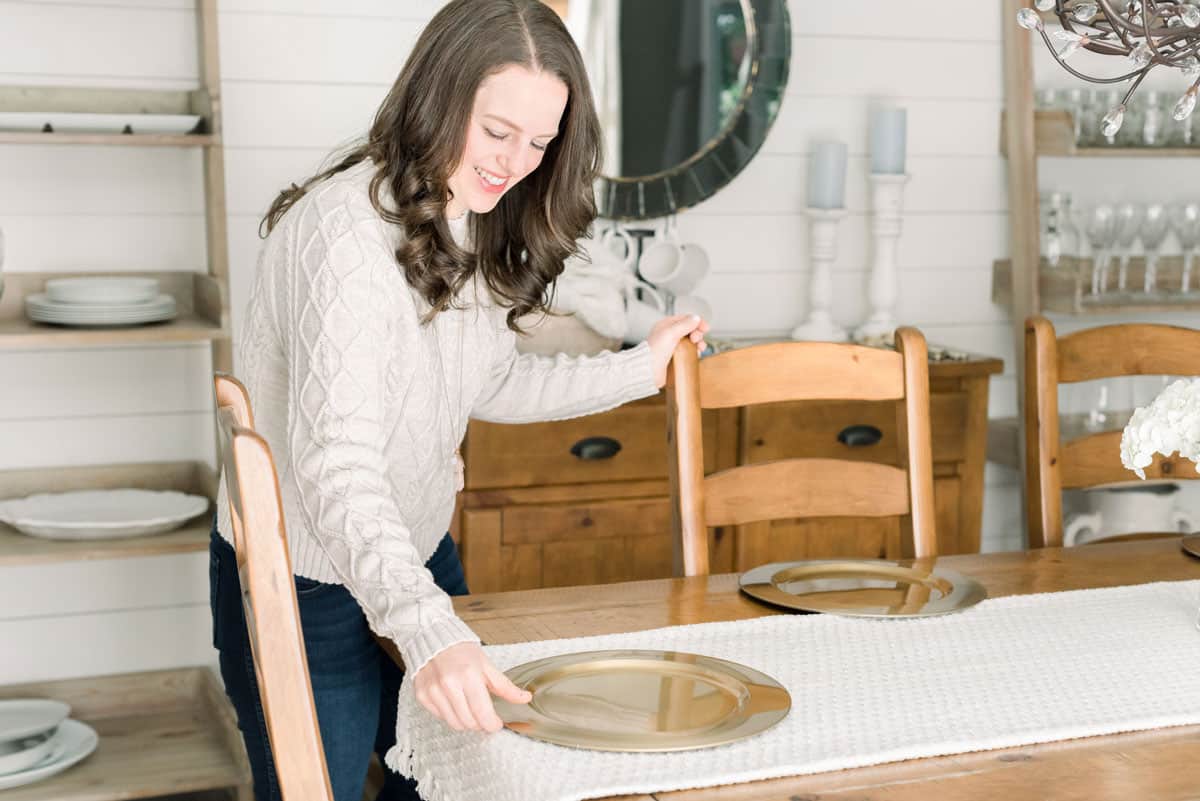 You're Ready To Host!
I hope this guide has put your mind at ease about hosting, and given you a solid grasp on the essential entertaining items you need. Remember, it's not your budget or experience level that matters most, and it doesn't have to be elaborate or complicated. Anyone who makes their guests feel well-cared for is doing an outstanding job!
I hope your newbie insecurities have melted away, and the confidence of a seasoned professional has replaced them. Every great hostess had to start somewhere, even Martha Stewart herself. ;)
Be sure you're following me on IG @ninahendrickhome to catch all of my tips and tricks for the home!