Not sure where to start in a room makeover? Answer these ten questions to help you see how to find the potential in a dated space.
Have you ever stood in the doorway of a room in your home — a room you know doesn't look or feel the way you want it to — and felt overwhelmed with frustration because you just don't know what to do with the space?
If so, you're in good company. Today we're going to talk about one of the first steps in any home makeover: how to see the potential in a dated space. I recently shared how you can figure out how to start your home makeover. Now that you've determined that you want to renovate or redecorate, you need to figure out what to do next!
How to See the Potential in a Dated Room
explore by room
"How do you go into a room and see the potential and know how you want to redesign it?". This is one of the most common questions I get about renovating and decorating. And I think the frustration comes from a misconception — one I used to have myself.
See, I think most of us believe that the coveted "design eye" — the ability to assess a space and see the potential for an incredible before and after — is an innate gift. You either have it, or you don't.
But after years of planning home renovations and redesigning spaces, I've come to realize it's actually a process anyone can learn. A simple formula anyone can follow to size up a space and create a design plan.
Starts with these 10 key questions:
1. What Do You Like About the Space?
It might seem counterintuitive, but focusing on the positives first is actually a great way to reduce the overwhelm of a redesign. It gives you a tangible place to begin, knowing a few key elements are already in place.
Are there old hardwoods hiding under the wall-to-wall carpet? That's always exciting! Maybe with some rooms, you need to dig a bit deeper. Does it have a lot of natural light? Is it smaller and cozy? Or, it may not be a physical feature at all. Maybe it's the room where you always spend time as a family playing board games. That completely counts! Just start off by choosing something positive.
2. Is There a Non-Negotiable?
This isn't Architectural Digest, my friend. We're designing for real life! And real life has budgets, family heirlooms, and structural details we have to work with. So take inventory and jot down anything that you need to include in the final design.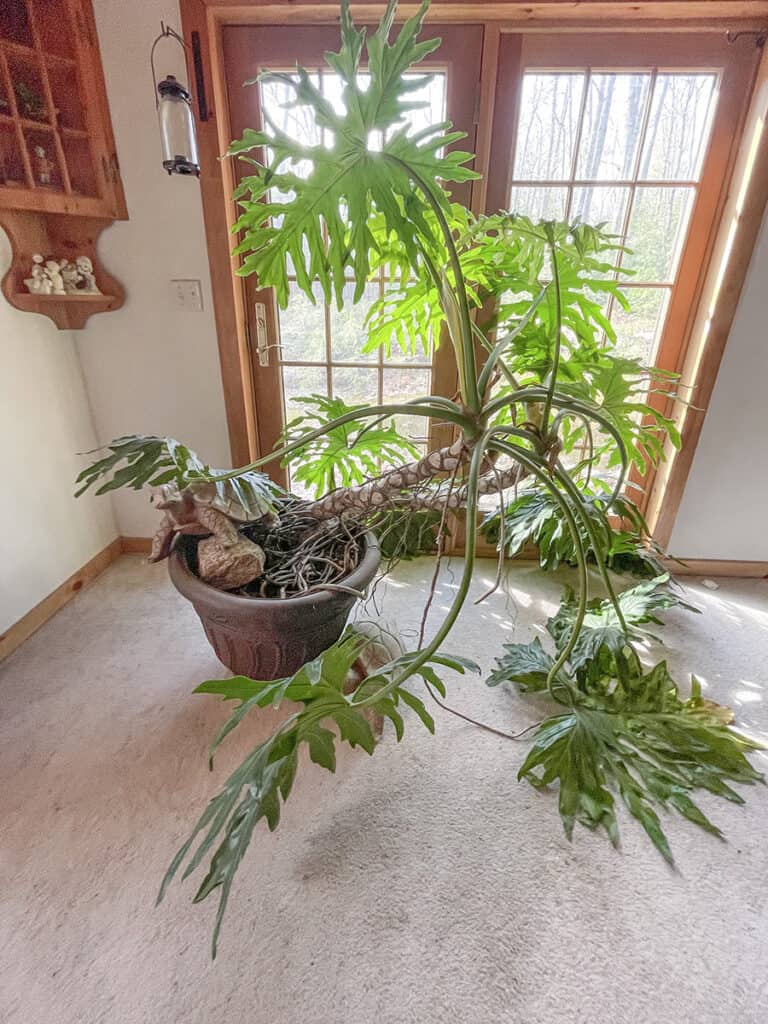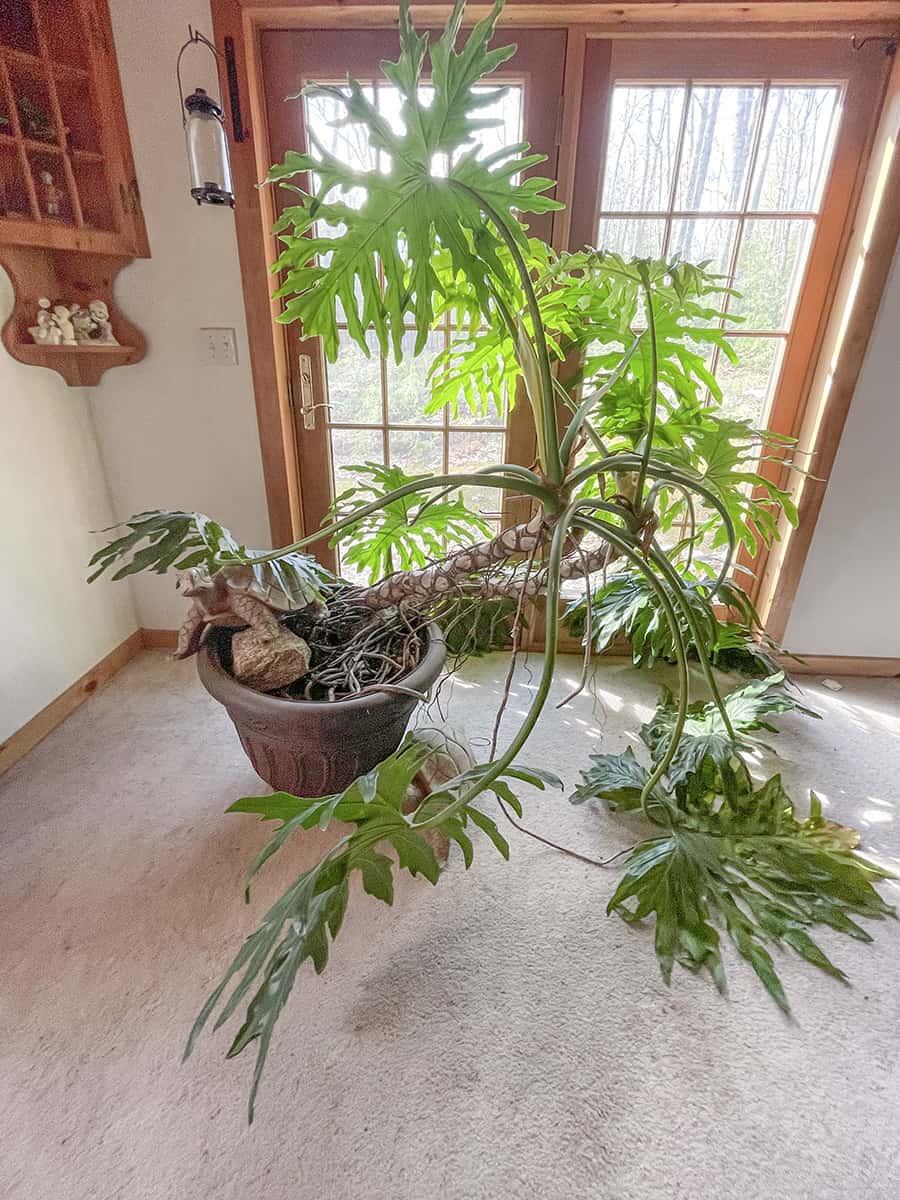 My Mom always comes to mind when I mention this one. When my dad was in high school, his teacher gave him a little plant sprout. Well, it turned out that it was a philodendron which you'll commonly find in warmer climates as part of their landscaping.
Against all odds — and to my mom's frustration — it's thrived in my parents' sunny New Hampshire living room for the last 30ish years, growing massive in both width and height. My dad affectionately named it Hideous.
I mention this because even though my mom wants to buy it a one-way ticket to Florida, my dad insists it's a non-negotiable, and I've had to help my mom plan around it for her living room renovation.
While that's kind of an extreme and silly example, you may have your own "Hideous". Maybe it's your husband's favorite chair. We're designing for real life, so those are things we may just have to compromise on. Other examples for non-negotiables are family heirlooms or even tricky architectural details like heating soffits or electric baseboards. In any case, for our second question, we need to make note of what must stay.
3. What Do You Dislike About the Space?
You probably have some ideas or you wouldn't be looking to change things up, but it's important to get really specific here. The more detailed you can be about what doesn't work now, the more clear your plan of action becomes.
I have encountered people over the years who are just so frustrated and overwhelmed that they don't know how to articulate what they want to change. In case you're one of those people, here are some extra prompts: Is the room too cluttered? Is it dark or dated? Is it simply no longer your style? Is it that you like the individual pieces, but together they lack cohesion? Can you change these things, or do some have to go back into the non-negotiable category? If you can change them, let's move on to the next question.
4. How Do You Want the Space to Feel?
In my experience, this is the question that is most often overlooked when someone is trying to find the potential in a dated space — yet I consider it the key to creating a home you love! What memories do you want to create here? When you get clear on this, the physical design elements tend to fall into place more easily.
In my project planning course Home Goals, this is what I call the meaningful mindset of project planning. Picture the things that you want to do in this space and come up with adjectives that serve that purpose: cozy, inviting, restful… How do you want the room to feel?
5. what decorating style do you want the room to have?
Next ask yourself what decorating style you want the room to have. You can put a label on this or not, I don't want you to get too hung up on that. This is the fun part to envision, and you can use as general or specific of adjectives as you choose. I also have a free quiz you can take to help you find your decorating style.
Do you want the room to be light and bright? Dark and moody? Coastal-inspired? Boho and natural with a lot of plants? Remember that it should make sense with the rest of your home but you can still experiment with design and have fun in individual spaces.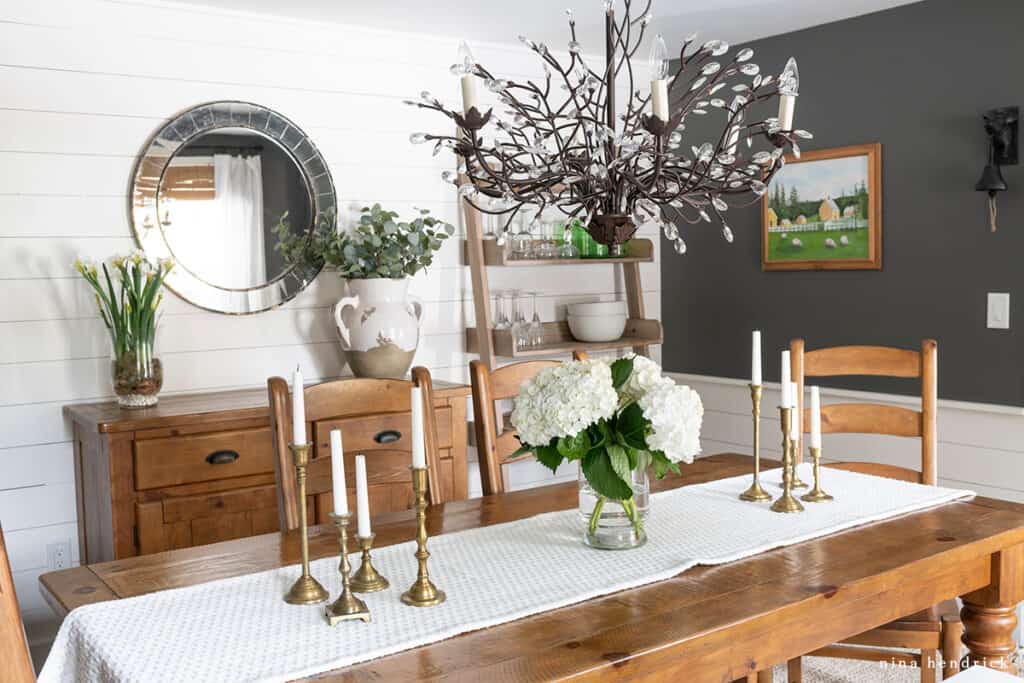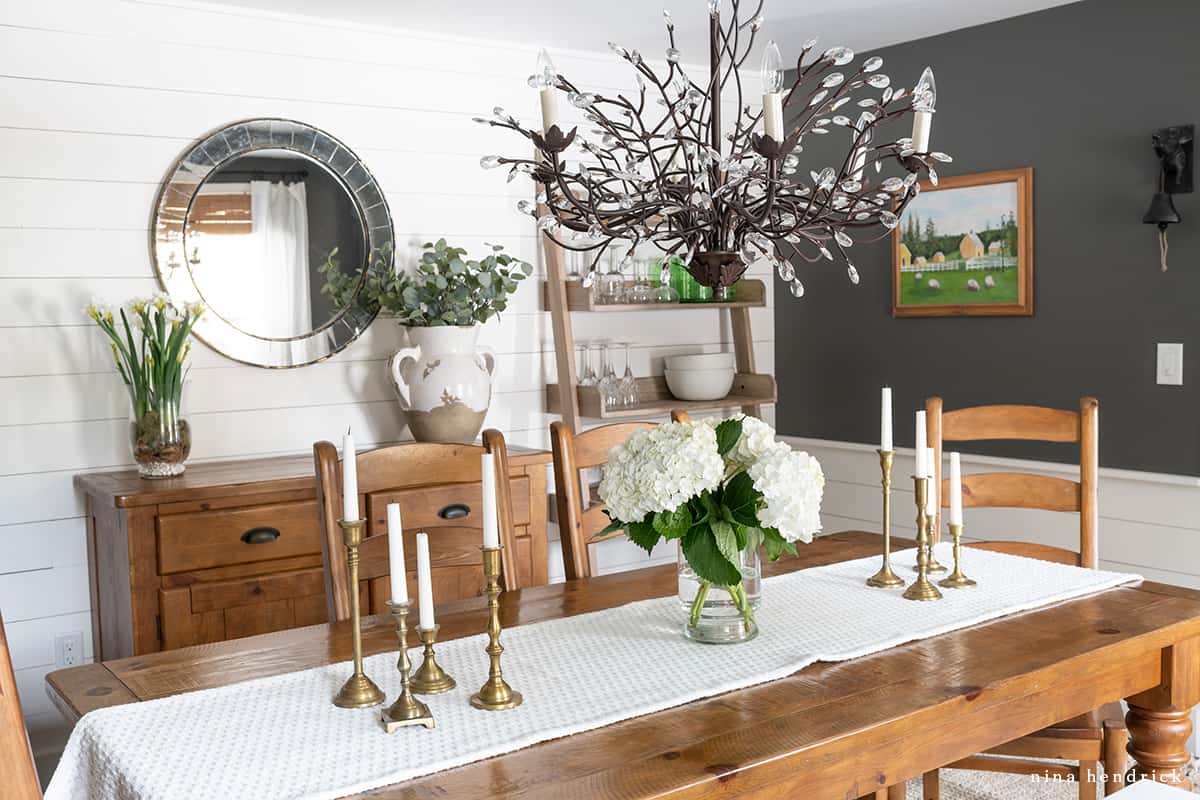 An example of this is in my dining room. I decided it needed a refresh, and I wanted something bold and moody for that space. I painted the top of the walls a dark charcoal gray because I could envision how elegant it would look while eating in there at night with candlelight and the glittering chandelier. However, we kept the white-planked feature wall and half-walls so that it flows well with the rest of our traditional meets cottage style home.
6. How are you using the space currently? What function is it serving?
After you've come up with some design style ideas, we're back to practicality. You need to think about how you're using the space currently. This is important because if you're currently using the space for a critical function in your life, you'll need to either incorporate that in the new design or find a new place to serve that need. This leads directly into the next question…
7. How could it function even better?
How could this room be used or function better? It there potential for a dated space in your home to serve a need that isn't currently being met? Maybe you need an office nook. Maybe you can sneak a foldout bed cabinet into your office or family room so it can serve double-duty as a guest room.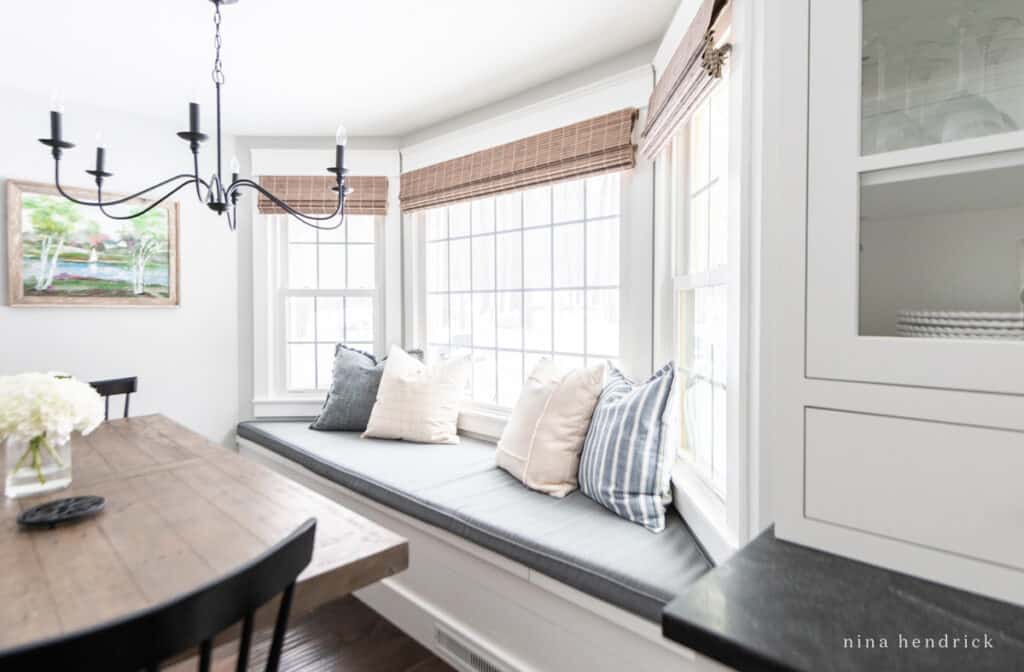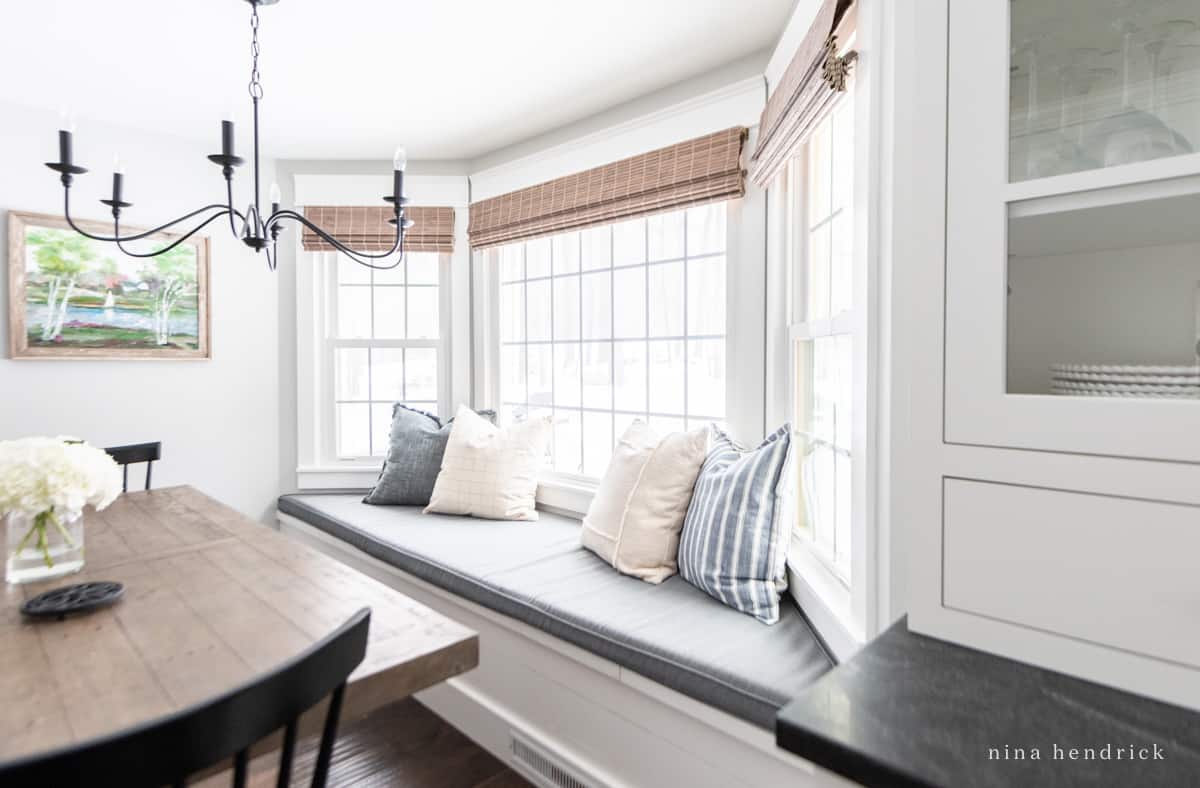 Or is the space already serving a function, but you know it could function even better? For example, our breakfast nook already served many functions for our family as the place where we eat all of our meals, play games as a family, do homework, and really just gather. However, I knew it could function even better by adding a built-in bench to the bay window. By completing this project, we added additional seating AND hidden storage below for small appliances and less-used specialty pans.
8. Can you add built-ins or wall treatments?
This is a quick point I want to make about the room auditing process — during this step you may begin to see opportunities for built-ins or wall treatments. These are elements that add potential function and unique character to a project.
I've put together a free guide, Five Tips for Adding Character to a Builder-Grade Home. In it I shared some of the steps and projects that I believe made the biggest difference in updating our home. You can grab your copy here!
9. who will use the finished space?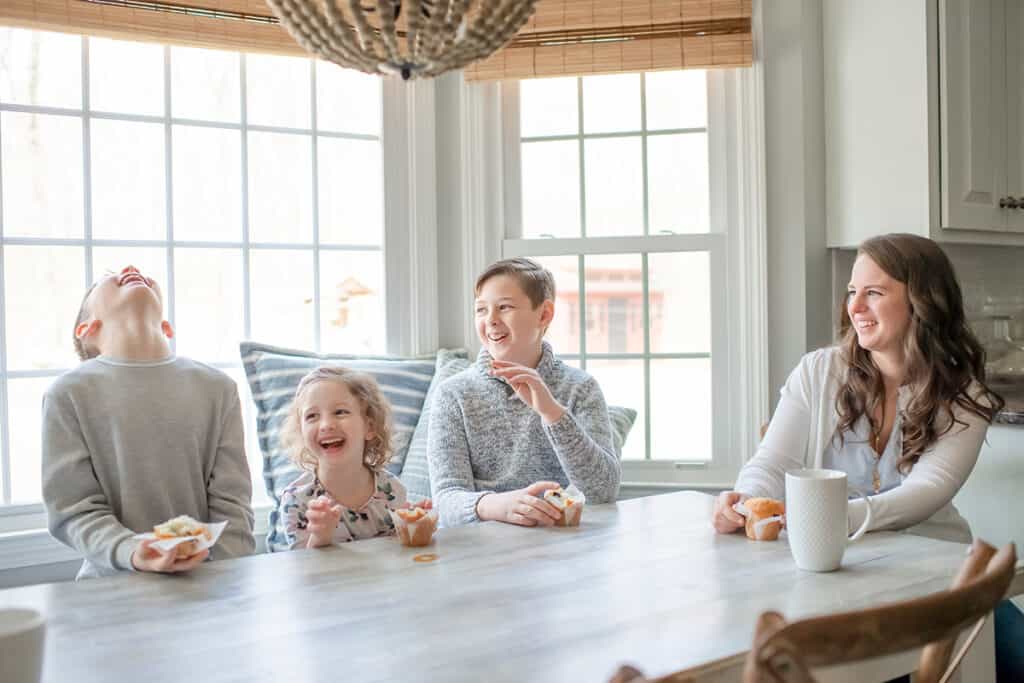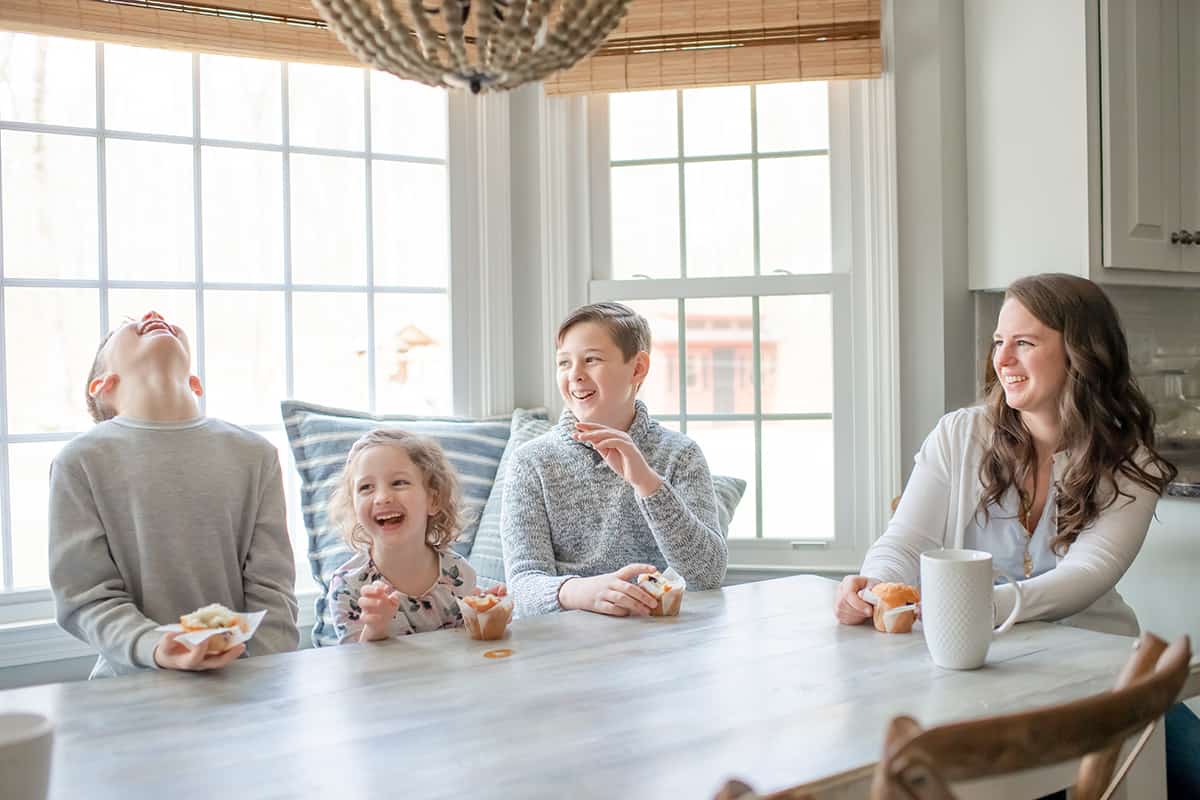 For one of the last questions, I want you to think about who will use the finished space. Will small children be running around? It may be best to avoid sharp corners or edges, like a coffee table. Do you have pets that climb on the furniture even if you try to prevent it? Maybe avoid light textiles. Do you have a big family or extended family? You'll need plenty of potential seating. Or is it really just you and your partner who will primarily use the improved space?
10. plus any special considerations for your situation
Take some time to think about whether there may be additional and specific considerations for your project. Do you have a family member that has special needs and may feel more comfortable if the room is arranged in a certain way? Do you live in a historical district? These are the things that will be unique and specific to your situation, but make sure you factor them in during this step.
These are the key questions you need to answer to help you see the potential in a dated space. Once you're satisfied you have a good grasp on your room, you'll be ready to put together the pieces of your project plan and get started.