Learn how to use mixed metals in your kitchen, bathroom, and the rest of your home to create a look that's both trendy and timeless.
Are the days of having only one metal finish in your home over? Not exactly. Sometimes keeping with matching metals is the best choice for your home's design. But mixing metals has definitely skyrocketed in popularity over the last few years, and personally, I love this look!
Mixing metals has the potential to add so much character to your home. When you mix chrome with antiqued brass, or matte black with polished gold, you are creating depth, visual interest, and a richness that gives your home a lived-in feel that is timeless.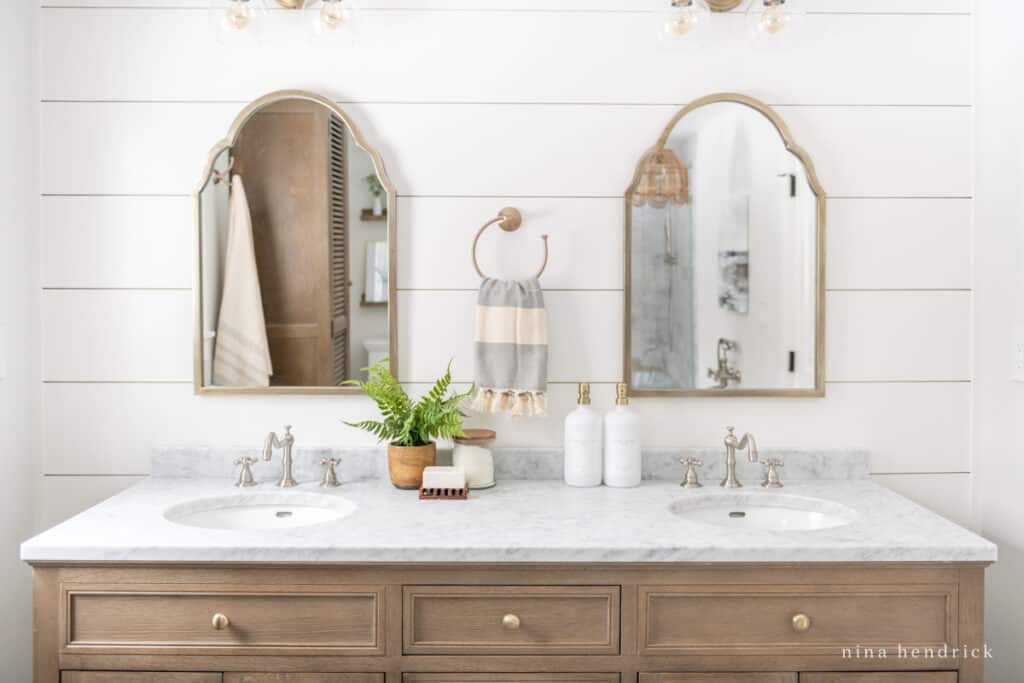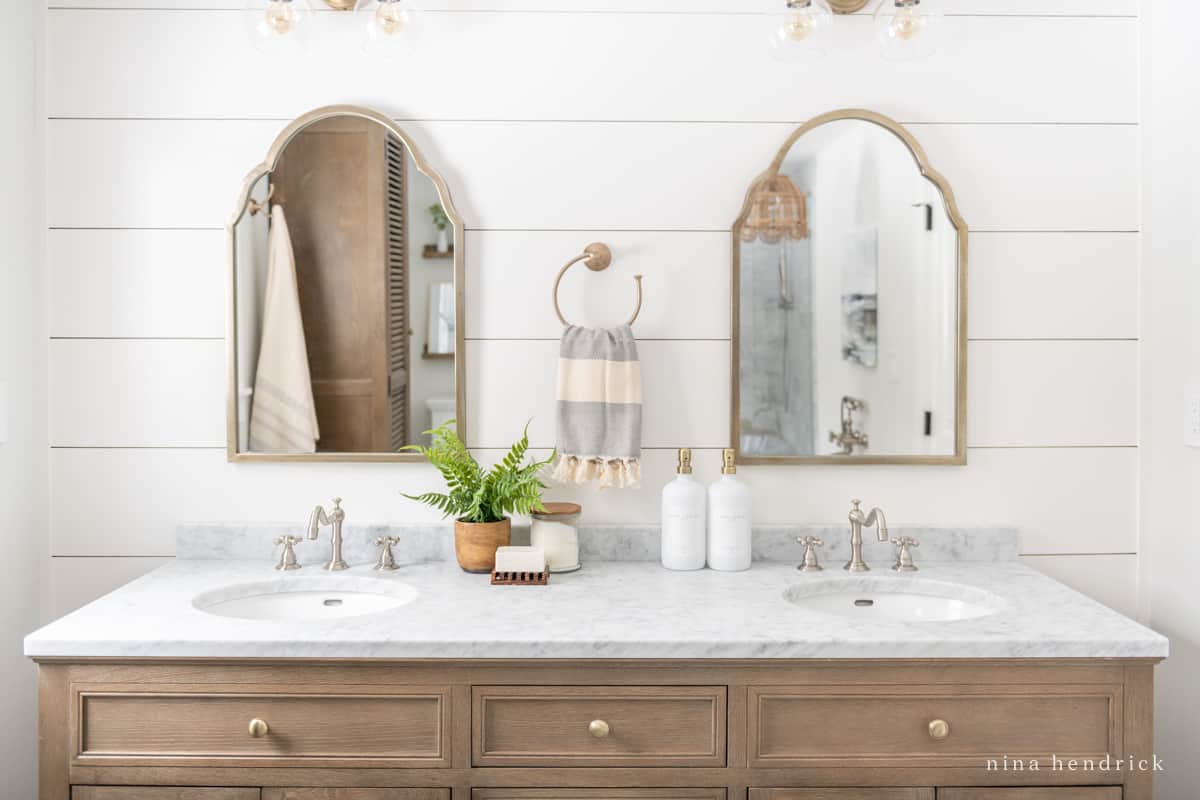 But there's a right way to mix metals, and a wrong way to mix metals, and I've got the perfect guide to equip you with simple rules to get it right.
In this blog, I'll show you the best way to pair mixed metals in your design, and you'll get to see how I've done it in my kitchen, bathroom, and bedroom. Stick with the fool-proof tips from this thoroughly explained guide, and you'll end up with a trending design that is sure to shine! ✨
Struggling to choose a cohesive color palette for your home? Check out my ultimate guide in this post!
Should Metals Match Throughout the House?
This is kind of tricky to answer, because yes…but also no. I'll explain!
Mixing metals is a hot trend in 2023 home design, and we are especially seeing it take hold in kitchens and bathrooms. Keeping to the same metal hardware all throughout the house might create a monochromatic affect that feels flat. But when you use mixed metals, it not only creates layers of visual interest, but it also presents opportunities for different textures and finishes. All of this together creates an elevated look for your space.
But while mixing metals looks great in different rooms of your home, you will definitely want to make sure there's a cohesive design thread running through the whole house. This is for aesthetics, but also for home value. So I'd advise you to stick with only 2-3 metals throughout the whole house, and make sure that at least one of those acts as a cohesive thread running through your whole home's design.
In our previous home's design, that metal was nickel. Even though some of my rooms had mixed metals, satin nickel was the thread running through every design.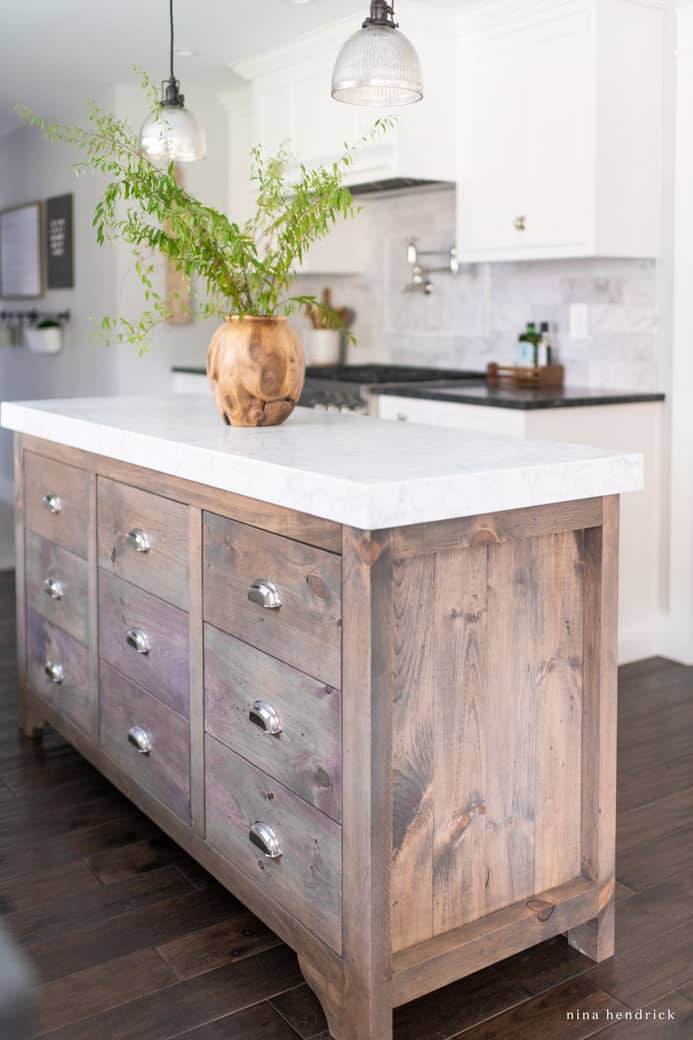 How Many Metals Can You Mix in Your House?
My rule for how many metals you can successfully mix in your house is 3 or less, but my rule for each room is to stick to 2 metals.
Although I do see other designers regularly mixing 3 different metals in one space, sticking with 2 is what I prefer, and what I advise. This ensures your design stays cohesive and streamlined, and just flat out makes things easier for you. If you throw a third metal into the mix, it creates more variables and things can start to get too complicated.
I recommend picking out a dominant metal, and an accent metal. This way, they won't compete; they'll complement.
What is the Rule for Mixing Metals?
Mixing metals is all about creating balance.
In all of home decor, we want to balance warm with cool, dark with light, old with new, little with big, masculine with feminine, and matte with shine. Variety is the spice of life, and it's also the spice of decor! And creating balance in a home's design keeps the space feeling good. You need the yin with the yang in order for your design to be beautiful, and this is no different when mixing metals in your home.
Let's go over some general examples to help really absorb this concept.
In a room full of newness, create the balance it needs by including at least one old or antique piece.
When everything is a matte finish, throw in an item with a glint of shine as an accent.
If all the room's decor is edging on large-scale statement pieces, add in some petite trinkets.
Throw the perfect wrench into an all vertical design by breaking things up with something horizontal.
If all of your room's textures are masculine leathers and suedes, add in some sparkly glass for the perfect feminine balance.
When it comes to metals, we hone in on warmth and coolness, because this is how you create balance when incorporating metals into your design.
Warm Metals and Cool Metals – the Spectrum
To understand how to create balance with metals, you first need to know which metals are warm, and which are cool. And, in case you're confused, I'm not talking about their physical temperature…I'm referring to their undertone coloring!
The options of metals that we use in home design are on a spectrum of undertones. There are cool metals, warm metals, and then black, which acts as a neutral. Because it's neither warm or cool, black has the flexibility of pairing well with any other metal. Just call it Switzerland, because it won't pick a side. :)
Listed below are the most common, basic metals. It goes from coolest to warmest, with neutral black at the end.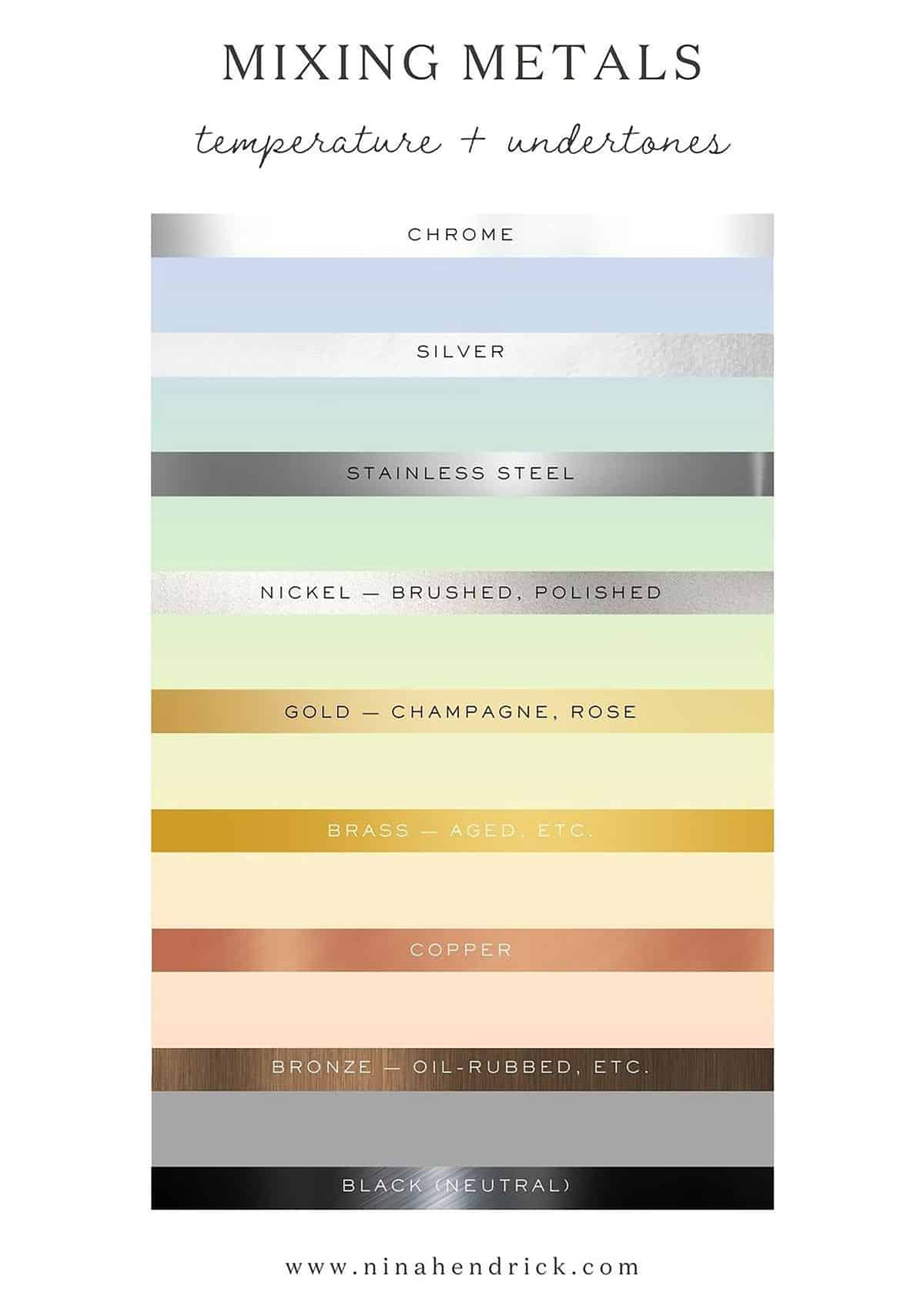 Balancing Decor with Metals
One of the biggest points of balance in design is balancing out warm colors with cool colors, and this definitely comes into play when mixing metals. You can create this balanced opposition within the mixed metals themselves, or by playing off the other elements in the room. Metals can create balance with the other elements in the room by adding warmth or coolness to balance out the space.
Here are a couple of examples of metals balancing out metals:
Black metal pendant lights hanging over the island of a kitchen that has satin brass pulls on the cabinetry creates a sharp contrast that is elegant.
A polished nickel faucet looks beautifully balanced with antique brass knobs on the adjacent drawers.
Here are some examples of metals balancing out other elements in the decor:
A room full of dark stained wood creates a ton of warmth. You'll need a shiny metal, like polished nickel, to cool things off and create the balance the room needs to feel good.
A room that has white walls, white kitchen cabinets, and a white marble counter is very cool. (I'm referring to the coolness of its different undertones, but it's also, like, popular. 😉) A great counterbalance would be choosing warm brass hardware. This added warmth takes the room from stark to inviting.
When NOT to Mix Metals
Don't Mix Metals Within the Same Item Grouping
An important rule to follow when playing with mixed metals is to stick to one metal per item group. For example, if you're going with metal sconce lighting in the kitchen, you would want all of the sconces to be the same metallic finish. It would not look good to have half of the sconces be black and half of the sconces be yellow gold. (Even though I do love some black with gold if it's all in one fixture!)
If you want to mix gold and black metals, you can definitely do so, but just not within the same item grouping. You could instead incorporate the gold into the cabinetry hardware and the sink faucets. That way, you're mixing black and gold metals, but keeping your design cohesive. All of the lighting is black metal and all of the cabinet pulls and faucets are gold.
Don't Mix Metals That Have the Same Undertone
Remember, mixing metals is all about creating balance in your design. Some designers advise against mixing warm metals with other warm metals, or cool metals with other cool metals. If metals are too alike, they may not create the contrast and balance you need.
For example, if you combine gold and brass, their similarities may clash and look off. I've heard people refer to gold and brass interchangeably, even though they are actually very different metals. While both are warm metals with a striking yellow metallic radiance, gold is a pure metal, and brass is an alloy of copper and zinc.
All in all, I don't think this is a hard and fast rule, but rather one with some gray area. Polished nickel has warm undertones, but they're really subtle. In some lighting it looks like cool chrome, so, along with black, it's one that can offer flexibility in your design of mixed metals.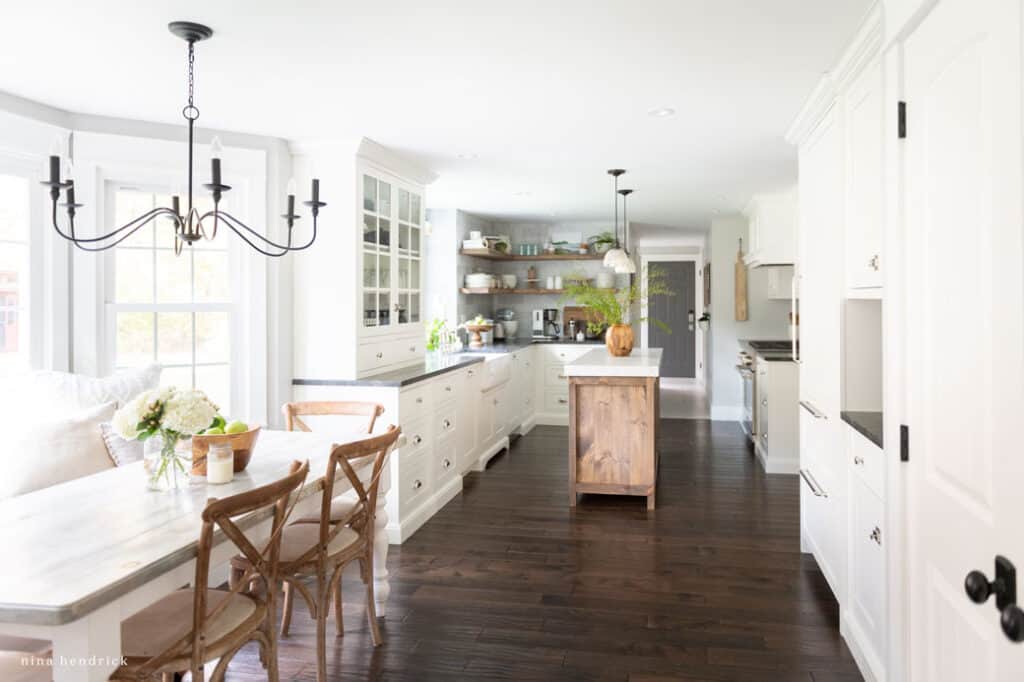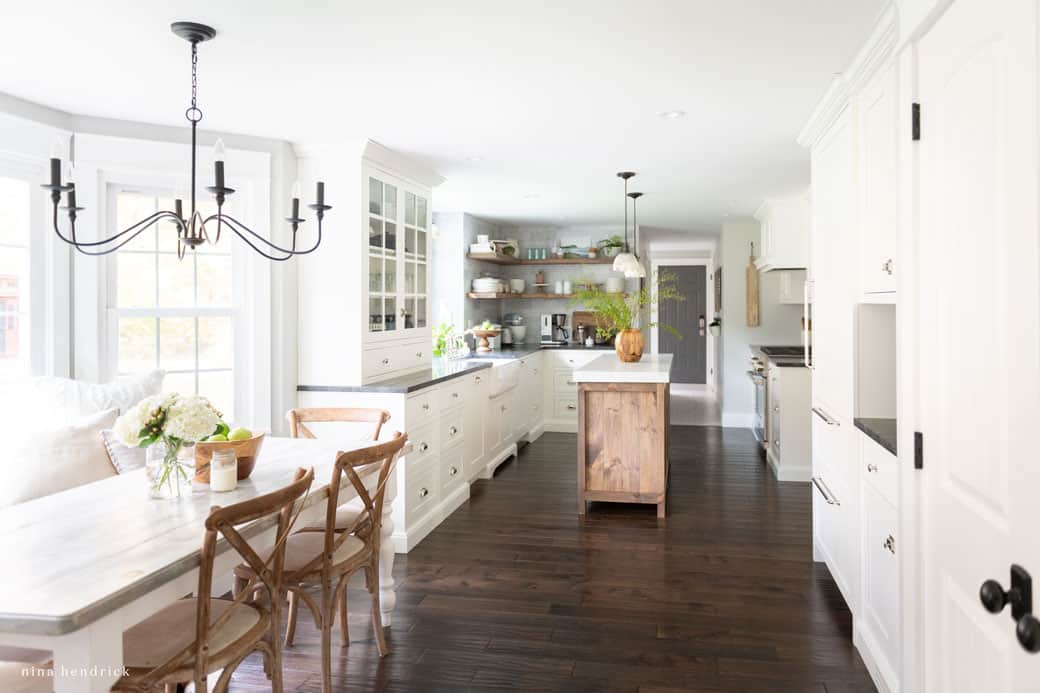 Is it OK to Mix Metal Finishes in Your House?
Yes! In fact, it's practically encouraged. Let's talk about how to successfully mix metals for a collected look.
Now that we've established which metals are warm and cool, let's talk about some fun finishes!
There's brushed, bronzed, oil-rubbed, matte, polished, satin, and antiqued. Some are called aged, unlacquered, gloss, flat, rustic, or weathered. I've seen "French Gold" and "English Bronze"; burnished and patina.
There are so many fun metallic finishes out there, it can be overwhelming to decide on just 2 for your room. But if you refer back to the rules we've already laid down, and the basic metal chart that tells which ones are warm, cool, and neutral, you can narrow it down pretty easily.
No matter what appealing descriptive word they put in front of the metal, always go by the actual metal name. "Brushed Nickel" is nickel, and "Rose Gold" is gold, and "Aged Brass" is brass on the chart.
I've heard some designers say to stick with all the same finishes – meaning if you go with a brushed nickel, then the other metals you mix with it must also be a brushed finish. Or if a matte finish is your first pick, then everything else must follow suit and be matte as well. But I just don't think this always has to be the case!
Because if we refer to the principal theme of mixing metals, it's about balance. And matte balances out shine. A soft brushed finish balances out a gleaming lacquer. I've seen some gorgeous bathroom designs using shiny gold light fixtures mixed with a flat black faucet and mirrors. So I really think this one comes down to personal preference.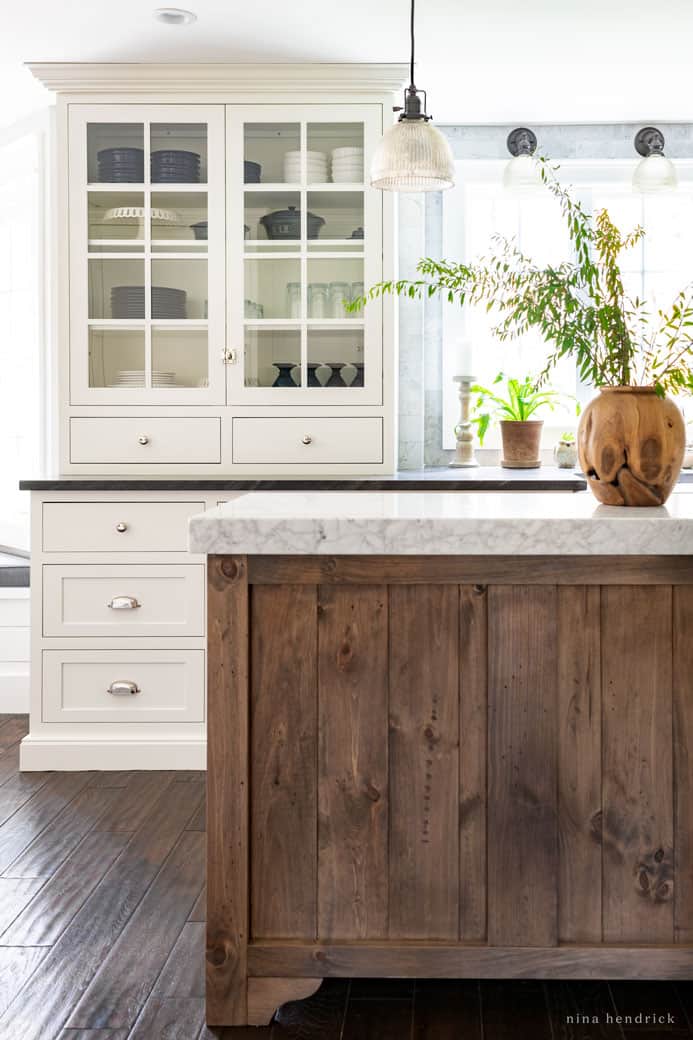 Mixing Metals in the Kitchen
The kitchen is the perfect room to use mixed metals, because there are so many opportunities for metallics to be displayed. From the sink faucets to the light fixtures, and everything in between, you have ample options for both your dominant and accent metals to shine.
Mixing metals can truly give a timeless feel to your kitchen. Think chrome sink faucet mixed with brass cabinet hardware. It's a trendy "today" look, but it can also transport you back in time!
When we set out to do a complete renovation of our previous home's kitchen, I knew I wanted to mix metals to achieve design depth and character.
I ended up deciding on polished nickel and black.
Polished Nickel – Dominant Metal
I fell in love with this gorgeous polished nickel because it's a silvery color with warmer undertones. If you look closely at the zoomed-in pictures of it, you can see a faint yellow undertone. I felt like this look gave me the best of both worlds, and it ended up providing the perfect pop to the natural wood finishes in the room. We chose polished nickel fixtures for our bridge faucet, pot filler, and cabinet hardware, and I'm so happy with the way it turned out!
Black – Accent Metal
With all of the soft natural woods, and shiny polished nickel, I felt like some touches of black would be the perfect way to anchor the room. All of our door knobs and hinges in the house were already black, so we weren't adding another finish into the mix. We chose black for the 2 light pendants that hang over the island, and the 3 wall sconces above the sink. Since black is a neutral metal, it mixed perfectly with the warm nickel.
As a side note here, our range was stainless steel, so I guess that's technically three metals. With stainless steel appliances, you're also operating within the "color" color family, although it's pretty neutral, so it's good to keep that in mind as you make your other choices!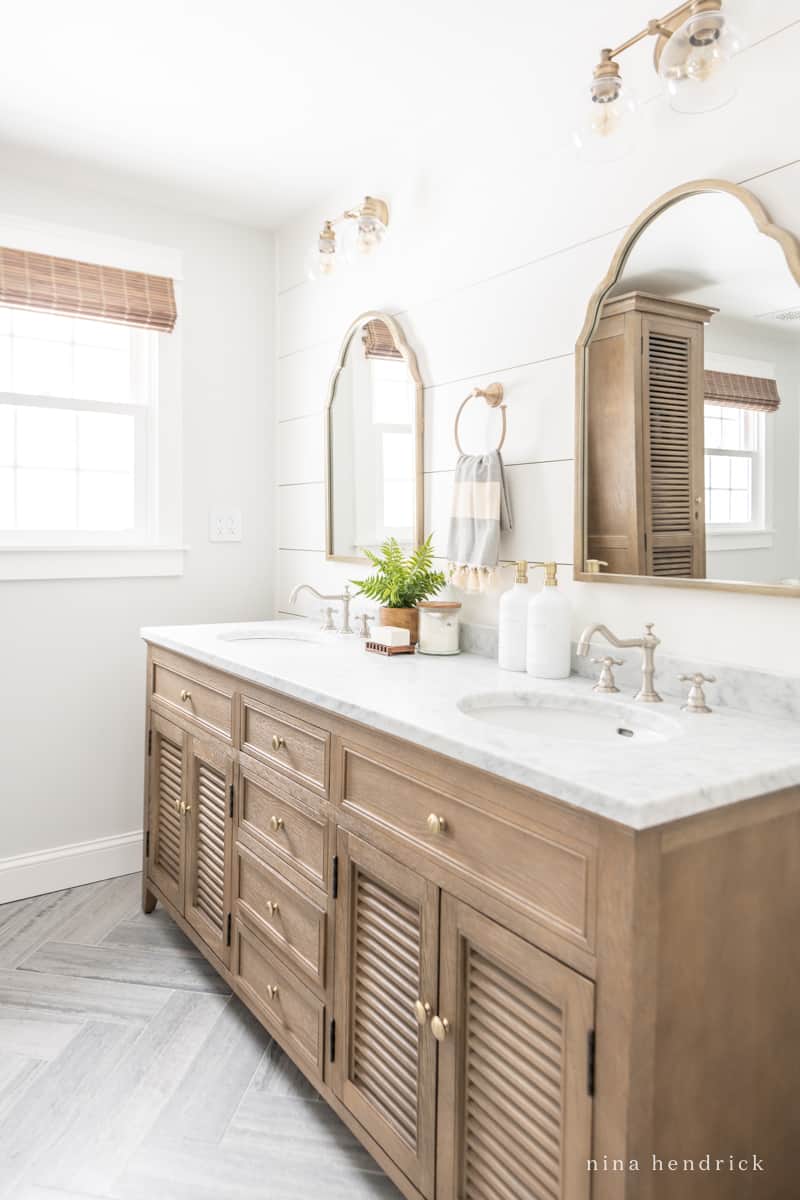 Mixed Metals in the Bathroom
Like the kitchen, with its faucets and cabinet hardware, the bathroom also provides lots of fun opportunities to mix metals.
When we totally renovated our primary bathroom, I definitely wanted to mix metals in our new space.
I decided on brushed nickel and champagne gold.
It was like mixing gold with silver, but a New England coastal vibe variation. LOVE! 😍
Brushed Nickel – Dominant Metal
I went with a brushed nickel for my vanity faucets, tub faucet, and shower hardware. As I've mentioned before, nickel is considered a warm metal, but its undertones are so subtle, that it almost acts as a neutral. So in this case, I had no problem mixing it with a soft champagne gold.
Champagne Gold – Accent Metal
I fell in love with this beautiful champagne gold, and decided to use it for my vanity and linen cabinet knobs, towel hooks, towel ring, and toilet paper holder. I just love the subtle contrast it creates with the brushed nickel, and I highly recommend this mixed metal combo!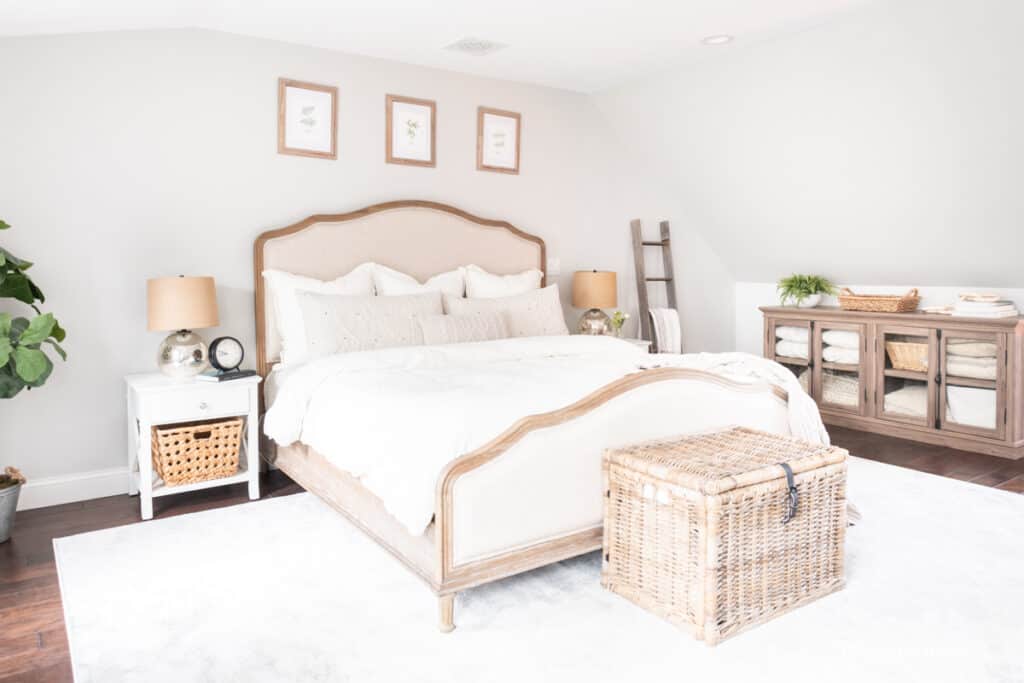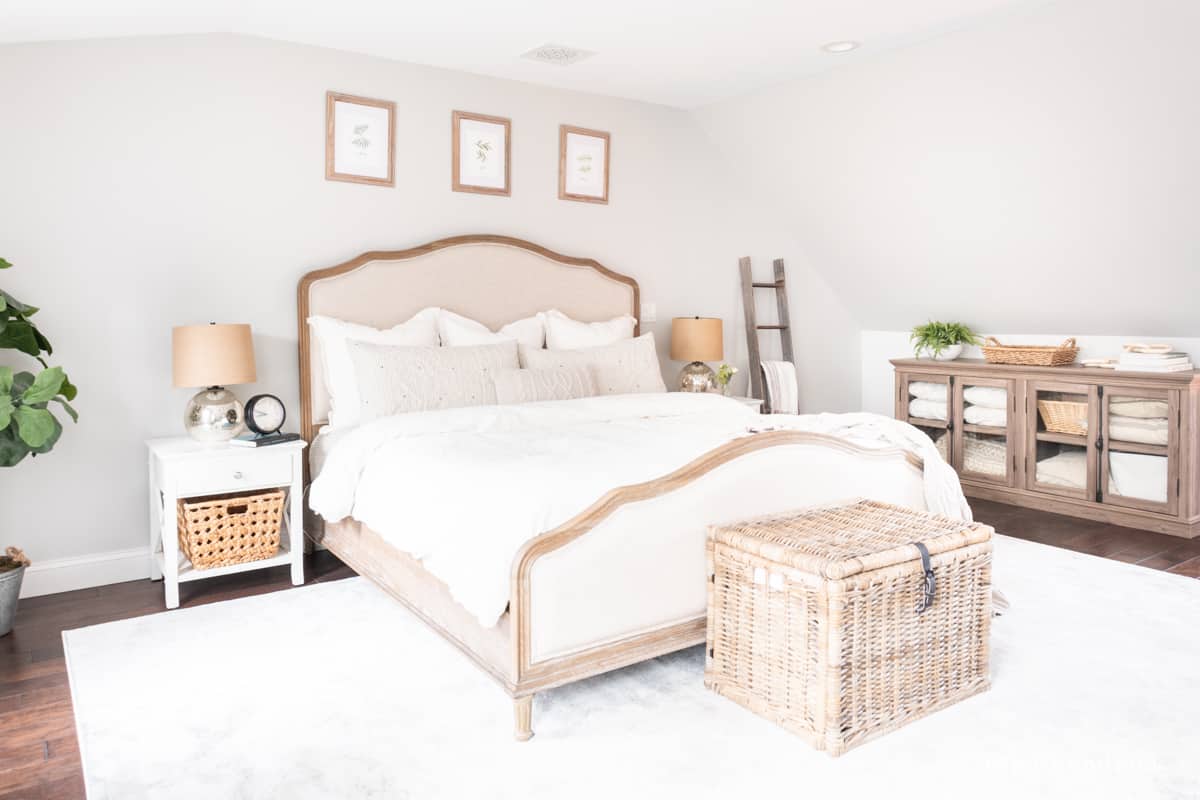 Mixing Metals in the Primary Bedroom
Bedrooms tend to not have as many metals as kitchens and bathrooms, but I still used mixed metals for the total design overhaul of our primary bedroom. My goal was to create the coziest, most comforting retreat ever, and I feel like my choice of metals played an important role in accomplishing that!
I went with black and brushed nickel.
Black – Dominant Metal
Our bedroom is a cozy sanctuary that is full of light. It's all soothing neutrals and whites, with weathered wood finishes and pops of green from my plants. So it needed a solid black metal to anchor the space and keep it from floating away!
Our dressers and linen console all have black pulls and knobs. Also, the base of my reading nook's chandelier is black, as well as the lamp on my side table.
Brushed Nickel – Accent Metal
There are just a few pops of brushed nickel, but they really add a necessary shine to this room. I used the nickel for my bedside lamps, tables, and window hardware.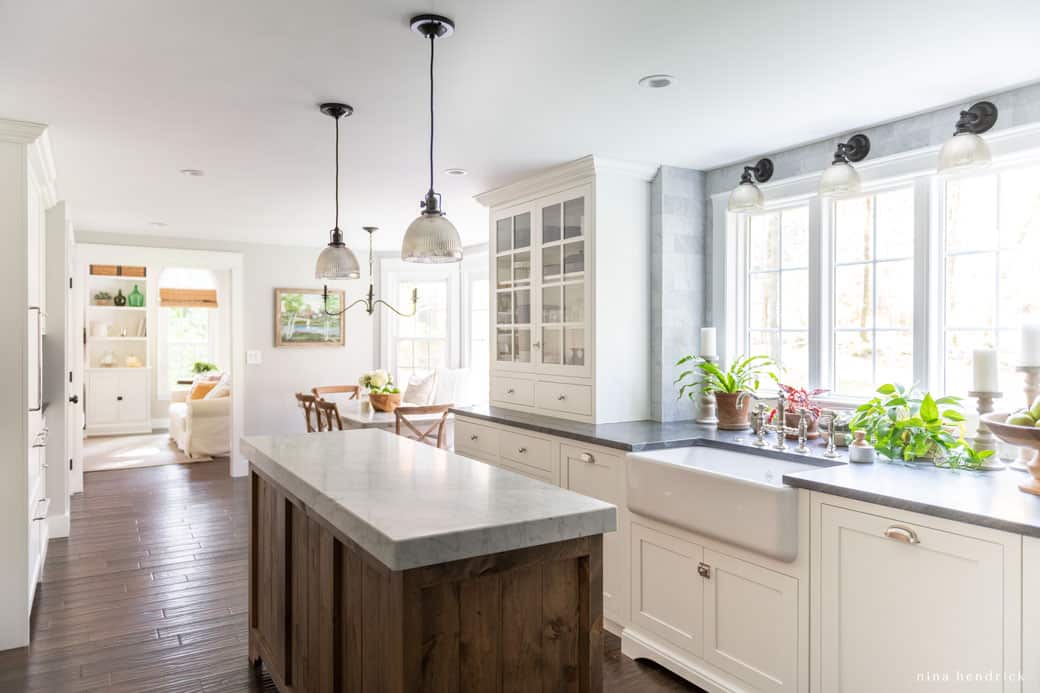 Mixing Metals Like a Pro
I hope this blog took away the uncertainty of mixing metals, and gave you a good grasp on how to do it. This has been a topic that has garnered tons of interest on my IG!
As you can see, mixed metals can add so much to your room's design. The main learning curve is differentiating between warm and cool metals.
Whether it's in your bathroom, kitchen, or living room, mixing metals is about creating balance. Get that figured out, friends, and from there… you're golden. :)
You can find me on Instagram @ninahendrickhome. Be sure to follow along with my stories where I share links to all my new in-depth blog posts like this one!