Get ideas for recreating this cozy, muted fall family room with heirloom pumpkins and softly colored pumpkins and throws.
For our early fall decor, I'm building off of a color scheme I've shared in years past for other spaces. Back then our family room was still under construction, so I didn't get a chance to decorate it with these soft and pretty colors! You can see a muted fall tablescape here, muted fall entry decor, and our kitchen dressed up with muted decor.
I'm joining several other bloggers who are sharing their beautiful fall family rooms — make sure to stop by at the bottom of the post!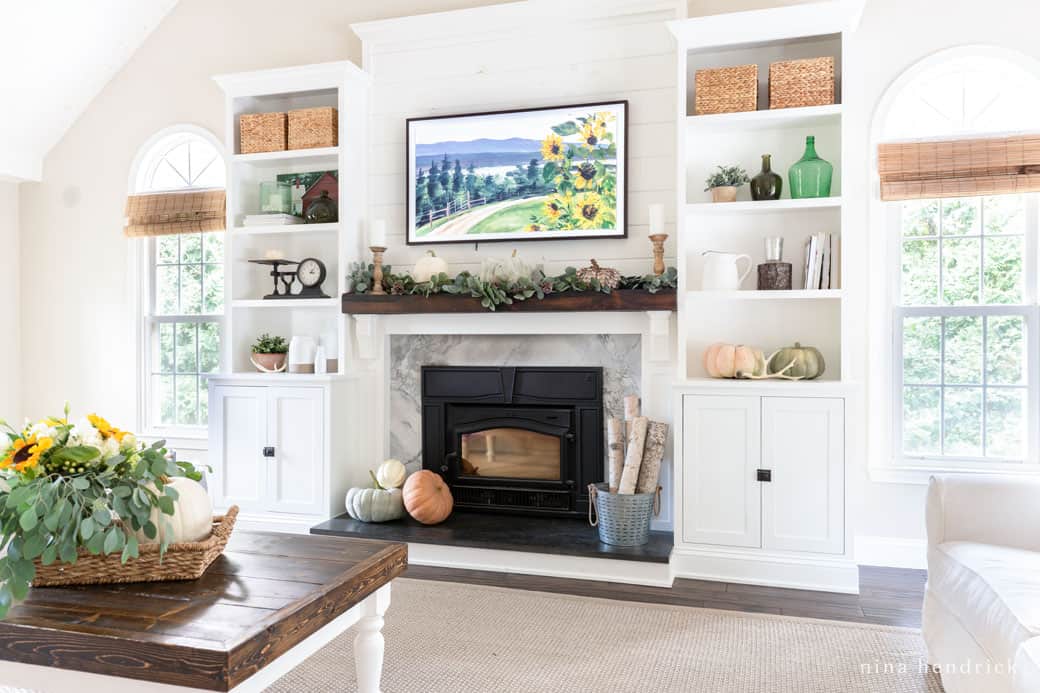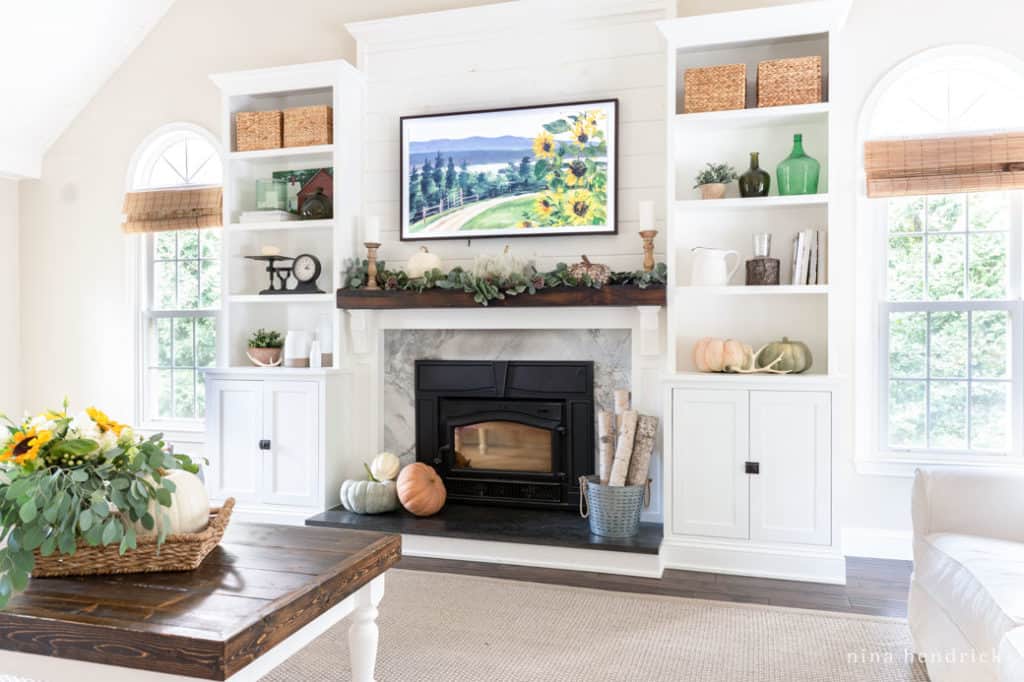 Muted Fall Family Room Decor
My goal is always to create a seasonal space that's pretty and inspiring but also livable. What I really want is to be able to cozy up in this room and enjoy the fire and share some of our favorite 90s Halloween movies from our childhood (so far we've checked Casper off the list for this year) with our kids.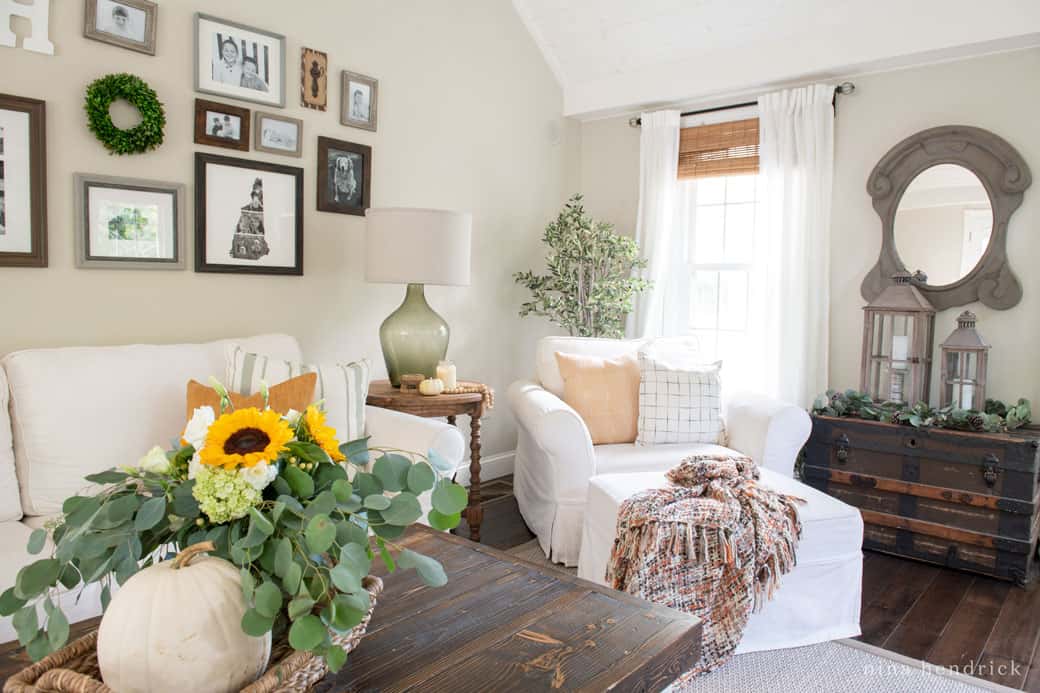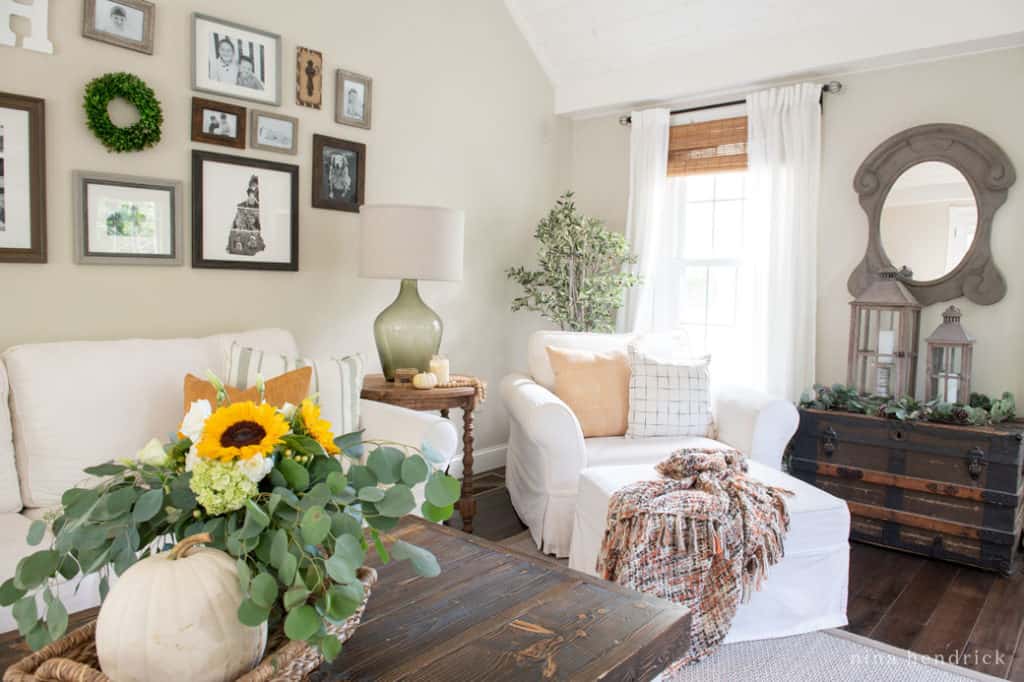 The tray with the white pumpkin and floral arrangement can easily be lifted away and replaced with a bowl of popcorn.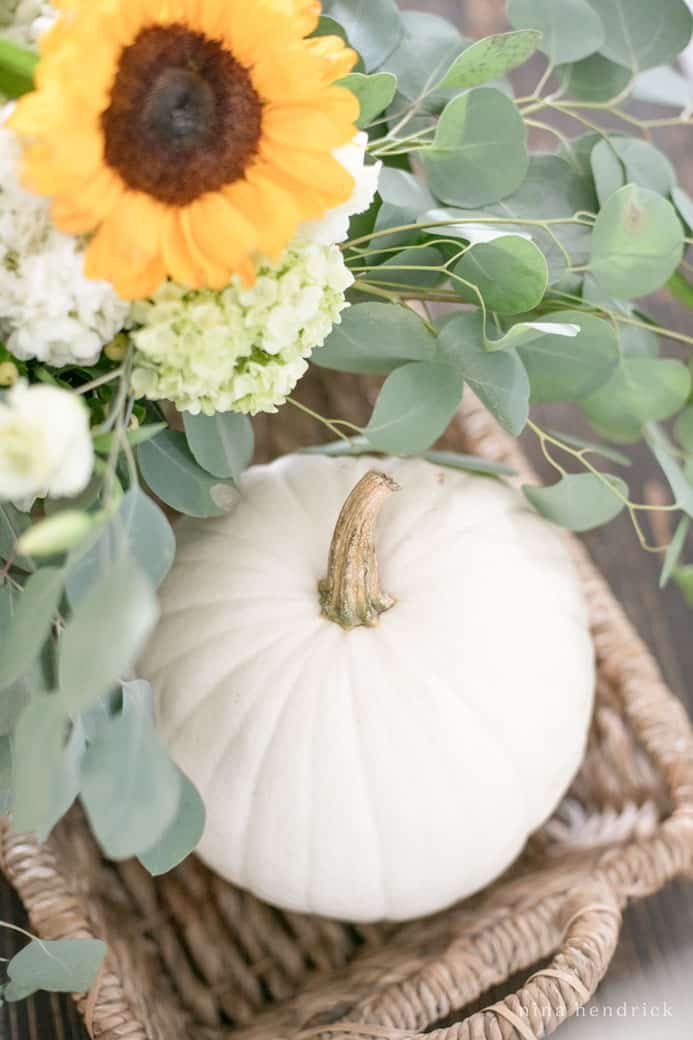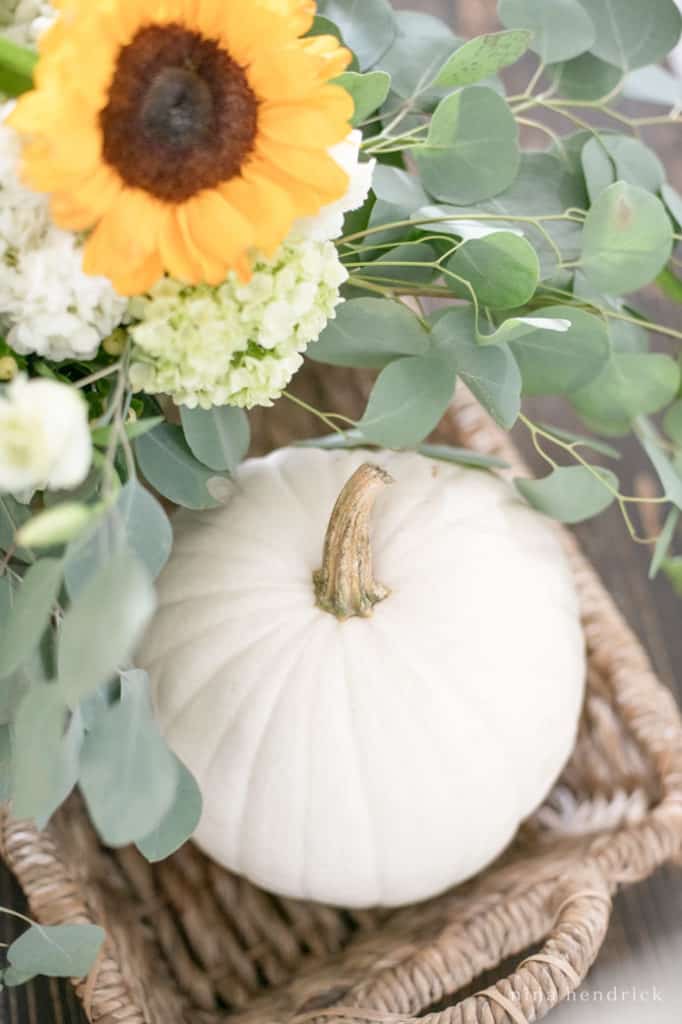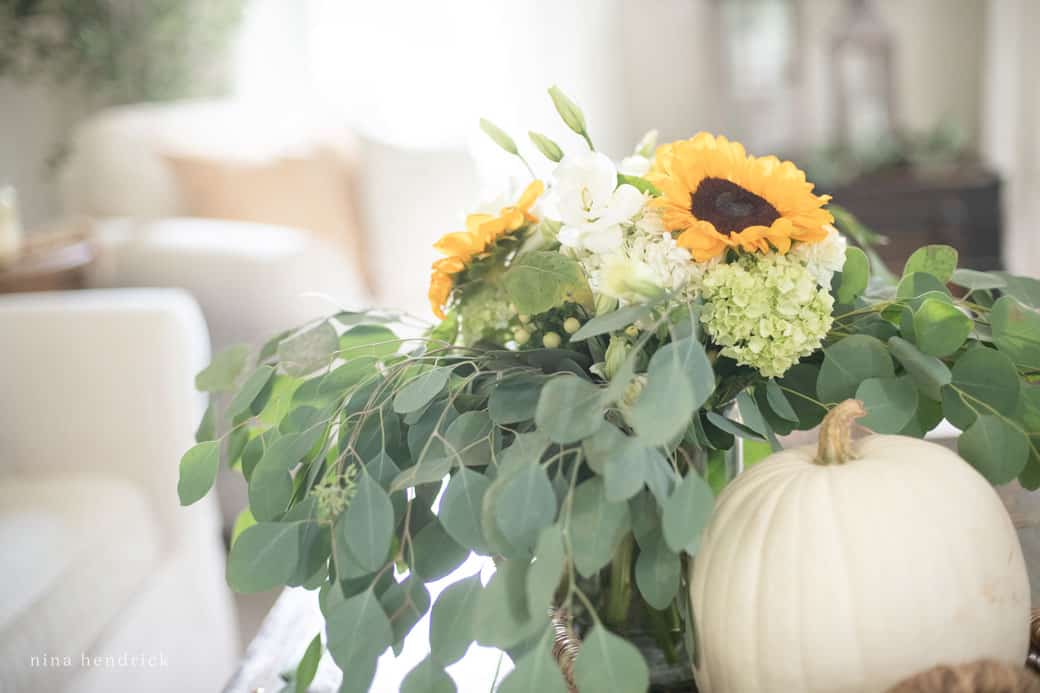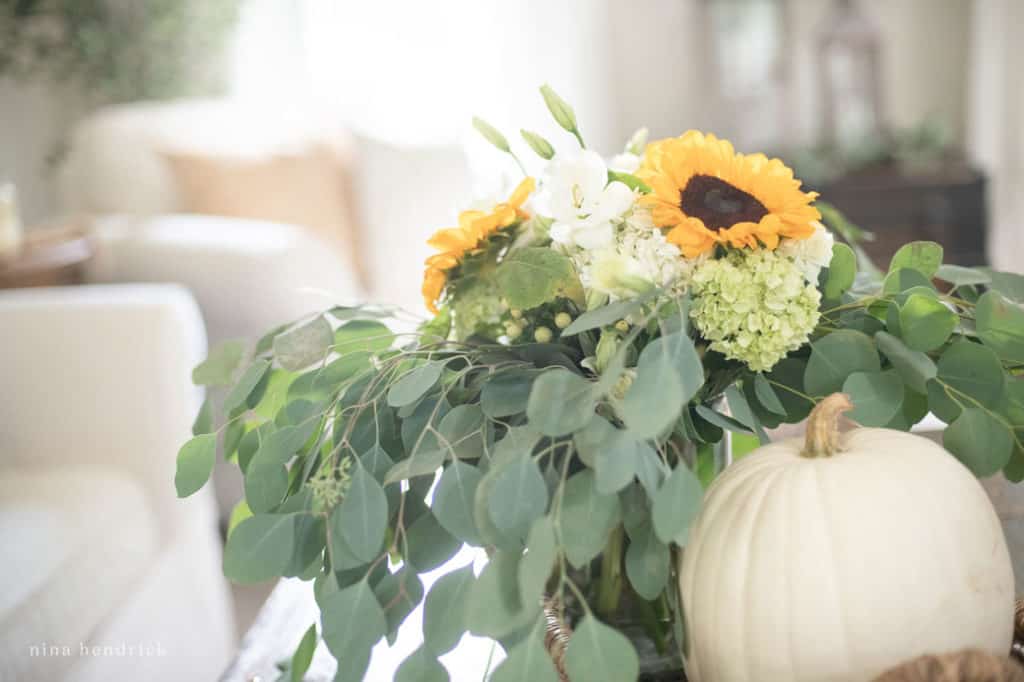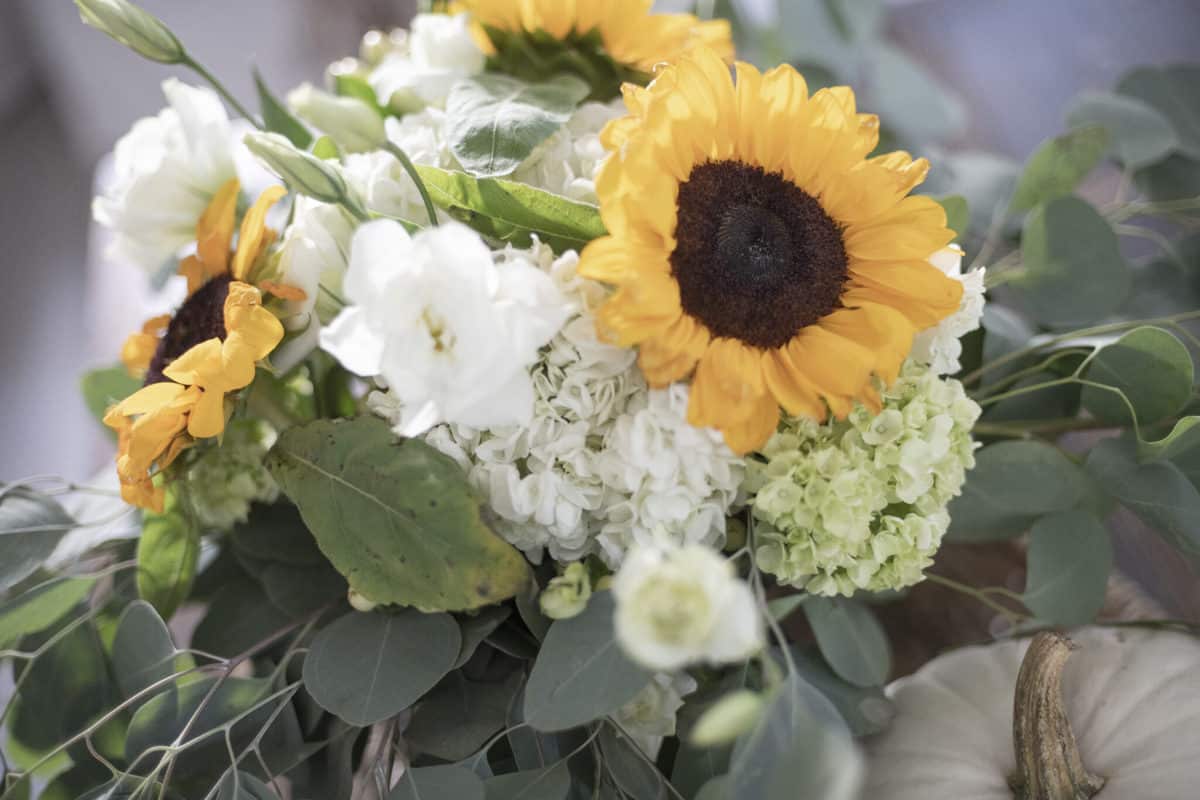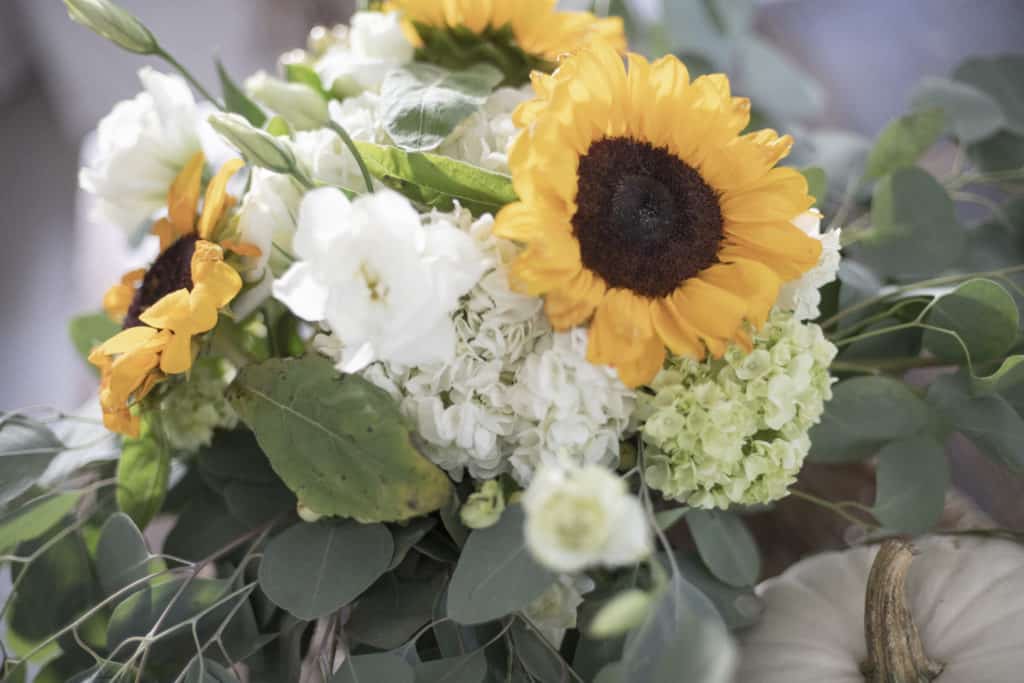 I love having grocery store flowers each week. They are so inexpensive, but they really do bring a lot of joy to our space!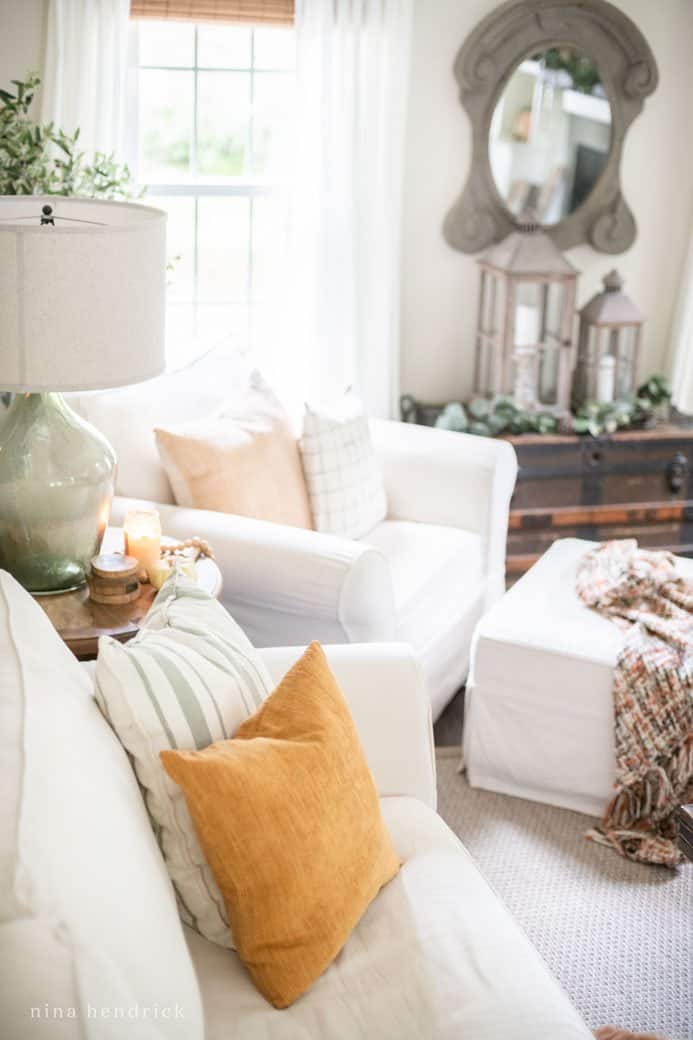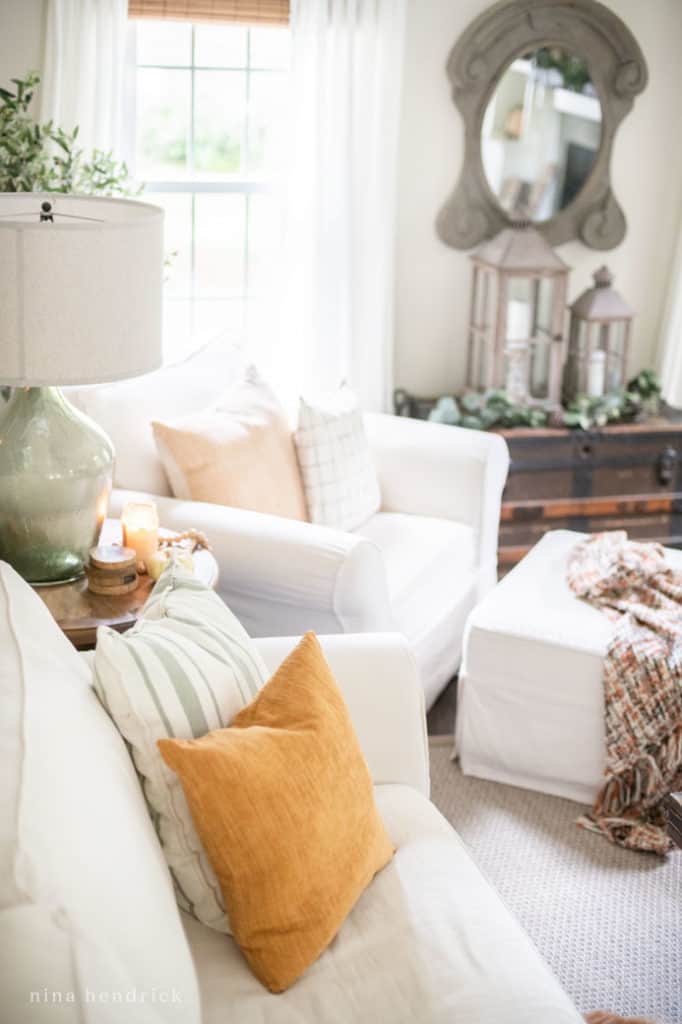 I probably would have never believed that I'd be decorating with avocado green and goldenrod… but here we are, and I don't hate it. In fact, it really kind of works for me in this room. The new pillows were bought at Homegoods, but I'll update with a similar source.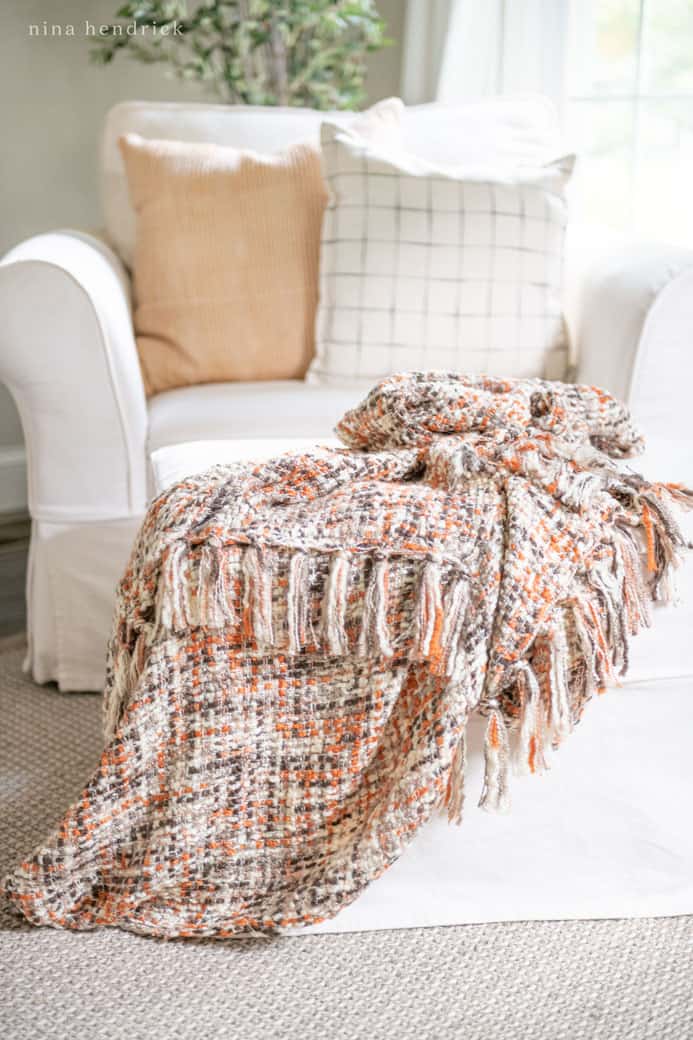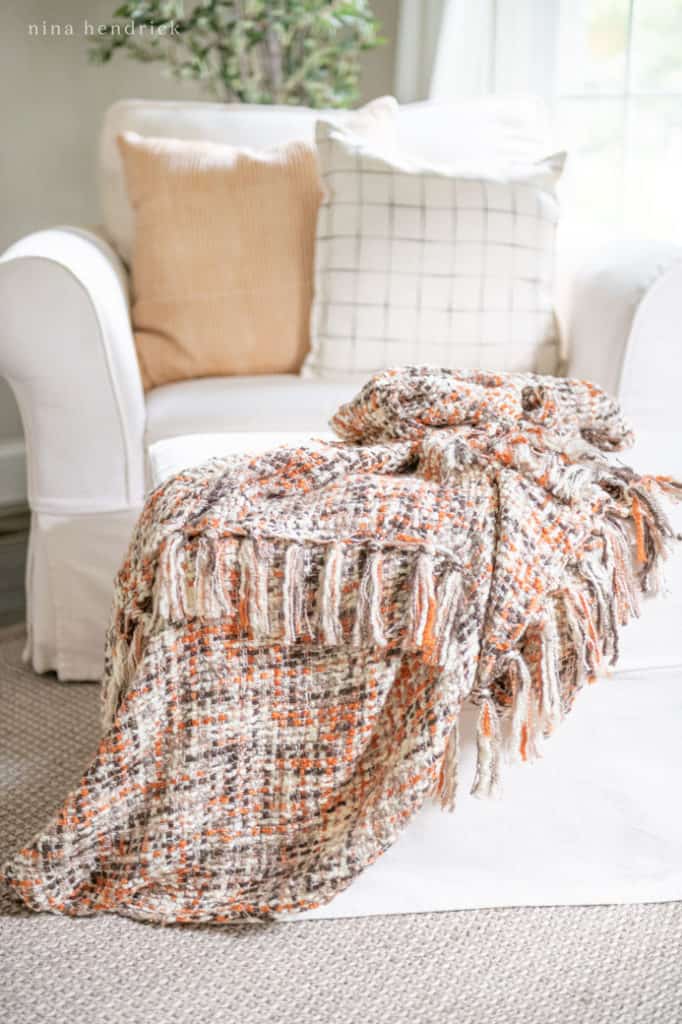 Someone in my childhood had to have had an ancient 70s sofa that looked like this because it feels so familiar. It was another Homegoods find, and it's so soft. We're already all fighting over it.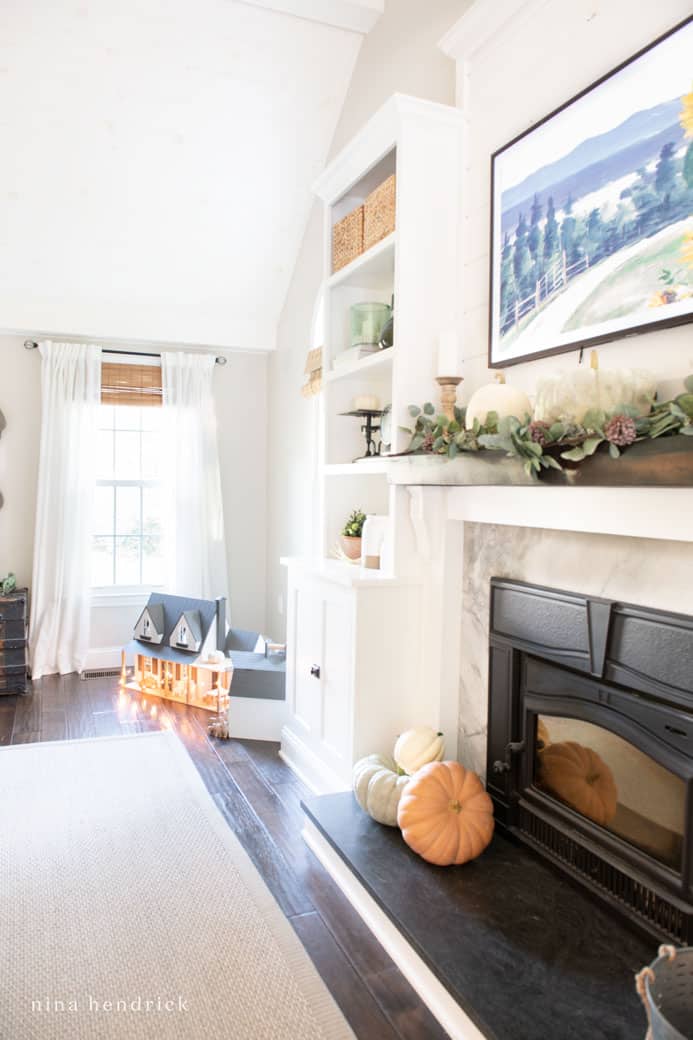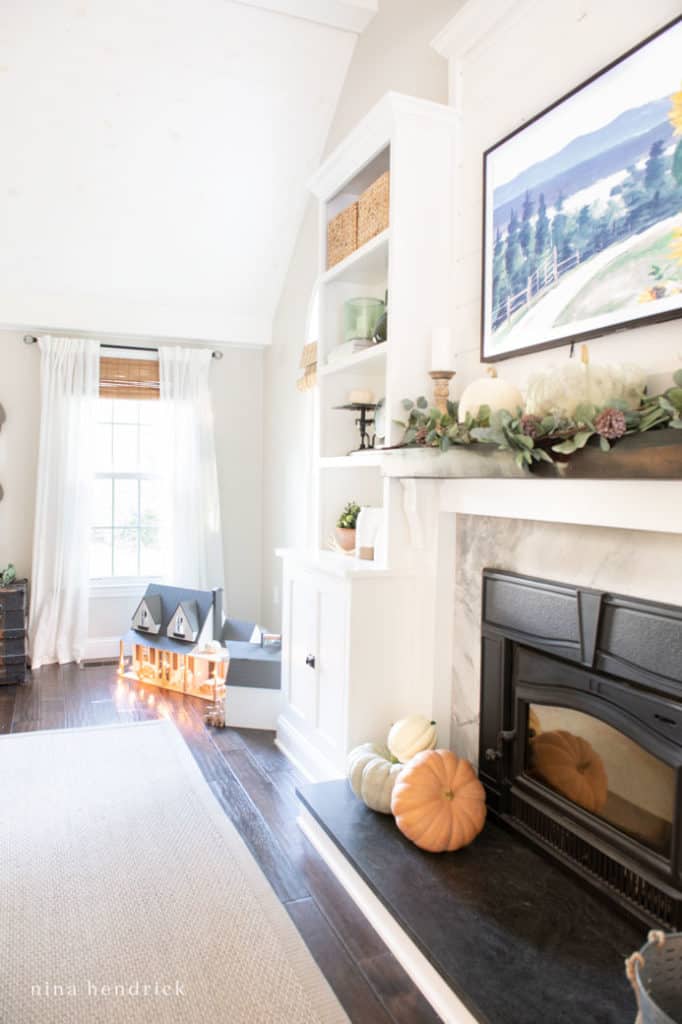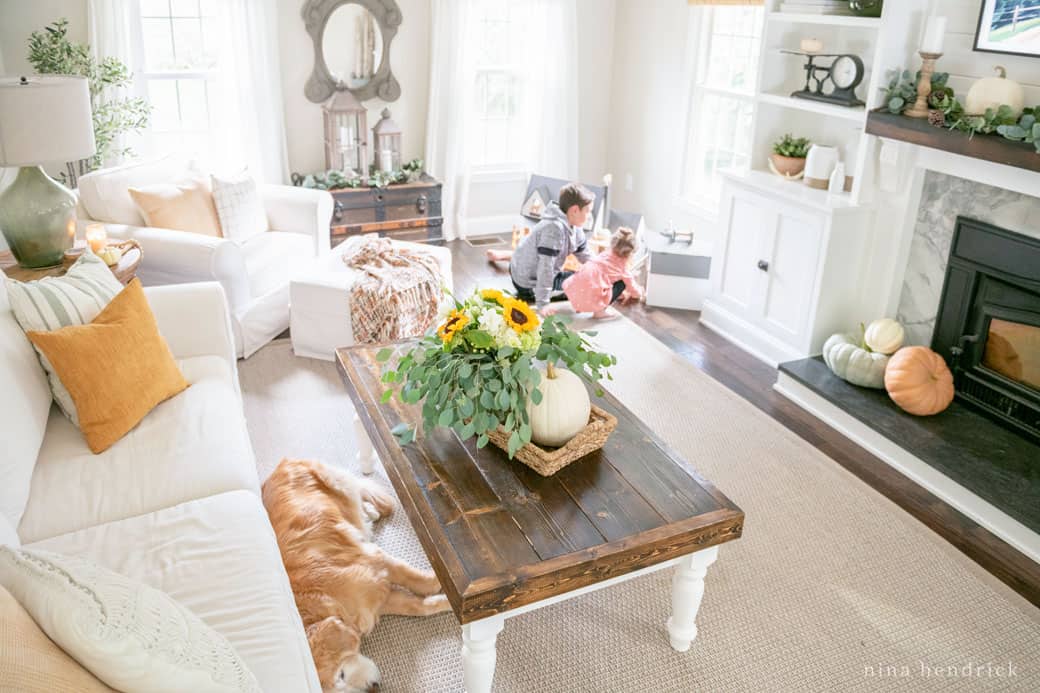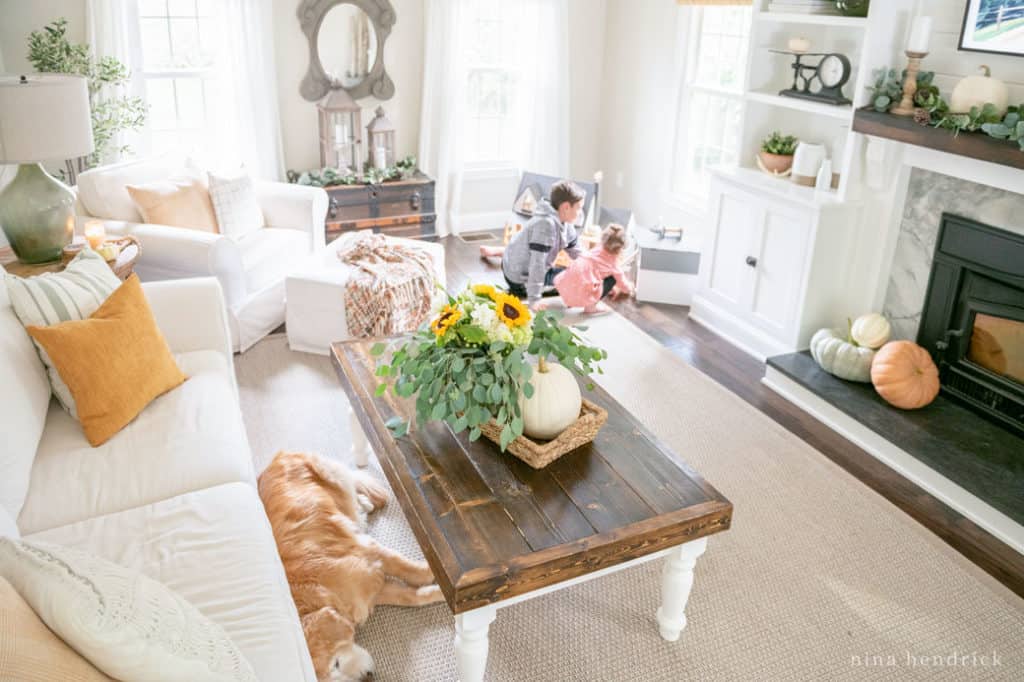 I thought I'd capture an impromptu moment midway through to show you how we actually use this room. The basement is a kid zone, but we keep the Magnolia dollhouse and barn up here because they are adorable (and I love to play with them, too ?). Proof that you can create a space that's kid-friendly and pretty!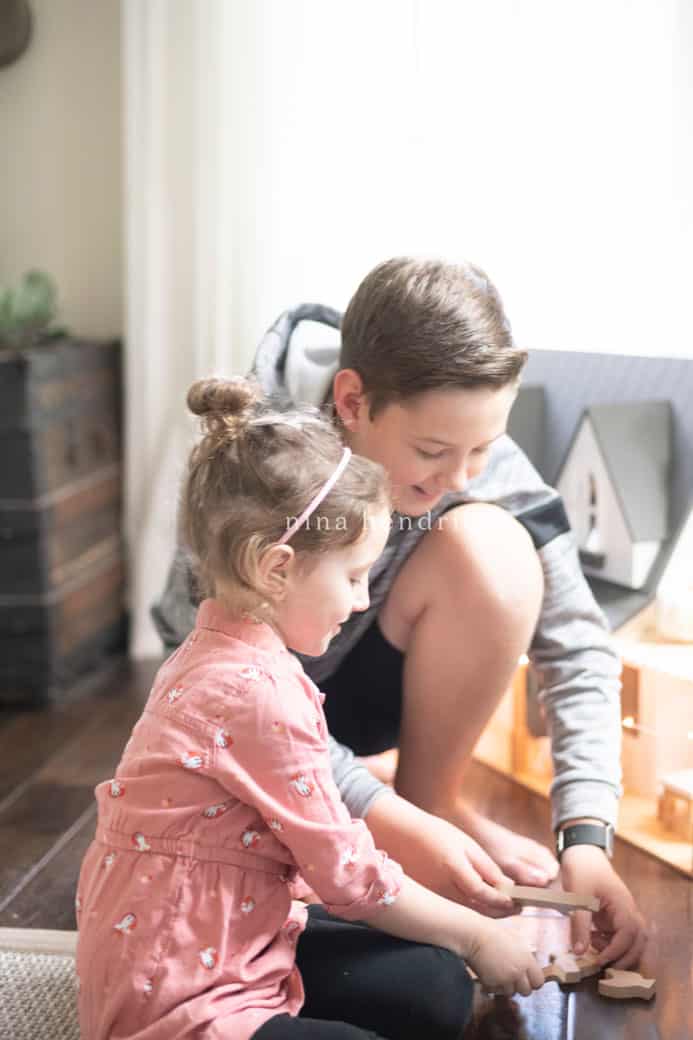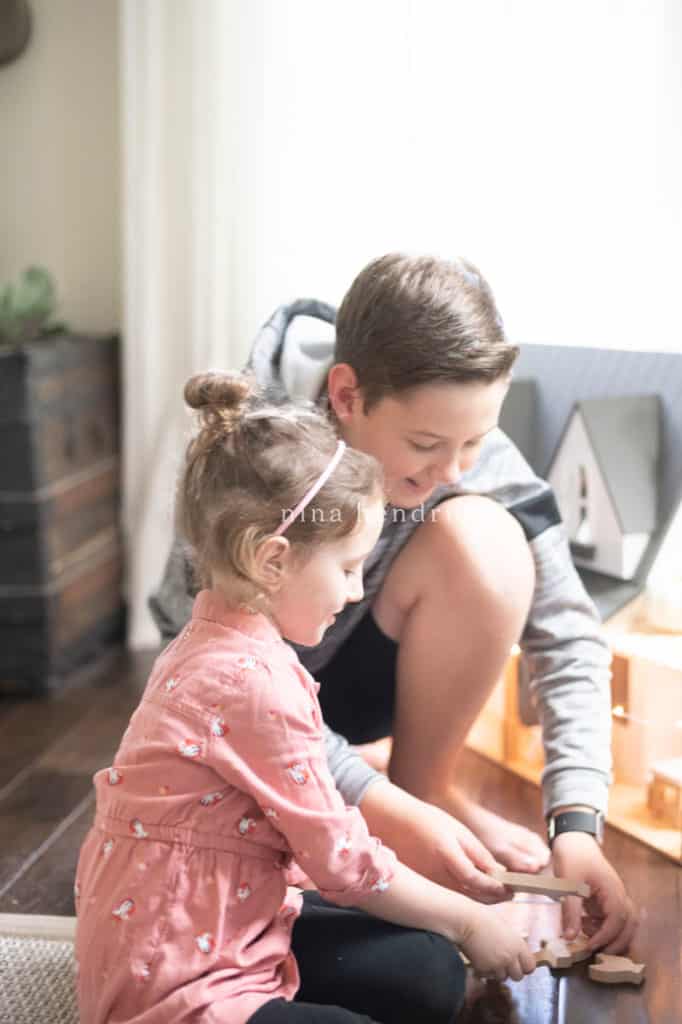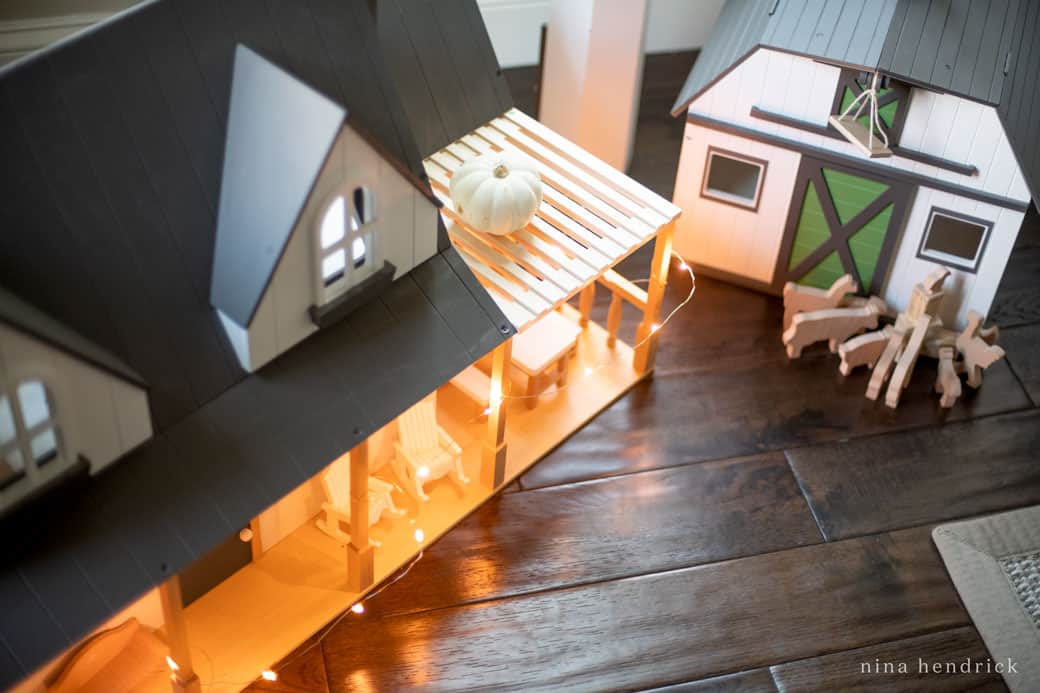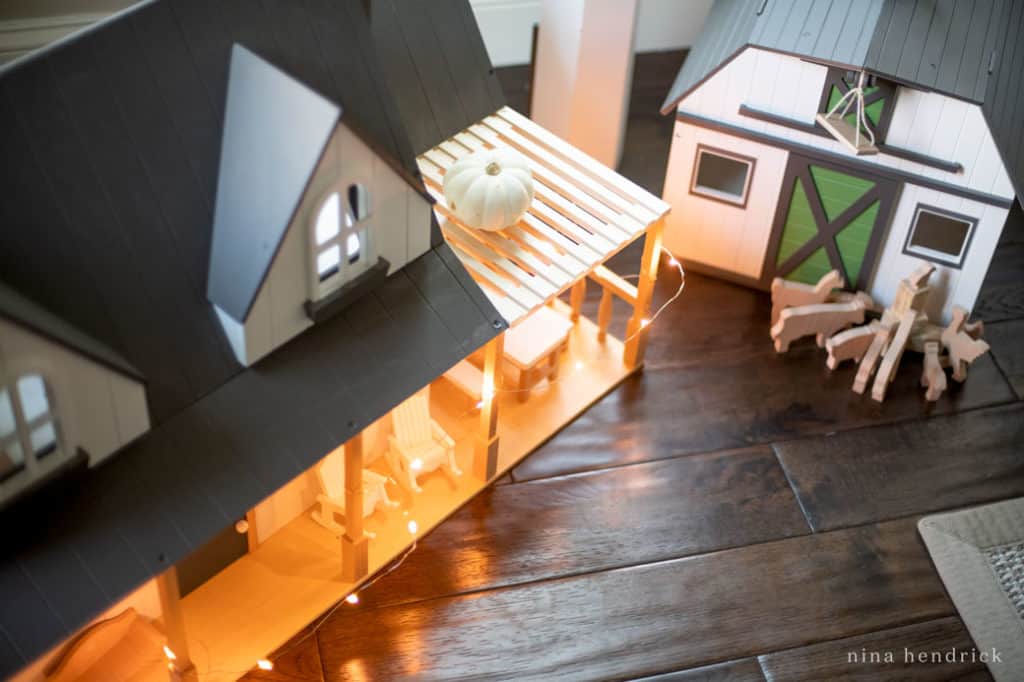 Sometimes Lyla can even lasso one of her big brothers into playing. Before you think it was all cute and sweet and so on, they were talking about which farm animals would eat the other ones in a survival situation. The chicken seemed to have won.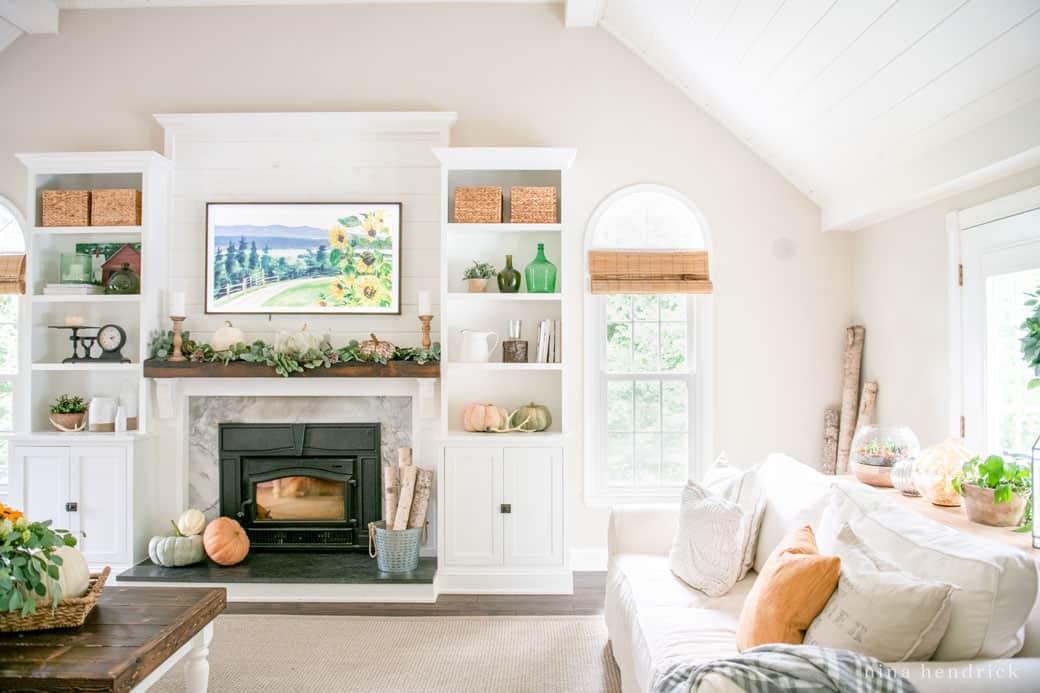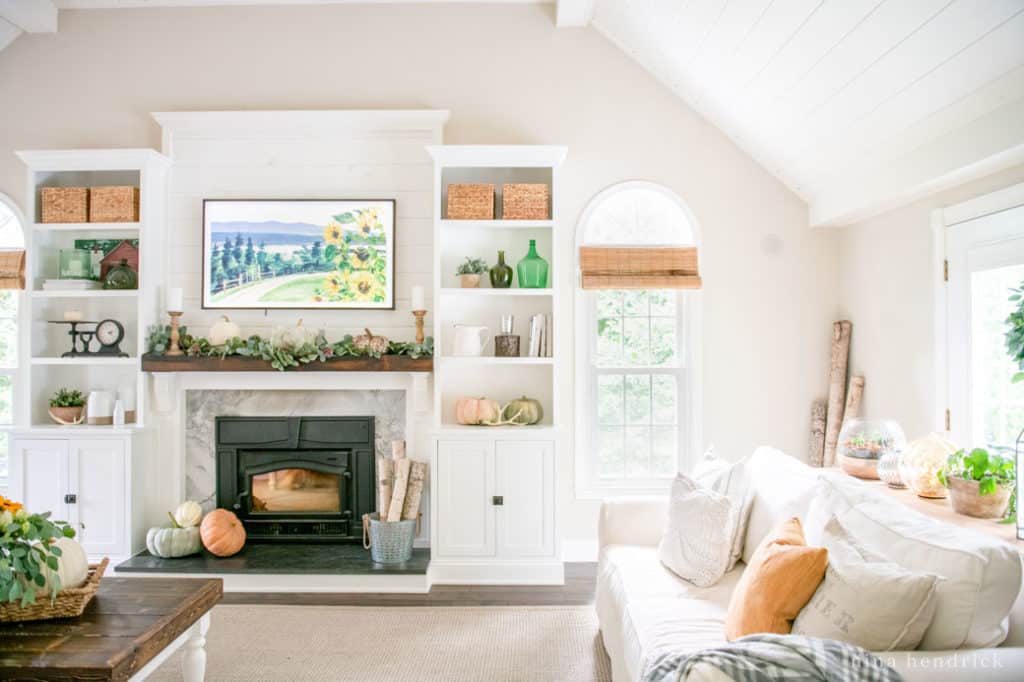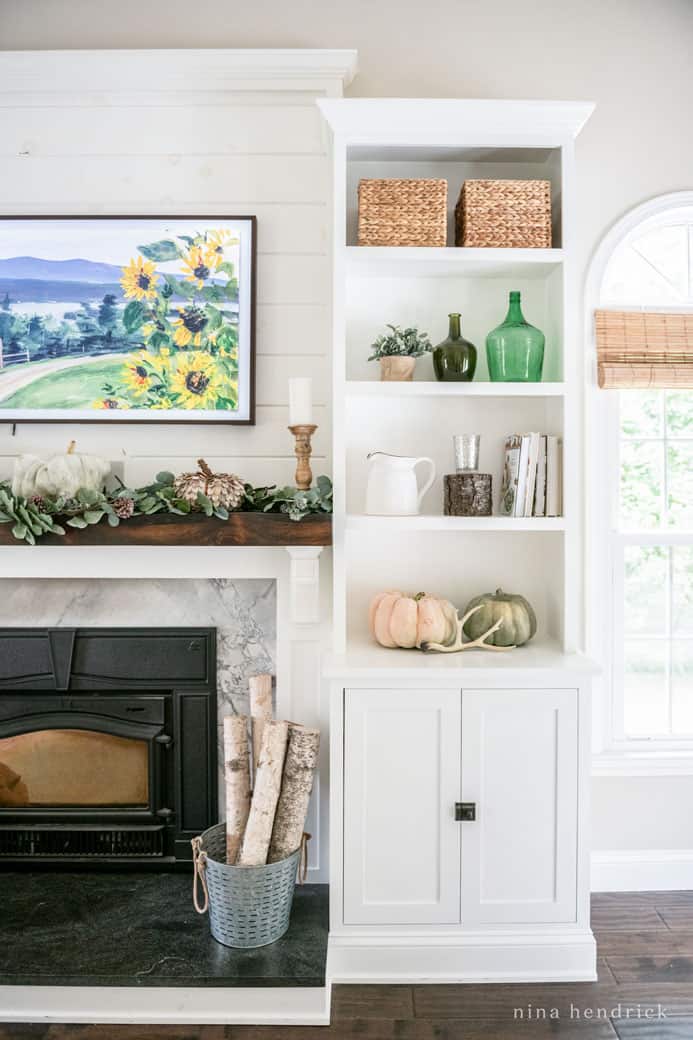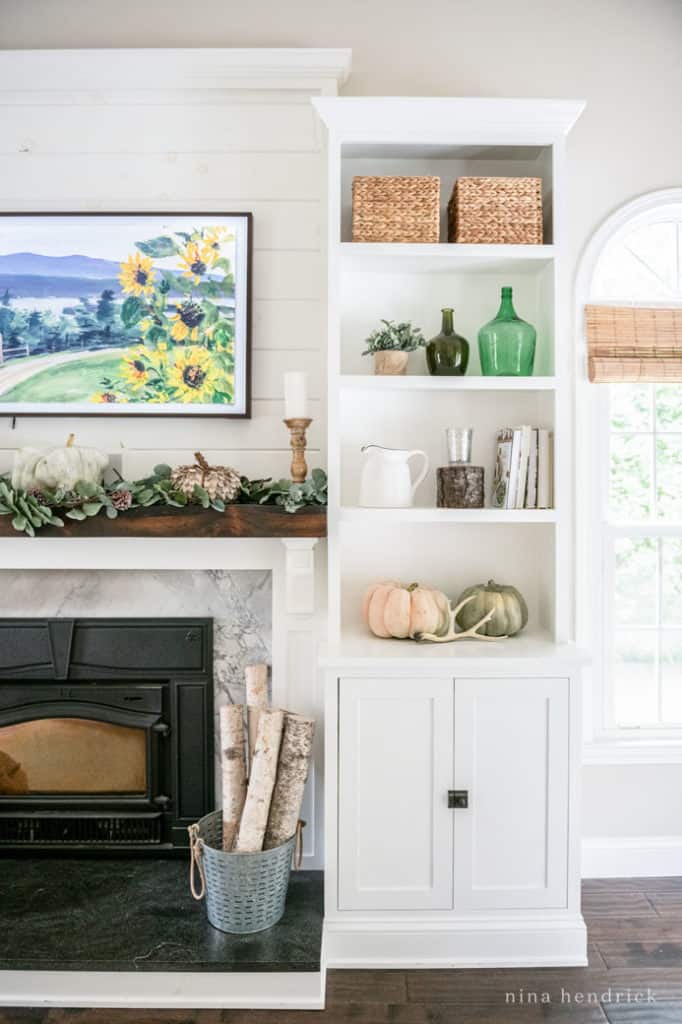 You may have caught on my Insta stories the other day that I scored and found heirloom pumpkins at the local garden center! I got as many as I could, but they are early for this area still, so the price was a bit high. Our local grocery stores and Trader Joe's should have them soon!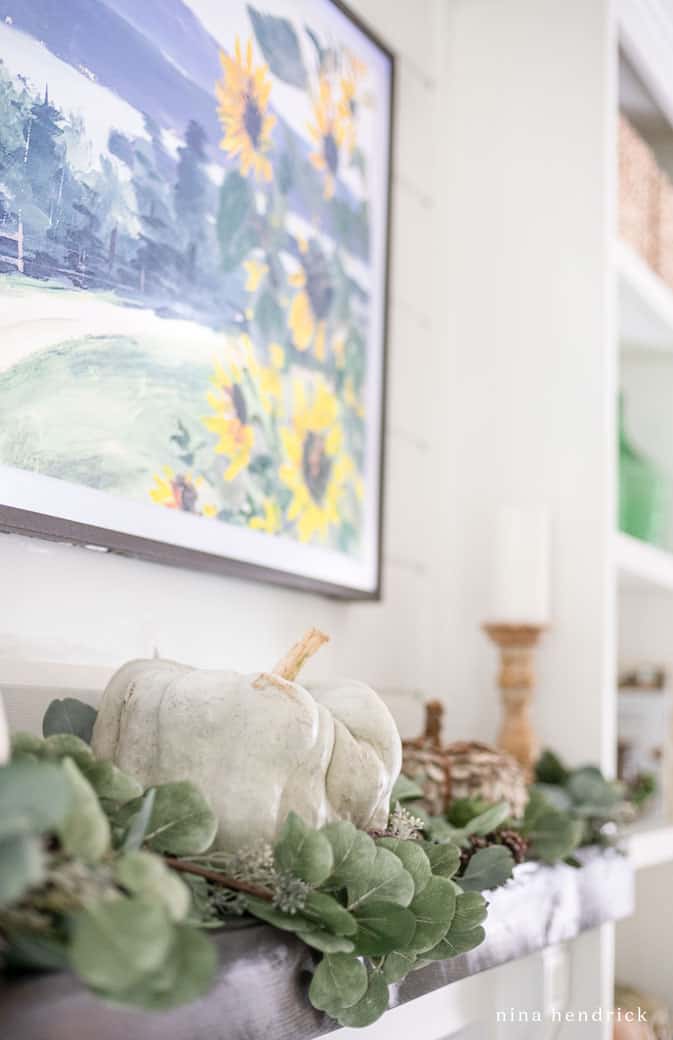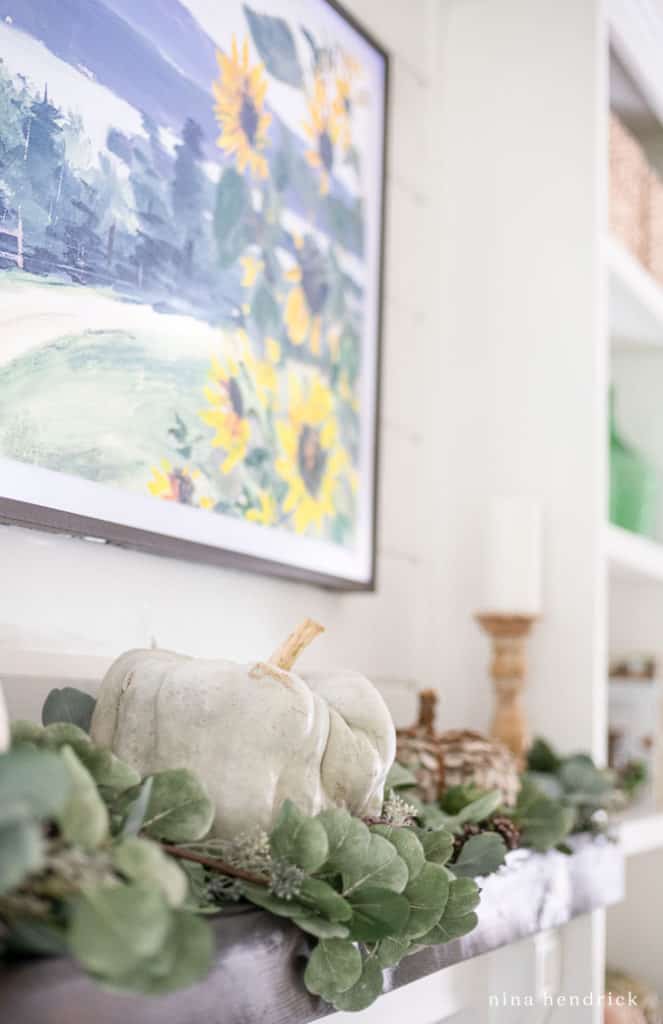 The painting on the Frame TV this season is another one by my grandfather. I keep telling him we have to get an online shop up and running for him to sell prints. Also, would you be interested in seeing a review post on the Frame TV? There are pros and cons to it for sure.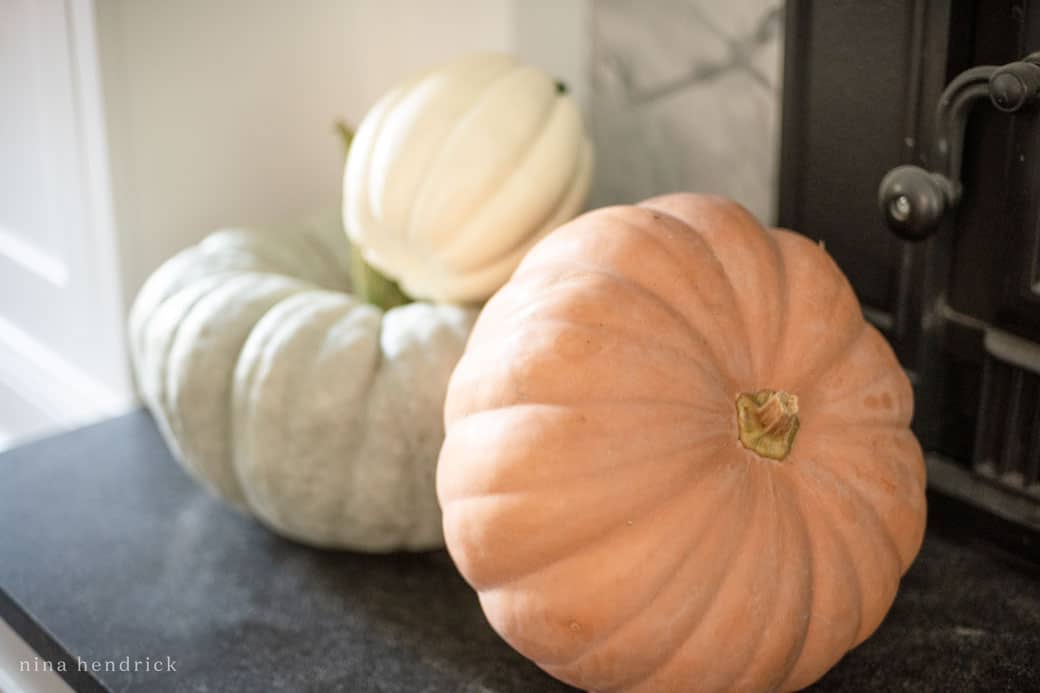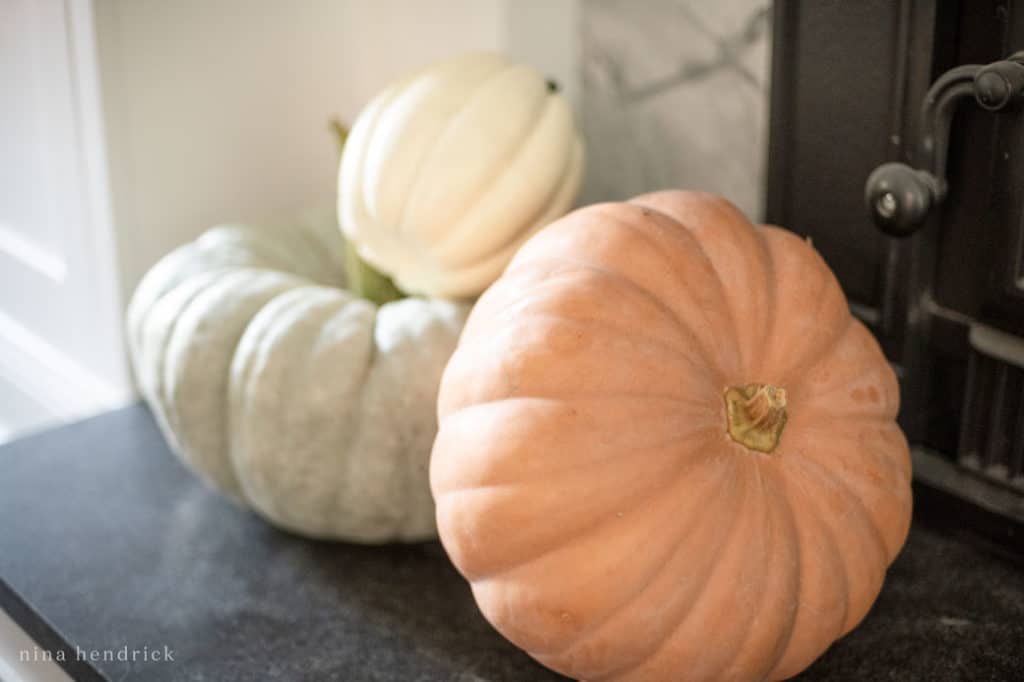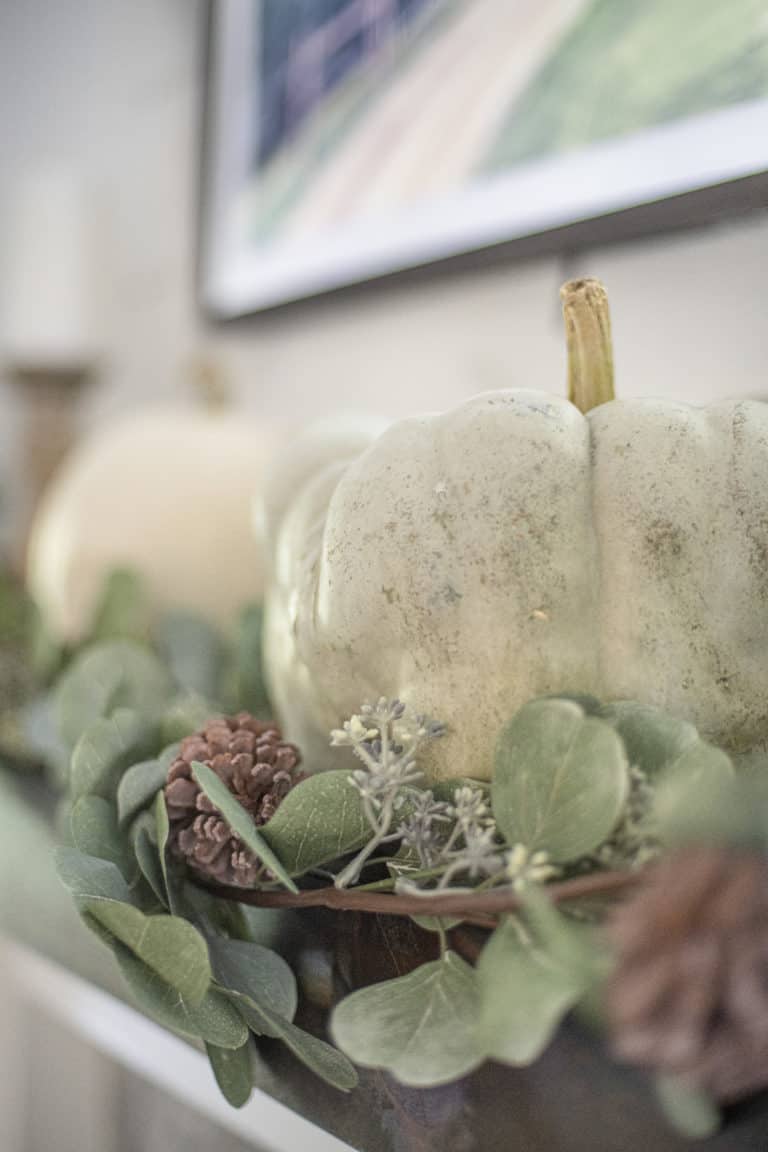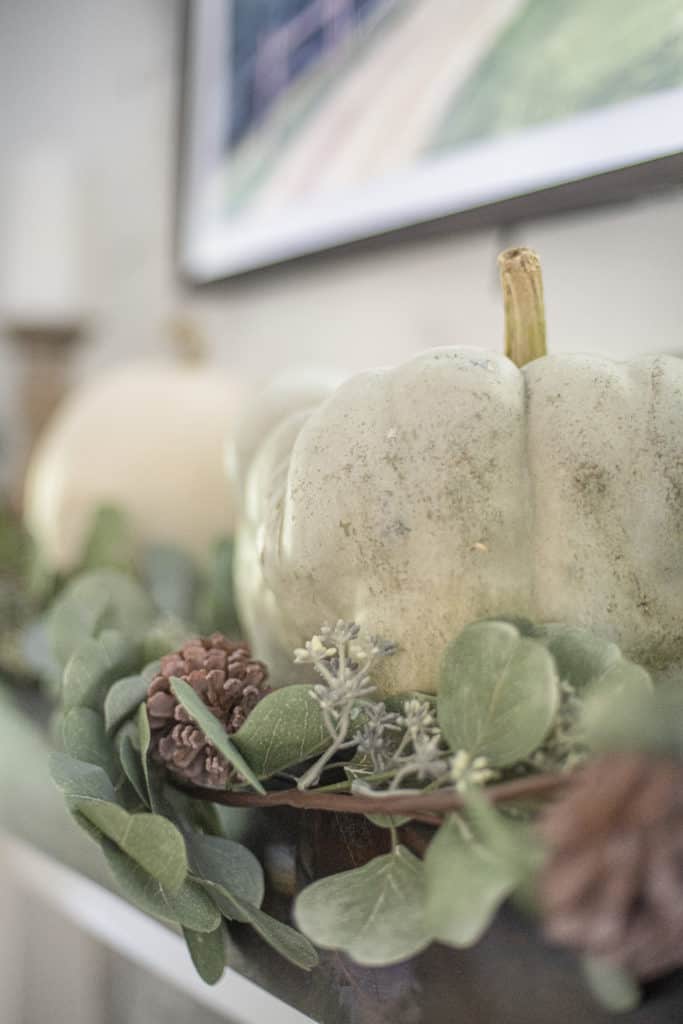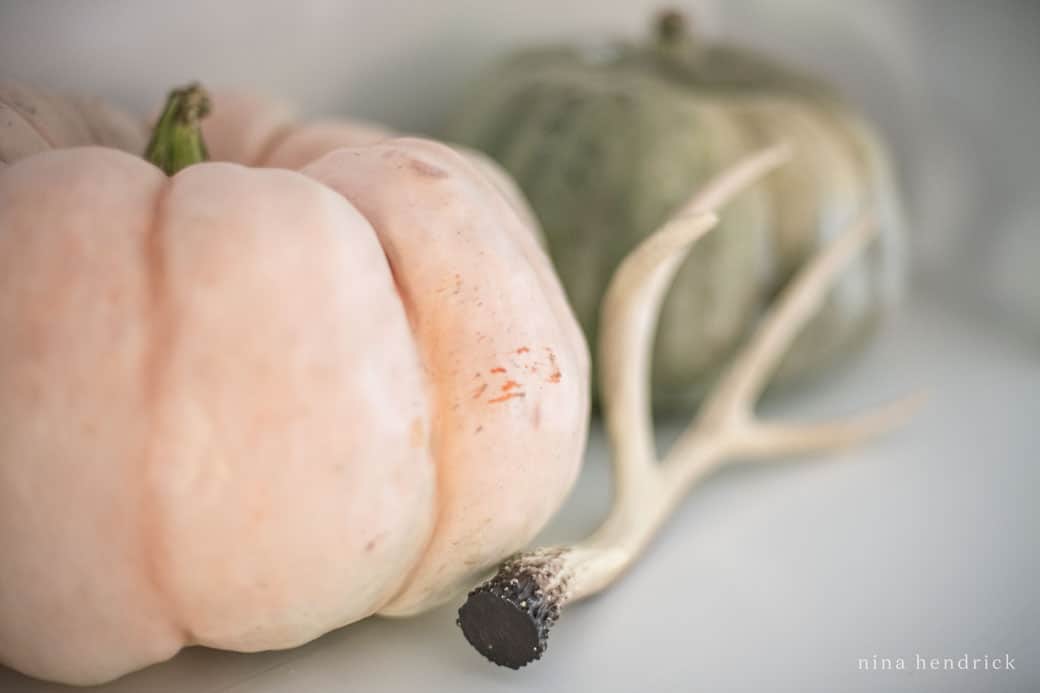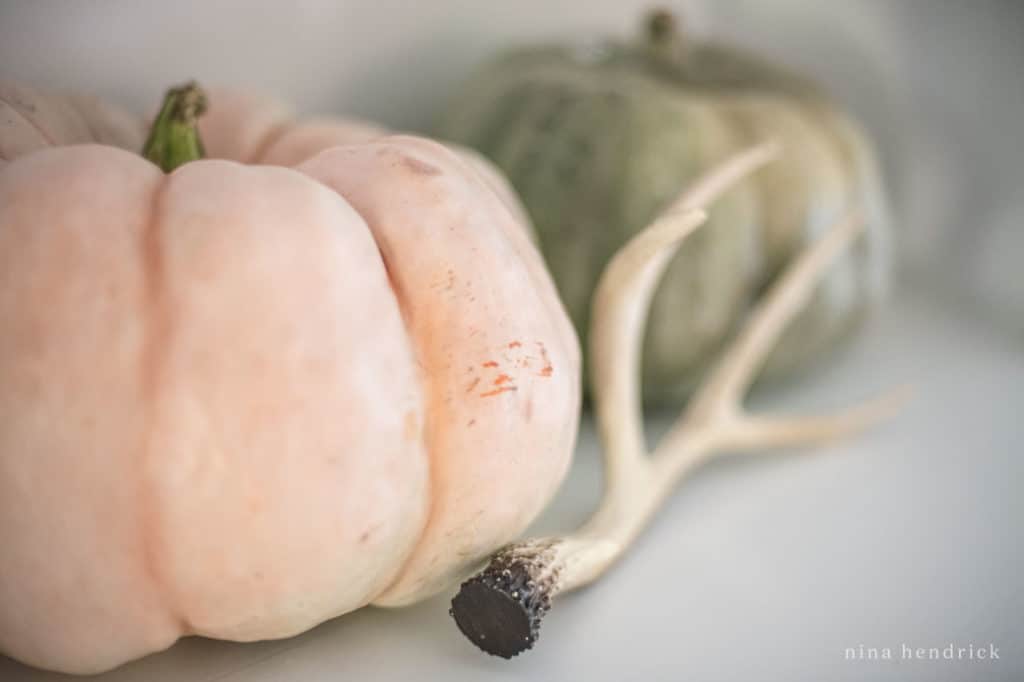 Yup, I can pretty safely say that I love these colors. I had fun going all out with a classic Fall decor scheme last year, but with all of the chaos happening with the rest of our projects, the soothing colors are where it's at.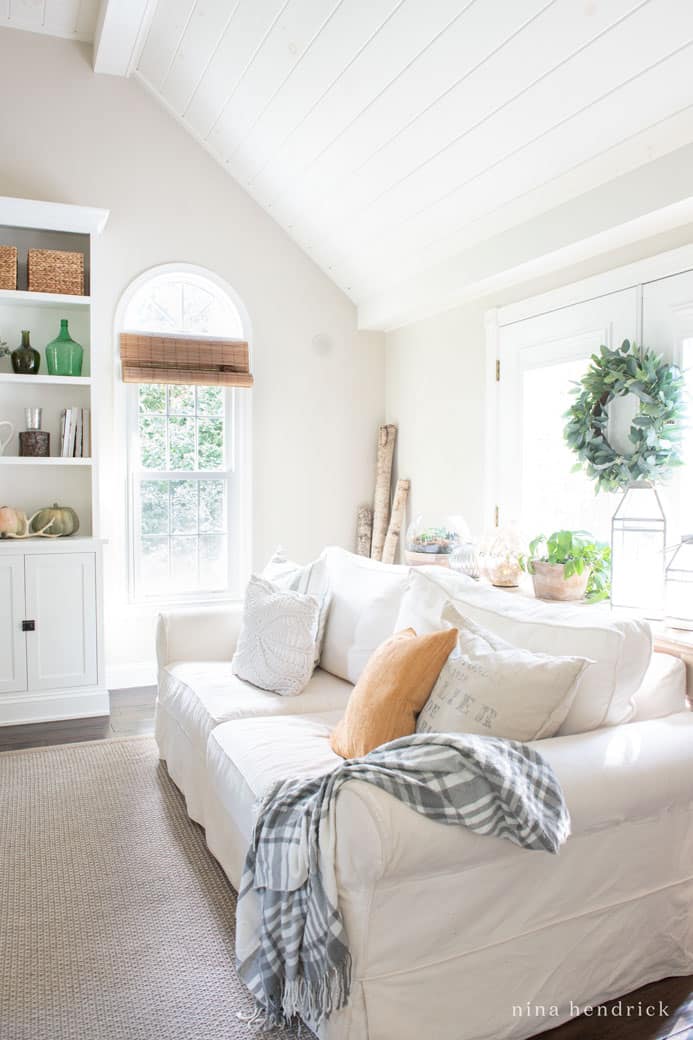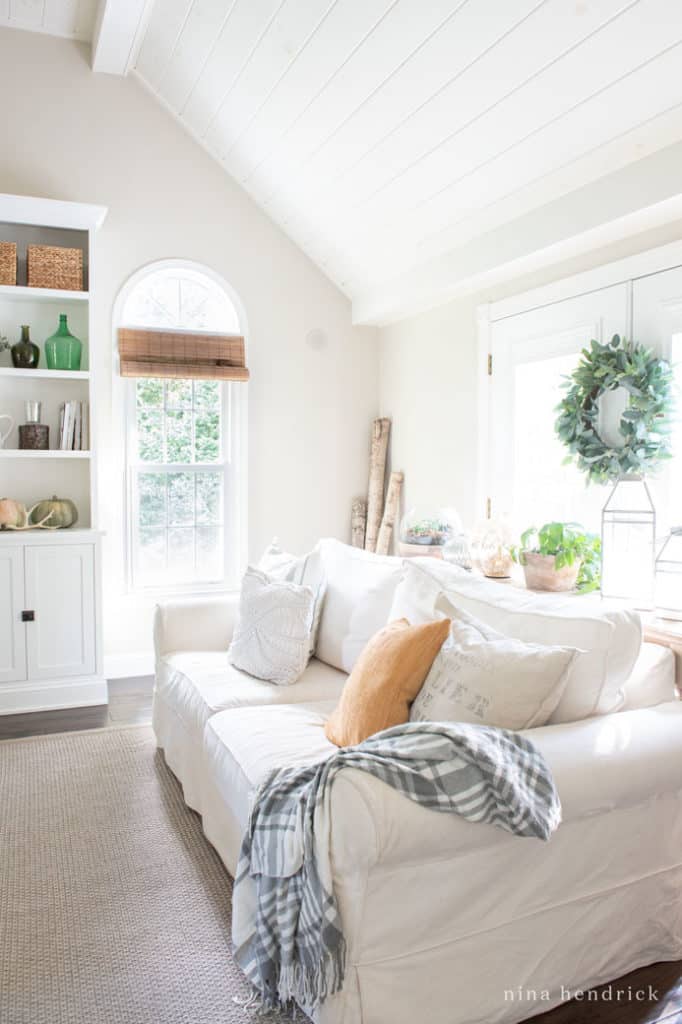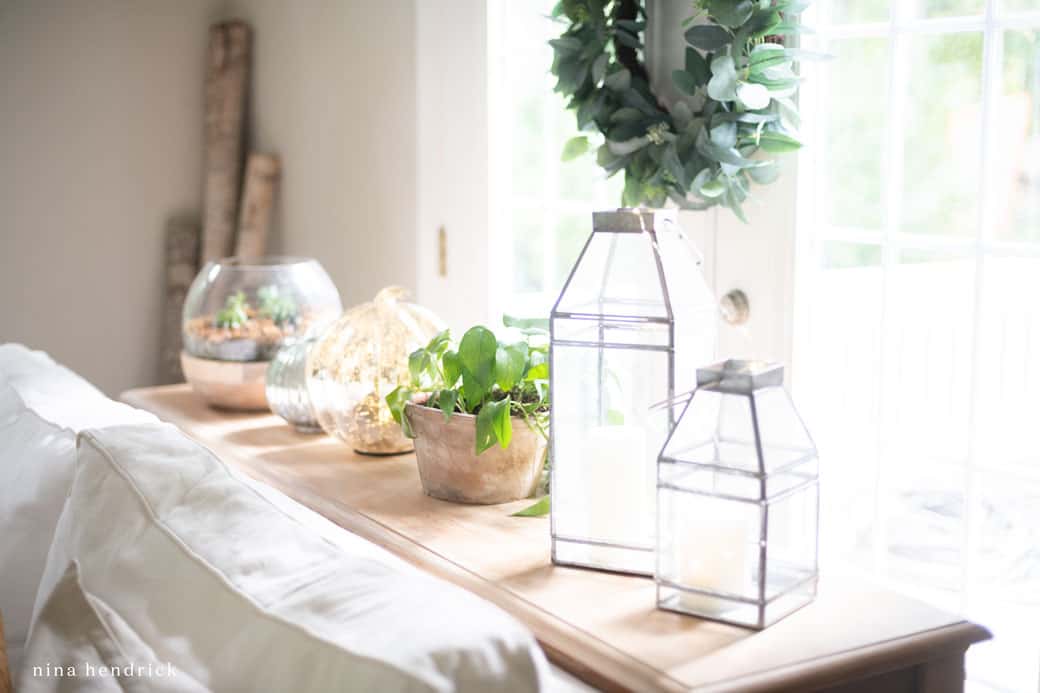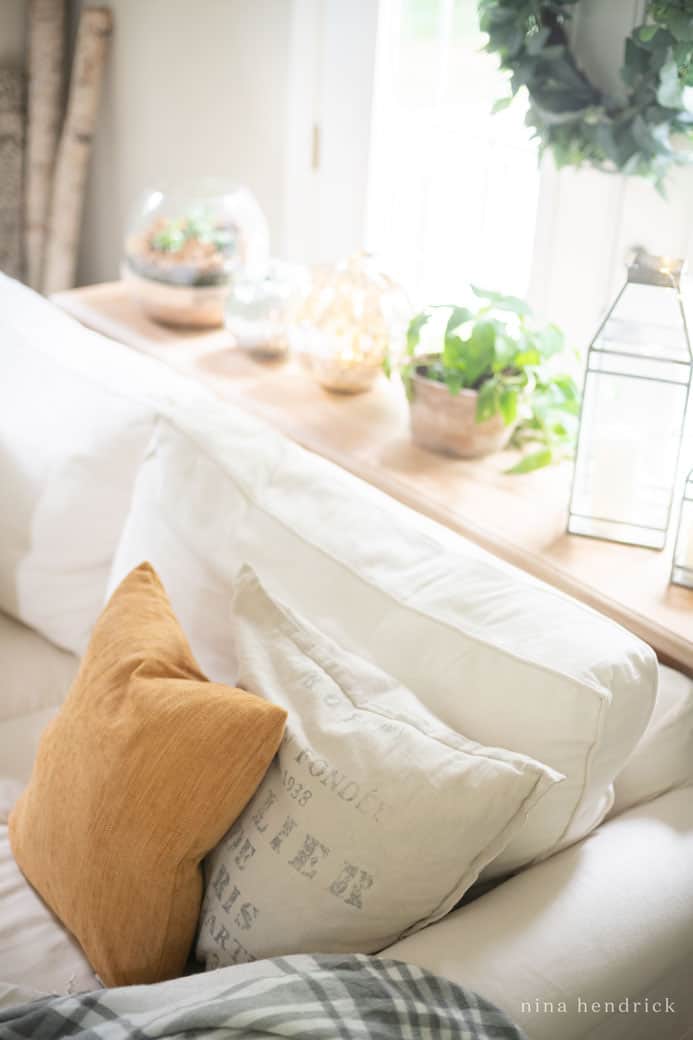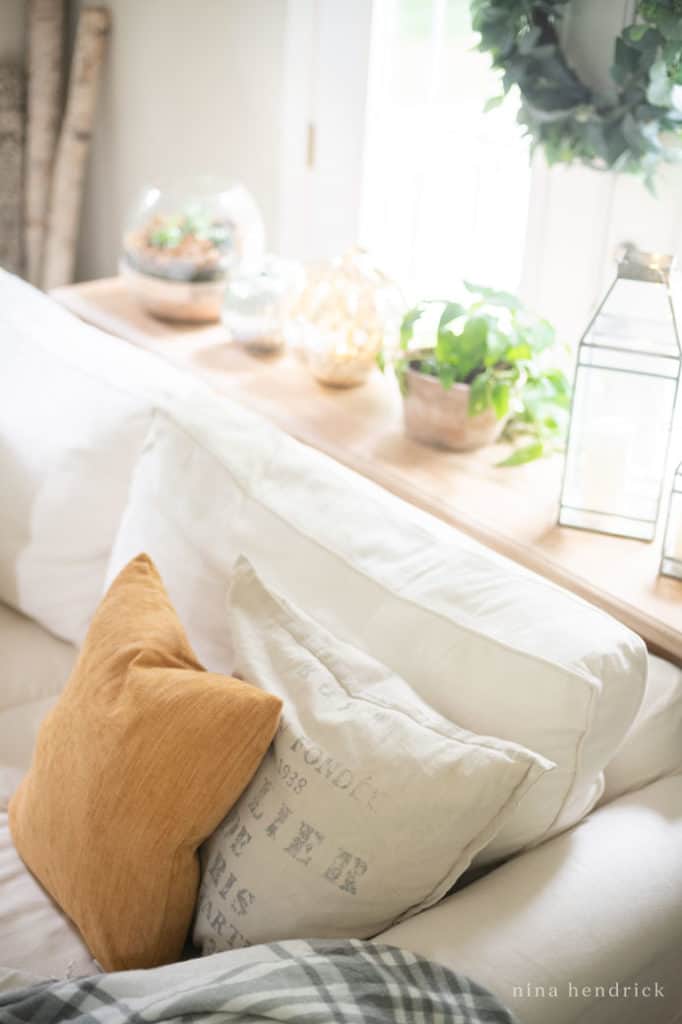 Kudos and thank you if you are still reading this far down! I know it's a photo-heavy post, but for the first time in years (!) I really feel happily creative and inspired. A lot of it is letting go of so many silly stories I was telling myself and relaxing — and overall really leaning into what matters, which is creating a home for my family. I will definitely be talking more on this topic another time. Thank you so much for stopping by today!
Fall Family Room Decor Ideas
Ella Claire | Inspired by Charm | Handmade Farmhouse | Rooms For Rent
Julie Blanner | Craftberry Bush | Zevy Joy | My Sweet Savannah
Boxwood Avenue | Dear Lillie | Nina Hendrick | Maison de Cinq
Keeping it Cozy | French Country Cottage