Discover the best summer decor ideas to instantly upgrade your home. Get inspired with these easy and budget-friendly tips and tricks!
Summer is a great time of year to refresh and update your home's decor. From clean colors to light fabrics and airy accents, there are plenty of summer decor ideas that can help you create a cheerful, comfortable, and inviting atmosphere in your home. Read on to get inspired and find the perfect summer decorating inspiration for your home.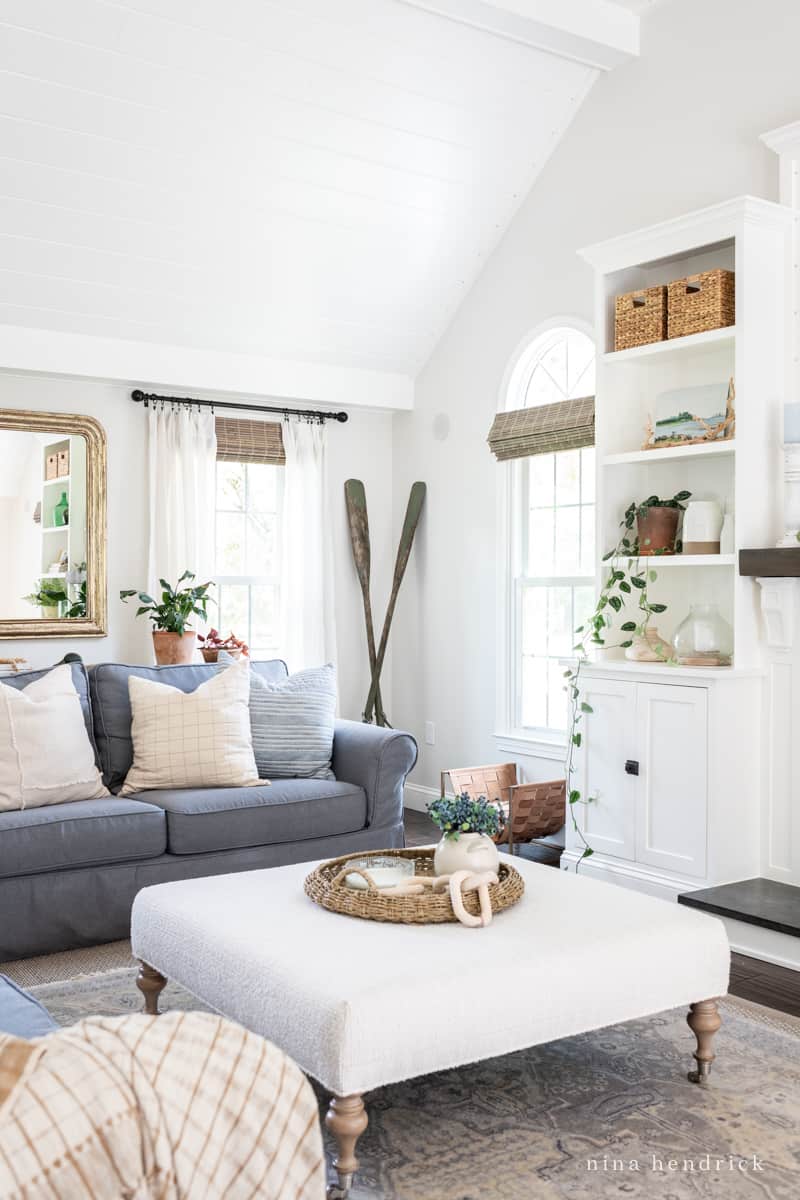 As summer approaches, I'm feeling inspired to give my home a breath of fresh air! For summer, I focus on minimalism and embracing the idea that less is more. That's why today I'm sharing some of my favorite easy summer decor ideas. I'm a huge advocate of seasonal decorating with what you already have or what you can find in nature!
This post contains affiliate links, which means I may get a small commission (at no extra cost to you) if you shop my link. Please see my disclosure if you'd like more info!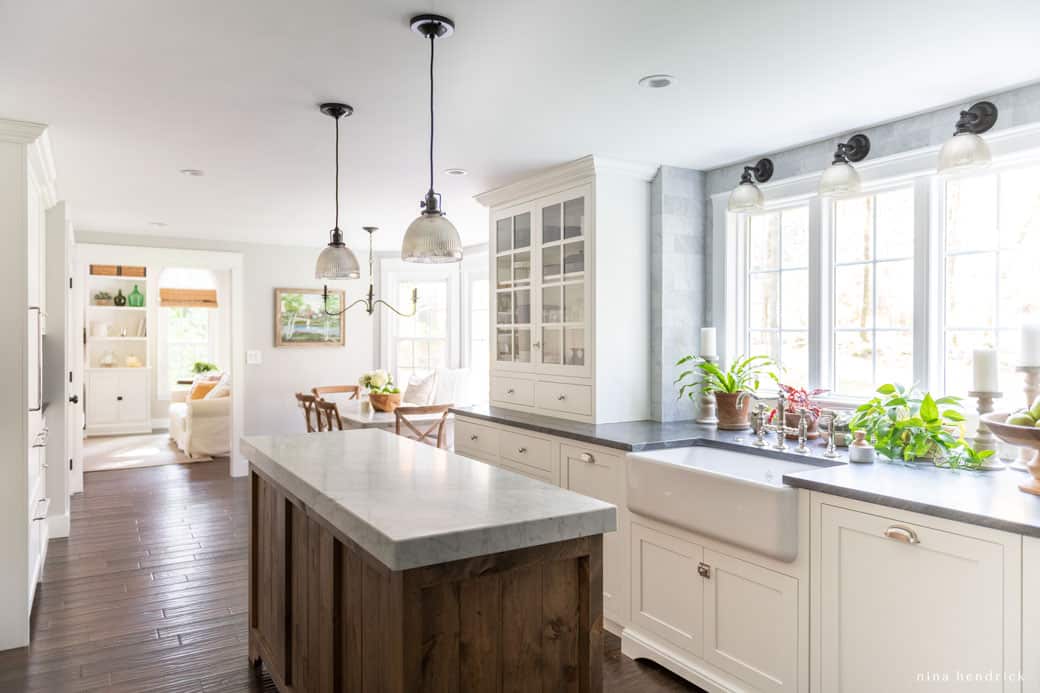 Simplify and "Undecorate"
One of the most popular summer decor ideas is to simplify and "undecorate" your home. This means clearing out unnecessary clutter and creating a clean, airy space. The idea is to create a calm environment that reflects the beauty of the outdoors.
Start by removing some of the heavier items like area rugs and curtains. Replace them with lighter fabrics like white cotton or linen. Swap out heavy, dark throws and pillows with more vibrant colors and floral prints.
Minimalism is another popular trend for summer decor. This look is focused on keeping things simple and clean. Create a neutral palette and use small pops of color to add interest and texture. Choose furniture that is light and airy, and opt for lightweight fabrics and materials.
Summer is the time when I typically let the house breathe. It feels fantastic in the warmer weather to keep things simple. As much as I love seasonal decor, there's something to be said for neutral and seasonless decor. Our summer months go by so quickly here in New England that we pretty much turn our attention outside to the garden as soon as the weather turns nice enough!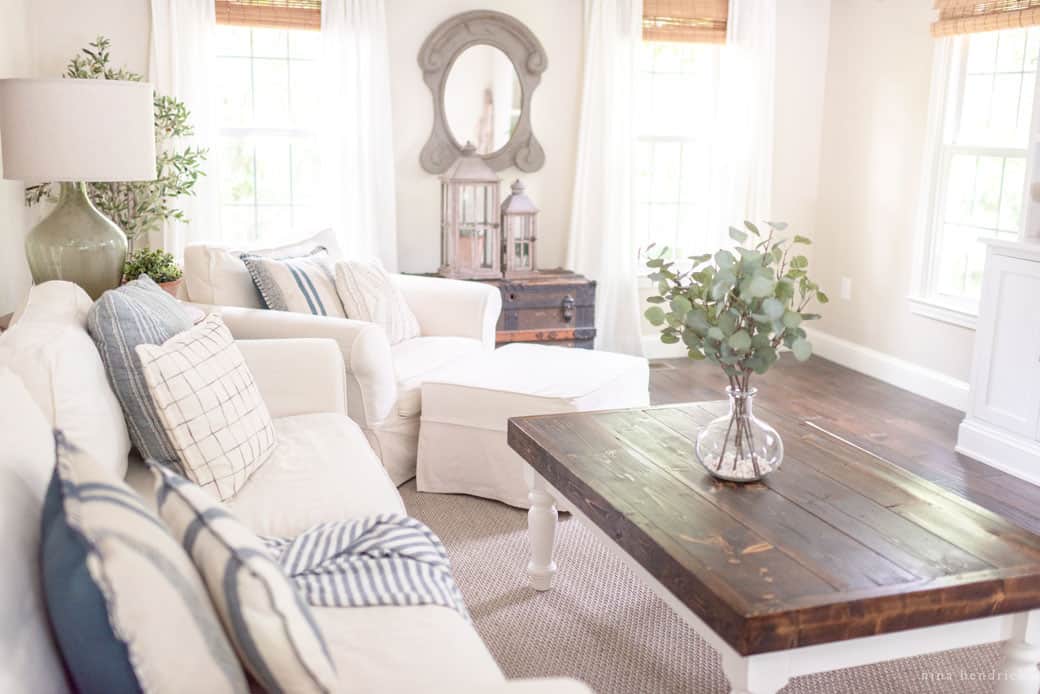 Bring in Summer Colors
The concept of "summer colors" is going to be somewhat subjective, but I recommend turning to nature for inspiration. My favorite colors to decorate with for summer are shades of blue and green, pulled from my favorite flower — hydrangea — and my favorite place, the sea.
Other ideas including bringing in pops of yellow and orange from citrus, or hints of aqua for a beachy feel. Essentially, choose colors that make you happy and remind you of your favorite things!
Chances are, you may already be decorating with these colors. Blue and green remain in my home year-round!
Ideas for Pops of Summer Color
Add a bright and cheerful outdoor rug in a vivid hue like hot pink or bold yellow.
Add a few brightly colored throw blankets to your chairs or sofa.
Treat yourself to a new candle in a sunny summer color.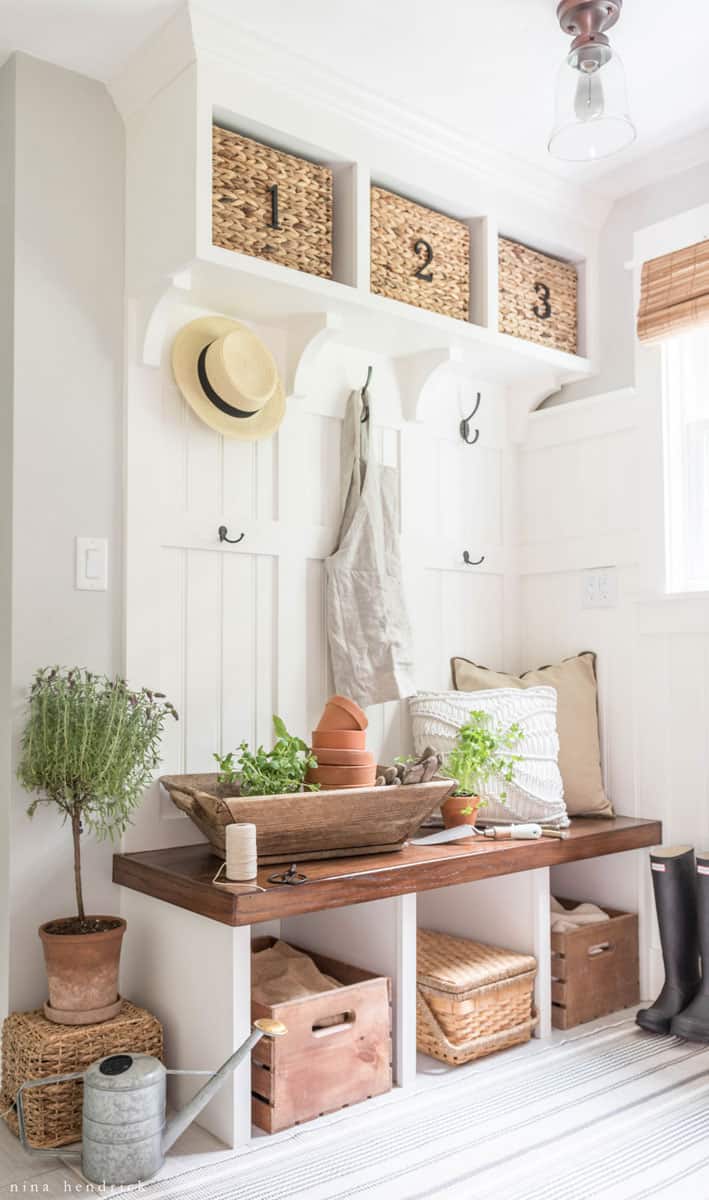 Grow Something Green
Bring the outdoors in with a DIY terrarium or a potted plant. Not only will it bring a touch of nature into your home, but it will also help to purify the air!
You can also choose from a variety of plants, herbs, and flowers that will thrive indoors. Choose plants that do well in your lighting conditions and make sure to learn how to properly care for them so that you'll have them for years to come!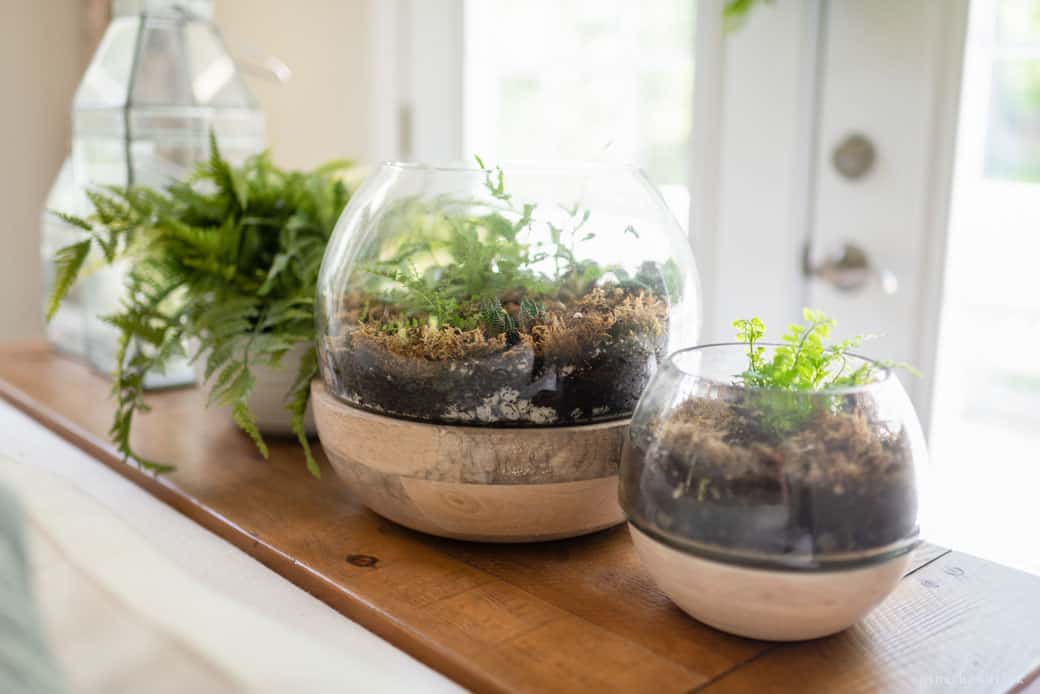 Easy Indoor Plant Ideas:
Succulents are low maintenance and require minimal watering. Plus, they come in an array of shapes and sizes, allowing you to customize your look.
Pothos is a trailing plant that is easy to grow and requires minimal care. It can be grown in a pot or in a hanging basket with its vines cascading down.
Air Plants are perfect for those who don't have much space or time to dedicate to a plant. With their low-light and low-water requirements, air plants are perfect for brightening up any space.
Snake Plants are one of the best indoor plants and require minimal care. They're also known to be good air purifiers, making them a great choice for the summertime when air conditioning can dry out the air.
Ferns are a great way to add a touch of nature to your home. They can be hung in baskets, added to shelves, or planted in pots. They're also very low maintenance and require minimal water.
If you're patient and looking for a way to bring a bit of nature into your home toward the end of summer, growing a cut flower garden is one of the best summer decor ideas. With some care, you'll have an abundance of beautiful flowers to create floral arrangements and enjoy later in the summer!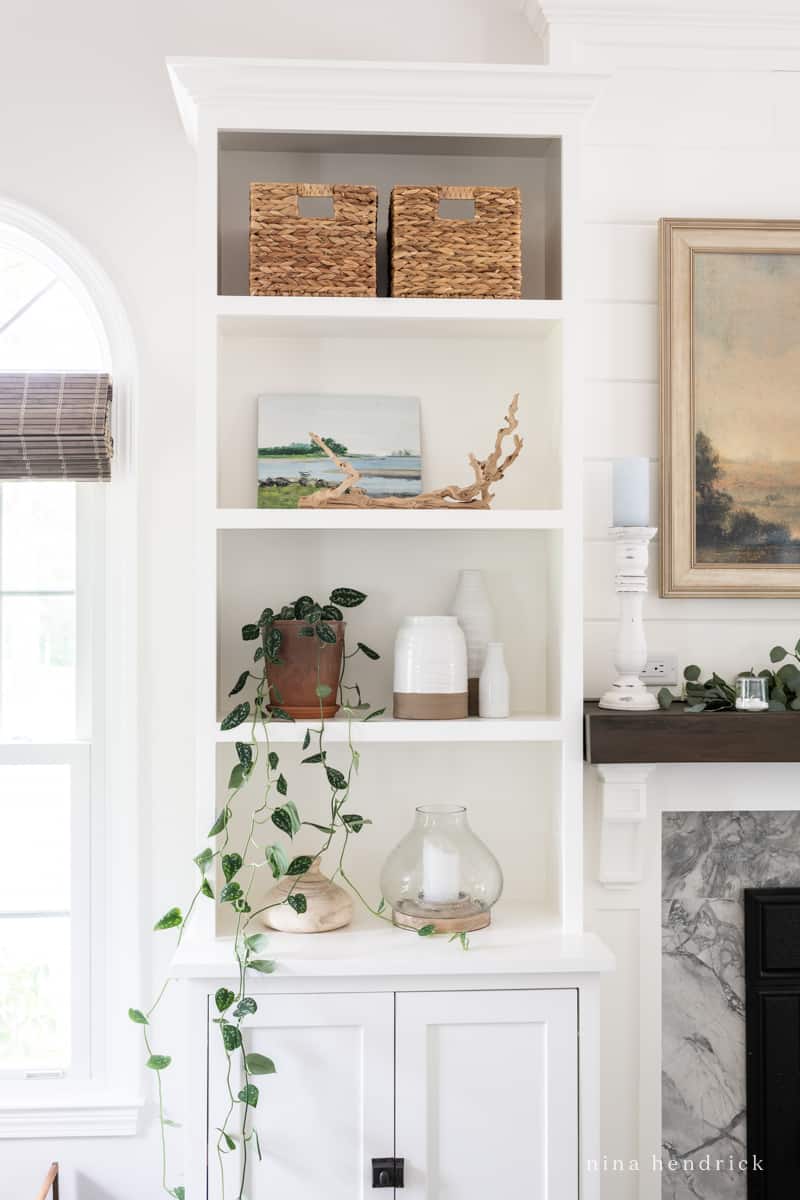 Subtle Nautical-Inspired Decor
Nautical-Inspired Decor is the perfect way to bring a touch of summer into your home! The classic blue and white color palette, combined with natural elements like rope and wood, gives you a chic and timeless look. If you're already identifying with the Coastal Grandmother trend, this may be the way you always decorate, but this style especially shines in the summer months!
One of the great things about nautical-inspired decor is that it is incredibly versatile. Whether you're looking for a way to give your living room a coastal feel or you're simply looking for a few pieces to add to your bedroom, there are plenty of options for adding a nautical touch to your home. You can start with some simple pieces, like blue and white striped throw pillows, and layer in some more colorful pieces, like vintage buoys or a rope knot doorstop. You can also bring in some natural elements, like a rope-wrapped mirror or a piece of driftwood.
Nautical-inspired decor is also the perfect way to give any outdoor space a beachy feel. Whether you're putting together a pool area or simply looking for a way to give your patio a coastal makeover, you can incorporate coastal elements like white-washed wooden furniture, accent pillows with beach-inspired colors, and resort-worthy tasseled umbrellas and lounge chairs. These nautical-inspired pieces will give your outdoor space a classic nautical look that's straight from a New England seaside retreat!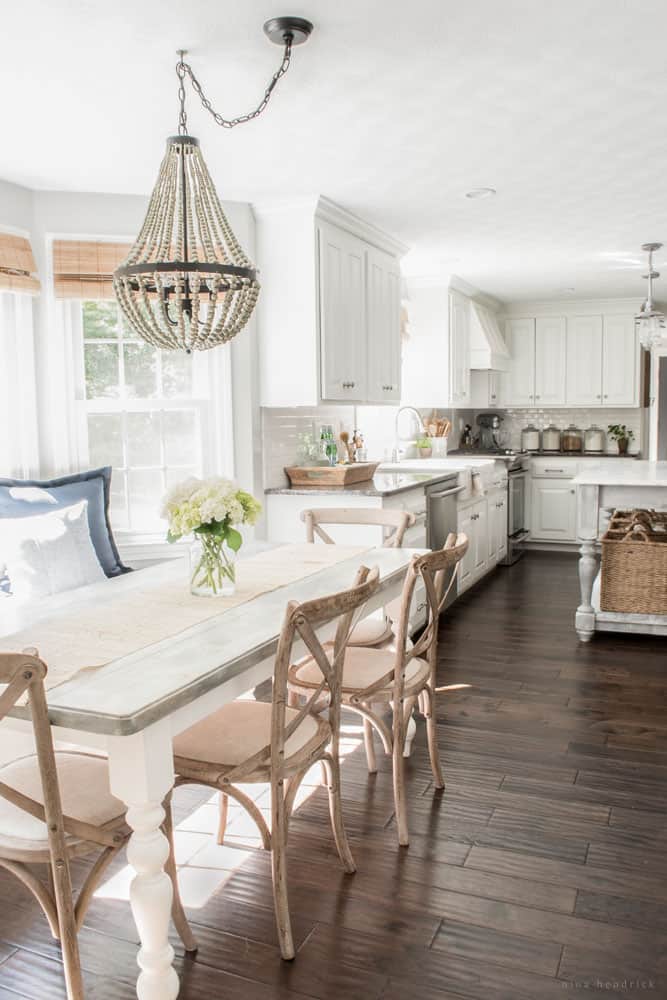 Bring the Outdoors In
I know that's been the theme of this entire post so far, but you can actually literally bring the outdoors in. Summer is the perfect time to forage for flowers and greenery to use in your decor. You can also fill vases with pretty rocks, shells, and other outdoor finds.
Incorporating natural materials in your summer decor such as wicker, jute, wood accents and rattan can also help create a relaxed, summery vibe!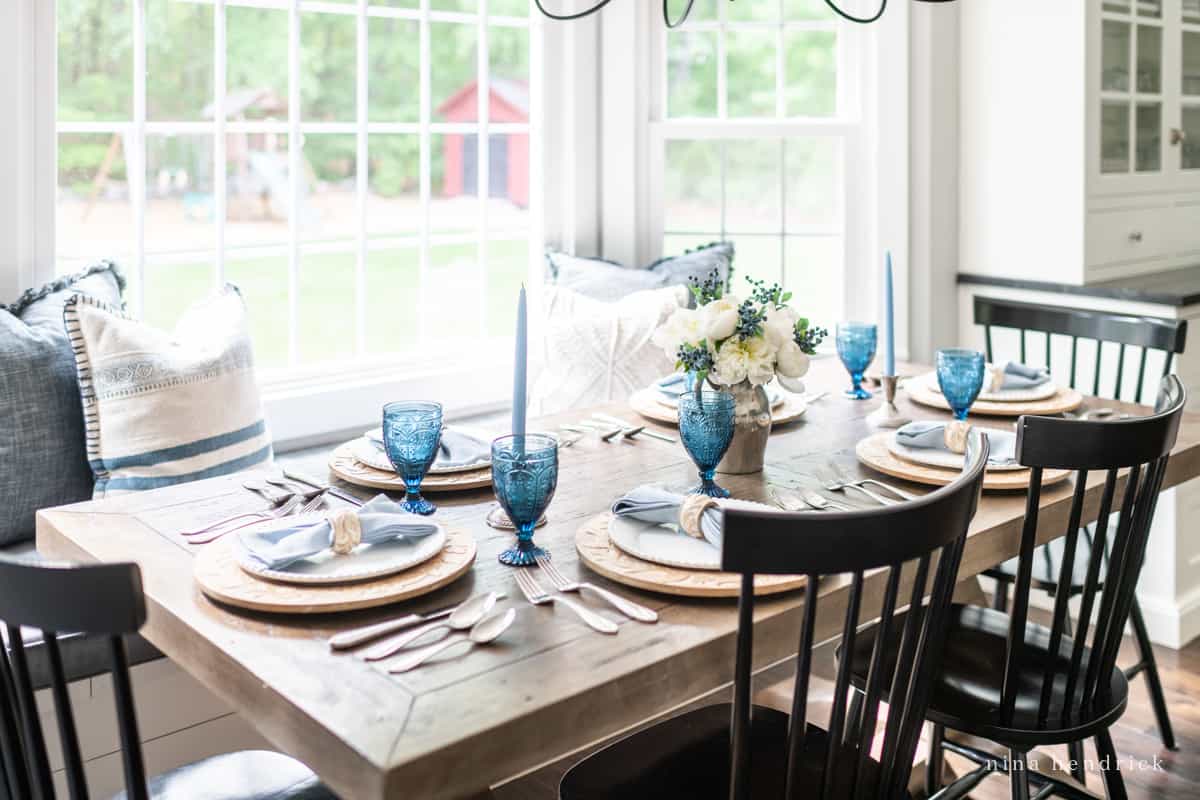 Set a Lovely Indoor Tablescape
Although entertaining outdoors is preferable in the summer, sometimes it just isn't possible. Indoor entertaining can be just as beautiful and inviting as outdoor entertaining when you set up a lovely tablescape. Utilize simple tableware to help with a casual and laid-back feeling. Arrange a bouquet of fresh, seasonal flowers in a vase or pitcher for a bright splash of color. Add candleholders and votive candles to create a romantic, summery ambiance. Utilize a mix of textures, like rattan chargers and hobnail glasses to create a unique look. With a bit of effort and creativity, you can create a beautiful indoor tablescape that will make your summer entertaining a memorable experience.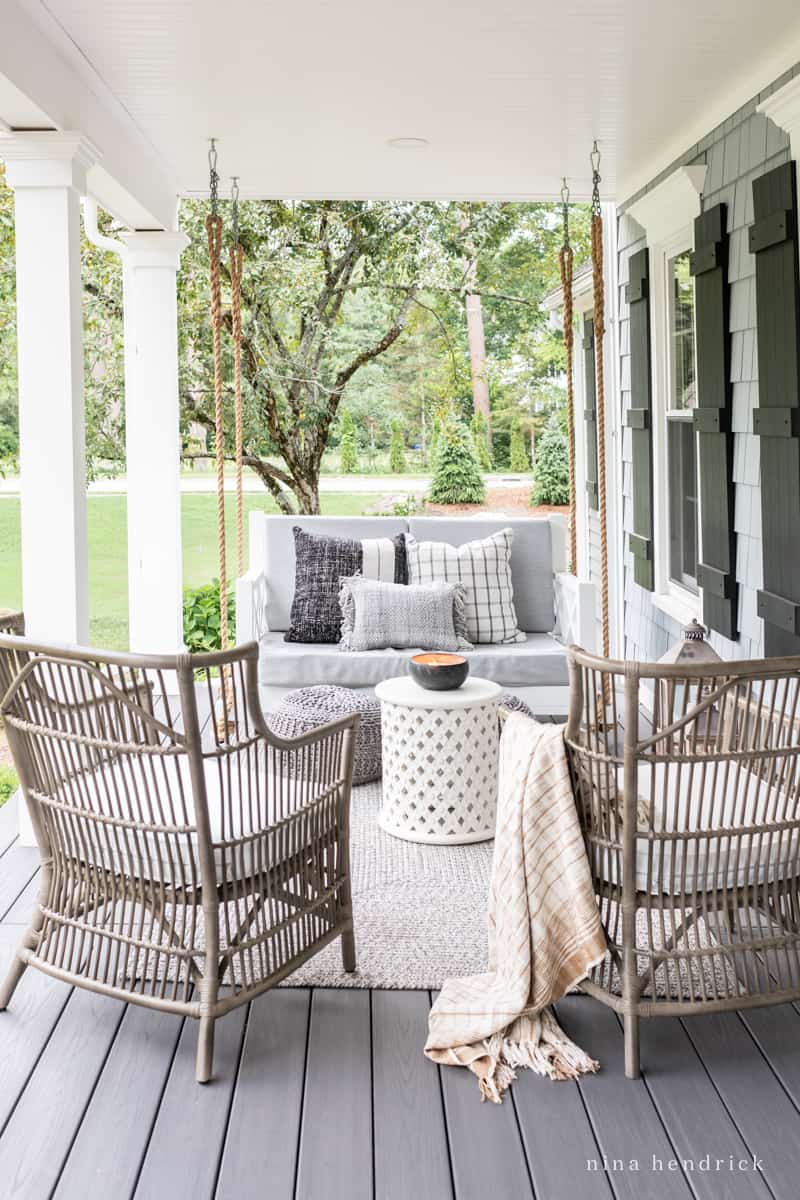 Create a Quiet Outdoor Spot
Whether it's a swing on your front porch, a quiet bench in the garden, or a hammock between the trees where you can hear the bird sing, create a small and quiet spot outdoors where you can soak up the sounds and smells of the season.
Set up a small side table where you can set down a mug of coffee in the morning or a glass of wine in the evening. Add a couple of blankets and a cozy pillow for naps or getting cozy while reading a book. For extra fun, add some lanterns or candle holders for a decorative touch!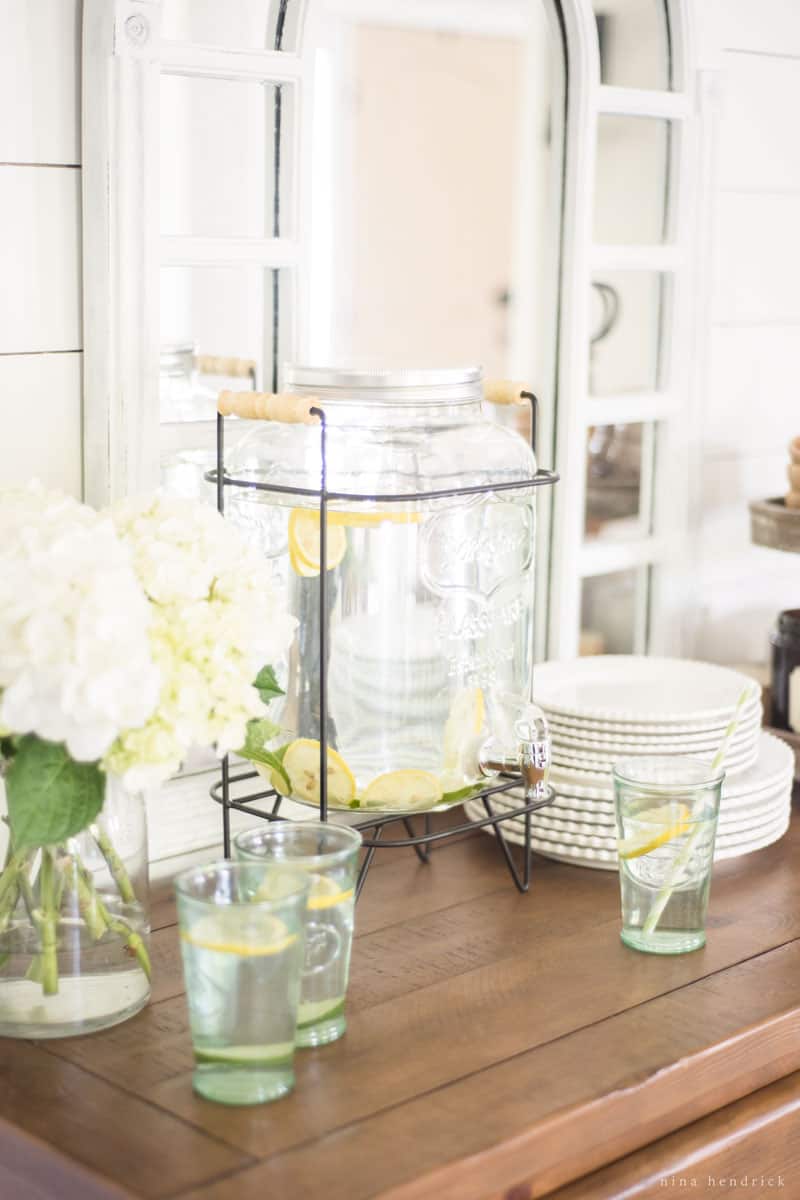 Leave Out a Refreshing (and Pretty) Water Station
As the temperature rises and summer gets closer, it is important to think of ways to stay hydrated. Why not set up a stylish and practical water station in your home? Place the station in an easily accessible spot and make sure to add some fruits and herbs to give the water a refreshing flavor. Throw in a scoop of ice to keep it cool and add some decorative touches with a pot of flowers or an attractive bowl for the fruit and herbs. Make sure you include plenty of cups and other necessary items for the station!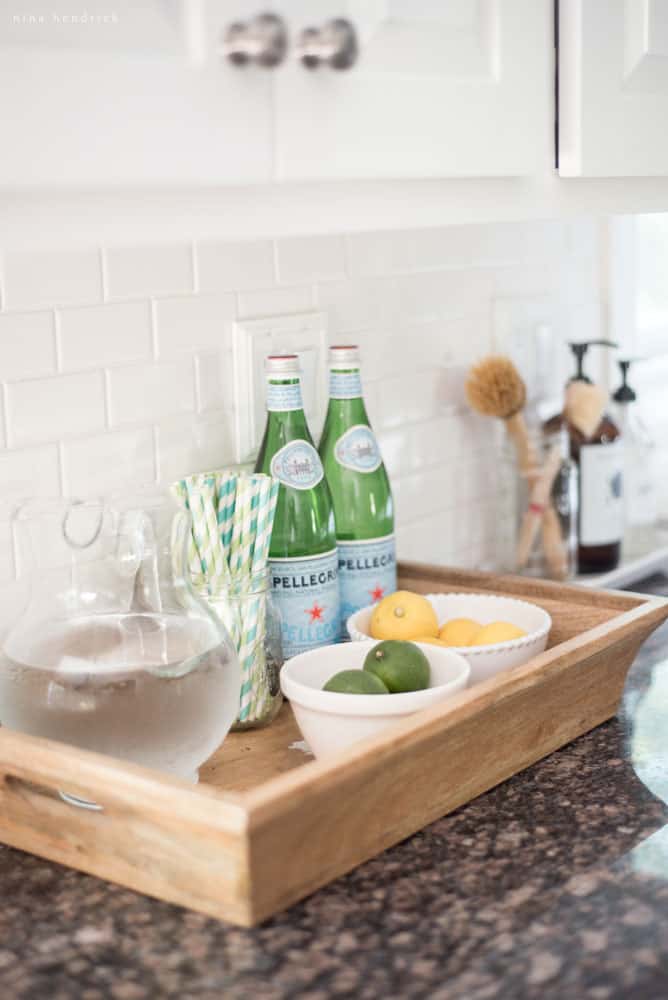 You don't need to make this super fancy or take up a lot of space. Even a simple tray on your counter provides the perfect spot for a small water station with still and sparkling options.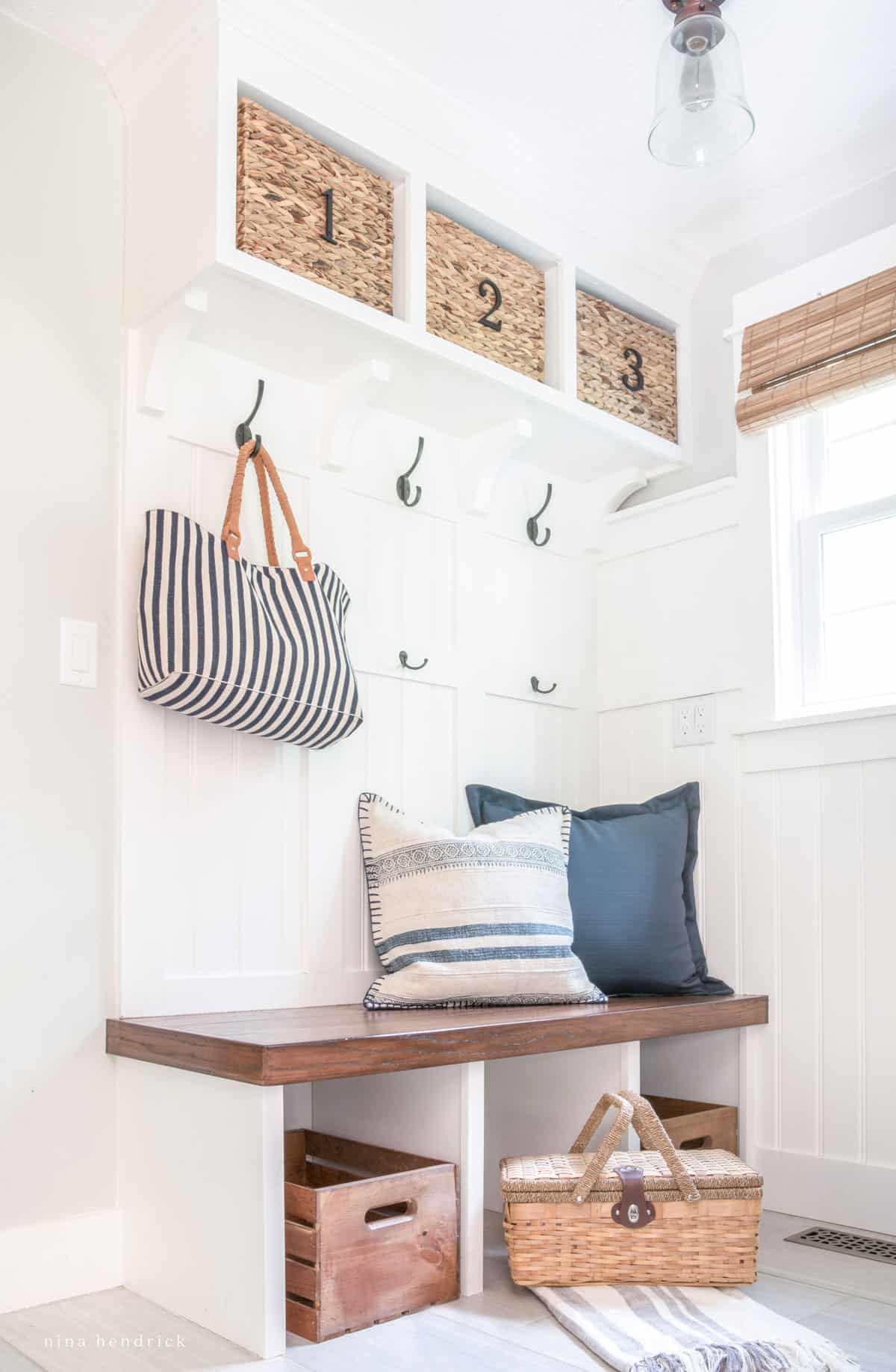 Decorate with Practical Items
Typically, the mudroom gets a bit of a break from all the backpacks and sports gear in the summer, never mind the heavier clothes from our cold New England winters!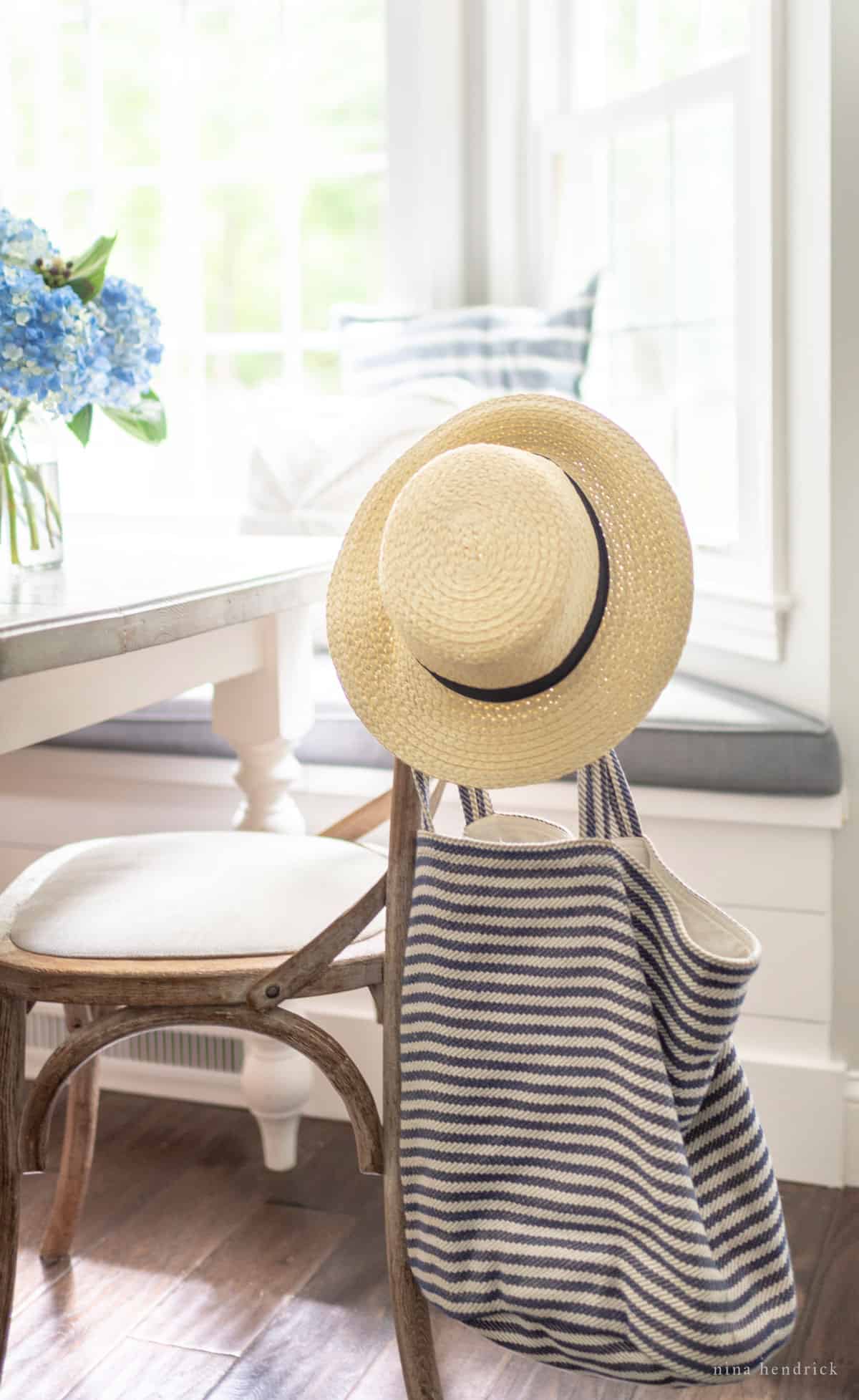 Adding practical items to your summer decor is a great way to make the most of your living space during the warmer months. A picnic basket and blanket can be used for an outdoor lunch but can also serve as a stylish addition to any room. Hang your beach bag containing sunscreen, a towel, and sunglasses on a hook and add a straw hat to complete the beach-inspired look. Your summer decor will be both useful and beautiful!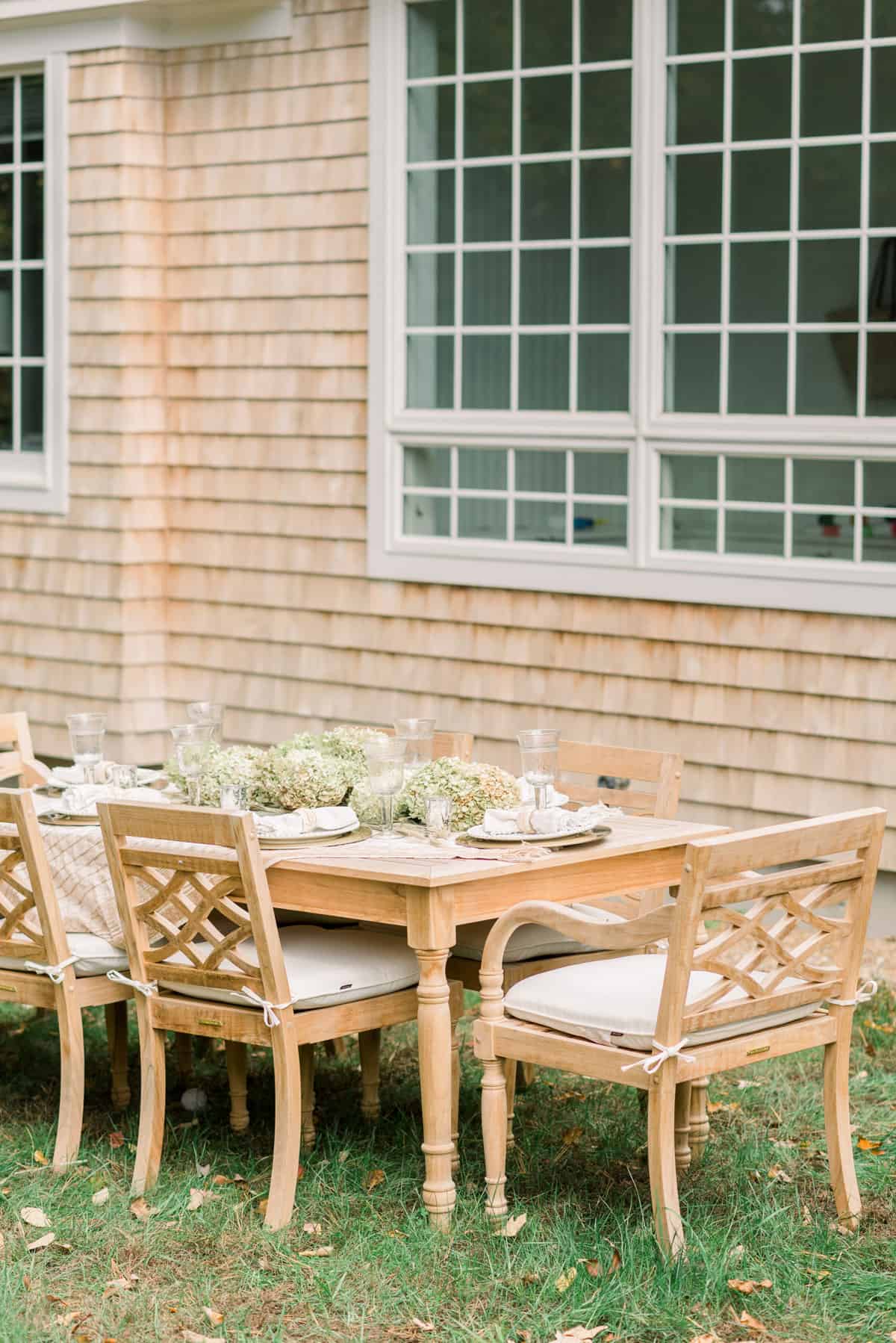 Set Up an Outdoor Dining Space
Summer is the perfect time to spruce up your backyard or patio with a place to entertain and enjoy meals. If you're looking for the perfect outdoor dining area this summer, you don't necessarily need a stone patio or deck! You can choose a spot on your lawn and bring in some pea gravel to create a summer-ready patio area. With a few simple additions, you can transform your backyard into the perfect spot for outdoor dining.
Choose a table and chairs that are both comfortable and stylish.
Add a colorful tablecloth and decorate with flowers and plants to give it a summery feel.
Invest in a few outdoor lighting options like string lights, lanterns, or candles to create a cozy ambiance.
Consider adding an outdoor umbrella or awning for shade.
Place outdoor furniture cushions and pillows for extra comfort.
Hang a few fun decorations like wind chimes or flags to add a festive touch.
Set up a sound system to create a party atmosphere.
With these summer decor ideas, you can create the perfect outdoor gathering spot to enjoy the warm weather.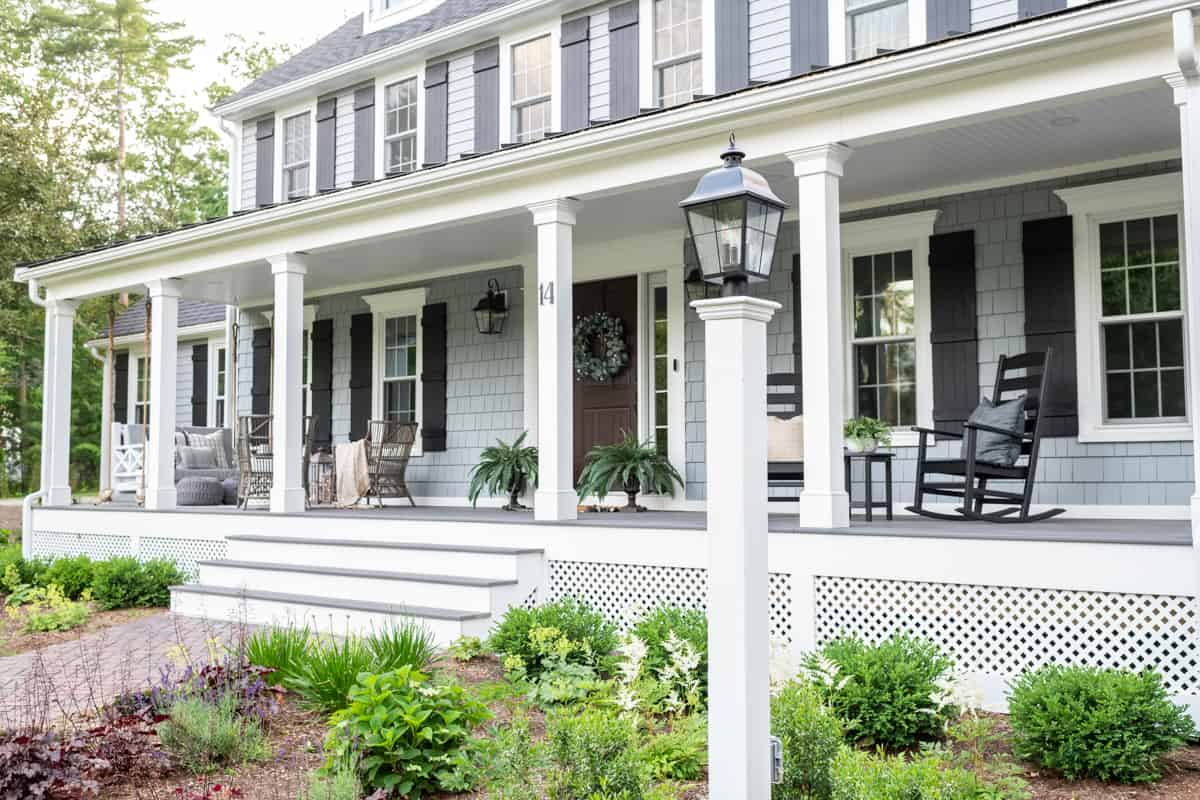 Outdoor Summer Decorating Ideas
While we're still working on the outdoor space at our new home (and I'm excited to share that progress with you soon!) and I don't have many photos yet, I wanted to make sure to give you some of my favorite ideas for outdoor summer decorating. I plan to use some of these when the time comes!
Install a hammock in your backyard for relaxing summer afternoons.
Create a unique outdoor seating area with a set of mismatched thrifted patio furniture. Unify the furniture with the same color spray paint and make it cozy with cushions and pillows.
Place a few potted plants on your porch or patio for a touch of greenery.
Hang a few window boxes on your porch or patio for a pop of color.
Hang some string lights around your deck or patio for a magical evening atmosphere.
Put together a summer-inspired tablescape with a bright, floral tablecloth and colorful dinnerware.
Place some citronella candles around your outdoor area to keep pesky bugs away.
Installing a fountain in your garden or yard adds a tranquil ambiance to your summer evenings.
Place a few wind chimes around your porch or patio to create a peaceful atmosphere.
Set up a fire pit in your backyard for cozy summer evenings under the stars.
No matter what look or theme you are looking to create this summer, with the right decorations and creative approach, you can bring the perfect summer vibes to your home. Whether you're looking to create a beach-inspired oasis or bring a touch of nature indoors, there are plenty of summer decor ideas to explore to fit any budget. With the right approach and a bit of creativity, you can make your home the perfect summer retreat.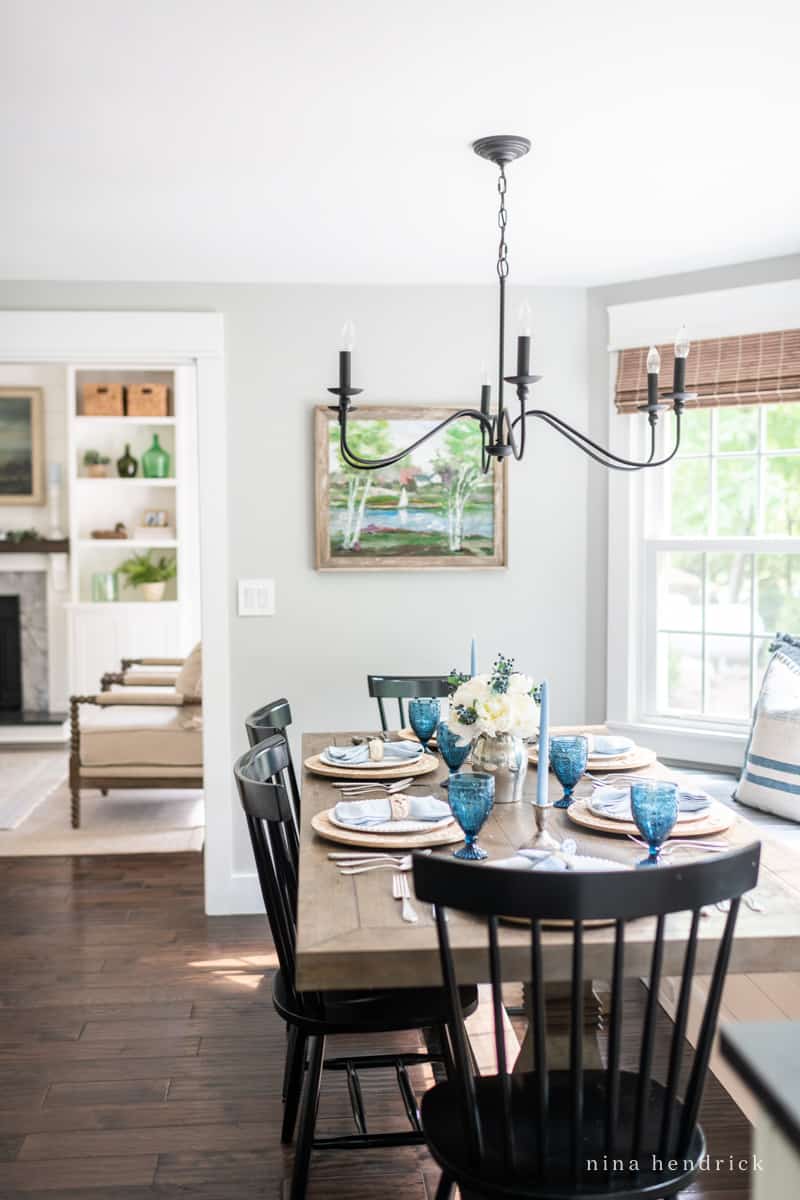 Now is the perfect time to get creative and have some fun with these summer decor ideas! Make sure to tag me on Instagram @ninahendrickhome or post in our free community if you end up using some of these ideas so I can see what you create!