Are you looking for creative ways to decorate open shelves? From adding color and texture to making use of vertical space, discover the best shelf decor ideas and tips for your home!
Creating beautiful shelves is the perfect way to add an eye-catching decorative element to any room. Whether you have an entire wall to cover or just a small corner, these shelf decor ideas can help you display your favorite items in style. From open shelves, to built-ins, to floating shelves, there are plenty of creative shelf decor ideas to choose from. In this blog post, we will explore some of the best shelf decor ideas to help you create the perfect look for any room.
Open shelving in the kitchen has been trending for a while now, and it won't be fading out anytime soon. When my husband and I recently renovated the kitchen in our new home, I knew I'd want open shelving again like we had in our last home. I loved it then and I love it now! Although critics have a lot to say about the potential dust and/or grease on open shelves, there are also some practical elements to go along with the aesthetics of shelf decor.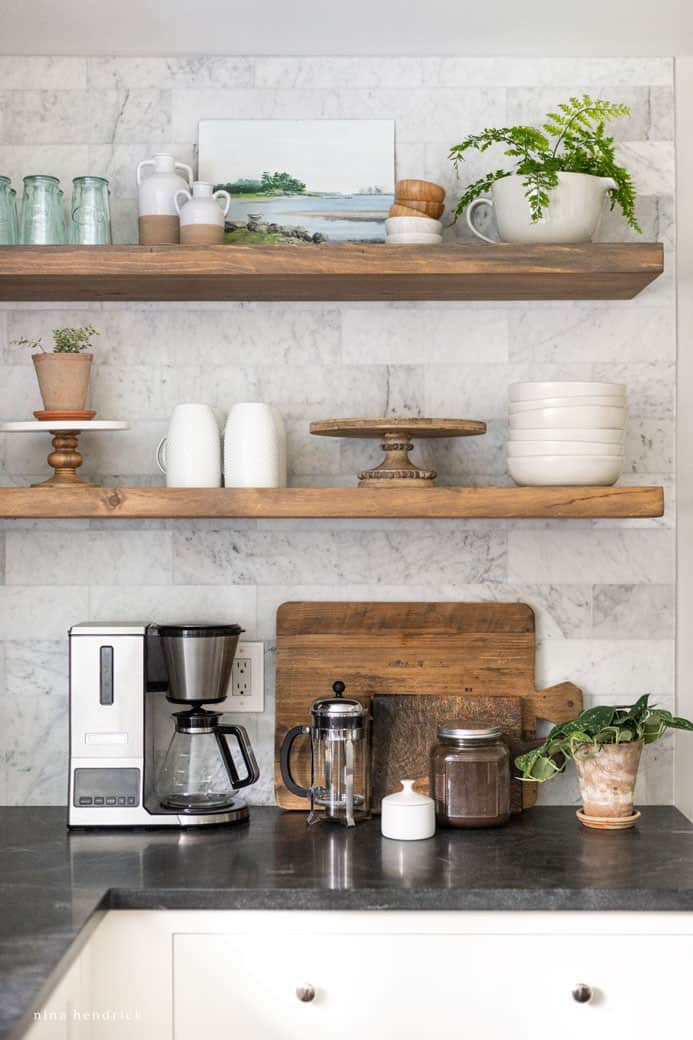 Using open shelves really opens up the entire room by creating more space and making everything feel airy and modern. They're much less expensive than custom cabinets, and can help to solve tricky design dilemmas, like tight corners of the kitchen where cabinet doors would collide. Although you can find any type of shelf material you desire, from stainless steel to glass, most commonly open shelves are made from natural wood. Bringing in wood always adds warmth and character to a space, and stained wood, (rather than painted), can create even more of that feeling.
If design isn't your passion, (or even if it is!), styling shelves can be challenging because of the sheer amount of surface area you need to problem solve and decorate. Add in the fact that we're talking mostly about kitchen shelves, and it adds a whole extra layer of needing to prioritize functionality. Gulp!
Luckily, I've got some really helpful tips and ideas that make styling open kitchen shelving easy as pie. :)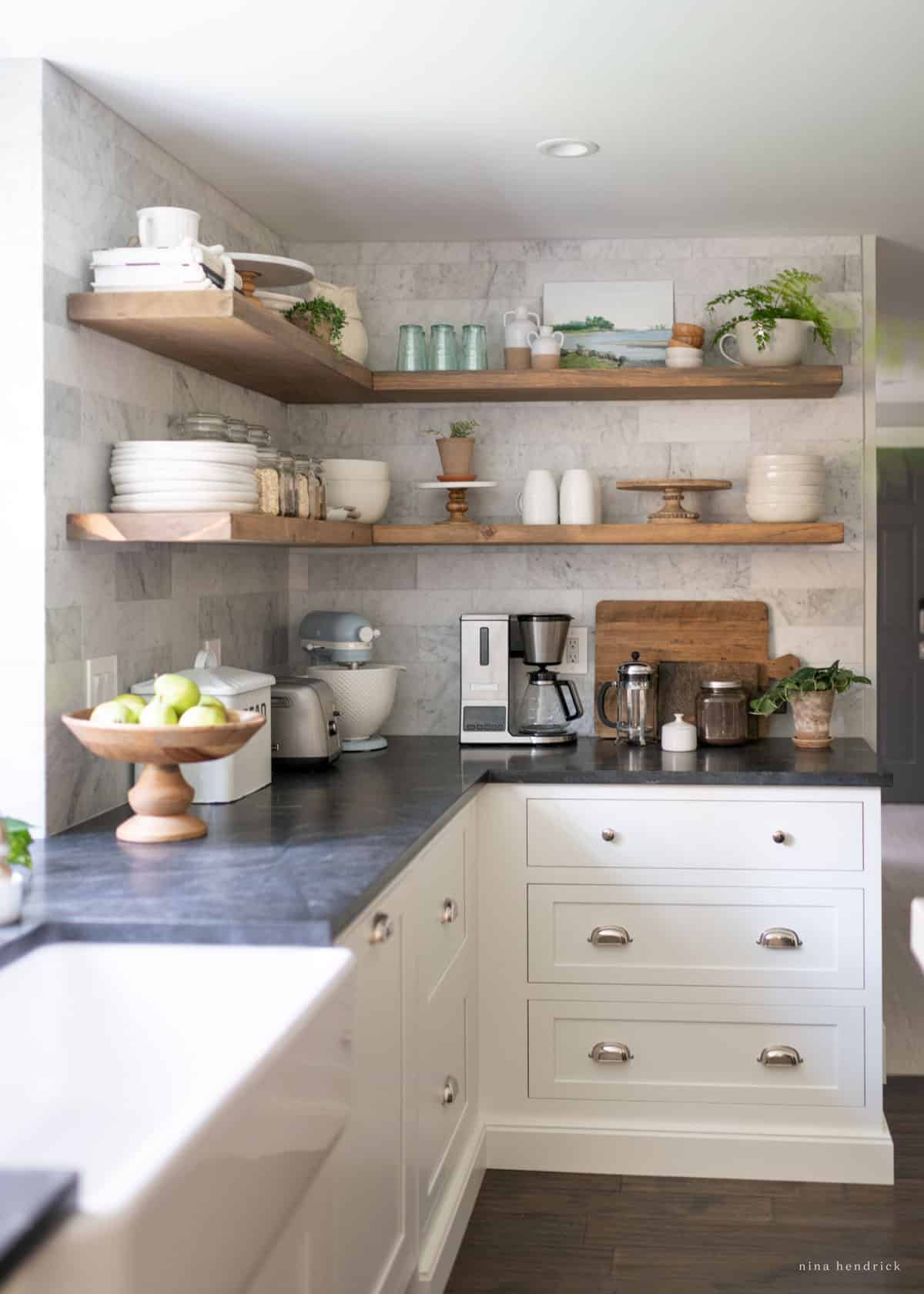 3 Important Tips For Open Shelves
Display items you regularly use: This is my top tip! The open shelves in your kitchen are taking the place of cabinetry, so they need to house the dinnerware you regularly use. There's a time and a place for purely decorative shelving, but your kitchen shelves aren't it! If they don't contain the items your household regularly uses, then they become a hindrance – taking up valuable space, and forcing you to cram even more stuff into already cramped spaces elsewhere. So put your open shelving to good use, and display your everyday plates, bowls, and cups.

Now, that being said, you can, of course, put some purely decorative items on your kitchen shelves. I think it goes against my DNA to completely discourage decor items in any capacity, ha! But my advice is to keep those items on upper shelves, so that they're out of the way of the everyday items you'll be reaching for. You can display framed art, vases, larger plants, or cookbooks on your upper shelves, and keep plates, bowls, glasses, and mugs within reach on the lower ones.

Only set items that look good on your open shelves: Ok, so this one is in the eye of the beholder, but you need to like the look of the items on your open shelves! Sometimes this means investing in new dishes, so that your shelf display can have a neat, cohesive look. If your style of collecting kitchen wares has been pretty hodge podge over the years, that's something to consider when deciding on open shelving in the kitchen. Do you really want to invest in new kitchen items? Is it feasible? Do your future self a solid and answer these questions honestly before jumping on a trend that doesn't work for you.
Don't install your open shelves too high: In order to get proper function out of your open shelves, you need to make sure they're hung at a reachable level. Your everyday kitchen items will be sitting on these shelves, and if you have to break out a step stool everytime you need a plate, it won't be sustainable. For this reason, your open shelves may need to be installed lower than the other floating shelves in your home. You'll thank yourself for prioritizing function in this way!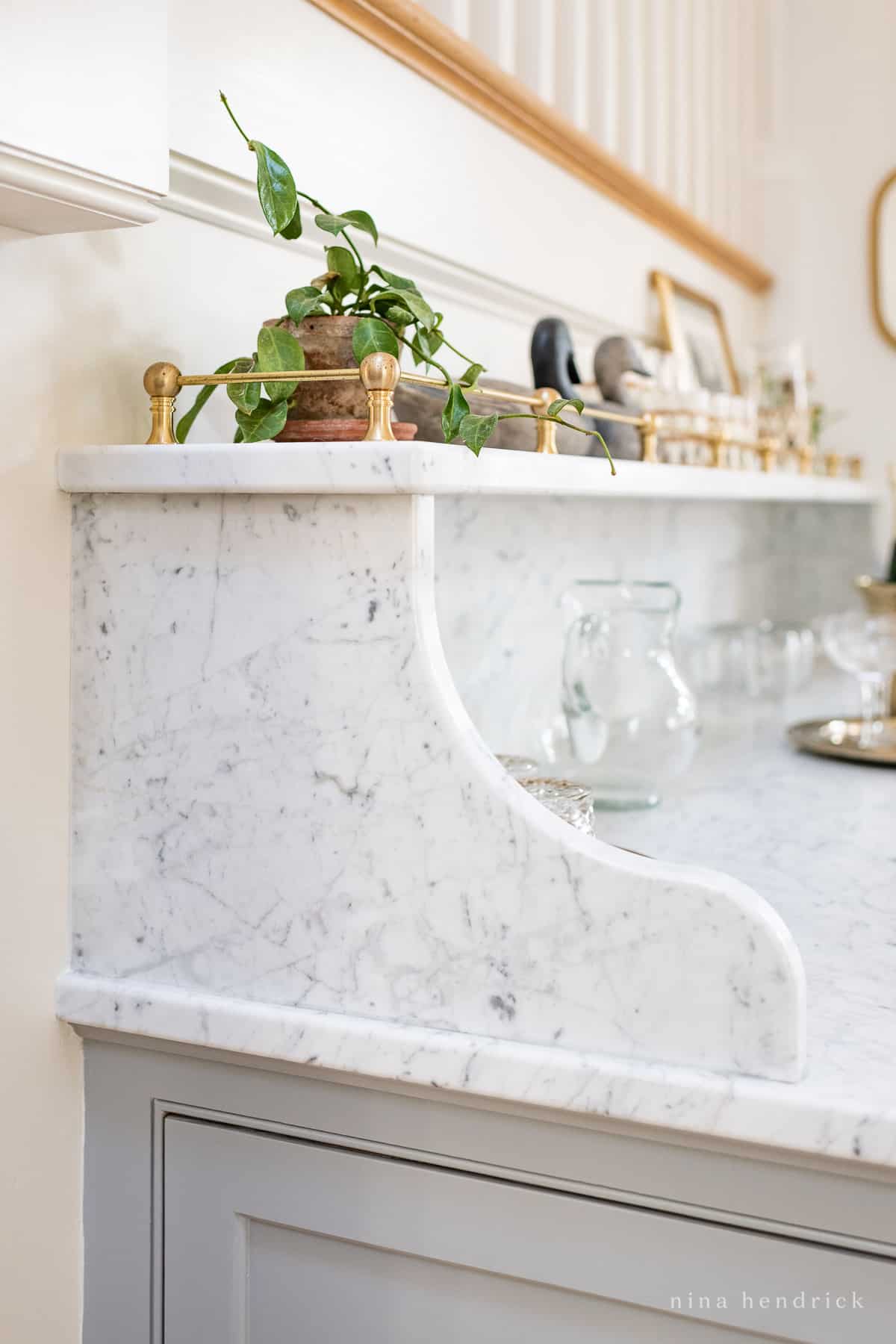 10 Shelf Decor Ideas For Your Home
1. Add Life with Greenery
Add life to your kitchen's open shelves by incorporating potted plants!
When asking for ideas of what to put on a shelf as decor, look no further than these happy little guys. They really do bring a special energy to the space, and they're great for adding pops of green to otherwise neutral decor. Use a variety of plant types, shapes, and sizes for the most depth.
You can put greenery on any shelf, but I advise trying to stick to the upper shelves if you can. These are usually the shelves with the most sunlight, so plants tend to like them more! Also, if they're up high, they won't be in the way. You don't want to be constantly moving leaves to the side to get to the everyday items you use the most. Take note of the size of your plants, and style them smallest to biggest while going up the shelves. If you want to put a plant on a lower shelf, try a really small one. They're so cute!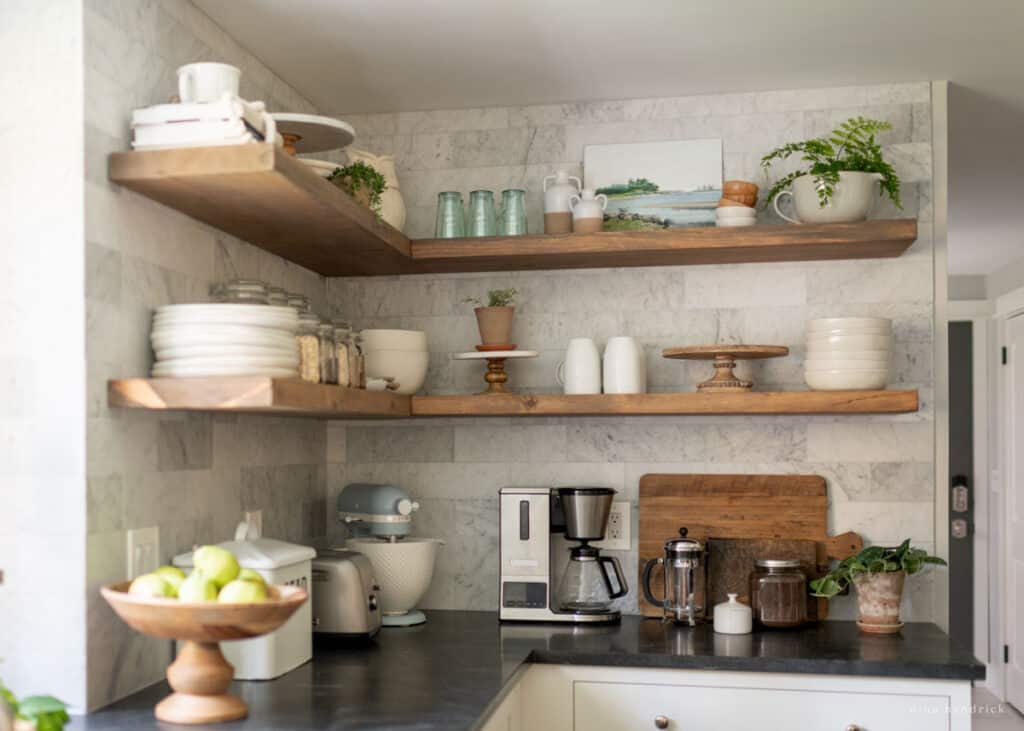 2. Put Thought into your Color Story
Your open shelves are your playground when it comes to creating a color story. This is your opportunity to have fun playing with different options! That being said, a bit of structure liberates the artist, so there are a few rules to creating a crisp, cohesive look.
You'll want to stick to a specific color palette; whatever strikes your fancy! I prefer to keep mine mostly neutral. I keep to whites, natural woods, and clear glass, with pops of green from my plants, and the occasional blue accent.
Other color stories could be:
All neutrals
Monochromatic
Chinoiserie blue & moss green
Red, plum, & wine
Black, tan, & copper
Pink, peach, & orange
Lemon yellow, sky blue, & white
These are just a few to get your wheels turning, but the sky's the limit for color combinations. My advice is to make sure you keep to your color story, and go with a handful of colors or less. This will ensure your shelf decor doesn't look messy or cluttered, when in actuality it's neat and organized.
Take into consideration that the wall behind your open shelves serves as a backdrop. What color is it? Could it be painted an accent color? This will be helpful when figuring out the color scheme because you can create a beautiful look by playing off of it.
A dark wall behind your open shelving will really make white plates and cups pop. If your backdrop is white, perhaps you'd like to stick to neutrals, soft wood stains, and darker metals like brass, gold, or copper. Have fun experimenting with color until you find a look you love.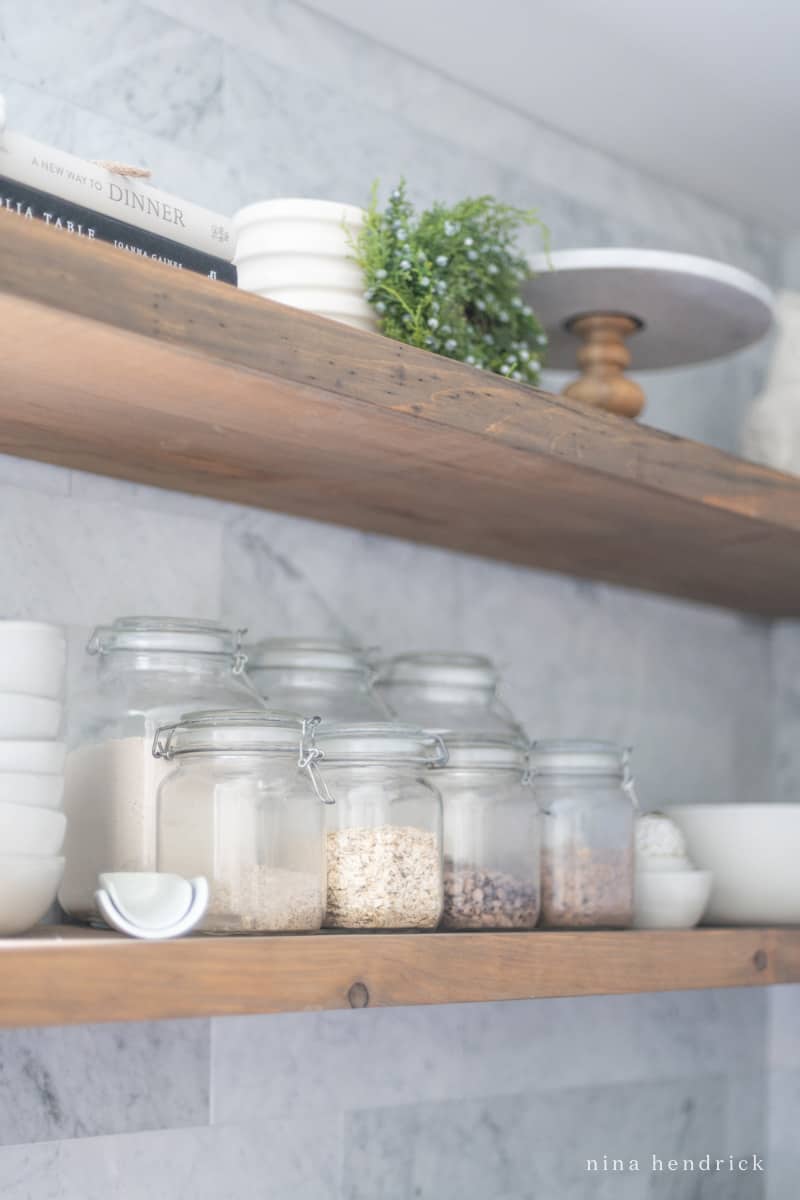 3. Incorporate Glass Jars of Decanted Food Items
Do you have tight quarters in your pantry space? If yes, then this tip is for you!
Store decanted items in matching clear glass jars on your kitchen's open shelving. It looks organized and uniform, and it creates the convenience of no longer having to go to the pantry for these items. When I hear the words "looks organized" and "creates convenience" in the same sentence, I'll tell you to say less, because I'm on it! :)
As a bonus, this tip also frees up space in your pantry for you to put items that you DON'T want displayed. A genius little switcheroo! So you can hide any mismatched items that don't fit into your shelves' color scheme.
4. Bring Shine to the Space with Touches of Metal
If you're staring at your shelf decor and feeling like something is missing, one idea is to try adding in a touch or two of metal! An easy guideline is to pull from the metal that's used for your kitchen hardware. This will create a really nice-looking tie-in to the whole kitchen décor, as well as adding some shine to take the space up a notch.
Does your kitchen have brass sink faucets? Set a vintage brass salt and pepper mill on your shelves. Copper knobs and pulls? Display a copper kettle on your shelves to achieve a jewelry-like shine that will help to draw the eye up your shelves and make your space look bigger!
5. Display Family Heirlooms
If you're lucky enough to have been gifted precious family heirloom kitchen items, your open shelving will create the perfect opportunity to display them. Your kitchen countertops alone may not provide the surface area you need to display your great grandmother's sauce boat, or the antique plate your Mom passed down to you. This is a job for an open shelf! Inserting these meaningful objects into your decor is one of the best ways to accessorize a shelf, because they're so warm and rich in character.
Not only will displaying family heirlooms give them the spotlight they deserve, but it'll play a huge part in really making the space come alive as your own.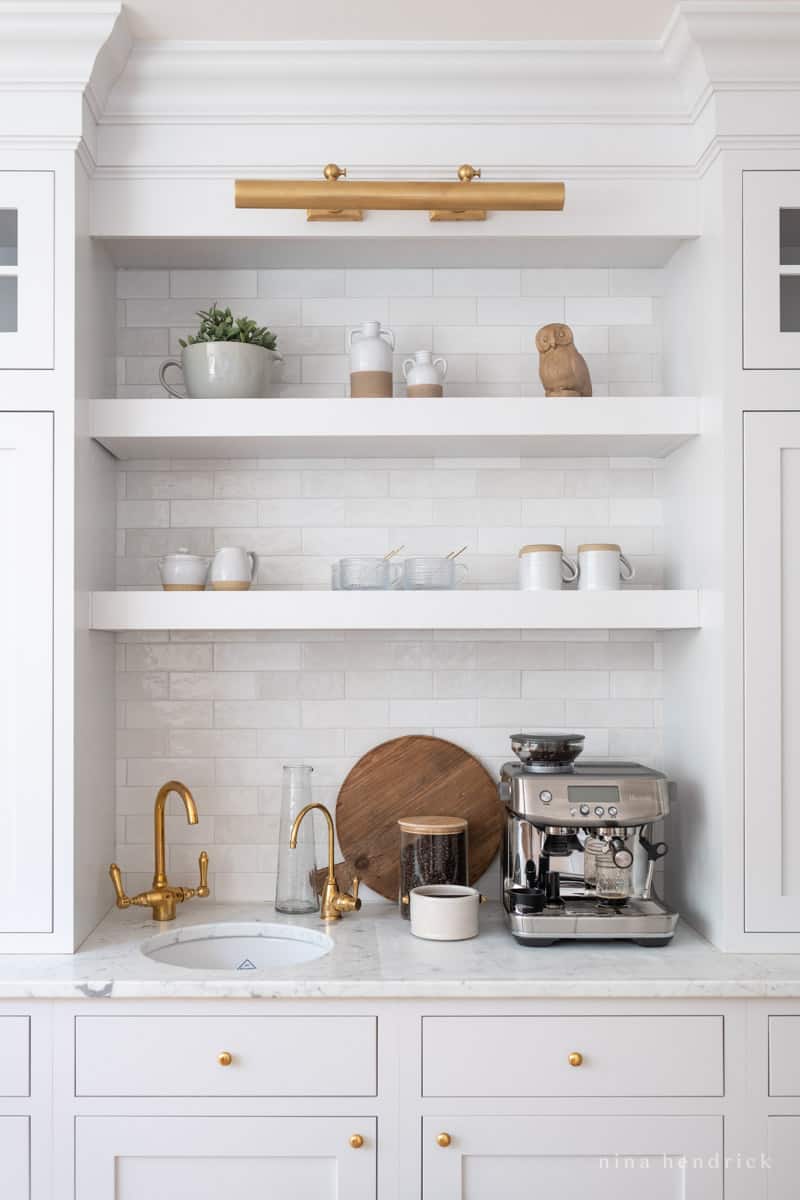 6. Elevate your shelves with a picture light
Wondering how to make your shelves look elegant? Look no further than a picture light! With true designer appeal, it provides an instant increase in sophistication and class. Picture lights are flexible and can fit in with a variety of design styles, as they are neither hyper masculine or feminine, but rather a perfect balance of the two.
I love how the one we installed above our coffee bar ties in perfectly with our gold sink faucets and cabinet knobs!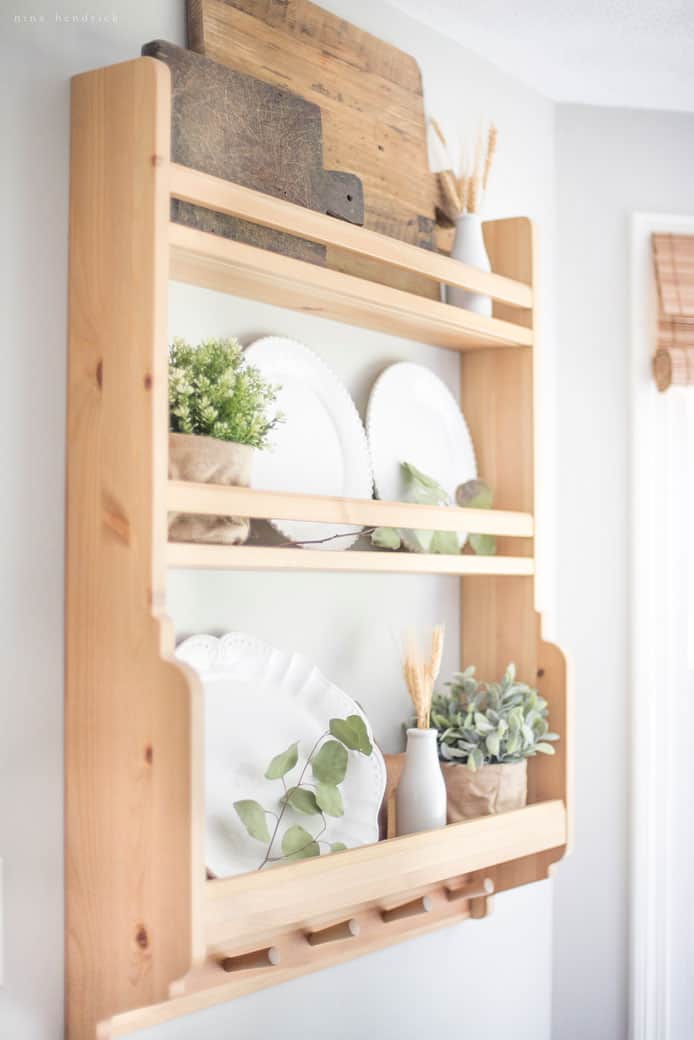 7. Save space with a hanging rack and hooks
You can put your shelf on double duty by mounting a hanging rack and hooks underneath. This provides a solution to additional storage by giving you a place to hang things.
The amount of space underneath the hanging rack will determine what you're able to display there. Smaller spaces will allow you to hang tea cups and coffee mugs. Larger spaces are perfect for hanging pots, pans, and skillets. A medium amount of space may be just right for cooking utensils like spatulas and turners. Basically anything that has a hanging ring or handle can go up here.
Just make sure that everything you hang on the row is part of a cohesive color story. You could hang a whole row of copper pots and pans, or white coffee mugs. It will look best if they're either matching items from the same collection, or at least all the same color. If you're hanging varieties of the same item, you can hang them in order of smallest to largest for a sharp uniform look.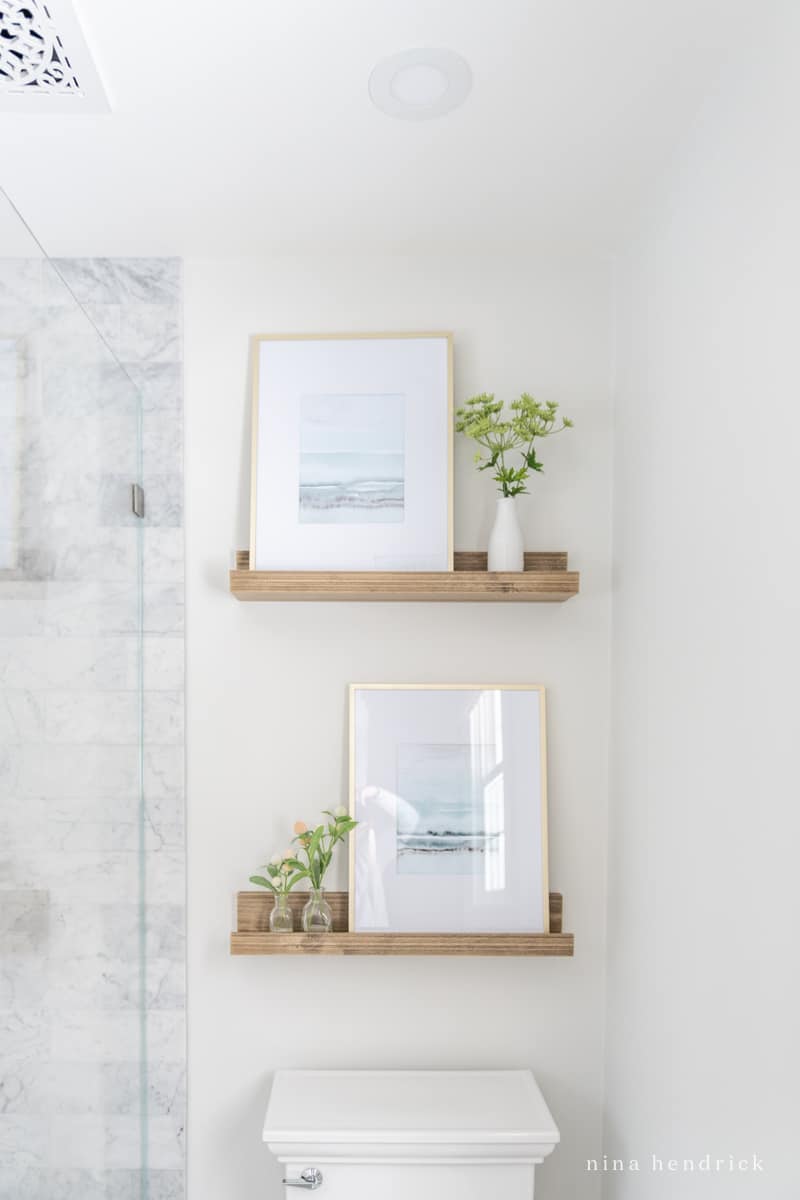 8. Stick to a minimalist design
This will ensure you decorate each shelf without cluttering, because this rule is about keeping things simple. There are many pros to having open shelving, but one of the cons is that it requires more upkeep. When you don't have the enclosure of a cabinet to protect your items, they get dusty! Especially those items that don't get used as frequently as others.
But the good news is, you can counteract this by keeping your open shelving display super simple. The more stuff you have on there, the more you potentially have to dust! And all that cleaning can become quite cumbersome. So do yourself a favor and keep your display minimal, and in turn, your cleaning schedule will follow suit.
In the kitchen, this is another great reason to stick to the tip of mostly putting things on the shelf that you will regularly use. When your shelf items are in regular rotation, they won't have a chance to gather any dust, which means less cleaning for you. It's a win-win!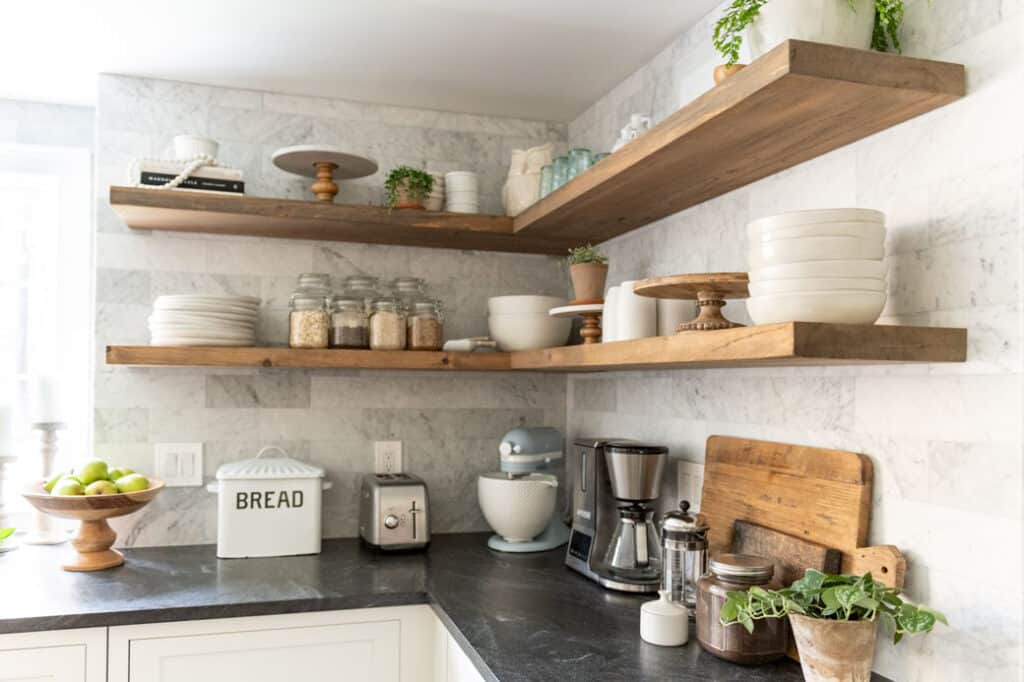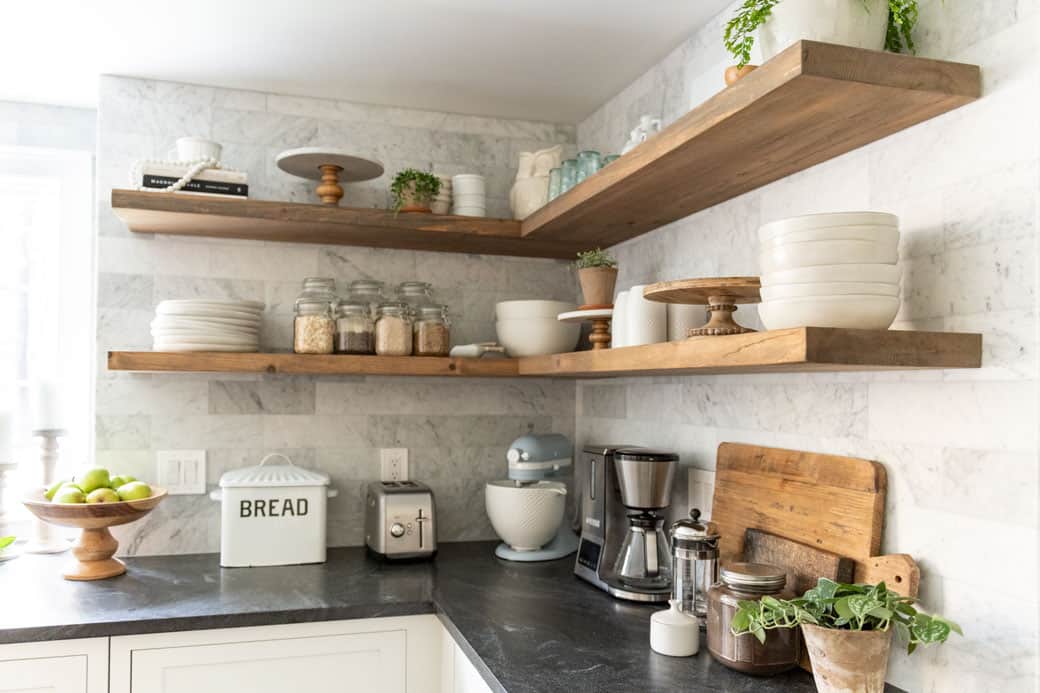 9. Use pedestal trays and cake stands to create height variety
Pedestal trays are a classic decor staple, but they're also all the rage right now! These super trendy items are perfect for giving the height variety your shelves need.
Remember when we discussed 25+ bookshelf decor ideas? There I mention the tip of including height variation in your bookshelf decor. Well, that tip applies to your open kitchen shelving as well!
What's my go-to move to accomplish height variation on my kitchen shelves? Using pedestal trays and cake stands! They're absolutely perfect for this and there really aren't any rules as to what you can set on them. So let your creativity fly! Small plants, stacked cookbooks, stacked plates, a set of small cups, or a pitcher.
You can stick to the same type of item, or mix it up with an interesting combo. You can display one single object on the stand or stack multiple layers. A fun example of this is a pedestal tray holding a set of 5 stacked white plates, with a white pitcher sitting atop, and a tiny little plant squeezed in next to the pitcher. So beautiful! They even look great with nothing on them.
10. Try the layering technique
I love using the layering technique with all types of shelf decor! You can do this with plates, books, or artwork, most commonly, but really anything that will work. To implement this technique, you simply stand items in a way that they overlap each other on the edges. For example, you will often see this with different sizes of framed prints on a shelf. The smaller print will be leaning against the bigger print, slightly covering one of its sides. Or in my case, I've got a painting with two amphora vases on its left, the smaller vase slightly standing in front of the painting.
The overlapping technique is a great space saver, so it's ideal to use to decorate small shelves. It's also excellent for displaying heirloom plates or items that are purely decorative. It creates depth and visual appeal, both of which elevate the space.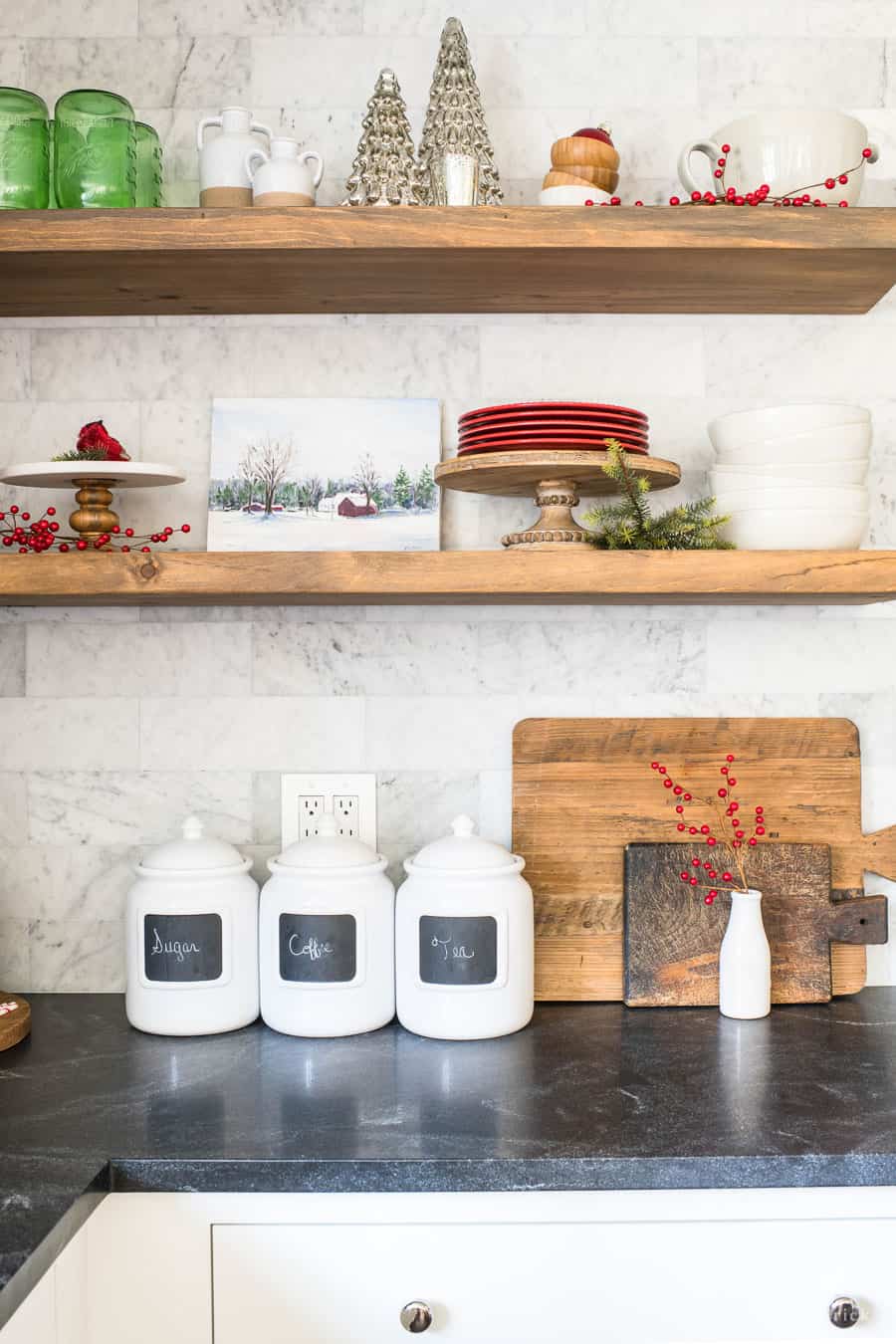 Seasonal and Holiday Shelf Decor Ideas
It's always fun to make your home look festive for the seasons and holidays. One of the easiest and cost-effective ways to do this is to decorate your shelves with seasonal decorations. All the principles for everyday shelf decor from above will also apply for the holidays. Using a combination of decorative objects, greenery, and artwork, you can create a festive, holiday atmosphere on your shelves.
For a Christmas look, try adding a few pieces of holiday-specific decor. Some ideas include a string of lights, a festive garland, a nativity scene, a festive snow globe, a Christmas tree, or an ornament display. In the kitchen, you can also add some plates and other dishes with in the color theme.
For Easter or spring, consider hiding Easter eggs among the shelf decor and including spring animals and flower blossoms here and there.
Shelves are the perfect place to decorate for a smaller holiday like Valentine's Day or St. Patrick's Day.
Which Shelf Decor Ideas Are in Your Home?
I hope these tips and ideas give you some direction when styling your shelves. Remember function first, style second, and have a good time doing it!
Bookmark this blog so you can refer back to it while working on your shelves, and be sure to tag me on IG @ninahendrickhome in pics of your finished open shelving!
Now I'd love to hear from you! Leave me a comment below, and tell me which shelf decor ideas you're loving. Which ones do you find the most challenging to implement? Which of these ideas are already in your home?
Make sure you're following me @ninahendrickhome on IG to catch all my new home renovation updates!