Design the timeless kitchen of your dreams with these easy remodel tips. Learn how to make your kitchen a classic and inviting space!
If you're looking for a way to update your kitchen that won't ever go out of style, then look no further. A timeless kitchen remodel is the perfect way to breathe new life into your kitchen without worrying about it becoming outdated as trends change.
With the right planning and design choices, you can create a kitchen that will stand the test of time and still look beautiful for years to come. In this blog post, I'll show you the choices we made in our kitchen remodel for a timeless and classic space.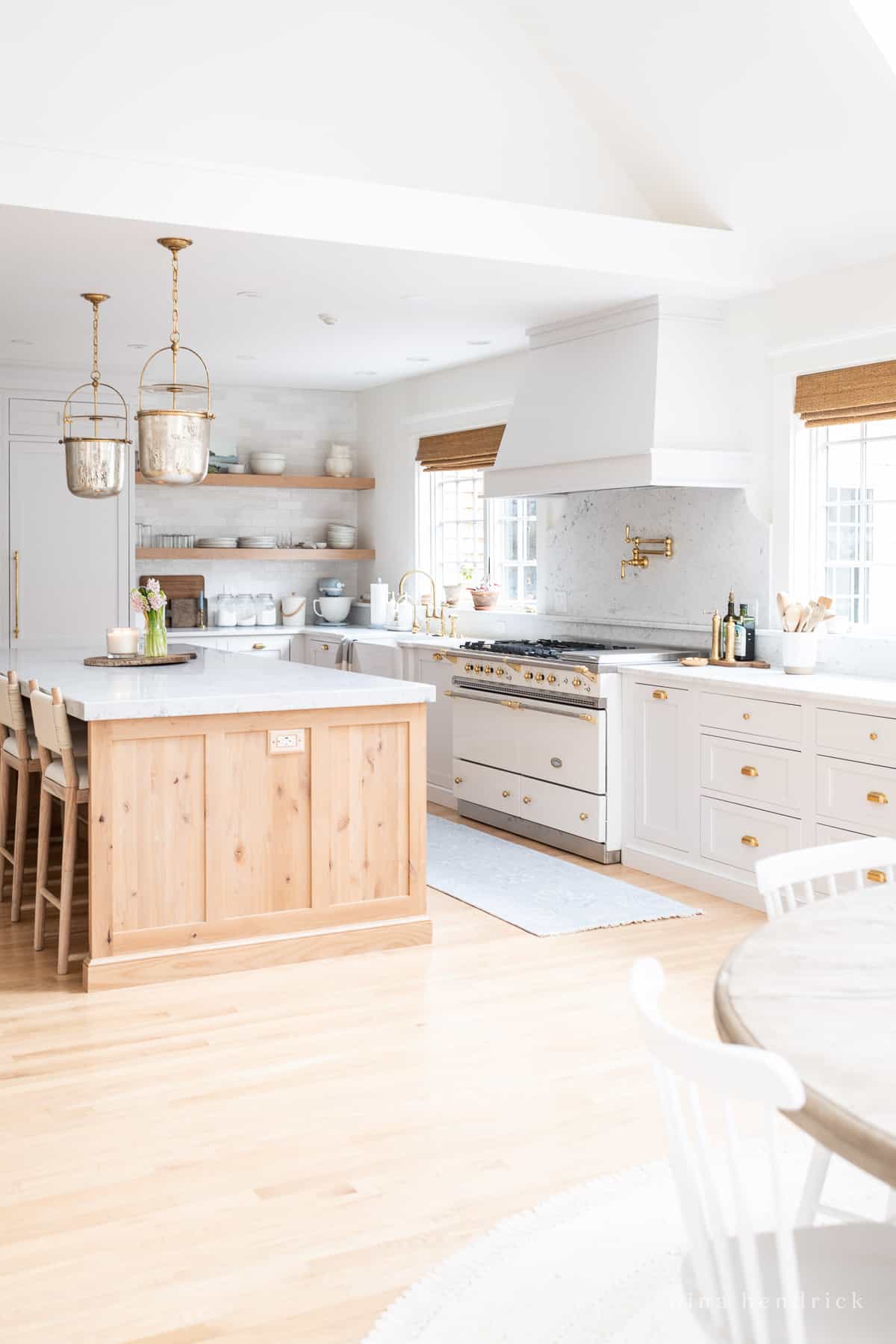 Before
When we moved into our new home in 2021, at first glace the kitchen appeared to be very functional. Although there were subtle changes I wanted to make in order to make the room fit my style better, I didn't see the need for a full overhaul.
However, as we began to live here and use the space, we quickly found that the room (particularly the island) wasn't really working well for us, the paint was chipping off the cabinets, and that some of the appliances were at the very end of their lifespan. As I began to research replacements, we ran into the negative side of high-end, panel-ready appliances: some of the appliances were discontinued models, and the newer models had different dimensions.
As we priced out cabinet painting, custom carpentry to create new panels and cabinets for the new appliances, and other snowballing updates, we quickly realized we were in the budget territory of a completely new kitchen. From there, we decided to start from scratch.
As you probably know if you've been around for a while, I'm always up for a kitchen redesign! I knew I wanted to design a timeless kitchen that I'd love for years to come.
Before we began the project, as with the kitchen remodel in our previous home, we decided to repurpose as many of our existing cabinets as possible rather than sending them to a landfill.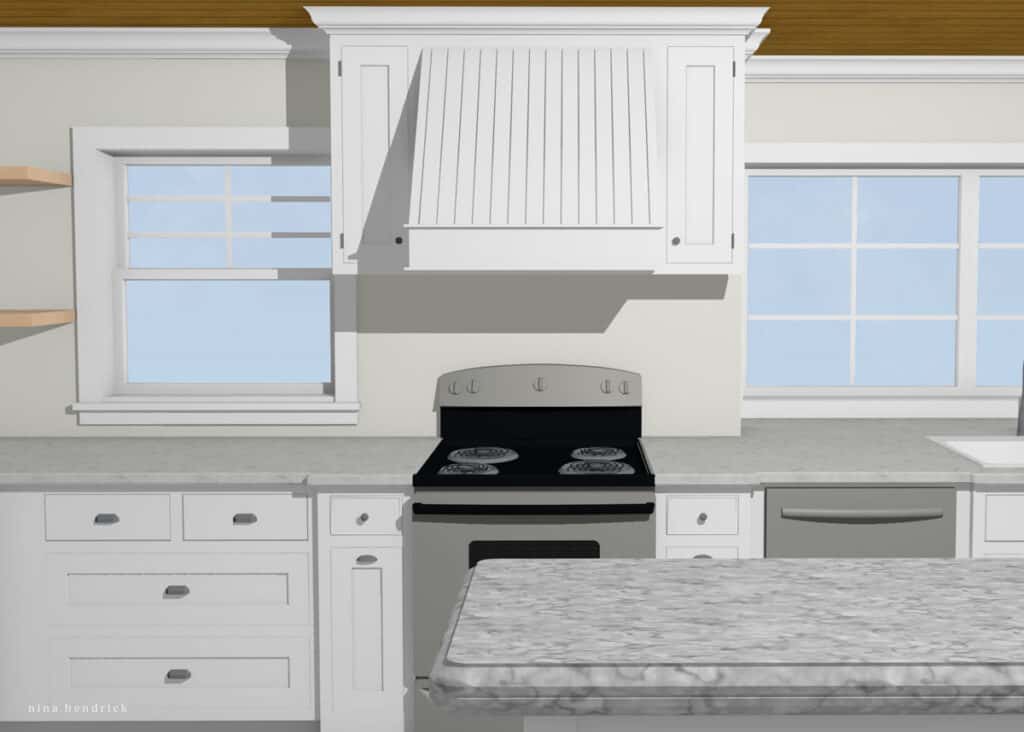 Before I designed our new kitchen, I designed a layout for my parents' kitchen that used up the majority of the cabinets, and then we moved them to their house and painted them to give them a refresh. More on that project another day!
Top Tips for a Timeless Kitchen Remodel
Designing a Space that Works
Although we shifted things around slightly in the room, we left most of the perimeter layout the same. One major change was that we centered things in the space.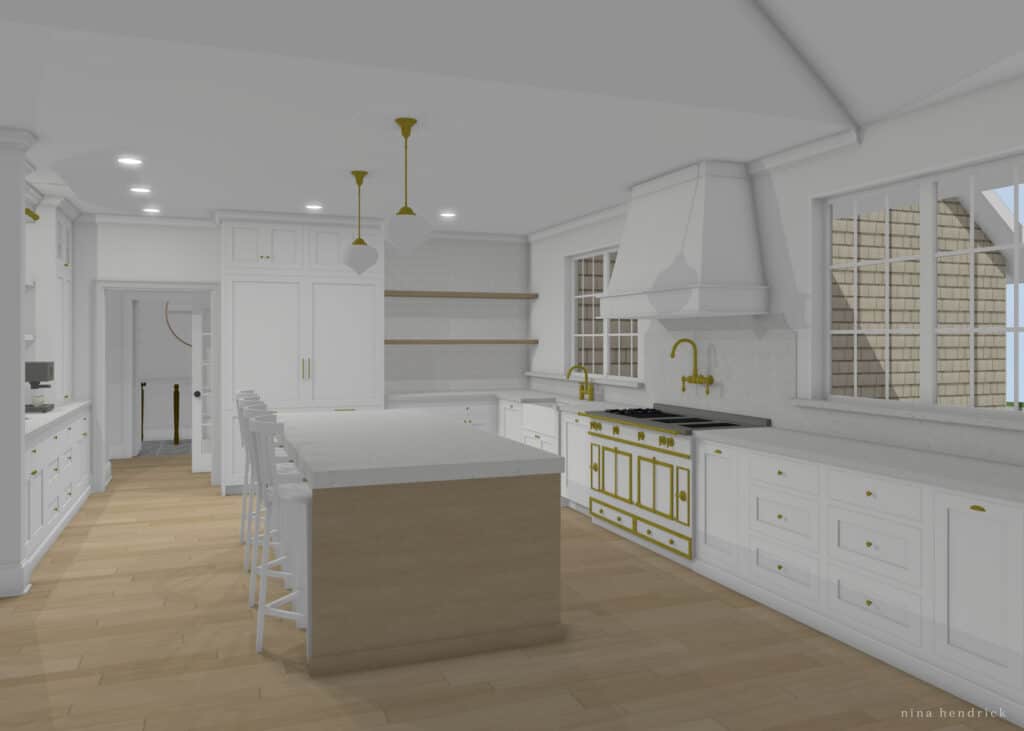 For example, in the original kitchen the sink wasn't centered on the window behind it and the island wasn't centered on the range. The wiring for the island pendant lights also wasn't centered on the island. Although these were subtle shifts, they made a huge difference in the overall design.
Speaking of lighting, another small change that made a big difference was simplifying and paring down the overhead lighting. Lighting plans make a huge difference in a space, and the new centered and simplified recessed lights perform much better than the previous lighting plan! Take a look back at the before photo to see what I mean.
I brought my drawings to Dream Home Cabinets in Rollinsford, NH and My Thy was able to help me design a kitchen within the semi-custom cabinet lines they carry.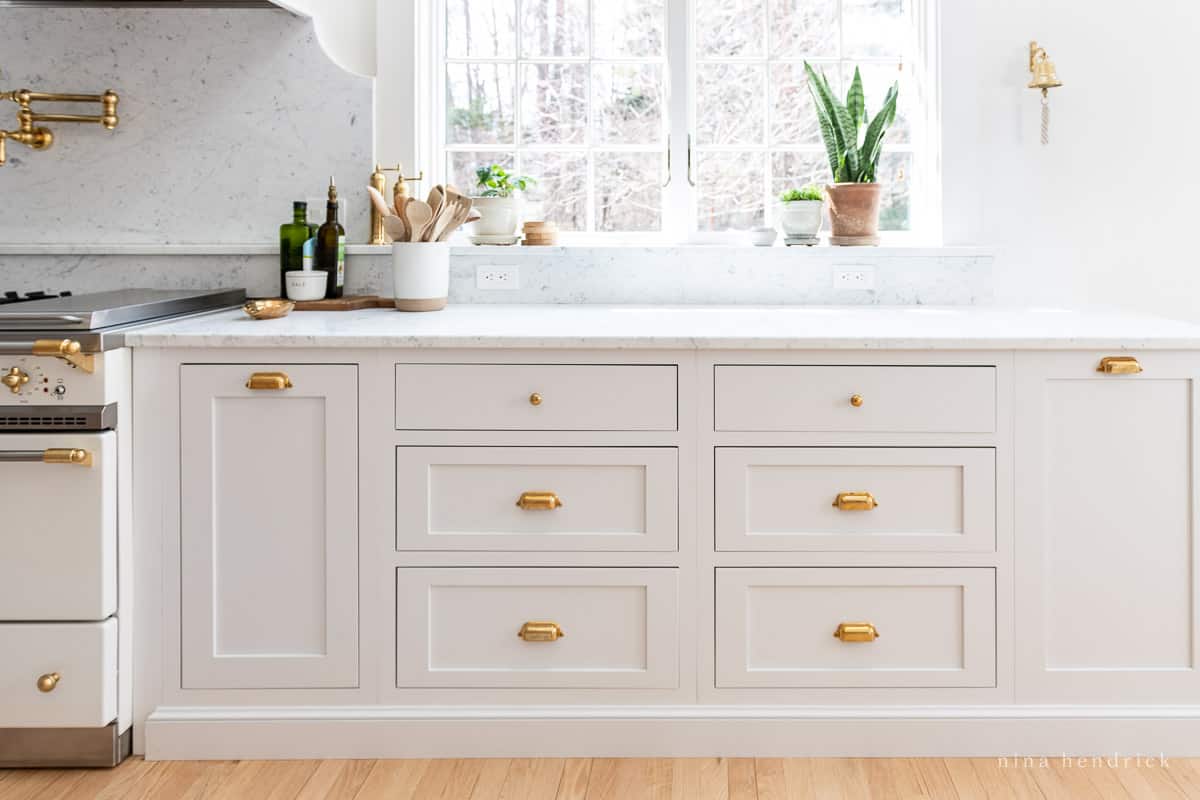 Neutral Cabinetry
Neutral cabinetry is a staple in a timeless kitchen. However, your cabinetry doesn't have to be limited to just white (although I'm obviously a fan of white cabinets)!
Shades of gray, beige, and other muted tones can be used to create an elegant and sophisticated look. Neutral cabinetry is versatile and can be paired with a wide range of countertop and backsplash materials to create a custom look.
For our timeless kitchen remodel, I chose the color "Wings" by Fieldstone cabinetry. It's a cooler white that appears to be the palest blue-gray in person. I absolutely love this color!
For a close color match, try "Pure White" by Benjamin Moore in satin. I've used this color for seamless touch-ups!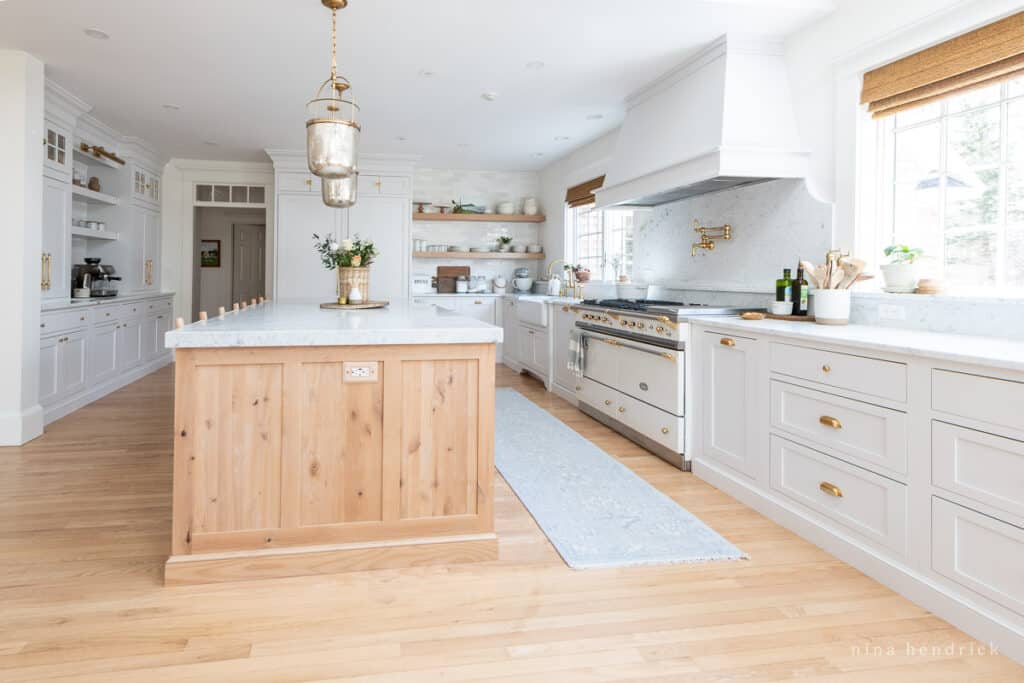 Inset Shaker Cabinets
Inset shaker cabinets are the perfect choice for a timeless kitchen remodel. Of course, there are other cabinet styles that lend themselves to a timeless look, but Shaker cabinets are one of the most popular kitchen choices for a reason. These classic pieces bring a cozy feel to any kitchen, and the deep, recessed door frame adds both visual interest and texture. I'm always a big fan of finding ways to honor my New England heritage, and shaker cabinets date back to the colonial-era religious sect who made their home here in this region.
One minor kitchen regret: I wish I had known about the Shaker frame option with equal rails and stiles before choosing this option, which has a more "stretched out" look. However, it's a minor thing. It just may be a question you want to ask if you're considering shaker cabinets!
Benefits of Shaker Cabinets
The simple design of inset shaker cabinets means that spills and splatters can be easily wiped away and dirt and dust can be quickly removed with a damp cloth.
They're a great choice for any kitchen, as their clean lines ensure that they'll blend with any existing decor style.
They often cost less than other door-style profiles because they lack intricate detail.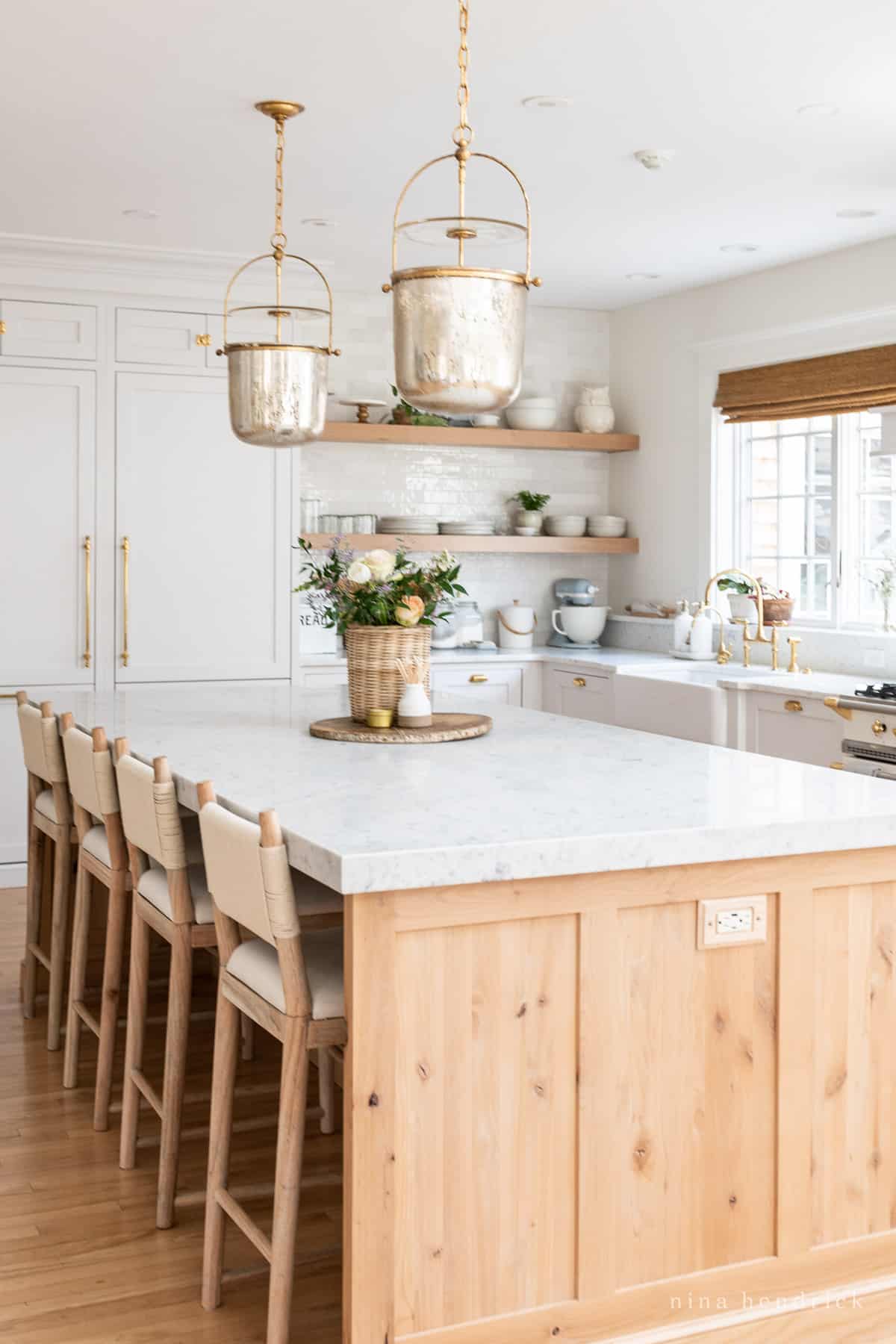 Adding a Contrasting Warm Wood Finish
Natural wood finishes can help create a traditional and cozy atmosphere in the kitchen, while also adding depth and texture. Wood finishes can help to bring out the accents in a kitchen, such as the island and open shelves.
Using wood for a kitchen remodel can provide homeowners with a wide range of options. Different types of wood can be used to create different looks, from traditional and rustic to contemporary and modern. Wood can also be painted, stained, or finished to any desired color.
A timeless kitchen remodel can help create a cozy and inviting atmosphere. Adding wood finishes to a kitchen remodel can be a great way to introduce warmth and texture into the design. With so many different options available, homeowners can easily create a timeless kitchen design that will stand the test of time.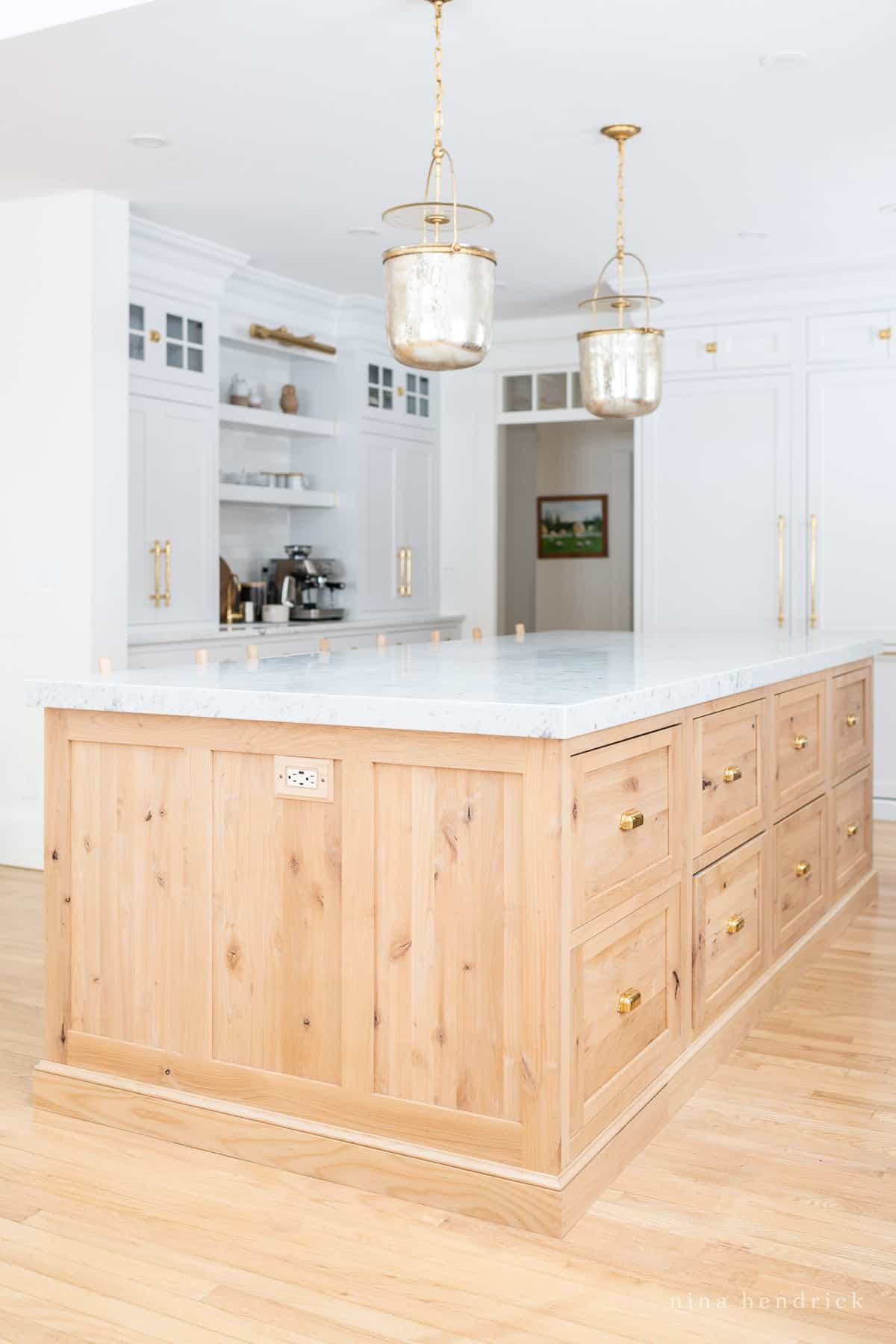 A Kitchen Island for Gathering
I don't know about you, but it seems like when we're entertaining we inevitably end up around the kitchen island, enjoying a huge charcuterie board with friends and family.
Our original space had a large island, but it was awkwardly designed with multiple levels and angles. The new island is simple but massive and allows for giant food spreads while entertaining. To balance the design of the cabinets, I opted for a double-thick island top.
The first island top cracked during installation, as the installer was not experienced with a laminated edge or such a heavy piece. Luckily, Perillo Marble came in and saved the day, replacing the shoddy work from the previous subcontractor! They made the install look almost easy and the new island top has a seamless mitered edge.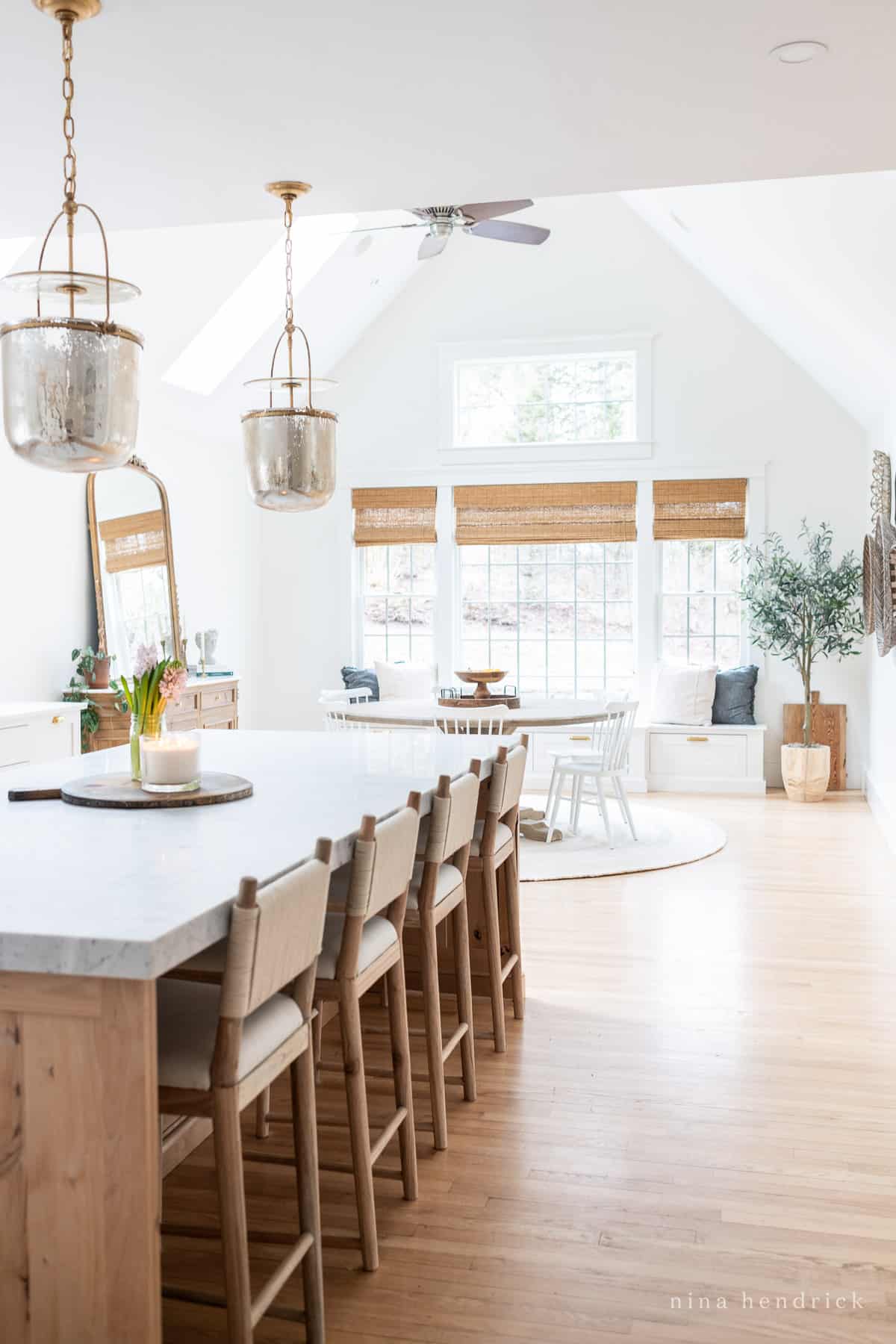 Key Elements: Timeless Materials and Finishes
Timeless finish choices for a kitchen remodel are those that will stay stylish and attractive for years to come. These finishes are classic and versatile, allowing for a range of decor styles and color schemes. They are also durable and easy to maintain, making them a practical choice for busy kitchens. Timeless finish choices include materials such as natural stone, wood, and stainless steel, as well as neutral colors. By selecting timeless finishes for a kitchen remodel, you can create a space that is both beautiful and functional, and that will stand the test of time.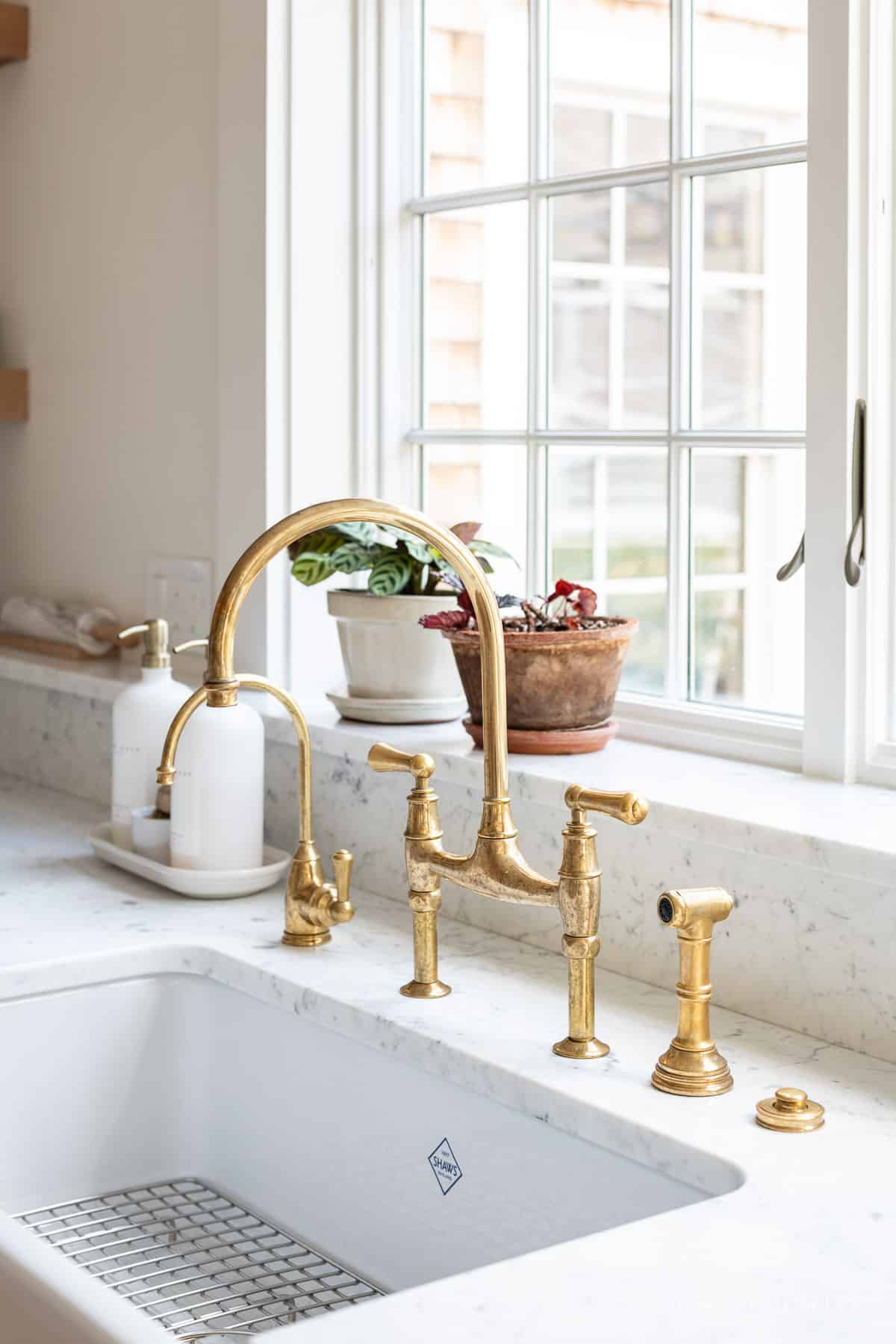 Brass Hardware & Fixtures
When it comes to kitchen remodels, it can be hard to choose the perfect materials. If you're looking for timeless elegance and style, however, brass is an excellent choice. Brass cabinet hardware and fixtures can add a classic touch to your kitchen remodel, and can help to give the space a warm look. Brass faucets, appliance pulls, and knobs are all great ways to incorporate this metal into your space.
Unlacquered brass is a type of brass that hasn't been coated with a protective layer of lacquer. This means that it will naturally patina over time, developing a unique and beautiful finish. This may not be the choice for you if you don't like a weathered finish, as it can be quite a lot of maintenance to keep it looking shiny. Personally, I love the patina!
I used unlacquered brass for almost everything in this kitchen. As with our primary bathroom remodel in this house, back orders made it challenging to get the finishes I wanted. I originally intended to mix metals and use polished nickel for some of the hardware, like in our previous kitchen.
In the end, the warmth of the brass paired perfectly with the cooler cabinet and countertop colors and played off of the warm wood finish. I included polished nickel as mercury glass in the island pendants and cabinet door glass. You can ready more about mixing metals here!
Carrara Marble Countertops
Carrara marble countertops are a timeless and beautiful option for any kitchen remodel. This natural stone adds an elegant touch to any kitchen, creating a luxurious look and feel. The natural veining of Carrara marble creates unique patterns and textures that will be sure to stand out in any kitchen.
In our two previous kitchens, I chose Carrara marble for just the island. In this house, I opted to also have marble on the perimeter, especially because I knew it would look beautiful on the ledge.
However, there are a few things you should know before committing to marble. Carrara is soft and porous, so it's prone to etching, scratching and staining. As a result, it's high maintenance and must be regularly sealed to protect its appearance.
If you're looking for a similar look with less upkeep, there are many quartz options now that are a close match. Personally, as with the unlacquered brass, I don't mind the character that the inevitable etches bring.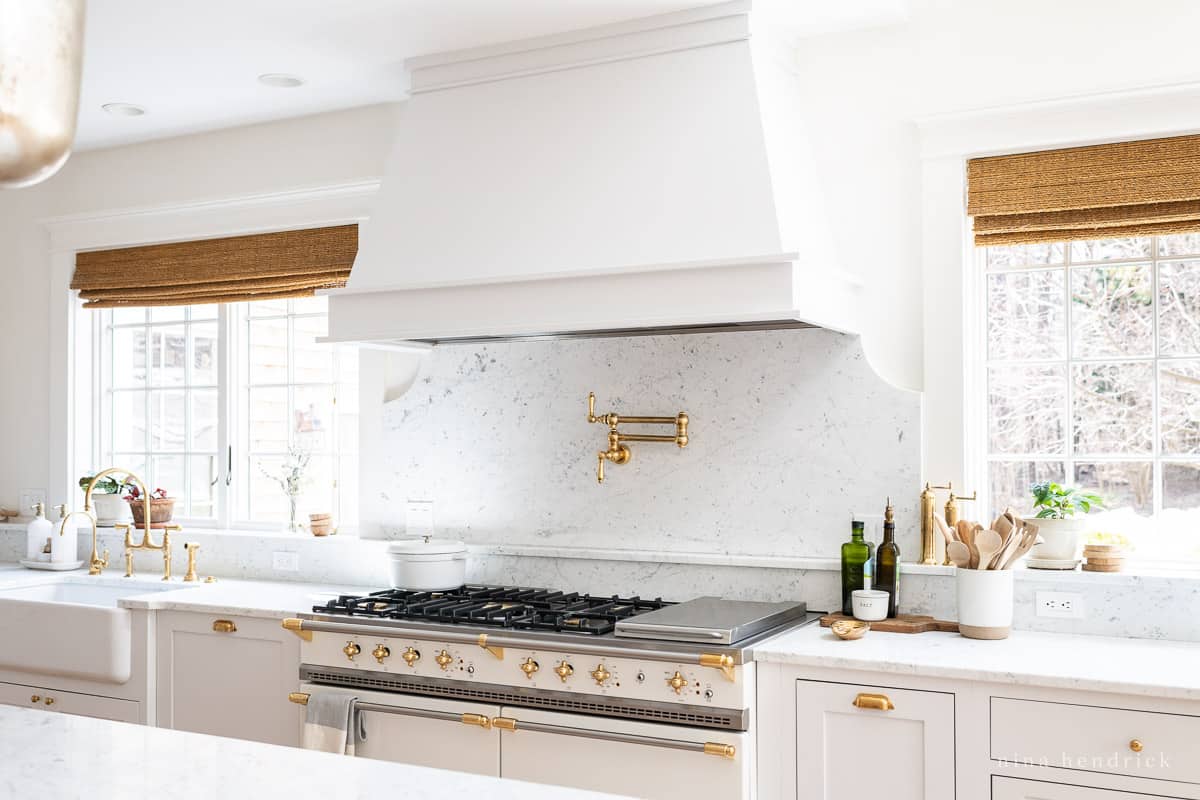 Scalloped Backsplash & Ledge
I knew during the design process that rather than a tile backsplash behind the range that I preferred the look of a single slab. I also loved the idea of adding scalloped detail to the corner of the backsplash. While this may be one of the "trendier" choices I made in this kitchen, I don't foresee myself regretting it. It's a relatively small detail that I love!
The window ledge existed in the original kitchen, but it had a couple of bump outs and other details that we simplified in the redesign. I love having an extra place for plants, decor, and kitchen items.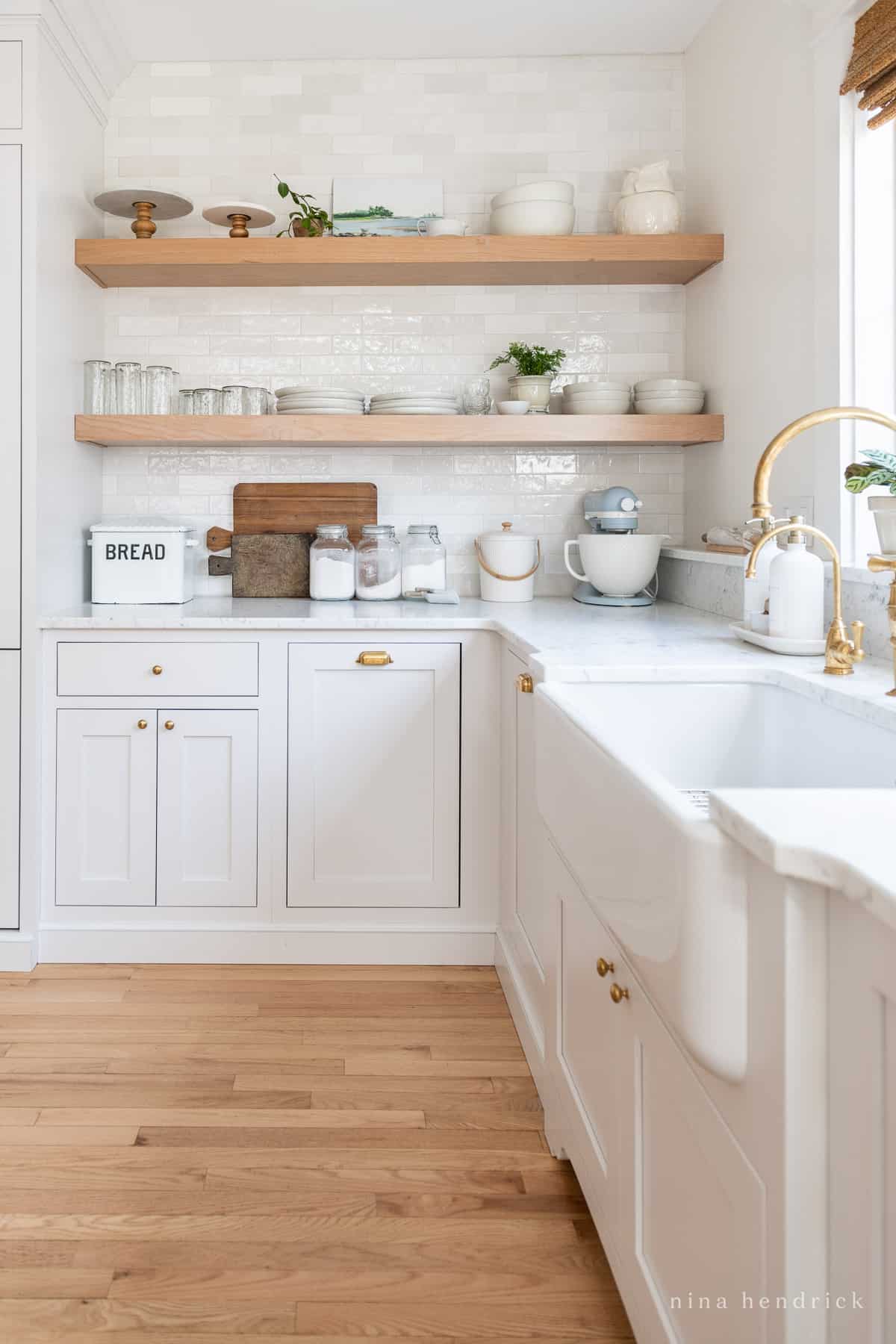 Open Shelving
Open shelving is quickly becoming one of the most popular choices for kitchen remodels because of its timeless and classic look. It adds a unique decorative touch to your kitchen and allows you to show off your favorite shelf decor, dishes and glassware. Open shelving increases natural light by eliminating bulky upper cabinets. In this case, it was also another opportunity to bring in a warm wood finish to our kitchen design.
I went with a classic subway tile backsplash behind the open shelving. Instead of simple white tiles, I chose the same Cloe zellige-style subway tile in cream from our primary bathroom remodel.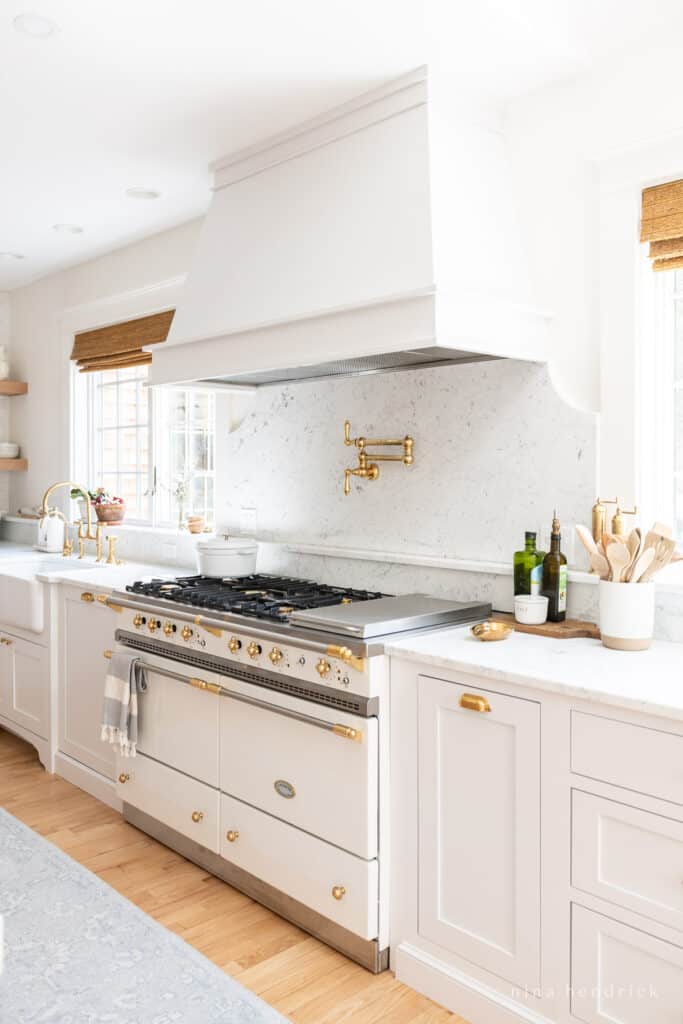 Heirloom-Quality Range
Rather than a modern stainless steel range, I wanted to choose a centerpiece for the kitchen that added to the overall classic and timeless feel. I researched many heirloom-quality range companies, but in the end I decided to go with a Lacanche.
There are a lot of options that go into designing one of these ranges, but I'll go into them more in-depth in a designated blog post. This model is the Sully Classique in the color Chantilly. It took an entire year to arrive, but it was well worth the wait!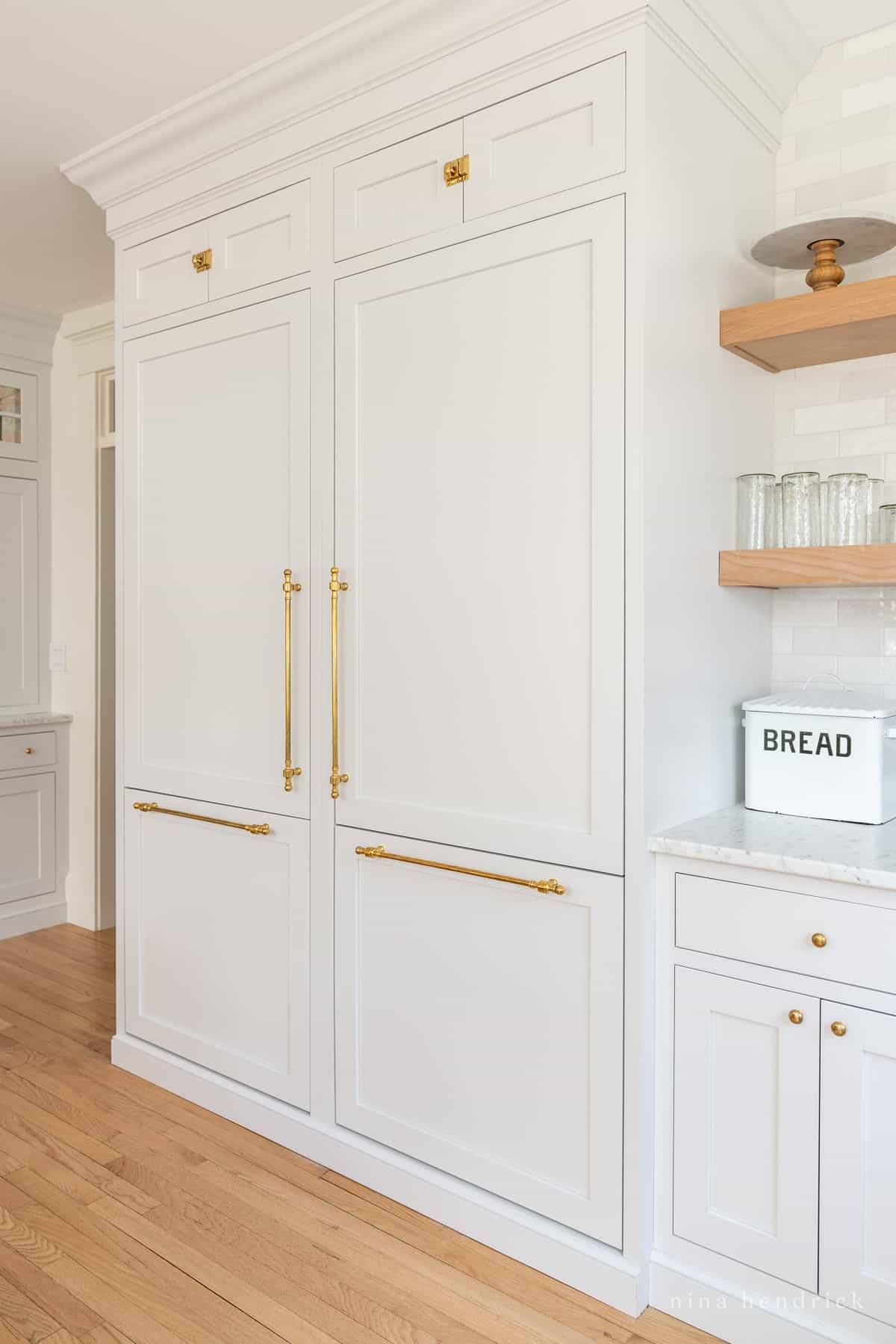 If you are looking for a way to keep your kitchen looking sleek and modern without worrying about becoming outdated, then hidden (panel-ready) appliances are the way to go. Panel-ready appliances are designed to blend in with the background of your kitchen, providing a seamless look.
As I mentioned earlier, one major consideration is that it's difficult to replace the appliances in the future, since the dimensions can change slightly when the models change. However, we went with standard sizes for our panel-ready fridges and dishwasher that should give us options from multiple brands if that day comes.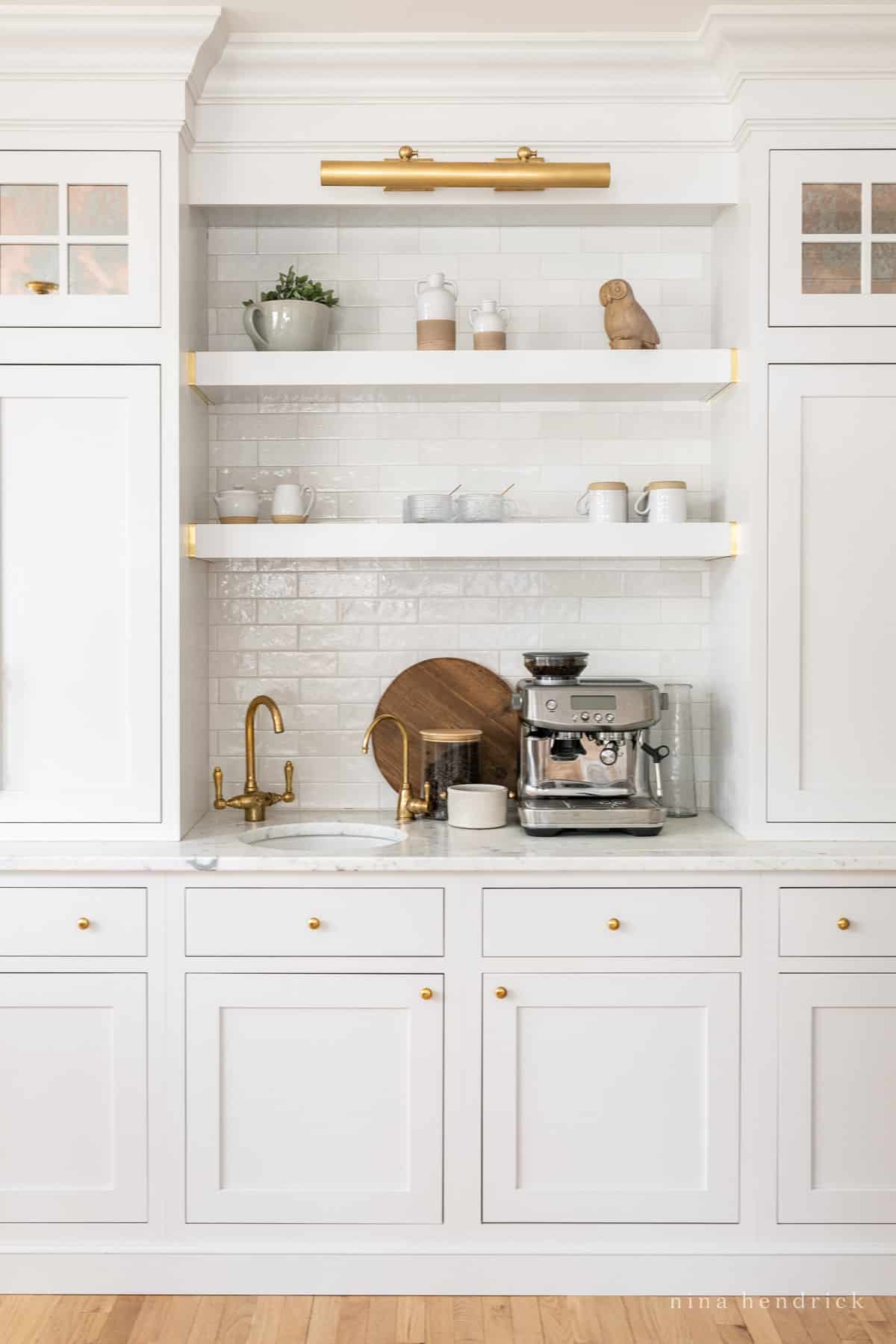 Coffee Bar with Sink
One of my must-haves in this timeless kitchen was to install a coffee bar with a sink. The bar sink allows me to easily make coffee at my espresso machine and clean up after each cup without having to move around the kitchen. Perhaps my favorite feature is the instant hot water faucet, which makes my Americano or a cup of tea a breeze. From convenience to efficiency, this feature can add an element of luxury to your kitchen and make your life easier.
I wanted this coffee bar to have the feel of a fancy cafe, so we continued the Cloe zellige-style subway tile and added a library light to illuminate just this space on dark mornings. More open shelves allow me to display my favorite mugs and decor as well as change things up for the seasons.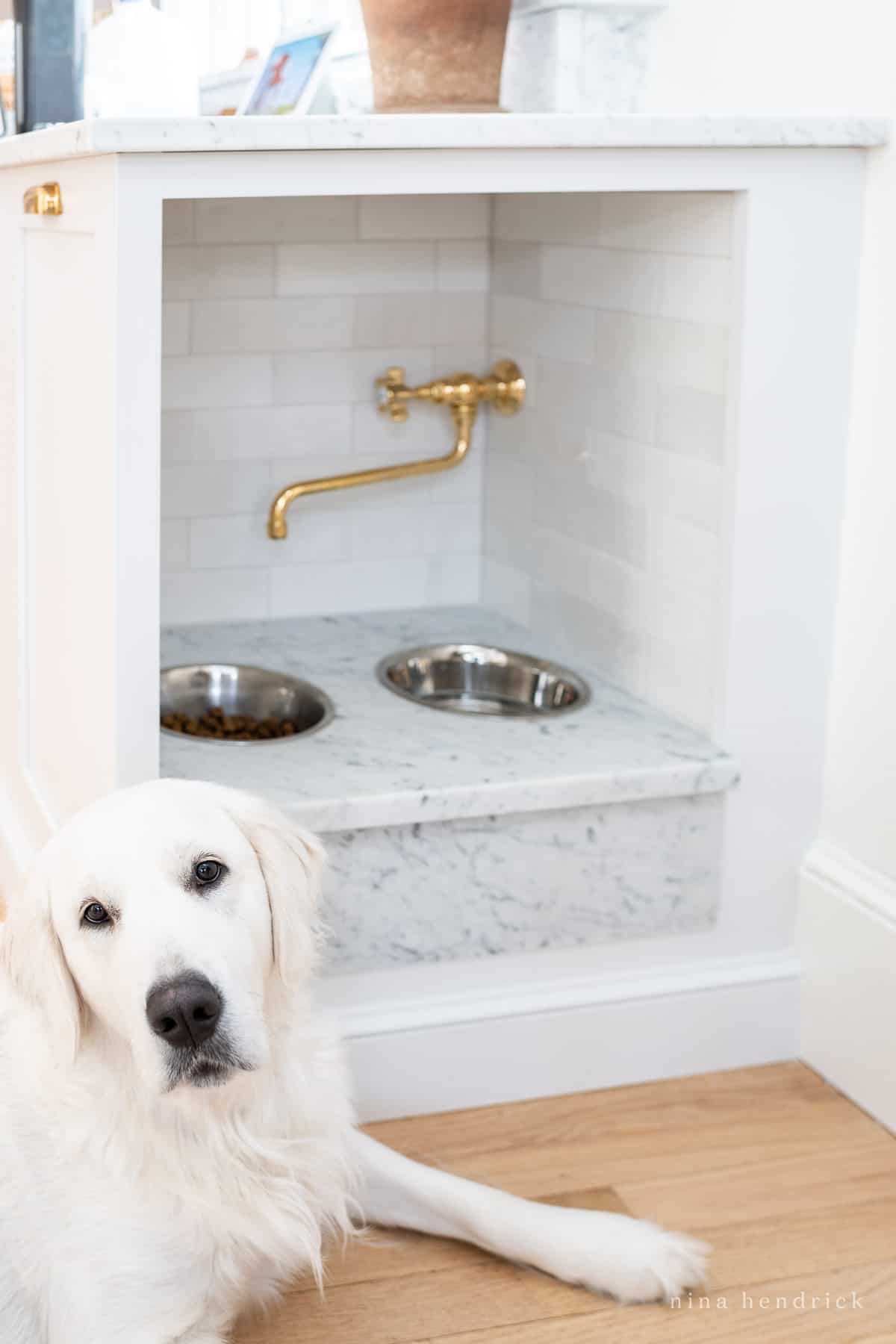 Built-In Dog Food & Water Station
When it comes to timeless kitchen remodels, one great addition is a built-in dog food & water station. With a built-in station, your pet's food and water will always be in a convenient and easy-to-access spot. This station will also help to keep your kitchen floors free from spills and messes.
Of course, I couldn't design a kitchen without considering our newest family member, Gracie! This built-in dog food & water station is neatly tucked away at the end of the bank of cabinets. From the front, it looks like a normal cabinet, but when you turn the corner, there's a little nook with two bowls and a small pot filler for fresh water.
We were able to use remnants and extras for every piece of this set up. The marble ledge was made from island remnants, and we used extra tile from the backsplashes. As a result, it was extremely affordable in spite of its luxurious look.
A dog station can also be designed with drawers, shelves, and hooks to help keep everything organized and within reach. This station can be tailored to fit your kitchen's specific needs and can even be customized with extra compartments to store bowls, leashes, treats, and more. With a built-in dog food & water station, you can ensure that your furry friends are always taken care of!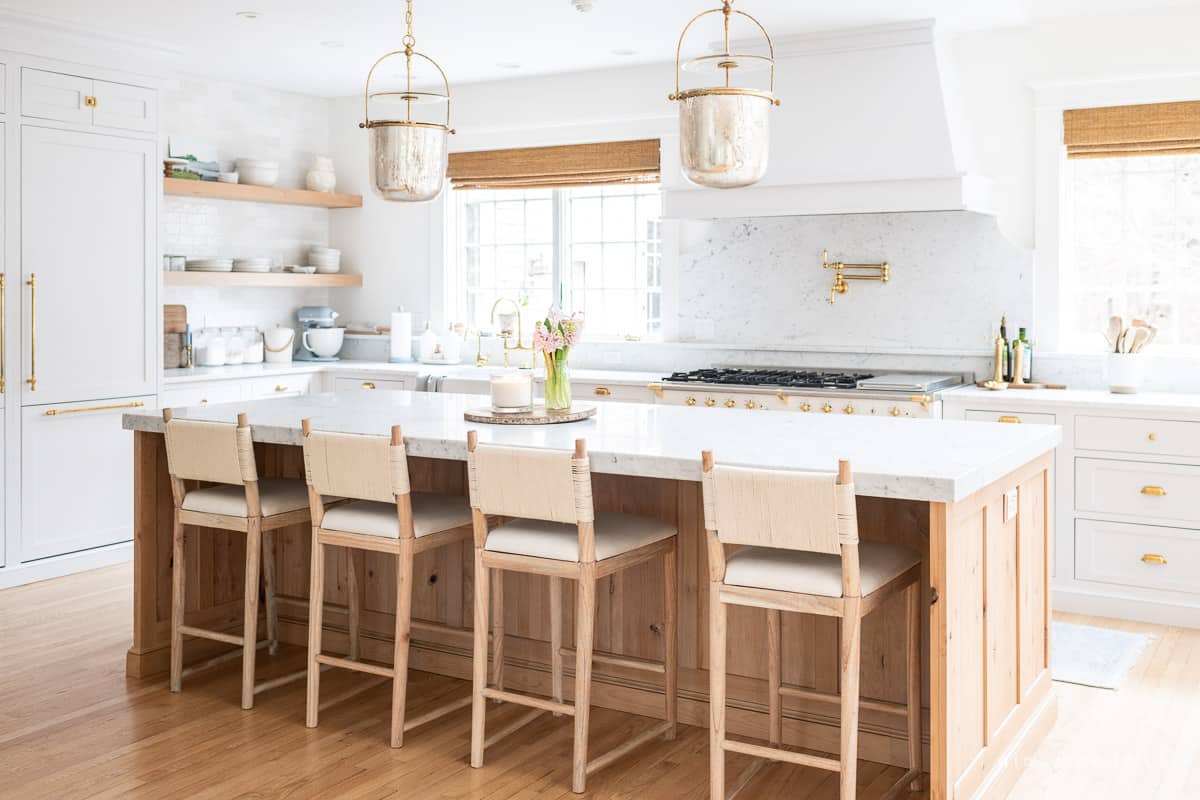 In conclusion, kitchen remodels are an excellent way to upgrade your home and enhance the overall atmosphere. With a timeless kitchen remodel, you can make sure that your investment will last for years to come. From selecting classic materials to considering neutral color schemes, there are many ways to ensure that your kitchen remodel stands the test of time. With the right approach, you can enjoy the beauty of your kitchen forever!
Do you have a specific question about planning a kitchen remodel? Ask in the comments below or in our free community and you may just see your question become a future post!
Timeless Kitchen Source List
Kitchen Design and Cabinetry: Dream Home Cabinets | Rollinsford, NH
Marble Island Replacement: Perillo Marble, Tile, & Granite | Farmington, NH
Wall & Trim Color: White Dove by Benjamin Moore
Ceiling Color: Chantilly Lace by Benjamin Moorw
Cabinet Color: Wings by Fieldstone Cabinetry
(Close Color Match: Super White by Benjamin Moore)
Island: Custom Alder (similar to Rubio Monocoat White Oil)
Island Counter Stools: Custom, modified these
Island Pendants: Visual Comfort
Cabinet Knobs: Unlacquered Brass
Cabinet Cup Pulls: Unlacquered Brass
8″ Cabinet Pulls: Unlacquered Brass
18″ Appliance Pulls: Unlacquered Brass
Cabinet Latches: Unlacquered Brass
Open Shelves: Alder, Fieldstone Cabinetry
Backsplash Tile: Cloe zellige-style subway tile
Panel-Ready Fridges: Thermador
Panel-Ready Dishwasher: Bosch
Range: Lacanche Sully Classique
Pot Filler: Rohl, Unlacquered Brass
Farm Sink: Shaw's
Sink Faucet: Rohl, Unlacquered Brass
Filtered Water Dispenser: Rohl, Unlacquered Brass
Bar Sink: Shaw's
Bar Facet: Rohl, Unlacquered Brass
Hot Water Dispenser: Rohl, Unlacquered Brass
Dog Bowl Area Pot Filler: Rohl, Unlacquered Brass
Library Light
Espresso Machine