Wondering how to decorate your home? I've created this master resource for how you can get started decorating your home, plus lots of extras that will help you along the way. Let's overcome the overwhelm and create a home that you love!
Decorating a room — whether from scratch in a brand new home or as a refresh for your current space — is super exciting. It's your opportunity to express yourself and create an area that feels and functions exactly as you want it to.
But if you find yourself looking around your room and feeling overwhelmed and stressed, you're definitely not alone. It's completely common to throw up your hands and say:
Where do I even start? I don't know how to design a room!
I hear this all the time, and I get it. It feels like the stakes are high, and redecorating can be a big project — but only if you want it to be. You can do as much or as little as you want and still get beautiful results.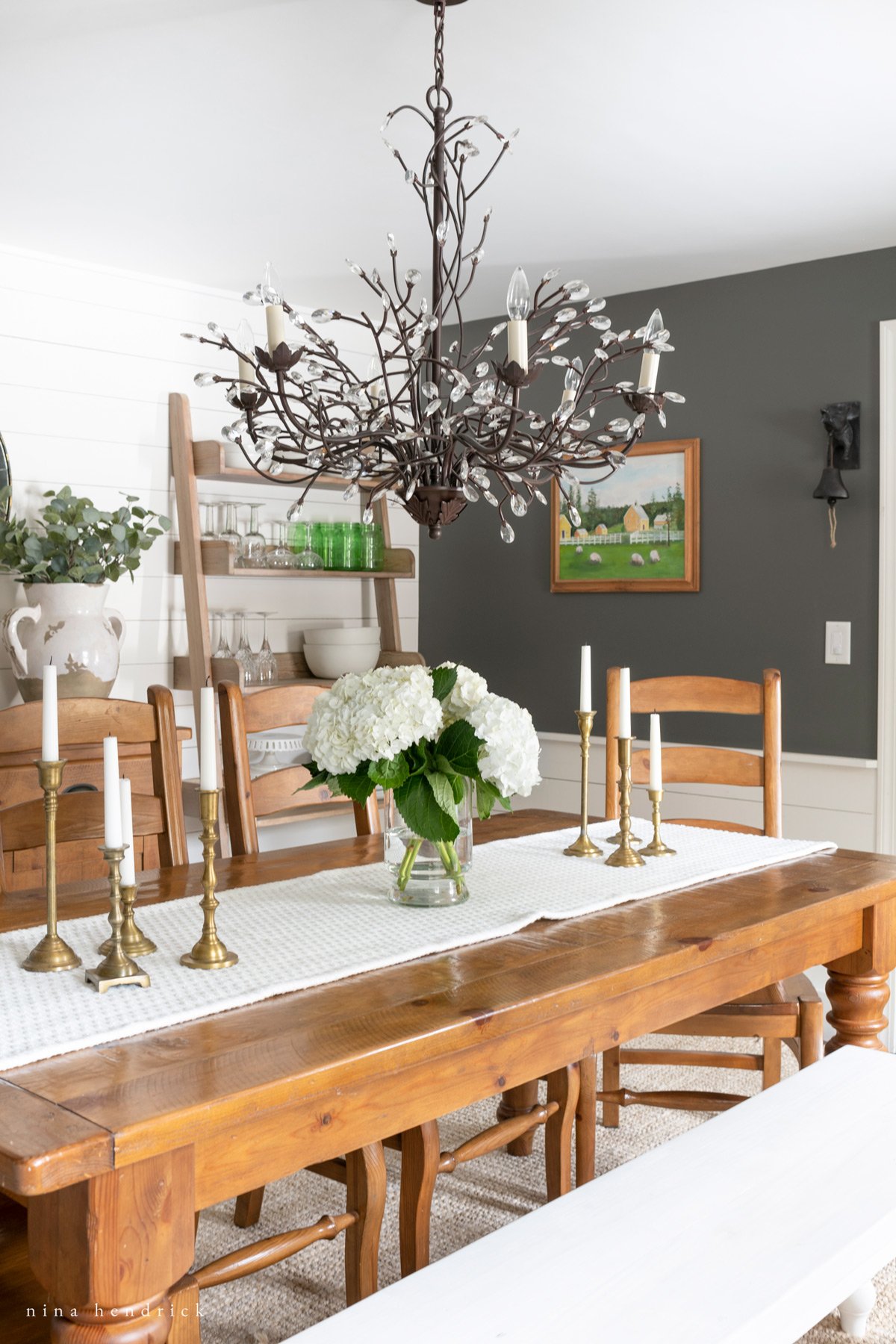 The trick to effective room decorating lies in the process. I've created a step-by-step plan that outlines exactly how to decorate a room to get the look you want.
To be clear, I'm not going to tell you what colors to use or what furniture to pick. Instead, I'm going to walk you through the process so you can make your own just-right choices. (But don't worry—I'll also direct you to lots of places to find decorating inspiration!)
If you're starting from scratch in a new construction or doing a full renovation, you'll definitely want to complete every step. If you're working within a budget and planning to keep some of your decor — floors and furniture, for example — you might skip some steps. (Though I still recommend reading through them for a full understanding of how all the parts of your decorating plan will come together in the end!)
Ready to get started? Let's (re)decorate!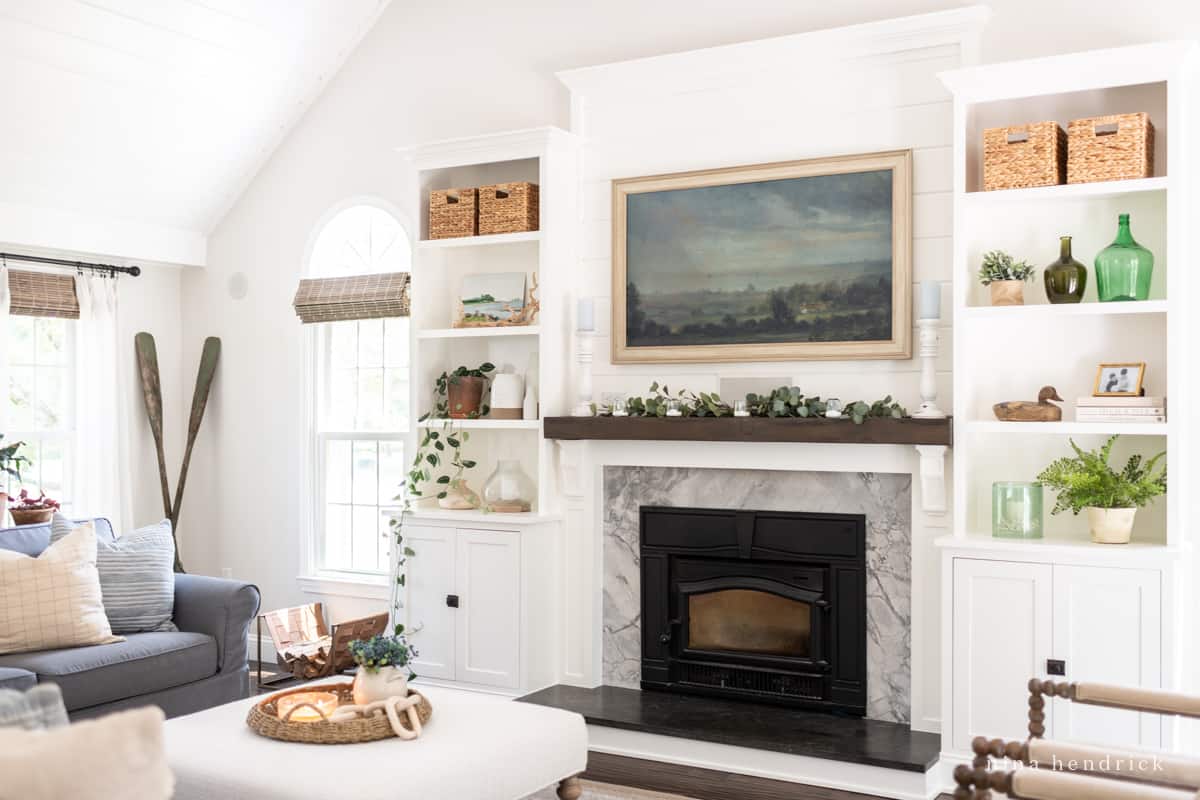 How to Decorate Your Home: Your 10-Step Plan
1. Declutter with a Purpose
One of the reasons redecorating a room can feel overwhelming is because all we can see is our stuff. Life happens — and as it does, we tend to collect things along the way.
But do all of your belongings still serve a useful purpose in your life?
Probably not!
That's why the first step in any decorating project is decluttering. Start by going through all of your things and getting rid of anything that no longer works for you. If it's worn out, unused, or just no longer "sparks joy," it's time to get rid of it.
You'll also want to consider the purpose of your room and remove any items that don't belong there. For example, if kids' toys have overtaken a dining room that you envision being the scene of relaxing meals, it's time to move them!
To get started on decluttering, see my post on How to Declutter Your Home.
Need more help? Check out my 30-day Declutter All of the Things course!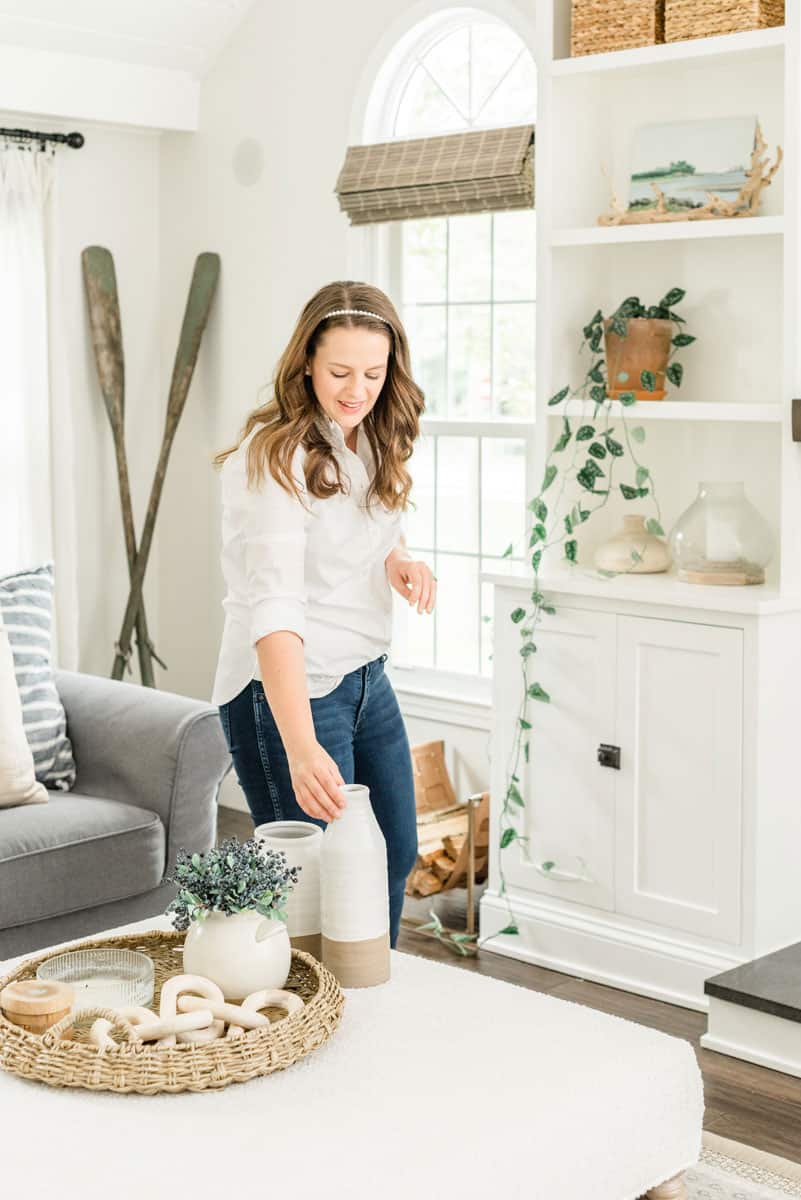 2. Define Your Style
When it comes to designing a room, it's best to start with the big picture first and work your way down through the details. It's really hard to pull together a cohesive look by, say, picking out a sofa and going from there. Instead, you want to have a clear sense of the overall style of the room first, then work to choose elements that work together in harmony to achieve it.
I like to start by identifying the style archetype I want for my room. This is a general description, like "New England Cottage" or "Mid-century Modern." Once you've got the general idea, start searching for inspiration on blogs like this one or Pinterest. I recommend creating a mood board where you can add images of rooms you want to emulate or even specific photos of the furniture and accessories you're considering that fit the vibe you're going for.
Ready to get started? Take the Discover Your Decorating Style Quiz!
To develop your style, check out my post on How to Create a Mood Board to Design Your Room.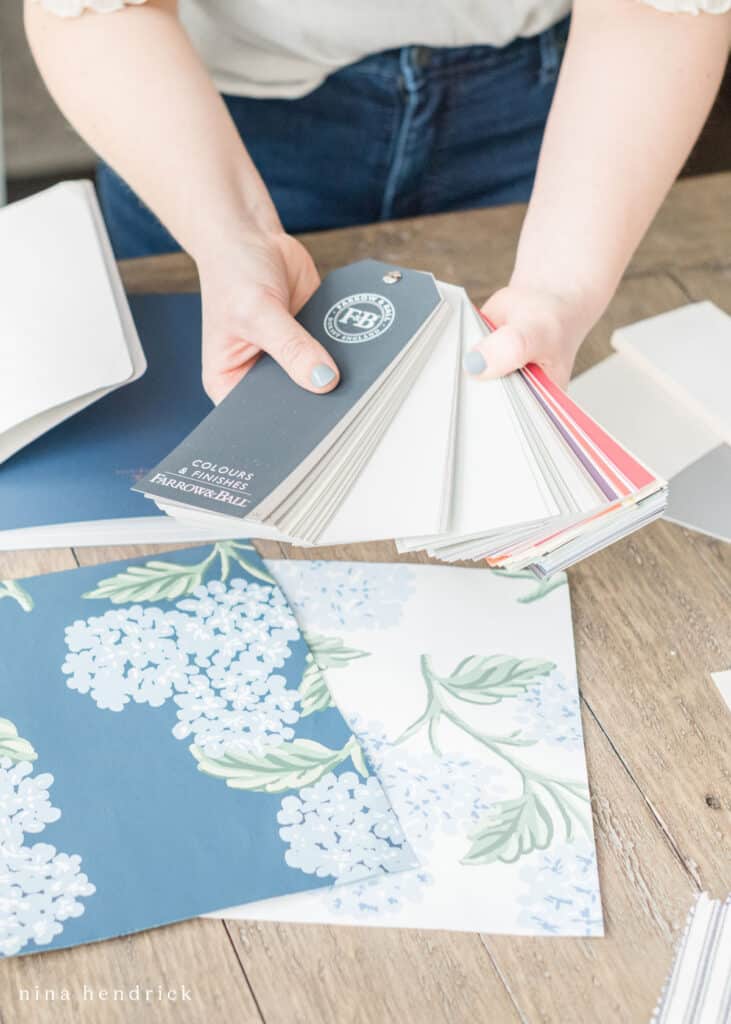 3. Choose Your Color Palette
Style isn't necessarily the same as color. For example, you could decide on a French Country look for your kitchen, and it would look equally wonderful in creamy yellow as in rose pink. You get to choose!
I'm a firm believer in developing a whole house color palette to tie all your rooms together into a cohesive whole. This prevents accidental clashes as you move from one room to the next, and it provides a handy guide to picking out every other element, from larger things like accent colors to wallpaper, to smaller things with different textures like rugs and baskets. With your color palette ready to go, it's easy to choose paint colors for your room refresh.
What's your paint color personality? Take this quiz to find out!
Need more in-depth help designing the perfect color palette? Check out my Color Story course!
When you've chosen your colors, grab a brush and learn How to Paint a Room the right way.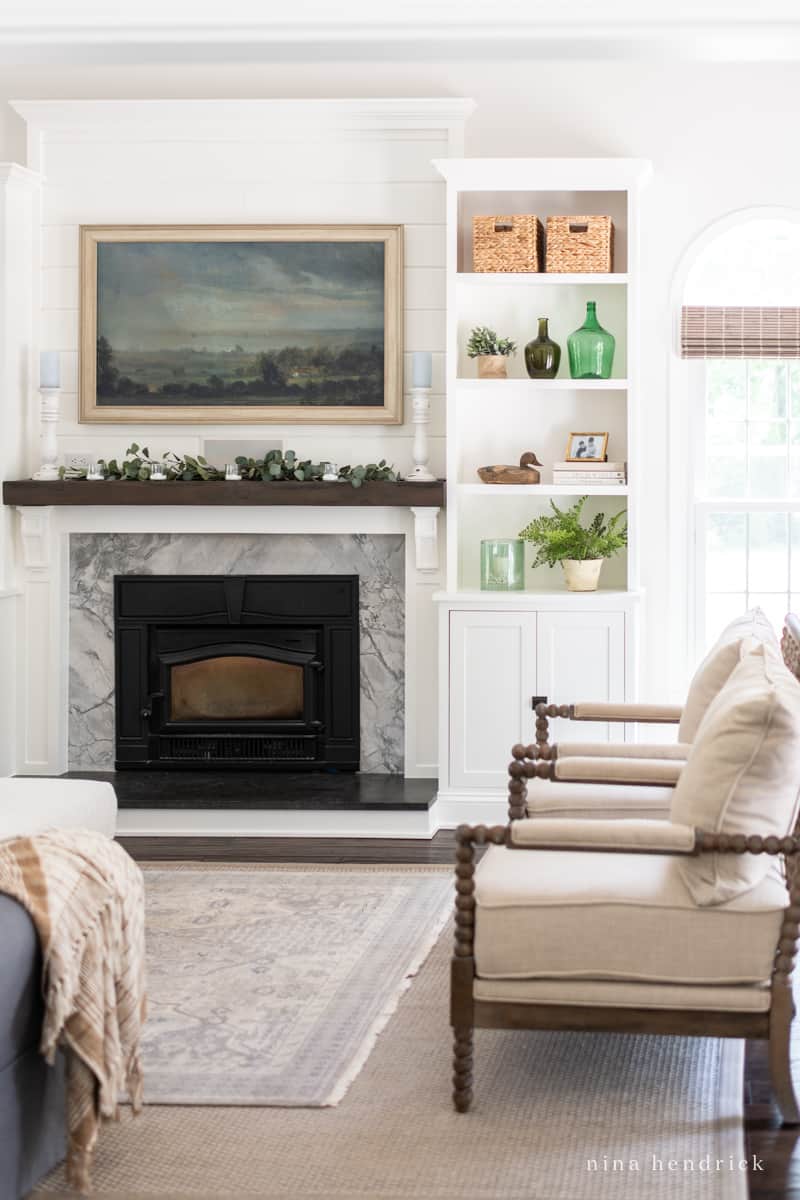 4. Choose Your Built-ins
Some rooms have built-in cabinetry, shelving, or appliances that are permanent features of the room. Usually, this applies to kitchens and bathrooms, but you might also consider built-in fixtures in a laundry room, den, or living room. A built-in window seat can be the perfect solution for adding a seating area in the breakfast nook or creating a cozy reading nook. Some older homes have built-in china cupboards in the dining room as well.
Now, built-ins are entirely optional, but if you have them — or want to add them — you'll need to consider their style in your decorating plan. This includes both their form (i.e., their shape and style) and their color. While the form will be hard to change without a full renovation, you may be able to paint existing built-ins to bring them in line with your color palette.
Another easy upgrade? Swap outdated hardware for new knobs and handles that blend with your chosen decorating style.
For a full tutorial on how to paint cabinets and other built-ins, read this blog post!
For more thoughts on hardware, check out Designing with Mixed Metals.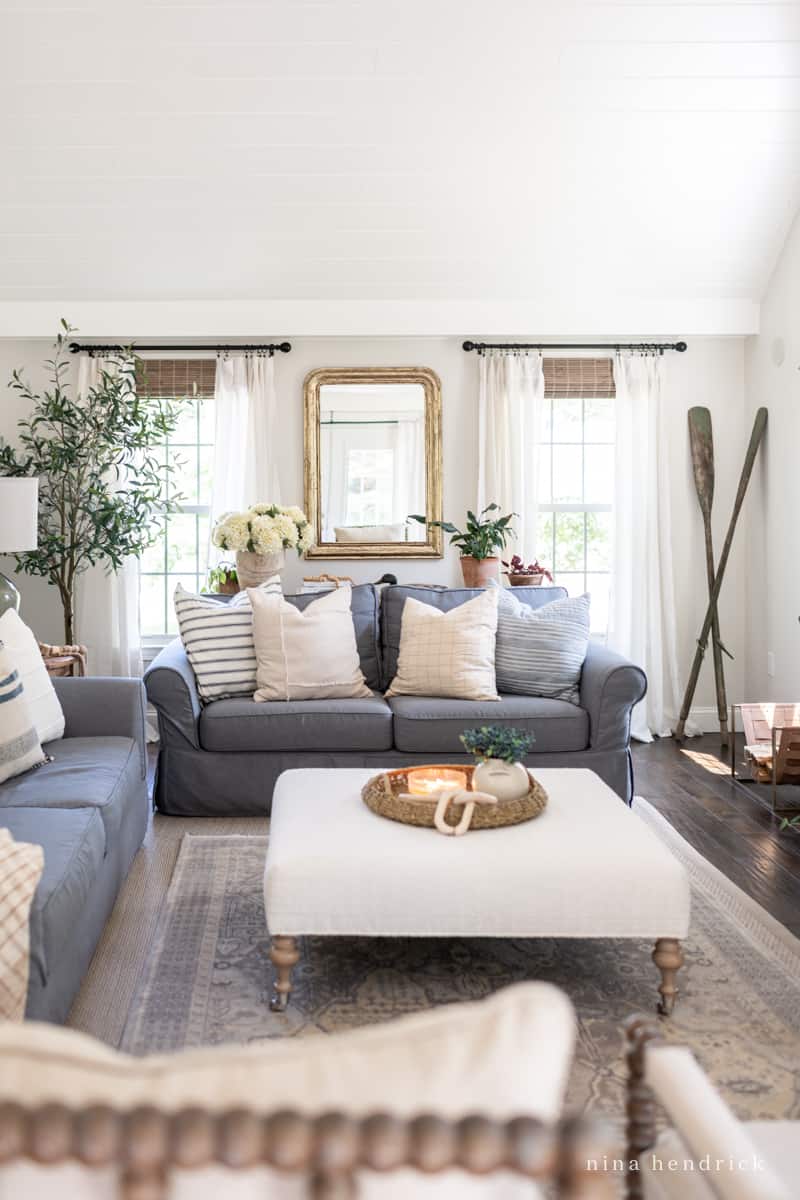 5. Find Your Furniture
Now that you've decided on all of your fixed surfaces (walls and built-ins), it's time to move on to items that are more easily moved and replaced. Furniture is a big element in any room design and working with it has two components: placement and selection.
The function of your room should guide your furniture placement decisions. For example, how much seating do you need? Do you need a desk or other workspace? How about storage? In an ideal world, you'd be able to determine your ideal flow and then find furniture in the exact dimensions and style to match.
In real life, you may have to make some compromises to get what you want. This is another reason why I love using mood boards! They're a great reminder that there are several ways to get the look you're going for, and swapping out different photos can help you see how different design elements work together before you commit.
If you're on a budget, don't forget that you can give your existing furniture a makeover, too. Try refreshing wood pieces with a coat of stain or paint, or give your sofa a whole new look with a slipcover.
Feeling handy? Try this tutorial for making a DIY Dining Room Table for under $200!
It's even easier to add seating when you Build Your Own Farmhouse Bench.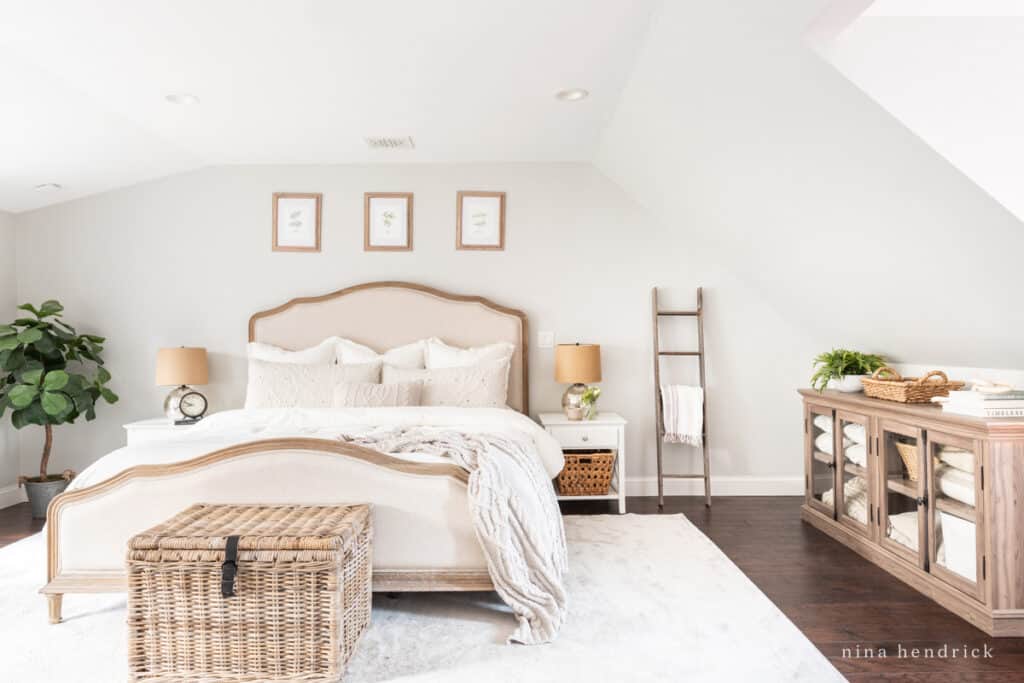 6. Pick Your Floor Coverings
It can be easy to forget that what's underneath your feet is also a part of your decor. If you can't change your flooring material, you'll have to work with it in your plan. Wood floors will work with just about every decorating style, but tile or linoleum can be more challenging— you'll have to work with the pattern and the color as you plan.
You can also use area rugs to bring your floors more in line with your preferred style. Area rugs are great for defining areas of a room, especially in open floor plans. They can also add a pop of color or an interesting texture that ties your whole look together. As you add options to your mood board, consider how well the rug will wear based on the foot traffic you expect in the room.
Size matters! Before you buy, check out the Ultimate Guide to Rug Sizes.
If you're in a position to redo your floors entirely, read up on the pros and cons of Dark Hardwood Floors to help you decide.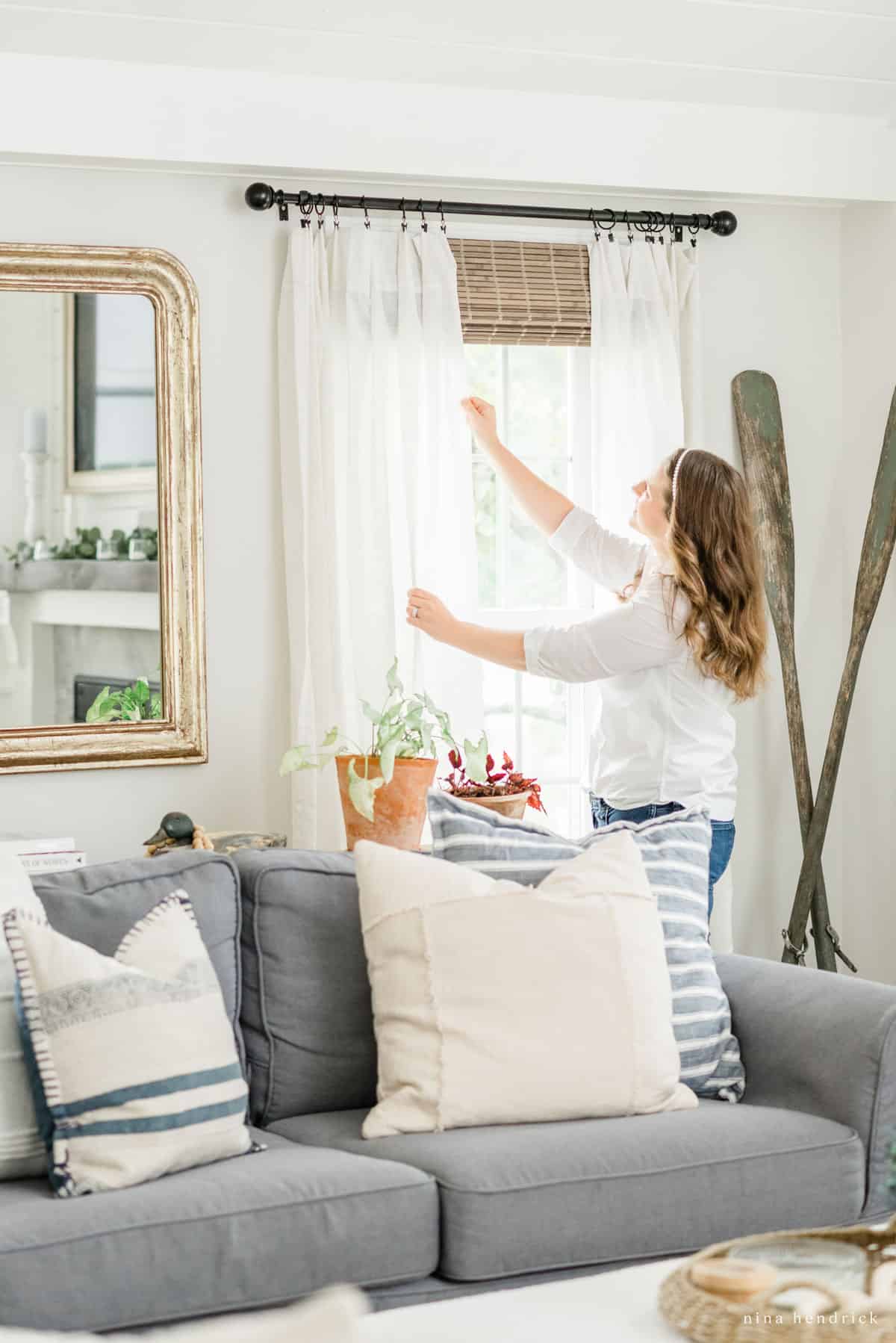 7. Choose Your Window Treatments
Window treatments are often ignored in favor of a room's flashier elements, but they're a really important part of setting the mood — and another opportunity to add interesting fabrics, colors, and textures.
First, consider your privacy and lighting needs. If your room is blasted by the afternoon sun and overheats in the summer, you'll want to make sure your window treatments include a light-blocking option, such as wood blinds or a solar shade. If you want to let in light but maintain privacy, consider adding sheers or another translucent option.
Layering your window treatments gives you more options to meet both your needs and your design desires, so I like to add a tailored shade and more voluminous curtains where I can. Don't forget that curtain rods are another design element to play with!
You don't have to break the budget to get gorgeous windows. Read more about Inexpensive Window Treatments to get inspired!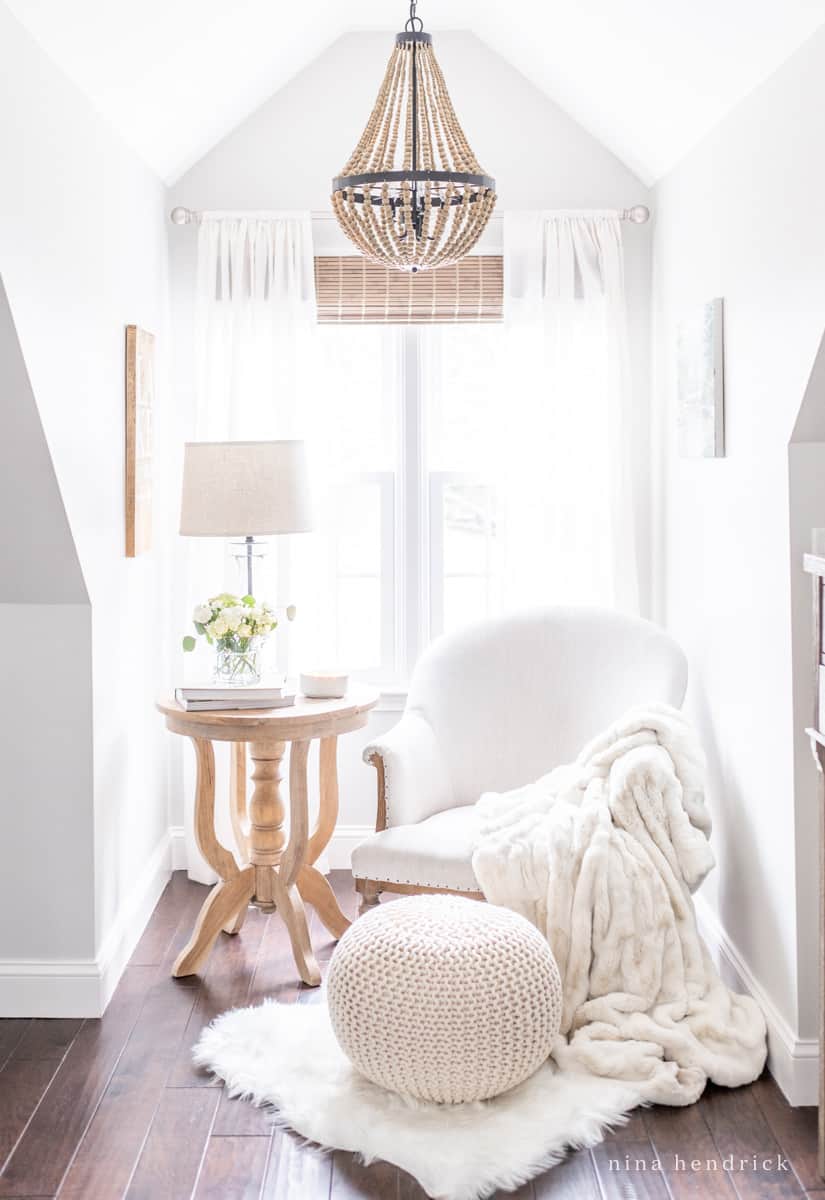 8. Design Your Lighting
It would be a shame to put so much work into creating the perfect room design, only to have it disappear into the shadows! Lighting design is a crucial part of any room decorating project, and it should be both practical and beautiful.
To make sure your room is properly lit, you'll need three types of light fixtures: general/overhead lighting, task lighting, and accent lighting. Table and floor lamps are a good way to provide extra lighting for reading, working, and decorative accents. Once you decide where you need the extra light, you can look for lamps that add interesting textures to your room, whether it's the smooth gloss of ceramic, shiny metal, or something else entirely.
Don't forget about Updating Electrical Outlets and Light Switches as you design your lighting!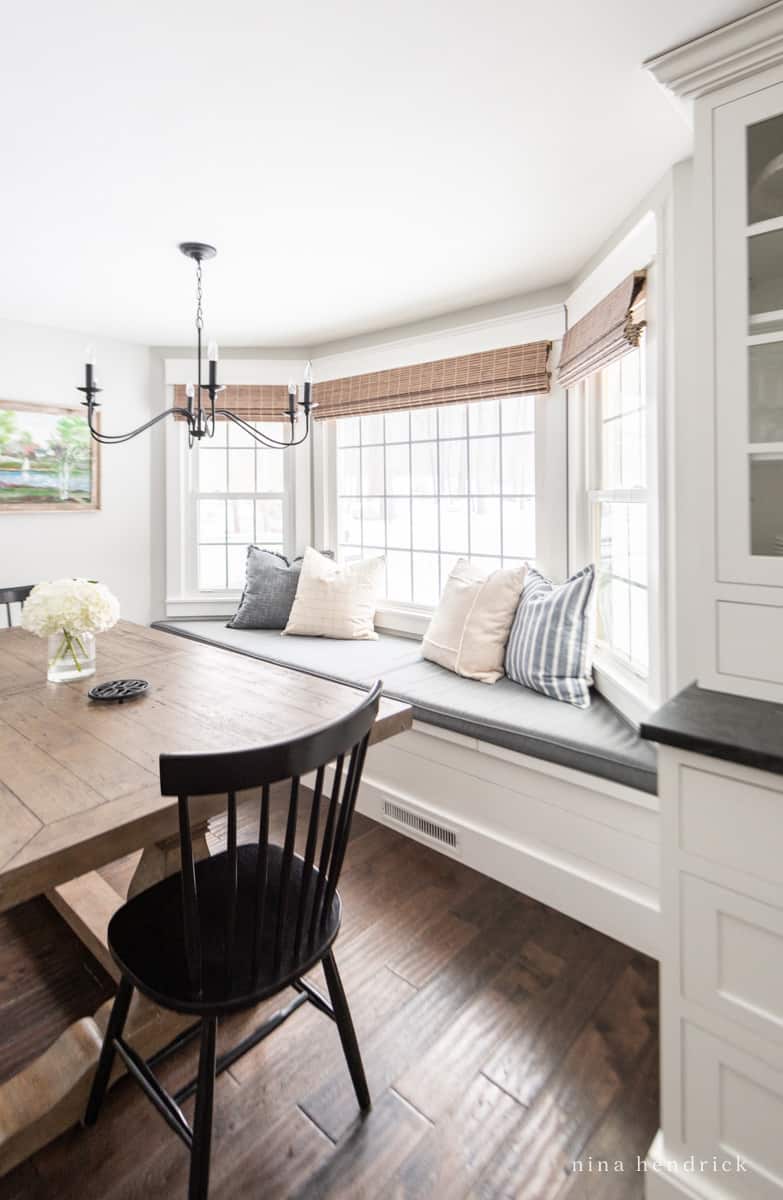 9. Get Organized
With your room design nearly complete, it's time to make sure all of the things you need for living have a place. Shelves are the classic storage solution, and you can add boxes or baskets to keep items organized without displaying them.
Not all storage solutions are highly visible, but they're still a very important part of your room design plan — it's good storage that will keep your room from becoming overrun with clutter later. As you design, consider how you'll organize the inside of your closets and pantry shelves to make the most of the space.
Need some inspiration? I've got 75+ Home Organization Ideas for you!
For a DIY solution, Build a Bay Window Bench with Hidden Storage.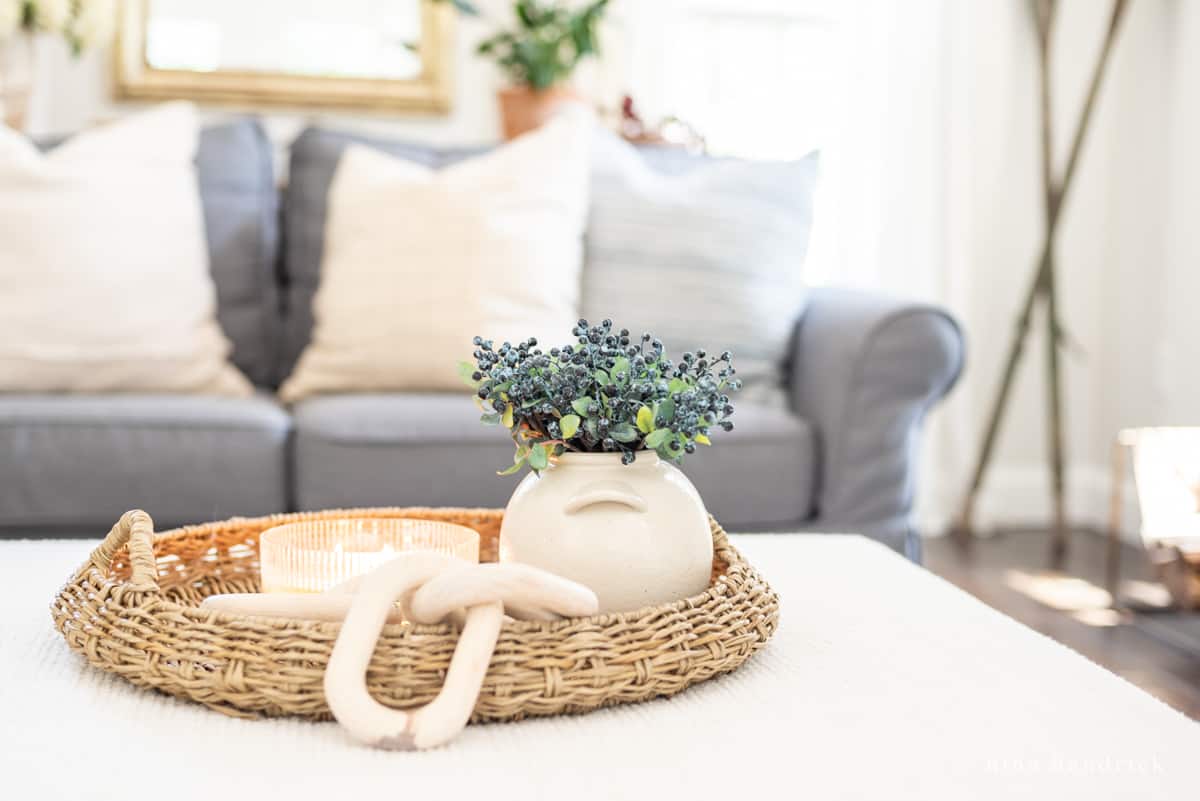 10. Add Finishing Touches
It's the little things that make all the difference when decorating a room. With your basic design nearly complete, it's time to add the finishing touches. This includes wall art, like paintings, photographs, and graphic signs. You can also create vignettes on tables and other surfaces that include the decorative items you add to show off your personality and spark conversation. These can include antiques, framed photos, sculptures, driftwood and shells, vases, plants, bowls, books, throw pillows, and so much more. There's literally no limit to what you choose to decorate with!
Consider creating a gallery wall of different artwork and picture frames. It's a great way to express your personality and style without spending too much money! You can find lovely vintage frames at thrift shops and there's plenty of free artwork online.
As for where you place your decor items, shelves and the mantel are classic options. You can also decorate the top of a piano, coffee, console, or end tables, or even place items in a corner to stand alone. The general rule of thumb is to create visual harmony across a shelf or mantel with odd-numbered groupings and a balance of height across the tableau.
Learn how to create an effortlessly balanced look with these foolproof Mantel Decor Ideas.
Try these 10 Easy Shelf Decor Ideas to complete your room design!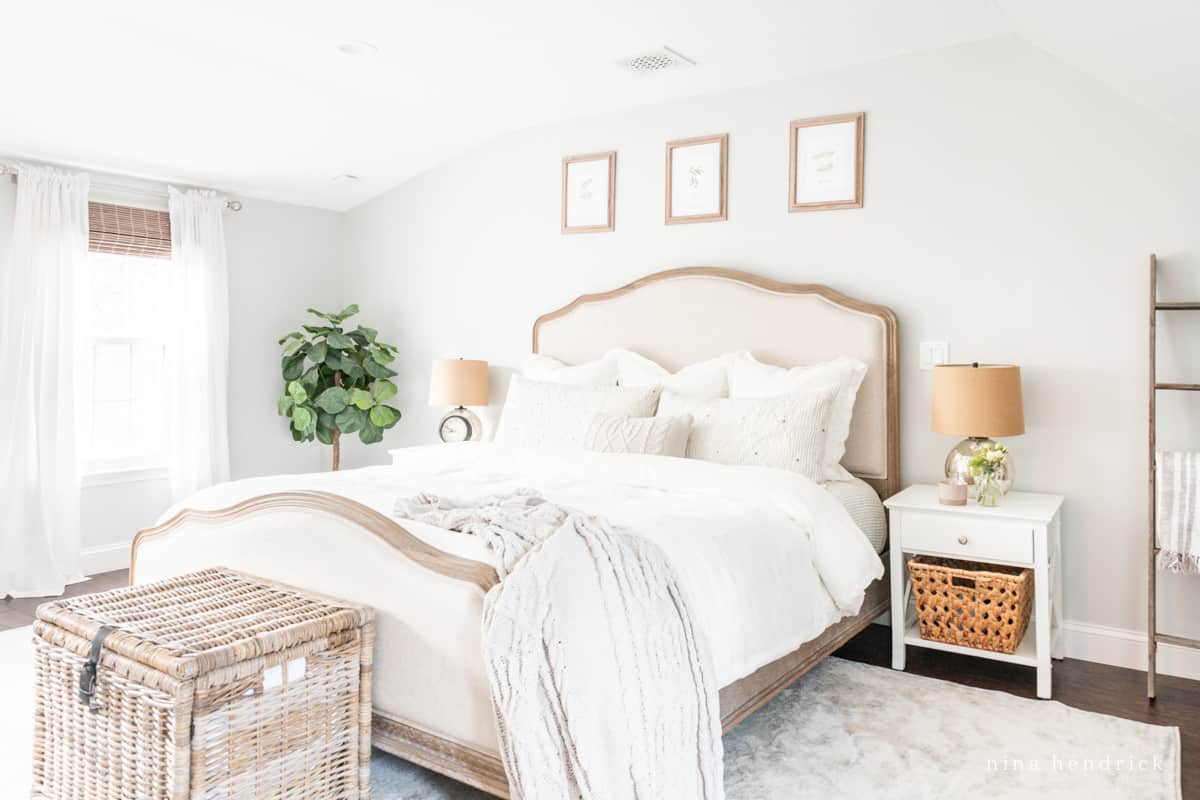 Inspiration for How to Decorate
Now you know all the steps to decorate — or redecorate — your room. But what does this process look like in action? I've documented my own adventures in home decorating in detail on my blog. See how it all comes together by clicking on some of my favorite room makeovers below.
I can't wait to see how your room decorating projects turn out! Connect and share with @ninahendrickhome on Instagram and @ninahendrick on TikTok.