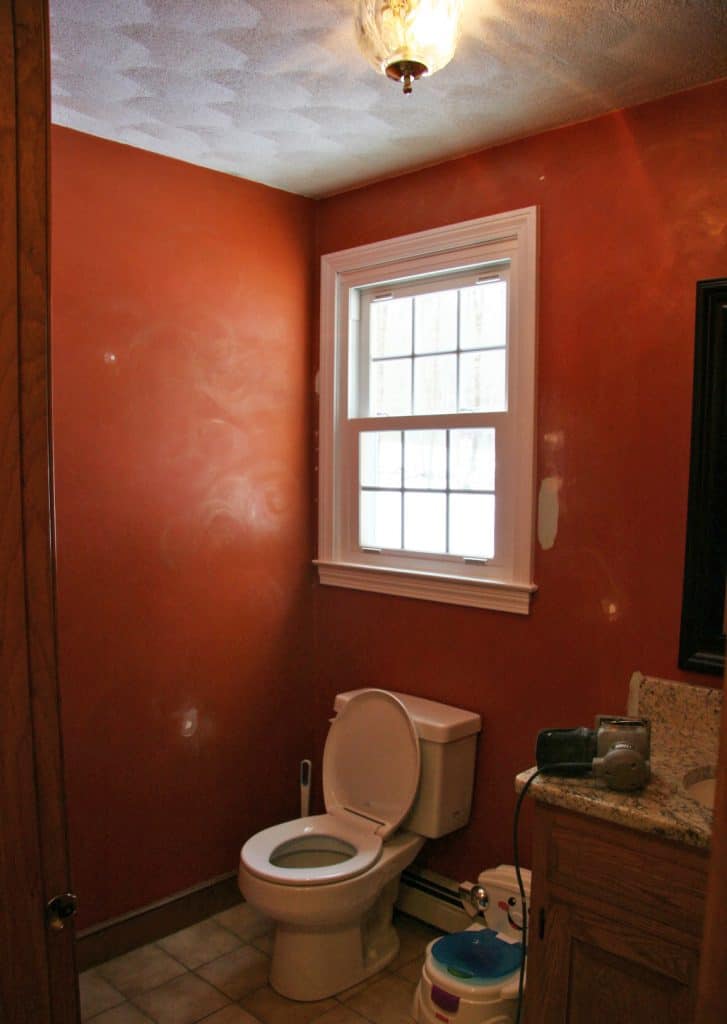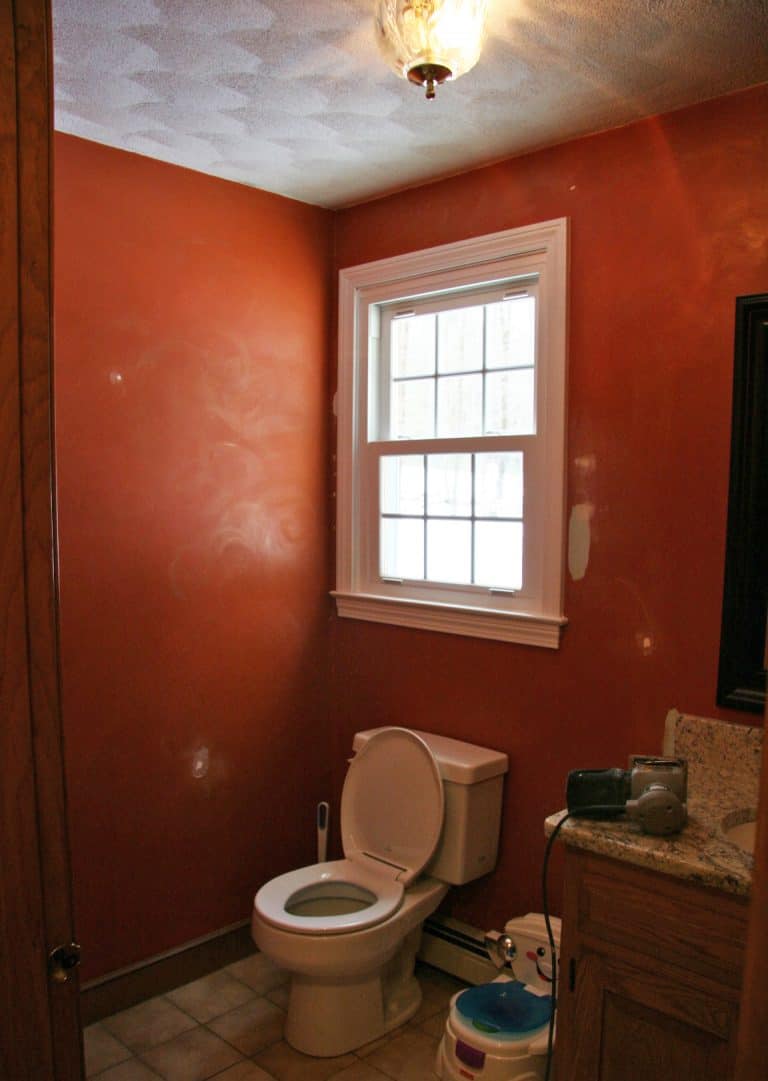 Yes, welcome to the rust orange powder room. With a gold swirl appliqué that was difficult to capture. You can kind of see the gold in the glare cast by the window. While I'm sure the previous homeowner loved this room, and the gold treatment was probably very time-consuming to apply, it's not so much my style.
Also, it bears mentioning that I will eternally regret this open toilet seat photo, I constantly get emails and comments admonishing me about the gross factor. Sorry. When I took this, I had no idea that anyone other than myself and Mack would see it.
Although this is just the primer, and the ceiling still absorbs light like crazy, the difference is incredible. It's already like a whole new room! This just reaffirms that I am planning on making this a light, bright space.
Like this: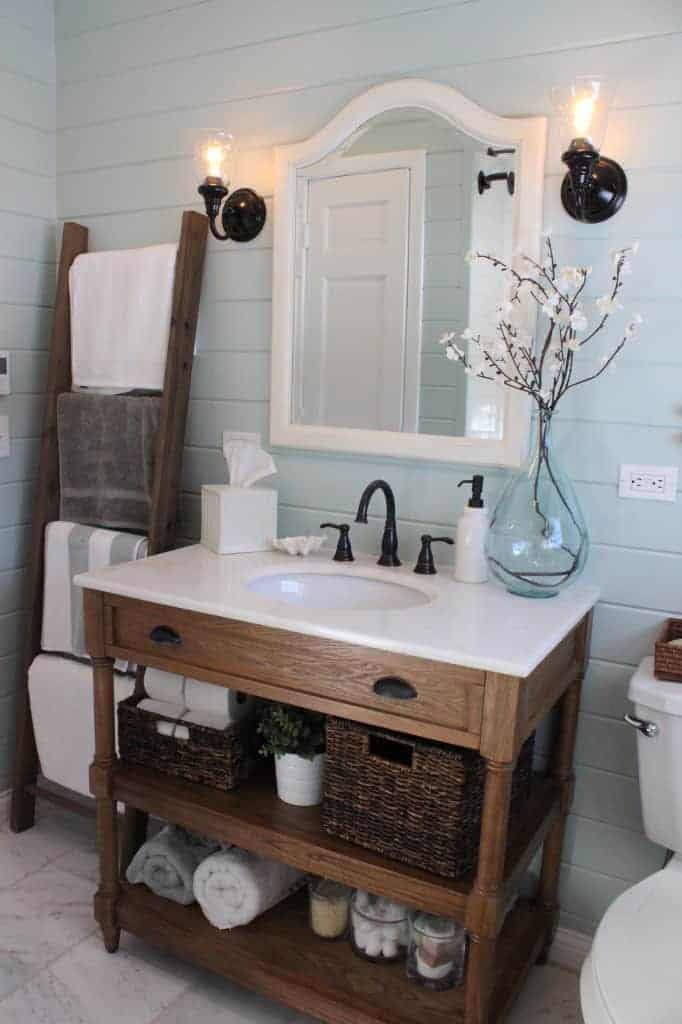 via 12 Oaks
The wall treatment and wooden vanity are gorgeous! There are so many things I love about this space.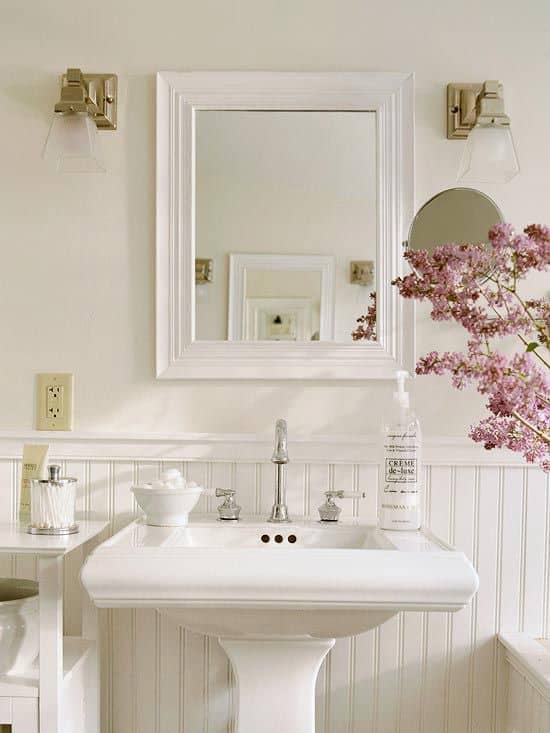 via BHG
While our plumbing won't allow for a pedestal sink, I'm drawn to the clean whiteness of this shot. Between the wall treatment we're planning, and the ceiling treatment, and the crown molding- there won't be a whole lot of color in our Powder Room. It will be mostly white. But that works perfectly for me, as I prefer white with selective color!
As with the rest of our projects, it's the same song and dance- we need to finish the heating project so we can rip out the baseboard heaters and begin the project. Ugh. For right now, it's out of our hands- we have done our part and are patiently waiting to hear back from the professionals to get things moving. Until that lovely day, I will keep picking away at projects. Hopefully, soon I will be sharing my pantry reveal! Now that will be a fun day.
More Powder Room Projects: 
There are no cells in this grid yet.
Join the Weekly Newsletter
Subscribe to get our latest content by email and access to our File Library. Download organizing and home decor printables FREE!
Nina is the owner & designer of Nina Hendrick Design Company and the Nina Hendrick blog. Along with her husband Mack, she is chronicling the journey of transforming their builder-grade 80s colonial into a modern day farmhouse. Nina and Mack live in the suburbs of Boston with their three children and golden retriever Lucy.