This cottage powder room inspiration and mood board is full of bathroom decor ideas that can help you make a big style statement, even in a small bathroom.
What happens when you've already completed a project but you begin to feel like it's already time to go back and revisit the design?
If you are my husband, the answer is "Tell yourself you're crazy and leave it alone". If you know me at all, you probably know that this was not possible. Once an idea takes root, that's the end.
In this post I'm going to share how you can "edit" a room. Here, we'll take a small bathroom and make a plan for some simple decor changes to get it to where we want it to be.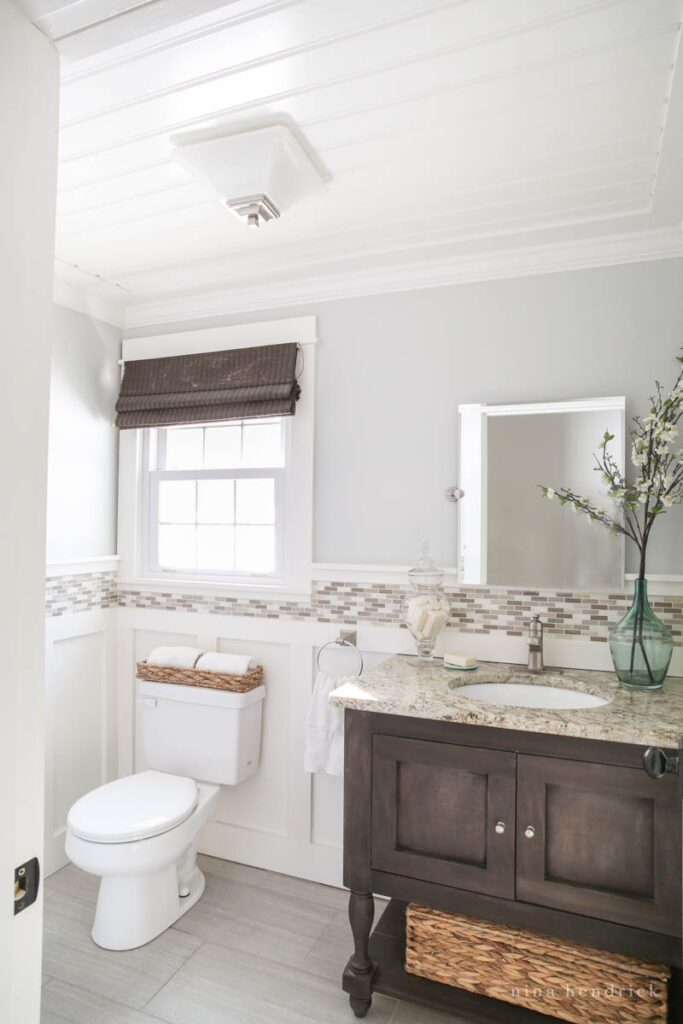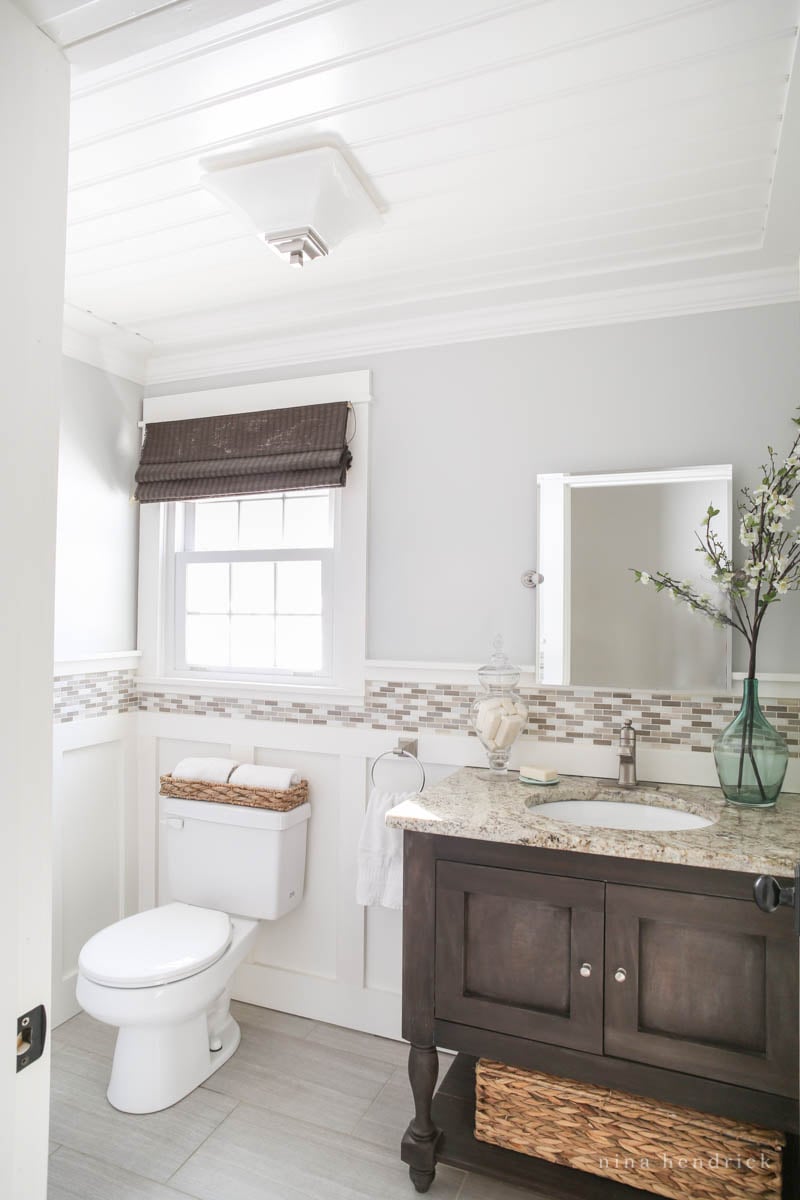 Powder Room Inspiration & Mood Board

Originally published March 29, 2018
Five years have passed since we tackled the powder room makeover. If you're just joining me here, you can take a full tour of this room and read about the DIY projects that we did in this room five years ago (like the vanity and beadboard ceiling).
While this powder bathroom is perfectly lovely, there are a few tweaks I am ready to make. I completed the original project on an extremely tight budget. To save money, I used leftover fixtures from my father-in-law's new house build. As a result, the fixtures weren't exactly what I would have chosen, although they were fine and served us well.
However, now I'm ready to take it up a level. I know my style really well now and have a mental bank of ideas to pull from on how I want to improve some details of the room. I'm excited to share some of my favorite powder room inspiration!
Small Bathroom Decor Ideas
Pay Attention to Scale
One thing I knew for sure that I wanted was a larger scale mirror. I love the board-and-batten wall treatment, but it complicated our ability to install a mirror on the wall. I found the best solution I could with the mirror I chose. However, the mirror was small for the size of the vanity and the wall. Now there are a lot more options with brackets that better fit both my style and the more traditional country mix in the rest of our home.
Choose Shapes that Fit Your Style
Speaking of my style, there were a few other changes I knew I wanted to make. The square elements of the original fixtures was always a bit more modern than I would have chosen. I also love dark hardware to contrast the light finishes in our home.
Add Natural Decor Touches
As always, you'll find plenty of nature-inspired touches to bring warmth and life to the room. Adding greenery is my favorite way to infuse character into a space that feels stale.
I want to mention that the current fixtures will not go to waste. We are planning another powder bathroom for our basement. It will be primarily for our boys and their friends to use. These fixtures will serve that room well!
So, we had to buy fixtures either way, and I put the new ones in the bathroom that we and our guests see the most often.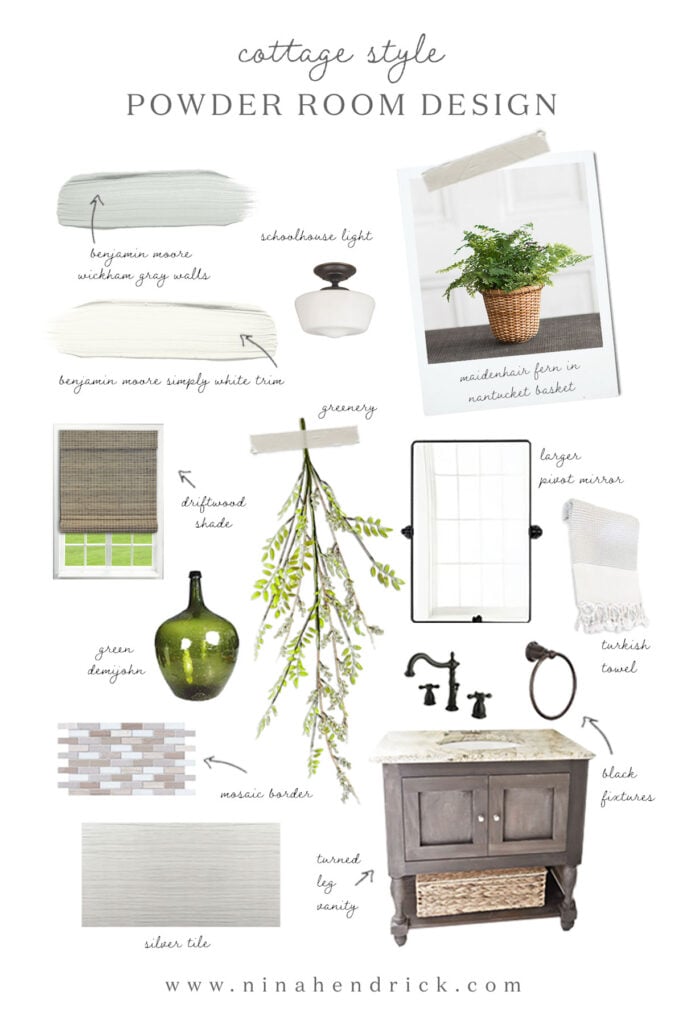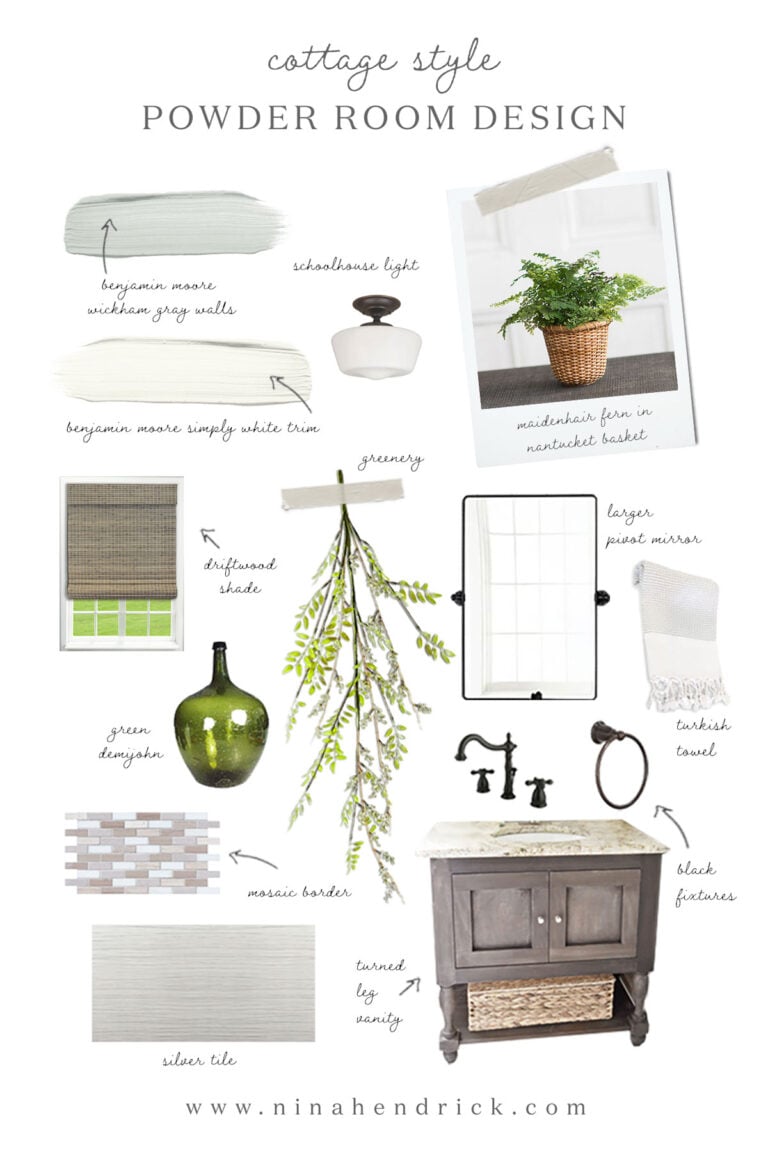 This post contains affiliate links, which means I may get a small commission (at no extra cost to you) if you shop my link. Please see my disclosure if you'd like more info!
Cordless Driftwood Shades | Schoolhouse Semi-Flushmount Light | Vintage Pivot Wall Mirror | Dark Metal Towel Ring | Similar Glass Knobs | Vintage Style Faucet | Dark Metal Paper Holder | Faux Fern | Green Glass Demijohn | Wall Mosaic Border Tile | Silver Floor Tile | Turkish Towel | Similar Vanity
Wall Paint: Benjamin Moore Wickham Gray HC-171 (eggshell)
Trim & Ceiling: Benjamin Moore Simply White OC-117 (semi-gloss)
Floor Tiles: Style Selections in Leonia 12×24″ Porcelain (similar sourced in gray here)
Other projects from this room:
DIY Beadboard Ceiling Tutorial | Original Room Makeover | DIY Vanity Tutorial