Nina Hendrick Blog Home Tour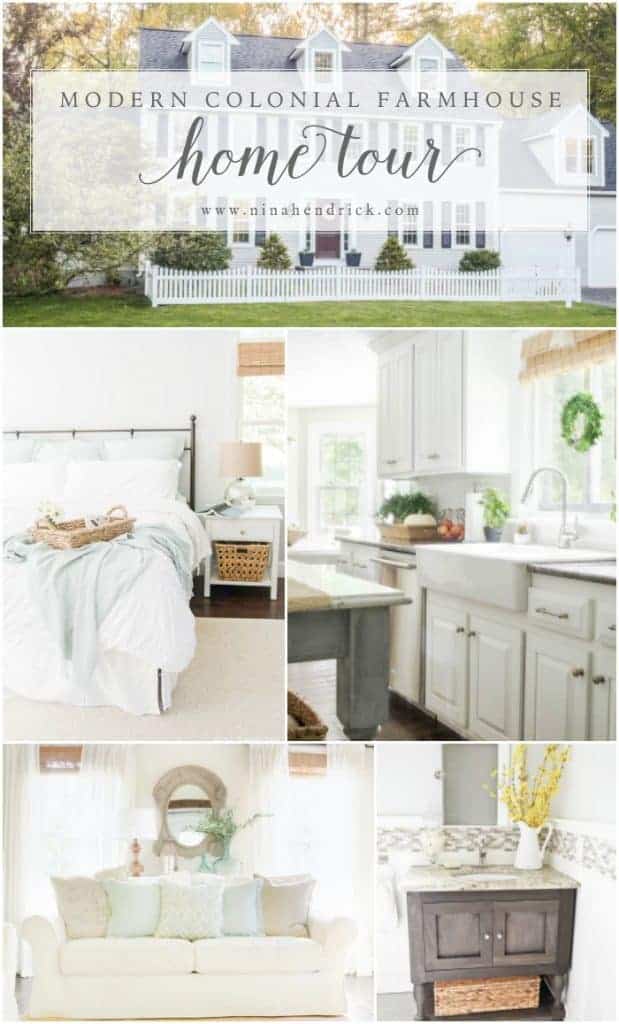 Welcome to our home tour! While our home is a work in progress, I'm excited to share what we have accomplished so far! These are photos from primarily the first floor of the house.
We purchased our home in July of 2012 in the suburbs of Boston. It's in a beautiful neighborhood of 1980s/90s colonials, but each house still manages to have it's own very unique character. While the house lured us in with incredible curb appeal and a flat lot, it was undeniable that the interior needed some updates. You can read this post to see the original before photos of the house.
Our main goal for this house is to create a farmhouse aesthetic inside and out. We love antique farmhouses, but with a young family felt we wouldn't have the time to renovate and maintain one. We instead opted to purchase a newer home and add the charm we craved. We are planning to stay here at least until retirement (30+ years from now), so all of the changes we make are for us, and not with resale in mind!


In the spring of 2016 we began to renovate the exterior of the house after large sheets of the previous color began peeling off. We gave the house a fresh coat of paint and began adding accessories. It was a huge step toward our final vision for the exterior, and we plan to continue to chip away at adding architectural detail as time goes on.
Since the garage is so prominently on the front of the house, we'd love to give it more of a "carriage house" appearance eventually and perhaps add a pergola with a climbing vine.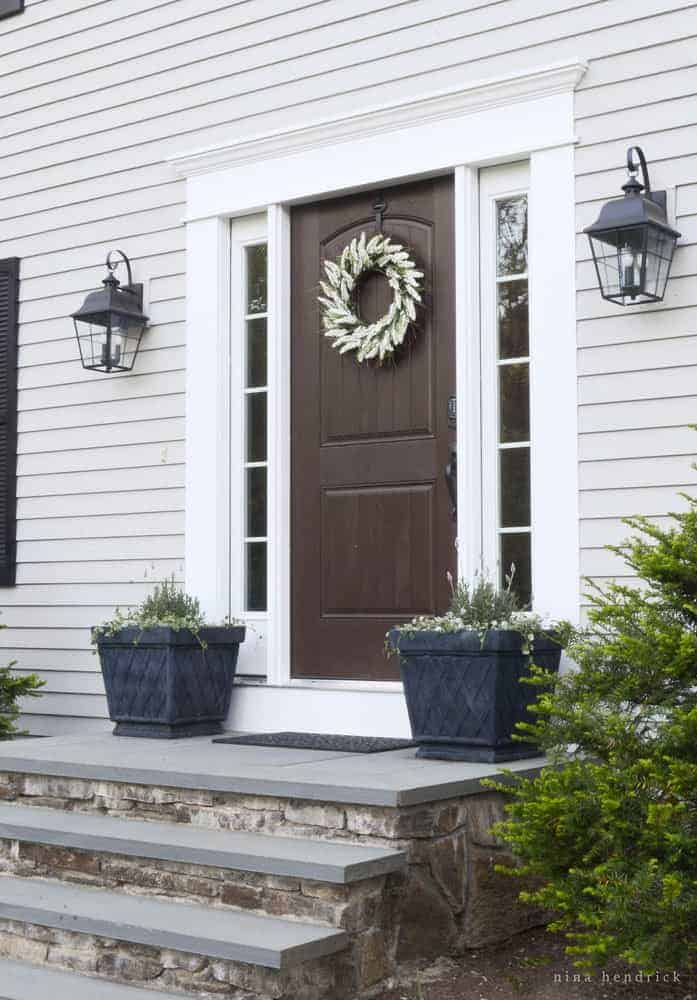 Eventual dreams for the facade of the house include an old-fashioned farmer's porch. I can't wait to someday sit on the front porch in a rocking chair sipping my coffee in the morning sun!
See Our Exterior Projects & Details: 

 
We're currently in the process of renovating this space. We knocked out a couple of extraneous closets and replaced the aged and cracked tile with the same hickory hardwood that is carried throughout the first floor. Future plans include a wall treatment, new entry door, and staining the stair treads to match the floor. See the card catalog makeover here.


We decided to tackle the dining room project ahead of the holidays in 2015. Since the room was already pretty neutral, it was basically a matter of adding character and accessories. We planked the walls and built a farmhouse bench.

Although it's supposed to be a "formal" dining room, we aren't exactly formal people. The room has a very relaxed and casual atmosphere, which suits us much better.
See the Dining Room Projects & Details: 


While I still consider it a work in progress, we have come such a long way in this space since we first painted our cabinets back in 2013.

I have a clear vision of the final few touches it will take to bring the room to 100% completion.

Future plans include planking over the rough ceiling, adding glass doors to some of the cabinets, and dealing with a tricky and awkward wall on the other side of the room. For now, I enjoy adding farmhouse textures to the room, and (especially when it's looking this clean and pretty) it is a happy space for our family to spend time in!
See the Kitchen Projects & Details:


The pantry was our very first project when we moved into our home. While sometimes it gets a little messy with the kids rifling through, overall it remains a fairly organized space due to the carefully planned storage. When we complete the built-ins in the family room, the electronic components will be moving out of the space. For now, it doubles as a baby-proof place to hide our electronics!
See the Pantry Projects & Details:



We just renovated this space. More details coming soon, stay tuned!
The family room is my decorating challenge, a space that I can't seem to get quite where I want it. It's a long, narrow room and finding the best furniture layout is tricky as a result. While we've gone through the steps of painting the walls, covering the brick fireplace, and purchasing new sofas, there's still a long way to go in the room.
We have plans of finishing the built-ins around the fireplace, planking the ceiling, adding skylights, building a sliding barn door, and painting all of the trim. I would love to also add some sort of wall treatment to bring interest to the giant cathedral wall opposite the fireplace.
We refinished our powder room in the spring of 2014. The room was previously painted a vivid shade of orange, which was a little too much for me- a quick coat of primer was one of my first projects after we moved in. Since it's our only bathroom on the first floor, and the main bathroom for guests, we knew it was a priority for it to be a clean and pretty space. We added a new beadboard ceiling, a board and batten & tile wall treatment, tile, and a DIY vanity console.
It's in need of a few quick updates now that it's been a couple of years- some of the caulking needs to be fixed on the wall treatment, and I'm considering adding a new larger mirror and a couple of new decor items. Overall it's still a room I love!
See the Powder Room Projects & Details: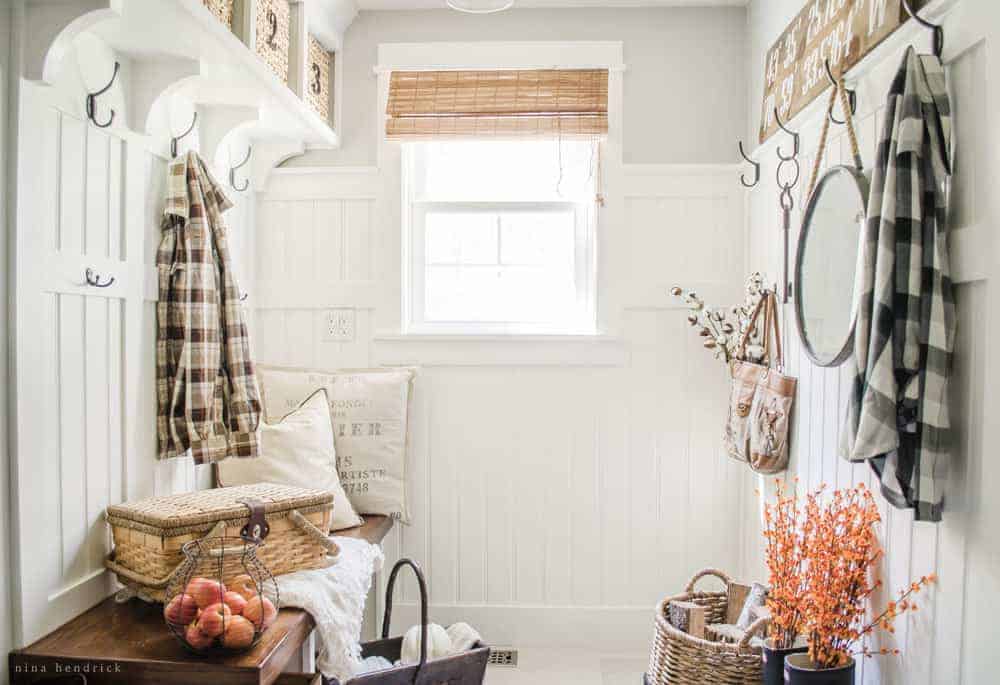 Is it strange that my favorite part of the house happens to be one of the smallest? This mudroom was created from what was formerly a cramped laundry closet as you enter the house from the garage.

It has brought so much functionality to our home as a drop zone for backpacks, snow gear, and shoes. They are no longer overflowing into the hallway to the garage, and there's a place (or a hook) for everything.  Of course, it doesn't look like this on a normal day. This was for a fun photoshoot for my Fall Home Tour 2015.

Since I was very pregnant and on bedrest when Mack completed this project, the photos are a bit scattered. I'm working on tracking them all down and compiling a tutorial on the built-in bench and wall treatment. I also may reconstruct it in CAD to give you a precise step-by-step rendering. At any rate, here is the original reveal, and stay tuned for tutorials!
When we found out we were expecting a little girl in 2014, we decided to create a room and hallway from our former master bedroom, and we moved to the bonus space above the garage. After getting the room to a point of basic functionality (with a few pretty touches, of course!), the project has been paused pending completion of the ducted heating/cooling project upstairs. We were so close to beginning that project that we opted to wait to add the trim to her room all at once, rather than adding trim that would have to be replaced later around the baseboard heaters.
The completion of the heating/cooling project will also enable us to begin making over our two boys' rooms. All they require are simple cosmetic updates and decor, and the boys are both excited to finally have their own spaces that reflect their personalities.
As I mentioned above, we moved into the space above the garage in 2014. I've shared a couple of peeks at the room here and here, but it's awaiting the last few finishing touches still. Overall we've focused primarily on the first floor, and once we have that to 100%, we'll begin the second. To follow along with our renovations, you can subscribe here!
See our Before & Afters Gallery here!
See the listing photos from when we purchased this home!
Paint Color List:
All white trim: Benjamin Moore Simply White
Foyer: Benjamin Moore Edgecomb Gray
Dining Room: Unknown (We haven't painted it yet)
Kitchen/Breakfast Nook: Benjamin Moore Gray Owl
Powder Room: Benjamin Moore Wickham Gray
Family Room: Benjamin Moore Edgecomb Gray
Mudroom: Benjamin Moore Gray Owl
Master Bedroom: Benjamin Moore Wickham Gray
Past Seasonal Home Tours:
Join the Weekly Newsletter
Subscribe to get our latest content by email and access to our File Library. Download organizing and home decor printables FREE!