If you're looking to freshen up your living room this season, these mantel decor ideas are a great way to give your space a lift! From framed landscape prints to long-stemmed greenery, this guide gives a fresh take on the classic mantel accents that never go out of style.
Is there anything more inviting than a beautifully decorated mantel? The fireplace, steeped in history and tradition, is a part of the home that pulls people in. Radiating literal and figurative warmth, it's more often than not the focal point of the living room. So it's important that it adequately showcases your style!
One look at the mantel, and you know what season it is. It holds your stockings at Christmas time, pumpkins during fall, and bunny banners in the spring. The mantel plays a key role in making your house a home.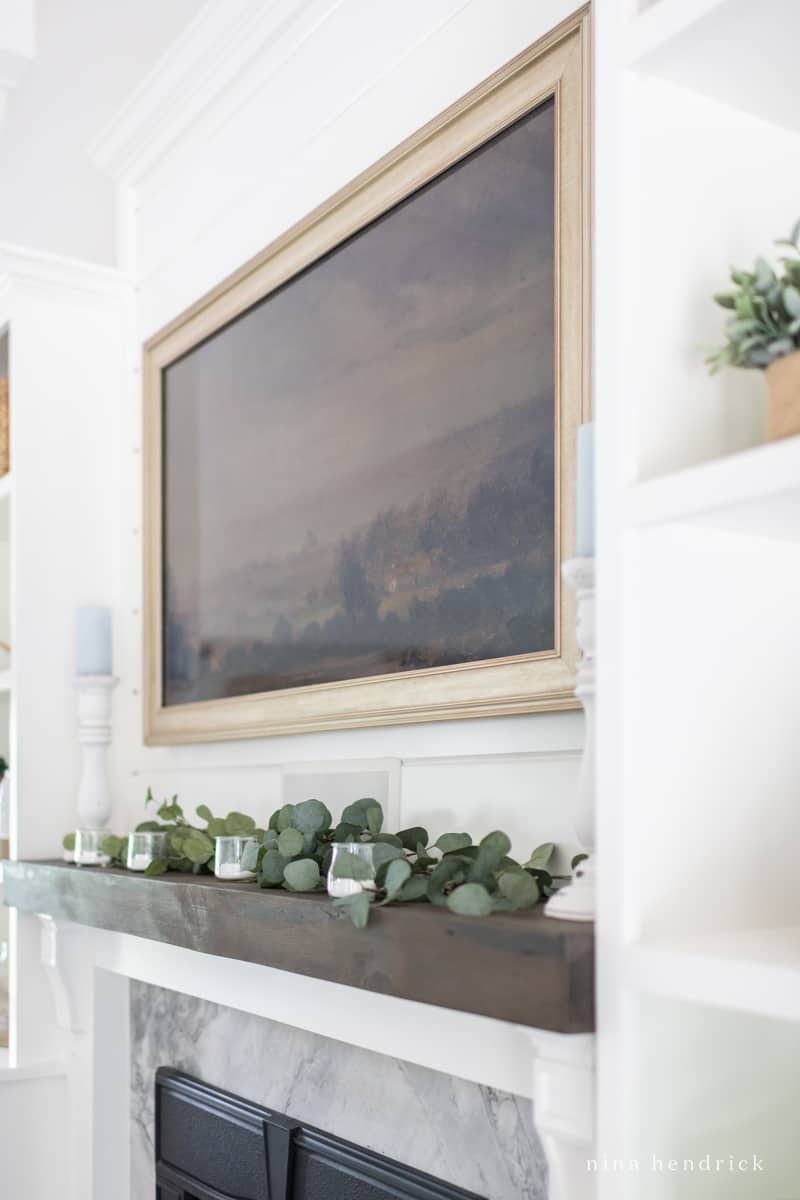 And that's why I'm dedicating a post to mantel decor ideas, and showing you step-by-step how to decorate a mantel that's perfectly tailored to your unique space. I'll be going over the most popular mantel decor accessories that have been classic staples for years, and how current trends are giving them a stunning new spin.
So clear off your mantel and give it a good dusting! You're about to give it a refresh for the books, because these mantel decorating ideas are *fire*.
This post contains affiliate links, which means I may get a small commission (at no extra cost to you) if you shop my link. Please see my disclosure if you'd like more info!
The Most Popular Fireplace Mantel Decor Ideas
So one thing to understand is that decorating your fireplace mantel is VERY similar to decorating bookshelves and open shelves. The main difference is that the mantel is a bit more of a singular focal point. For this reason, many people choose to make more of a statement on their mantel for maximum visual interest in their living room.
Depending on your home's design, the scale needed for the mantel shelf is probably bigger than your built-in shelves. And this calls for sizable decor pieces to fit the scale. That's why large mirrors, a large piece of art, and mounted TVs are some of the most popular fireplace mantel decor ideas.
And speaking of popular choices, I've created a list of the most popular decor items for a mantel. These are the classic staples, and they're some of my favorites! This will give you a great starting point when designing yours.
Mantel Decorating Ideas for Everyday
Large piece of art
Large framed mirror
Garlands or fresh greenery
Vases, with or without greenery
Candles
Seasonal decor
Small glass vases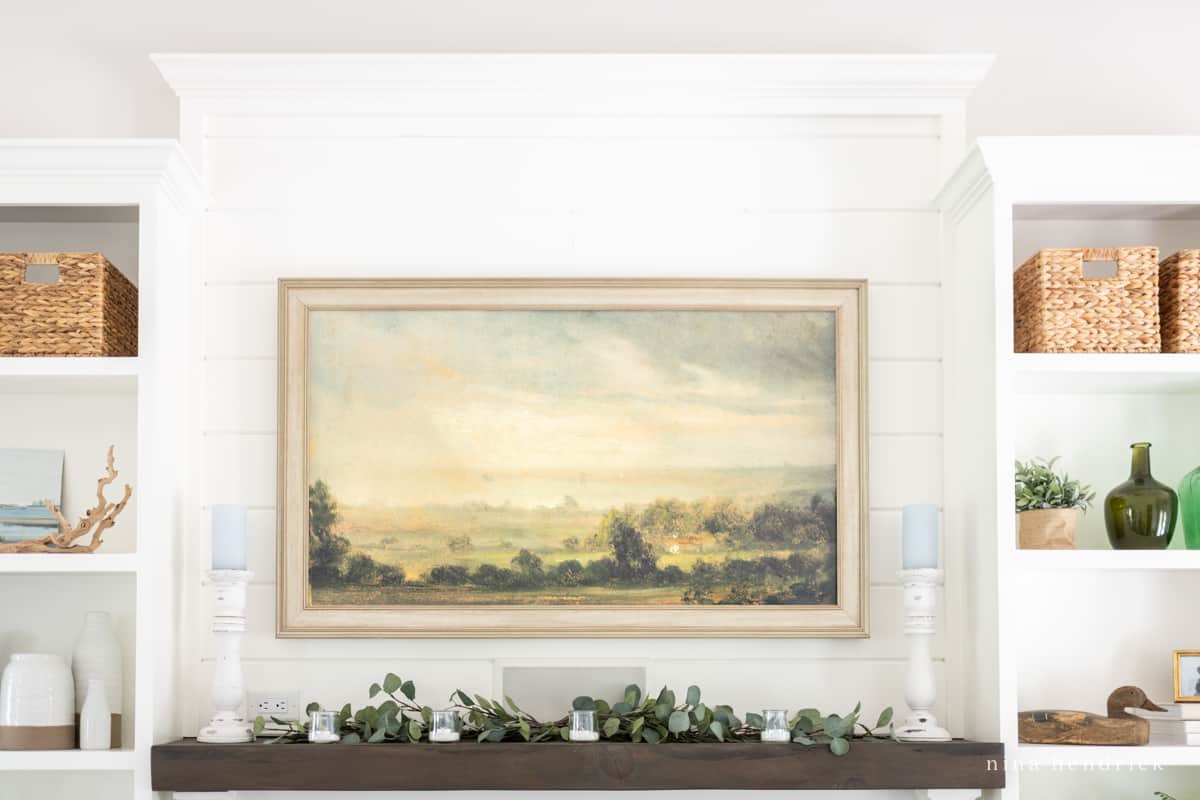 Large Framed Art
What type of art should I put above my mantel?
Framed art has always been a popular option for mantel decor and serves as the backdrop for your mantel display. Whether it's hanging above the mantel on the wall, or sitting on the mantel propped up against the wall, it's a great way to fill this large space. Your mantel area may be the only spot in your whole house that can properly contain a large scale statement art piece, so it's your opportunity to go for it!
If this option is what you're wanting, but you're unsure about art direction, go for a landscape print or painting. A landscape that appeals to your taste is a classic selection. Pick a landscape that coordinates with the colors of your room, and lean towards scenes that you'd like to jump inside!
Mounted TV or Framed Art?
Torn between hanging a statement art piece or mounting a TV? Now you don't have to choose! Whoever thought of framing TVs to look like artwork is a genius. They took the best of both worlds and gave us the solution we've been needing for years. Take a look at ours here. It's one of my favorite purchases to date! 
How many inches above the fireplace should you hang a picture?
A good rule of thumb is about 4-6". This ensures that the picture isn't at a neck-craning height, but gives enough space for your other mantel decor to be well-seen.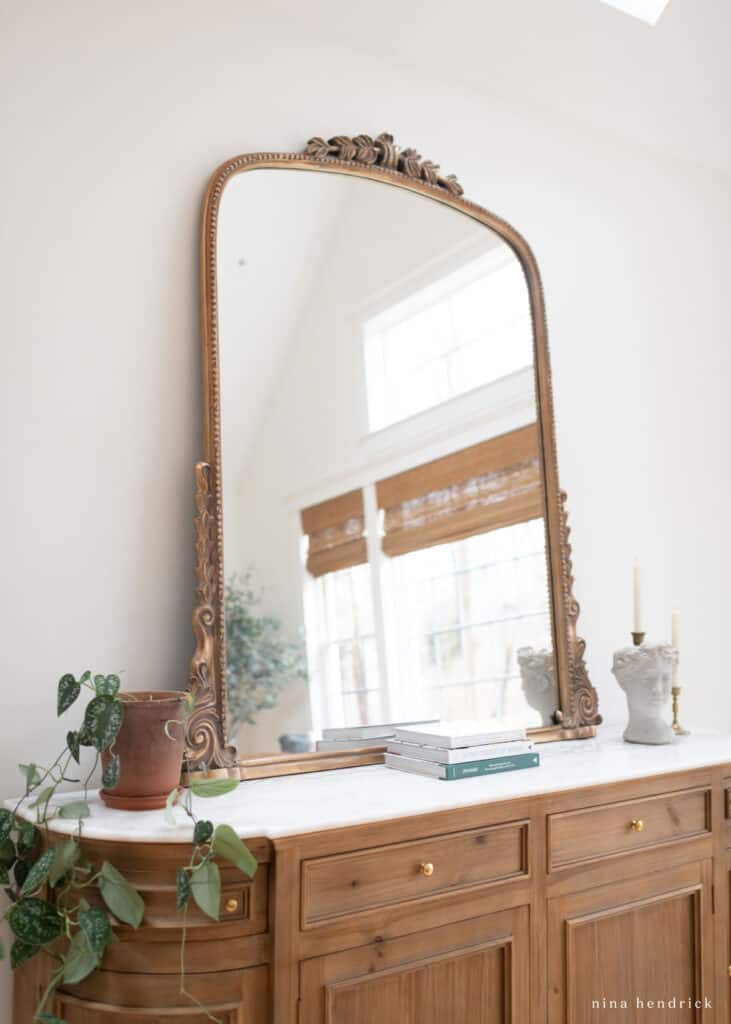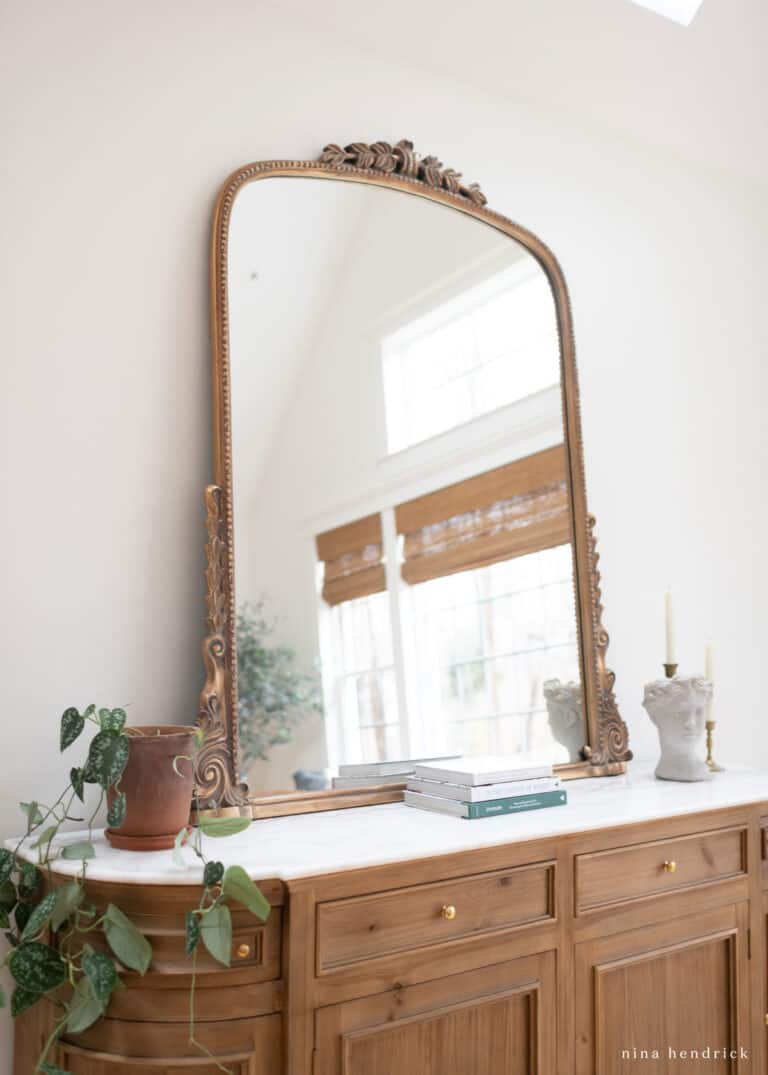 Mirror | Buffet | Bust Planter | LED Candles | Brass Candlesticks
Large Framed Mirror
What shape mirror looks best above a fireplace?
Round, square, rectangular, or arched – all shapes of mirrors look great above a fireplace mantel. But if you're wanting to stay with the current trend, go with an arched mirror!
Arched decor in general is huge right now. And a big place that we're seeing it, is with large mirrors. Large arched mirrors make for an elegant mantel decor piece.
Peep my Insta @ninahendrickhome to see the arched mirror beauty that I just splurged on! It's sitting on my buffet in our breakfast nook, but it would also be the perfect large mirror for a mantel. Many mantel decor designs are centered around arched mirrors these days!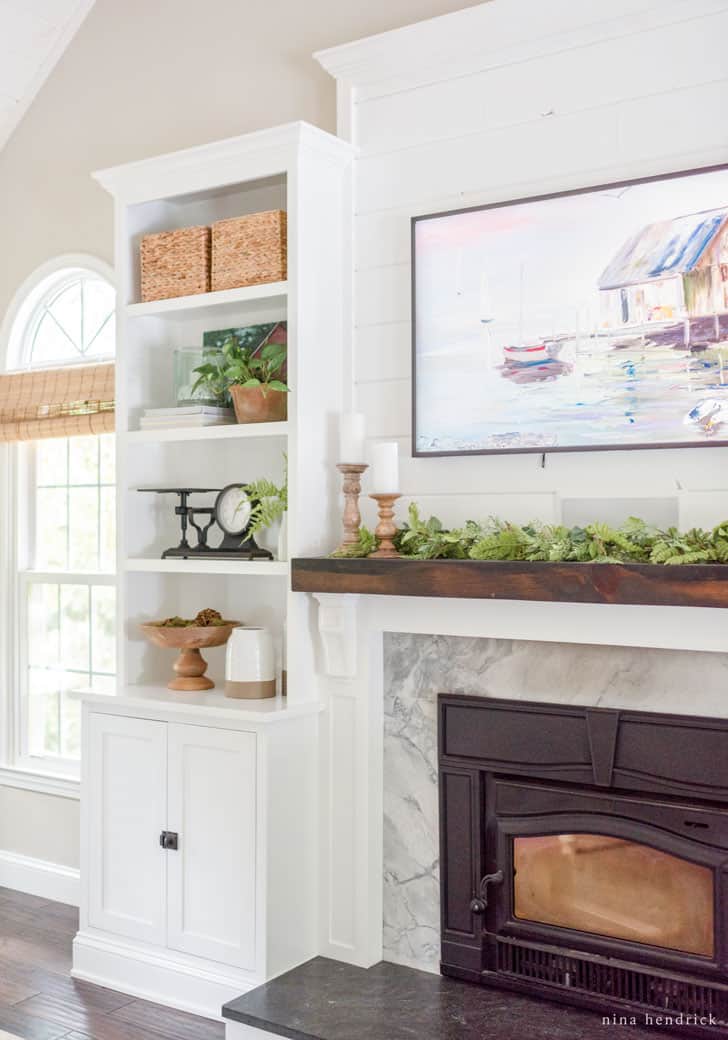 Garlands Year 'Round
How do you decorate a mantel with a garland?
Garlands as mantel decor are a go-to for me year 'round. Not only are they a beautiful way to add in some greenery, but they create a lush and comforting vibe for your space. If you're going to hang a tv above your mantel, a leafy garland is the perfect solution to hiding cords, if needed.
Used to only seeing mantel garlands at Christmas? I get it! But if you look, you can find a mantel garland for everyday use. There are several other faux foliage options besides holiday evergreens. Try eucalyptus or olive for springtime; consider magnolia for fall. I love the full look of two 6' garlands on the mantel. See some that I recommend linked below!
Should garland hang off the sides of the mantel?
This comes down to personal preference. But here's my take on it: I like to save a sweeping garland that hangs dramatically off the edge or edges of the mantel for Christmas. It makes a bolder statement that feels more celebratory. Also I think it's less practical for everyday use, because the hanging bulk can get in the way.
How do you attach garland to a mantel without nails?
Two words – command hooks. With smaller garlands that don't hang off the sides, you probably won't need anything to keep them in place. But heavier garlands may benefit from a command strip placed flat on each end of the mantel. Try it first without them and see if your garlands stay in place.
Glass Vases
What do you put in a mantel vase?
Vases are a classic mantel decor piece. If you choose to fill your vase, they're a wonderful way to add greenery to your mantel, but they also look great empty! You can use one large statement vase, or 3 small/medium-sized vases that vary in height.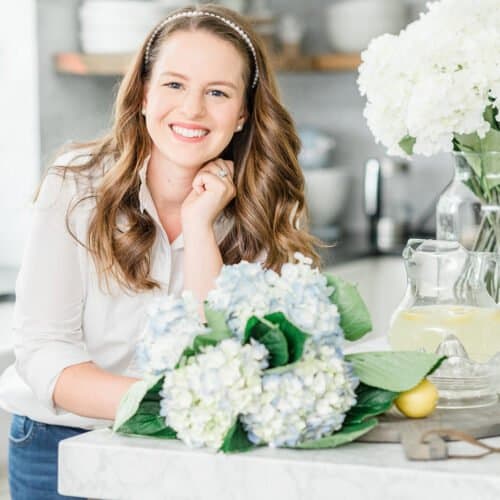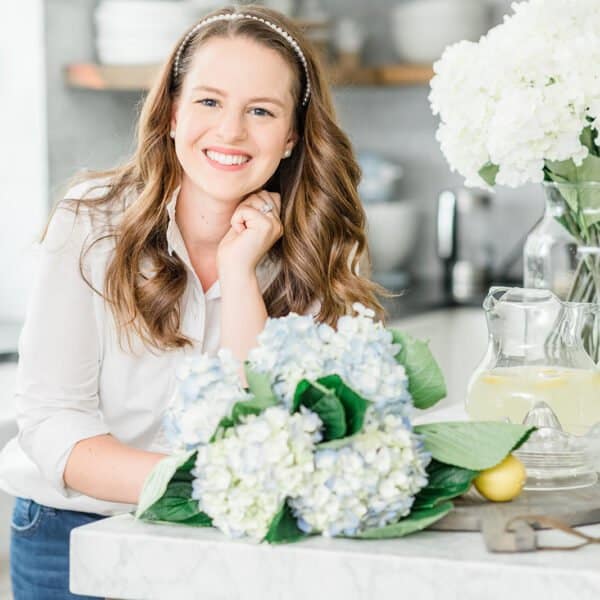 Tip from Nina: Remember, when grouping decor objects together, aim for groups of 3 to create balance.
To figure out the perfect vase, assess your mantel. Is it deep? If so, then you have the ability (depending on measurements) to hop on the large bulbous vase trend! If it's pretty shallow, then try a tall and slender vase. Mantel vases need to be a little more substantial so they can hold long-stemmed greenery, because the scale of a fireplace mantel usually calls for statement greenery that shoots up and out. So whatever the size and shape of your vase, make sure it's got some weight to it.
Here are some long-stemmed faux greenery ideas that make a beautiful statement displayed in your mantel vase:
Curly willow branches
White blossom branches
Any berry branches
Snow spray twigs
Pampas grass
Green bay leaf branches
Topiaries
Topiaries are an alternative to greenery in a vase. Topiaries look best in pairs, so they're a great choice for when your mantel needs a symmetrical arrangement. Here are some of my favorite ideas for faux topiaries:
Olive
Boxwood
Moss balls
Thyme
Candles & Candle Holders
How do you style candlesticks on a mantel?
Candles and their holders are the perfect addition to your mantel decor. There are so many different shapes, sizes, colors, and styles to choose from. There's something for every mantel!
You'll need to first decide what style of candles fit the look you're going for. Here are some different options:
Tapered candles in traditional candle stick holders – put these in a group of 3, all with varying heights
Thick, chunky candles, sitting on substantial candle pillars
A hurricane glass candle holder with a thick cylindrical candle inside
Choose thick candle pillars if your mantel is feeling sparse. Choose skinny taper candle holders if you're short on space or a vintage look is your vibe!
You'll also need to decide if you want real candles or faux flame candles. Faux flames have recently gained in popularity, since they're safer and last longer, and create less of a wax-dripping mess. You can find some that are very realistic looking! 
Seasonal Decor
Mantels are the perfect place to showcase your seasonal decor and holiday decorations. It's so much fun creating artistic ways to incorporate festive touches. One thing I've learned is that there really are no rules to seasonal decor. From Christmas decorations like evergreen garlands laden with jingle bells, to Easter eggs on pedestals surrounded by bird nests and bunnies, it's your mantel and you can do whatever you want; so go for it!
Here are a couple of seasonal mantel decor ideas to inspire your own creation:
Take a look at how I turned this door frame garland and some craft store acorn picks into the perfect fall foliage for my fireplace mantel!
And just in time for spring, I've got the prettiest Easter mantel decor ideas for you! You can download this adorable free bunny banner that I painted, to really take your decor into full springtime swing!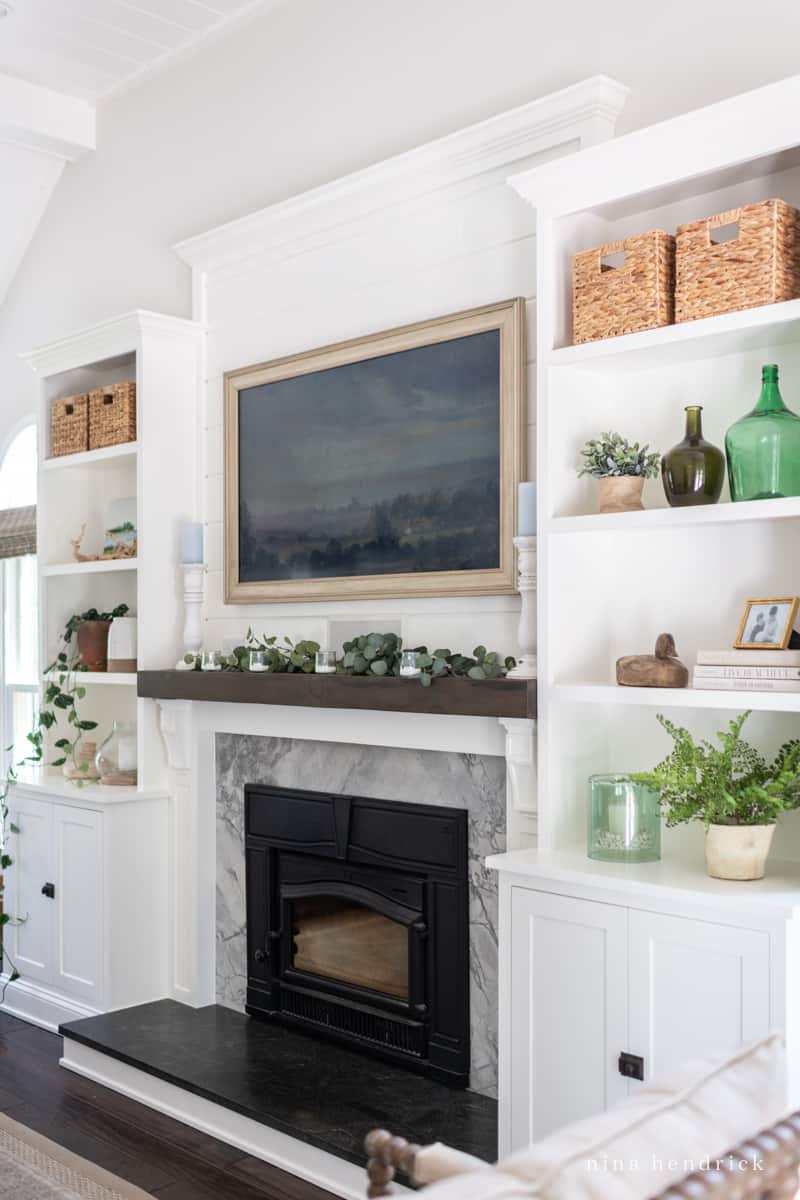 Classic Mantel Decor Formula
Using the most popular mantel decor ideas
I've developed a special formula for you to follow that walks you through step-by-step how to decide which mantel decor pieces will fit your room and design taste. 
Walk yourself through these steps, answering the questions and following the directions. The result will give you a classic mantel decor design that fits your space!
Will you be hanging a tv above the mantel? If yes, skip straight to #3. If no, go ahead to #2.
Decide if a large statement art piece or a large mirror would better suit your space and your taste. Is the room small? Do you wish it had more natural light coming in? If yes, then a mirror may fit your needs best, as it will reflect more light into the room, and create the illusion of more space. 
If room size and natural light are a'plenty, then a statement work of art may work out best. A large piece will draw the eye up and match the scale of a grand fireplace and high ceilings.
Pick out your greenery. To create a cozy mantel, always add a form of greenery. I like the following greenery categories for mantels: garlands, greenery in vases, or topiaries. If you're a garland girl like me, then skip straight to #5. If you'd prefer your greenery in a vase or topiary form, then steady on to #4.
Vase or topiary? If your space is already super busy with texture and color, then a simple mantel decor design may be what's best suited. In this case, a symmetrical arrangement may give it the streamlining it needs. A pair of topiaries on each end of the mantel will create a clean, balanced view that's less work for the scanning eye. If topiaries are your pick, go ahead and skip to #6. 
However, if your surroundings aren't already busy, and the space is needing more, then I'd recommend an asymmetrical design. Use a statement vase with long-stemmed greenery on one side of the mantel or in the middle, for a look that will wow! If you're going with a vase, then stop next at #5. 
Pick your perfect vase. Is your mantel deep? If so, then your space is prime for hopping on the primitive bulbous vase trend! If your mantel is shallow, then stick with a tall and slender vase. Remember – Whatever the size and shape of your mantel vase, make sure it's got some weight to it.
Figure out candles. If your space needs additional decor, candles are another classic, staple item to consider. You'll need to decide what style of candles fit the look you're going for. Some favorites of mine are:

skinny candlesticks in traditional taper holders, (put these in a group of 3, with all varying heights)
thick, chunky candles, sitting on substantial candle pillars 
hurricane glass candle holder with a thick cylinder candle inside.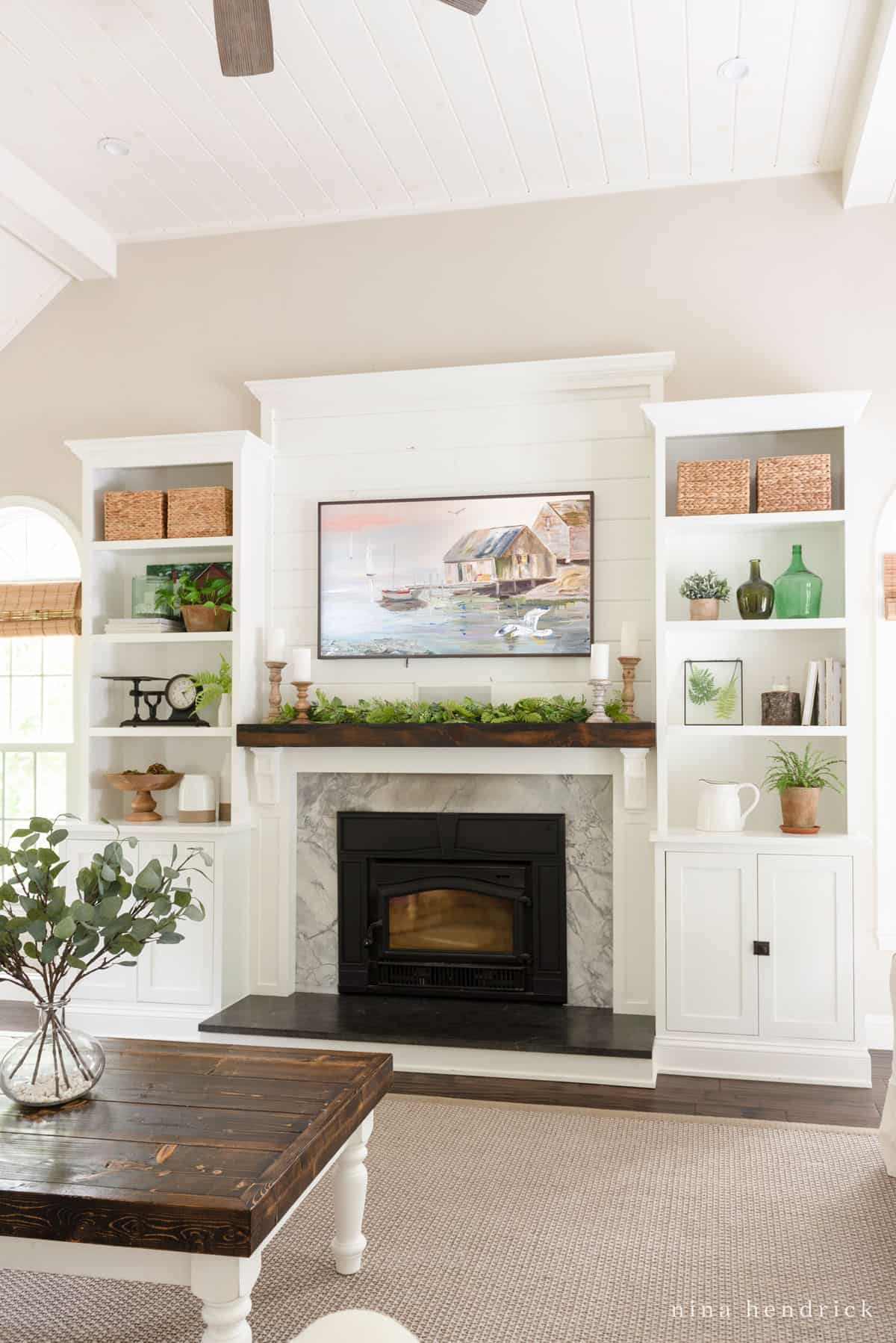 Bringing it all Together: Mantel Design Tutorial
Now that you've figured out your mantel decor pieces, remember these design guidelines when arranging them.
Start with your biggest piece first.
Find a place for your biggest piece first to serve as the backdrop. Then add in the next biggest piece, and then next biggest after that, working until you get to the smallest piece. This will also be the order of putting your mantel decor up if you are using the layering technique to add dimension. Biggest pieces always need to be the first layer, so that they are in the back with smaller pieces layering in front of them. That way bigger pieces aren't covering the others, and everything gets seen.
Use the layering technique.
This technique is perfect for spaces that feel empty and need a substantial decor scheme to warm things up and add depth. Start with the biggest piece and stagger smaller pieces in front of it. This technique especially helps when using multiple framed prints or a large mirror on your mantel. You can create a layered look by arranging some of the faux greenery coming out of its vase to reach out in front of the mirror, for example.
Group items in 3's.
Grouping your items in odd numbers, especially groups of 3, will create beautiful balance within an asymmetrical design.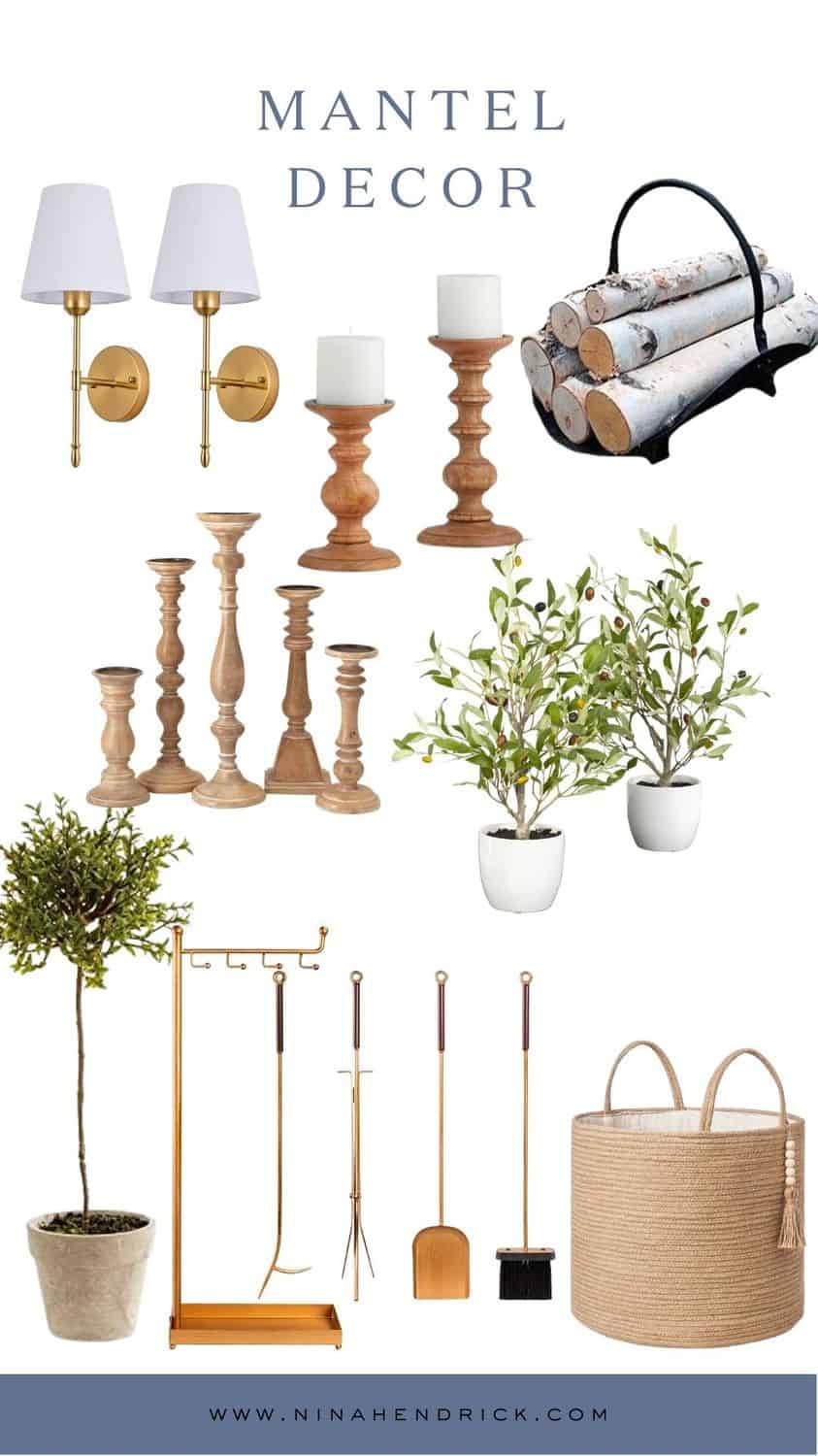 Sconces | Candleholders | Log Holder | Candlestick Set | Olive Topiaries
Tall Topiary | Fireplace Tools | Hearth Basket
Ready to Implement these Mantel Decor Ideas? 
As many of you know, I've had my ups and downs with my mantel, but I think we've finally gotten to a place of peaceful contentment. :)
One of our earliest DIY projects was when Mack and I refinished our brick fireplace by covering it with wood and stone, the ball started rolling, and eventually I was able to achieve a mantel design that's fully representative of my style and taste.
I hope this thorough breakdown of mantel decor ideas has inspired you to spruce up your mantel! You can find me on Instagram @ninahendrickhome where I share all my best home tips and pics of our renovation journey.